Aside from the challenges of altitude, I had no idea what to expect from the Annapurna Circuit. I definitely didn't know what there'd be from a photography standpoint. Yeah, I knew there'd be mountains. But, it's not like there was a list of the best photography locations along the Annapurna Circuit out there on the internet. It was legitimately a mystery to me.
So, now that I've completed the trek, I thought I'd put together that list of the best photo locations that I simply couldn't find prior to the trip.
I'm going to organize this list in order from start to finish as if you started the hike in Besisahar and ended in Pokhara.
I should note, however, before the list even begins that some of these locations don't have names. Other places have names that differ from one guide to the next. So, follow the instructions and the google map locations rather than trying to search for the name or asking a local.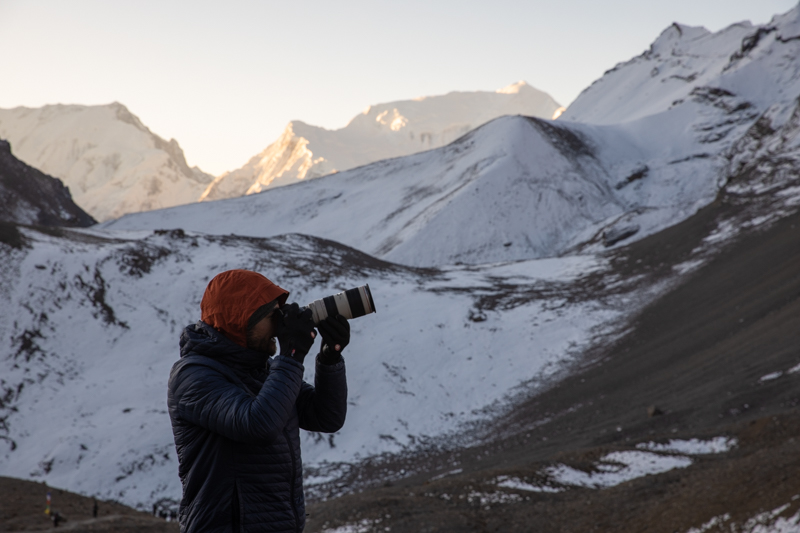 Syange Waterfall
Most backpackers make a lunch stop in Syange. It's a nice village with beautiful views down the valley. There is also a small waterfall on the end of town. And, honestly, though the multi-step waterfall is pretty impressive, it doesn't really stand out as more beautiful than any of the other roadside waterfalls along this section of the Annapurna Circuit. But, it is quite photogenic.
I used a 3.2 second shutter at 18mm to make this image below.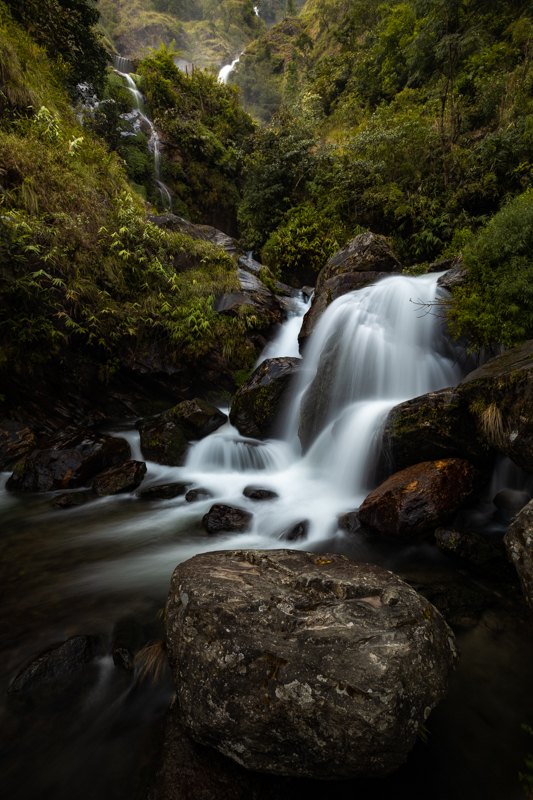 The Location
This is literally just after walking through town. I took the photo from the road itself; although there is a path up to the middle of the falls as well.
Chamche Waterfall
Just before you get to the village of Chamche – a spot most trekkers spend their second night on the trail at – you reach Chamche Waterfall. This might be the best photography location on the lower section of the trail. The waterfall is absolutely impressive, and photos just don't do it justice.
That said, there are definitely a couple photos to be made here. I made the below photo by having my assistant go out and pose in front of the waterfall. Then, I got low to the foreground to create some bokeh and blur. I then used a 10-stop ND filter to get a 2 second exposure for that silky smooth waterfall look.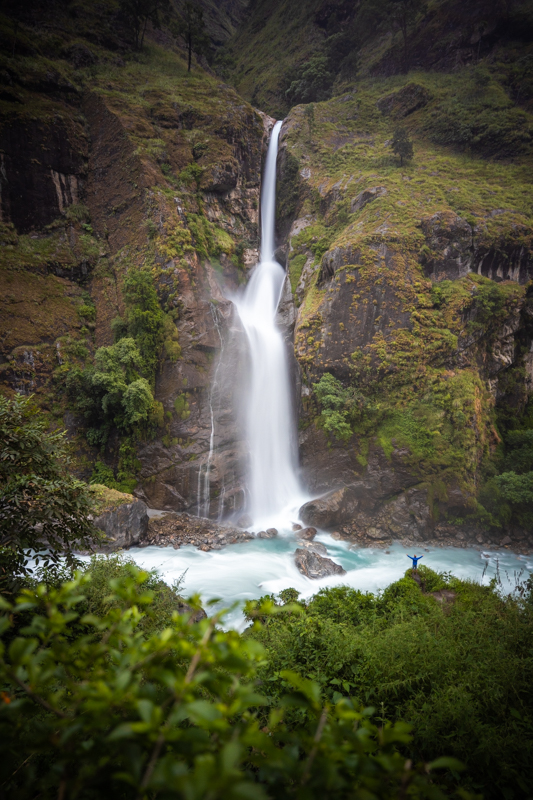 The Location
Again, this location isn't hard to find. It's right along the side of the road about 1km before Chamche. There is a little trail with steps down to the front of the falls, or a little viewing platform from the top. Both work for photos.
Valley View behind Chamche
I love the area around Chamche. The valley is impressive. I mean, even from the tea houses in the village the views are phenomenal. We headed out looking for a photo location near town to capture the valley. And, we luckily found a good one.
But, warning, this location is a bit sketchy. The rocks were you need to stand are next to a cliff that drops off a solid 300m straight down. Stand here at your own risk.
There are some wider photos to be made here. However, I opted to use my 100-400mm lens to focus in on the river and a fall dumping into it. My settings for the photo were f/11, 2.5sec., iso100.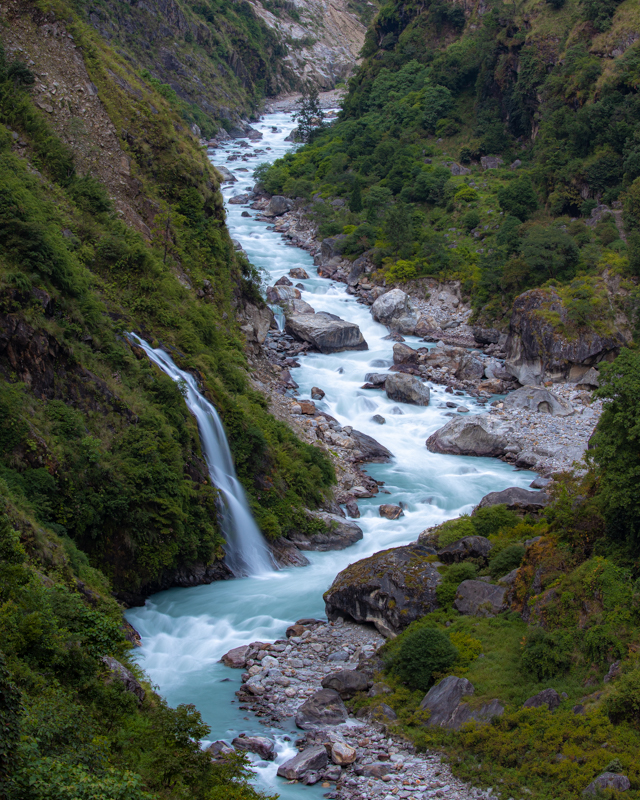 The Location
If you're leaving Chamche on the road walking uphill, you'll go around a couple switchbacks before the trail flattens out again. Up there on the right side of the road there are some rocks that lean out over the valley. That's the spot the above photo is taken from.
It's about 5 minutes out of town.
Timang Suspension Bridge
There are a lot of cool suspension bridges in Nepal. But, I found this one in particular really beautiful. It's partly due to the vegetation. Up near Timang you start to climb in altitude. And, up here, you're just above the cloud forest and you actually get some really beautiful fall colours in November or October.
This photo was kind of just a simple moment caught crossing the bridge. The settings are simple: f/2.8, 1/250sec., iso 800.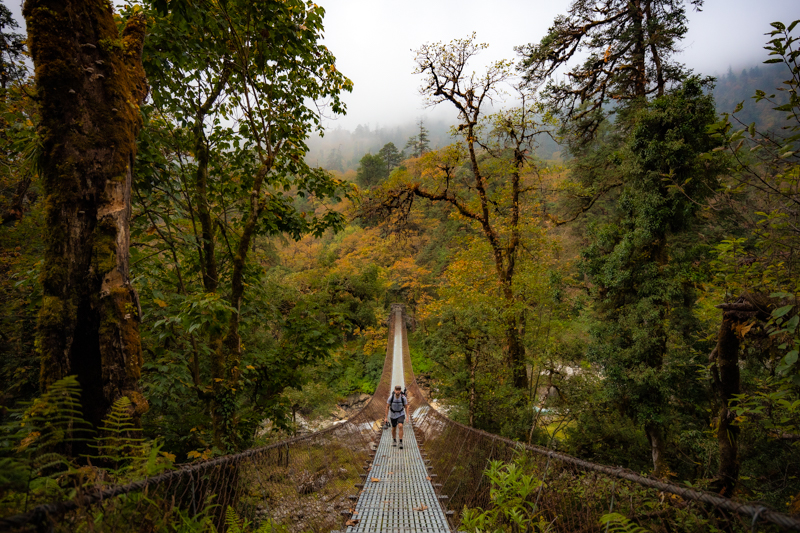 The Location
We actually found this location accidentally, so bear with me as I describe it.
Essentially, just before you get to Timang you climb a pretty steep part of the Annapurna Circuit. Afterwards, you cut through a beautiful bit of forest. Some tourists then opt to hop back onto the main road to get into town. However, if you decide to continue on the trail right into Timang, you will find this bridge right before town. I can't pin it on a map for you, since it doesn't exist on google. But, you'll find it.
Timang Mountain View
Oh man, the mountain views near Timang are incredible. This is really the first place you start to see the giants of the Himalayas. And, I actually think they look even more impressive from down here as the difference in height from ground to peak is still really dramatic at the lower elevations.
Just after sunset, I managed this long lens image at f/11, 13sec., iso100. I took it at 135mm.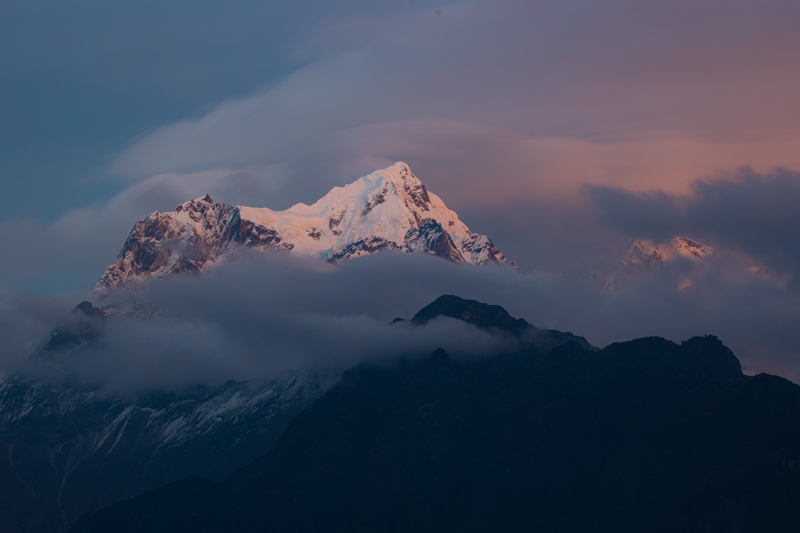 The Location
If you stay at Tibet Lhasa Guest House they have an awesome rooftop sitting area with views out at Manaslu Mountain which is the 8th highest in the world.
Dikuru Pokarhi Road
The road to Dikuru Pokarhi is beautiful. It's here where the Himalayas start to really humble you; as does the altitude.
There were countless places on this section of the trail that could have made great photos. But, honestly, when you're hiking you'd never make it anywhere on the Annapurna Circuit if you stopped each time there was a tripod-worthy photo.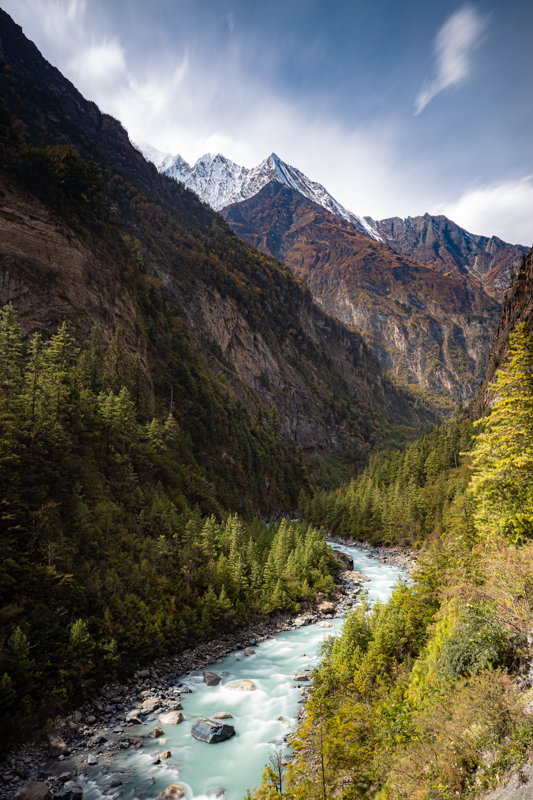 The Photo Location
On location along this section of the trail, though, really stood out to me. This spot in the photo below is after Chame but before the famous apple farm called "Agro Manang". I can't tell you exactly, but you'll see it.
Ngawal
When planning your trip along the Annapurna Circuit as a photographer, you're going to have some options. One of the options is going to be to follow the road along lower Pisang to get to Manang. Don't do it!
Instead, take the upper Pisang trail. Sure, it's harder. You climb a lot, and there's one section that you might cry. But, the views and the villages up along the upper Pisang part of the trail are some of the best anywhere. And even beyond this location that I'm going to share, there are so many cool photos here.
There are 2 photos I'm going to share from this location. They're both taken from the same spot. But, I couldn't pick just one.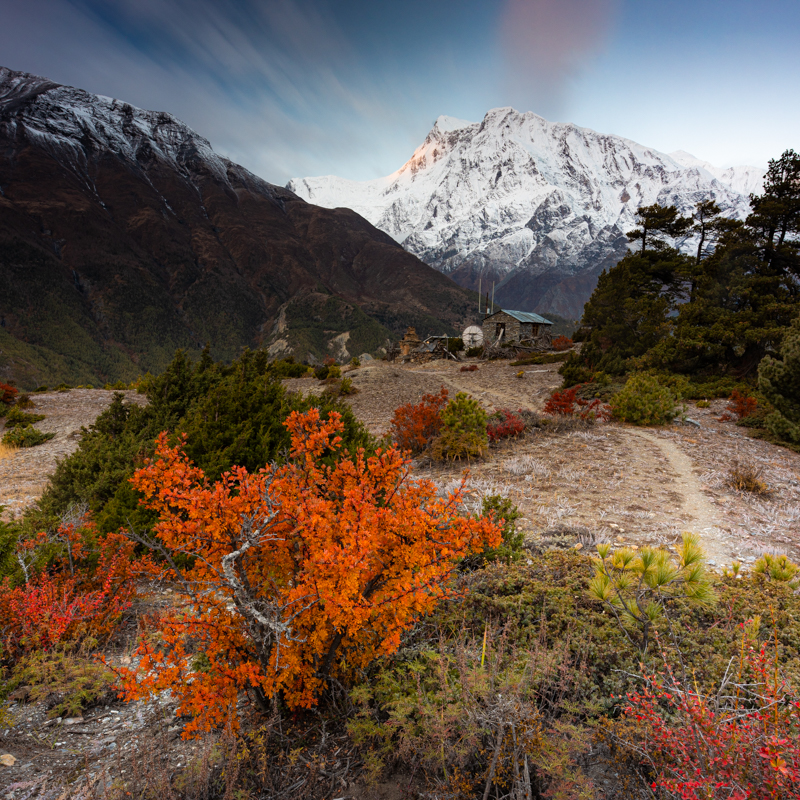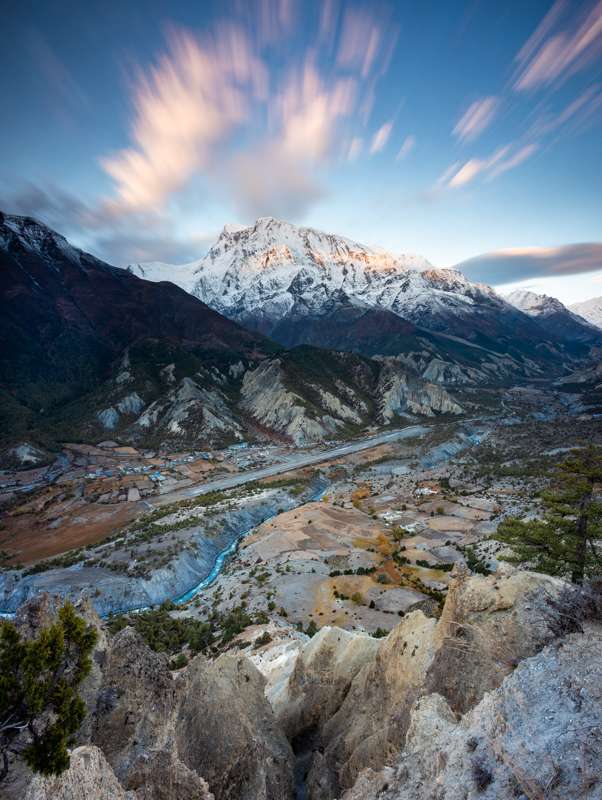 The Location
This location is pretty easy to find. Once you're up in the village of Ngawal you'll leave the village around the back near the temple. From there, there's a small trail that leads you out to a view point. I took both of these images from there. The first is from just before you arrive to the main view, and the other from the view itself.
In the map below I've linked the village. But, the location is the small cabin if you look straight south-west on the map about 300m.

Manang Stream
If you need to spend some time somewhere acclimatizing along the Annapurna Circuit Manang is a great spot – especially if you're a photographer. There are lots of photo options here, and some of them you don't even need to leave your tea house rooftop to photograph.
However, if I had to pick one location definitely worthy of a photo here in Manang, Nepal it's this stream that leads right up at Gangapurna Mountain.
The Location
To get here from Manang, it's fairly straight forward. You just walk down across the road and over the suspension bridge towards the base of Gangapurna Mountain. You'll see there's a small park with prayer flags covering it. It's on the map below.

Ledar
After a really tough day hiking we got to Ledar. And, honestly, after a quick acclimatization hike totally wore us out, we didn't really want to go take pictures. But, we were all glad we did. We were treated to one of the best sunsets in Nepal.
I'm again going to share 2 photos from here. Both were taken from the exact same spot – like, I didn't even move my tripod, I just spun it around 180 degrees.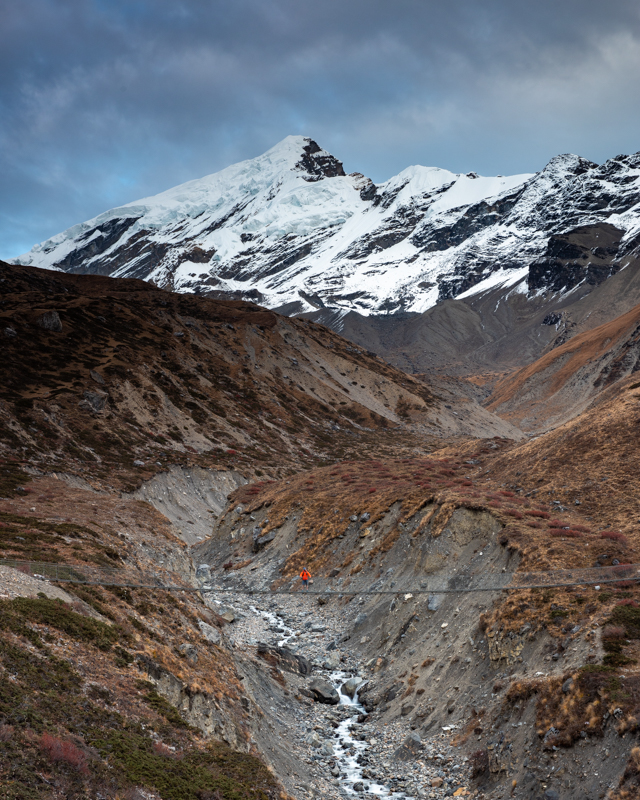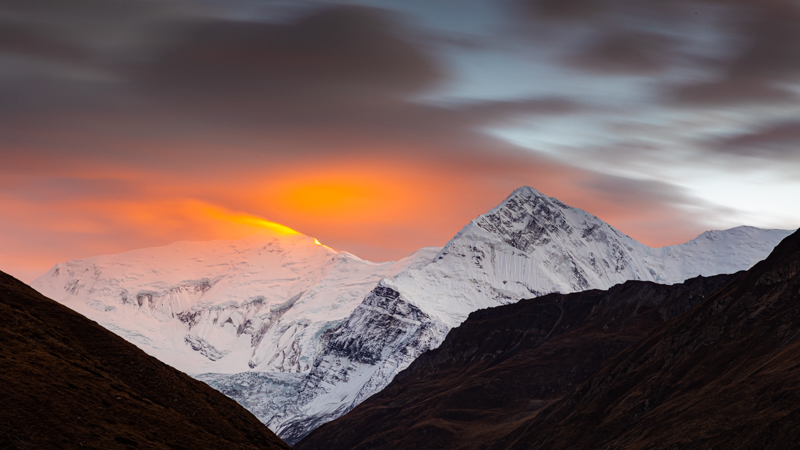 The Location
Not a whole lot fancy about this location. From the village of Ledar, you literally just walk down the edge of the valley on the village side of the river. You'll see the views each way.
High Camp
If you have any energy left after you get to High Camp, you should definitely try to do an acclimatization hike up to the viewpoint. The views are insane, and it makes for a really good photo if done right.
I do have to drop the usual disclaimer of "be careful". From this photo location you are literally hanging above the valley with a massive drop. And, a lot of the rocks aren't exactly stable.
You shouldn't need guidance on how to get here, it's obvious once you're at the camp. It's the hill in between the valley that starts from the restaurant at camp.
This is the view from the top.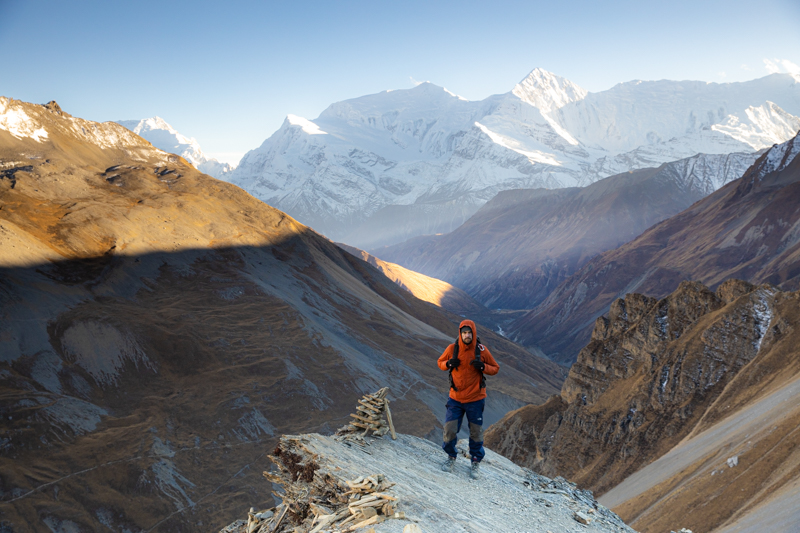 Muktinath
Once you make it over Throng-La Pass you'll start dropping altitude quickly. And, the honest truth is that you'll likely just want to sleep in the next day. And no one would blame you if you did. But, if you're still chasing photography locations here, then head up to the Buddha. You get incredible views of the massive peaks down the valley.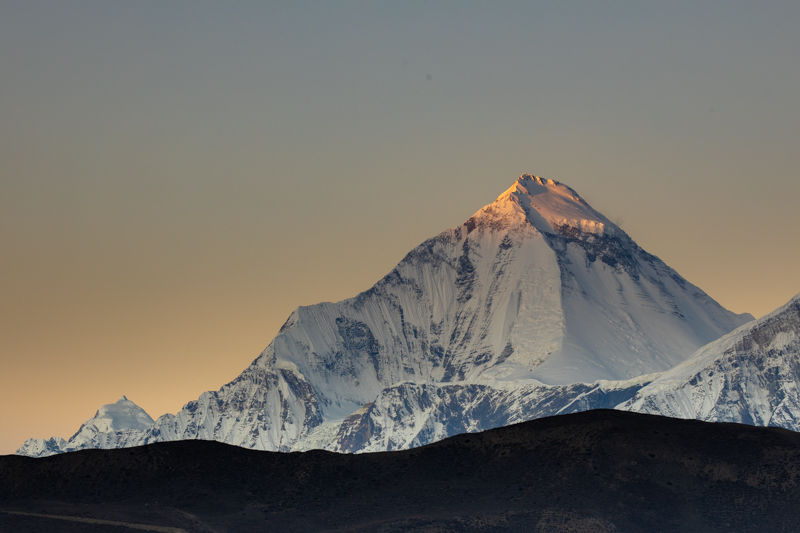 The Location
You can see this peak from lots of places in the city. However, the best angle is up at the Buddha. You'll see the statue from basically everywhere in the city. But, I've added a map below to help.
Marpha
I thought that the photography locations along the Annapurna Circuit would sort of end after we left Muktinath. But, Marpha might have ended up being my favourite location for photography in all of Nepal. It's not a mountain destination, but such a great place for street photography.
I don't have any specific locations in town to offer. Instead, I'd recommend just wandering. The temple is amazing, especially before dawn. But, you'll find photos on nearly every corner.
Below are my favourite 3 photos from Marpha.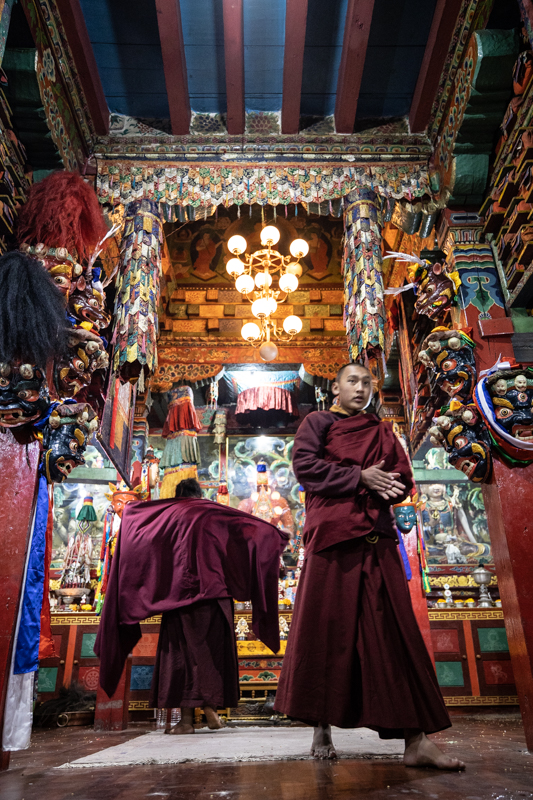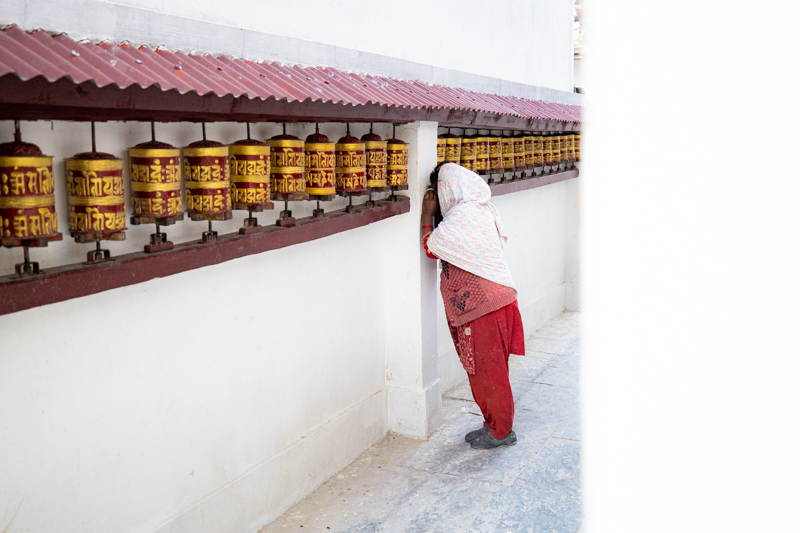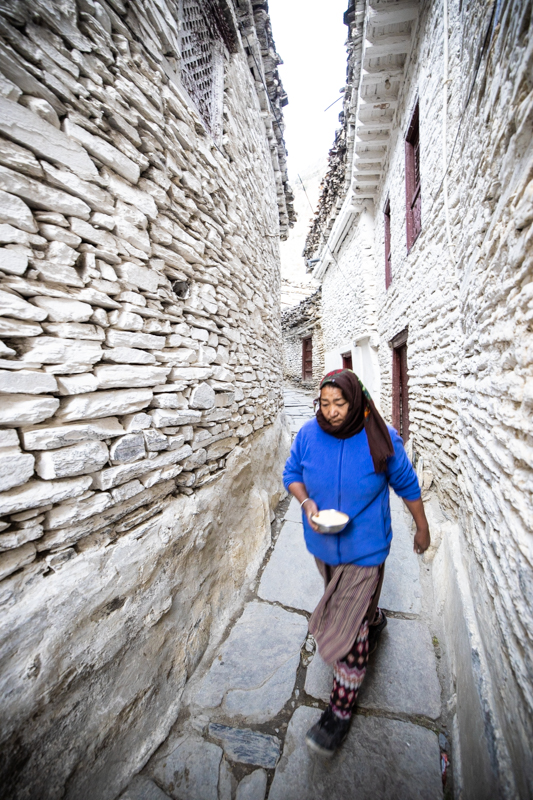 Pokhara
The city of Pokhara is, in so many ways, the hub of tourism in this part of Nepal. In theory, there are a bunch of really good photo locations in this area alone. However, we were short on time. There was also a massive layer of smog covering the mountains, so our options were limited.
Luckily, the waterfront made for a really cool image due to all the boats.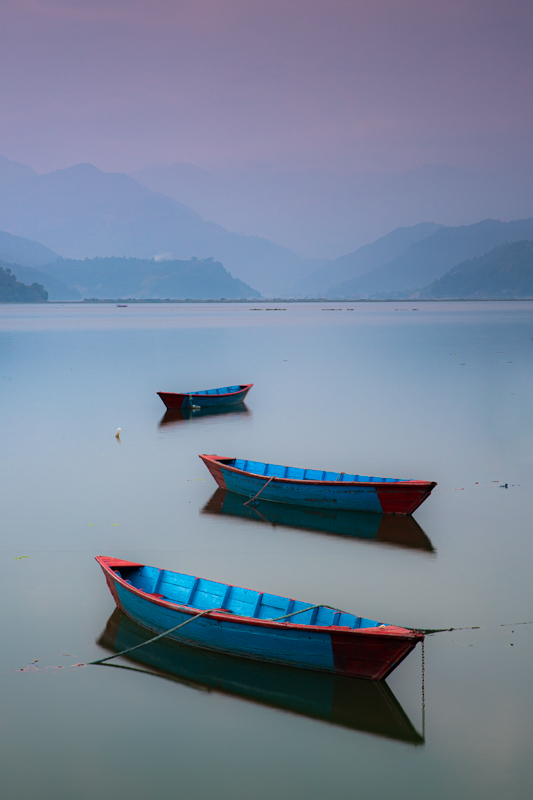 The Location
The location of the photo above is pretty simple. It's just down along the lake front. If you're looking for something else, you can also take one of these boats out to a little island where you are supposed to have really phenomenal views on a clear day.
What Camera Gear to Pack for the Annapurna Circuit
I put together a full blog post with everything you need to know about the Annapurna Circuit as a photographer. So, if you're wondering what camera gear to bring, head over to that post.
Want to Join a Photography Adventure?
These photos were all taken while leading one of my travel photography tours. We spent 14 days in Nepal exploring with our lenses.
If you're interested in joining us on a photography workshop somewhere in the world, please sign up for newsletter information below. There are trips in 2020 to Namibia, Iceland, and many more places!
What's Next?
I'm in Arizona and I have some new camera gear to play with including the beautiful Canon RF 70-200mm lens. I'll be exploring some of my favourite photo locations in Arizona on this trip, and there should be some really fun content coming from my time here stateside.