This is the official start of my Nepal photography blog content. And, before I get into the packing list, I should answer a question that everyone has been asking: will there be another Annapurna Photography trip? Honestly, I don't think so. It was amazing, and it was one of the best things I've ever done. But, it was also one of those things that kind of felt special and I don't know if another trip can live up to it. That said, there might be another hiking trip to another destination. There might also be another Nepal trip in the future, just set up differently.
Now that's covered, let's get into the packing list.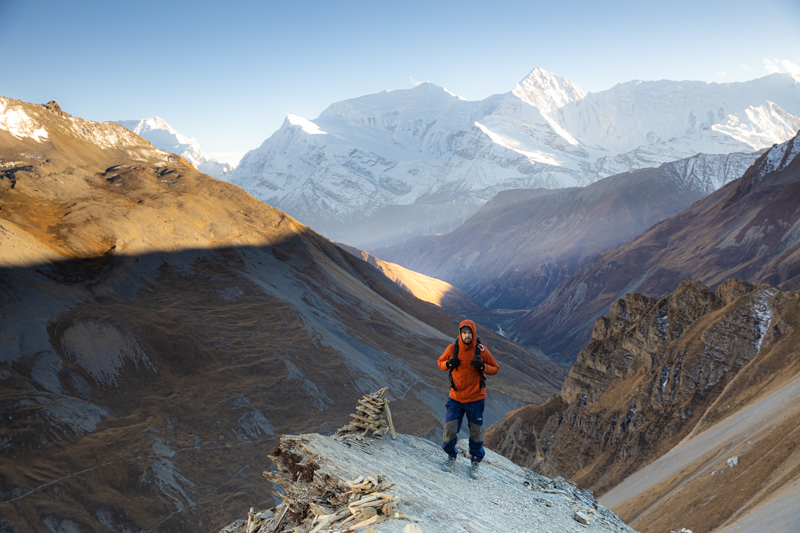 Packing List for Photographers
I had no idea what to pack for Nepal. Luckily, as a nomad, I have the luxury of having everything I own with me at all times. So, I could make some decisions at the last minute. In the end, I think I've come up with some conclusions. I definitely didn't pack ideally, but it was close.
I've split this post into 3 parts: clothing, camera gear, and other things. And I should note that this list isn't what I packed, but what I recommend packing.
Also, at the end of the post I'm going to drop some advice for photographers on how you should do the hike.
Clothing
I think the biggest mistake people make on any hike is that they over pack clothing. Yes, the Annapurna Circuit is 10+ days of hiking. But, you don't need 10+ pieces of each type of clothing. Everyone stinks on hikes. Over packing will only leave you (or your porter) struggling more while you hike.
5 T-shirts: ideally not cotton. Something that wicks sweat.
2 pairs of light hiking shorts: They will get dirty. It doesn't matter.
1 pair of light hiking pants: Again, they'll get dirty. That's OK.
1 pair of thermals: Especially good at night when it's colder.
1 pair of fleece lined pants: At night, and over the pass, these were gold.
1 light sweater: Something wool is ideal
1 fleece: For nights, and while you stop on the trail.
1 down jacket (-10 degree minimum): You won't hike with it much, but you'll love it at night.
5 pairs of socks: Hiking socks are best. Maybe wool for night.
5 pairs of underwear: For men, I recommend a brand called bn3th.
Hiking Shoes/Boots: If you have a big pack, get boots. Otherwise, waterproof hiking shoes are fine.
Flip Flops: At lower elevations, they're nice at night.
Swim Trunks: There are hot springs in Tatopani.
Gloves: On the pass, everyone in my group had extremely cold hands.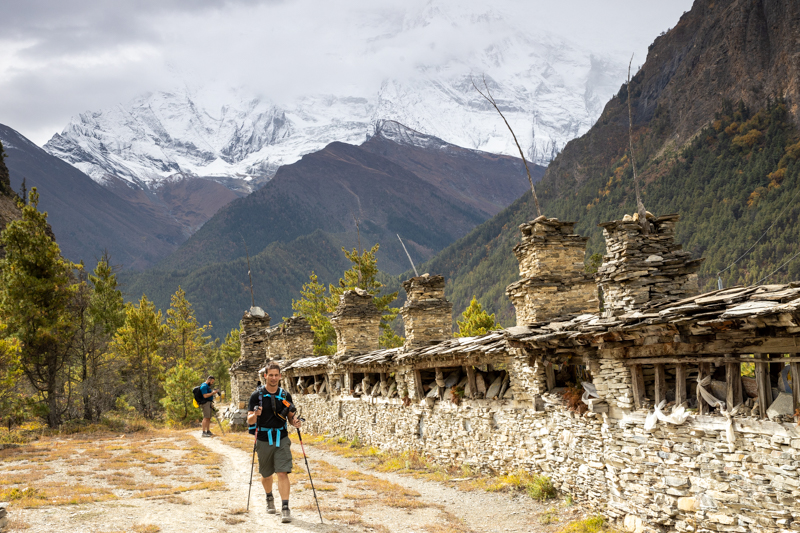 Camera Gear
The biggest struggle any photographer has – on any day – is trying to decide what gear we should pack. In the end, almost every photographer ends up packing far too much gear. We can often get away with much less than we think we can.
With my camera gear on the Annapurna Circuit I took some risks in the gear I brought, but I think I pretty much got it right.
1 or 2 Camera Bodies?
My biggest battle in trying to figure out what camera gear to pack on the Annapurna Circuit was whether I should pack 1 or 2 camera bodies. With a 10+ day trek, if you have a camera problem you're out of luck for the whole trip.
I took the risk, though, and only took my Canon EOS R. But, I was with my videographer Greg who has an R as well. So, worst case scenario, I could have used his camera as a back up. If I was on my own, I think I would have packed a second body. I likely would have also packed my Canon EOS RP.
Lenses
Holy Trinity: I think that the best kit of lenses for the Annapurna Circuit is the holy trinity. What that means is: 16-35mm, 24-70mm, and 70-200mm. That covers basically all you'll need. I did exactly this except for that I used the 100-400mm instead of the 70-200mm.
Prime Lenses?: Normally, I take a couple prime lenses with me everywhere. But, I decided I'd be fine with my 24-70mm f/2.8 and 15-35mm f/2.8. I was right. I don't think there was a situation where I wished I had more speed in something like a 35mm f/1.8 or 50mm f/1.4. On the Annapurna Circuit, there really aren't that many portrait opportunities, and the ones that exist tend to me more the environmental portrait type.
How Much Lens?: I think 200mm is the max length you need. I used my 100-400mm. But, I rarely used anything in the 200-400mm range. In fact. I really missed the 70-100mm range and ended up cropping down my 70mm lens quite a bit. I think you also want your 24-70mm at least to be f/2.8 so that you can use it for astro photography as well as for portraits.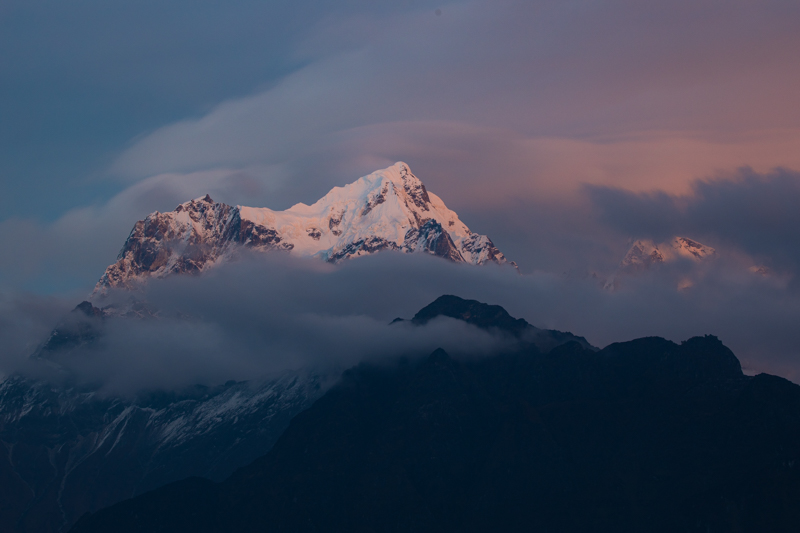 Which Camera Bag
I'd say there are 2 options. Either a comfortable camera bag, or a hiking bag with a camera insert. Both have their benefits. Obviously, with a hiking bag you'll save your back. But, you might struggle to get your camera gear when you need something.
I used my Shimoda Action X camera bag. It was perfect. I didn't struggle with sore shoulders or back at all on the trek. In fact, I really didn't feel like I needed a hiking bag at all. I've had this bag for a couple months now, and I still think it's the best camera backpack on the planet. I fall in love with it more each day.
Accessories
The choice of which camera accessories to take on the Annapurna Circuit was a bit of a challenge too. But, in the end I think I got it right.
Filters: I think you could do the whole Annapurna Circuit as a photographer with just 4 filters. I'd take a 2 3-stop NDs, a soft and a hard grad. I'd also take a 6-stop ND filter. And, finally, a polarizer. I used my polarizer much more than I thought I would.
What About Batteries?: This was my biggest concern. I heard from lots of people that we'd struggle to charge batteries. However, at basically every tea house we went to – with the exception of the High Camp – we had free electricity. So, I think this situation has changed. I brought 6 batteries for my EOS R and never had more than 3 uncharged batteries at one time.
How Much Memory?: I did mess up memory a bit. I used way more memory than I thought I would. And, sure, I was filming YouTube videos so I used way more memory than the average photographer on the Annapurna Circuit. But, I still used way more than I thought. Of course, memory cards are cheap and light so there's no real excuse to not have enough. I can't tell you exactly how much to bring on the hike because everyone has different needs. All I can say is to bring more than you think you'll need.
Peak Design Capture Clip: This goes down in the category of things I wished I used. Peak design has a clip that snap onto your camera bag's strap so that you can attach your camera to it while you hike. It gives you free hands to use hiking poles and doesn't swing around. I use L-brackets so I couldn't really use one. But, literally after the hike ended 3 Legged Thing announced a peak design compatible L-bracket. You can check it out here.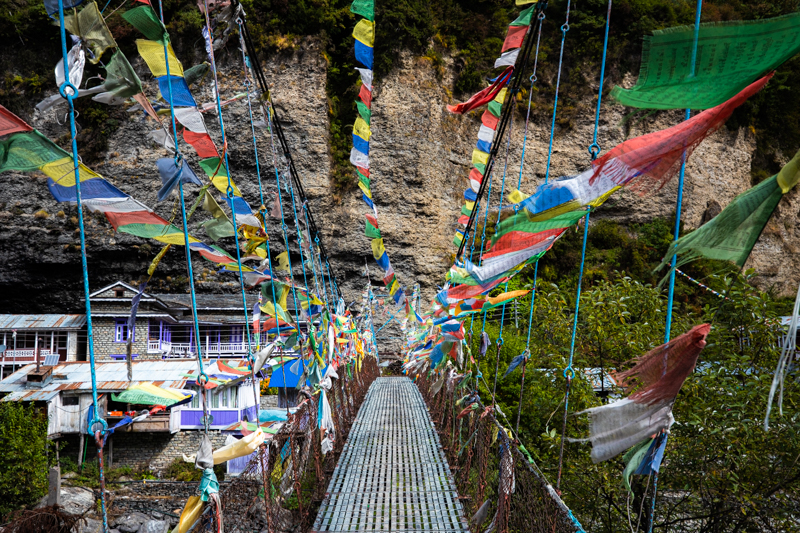 Other Things
Of the things that don't fall into the previous categories, there are some things that I wished I would have packed.
Life Straw / tablets: Bottles of water on the trek do cost a bit. Down at the bottom of the trail it's only about 30 cents a liter. But, once you get up in altitude you're looking more at $1-2 per liter. But, beyond the cost, you really want to limit your environmental impact on the Annapurna Circuit. If you bring your own water bottle and a LifeStraw or purifying tablets you'll save money and the environment. Winning.
Head torch: Don't forget a head torch. You'll want it for when you start at 3am to go over the pass.
Hiking Poles: I didn't use hiking poles because I had my camera in my hand. But, I wish I had the peak design clip so that I could have used poles. It would have made life easier.
Sleeping Bag: You might not need it at lower elevations, but pack a sleeping bag for the higher camps. The tea houses have blankets, but it's rarely enough. A -6 sleeping bag or better is recommended. You can rent one really easily in Kathmandu.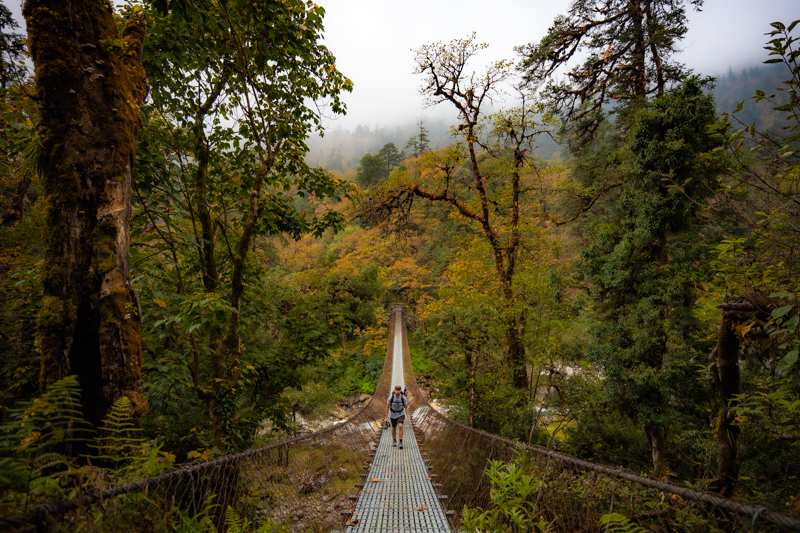 Porter or No Porter?
As a photographer on the Annapurna Circuit, I can't recommend a porter enough. Most porters will take about 10-20kg worth of gear. So, by hiring a porter you can basically give them all your non-photography equipment for the hike. If you're 2 people, you can use 1 porter between the two of you. Some porters act as guides too.
It's also helpful in getting the best accommodation. Often, the best accommodation in towns fills quickly. So, your porter can race ahead and save you a space. It's incredibly helpful and saves a lot of stress – physically and mentally.
Skip the Road?
A lot of photographers have started to skip the first 5 days of hiking and taking the road to Manang directly. And, sure, that's possible. If you choose to do that, though, you should definitely give take at least 2 or 3 days of acclimatization in Manang before attempting the pass.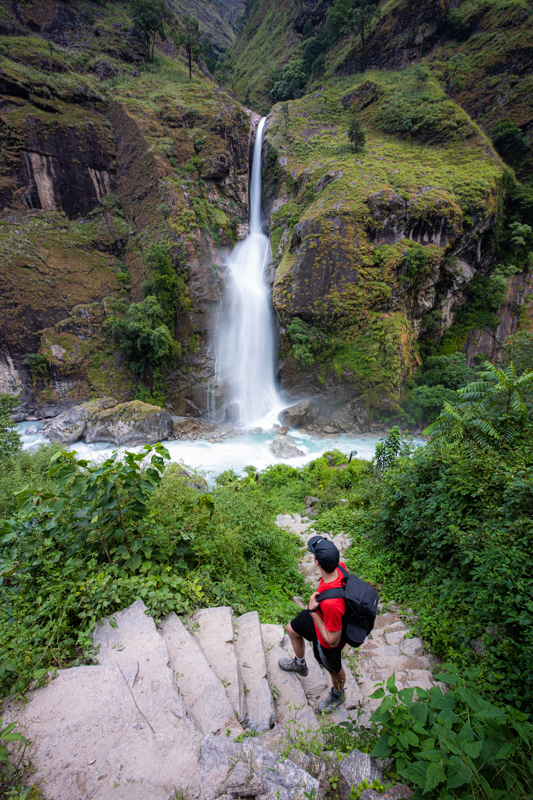 I should also mention that some of my favourite photo locations on the Annapurna Circuit were taken before Manang. So, it might not be worth skipping the bottom section. It's also really nice to build up your hiking legs on the lower sections of the trail before tackling the upper section.
As for after the pass? Well, we didn't hike after Muktinah, so I can't tell you how the trail is. But, I will say that even if you take jeeps or buses, you should make stops in Marpha and Pokhara for photography rather than just skipping back to Kathmandu (even if the road is sketchy).
Acclimatizing?
Without a doubt, Manang is the best place for photographers to acclimatize. And the reason I say "photographers" is because there are a tonne of photo spots nearby. Ideally, on a day-to-day basis you'd go up in altitude a little bit to get some acclimatization. And, head out and photograph sunrise each day.
Since we hiked to Manang, we only really needed 1 full acclimatization day there (2 nights). There are a bunch of photo locations around Manang, though, so if you're feeling like you need more time, this is a great spot to chill.
Safety?
Honestly, aside from the health safety of hiking at altitude, you'll be fine here. The Nepalese people are so nice, helpful, and welcoming. There's little to no crime against tourists on the Annapurna Circuit.
Maybe the one thing to consider, though, is that the buss heading down the roads face some insane roads. So, if you have the chance, maybe opt for a jeep instead.
Booking Tea Houses?
As far as I know, you can't book the tea houses on the Annapurna Circuit ahead of time. They usually operate on a first-come first-serve basis. There is, however, lots of accommodation – and plenty more being built. So, there's no need to stress too much. The only thing is that the later you arrive the less quality your accommodation might be.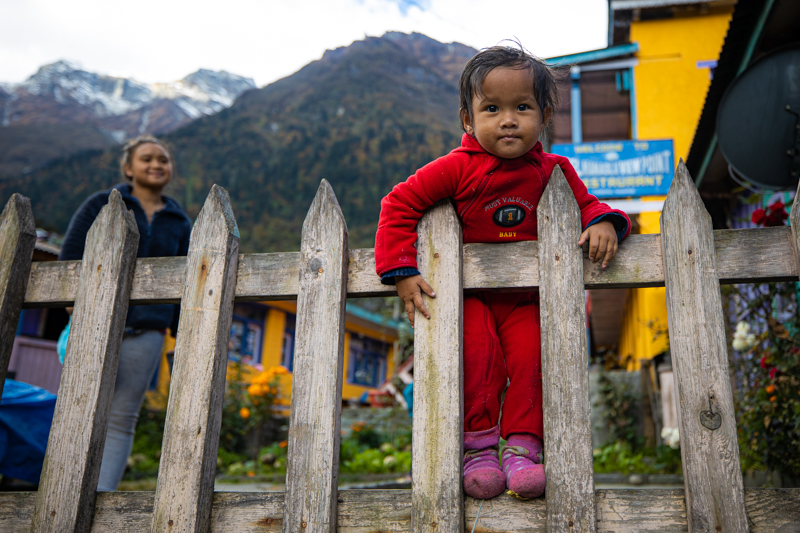 Time of Year to Hike the Annapurna Circuit
We hiked in late October and I think that was ideal. The high season is November and December, so we beat the crowds a bit. The weather was amazing the whole time too. We had near-perfect photography conditions almost every day.
There is a bit of a chance of rain or snow in October, but you should be fine.
What's Next?
Stay tuned to the blog because I've got two or three more posts from Nepal and the Annapurna Circuit. Moving forward, I also have some pieces from our recent workshop in Ecuador, and some new camera gear coming my way like an RF 70-200mm f/2.8 that I really wish I had on this trip, actually.