Long over due, I'll be leading another trip to the always incredible Galapagos Islands!
There really is nowhere else on the planet as incredible as these islands. Full of wildlife only found here, it's an absolute joy to photograph. Whether professional or a totally new photographer, there are just so many opportunities to make amazing photographs here.
On this particular photography tour, we'll be spending 5 days cruising the Galapagos Islands and a couple days in Quito photographing the sights, and doing some photography clinic stuff to prep ourselves for the wildlife on the islands.
Information
Dates: December 6 – December 14, 2023
Start/End City: Quito, Ecuador
Price: €5,490 (based on double occupancy)
Deposit (refundable): €1,372 (25%)
Participants: Maximum 14 participants
Skill Level: Any
Activity Level: No major hiking. Some walking.
The Itinerary
The exact itinerary will be confirmed at a later date. Of course, the cruising on the Galapagos Islands will be at the discretion of the ship captain and the guides.
Day 1: Participant arrival – Overnight in Quito
Day 2: Full day of photography in Quito + prep for the Islands.
Day 3: Early morning flight to Galapagos – exploring San Cristobal and Los Lobos Islands
Day 4: Exploring Espanola Island. Locations likely Osborn Islet, Gardner Bay, Suzarez Point, and Post Office Bay.
Day 5: Exploring Floreana Island. Locations likely Cormorant Point and Devil's Crown.
Day 6: Exploring Santa Fe Island and South Plaza.
Day 7: Early morning visit to the Giant Tortoise Sanctuary. Afternoon flight to Quito.
Day 8: Day 6 in the Galapagos.
Day 9: Departure day from Quito. Afternoon flight to Quito.
**Note: The itinerary in The Galapagos Islands is not set in stone and can change based on environmental variables.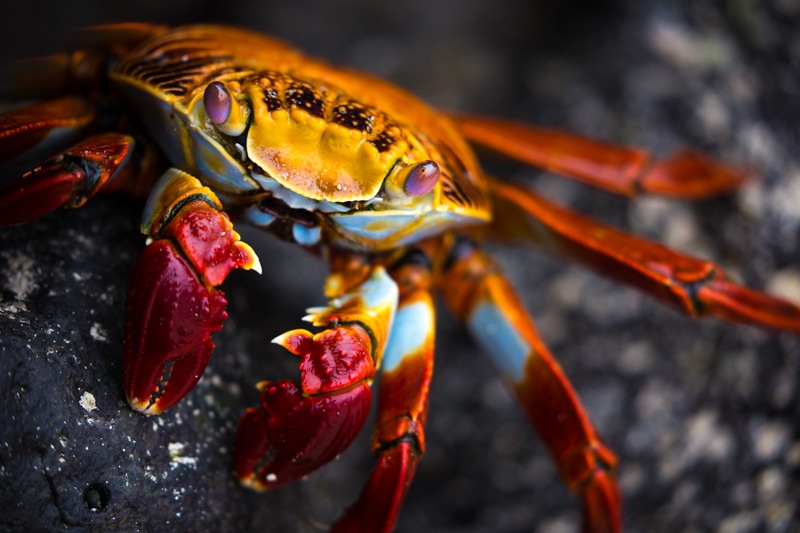 About the Ship
The ship we will be on is in the Midrange-Class category. It is extremely comfortable and the rooms are very nice. All of the rooms are twin beds with the option of a double bed instead for couples.
The ship is our home in the islands. We sleep on the ship, we eat on the ship, we snorkel off the ship, and we learn about both photography and the islands on the ship. Each ship comes with 2 professional naturalist guides that will show us around the islands and explain the Galapagos Islands to us. They'll also make sure we're on our best behaviour in respecting the natural wonder of this place.
What's Included/Not
What's Included

Airport transfers on days of arrival and departure
Flights to The Galapagos Islands
National Park Fees
All Meals while in the Amazon and Galapagos
Accommodation
Professional Photography Instruction by Brendan
Professional Naturalist/Guides in The Galapagos
1-on-1 Sessions

What's Not Included

Transport to/from Quito
Alcoholic Beverages
Visas for Ecuador (if needed)
Photos from The Galapagos Islands
Below is a series of images from my last photography tour to the Galapagos Islands. This is just a handful of the near 1000 images I took on the trip.
Ready to Book?
If you're ready to book, you'll need to pay a deposit up front to hold your space. The deposit is refundable minus a 10% fee up to 180 days before the trip starts. For all the terms and conditions of booking please visit this page.
Note that the price is based on double occupancy. If you'd like information regarding a single supplement, please read the FAQs below.
**THIS TRIP IS SOLD OUT**
If you're interested in joining the waiting list, please send me an email to brendanvanson at gmail dot com.
FAQs
What does double occupancy mean?
Essentially, it means that each room is shared by two people. If you're booking alone, you'll be matched with another person of the same gender to be your roommate for the duration of the trip. If you're booking as 2 people, you'll share a room.
Is there a single supplement option?
Yes. But, due to the nature of the ship, it is expensive. The single supplement for this trip is 3250 Euros.
What sort of fitness level should I be?
The truth about The Galapagos Islands is that you can enjoy them regardless of your fitness level. That said, there are some walks along uneven ground so you should be comfortable on your feet. There is also the option for some snorkeling if you'd like. But, of course, that's optional.
Do I Need to be a Good Photographer?
Honestly, no. The beauty of The Galapagos Islands is that the wildlife isn't scared of you at all. They pose willingly for photos, and it's actually a brilliant place to learn photography, or practice your skill set.
No matter your skill level or gear, you will get great photographs here.
Why is the deposit higher than other trips?
To secure a charter ship, I need to pay for the entire ship well in advance. Thus, there's a higher upfront cost to secure that ship. On many of my trips, there are few upfront costs to myself, so I can manage with smaller deposits.
More questions?
If you have more questions about this trip, feel free to email me at brendanvanson at gmail dot com.
Can't Join This One?
If you can't join this trip, there are still a number of other trips with space. Check out all my photography workshops and tours here.
And be sure to sign up for my newsletter below to get the latest information on the upcoming trips.