Arizona is such a brilliant state to be a photographer. There are just endless locations to take pictures and work on your photography. Especially if you're a landscape photographer. I've now spent about a month every year for the past couple years exploring Arizona and shooting images at different places, and returning to some as well. These have been my favourite.
A quick note, too. This list is not an "everything" list. These are just the locations I've gone out and shot (and liked). Over the years, I'll be updating this list with new locations I discover. Moreover, if you've spent time in Arizona shooting photography and you have a location that you've shot that's not on the list. Please, comment below with the locations – or, better yet, a photo.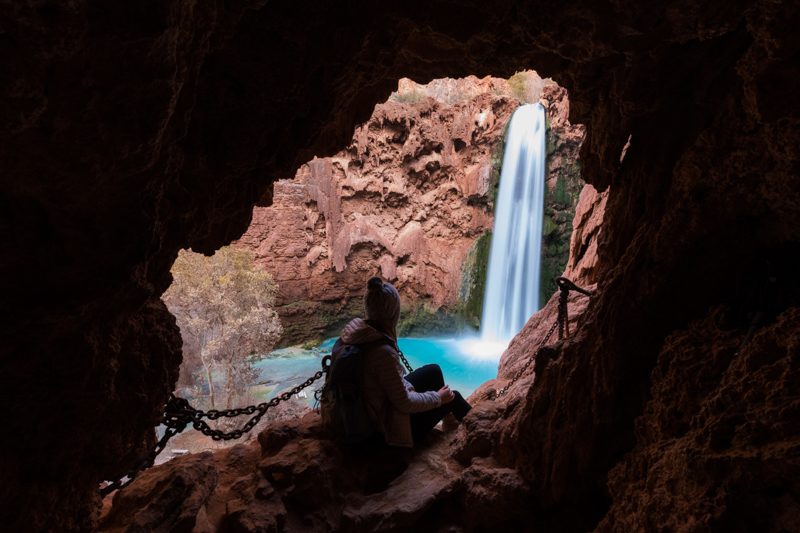 Best Locations in Arizona for Photography
These locations are listed in no particular order. And, as mentioned, these aren't the only places to shoot. Check out the comment section below for the user-sourced locations as well.
Horseshoe Bend
This is one of the most photographed locations in America. And, while most people misquote it as The Grand Canyon, it's actually not. That being said, it is the Colorado River below, and, well, it is pretty grand.
Horseshoe Bend is nerve-wracking if you're afraid of heights. It's high, there's no ledge or barrier, it's often really windy, and to get the best shot you need to be right on the edge.
It is an extremely busy location, though. Especially in the summer months, don't expect to have this to yourself. It will be packed, there will be other tripods, and you will have to jostle a bit for location. But, the nice thing about Horseshoe Bend is that it is a big area to shoot from. So, with some patience, lots of people can get shots that look like there's no one else around.
Best Time of Day: Sunrise. It's quieter. Also, an underrated star photography location.
Best time of Year: Summer is busy, winter is quieter although beware of weather. The fall is most likely to bring rain. Also, avoid Chinese New Year dates as it gets intense with all the Chinese tourists.
Photo
Location:
Antelope Canyon
There is bad news for photographers at Antelope Canyon. As of 2018, Ken's Tours – which used to run the photography tour in Lower Antelope Canyon – is no longer running those trips. Thus, no more tripods in Lower Antelope Canyon. The reasoning I was given was because the photographers take up too much time and space in the canyon. It seems they'd prefer to just churn people through. I get it from a financial standpoint. However, I also think photographers would pay a fortune to get some time alone in the canyon. And, it's a bit of a kick in the face to the photographers whose images really are what made this place so popular. But, it's also nice that anyone can still visit without paying a fortune.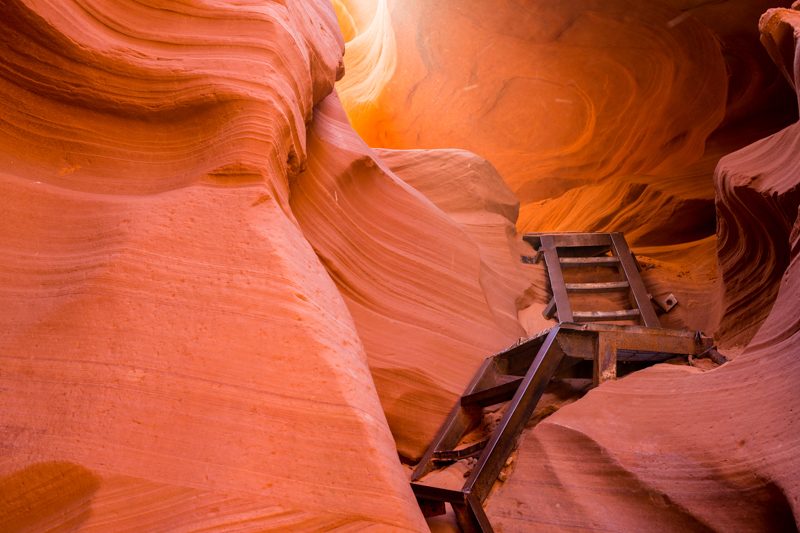 The good news is that there is a photography alternative to Lower Antelope Canyon: Canyon X. Canyon X is awesome. And, the best part is you're likely to have it alone. When we went, there was only 1 other person in our group. And, according to the land owner, there were only 7 people in the canyon all day. There's a video below with our experience in the Canyon.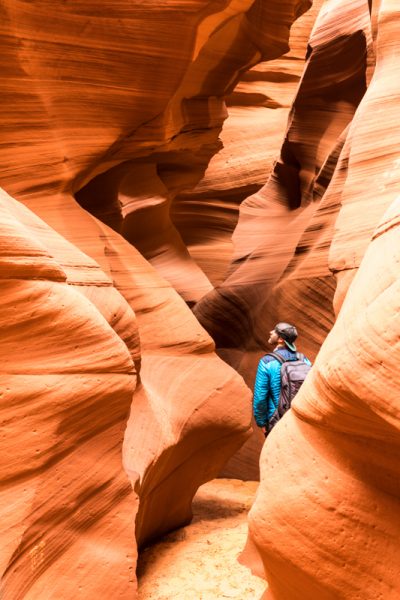 Best Time of Day: Whereas most photography is best done at sunrise or sunset, the canyons are best done midday when there's some light in the canyon. That's where you have the potential of getting a light ray or two.
Best time of Year: Personally, I think March is ideal. In January you'll have the lightest crowds, but March you'll still have small crowds but the light does hit the bottom of parts of the canyon by then.
Location (for Canyon X):

Monument Valley
This is not only one of the most classic photography locations in Arizona, but the whole of the United States. And one of the coolest things about this photo spot is that while there is one obvious shot, there are dozens of ways to shoot it. And, you usually get fairly nice desert sunsets and fantastic clear skies at night which means you can usually shoot sunrise, sunset, and stars here.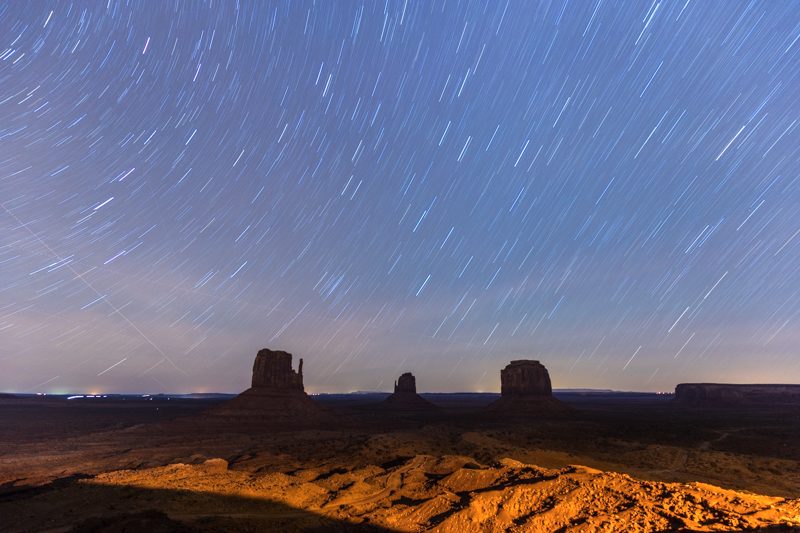 Moreover, while I'm only showing you the classic view point of Monument Valley, there are obviously dozens of locations you can shoot in the area. It's a fantastic area for photography. If you're lucky, you can ever catch wild horses racing through the fields. It's just a wonderful place all around, and a great place to be a picture maker.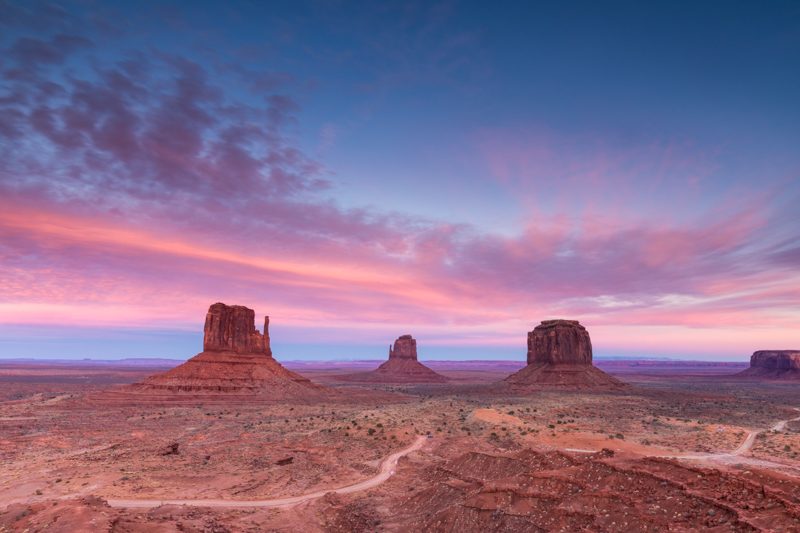 Best Time of Day: Anytime.
Best Time of Year: In Winter you won't get the crowds (as long as you don't hit Chinese New Years). However, it can be cold. March seems like a sweet spot. The summer can be tough. It's busy, and it's hot!
Location
Grand Canyon South Rim
I've never had the fortune to photograph the North Rim of the Grand Canyon, and I've only been to the South Rim twice – getting washed out by a blizzard once. But, the Grand Canyon might be the most challenging photo location I've been. It's not that it doesn't live up to expectations or anything though; it's that it does! And, it's really hard to capture the scale and size of it.
There are lots of spots to shoot the Grand Canyon from. They are all fairly similar with small difference. So, honestly, you kind of have to wander along the rim stopping at the various view points and scouting the type of image you want. That said, I had a ocuple favourites. I liked Lipan Point the most, but didn't get to shoot it. I did shoot Navajo Point, which was great. Also, The Desert View Watchtower is underrated. Yavapai Point is one of the most popular spots, but I thought it was only OK. I think it's just popular because it's closest to the village.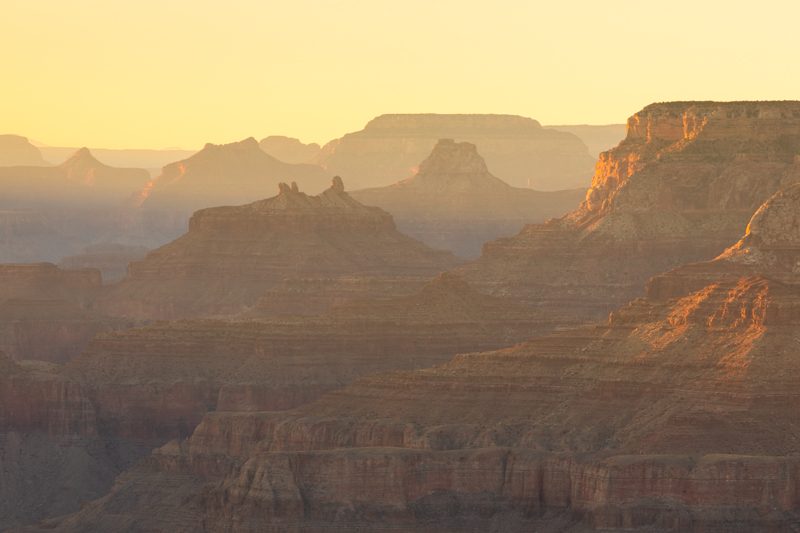 Best Time of Day: Sunrise or sunset. In my opinion, it looks best with the sun just below the horizon as the light is softer.
Best time of Year: Any time of year can be magic. Fall is wonderful. But, winter is fantastic as long as you don't get stuck in a blizzard. If you get fresh snow, though, it can be absolutely unreal.
Location (of Navajo Point):

Havasupai
When I first went to Havasupai some 6 years ago it was still fairly unknown. Nowadays, it's one of the most popular hikes in all of the US. In fact, the campsite and lodge in Supai are often fully booked 6-7 months in advance and are generally full from mid-March all the way to October. The way around it? Go in Winter. I've been 3 times (all in January), and each time I'm basically by myself (usually there are 2 or 3 other people about).
See the Vlog below on my most recent experience.
In Havasupai, there are loads of places to shoot. Of course, Havasu Falls is the most popular place. But there's also Mooney Falls, Navajo Falls, and Beaver Falls which is much farther in (and I've not made it there yet). You could spend days here. And, at minimum you'll want one full day.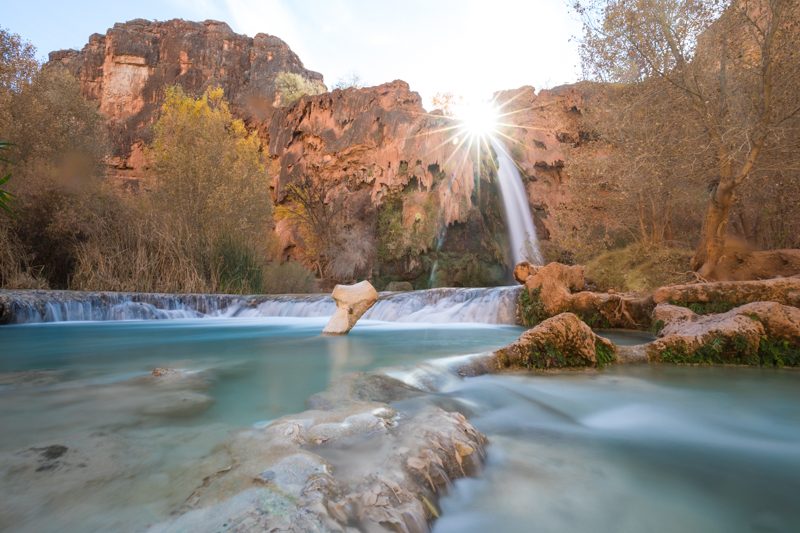 Best Time of Day: You can shoot this area any time of day or night. It's that good.
Best time of Year: I think January is best, but be prepared for the cold.
Location (of Havasu Falls):

Red Rock Crossing, Sedona
Oh, Sedona. This is Wiley Coyote territory. It seriously looks like it's straight out of a cartoon. And, of all the locations in the Sedona area, few are quite as impressive as Red Rock Crossing. Best of all, you'll likely have this location all to yourself as it sits within a state park.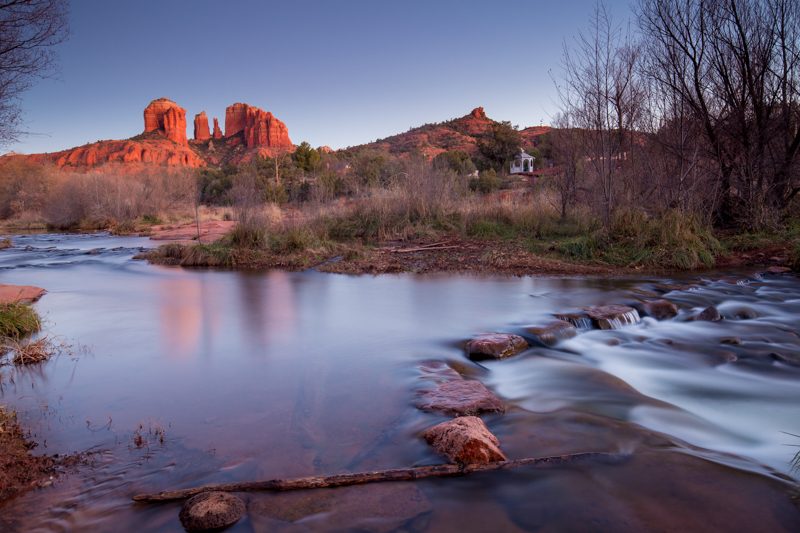 Best Time of Day: Sunset. At sunset the rocks get lit by the last bit of sun.
Best time of Year: Any time of year is good. In the winter, you can get interesting "fall" looking colours in the trees.
Location

Devil's Bridge, Sedona
This is the most "instagrammed" place in Sedona, for sure. In fact, some of the gift shops have T-shirts that say "I survived the devil's bridge". In reality, it's not as scary as it looks. But, it does make for a great photo location, especially if you can manage to get it to yourself for a minute. It's a never-ending stream of people here. It is busy.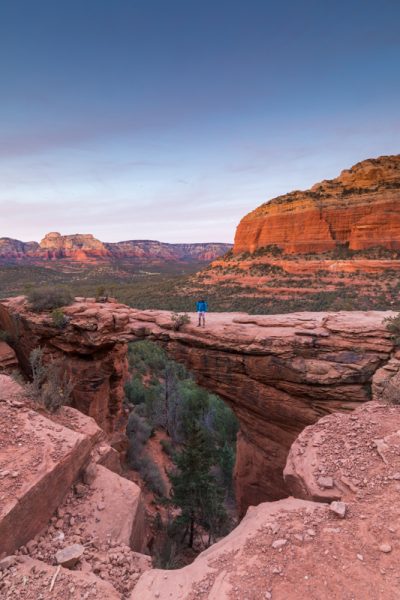 I've never been at sunrise, and that might seem like a solution. However, the light comes in here at sunset behind you and creates a nice glow. So, it's almost necessary. Also, as you'd be hiking a bit blind if it were your first time here, it might be best to head up for sunset instead.
Best Time of Day: Sunset
Best time of Year: Mid-week, any time of year. It's always going to be busy.
Location

Salt River
Near Phoenix, there are actually a lot of cool places for photography. However, I haven't really spent much time shooting them. Can you blame me? There are so many other epic places to shoot in the state!
I went on a meet up to go check out Salt River and I actually loved the location. It's such a cool place for photography. Apparently, there are some wild horses that roam around there too – though I didn't see any. The spot itself is really cool. Head to the tubing put-in for the best spot.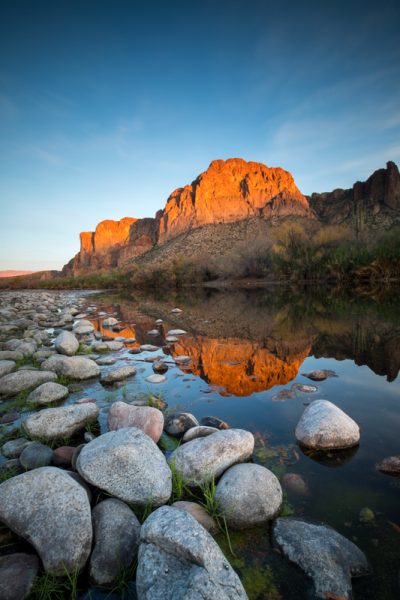 Best Time of Day: Sunset. The mountains get a nice bit of alpenglow.
Best time of Year: Any time of year works. But, the water will be lower and more rocks exposed in the Winter.
Location
Saguaro National Park
This is actually such a cool location. But, again, it's one of those spots you can only be in from sunrise to sunset. That said, there is a bit of leeway on that, and I managed to shoot here until about 20 minutes after the sun went down. There are countless spots you can shoot from here. It's pointless for me to point you to an exact spot as there are thousands of shots to be had here.
Best Time of Day: Sunset.
Best time of Year: If you can be here for the blooms on the cactus, it is beautiful!
Location
Canyon de Chelly
I recently made a run up from Phoenix to Canyon de Chelly (pronounced Canyon-duh-Shay). It's awesome. There's one view point in particular that makes from a fantastic set of images: Spider Rock.
Though we didn't really get great light up at the canyon when we went, there's good reason why this is one of the most popular photo locations in Arizona. It's spectacular.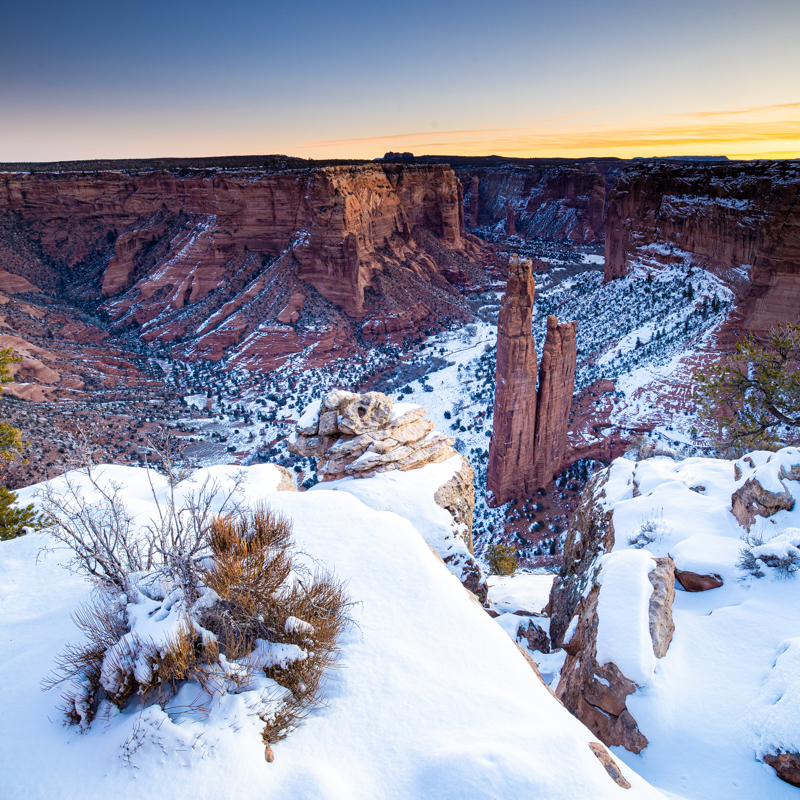 Best Time of Day?: Just after or before sunrise/set. The canyon gets dark, so it seems to be best when the sunlight isn't hitting anything but the clouds.
Best Time of Year?: Try winter after a dusting of snow.
Map:
Other places I've yet to visit
There are so many other spots in Arizona to shoot. Honestly, I'm not sure there's a state in the US I'd rather be a photographer than Arizona. I have a list of places I still need to get to – such as Grand Falls, Alstrom Point, and Grand Canyon North Rim – but there are also so many places I've still not discovered. Moreover, there are some spots I need to return to and re-shoot. As I mentioned, there's just an endless amount of spots.
This list will be updated each time I return to Arizona. Be sure to check the comment section for some crowd-sourced locations.
Logistical Tips for Photography in Arizona
Avoid Chinese New Year: The Chinese New Year holiday means that a lot of these locations are packed with tourists. Especially Page and the Grand Canyon get crazy.
Monsoons can be fun: Monsoon season is underrated. The light can be amazing.
You Need Wheels: You NEED to rent a car. You can't get to most of these locations without it. The best prices on rental cars in the US usually come from here.
Motels don't suck: I know lots of foreigners are scared of motels. But, in Arizona they're generally the best place to stay. They're cheap, and you'll have a quick move from your room to your vehicle. I recommend this for booking your hotels.
No Camera Shops: Aside from Phoenix and Flagstaff, don't expect to find places to buy camera gear out in the field. Be prepared.
Don't forget Astro: Arizona is star photography paradise. Don't forget to plan in some time with the stars. But, don't expect to see the core of the milky way in the winter.
Be Safe: Arizona might seem harmless, but it's tough. Bring water, don't get too close to cliff edges, and watch for ice on the roads. Se safe, and have some fun!
What Are Your Favourite Spots?
If you've got some favourite spots, please share them in the comment section.
Photography Workshops?
I run 6-12 travel photography workshops a year. And while I don't have anything planned in Arizona at the moment, be sure to check out the workshops and tours page for the destinations up in the coming year. I have some spaces left for trips to Iceland and Georgia.
For announcements for upcoming photography workshops and trips, be sure to sign up to my newsletter below.