I'm trying to get better at making a blog post for every big video I do. That way, there's a way for you all to check out the images in a little more detail if you'd like. Today, I put together a video of street photography in Manila.
Manila is an awesome city for street photography. There's a reason that plenty of famous street photographers come from here in The Philippines. It's honestly a feast for photographers. There are so many colours, faces, and stories to tell on the streets here.
So, below you have the video I put together. Then, if you wish to scroll a little bit farther you can check out some of my favourite images from the days and the stories behind them.
Chinatown
One of the obviously places to go do street photography in Manila is Chinatown. This is actually the oldest "Chinatown" in the world, and has all the visual stimulants that you find in China. It's a fantastic place to make some images and explore.
Welcome to Chinatown
Ok, so I'm posting these images chronologically rather than in some order of preference. It's also because I'm a little bit late, but forgive me.
In much of the world, street photography can be intimidating. But, in The Philippines it's almost the opposite problem. People are almost too friendly. So, when you're looking for a gritty scene of the streets – you get smiles along with them. And, sure, it's refreshing. But in street, you almost want people to act like you're not there. In The Philippines the smiles almost always come along with the photos.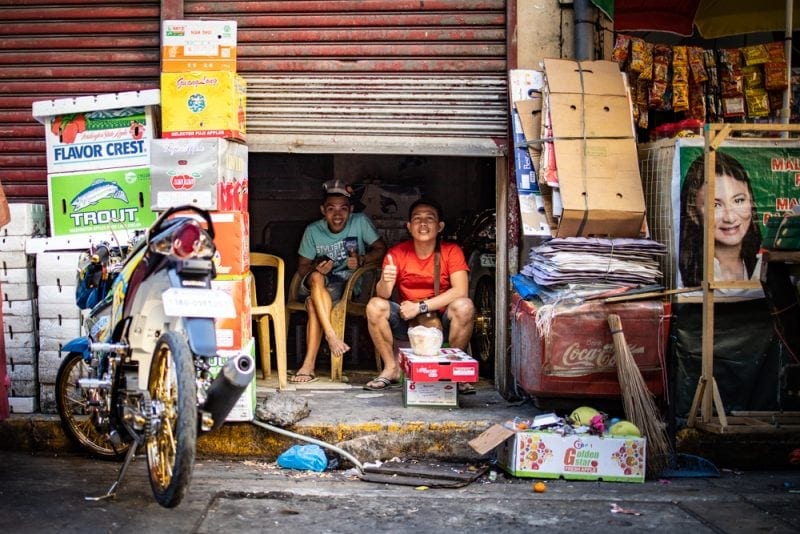 Vendor
This guy kind of reminded me of Canadian legend David Suzuki. And with a beard like that, I couldn't resist asking for a photo.
And, yes, even in my street photography I ask permission to take photos. Not every single time. But, any time I want to put my camera in someone's face, I'll ask permission first. Some might say that makes this a portrait rather than a street image, and I'm OK with that.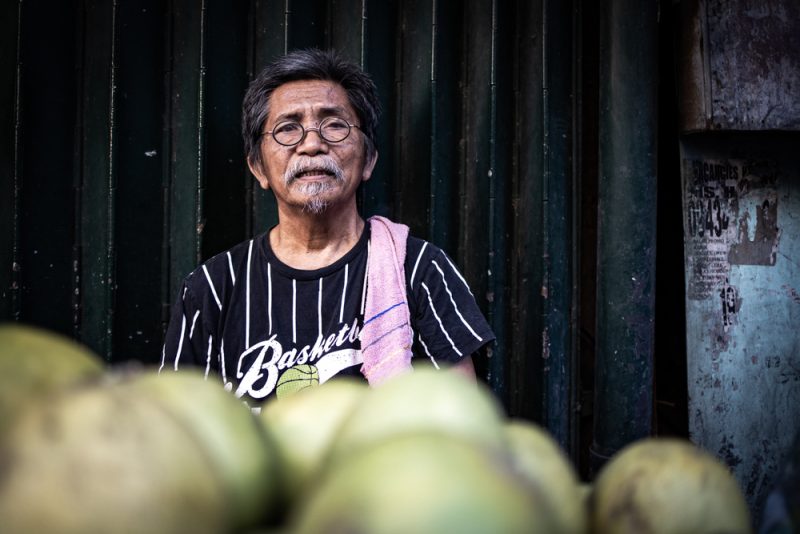 Night at Day
I know there's lots of alleys like this in Asia, but for me finding them is like gold. It's the middle of the day. But, the alleys are so narrow and covered that it almost turns to night. I makes for some beautiful light for this style of photography. We didn't have to wait long for this scene, and this perfect subject, to develop down the alley.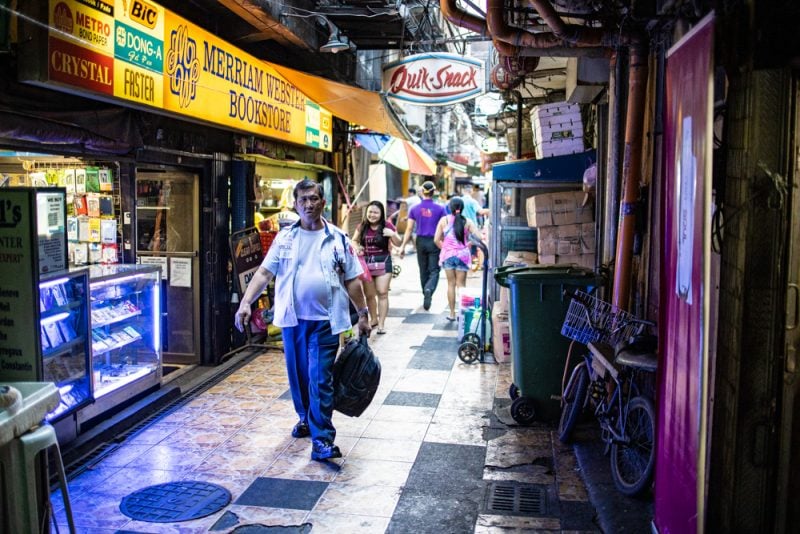 Sweet Ride, Bro
I don't know what it was about this image that begged to be taken. But, I think it revolves around the guy on the scooter in the foreground. He just oozes of swag and style. And, I think the image would have been alright if he was alone.
But, the story develops behind him with the girl in the beautiful pink helmet and the man in the truck watching me photograph it all. Perfect.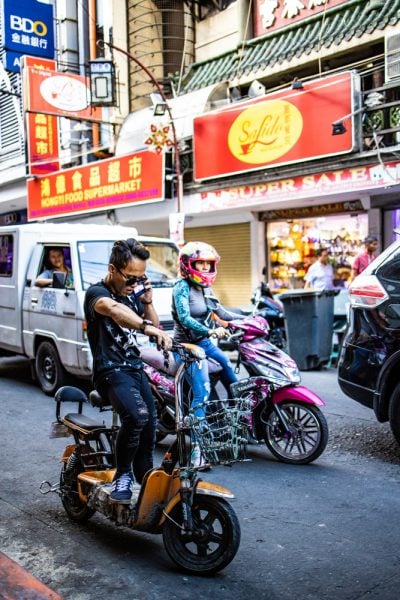 Contrasts
I've been trying to do some things differently with my photography. One of them is to look more for contrasts.
In the past, I've actually gone out of my way to avoid contrasts. I shot into back light, I used front lit subjects, or even side lit areas. But, if I saw harsh light like this image below I would have avoided it. But, I'm finding that if I'm patient and I have the right elements in the right parts of the image, the contrasts can really benefit the photos.
I've got work to do, here. But, I'm really happy with the early results.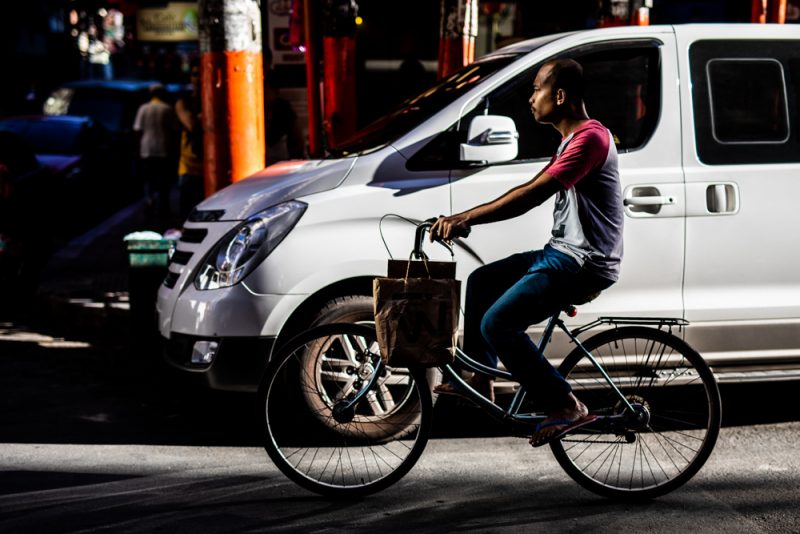 Accounting
Every since I really got focused down on my photography business, I've got a better appreciation for accounting at any job. This tricycle driver was sat in his vehicle working hard at getting his paperwork done when I grabbed this image.
In the end, it's not so much the accounting that the image captures. It's the interesting perspective that the person on foot is moving and the tricycle isn't.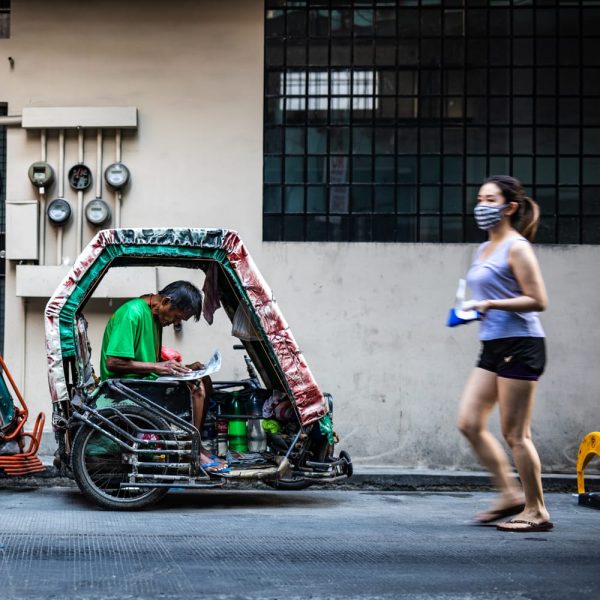 Intramuros Street Photography
The second neighbourhood I was excited to explore for some street photography in Manila is a part of town called Intramuros.
In Spanish, Intramuros essentially translates to "within walls". This is the Spanish colonial quarter. The Spanish occupied The Philippines, and this part of Manila for over 3 centuries finally being chased away in 1898. But, while they've long gone, their walls, architecture, and cathedrals still stand.
Fort Santiago
At the end of the district and the mouth of the river sits Fort Santiago. It's one of the top things to do in Manila, and full of tourists. So, while it wasn't exactly the best place in Manila for street photography it's still worth a visit. And, I still managed to capture a couple photos.
In much of the world, umbrellas like this mean rain. In Manila, it means that it was hot and sunny. There was only a single cloud in the sky and everyone was on the constant lookout for shade.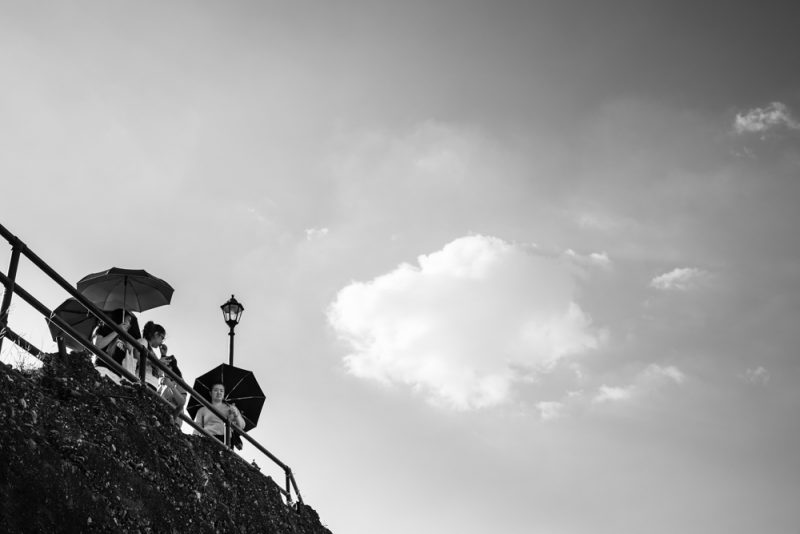 Instagram Family
I've never seen someone and thought "they're a future instagrammer" more than when I saw the girl in the below photo. I don't think I've ever seen someone like having their photo taken more in general. She was posing, strutting, and demanding her parents take photos.
When she saw the shadows here, she summoned her parents down to pose for this image. Luckily for me, I think it's a better image from my perspective.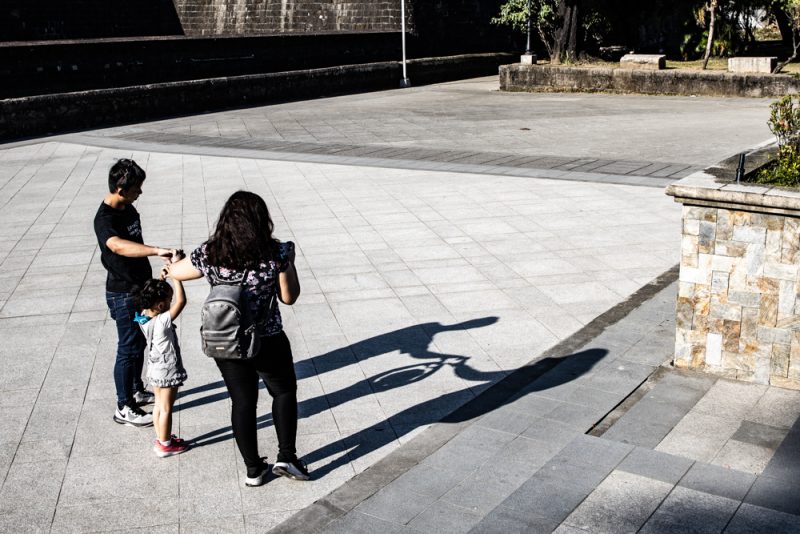 Carts and Cathedrals
I used to watch a lot of Kai Wong on YouTube. I remember when he'd be out on the streets in Hong Kong doing street photography he'd always go after the "cart-pushers". I used to laugh about it. But, then you get down to the streets in Asia and you realize that they're such a big part of life on the streets.
I liked the juxtaposition here in this frame. I have the "cart-pusher" in the bottom of the frame – something that looks incredibly Asian. Then, you have the Spanish cathedral in the background. That cultural contrast really makes it work.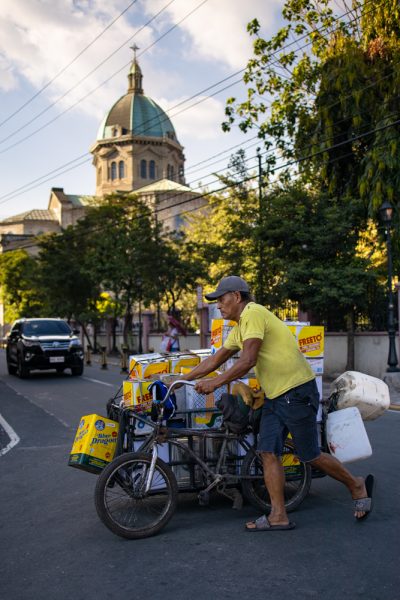 Jodie
I know that it's not really a street photo if you get your girlfriend to walk through a scene. But, we were losing light in the late afternoon, so I didn't really have time to sit on a composition and wait for the right person to walk through the frame. So, I kindly asked Jodie to walk through the shadows of these columns.
The light was beautiful, and I love the contrasts.
I also think it's cool to think that if you didn't have any backstory on the image, you'd have a really hard time figuring out which country it was taken.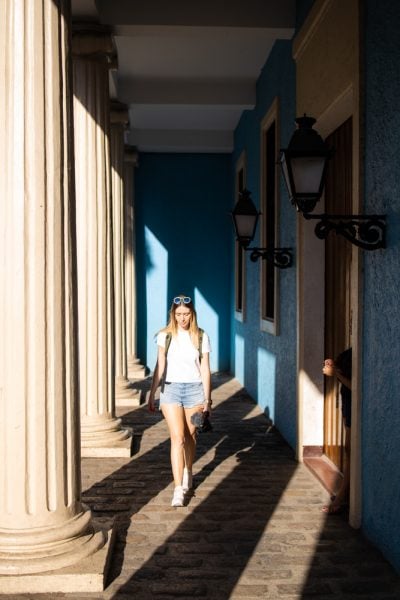 Street Art
Art and graffiti can kind of be a crutch people rely on in street photography. I mean, if you simply take pictures of street art, is that really a photograph? Or is it the same as going around to all the museums taking pictures of the paintings? Still, it's done so often.
I think the only way to make it work is to have something going on in front of the street art. And, it can be as simple as someone walking in front of it.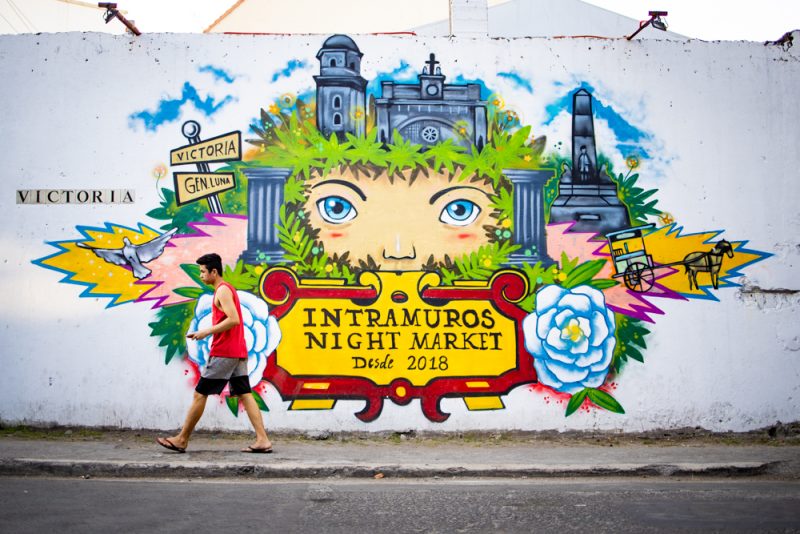 Out of Focus?
I kind of have a rule when I'm out doing street photography that I don't go home until I get something I love. And, while my day in Intramuros was great – I was missing that one image I really loved. Then, at the last bit of light I ran into this scene inside a Jeepney.
But, when I got home I realized that the girl was a little bit out of focus. I somehow swapped over my settings and didn't notice. So, the shutter speed was a bit on the slow end.
Does it matter?
The atmosphere of the image is great, and I love the mood. The curious girl, the entertained driver – it's perfect. So while, yeah, I would have loved a sharper photo, I think capturing a moment and a mood is even more important.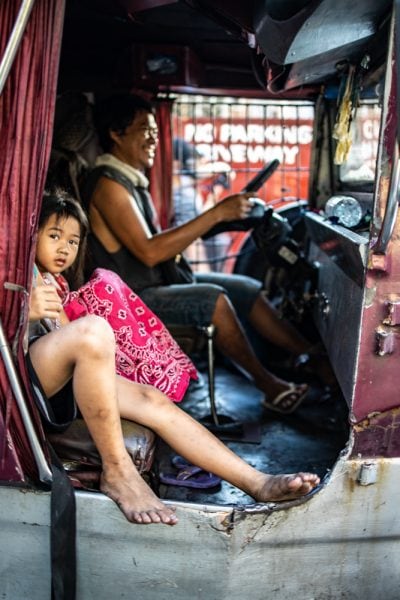 Other Places in Manila for Street Photography?
Before everyone loses their minds and says "hey, there are better neighbourhoods for street photography in Manila", know that I know. In fact, you could really head down any street in the city for photos. And while doesn't cover the entire city know that I am going to head out and do a little bit more urban photography in coming weeks.
If you're looking for the best places in Manila for photography, these are some good options. But, if you've never been to Manila before know that you can really take great street photography nearly anywhere within the metro area. It's incredible.
What's Next?
How are you liking the new format of the videos and the blogs? I know it's a change. But, I think it's for the best moving forward.
Speaking of moving forward. The next blog post I'll have is doing some night photography in Taipei as Jodie and I are heading to Taiwan for a couple of days. I also have a fun little "Teach 'em Tuesday" video coming out soon. Stay tuned for more travel and photography.