I know, I know, you're all going to start confusing me for on of those "street photographers" if I keep posting videos and articles like this. But, some places in the world just lend themselves more to a certain type of photography. East Asia really lends itself well to street photography. The night markets are especially photogenic for this style of photo. So, on our first day in Taipei, Taiwan we headed to Shilin Night Market for a bit of street food, fun, and photography.
As usual, there's a video for this post, and then the photos are all below.
Shilin Night Market
As soon as we arrived in Taipei I realized that this would be an absurdly good place to explore with the camera. There are so many scenes that just scream to be photographed. There are these busy scenes that are also somewhat simplistic. It's all so photogenic.
Shilin Night Market, where chose to do our first bit of exploration in Taipei is just a smashing of sights and sounds. It's a mosaic of foods and visuals. Street photographers will feast on this location. And while I did really enjoy taking pictures here, I liked the vibe even more. We ate, we drank, and we even shopped. In fact, it was amazing I was still able to take pictures with all the shopping bags hanging off my arms.
In the end, though, I did make some photos. These are my favourites from the night. They are posted chronologically.
Book Store
In the video, I mentioned that I was kind of struggling with the auto-focus on my EOS R. Up to this point, using the EOS R, I've had no issues at all with the auto focus. But, what was happening today was simply a struggle to focus on faces.
Cameras like this have face and eye detection software which means that the AF should jump directly to the faces in the frame. But it wasn't doing it. It kept focusing on things like the wall in the foreground of this shot. I think part of it had to do with the fact that I was using the Sigma 50mm f/1.4 and there might have been some issue with the tech between Sigma and Canon.
Still, I managed to switch over to manual focus quick enough to still get the below photo of this book store in the night market.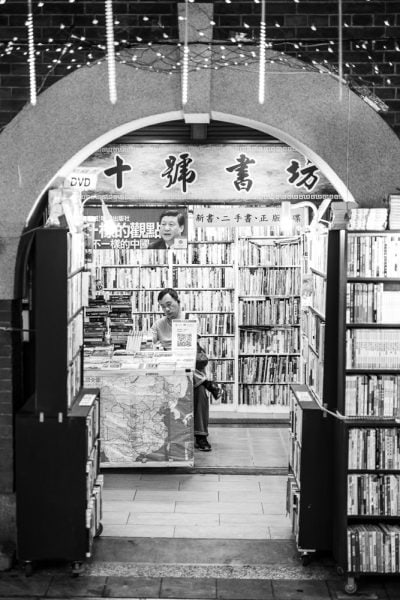 Games
On of the things that's really entertained me about Taiwan so far is the amount of games everywhere. There are all these carnival games in almost every part of the city. In Shilin Night Market, they're everywhere. I caught this guy and one of the game-leaders playing a card game while they waited for patrons.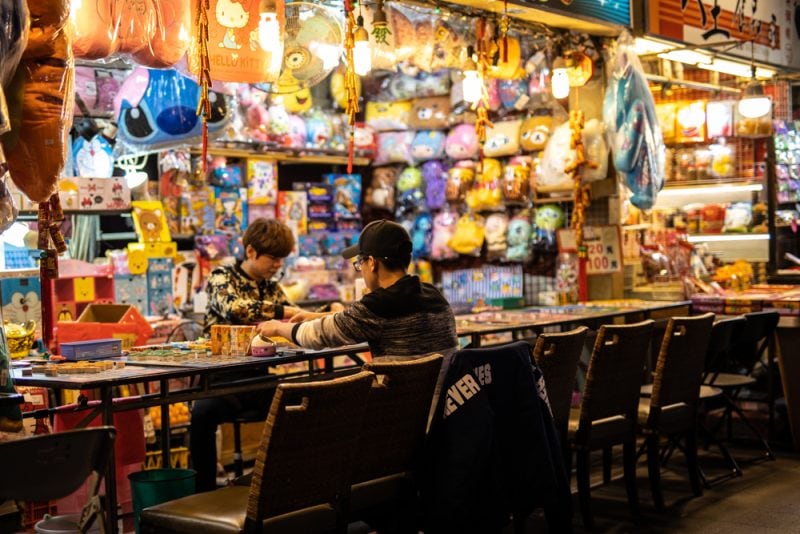 Sassy Vendor
One of the things I'm loving about street photography in Taiwan is the locals really don't care if they're photographed or not.
Generally, I have a rule where if I get a camera around someone and am photographing them, I ask permission. However, in Taipei – or at least here at Shilin – the locals do not seem to care at all if I have a camera around and photograph them. They almost act like they don't even know if a camera is around. It makes it really easy.
This vendor was whipping around chatting at anyone who passed, trying to charm people into coming to her stand. I managed to catch her in a great moment.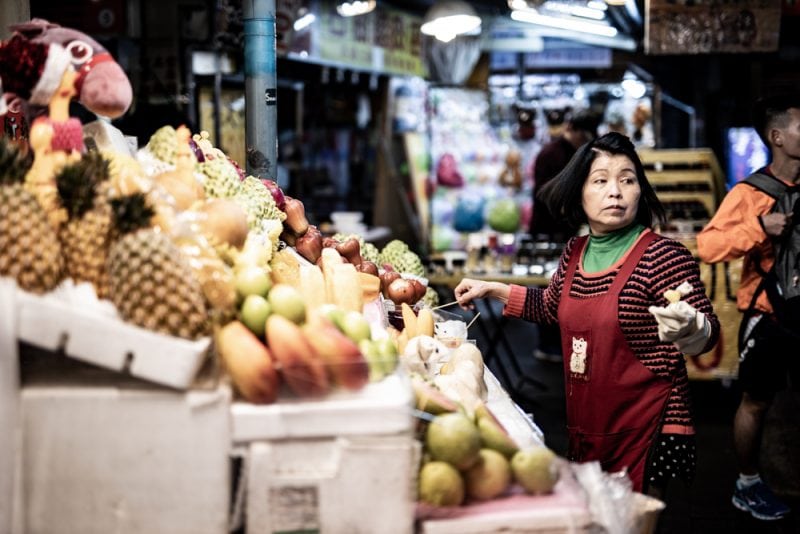 Ok, Not Everyone…
Ok, maybe not everyone loved having their photo taken. But, even the below vendor didn't seem to care he was being photographed. It just kind of comes across that way in the photo.
I looked at him, indicated my camera to him in a way of asking consent. Then, he nodded in approval without changing his demeanor.
Maybe the best thing about doing street photography here is that they don't change their demeanor when the camera is around. It means you get images that are so much more natural looking. When I did street photography in Manila, the hardest thing was that people seemed to smile for the camera, changing their mood and the mood of the photo. That hasn't been the case in Taipei.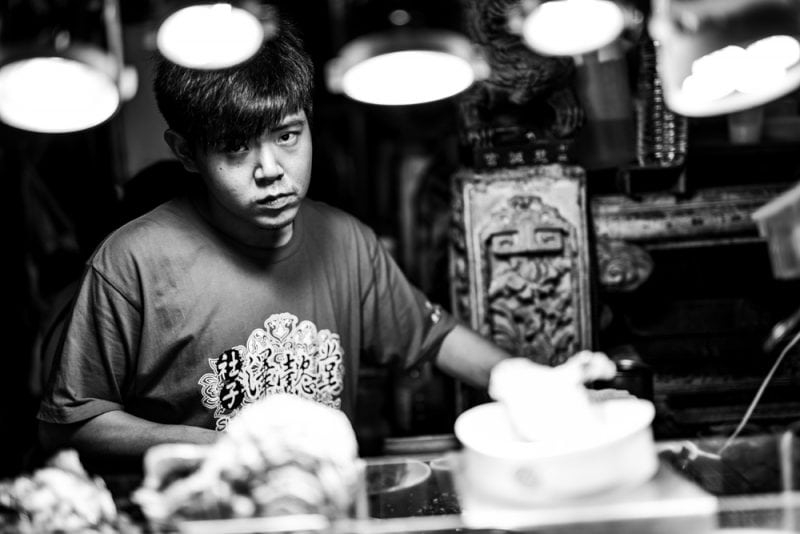 Street Food
I heard rumours about the street food in Taipei, but it's next level. There are so many food options at places like the Shilin Night Market that you'll never go hungry. You'll also likely never walk more than 10-15 meters before you need to stop and try something else.
But, full disclosure, not all the food is delicious to the foreign tongue. We had some "Stinky tofu" that was rough. And, some of the other options looked "pungent".
Still, it all makes for a pretty good place for photography.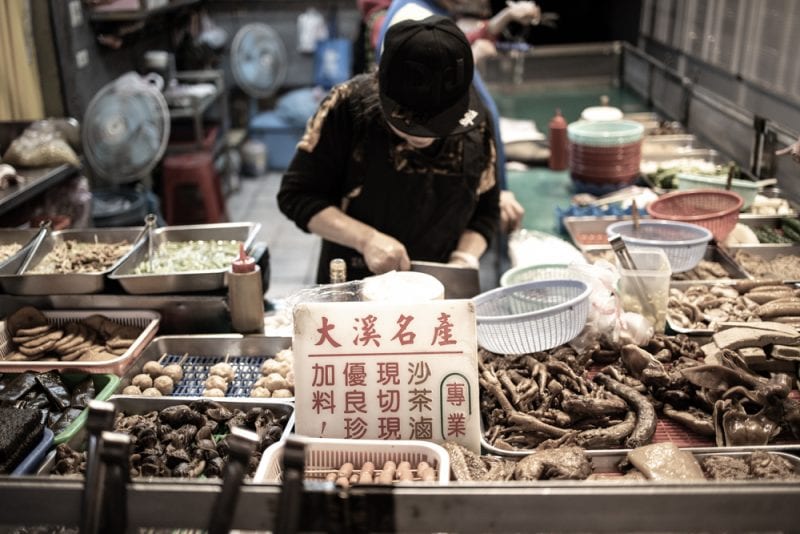 The Claw
Aside from street food, another obsession in Taiwan seems to be these claw games. We obviously have them in a big part of the world. But, the stuff they put in the ones here was really interesting. Sure, they had some that had the typical things like stuffed animals and toys. But, they also had ones that were filled with designer products and higher end items.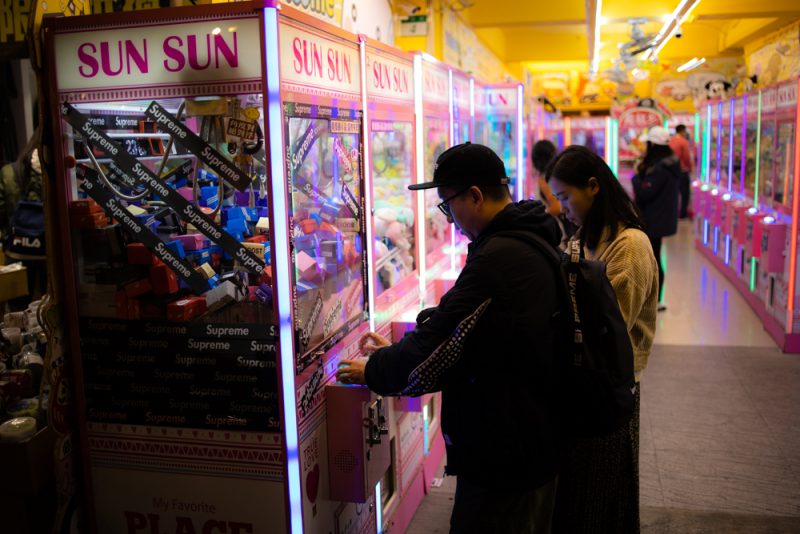 Favourite Photo
Save the best for last, right?
This is my favourite photo from Shilin night market. But, here's the funny thing: I don't remember taking it.
Generally, I remember taking my photos. I definitely remember taking a photo when I think it's really good. Sure, when I'm just snapping away I'll occasionally I'll forget images that I eventually delete. But rarely will I take a photo that's good and not remember it. This is an exception.
I do like this photo, though, and I think it's easily my favourite from the day. In fact, of all the photos I kept – and I kept about 20 – this is the only one I really love.
I'm very glad I took it. Even if I don't remember it.
What's Next?
We're here in Taiwan for 3 days. So, I think there'll be on other video from Taipei. I'm going to try to put together a video together where I walk you through how to sell images to magazines or newspapers for a story.
Then, we're heading back to The Philippines. I'm heading on a solo journey to Batanes, and Jodie and I are heading to both Cebu and Bohol. It should be fun.
There's also another travel photography workshop announcement coming at the end of the month. So, if you want information on upcoming trips, be sure to sign up to the newsletter below.