When I decided that I was going to spend a month in Bali, my first thought was that I needed to find a Bali scooter rental so I could get out and explore some places like Tanah Lot and Uluwatu. But obviously, I had no idea how to do it. I also had no idea if it was legal for me to drive. The information I found on renting scooters in Bali was so vague, contradictory, and often incorrect so I have decided to clear the air on this one.
This is your guide to renting a scooter in Bali.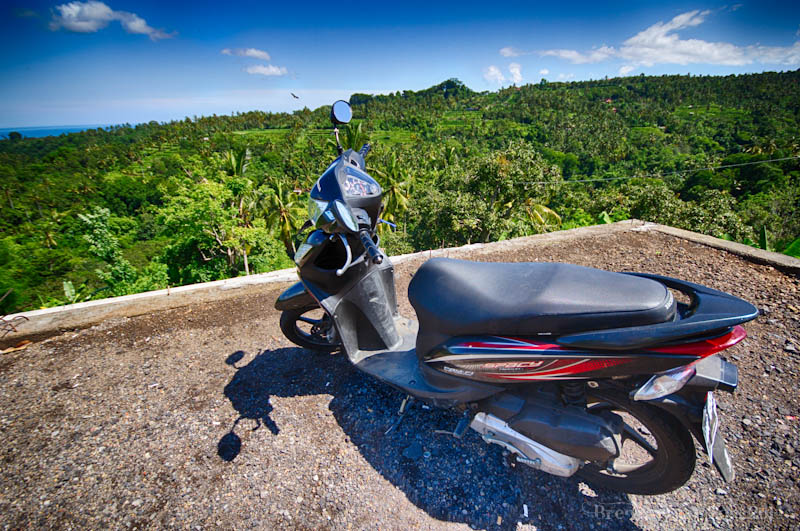 Do you Need an International Drivers License for a Bali Scooter Rental?
The answer is yes, you do need an international drivers license to rent a scooter in Bali.
Yup until recently there was an alternative in which you could go to the police station in Denpasar and get a local license. That's no longer possible – by all accounts.
I should say, though, that despite the law requiring foreigners to have an international driver's license to drive a scooter in Indonesia, loads of visitors don't. In fact, I'd be willing to bet that the vast majority of foreigners driving scooters and motorbikes in Bali don't have an international driver's license.
Instead, those breaking the rules choose to pay "fines" (read: bribes) to the local police instead.
From my perspective, you should never pay bribes to local police officers. It sets off a wave of corruption. Just follow the law, and do the right thing. It's not hard to get an international license in most countries.
Getting an International Driver's License
In most countries it's really not a challenge to get an International Driver's License. For example, in Canada you can walk into any AMA and walk out in 20-30 minutes with your license.
It's worth noting, though, that in most countries it's not the same government office that issues a regular driver's license that issues the international version. The international version, which you'll need to rent a scooter in Indonesia, is basically just a translation of your license into a variety of languages.
You will need to get this before you leave home. You can't get an international driver's license from abroad.
You should also ask if your license can be stamped with a "scooter" symbol.
What If a Police Officer Pulls You Over
If you're a foreigner, you're going to get pulled over while driving a scooter in Bali. Corruption is rampant, and the police see foreigners as a payday – mostly because so many are actually breaking the law.
It is funny, though, you'll see a 10 year-old kid riding without a helmet without ever getting pulled over, as soon as a foreigner even forgets to signal, they'll jump all over them. Heck, they jump on tourists even when they're driving properly.
If you do get pulled over, and you're doing nothing wrong, just show your international driver's license and you'll likely be waved on. If the police try to make something up and ask for money, politely refuse. If they continue to pressure you, insist you speak to their superior because you'd like to report corruption. They'll move on pretty quickly.
The truth is, if you take a Bali scooter rental, it's almost a foregone conclusion that you'll get pulled over at least once. Even if you do everything legally.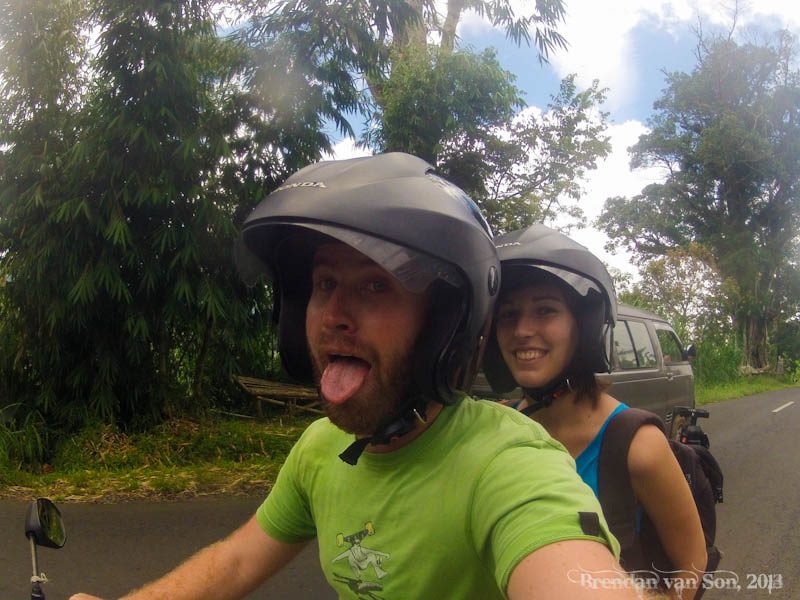 What if I Ride a Scooter in Bali Without a License?
Fact of the matter is that, for right or wrong, the vast majority of tourists take their Bali scooter rental out without a license. As a result, the police often pull over tourists without any cause. The police usually don't really care about upholding the law, they're just looking for a bribe which they'll call a fine. According to locals, a fine should be about 30,000 Rupiah to 100,000. I've heard from some tourists who have said they were forced to pay as much as 500,000 (35usd).
That being said, you should demand to be given a ticket. This helps reduce the problem of bribery, which is really bad in Bali. It also forces the system to become more legitimate, and offer solutions. Of course, I don't think you'll ever find a police officer in Indonesia who will actually give you a legit ticket.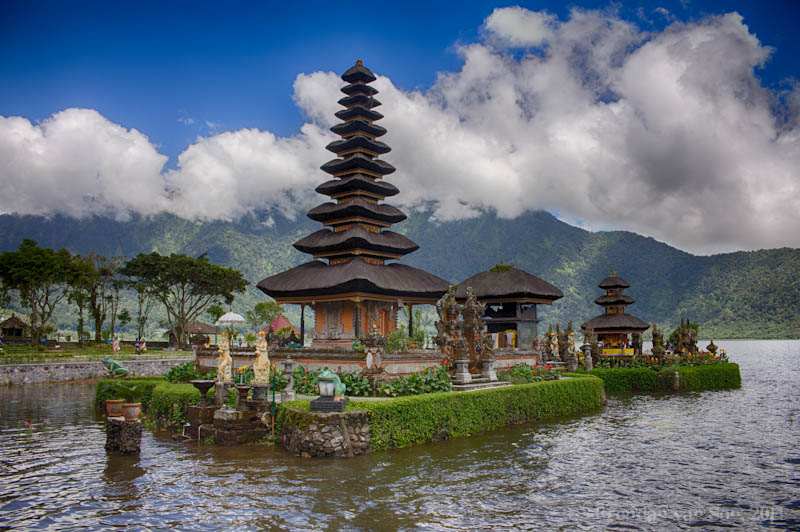 Why Do Foreigners Need and IDL to Rent a Scooter in Bali?
I'm assuming the reason that foreigners are required to have an international license to rent a scooter is because English isn't an official language. However, the system is completely flawed, and needs to be changed. That being said, I can't tell you to just drive against the law; you should respect the laws of the country you're travelling. If you have time to prepare, just get an international license, it will save you lots of hassle. You'll still get pulled over because you're a tourist, but you wont have to fight nearly as much.
What about Insurance?
This is another story. The answer is no.
You can get insurance, but most incidents are dealt with by the people on the spot. And the Bali scooter rental agent you booked with is very unlikely to help you deal with accidents or insurance either.
In regards to personal or travel insurance, there is a very high chance any accidents that happen on a scooter won't be covered by your insurance, so be wary of that.
Be smart. Get insurance, that covers scooters and other high risk adventures. I HIGHLY recommend World Nomads if you're renting a scooter in Bali.
Where Can I Rent a Scooter or Motorbike in Bali?
In any tourist zone in Bali people are renting out scooters. In my opinion, the best thing to do is to arrange with your hotel to book one for you. That way you're more likely to get a fair price for it. However, in Kuta or Seminyak you'll find countless numbers of places renting them out. Be sure to inspect your Bali scooter rental before you take it out. Also, I'd recommend taking a photo with your smartphone so they can't pin any old damage on you. Be wary of who you buy through, and as I mentioned, I'd recommend you rent through a hotel so that you know that the dealer is fairly legit.
How Much will it Cost to Rent a Scooter in Bali?
It really depends on how long you're wanting to rent. Obviously, the longer the rental period the cheaper it will be. However, it is incredibly cheap in comparison with other places in the world. I rented a scooter in Legian for 700,000 Rupiah (65USD) for one month. Basically 2USD a day.
So essentially, these should be your bargaining points for a scooter. If you pay more, you've paid too much:
Per Day: 30,000-50,000 Rupiah or $2.50-$4USD
Per Week: 200,000-250,000 Rupiah or $14-18USD
Per Month: 650,000-750,000 Rupiah or $54-62
What Happens if I get in a Scooter Accident in Bali?
Well, it really depends on the severity of the accident and what happened. If there is damage to your bike, you will have to pay for the repairs, as will surely be a part of your agreement with the rental agent. If you damage anyone else's property, you will likely also have to pay for their damage. These negotiations are handled between the two parties, and sometimes involve the police. Be warned, as a tourist, you will always get the short end of the stick, so be careful.
How much does fuel cost in Bali?
Fuel is cheap, and so your Bali scooter rental means you wont spend much either. On the street, 1 liter bottles of fuel sell for 7,000Rupiah which is about 0.60 USD, it is slightly less if you buy it from a fuel station. 4 Liters of fuel should last you about 150km or so, depending on the terrain. The price for fuel at gas stations is about the same.
Visiting Bali Soon?
If you're heading to Bali, I have to give a massive shout out to this incredible hotel in Canggu. It's likely my favourite spot to base on the island. In general, Canggu has become the "it" place to stay, and has a really cool vibe. Kuta might still be the most popular place for tourists, but Canggu is definitely more "cool".
What are your Scooter Experiences in Bali?
If you had a scooter experience in Bali, I'd love to hear about it in the comments!