I'm still trying to process "life after the vlog". This trip to Taiwan was sort of my first attempt at looking at what things are going to be like moving forward. I had to make some decisions about the video side of things. The photography side of things was easy. In fact, I think it was easier making my photos of Taiwan in the 3 days we had there because of it. Instead of the whole: shoot, edit, vlog edit, publish, repeat scene happening every day. I was just out taking pictures and recording things and telling myself I'd figure it out as we went.
But, I also felt really lost. Like, back when I was shooting photos for clients I had a purpose every day. I needed to make enough photos so that I could sell them. Then, when I moved to vlogging, I had to make images to share with you all. In Taiwan, I felt like I was just taking picture without a purpose.
At first, it was kind of overwhelming. I didn't know what to do with myself. Then, I just felt the pressure fall off my shoulders when I realized – if I don't get a cool photo here, no one needs to know. It was liberating.
Of course, I've still decided to share my body of work from the trip to Taiwan. So, these are my photos. And, I've organized it as "photography locations in Taiwan" in case you ever get the chance to visit.

Photo Locations in Taipei
This post focuses on Taipei because, well, that's where we stayed for the time we were there. However, if we ever make it back to Taiwan, I'll be updating this page and including more locations around the country.
Shilin Night Market
One of the many night markets in Taipei, this one was a gold mine for photography. And, it felt really "local" I don't think we saw any western tourists, and it was just a feast for the eyes. It was especially good for street photography. Though, I imagine you could do some other stuff there too.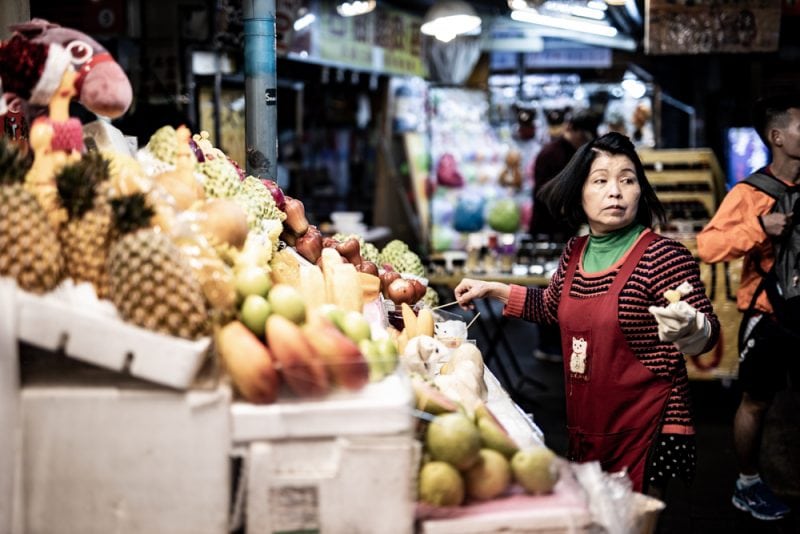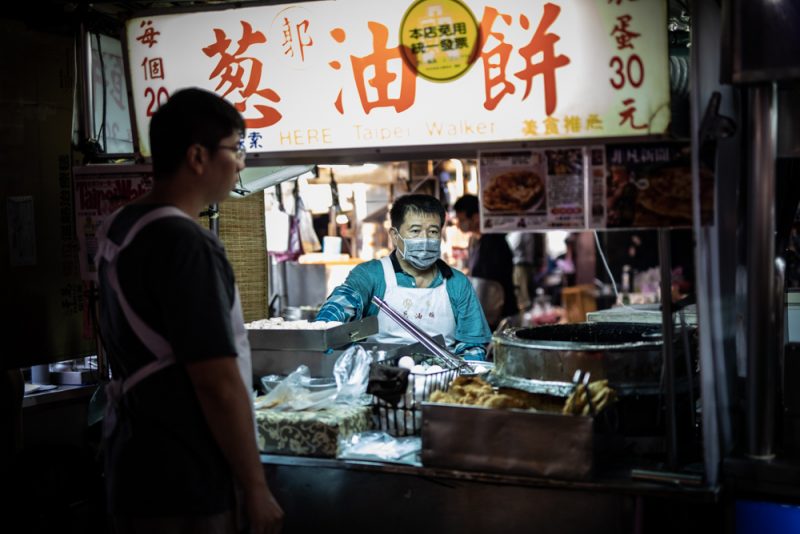 Liberty Square
This is the place in Taipei for photography. I spent 2 mornings in the square taking pictures. I think I could have spent a week taking pictures and not run out of compositions. In fact, as we were leaving I saw the temples outside an uber window and thought "oh man, that's a cool composition that I missed!".
Honestly, give yourself a lot of time here at Liberty Square. And, hint, that composition I missed was of the national concert hall from the street side rather than inside the square.
These are some of my favourite photos from the mornings at Liberty Square.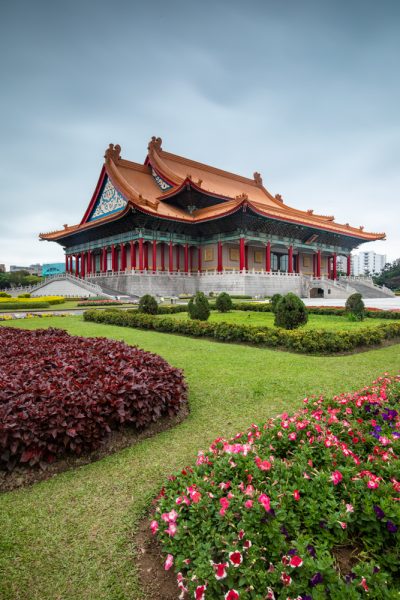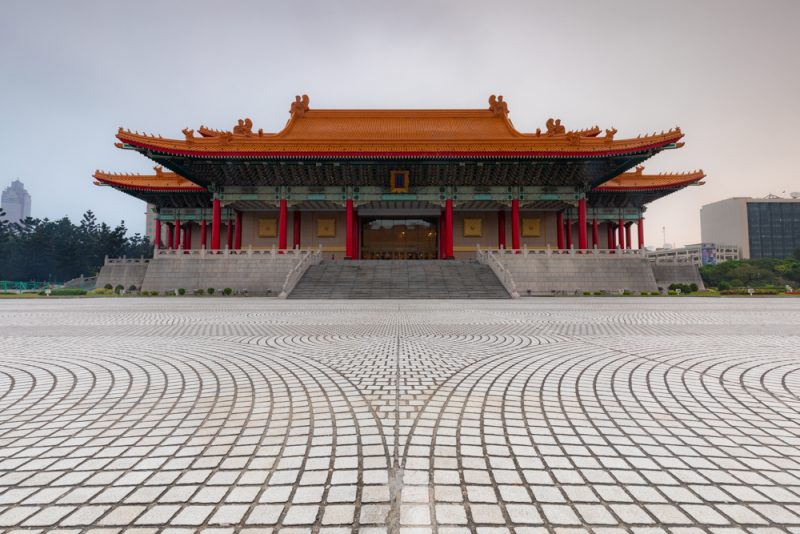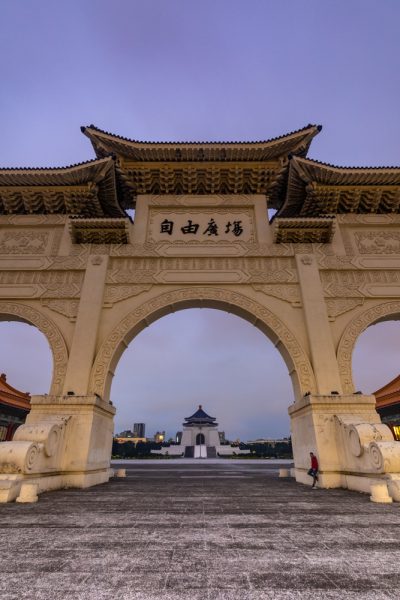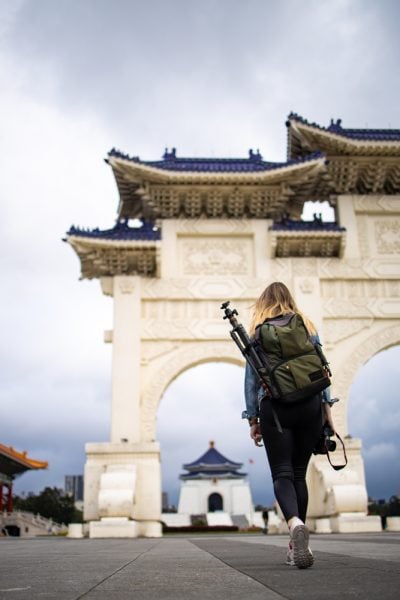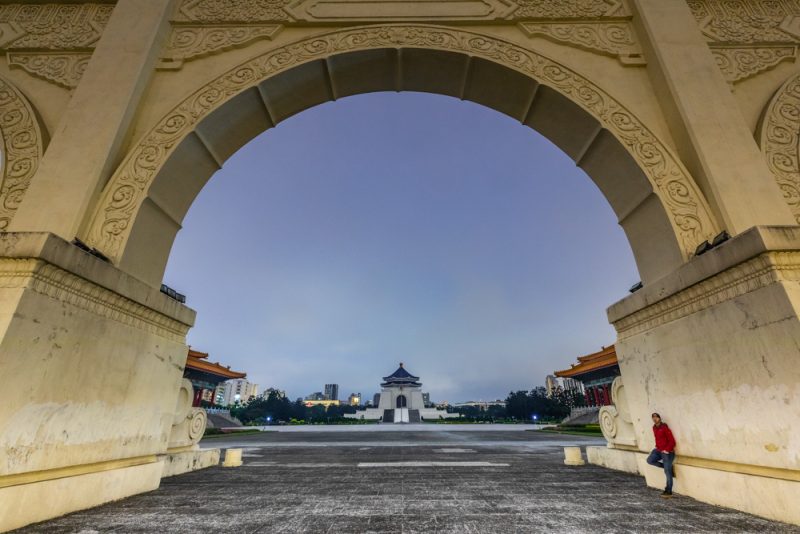 2/28 Peace Park
I almost didn't photograph this location in Taipei. Jodie and I were out doing street photography in another part of town and decided to wander home. On the map there was this place called 2/28 Peace Park. So, we decided to swing by to see if there was a photo to be had there.
And, as it so happened there were a couple.
So, we waited out a sunset – which was a bust – and into the dusk.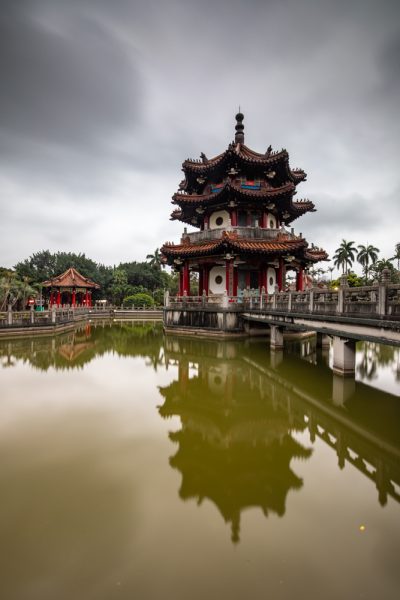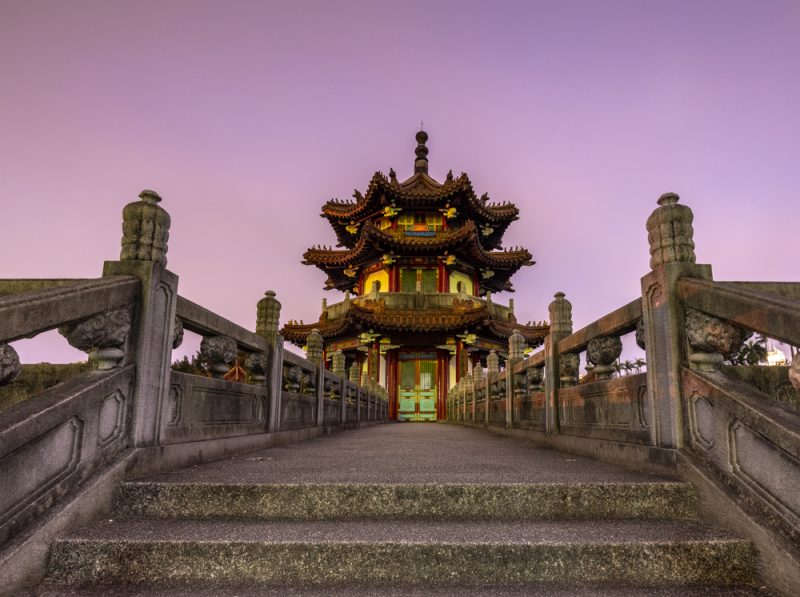 Elephant Mountain
It's funny. When I was planning out my trip to Taipei, this was the only photography location that I knew about. And, it was the one I was most looking forward to.
In the end, it kind of disappointed because of perhaps the dullest sunrise I've ever witnessed. I swear, it didn't even show a bit of blue hour either. It was just dark grey, then lighter grey.
However, I had some good company up their with another photographer who was around. And, even though the light was flat I managed a couple images that I could keep on file.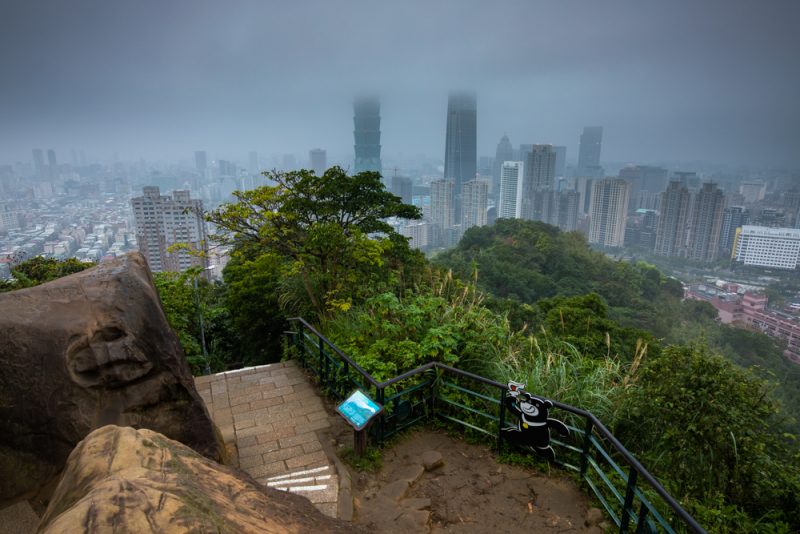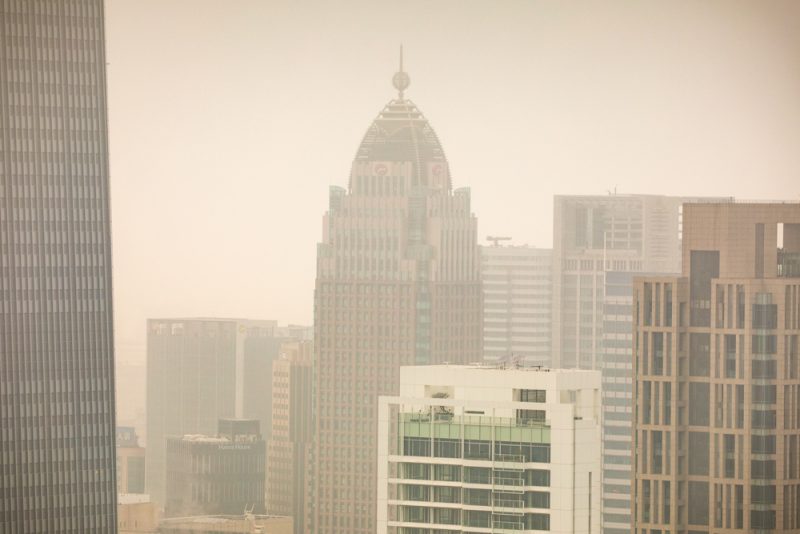 Near the Red House…
Ok, ok, I miss the GPS capabilities of my 5D Mark iv. I was out shooting some street photography with Jodie and I was using my Canon EOS R. And, of course, one of the omissions of the R was GPS. And, I actually didn't realize how much I relied on GPS until I got home from this shoot and couldn't figure out – on the map – where we were.
So, let me give you a verbal description walk to The Red House, then continue west towards the river. You'll find this busy neighbourhood full of interesting characters and happenings.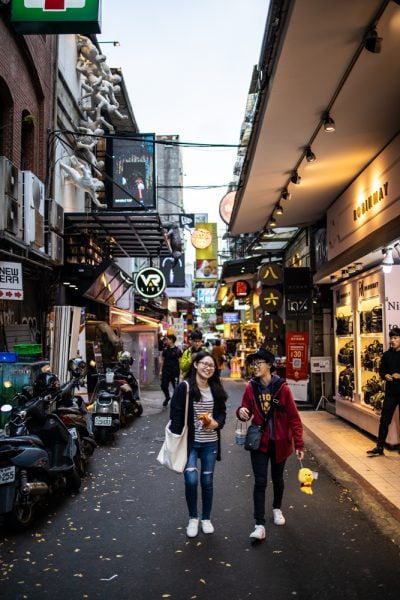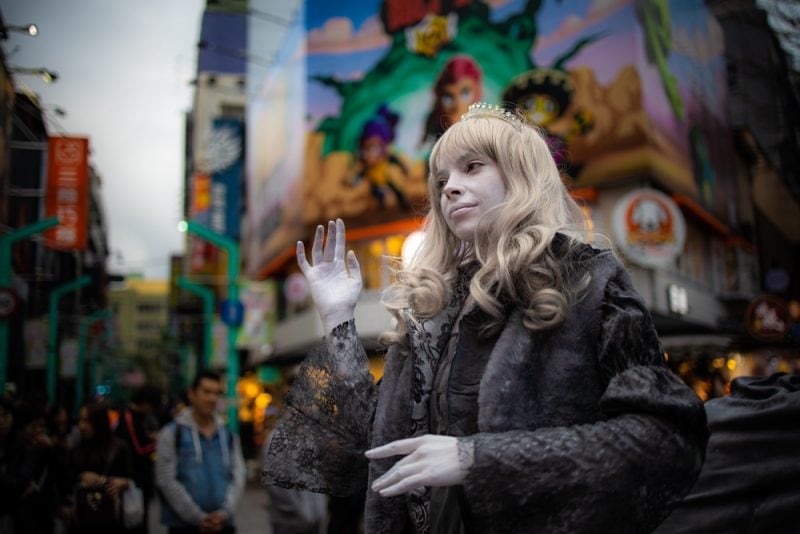 Places I Didn't Photograph
Obviously, when you only have 3 days in a country you're going to have to skip some locations. These are some of the spots I skipped in Taipei. I'd love to get back to Taipei and photograph all of these places still. They look great.
Taipei 101: There's an observation tower with amazing views.
Daan Park: A massive park / green space.
The Red House: Like the Taiwanese White House – beautiful building.
Wanhua: Old district of Taipei.
Lungshan Temple
Day Trips from Taipei
Taiwan has some beautiful mountains and nature. There are also a number of villages within the day trip range of Taipei. So, even if you're only staying in the city, you can still get out and explore some of the neighbouring areas. We took Ubers to get around. Most rides didn't cost more than about $20usd for 45 minutes or so.
Jiufen
If you have to make one trip to a place in Taiwan outside of Taipei, make it Jiufen. This old village is full of life. And, if there's not a mass of fog blocking the views – like happened to us – there are vistas for days.
If you're a street photographer, this is an absolute playground for your lens.
If you're a tourist, there's plenty to see and eat. There are food stalls everywhere, and lots of places to take in a traditional tea.
I kept about 40 images from Jiufen, and it was probably my favourite photography location in Taiwan. These are my favourites.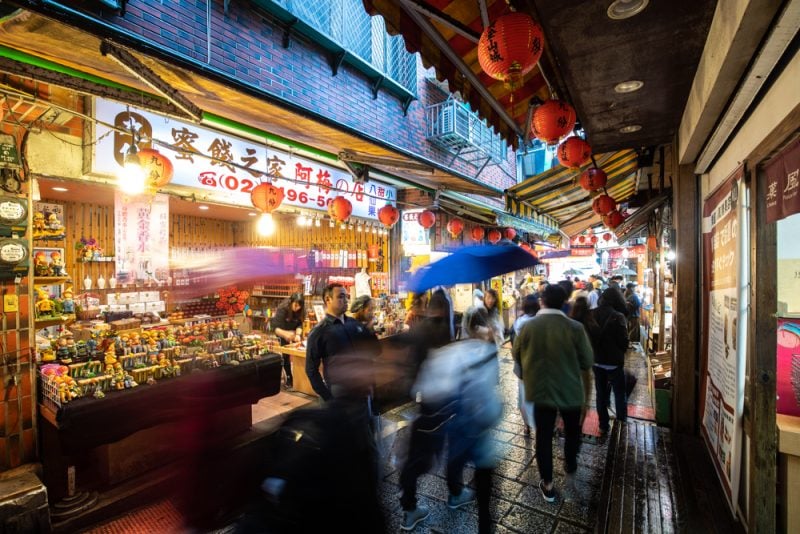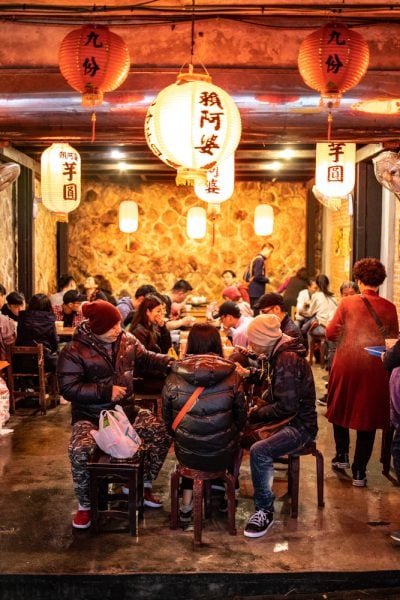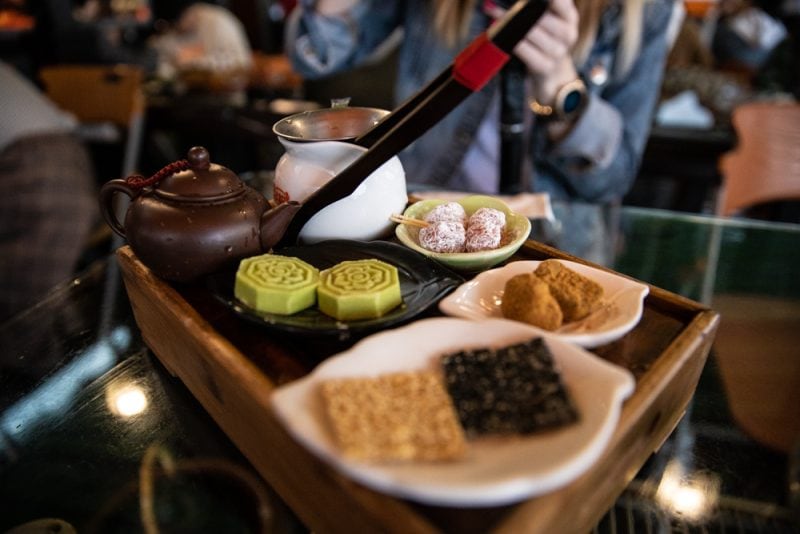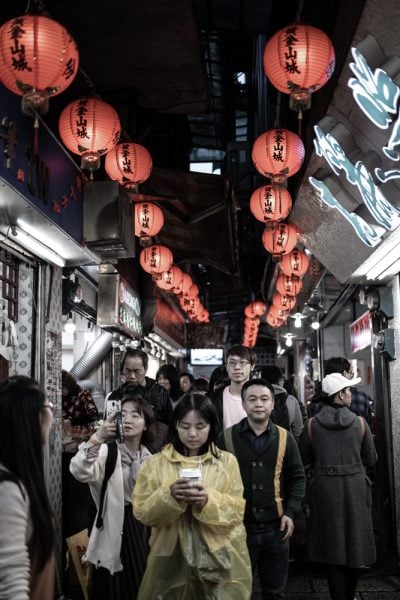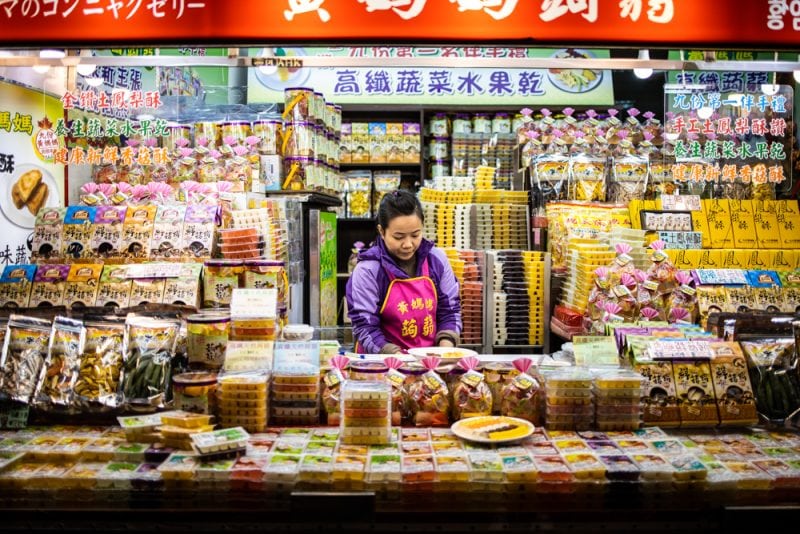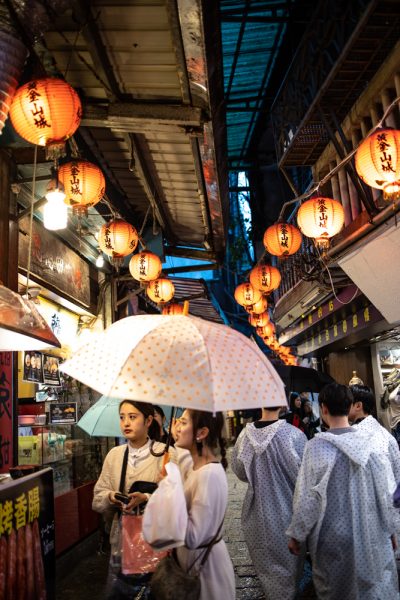 Shifen
Jodie and I headed to the town of Shifen because I heard there was a cool waterfall nearby. Also, a google image search showed a cool town where the train tracks buzz right through.
What we didn't know was that this time of year there's massive lantern festival.
For the Lunar New Year, hundreds of people come to Shifen each day to make their New Year wishes and send a lantern off into the world. It was a pretty incredible thing to see – although I did wonder who cleans up all the lanterns when they land.
We photographed the lanterns, a train whipping through, and then found the waterfall.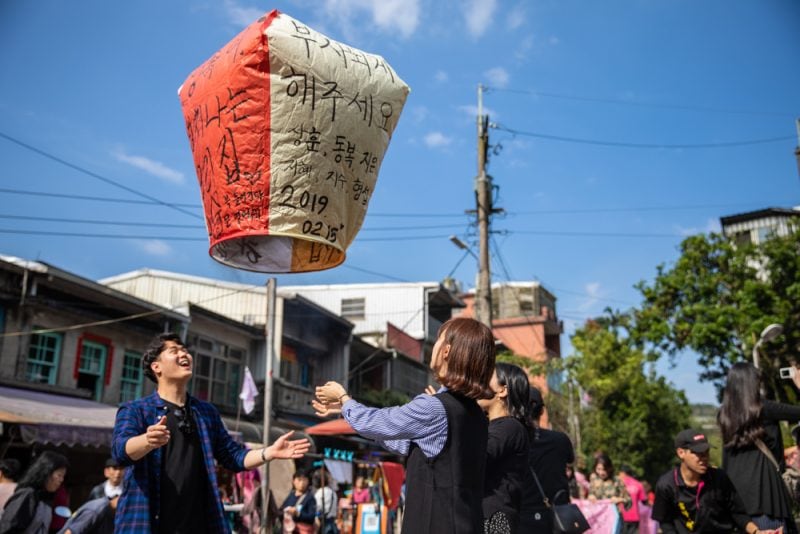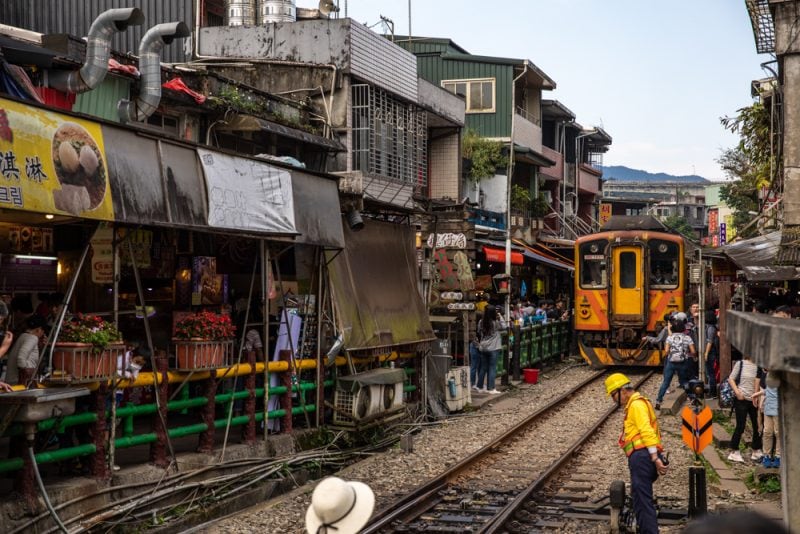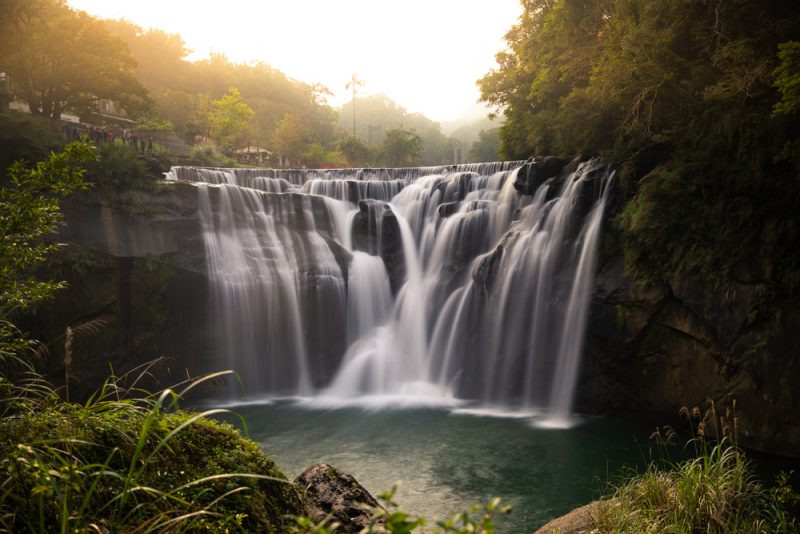 Places I Didn't Photograph
Again, there were a lot of day trips around Taipei that I didn't get the chance to photograph simply due to lack of time. Below are some of the places I was recommended.
Do you have any other suggestions? Drop them in the comments and I'll update this post the next time I photograph Taipei.
Houtong Cat Village – Name says it all.
Yehliu Geopark – Incredible rocks formations on the sea.
Tokoro Gorge
What's Next?
I'm off on a solo mission to Batanes, Philippines which is one of the best places in Southeast Asia for landscape photography.
Then, we've got trips planned to places like Cebu for waterfall photography, Bohol, and The Lofoten Islands (Norway). It should be a fun couple months!
If you want to stay up to date on all the fun coming up, be sure to sign up to the newsletter below.