In keeping what I've been doing a lot on this blog lately, this is a guide for photography in Cinque Terre. I found that there are quite a few other posts out there describing the best places to take photos in the area, but few are really that comprehensive. Thus, since I had 5 days in the area, I thought that it would be a good idea to put together a list with everything you need to know about visiting Cinque Terre as a photographer.
In the video below, you'll see where I've shot from and some examples of the images I took and where I took the images. Of course, there's also info in the photography blog below.


Best Locations for Photography in Cinque Terre
Of course, Cinque Terre isn't just one town, but rather a national park with 5 villages. All 5 villages are pretty photogenic. However, there are 3 villages that are truly special. You can also photograph Cinque Terre from outside the villages on the hiking trails that connect towns. In this section of the guide, I'll share my thoughts on the best locations in each village.
Manarola
The most popular village to photograph is likely Manarola. It's also by far the easiest to make great images. Whether you come at sunrise or sunset, the light is almost always beautiful and there are always places to shoot images from without worrying about other photographers or tourists being in your shots.
For me, there are 2 or 3 very obvious spots to photograph from in Manarola. The first is down on the rocks. It's obvious on how to get to this spot once you get arrive. But, you'll basically just go down to the stone pier and cross the ropes and wander onto the rocks. Be careful down there though, the waves can be intense, and if it looks like the seas are too rough or the tides too high don't go down there.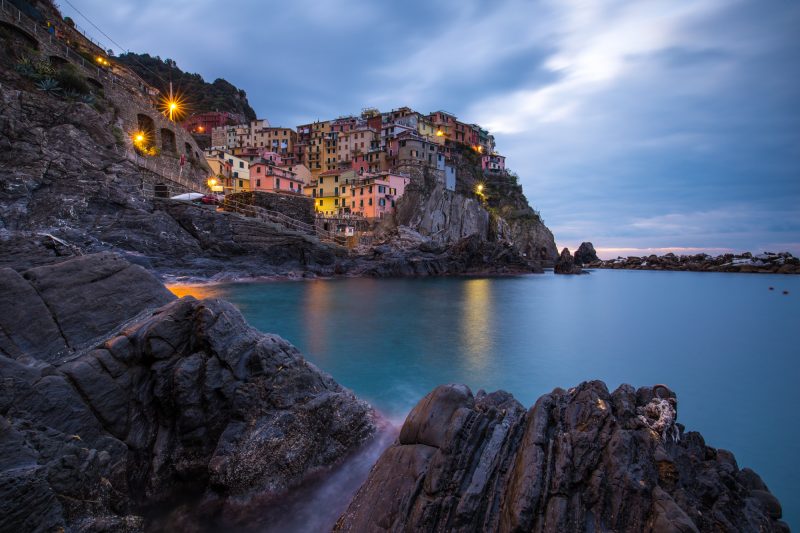 The other location that really worked for me was up at the cemetery. From the cemetery you can get a nice clean view of the city and the seas behind it. That said, there really is only one or two compositions that can be shot from here.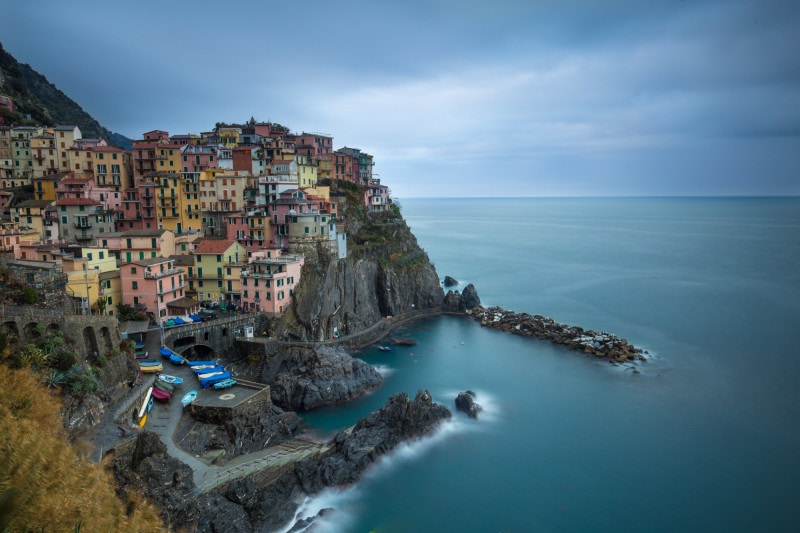 Finally, along the walking trail that leads to Corniglia, the views are great for photography as well. Here, you have the luxury of having the rocks below in the foreground.
Vernazza
This is the village I stayed in Cinque Terre. It's a favourite of a lot of photographers. I loved it, and thought it was the perfect place to stay in the area. It's quiet, central, and extremely photogenic.
From a location standpoint, there are 3 locations that make for great photos of Vernazza. The first location is one of the most classic views of Cinque Terre you'll see. Hiking just 5 minutes up the trail towards Monterosso al Mare you'll find a stunning view of the city. It's a bit of a challenge to shoot, though, as there is really high grass in the foreground of the shot.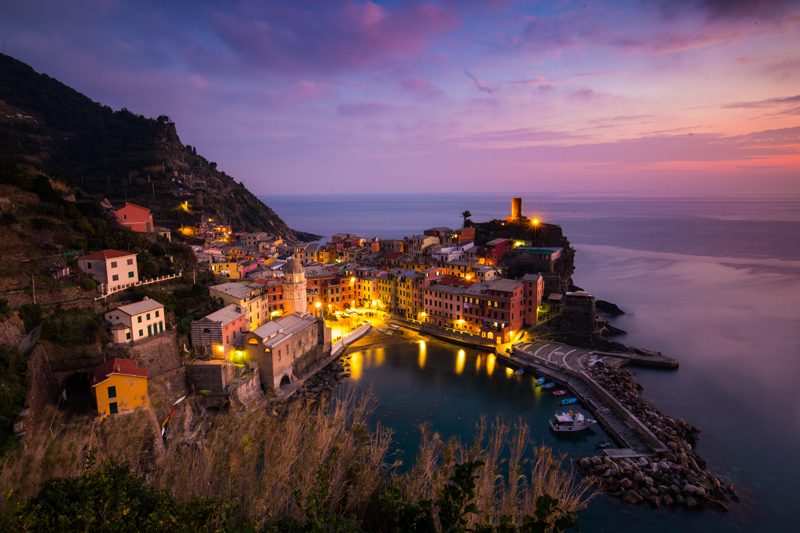 The second location is on the trail leading out of the city towards Corniglia. There, you'll find a couple other classic views. The most popular spot to shoot from is right beside a castle tower. However, I found that this spot means a composition in which the castle on the tip of Vernazza blends into the hills in the background. If you hike a bit farther up the trail, you'll get a higher angle and perhaps a cleaner view.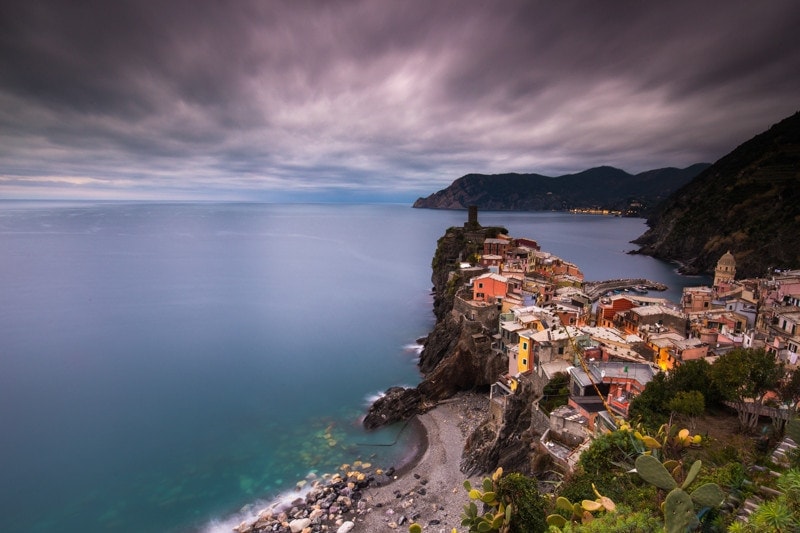 The final location is down on the rocks in the harbour shooting back towards the village. It's not the greatest spot, but definitely still worth shooting.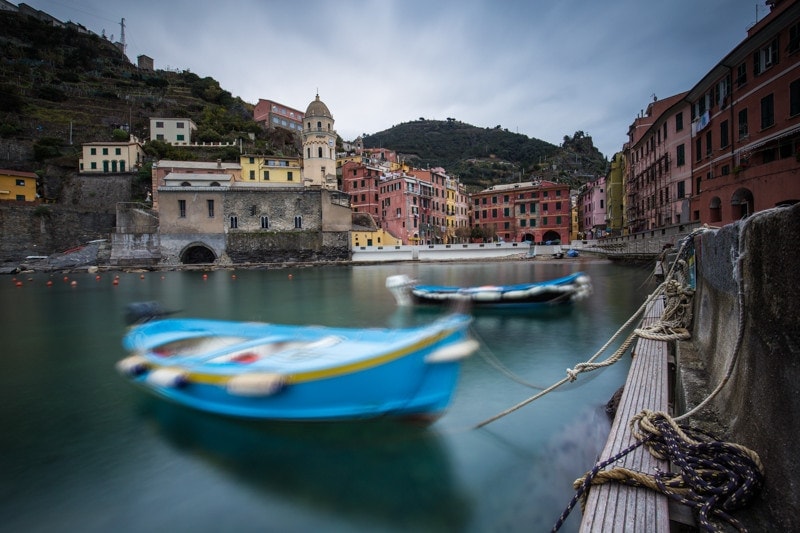 Riomaggiore
The village of Riomaggiore is highly underrated. I think part of that comes to the fact that down at the waterfront it's not as photogenic as Manarola or Vernazza. However, overall I think it offers a bit more than the other two villages. For example, I spent nearly an entire day here exploring, whereas in Manarola and Vernazza, there are only a handful of sights to check out.
From a photography standpoint, it might seem like is only one really good spot to photograph Riomaggiore. Down on the rock wave-break is the best place to photograph the city for sure. Just be careful down on the rocks because not only can waves hit pretty hard, but the rocks are pretty slippery. In fact, I slipped once and smashed up my knee pretty good.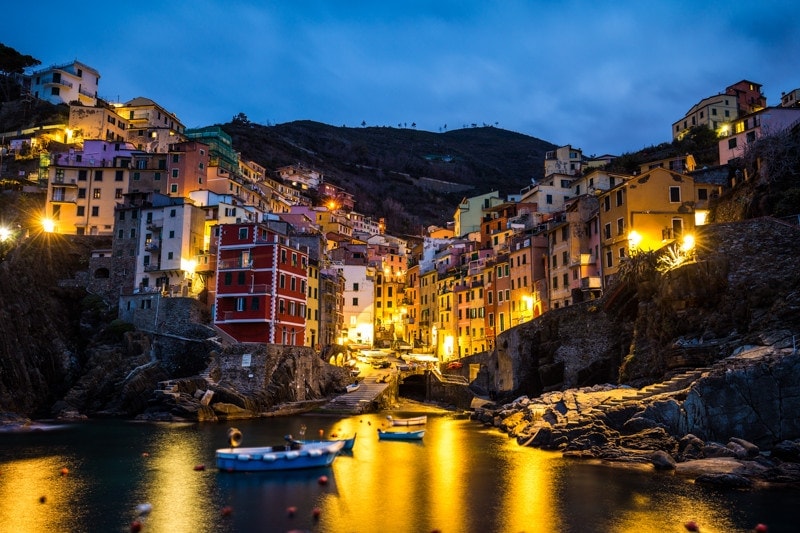 There are a couple other places worth photographing in Riomaggiore as well, although you're not going to get that classic Cinque Terre look to the images. Up at the castle there are fantastic views of the city, for example. And, if you're willing to hike even a bit high, on the highway that leads from village to village, there are wonderful panoramic views.
I also think it's a fun town to do some street photography.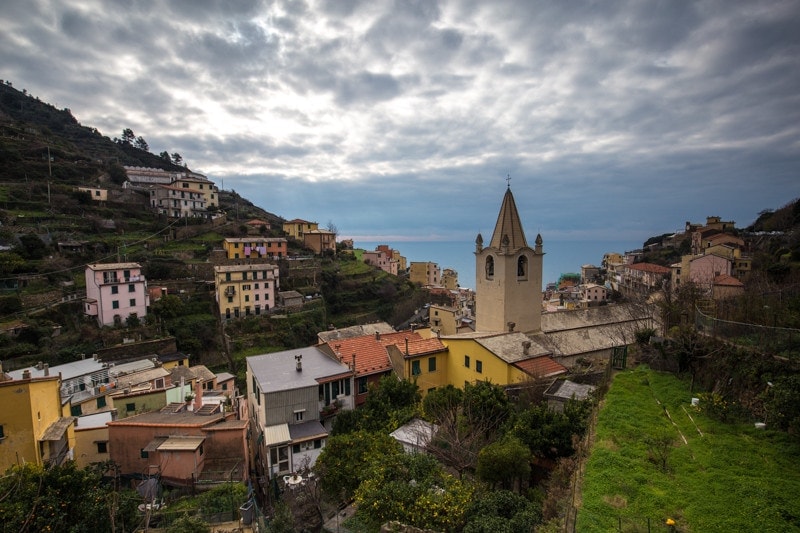 Monterosso al Mare
I hiked to Monterosso al Mare from Cinque Terre, and got there just before it started pouring rain. So, I didn't really get to photograph much of it. And, truthfully, I'm not that hurt by the fact I didn't get to photograph it. Of all the villages, this is likely the least photogenic. It feels less like a Cinque Terre village and more like a typical seaside town.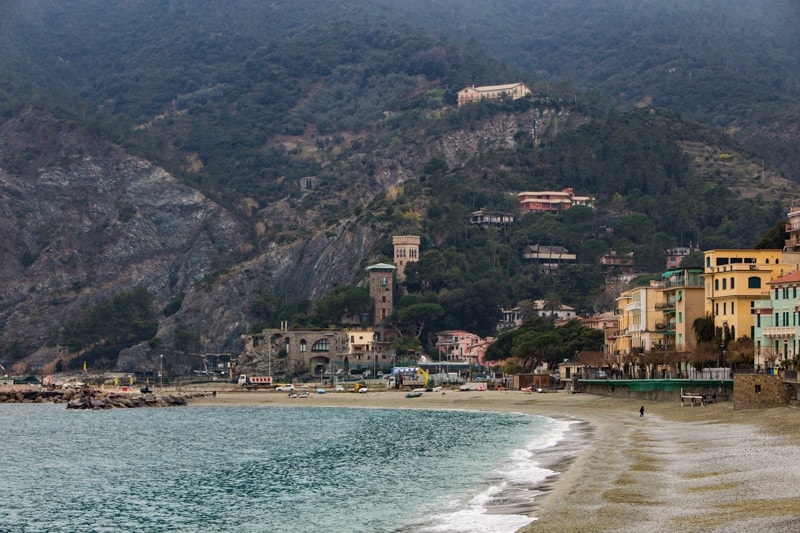 From a photography standpoint, the most obvious places to shoot the city are down along the beach. In the water, there is a really cool rock that sticks out of the beach. It makes for a decent long exposure photo. Beyond this particular spot, most of the best photos of Monterosso al Mare are taken from the walking trails along the coast in town.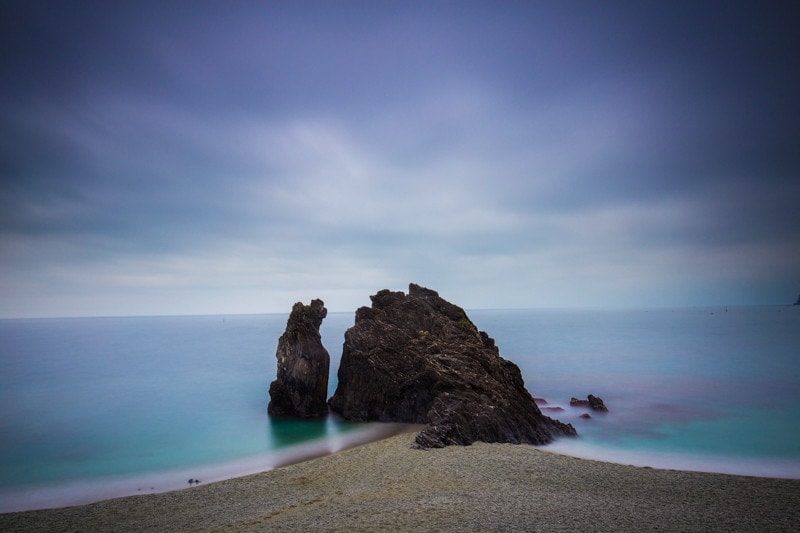 Corniglia
Unfortunately, I didn't get the chance to visit Corniglia. It was absolutely pouring rain on the day I had planned to visit. Thus, my advice for photograph on this town is beyond limited. However, I can say that if you're looking for the classic Cinque Terre photos of a village along the coast, you wont find that in Corniglia. Unlike the others, this village isn't right on the coast, but quite high up on the hills. The town itself might be quite beautiful, but you're not going to get that seascape shot like in the other villages.
Getting Around Cinque Terre
I was pleasantly surprised how easy it was to get around Cinque Terre. The train runs every hour, and sometimes more often. It also starts running really early in the morning so getting to a location for sunrise was never a problem. On average, most villages are about 3-4 minutes apart, meaning that even if you're trying to get from one end of Cinque Terre to the other it will only take about 15 minutes.
Of course, you can also hike the entire length of Cinque Terre. And, even if you're not a big hiker, I highly recommend that you do a section of the trails. The views from the trails are amazing and it offers photographers some angles that they wouldn't find by staying in the villages. On average, each village is about 1-2 hours hiking. Thus, there are people that hike the entire trail in one day. However, you'd be much better off taking your time and doing sections of it.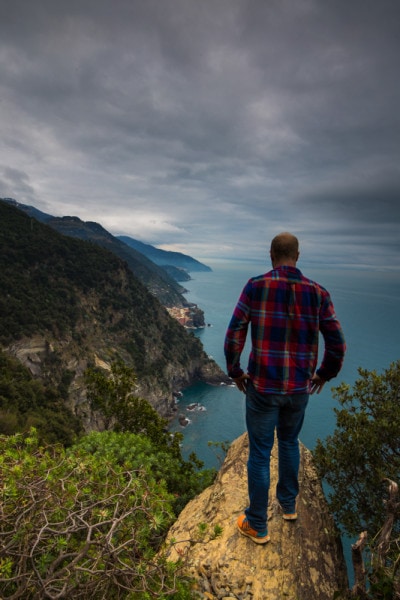 When to Visit Cinque Terre as a Photographer
Personally, I have to assume that winter is the best time of year to visit. I was there in January, and the entire time I was there I saw maybe 30 tourists. I didn't see another tripod the entire time I was there either. I've heard stories of photographer lineups in the high-season. So, if you want a quiet visit to shoot in relative peace, winter is where it's at. Also, visit mid-week if you can.
Moreover, visiting in the winter months tends to mean you get wilder seas. With wilder water, it makes the seascape images look far more dramatic. Of course, in the winter, you could also be risking things a bit with the weather as it can be rainier than the summer. However, it's still far better than around November when heavy fog and overcast weather is the norm.
It's also worth noting that in the winter of 2021, I'll be running a travel photography workshop here. So if you're interested check out my tour page for info.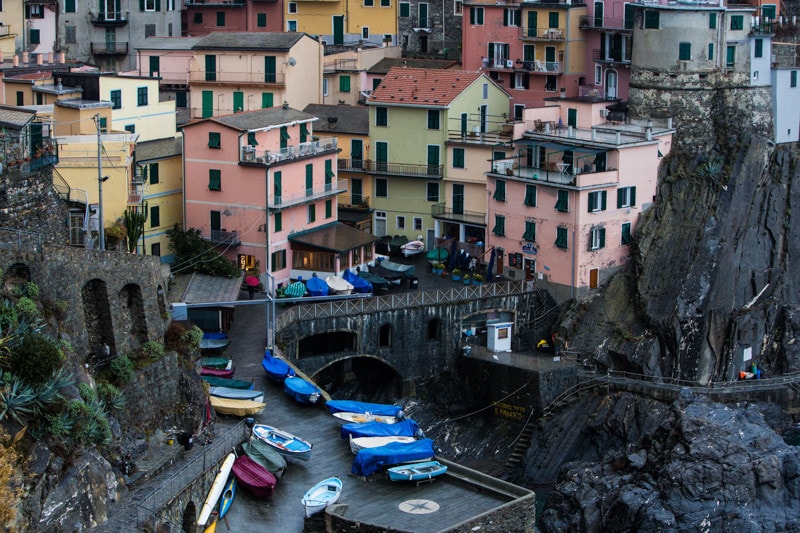 How Much Time is Needed in Cinque Terre
I spent 5 days in Cinque Terre, and for my purposes that was perfect. It also allowed me to have one day of bad weather without ruining things.
However, for most photographers, you could probably do Cinque Terre in 2-3 days. As a regular tourist, you can really get away with seeing the entire thing in 1-2 days. Of course, take into account the fact that there might be bad weather.
Where to Stay in Cinque Terre
All of the villages have accommodation available, and each have their advantages. I stayed in Vernazza and was extremely happy with my decision. I rented an AirBnb apartment for about 40 Euros a night. My place was a 2 minute walk from the train, and a 3 minute walk from the water in Vernazza.
As for the other villages, there are benefits and disadvantages to each of them. Corniglia is likely not an option for many as you have hike a series of nearly 100 steps to get from the train to the village, but you might be able to find deals there. Monterosso al Mare doesn't have the charm of the other villages, but if you have a rental car you can drive right in here. Manarola and Riomaggiore are also great options, but can be a bit on the expensive side.
If you decide to stay in a hotel, the best option is Riomaggiore. There are a lot of good hotels there, and the prices are more reasonable.
Below is a map of potential hotels in the area.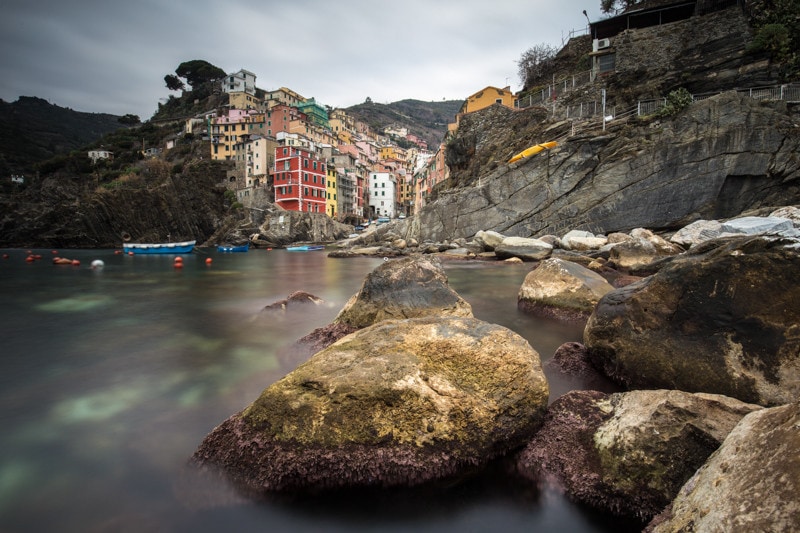 Eating in Cinque Terre
This isn't a guide for where to eat in Cinque Terre, but more of a warning. If you're visiting the area in the winter time, be prepared that most of the restaurants shut down around 7pm. In fact, on one night in Vernazza all the restaurants and shops were shut down, so I had to take the train to another village to find food. There also aren't big supermarkets, but rather little shops.
Of course, for the summer months you can disregard the previous as the restaurants will be open and likely packed.
What's Next on the Travel Photography Blog
I've been mentioning that a change is coming. And, that change will start with the next post. I'm not going to spoil it, but it will be fairly significant, especially from the video side of things. As for my next adventures? Well, yesterday I flew into Turkey and that's where the next bit travel photography and adventure is coming from.