I've now been to Namibia 4 different times. It's one of my favourite places on the planet for photography. But, as is the case on any photo adventure, it's a little bit hard to know what to pack. So, I thought I'd put together a pretty complete guide on what you should pack for your Namibia photography trip. And, I think it should be stated that less is usually more. I don't want you to think that you need everything I list in this guide.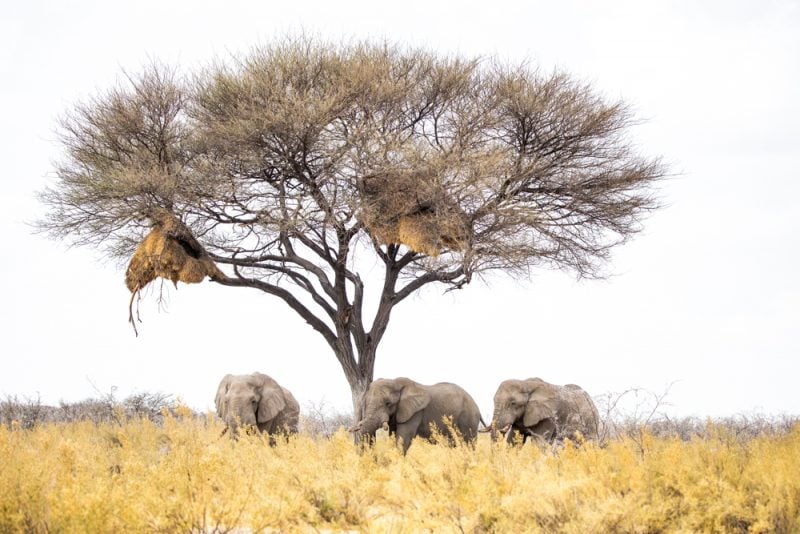 Camera Bodies to Pack
I'm a big believer that whatever camera equipment you bring to your destination will likely be good enough. However, when there's wildlife involved – like there is in Namibia – that changes a little bit. But, I don't want you to feel overwhelmed either.
I will say, though, that when you're packing a camera body for Namibia, you might actually want to consider having two.
Why? Well, because in the dust of the desert it can sometimes be a mission to change lenses. Thus, it almost makes sense to have one camera body attached to something wide, and another to a longer telephoto lens.
So, what kind of body should you bring? Obviously that depends on your brand. But, I'd look to bring 2 bodies – one with a fast frame rate like the Canon 7d mark ii, and one more suited for landscape photography like the Canon EOS R.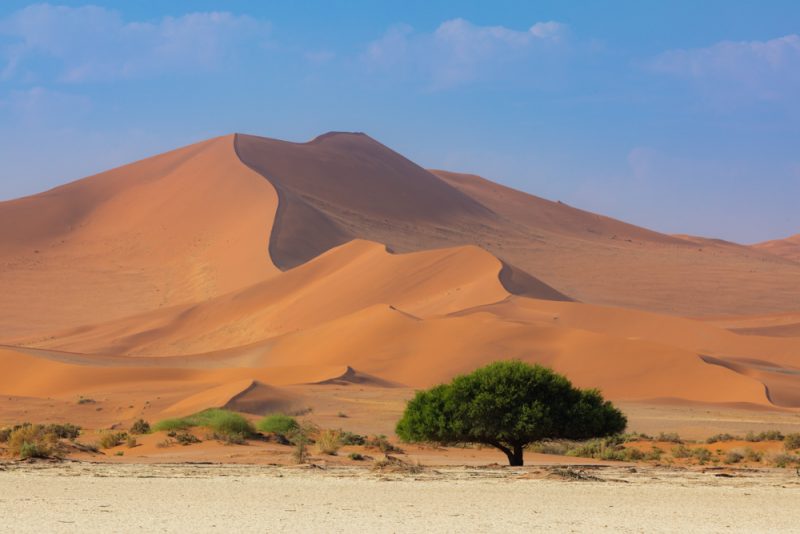 Dust/Sand Resistant Camera Gear
One point I should make here is that just because it doesn't rain a lot in Namibia doesn't mean that you shouldn't bring weather-sealed gear. The sands of Namibia have destroyed thousands of point and shoot cameras over the years. So prosumer cameras with those retractable lenses are kind of at risk here. Most DSLRs and weather-sealed mirrorless cameras with detachable lenses will be fine.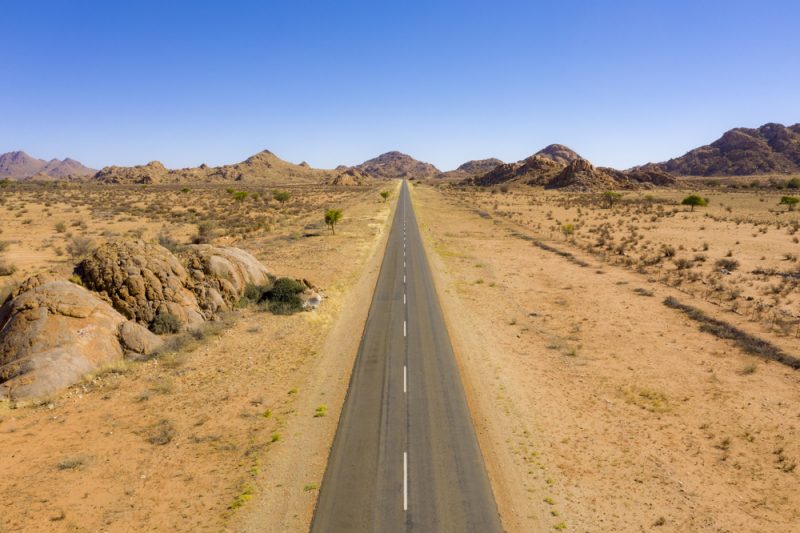 Camera Lenses for a Namibia Photography Trip
The truth is that you could do a Namibia photography trip with just 2 lenses. You could easily get away with just packing one wide angle lens and one tele-photo lens. I think, without issue, you could use just a 24-70mm f/2.8 and a 100-400mm lens and be totally happy.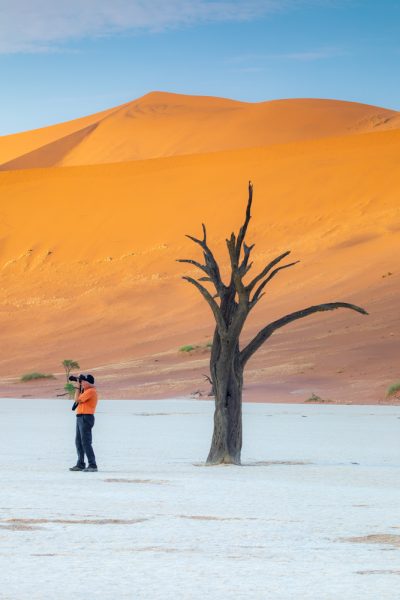 But, we're photographers, aren't we. We're never happy.
These are the lenses I'd pack for a Namibia photo tour if I were you. And, note, the examples I give you are Canon simply because that's the brand I use. Not because they're somehow superior.
An Ultra-Wide Angle: I used the Canon 16-35mm f/4. But, honestly, this is probably the lens I used least in Namibia. Most of the landscapes lens best to longer focal length. Still, for some of the canyons, it's definitely helpful.
A Standard Zoom: If you've been following my work for a while, you might know that I never really liked the 24-70mm focal range. However, my Namibia trip really made me fall in love with it. I felt like it was a good "walk around" range. A 24-105mm would also do the trick. However, I think that if you can take an f/2.8 version so you can also use it for astro-photography
A Telephoto Zoom: In Namibia, you'll likely use your tele-photo zoom more than any other lens in your bag. The telephoto side of your lens will make the landscape look more dramatic. I'd definitely pack either a 70-200mm or a 100-400mm lens.
Super Telephoto Lens: If you're spending a lot of time with wildlife, you're going to want some range. While 400mm (or even 200mm) can get you some good images having a 600mm will make sure you get some dramatic images. On one trip to Namibia I used the Canon 200-400mm f/4 + 1.4x extender. On another trip I rented a 600mm f/4. These are crazy expensive lenses, so consider renting one for the trip. There is actually even a lens rental company in Windhoek now.
Prime Lens(?): I have both 35mm and 50mm prime lenses. I've never used them in Namibia. But, if you're photographing a lot of people, you might want to consider one. I do think, though, that most people could get by with just the 24-70mm if you're looking to save space in your camera bag.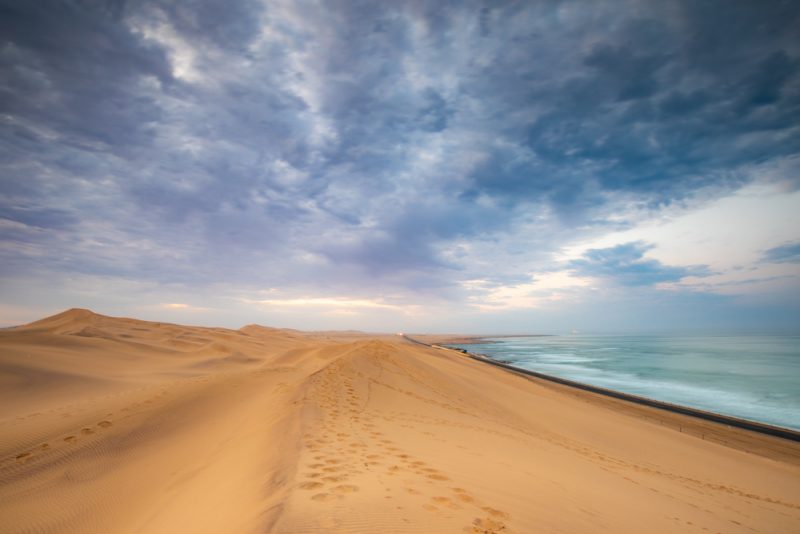 Other Photography Gear
The beauty of photography in Namibia is that there's so much variety. But, that also means that you might end up packing around a lot of camera gear that you'll use only once or twice on the trip.
I've made a little list below of some of the extra gear that I ended up using. Obviously what you end up packing will depend a lot on what your skill level is, and what you normally photograph.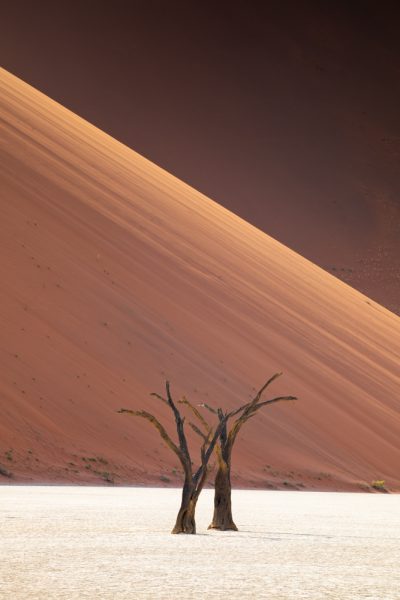 Tripod: I use a 3 Legged Thing travel tripod and it's actually pretty perfect for Namibia. It's not too big to lug around, but also durable enough to stand up to the occasionally wild Kalahari winds.
Monopod(?): The only time I ever use a monopod is when I'm on safari. It's just nice to be able to balance the camera. And, honestly, sometimes it's not even about balancing or stabilizing the camera, but just giving you a break. Cameras can get heavy after a while.
ND Filters: If you're into landscape photography, you're going to want a couple ND filters. I think you can probably get away with just a 6-stop ND, a 3-stop medium grad ND, and a Polarizer. You'll be surprised how often you use a polarizer in Namibia. It really helps bring out the red in the dunes.
Bean Bag: While on a photo safari in Namibia, bean bags are really helpful. You can lay them down on the windowsill of your car, and then set your camera lens on it. It helps stabilize the camera, it gives your arms a break, and it protects the car's windowsill from damage.
Charging in Namibia: Some Accessories
For the most part, keeping your camera gear charged in Namibia isn't that much of an issue. All the lodges, and most of the campsites have electricity to keep your camera batteries charged.
However, there are sometimes power cuts. And, of course, some of you will be heading out on some more wild photo outings to places that are more remote. So, if you are off the grid in your photography a bit, maybe consider the following products.
GoalZero Sherpa 100AC: This is the mother of all power banks. It holds over 25,000 MaH of power whic means that on a full charge it can power up about 5-6 camera batteries. Moreover, it can be charged with the following product.
GoalZero Nomad 28: I talked about this in my videos in Mongolia, as they really saved me. But, these solar panels will draw about 18-20 Watts of power when it's sunny. And in Namibia it's almost always sunny. They'll charge the Sherpa AC100 in about 4 hours in ideal conditions.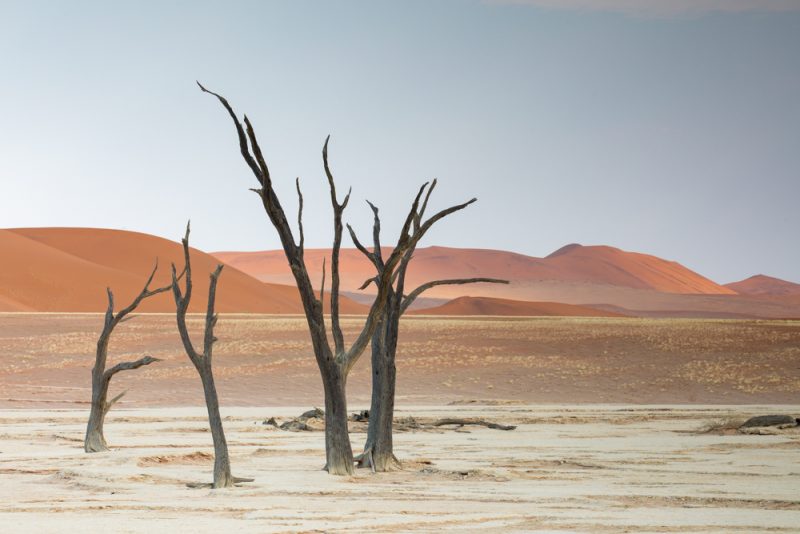 Type of Plug Sockets in Namibia
I should also probably mention that Namibia uses UK style plugs. So, if you don't use that type of power back home, be sure to pick up an adapter.
Camping vs. Lodges
There's a lot of debate about whether you should camp or stay at lodges in Namibia. I say "why not both?".
Camping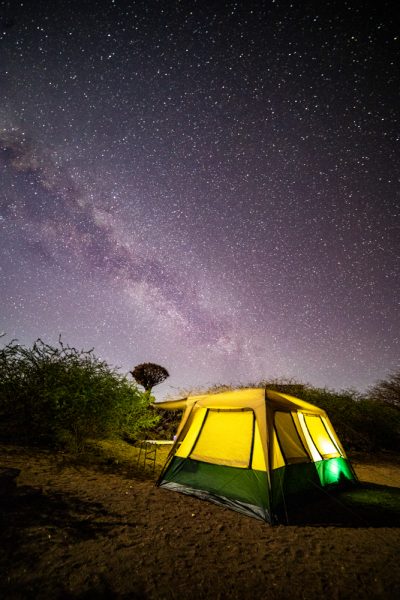 When you have a lot of camera equipment, you don't want it laying around in tents when you're not around. So, if you're planning on spending a long time in one place, be sure you keep your camera gear locked up or with you at all times. And, no, leaving it in your locked car isn't always safe.
That being said, in Namibia – aside from Windhoek – is fairly safe for you to have your camera equipment out and displayed.
If your concern about camping is charging, have no fear. Most camp sites have places for you to charge.
The Advantages to Camping
There are two big advantages to camping in Namibia as a photographer. The first is that in certain places you'll have earlier/later access to photo locations inside parks. The best example of this is Sossusvlei where if you stay at Sesriem camp you'll be able to photograph sunrise and sunset in the park.
The second reason is for price. The psrice per person for a hotel in Ethosha National Park is about $130 a night. Camping is as low as $25 per person.
Rental Cars: Do You Need a 4×4 in Namibia?
The other big debate in Namibia is do you need a 4×4. The answer is no. In fact, I've never had a 4×4 and I've managed to get by. Almost all of the roads are accessible by 2×4, and most roads don't even require a lot of clearance.
That being said, having a 4×4 will definitely make your life easier. There are locations like the Skeleton Coast where you need one. And, having a 4×4 definitely makes it easier to photograph Deadvlei.
So, no, you don't need a 4×4, but if you can afford one, get one.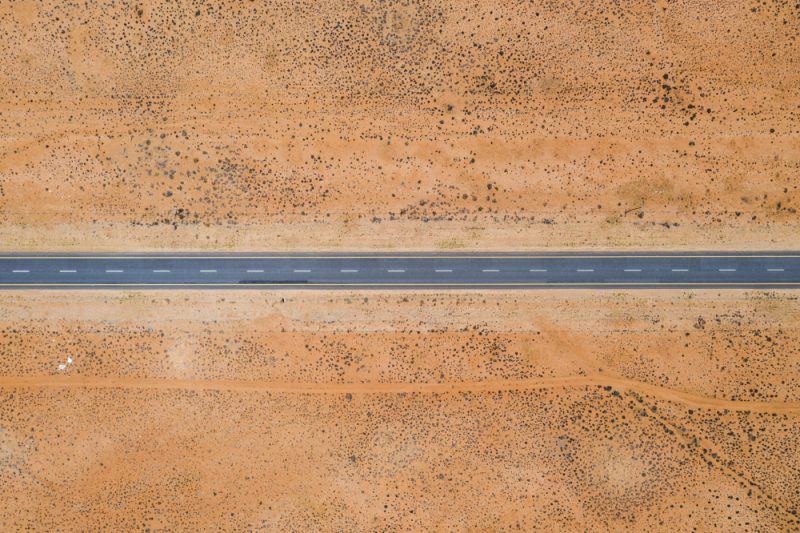 Camera Gear Safety in Namibia
I touched on this a bit earlier. But, I want to add to this section. For the most part, Namibia is extremely safe. The cases of crimes against tourists are extremely low.
That being said, you do have to be careful in Windhoek, especially at night. I wouldn't travel around the city with a camera gear out or large sums of money. And if you have a car don't leave valuables visible.
Outside of Windhoek, theft is rare. But, that doesn't mean that it doesn't happen. Again, don't leave valuables visible and be sure to keep camera equipment out of sight and locked up. Outside the capital, you'll be totally fine basically everywhere you go having your camera gear out. Just be sure to read the vibe, especially in some of the townships of smaller towns.
Detailed Guide to Photo Locations in Namibia
If you're looking for a detailed guide of all the best photo locations in Namibia, I've made on that you can see here. I'll be updating that post as I visit more locations around the country.
Namibia Photography Tours?
Every year I operate one trip in Namibia. It's absolutely one of my favourite places in the world to photograph and I love sharing my knowledge and locations with others.
For information on the latest Namibia photography tour click here.
Or for information on upcoming tours and workshops sign up to the list below.