While we were operating our 14 day Mongolia photography trip, we were off-the-grid for nearly the whole time. So, of course, there's going to be a little bit of a struggle keeping camera gear charged when you don't have electricity. But, to be honest, we didn't really struggle. Though we were very conscious of our lack of plug-ins and classic energy sources, we didn't once miss out on something due to a lack of energy.
This is how we got by on our off-the-grid photography adventure in Mongolia.

Electronics
We have a lot of electronics. I was with Greg, so not only did we have my camera gear to charge, but his as well. On top of it all, we also were occasionally backing up the files of our participants – some of whom took more video clips and photos than any participants I've ever had before. So, there was a lot of juice needed.
All the camera gear that we had to charge was:
6x Canon LP-E6n Batteries
4x Canon LP-E17 Batteries
5x Mavic ii Batteries
5x Lumix DMW-BLF19 Batteries
2x Zhiyun Crane Batteries
1x DJI Ronin-SC Battery
1x Google Pixel 3XL
1x Huawuei Mate 20
1x Dell XPS 15 Laptop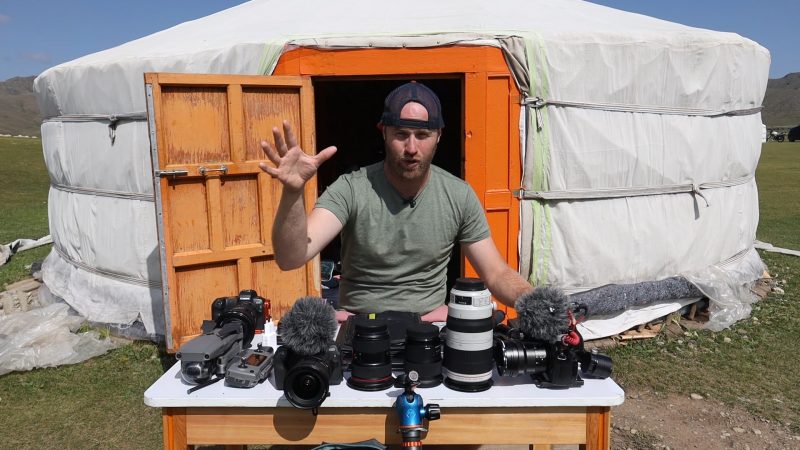 Obviously, that's a lot of stuff. And, actually, I think I charged camera batteries for 3-4 other participants as well. But, somehow we didn't struggle.
How?
Solar Camera Battery Charging
I did a lot of research before the trip trying to figure out how we would be able to get by. I thought about bringing a big power bank, but most were too big to fly with. After doing more research, I found a company called GoalZero that does a lot of solar energy for things like off-the-grid photography and camping. I bought two of their products.
The Nomad 28
These are small solar panels that pack up quite small and are fairly durable. They're also light weight considering what they do.
The 28 stands for 28 watts in. However, the max we were able to draw was about 18-19. That being said, that was more than enough. It meant that we were able to charge our power bank in about 4 hours.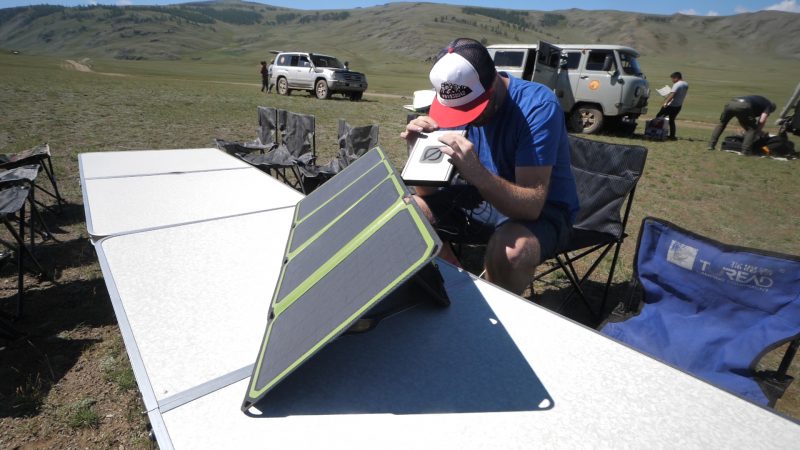 One of the things I loved about the GoalZero Nomad 28 is that I could charge the powerbank, or I could directly charge my phone or anything else with USB. In fact, lots of times I would charge a camera battery but also have the powerbank linked up to store the excess power.
I guess the only thing you really need to know is that if it was cloudy, they were useless. We had one day where it was about 90% cloud and we really couldn't get a charge. If you were in a part of the world that didn't have a whole lot of clear sky, these might not be too helpful. For us, though, they were a lifesaver.
The Sherpa 100ac
The powerbank I bought for this trip was also by GoalZero. However, I quickly learned that you really don't need to buy a GoalZero powerbank to go along with the solar panels. The solar panels will charge anything with a usb.
That being said, I liked the Sherpa 100ac for a couple reasons.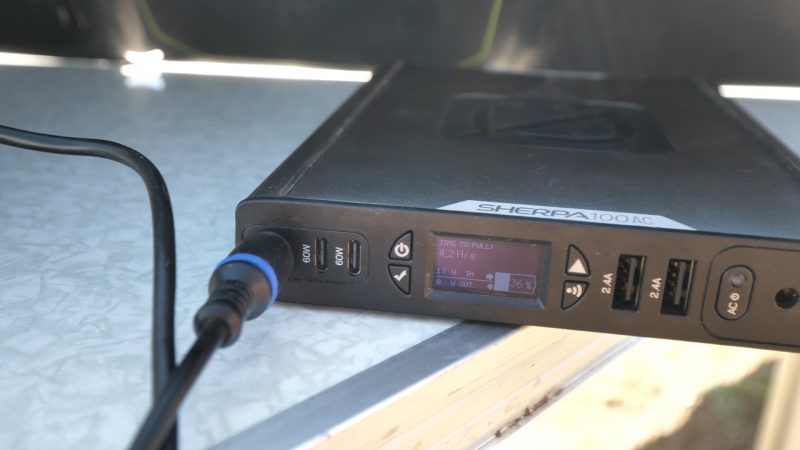 First of all, it told me who much power I was drawing in and how much I was kicking out. It made it really easy to understand how much battery life I had left and how long it would take to charge things. It also charged faster than a regular powerbank because of the power supply. Second of all, I loved the AC outlet. Without it, I don't think charging the laptop would have been possible. It also would have taken way longer to charge the batteries for the Canon.
This powerbank has 2 USB-C outlets, 2 USB outlets, and the AC outlet. It also has wireless charging.
File Back Up
The real mission on the Mongolia trip was going to be file back up. Obviously, with so much video and photo content being created, and the rugged nature of Mongolia, we had to try to back up daily. Without the power, we wouldn't have been able to.
However, every day we managed to get things backed up.
We used the sherpa 100ac powerbank to charge the laptop. Our Dell XPS 15 charged twice with the sherpa.
Every day, we backed up all the photo and video content onto a Lacie 4tb external hard drive. Obviously, we could have used something like the SanDisk SSD to back up, but SSDs are way more expensive and we really only needed the backups as a last resort in case something happened.
Mongolia Teaser
Yes, Mongolia was a bit of a struggle. But, it was epic. It was the definition of adventure. We slept on the ground a lot, we battled through long drives, and we fought our way through some bad weather.
But, in the end I think that everyone will agree that it was worth it. We made some great content. And more importantly we made so many amazing memories that will definitely be told and re-told.
Greg and I put together a pretty awesome teaser video from the trip to Mongolia which you can see below:

What's Next?
The Mongolia series is really going to kick off on my YouTube channel on Sunday where I'll have the first vlog. There's going to be about 6-7 videos from Mongolia coming up.
In real time, I'm already over in Bali ready for a little bit of relaxation, pool time, and of course, photography.
I should also mention that I also just announced my latest workshop which is an awesome trip to Arizona.
—————-
**Note: This post does contain affiliate links to certain products.