Patagonia is on a whole other level for photography. And, to be honest, this list could just go on for 10,000 words and 100,000 Patagonia images. There are just so many great photo locations here. So, I'm going to try to focus on the absolute best spots. The classic photo spots.
Also, in case you wanted to explore this region with a fun group of photographers, we do run an awesome travel photography tour in Patagonia. Check it out.
OK, on to the locations and photos.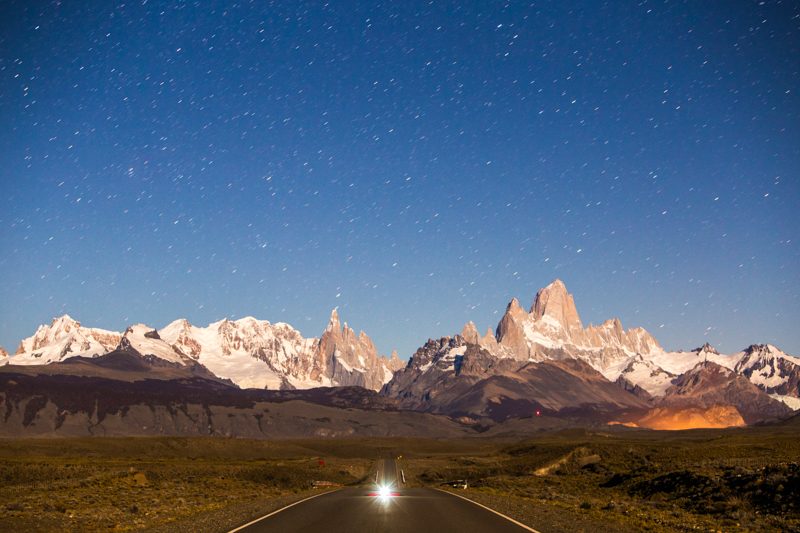 The Organization of Images
Patagonia refers to the southern cone of South America shared by Chile and Argentina. In general, the use of "Patagonia" is pretty liberal and the space that uses the term starts way up north in places like Bariloche and covers the territory as far south as Ushuaia.
To keep things organized, I've categorized things based on the regions. I hope it's also helpful as most people tend to pick a part of Patagonia to explore and photograph rather than covering the whole region.
Northern Patagonia
I was going to write that Northern Patagonia is underrated, but I think that might only be regarding international tourists. Chilean and Argentinean travellers have been coming through these parts for years. They might not have the dramatics of the southern parts, but there is still plenty to photograph.
Bariloche, Argentina
Obviously, there are a lot of photography locations that you could shoot in Bariloche. In fact, I've hardly even had the time to scratch the surface in this town. Bariloche, though, is beautiful. And, there are dozens of spots one could potentially shoot from. It might not be place to get the iconic Patagonia images you've seen, but it is beautiful.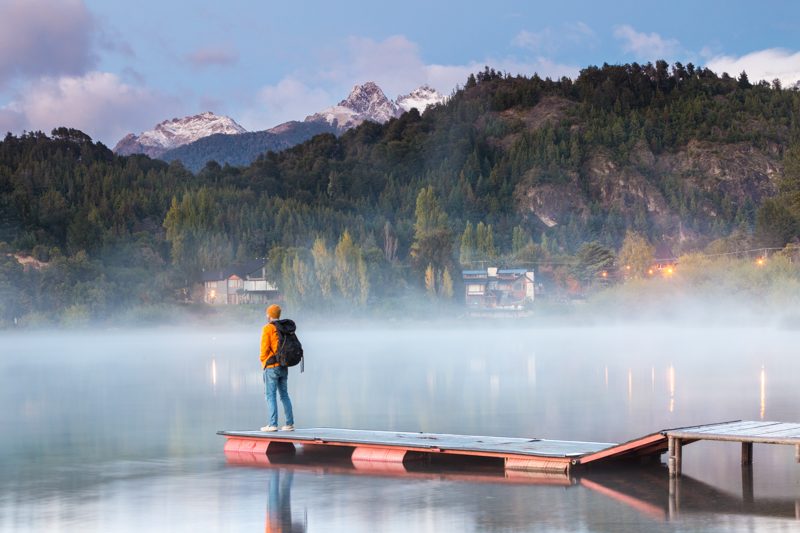 On my last trip to this area (I've been twice now), I shot 3 spots: Cerro Catedral, the Club de Regatas, and the Punto Panaramico.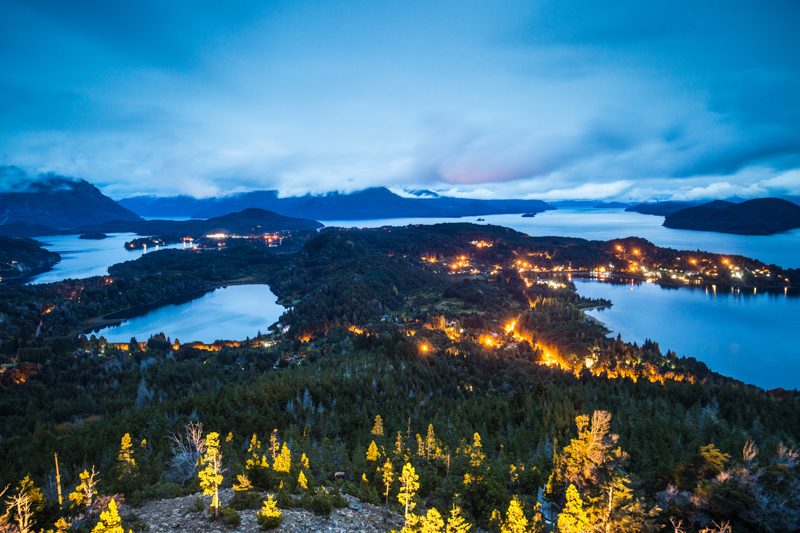 All three of the locations are great. But, all are also very light dependent. So, check the weather situation before you head out to any of these spots.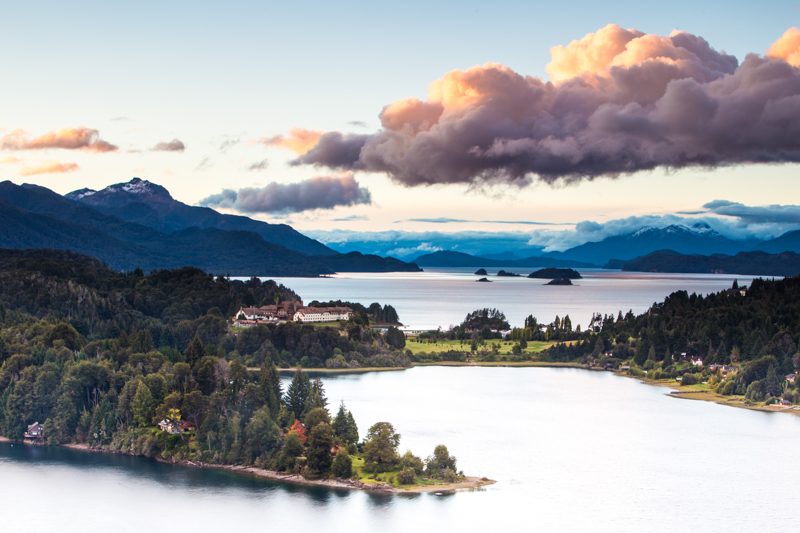 Puerto Varas, Chile
I have no idea how Puerto Varas isn't more of a tourism destination. Not only is it quite generally a cute little town in the north of Chilean Patagonia, but it sits at the base of one of the most impressive volcanoes in the world. If you can get there on a clear day after the volcano has gotten a bit of snow, it can be unreal.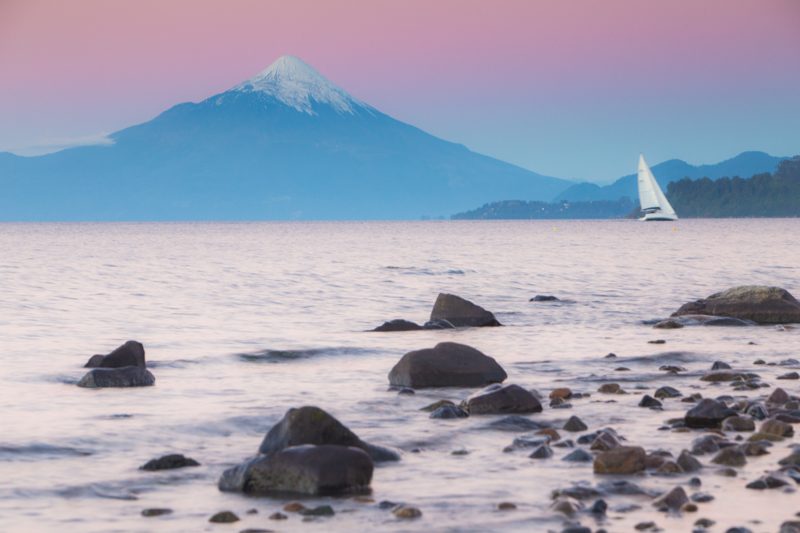 Petrohue, Chile
Not far from Puerto Varas is Salto de Petrohue. This place is also spectacular and a brilliant place for photography. In fact, this might be the most under-appreciated location Patagonia images anywhere in the region. The river carves through the rocks, and you get the volcano basically right on top of you.
The downside of this spot is that it doesn't open until after sunrise. So, you'll have to come right as the doors open. Security guards are pretty strict too. They might ask you to not use a tripod. A gorilla pod will come in handy here.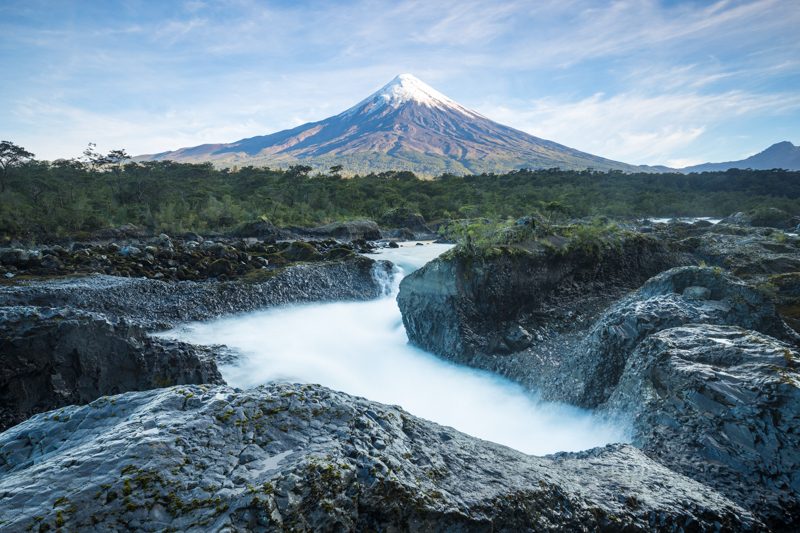 Carretera Austral
Definitely the most underrated part of Patagonia. This area is almost completely neglected by tourists and phtoographers; mostly due to its remote nature. Not only is it far from anywhere densely populated, but it takes a series of boats and rough roads to get to. But, for those who get there, there's endless beauty and loads of great photography destinations.
Hornopiren
Greg and I actually got stuck here on our photography scouting trip due to the ferries not running regularly. But, I'm actually glad we did. The old fishing village is really photogenic and the people are extremely friendly. There's an old pier which makes for good photographs, and there's also a bunch of fishing boats on the water which make for great images. If you have the time, make a stop here.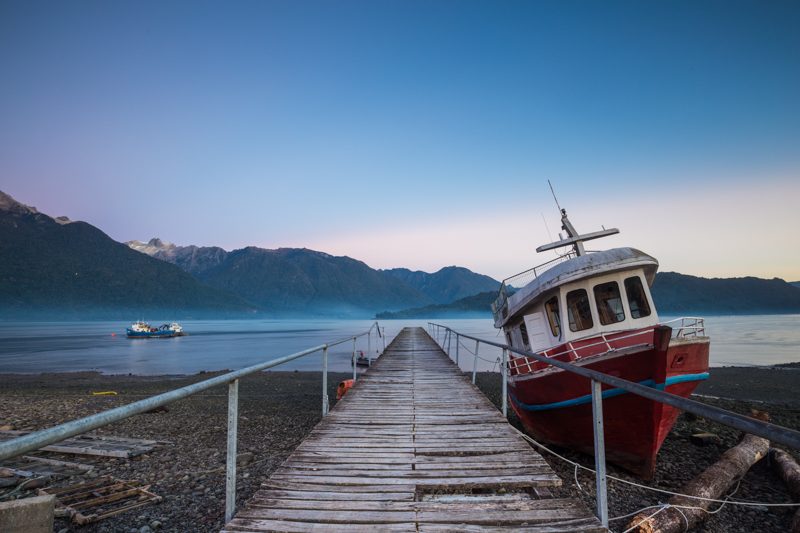 Queulet National Park
This place is an absolute gem!
We planned on getting here for a sunset, but were way too late arriving. But, instead of waiting for a sunrise, we hiked up to the view of the glacier in the partly-dark full moon evening. When the moon hit the glacier at night, it was phenomenal. Again, how are there not more people up here getting Patagonia images here?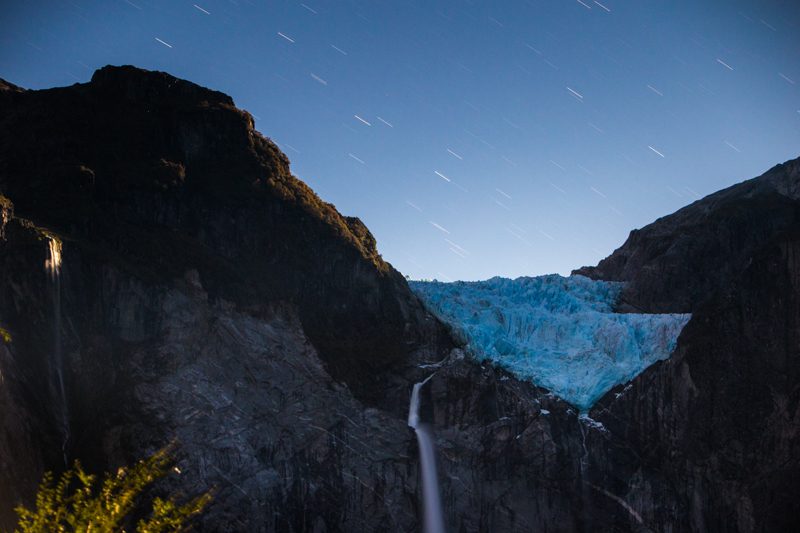 After a night in the camper van, we headed to the lake a the bottom for sunrise. And though the light wasn't good, the views (again) were amazing. I would say that it's shocking that it's so free of tourists here, but I'm not surprised. There are no airports anywhere near here. And even though it's right off the Carretera Austral, it's still just so far from everything else.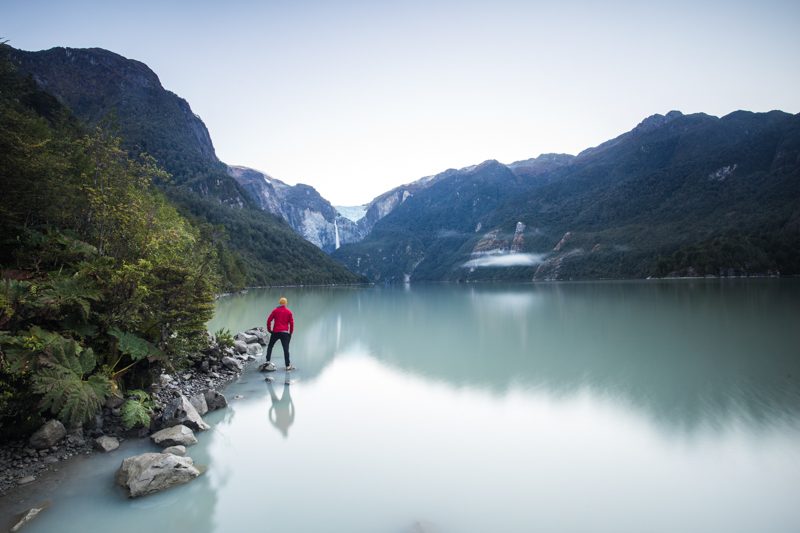 Coyhaique
We were late getting down the Carretera Austral, so we skipped a couple places towards the south. In fact, we didn't even really photograph Coyhaique. But, we did have an awesome time here. I got to have a morning bath in one of the old wood-fired hot tubs!
And, under a perfect night sky, I did get some cool astro-photos. In general, this might be the best place in Patagonia for star photography. It tends to get clear skies fairly regularly.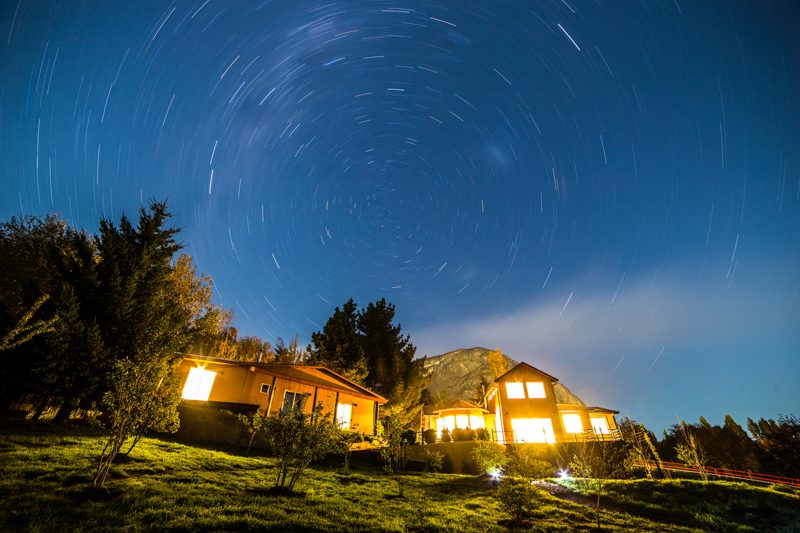 I think this area has a lot of potential for more obscure Patagonia photography. I just think you'd need more time to properly explore it than we had. It is an area I'd love to get back to.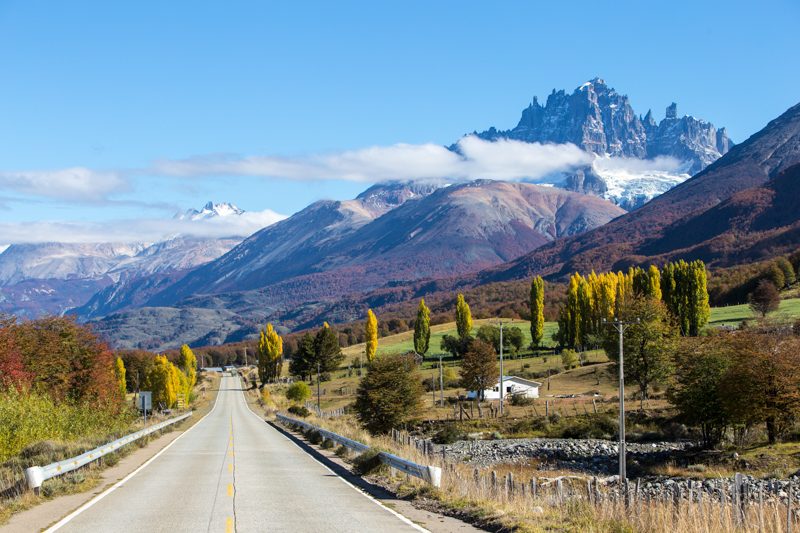 Los Glacieres National Park
This, along with Iguazu Falls, is as beautiful as it gets in Argentina. This national park is full of wonders. It's also split a little bit between the southern section which is home to Perito Moreno Glacier, and the north which is set in El Chalten. Both have their virtues, and both are totally different – despite being in the same park. And, overall, this park might have the highest concentration of photography locations in all of Patagonia.
Perito Moreno Glacier
This is really Argentinean Patagonia's biggest (no pun intended) tourist draw. The massive glacier is beyond impressive. It's one of those places that just well and truly cannot be photographed in a way that does it justice. And, the funny thing is, the photos from Perito Moreno Glacier generally do come out amazing.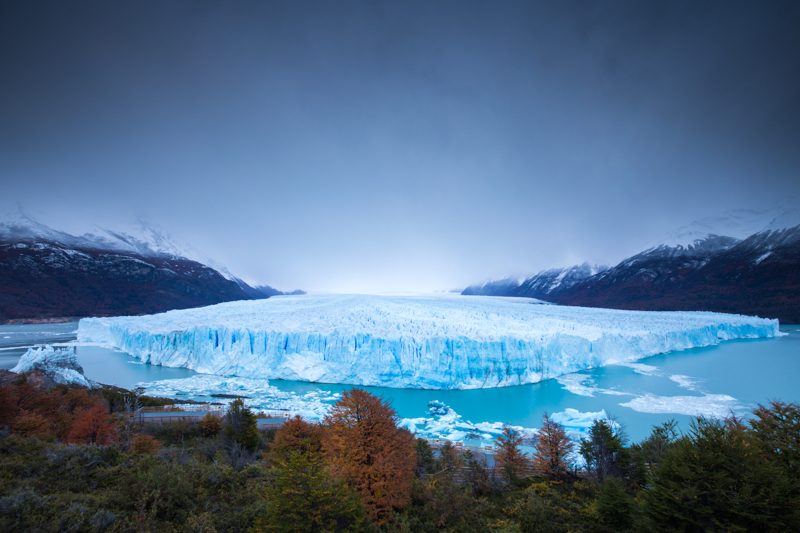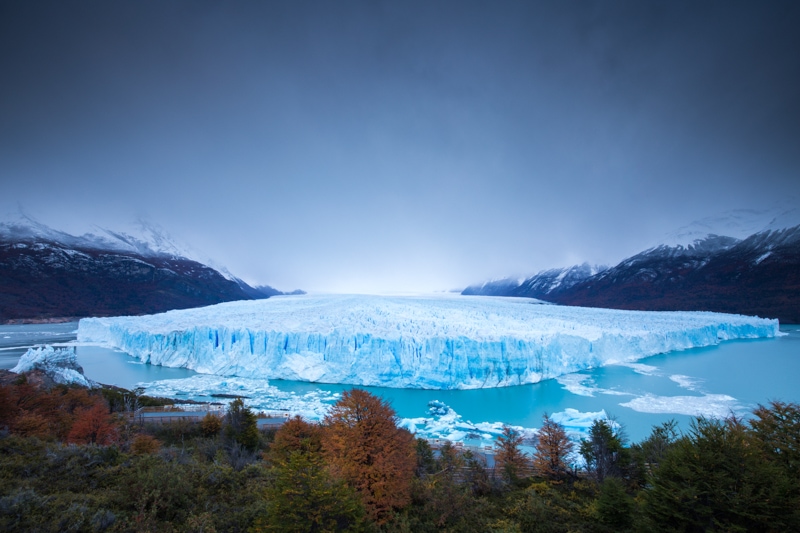 We tend to come here right at sunrise to beat the crowds. And, usually, we have this place all to ourselves for the first couple hours here. It's a humbling place to stand. Especially when the ice calves.
Of all the Patagonia images taken in Argentina, there are few more iconic than the ones taken at Perito Moreno Glacier.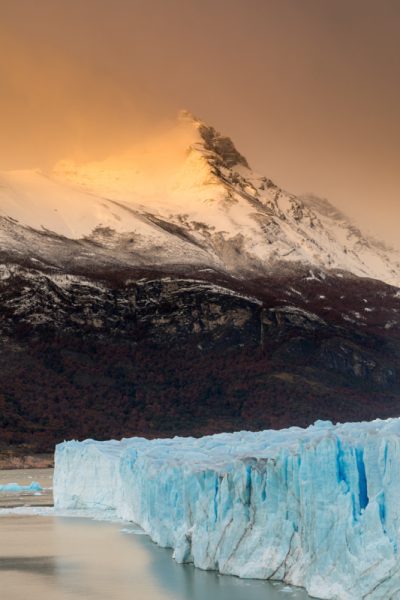 El Chalten "The Road"
There are so many photography locations in El Chalten to shoot. So, it almost seems silly to create a list of them. But, here we go.
The thing about El Chalten is that where the village is, you really don't see the mountains. They are blocked by a ridge below them. So, to get a good classic view of the mountains, head back down the highway about 10-12 km and you'll find this beautiful image leading towards the famous peaks.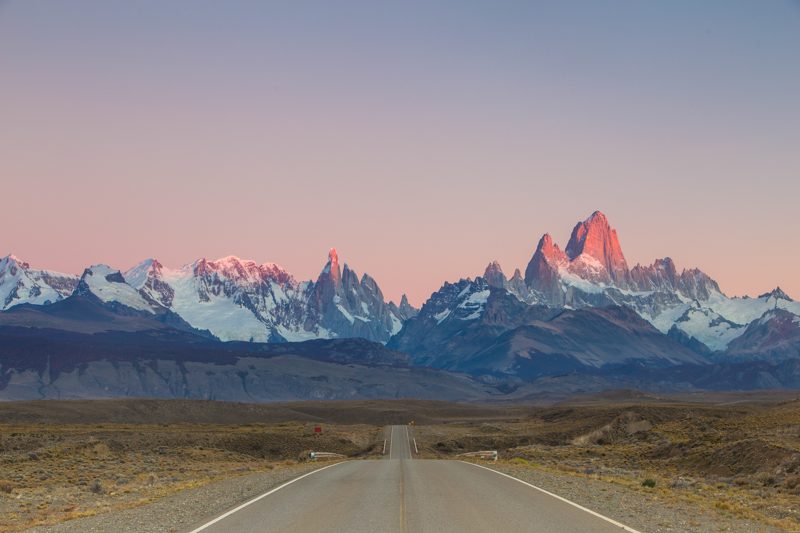 El Chalten "The River"
Likewise to "the road", the river view point is at a pullout along the highway just out of town. From there, it's a 5 minute walk to a view down the valley at the the river leading towards Fitzroy and all the other peaks. It's a cool location, and if you can get some light, it can be brilliant here.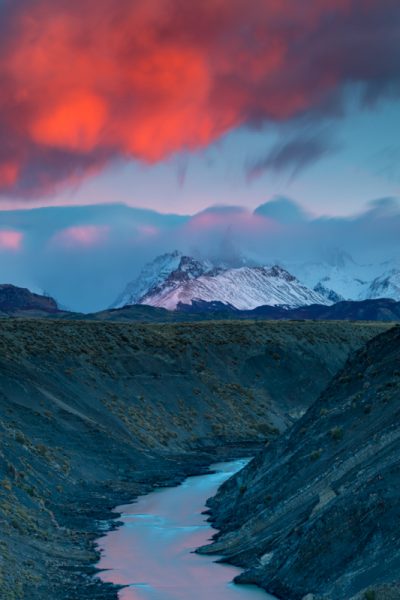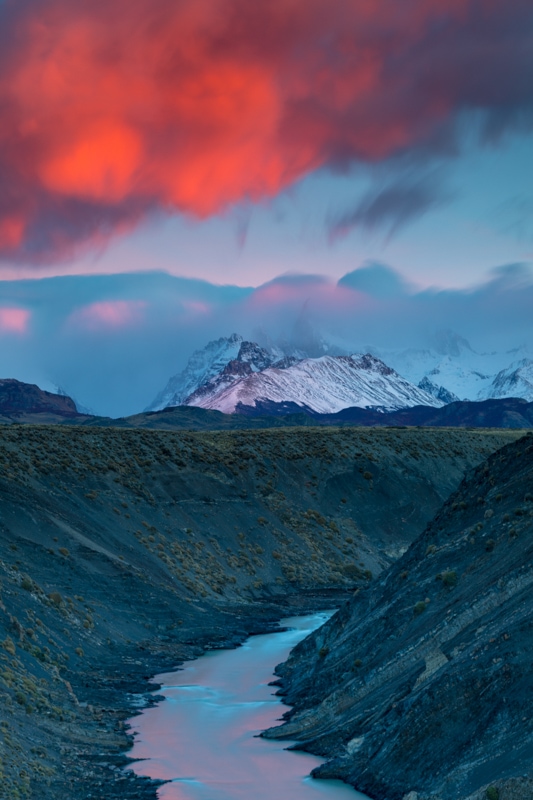 Chorillos del Salto
This is a great location to go to if it's cloudy and you can't see the peaks. Here, the light really doesn't matter because you're not going to be photographing the peaks anyways. Instead, you'll be in here photographing the beautiful foliage and the waterfalls.
Of course, this location photographs best in the fall when the colours are really popping. It should also be noted that lots of the Patagonia images you see have fall colours. It can make you think that it's busy this time of year; it's not. There are more photographers. But in general, it's pretty quiet.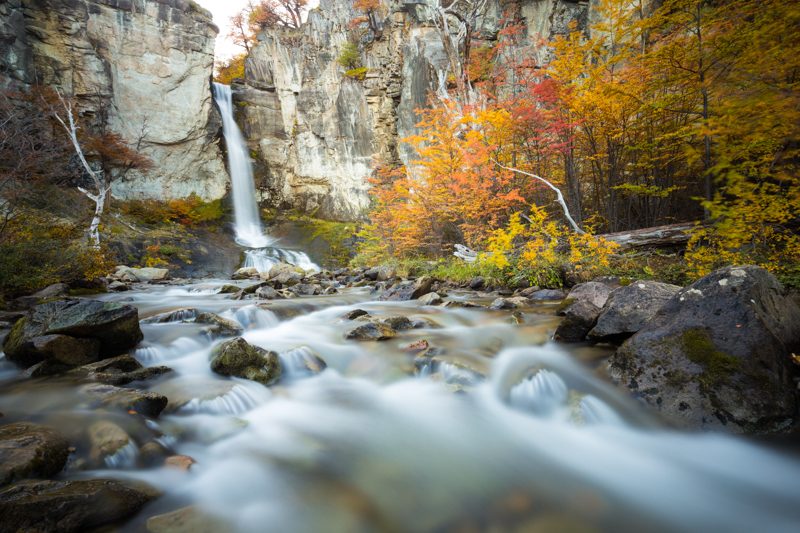 Rio de las Cascadas
This location is up past Laguna Capri and just off the trail.
I must warn you, though. This location is one of the most popular photo spots in all of Patagonia and there's a chance that it might become off-limits soon. Park rangers are already starting to warn tourists that they aren't allowed to be down here because it's officially off the trail. There is, however, a rudimentary trail that has been created to here by the people heading down to photograph the falls.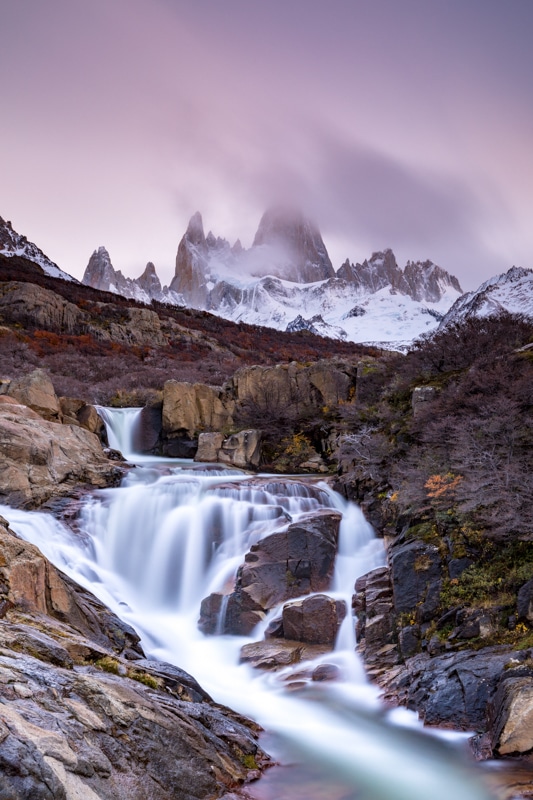 Personally, I think the park should create their own trail down as nothing is going to stop photographers from heading down here. It's too great of a location.
That said, if the park rangers have put up signs to deter you from heading down there, please do respect them.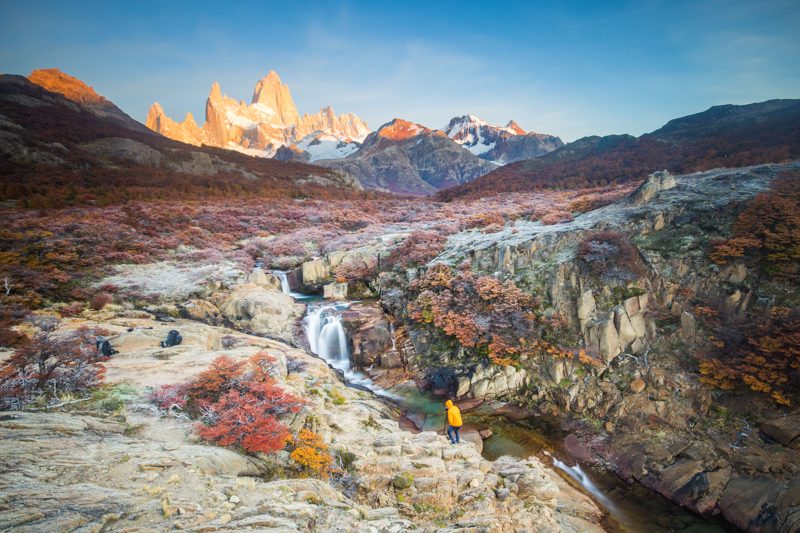 Laguna de los Tres
This is maybe the most popular photography location in El Chalten. But, it's not easy to get to. In fact, you'll likely need 2 days to do it for sunrise. You'll need to hike up to the campground on day 1, and then do the final climb up on the following morning.
It is beautiful, and totally worth the trek, though. Just be warned that the winds up here can get intense, and come out of nowhere. Be careful with your camera gear. On my first visit here, 2 cameras took wind-powered tumbles.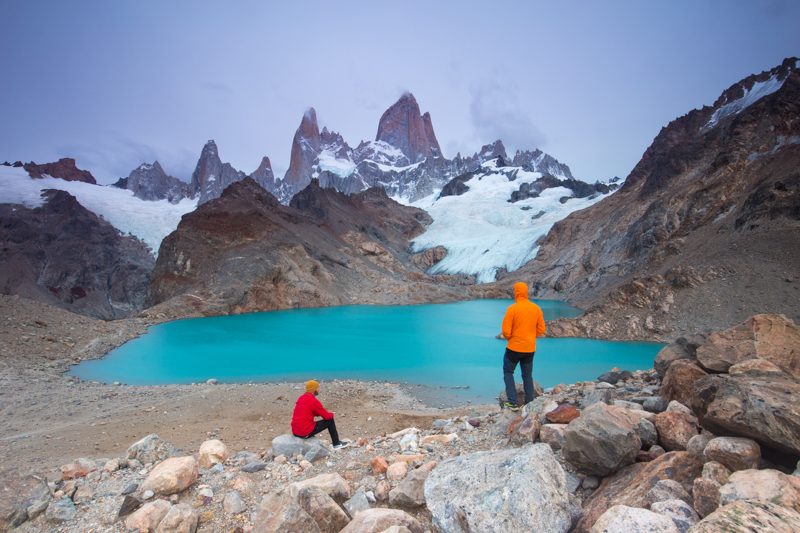 Laguna Torre
I think I actually prefer this location to Laguna de los Tres. There are just more available compositions here even if it's not as obviously Patagonian. And, even if the weather and light aren't great, there are things to shoot. There are lots of little chunks of ice that end up on the beach here that give great foreground elements to play with. I think it gives you more of a chance of creating a unique set of Patagonia images than any other location in El Chalten. And, when the weather really behaves, you have "Torre" just beautifully back-dropping it all.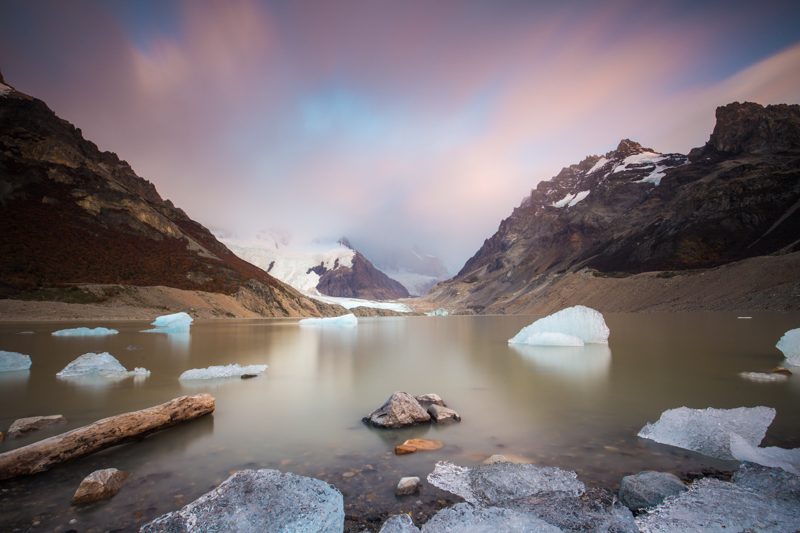 Lago del Desierto
Personally, I don't think Lago del Desierto is that great a photography location. However, just before you reach the lake, you'll come across a bridge and some wandering rivers. This is a phenomenal spot. And, because it's outside of the national park, you can fly drones here which is great.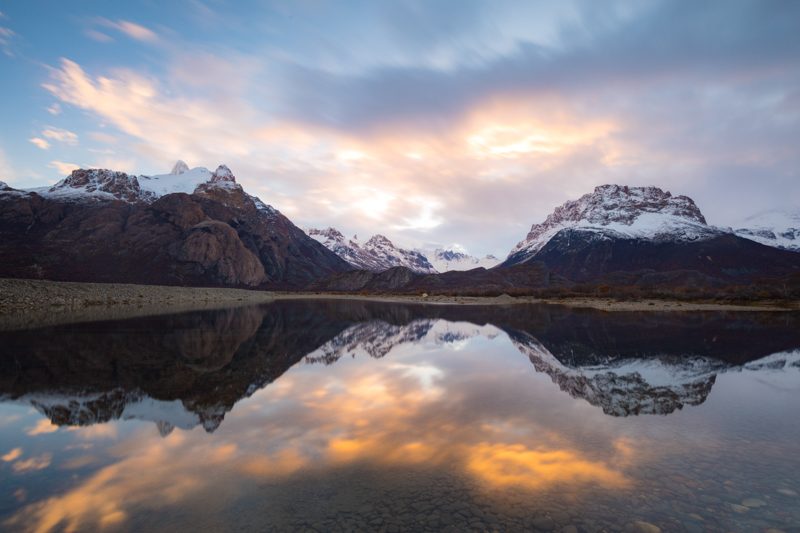 I gave myself a photo challenge when we came to this spot last year. I wanted to see how many locations I could shoot in one evening. The video of that is below.
Mirador Rio de las Vueltas
Often, a great viewpoint doesn't make a great photo. This is one of the exceptions, I think. This is both a great viewpoint, and a great photography location, The views down at the river and the mountains are just phenomenal. It might not be one of those classic Patagonia images, but it does work very well!
We didn't really get cooperating weather, but it still was spectacular.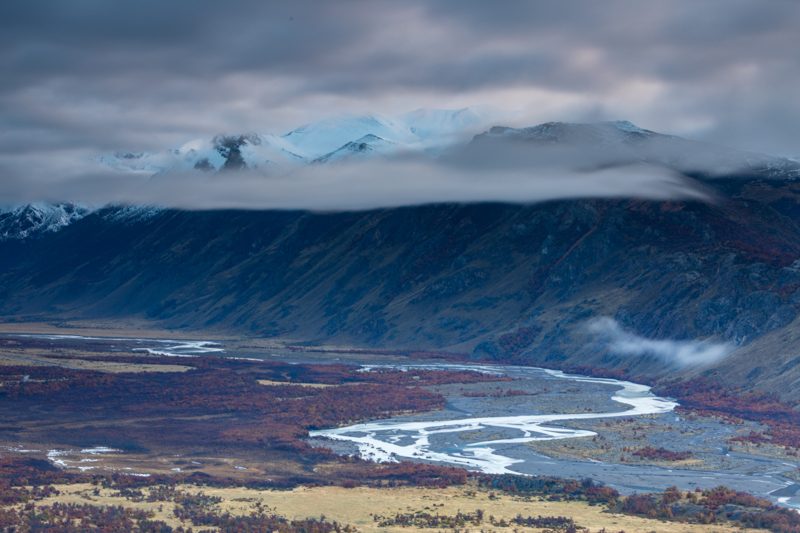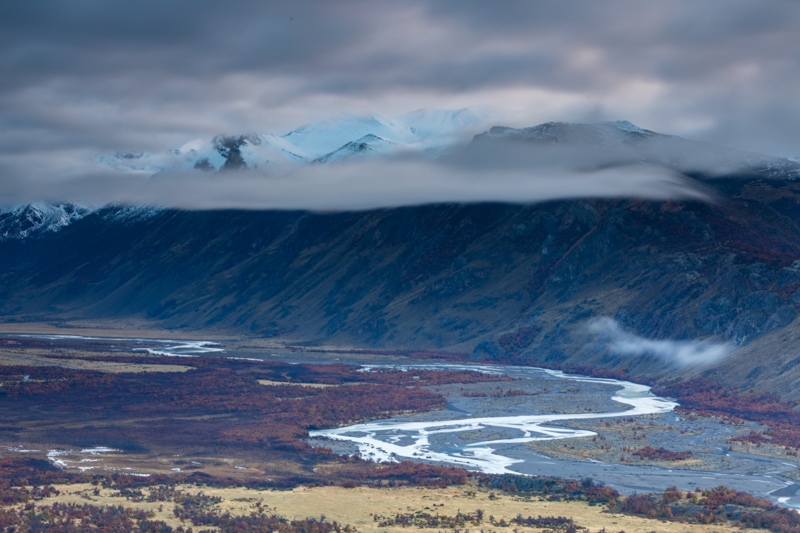 Torres del Paine National Park
Much like El Chalten, there are hundreds of locations to shoot in Torres del Paine National Park. In fact, there are hundreds of compositions to make at each location. I've only listed 5 locations on this list, but there are obviously way more. Some of these places I haven't visited since my first visit to the park about 8 years ago. Others, I revisited last year for a 3rd time.
Salto Grande
Maybe one of the absolute best photo locations in South America – it is likely the most photographed view in Chile, and potentially the most iconic of many iconic Patagonia images. And while the waterfall itself isn't all that great for photography, the views down the river above the falls are simply majestic. There are loads of different foregrounds to play with, and more compositions than one could possibly count here.
Just be careful. You'll be tempted to get right down next to the water, but remember that the river is more fierce than it looks and leads right over the waterfall.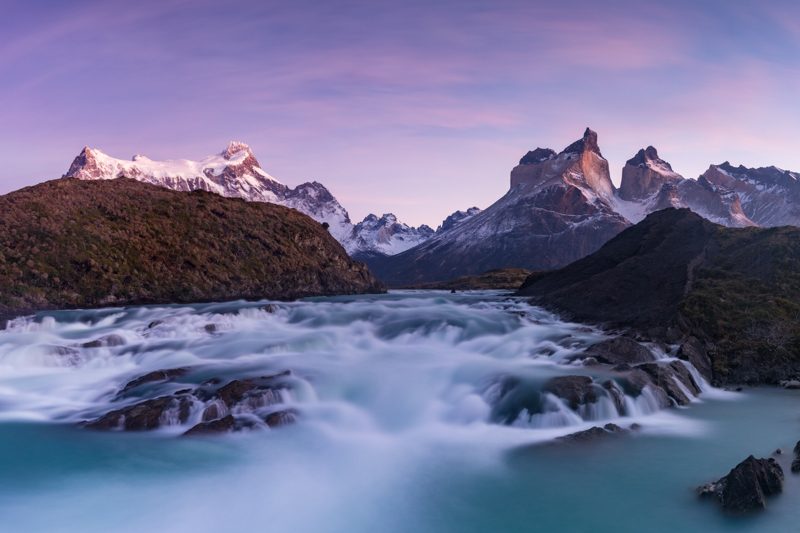 Mirador de los Cuernos
This is a little lakeside hike that leaves from Salto Grande. Like Salto Grande, there are so many compositions to be had along this water. And, if you are willing to do a little bit of hiking, there are also some dead trees that can make for wonderful elements to work into images of "The Cuernos" or Paine Grande.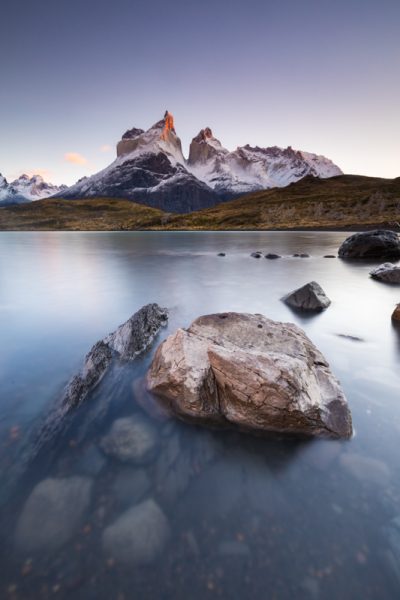 Mirador de los Condores
This is a fairly short hike, but it's not exactly a walk in the park either. It's steep, and the top can be extremely windy. But, the views from above are fantastic, and definitely worthy of the walk up. This location works well at sunset, but is especially good at sunrise. If you get good light, you have the chance of the capturing Patagonia images at their most iconic.
The hike will take about 30-45 minutes depending on your fitness.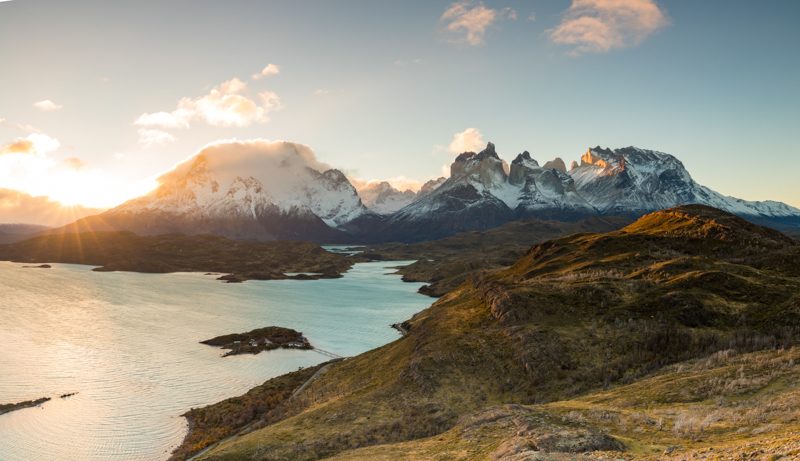 Mirador Base Las Torres
Most people visit this location while hiking the W. But, the truth is you don't need to do the whole hike to get here. In fact, you don't even need to camp to get here if you're willing to have an early start.
This location is the classic view. But, it's also a temperamental view. I went up for a location scout at sunset and it was nothing but blue skies. By the time it was sunrise, it was so cloudy and rainy you couldn't see your hand in front of your face. If this is the view you want, be prepared to spend a couple days here camping below.
Note that the hike from the camp site is only about 45 minutes. But, the hike from the base is about 4-5 hours.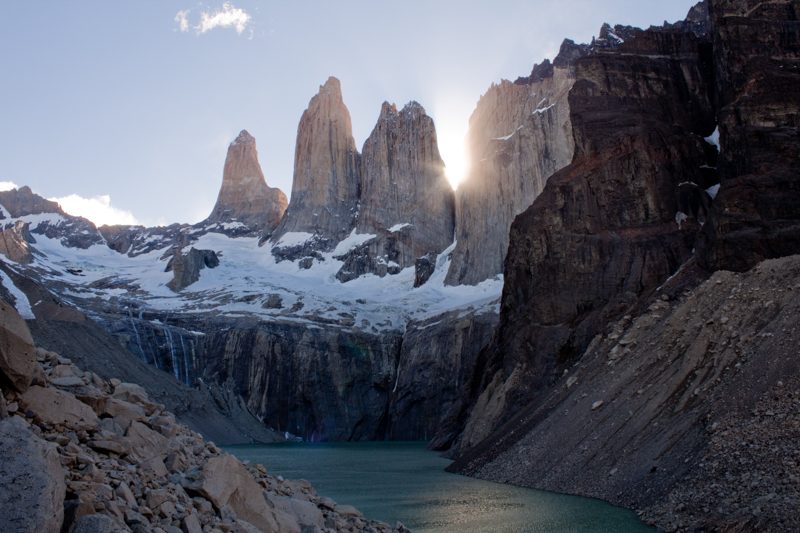 Glacier Grey
Much like Mirador Base las Torres, most people come here as a part of the W trek. And, unless you do a boat trip, that's likely how you'll see it. Sure, you can see it from afar at Mirador Glacier Grey. However, if you want to get up close and personal with it, you'll need to hike. And, the views are unreal if you can get there.
There are 2 campsites on the W trek that are near Glacier Grey.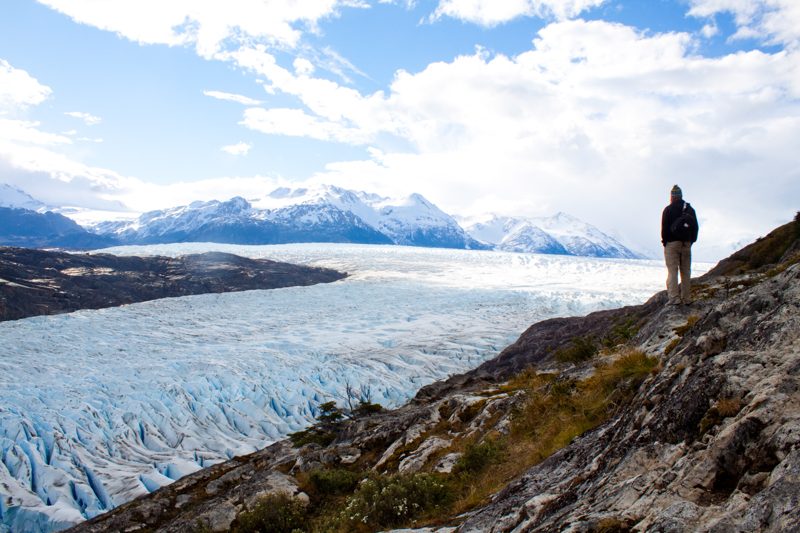 Ushuaia and Tierra del Fuego
The time I went to Ushuaia, I was so excited for my trip to Antarctica that I hardly took any pictures in town. And, shamefully, I didn't even go to Tierra del Fuego National Park.
So, I recommed referring to the Trover list below for some images from that area.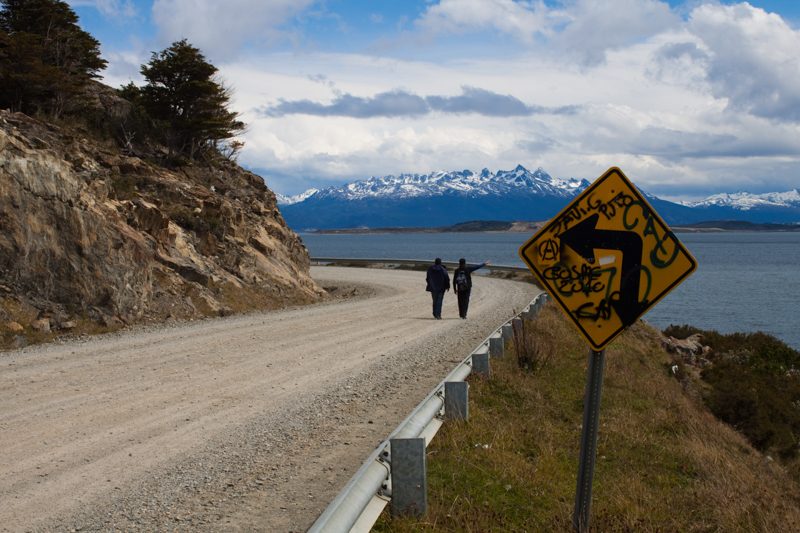 Puerto Natales & Punta Arenas
For years, photographers just used Punta Arenas as an airport to get to Chilean Patagonia and Puerto Natales as a jumping off point for Torres del Paine National Park. However, both actually have some charm. And both have spots for photos. In fact, I think you can get some pretty classic Patagonia images here in town and just south of town.
From Punta Arenas, you can drive south to "the end of the world". Just note that it doesn't always go to plan, as you can see from the video below.
However, there are photos to be made down that way.
In Punta Arenas itself, you're kind of limited to the piers on the coast. However, it does seem that this area gets some of the best sunrises in the world, so be sure to take advantage of a couple of them.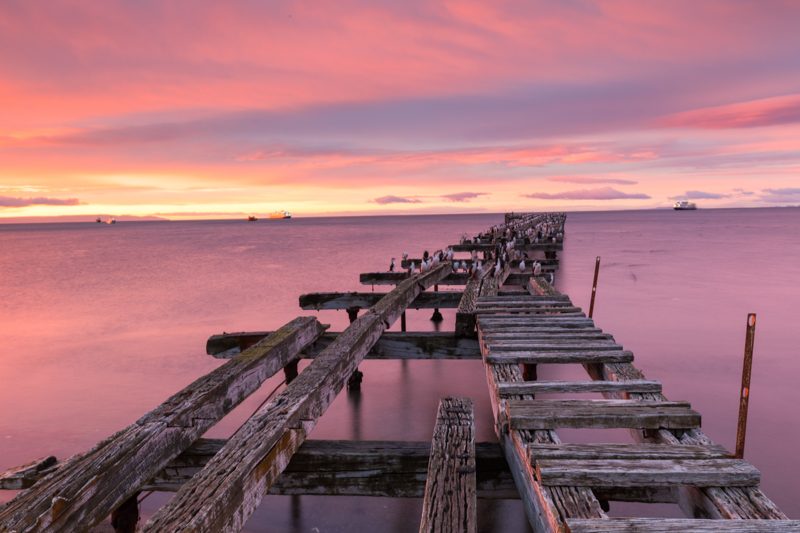 Up in Puerto Natales, most photographers also focus on the broken pier. And, it's for pretty good reason. It is a beautiful spot to take pictures. Just note that it is becoming a very popular photo spot, so be ready to have a couple other photographers along with you as you shoot it.
Camera Gear for Patagonia
Have a look at my camera gear list here.
Overall, taking photos in Patagonia is no different than most locations around the world. But, these are some thoughts:
Telephoto Lens: If you're choosing between taking a 70-200mm or a 100-400mm I'd recommend the 100-400mm simply because it'll be more versatile there. You'll be able to photograph that Puma (if you're so lucky) or get that Guanaco photo on the ridge with the mountains in the background.
Ultra-Wide: I think you'll definitely want an ultra-wide lens like a 16-35mm. I have the f/4 version, but the f/2.8 would be better down here for the star photography opportunities.
Drone in Patagonia?: Yes you can fly drones in both Argentina and Chile (within the law). But, you cannot fly in any of the national parks. There are a couple really cool places to fly just outside of Los Glacieres National Park, for example. So it might be worth bringing along.
Tripod: I can't stress enough how important a really sturdy tripod is in Patagonia. The winds can be insane, and come out of nowhere. If you don't have stable sticks you won't get sharp photos, and you might end up with a broken camera.
Where to Stay as a Photographer in Patagonia?
There's no easy answer here because everyone has different needs. So, let me frame this differently. The options are really camping vs. hotels.
If you're OK camping, there are lots of great camping spots in Torres del Paine which will save you some driving time. But, be sure to book early as some book up well in advance. I wouldn't bother camping along the W trail as most of the best photo locations are on the other side of the lake. If you're looking for hotel accommodation, it's insanely expensive in the park. I'd recommend instead staying in Rio Serrano. It can be expensive too, but Hotel Rio Serrano is amazing – and still half the price as staying in the park. Check it out here. Otherwise, there is a hostel in Rio Serrano as well. The area between here and the mountains is prime Puma territory too. We saw 2 on our last trip.
In El Chalten, you can camp right up in the mountain which is an amazing experience. Or, there are plenty of good hotel options in town that you can do day trips from.
Elsewhere in the region, hotels and hostels are likely going to be your best bet as the prices are lower and camping doesn't really have as many advantages.
What Else?
Obviously, this list couldn't be 100% comprehensive because 1) there are billions of photography spots in Patagonia, and 2) because I haven't been to nearly all of them. So, have a look at the embedded Trover list below to see the curated images from other photographers as well. And, feel free to add your own images over on Trover by adding #BvSPatagonia to the caption.
Patagonia Photo Spots #BvSPatagonia – a photo list by Brendan van Son
What's Next?
I've been trying so hard to get these blog posts out for you. But, the truth is I'm just too busy. That said, I am still working on it. In real time, I'm on my way to Georgia (the country). And you can keep up with my travel photography adventures over on my photography vlog on YouTube.
From Georgia, I'll be heading to Greece, North Ireland, and Southern Africa. Stay tuned, as always, for the adventures.