This Greece photography trip has been amazing. There are so many beautiful places in Greece for photography that it's almost too much for one blog post.  Thus, rather than just rattling off every single photo location in the country, I thought I'd pick and choose my absolute favorites.
It should be noted too that I've done a couple Greece photography trips now, so some of the images below are from previous visits.  It should also be noted that as time moves forward, and I return here or visit new islands I'll update this with some of the new beautiful places in Greece I find.
So without further ado, I'm going to get into these locations.  Here they are!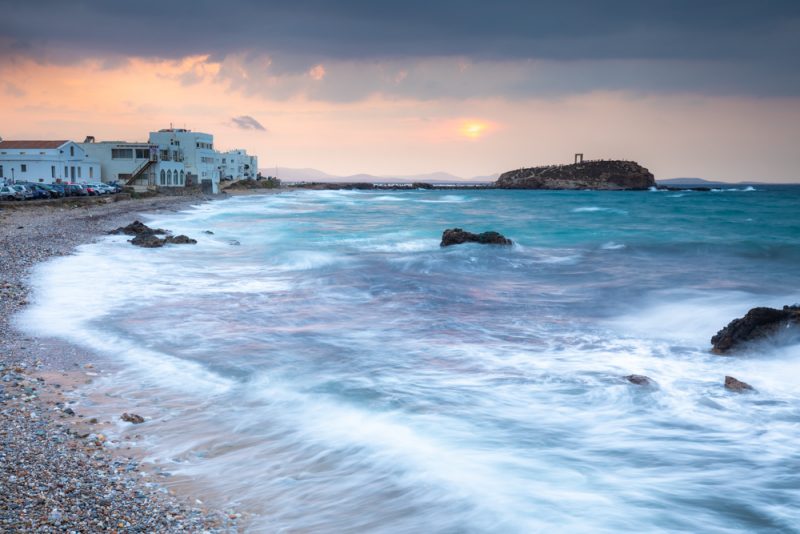 My Favourite Greece Photography Spot
On Crete there are a lot of beautiful places.  Some of them are great to look but aren't very photogenic.  But just outside of Georgioupolis, though, there's a photography spot that's to die for.  It's a church out to sea sat on a seawall.  I had a bit of a mission to get there as the waves were smashing up against the wave break.  But, once I got out among the rocks it was epic. Easily my favourite photo from Greece. And easily my favourite Greece photography spot.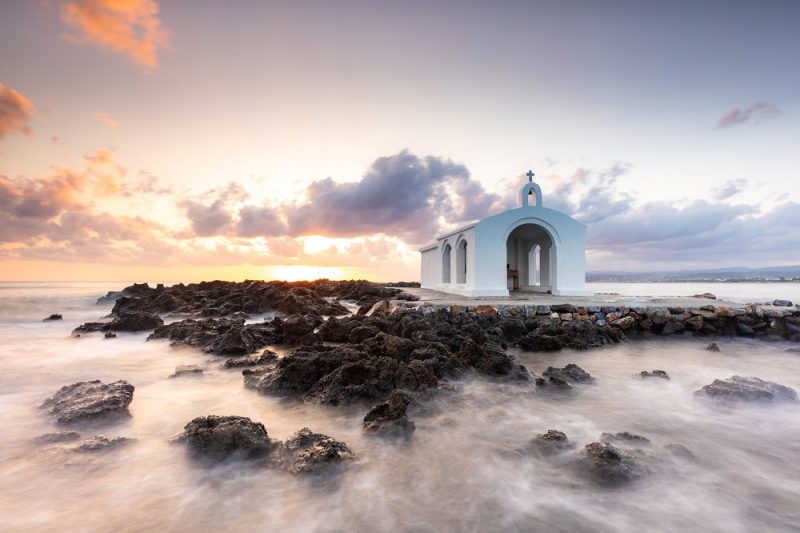 The Obvious One: Santorini
Everyone who spends time here knows that Santorini is one of the most beautiful places in Greece.  It's famous for its blue and white buildings and sunsets that leave you breathless.  But, with so many people posting images of Santorini there are plenty of people who worry that it's overrated.
And to be honest, when I was there I struggled with a couple things: access and crowds.  I also found it hard to find unique images that there aren't hundreds of already online.
Oia is the classic photo spot.  And while most people head to Oia Castle, I hiked down a path a little bit lower to get a different angle that incorporated the port.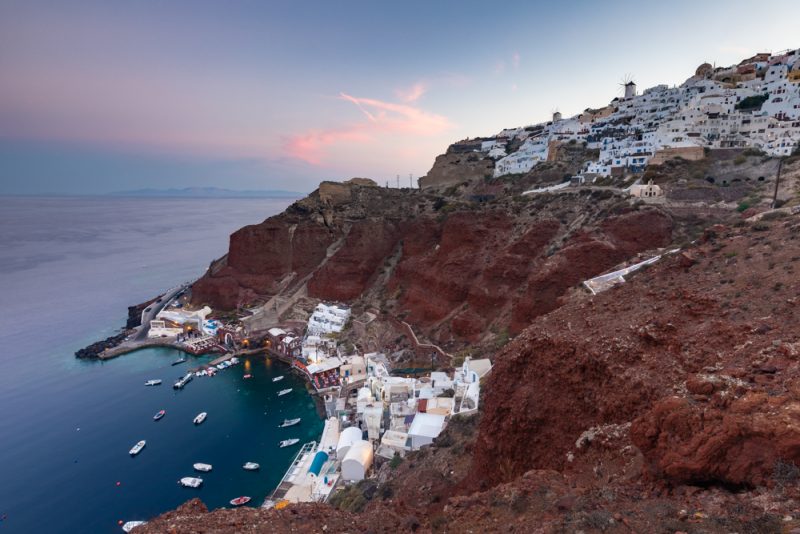 Over in Thira, the beautiful 3 bells church is a fantastic photo spot as well.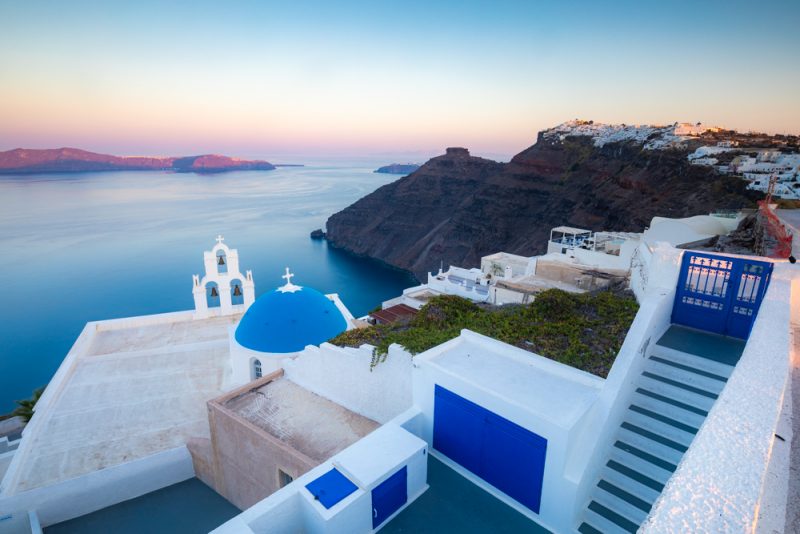 And, finally, a hike down the hill to Agios Nikolaos Church is a fantastic place for sunset.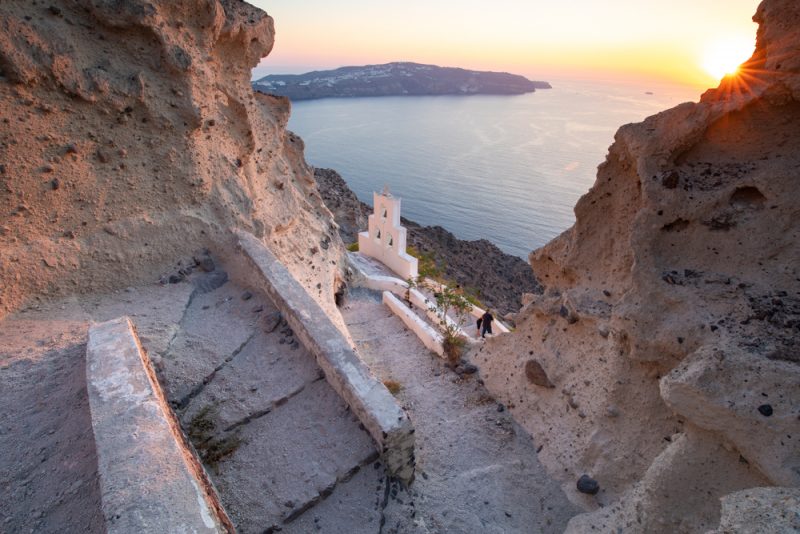 Syros is Seriously Beautiful
I'm really not sure why more people don't go to Syros. It is seriously beautiful.  In fact, I had as much fun shooting photography in Syros as any other island in Greece.
That said, I definitely had a favourite location.
If you follow the GPS coordinates (37°26'42.0″N 24°56'43.4″E)  you'll get to a little alleyway down to the water.  Down there, you have some rocks that work as a beautiful foreground to the church on the hill.  It is seriously beautiful.  And, don't think you need great camera gear to get a cool photo here, it's one of those places that is just naturally photogenic.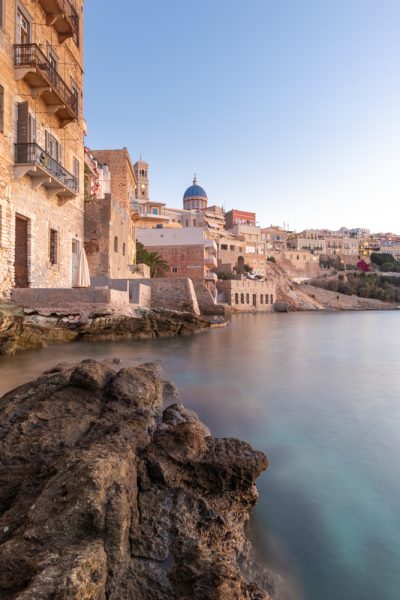 Heraklion Old Port
We were based in Heraklion, and I worried before going that there wasn't going to be enough photo opportunities there.  I mean, Heraklion isn't exactly known as one of the best Greece photography places.  But, as soon as I saw the old port I knew I was going to have some fun there.
In fact, there are at least 3 photo locations down on the port.
The first is of the old port itself with the boats in the foreground.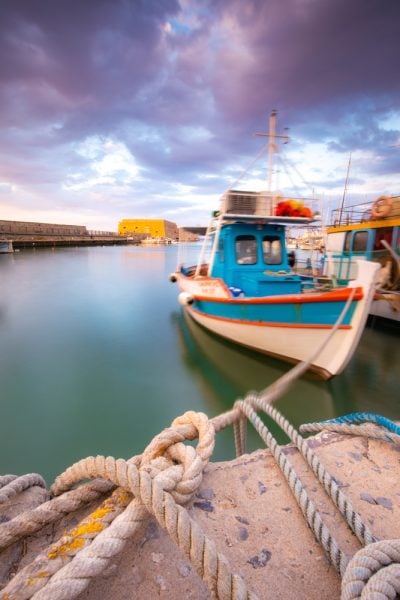 The second is of the massive wave-break leading out to the sea.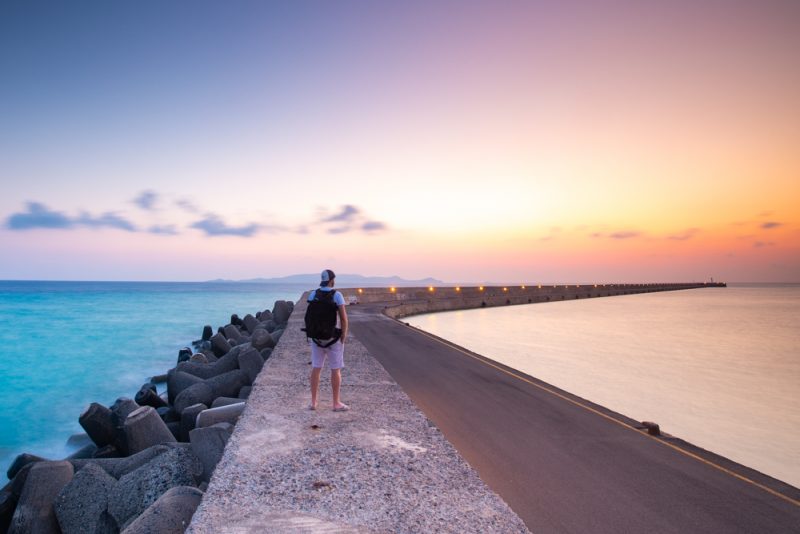 And the third is from the wavebreak back towards the city or just of the castle; which admittedly I haven't photographed yet.
Chania is Greece Photography Heaven
We got to Chania after dark and it was absolutely packed with tourists. In fact, we were a bit stressed out. There were so many people that it seemed like it was going to be a nightmare for photography.
But, we decided to sleep on it and head out first thing at dawn to explore some of the streets and get a couple images.  I'm glad we did.  Check out the vlog below from the morning.
In the end, Chania is Greece photography perfection.
Yes, it was busy in the evening.  But at dawn there were some beautiful images to be made down on the old port.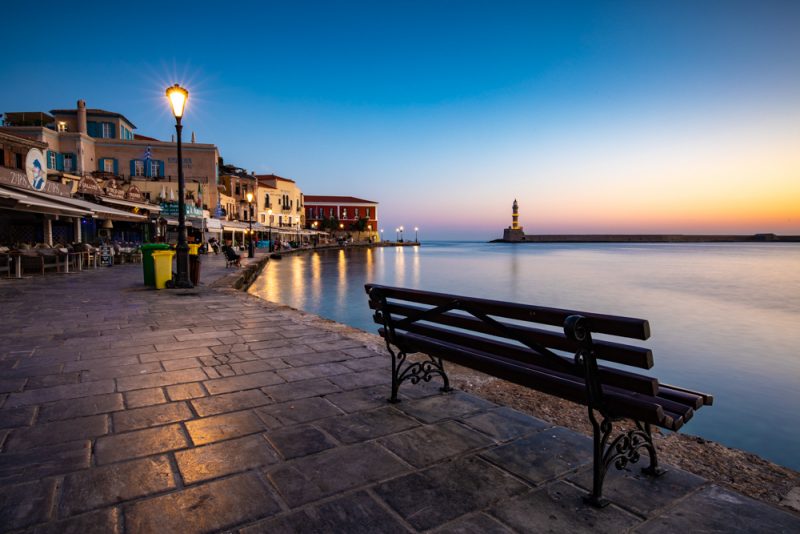 There was also just a countless number of street photography opportunities.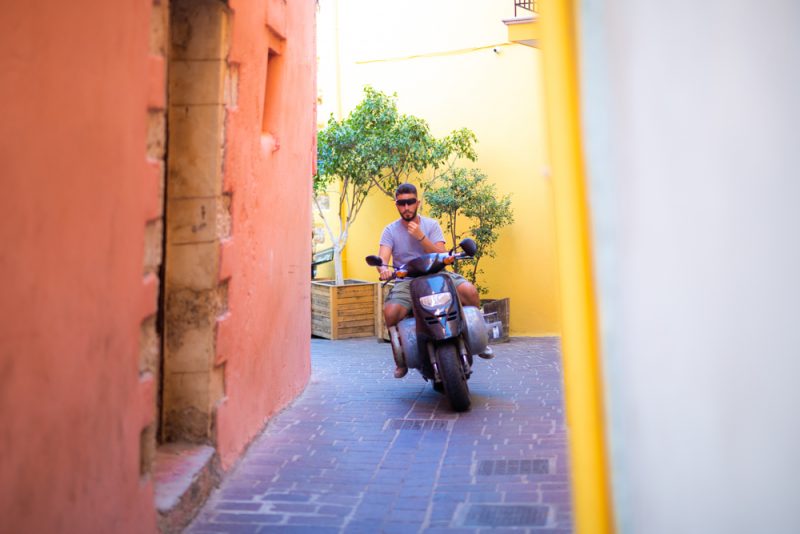 I was left sure that Chania is one of the most beautiful places in Greece.  And, the crazy part is that we didn't even go what might be the best photography location in Chania which is the abandoned factory.  I will get back and shoot that spot at some point!
Don't Forget the Mainland!
So many people head directly to the Greek Islands totally neglecting the mainland.  And while I'm a bit guilty of that too – having spent the vast majority of my time in Greece on the islands – there are a bunch of cool photo spots on the mainland.  In fact, I'd argue that one of the top 3 most beautiful places in Greece is on the mainland.
Meteora is phenomenal.
This place is just incredible, and you don't need to be a photographer to appreciate it.  With monasteries up on cliff tops, there are few places in the world like it.  No Greece photography trip is complete without a visit here.
As for specific locations, I can honestly say that there are dozens of places to shoot from here.  Plan on spending a couple days here and explore.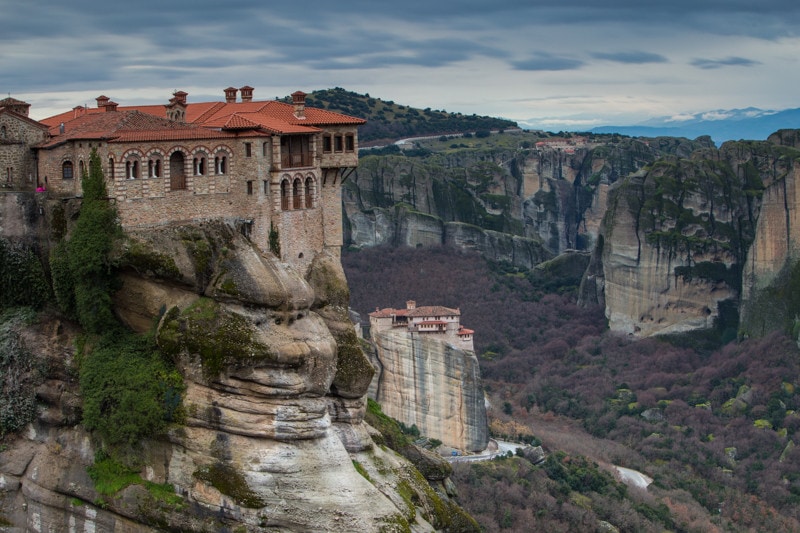 Or Athens…
I'm always a little bit surprised by the disdain that people seem to have for Athens. I liked it! And, I think that it's pretty photogenic.  Sure, it's not Santorini, but there are plenty of images to be made here.
I had 3 favourite locations in Athens.
The first location is Mount Lycabettus.  From up here you get amazing views of all of Athens.  With a long lens you can pick off some of the iconic buildings.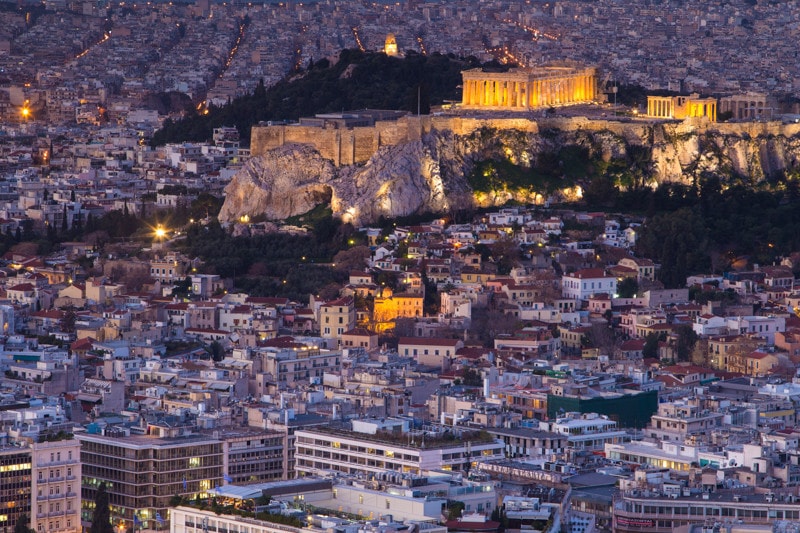 The second photography location is Filopappou Hill. This is such a great place to photograph the Acropolis.  It's also just a great place to hang out and watch the sunset.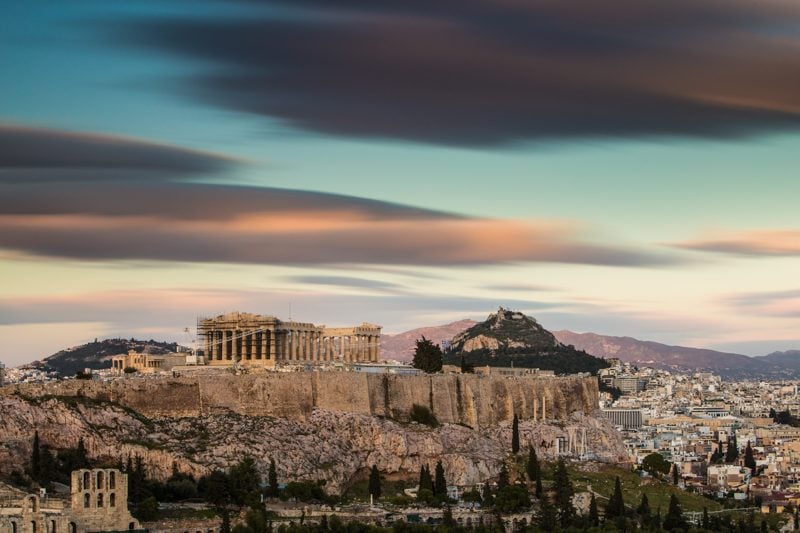 Finally, the Academy of Athens is a beautiful building.  If you come, though, its best to photograph this at dawn in the blue hour as it'll be the quietest.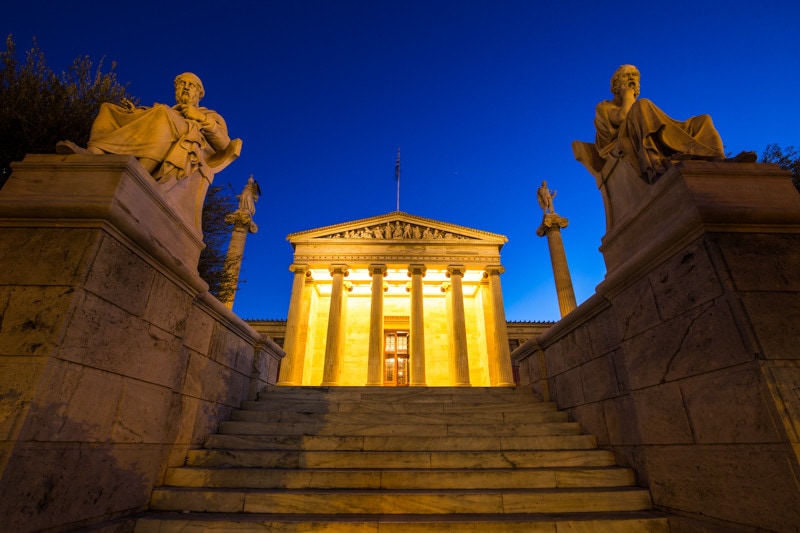 Naxos is Underrated for Photographers
There's a pretty classic images of Naxos taken from out near Apollo Temple looking back into the city.  If you get lucky with the light, it could be the most beautiful photo location in the country.
But, what surprised me about Naxos was that there were so many other photo opportunities out on the island.  In fact, I'm surprised it's not a part of more photographer's Greece photography trips. It really has a little bit of everything: street photography, landscapes, and cityscapes.  Especially for travel photographers, this island is fantastic.
Photos of Naxos
These are my 3 favourite locations in Naxos.
The first is from out at the door to Apollo's temple looking back at the city.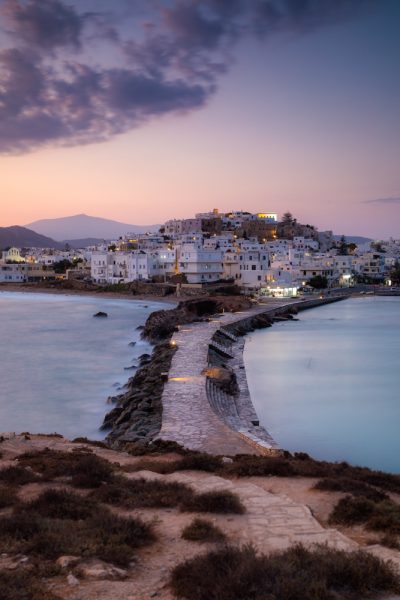 The second image is up at this incredible Church Agios Ioannis above the town of Filoti.  The drive up is interesting, but it's so worth it.  The GPS coordinates via Google Maps can be found here.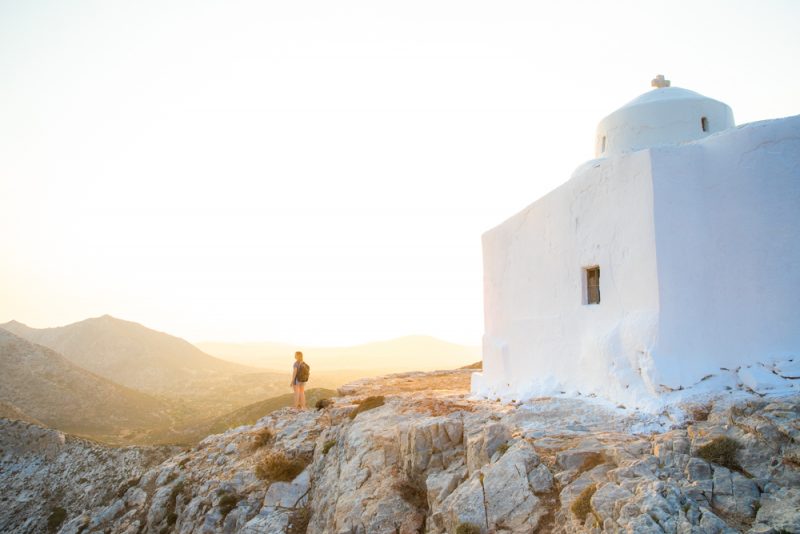 Thirdly, I'm a big fan of the location down on the coast to the north of town.  If you get lucky with the light like I did, you'll get some epic Greece pics.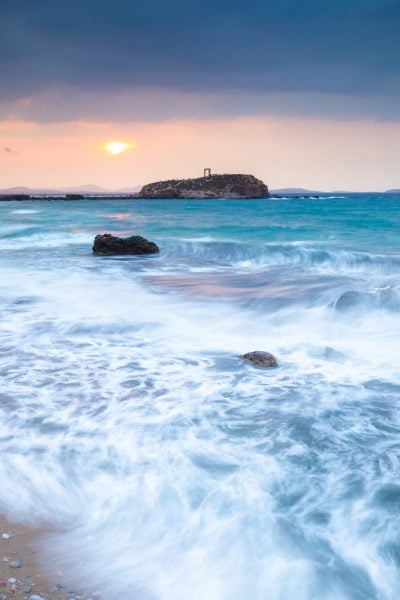 Of course, don't forget the street photography options down in the old market area.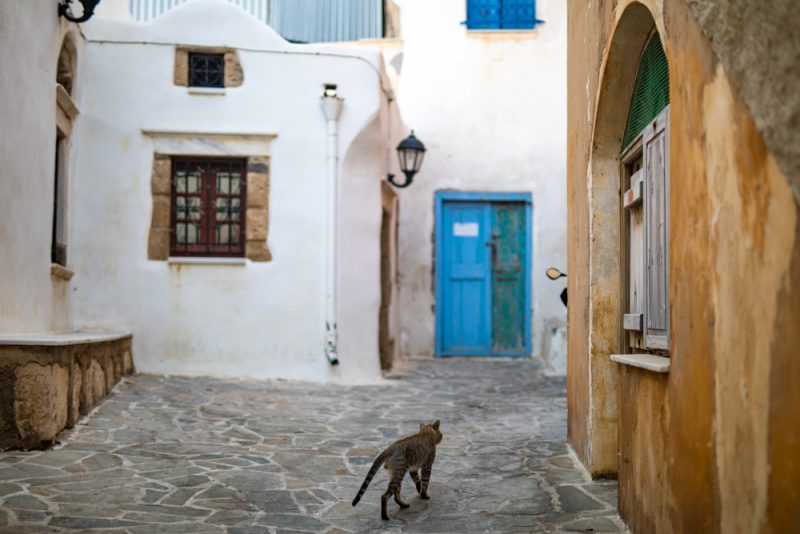 Mykonos is Beautifully Hard to Photograph
Apart from Santorini, no island in Greece gets more attention than Mykonos. And its with good reason. Mykonos might have been our favourite island. It was a blend of farm and villa. Almost like a symbiotic relationship between tourist and lifelong local. It was fantastic.
But, I think Mykonos is a tough place to photograph.
Yes, you have the classic shot of the windmills which I've linked to here.  But aside from that there really aren't all that many spots to shoot that are "easy".  That said, I think that it would be a fun place to photograph for the sheer reason that it's a challenge. And, I think with the winds of Mykonos, there are plenty of cool seascapes worth shooting.
We didn't take pictures in Mykonos as it was Jodie's birthday. But, I'm sure there are lots of great bits of inspiration on Instagram if you need them.
More Greece Photography Locations?
Do you know of some more beautiful places in Greece for photography?  If you do, I'd love to hear about them – as would the community.  So, feel free to leave them below in the comments.
Will There Be A Greece Photography Workshop or Tour?
I have had thoughts about doing a trip to Greece for a full photography workshop. However, if I'm being honest I'm not sure it's going to happen. As beautiful as Greece is, organizing a photo trip here seems like a little bit of a mission.
However, I won't rule it out, especially if people start to call for one.  If you want a workshop to Greece, drop a comment below.  If that's something that might interest you please head over to my travel photography workshops page and sign up for the newsletter, in case it happens.