I'm trying to do more of these photography guides to locations. I think they are really helpful. In fact, whenever I go to a new destination, I tend to search for guides on shooting location like this. Every now and then I find quick blog posts that are fairly vague. I rarely find really intricate guides that share everything from the actual GPS locations where the photos were taken, to the metadata of the images, to information like where to stay and how to get there.
My latest is a photography guide to Meteora, Greece. Below you'll find information in brief regarding where I stayed, where I shot, and what equipment I used.


How to Get to Meteora
You can reach Meteora via the train from Athens. You'll be catching the train to a town called Kalambaka. It leaves once daily in the morning and returns to Athens in the afternoon. In the high season you'll want to book in advance. You can buy tickets online, or at the train station in Athens. There are also buses to Meteora if the train is full.
If you're trying to get to Meteora from the west coast of Greece, you'll need to catch the bus. Moreover, there are no direct buses from Igoumenitsa where the ferries from Italy arrive. You'll need to go to Ioannina and then transfer onto another bus there.
There are also buses and trains from Thessaloniki
If you plan on renting a car in Meteora, it might actually make more sense for you to rent something in Athens, drive it here, and then return it. The car rental itself would be cheaper in Athens, you'd save on train/bus tickets, and you'd not need to worry about getting a vehicle on arrival to Kalambaka. Remember though, you need an International Driver's Permit to drive in Greece.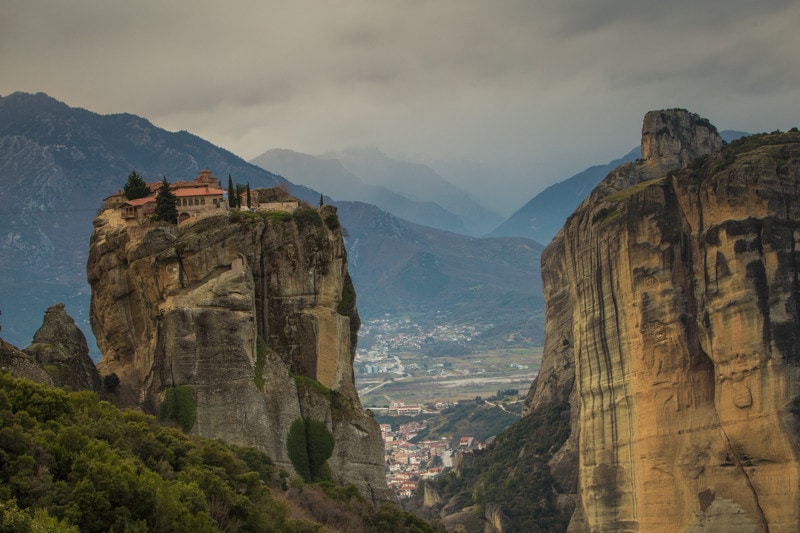 Where to Stay
You have lots of accommodation options in the Meteora area, but none within the monasteries area itself. The town of Kalambaka makes the most sense. It's where the train arrives and it has a lot of restaurants, and facilities. However, the other option is Kastraki which is actually closer to the entrance to the monasteries. There are both hotels and camp sites here.
I stayed at Aeolic Star Hotel. The place was great value and right in the heart of Kalambaka. I'm sure prices go up in the high season (I was there in January), but I imagine it's always a pretty good bargain.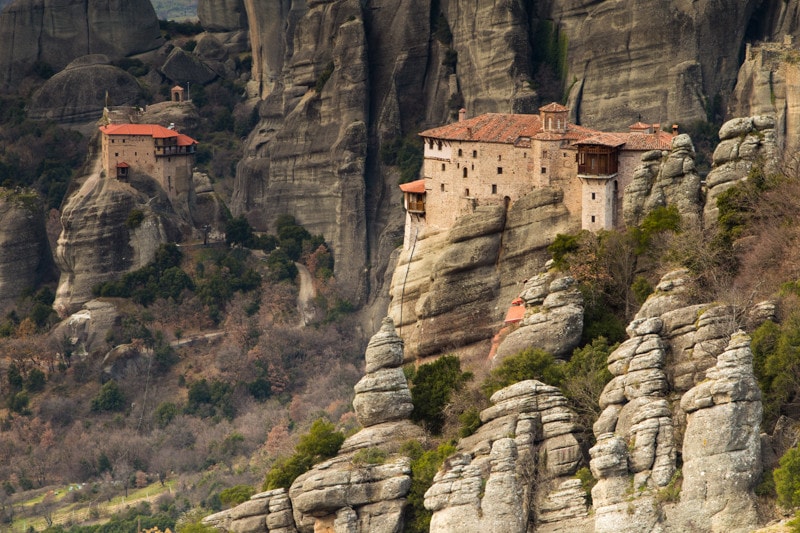 How to Get Around
You really have 3 options for getting around the monasteries in Meteora: Bike, Bus, or Drive.
Bike: You can rent bikes in town for fairly reasonable rate. However, if you're in the park for photography I think it would be tough hauling all your gear up and down the hills on your bike. You'd also waste a lot of time pedaling rather than shooting and location scouting.
Bus: In the summer, the bus is a good/cheap option. It runs fairly regularly and gets up and down the hills pretty quickly. The downside is that you're at the whims of the bus schedule to get around. It can be annoying especially as a photographer trying to get up into the monasteries for sunrise.
Drive: As a photographer, I think this is the best option. In fact, I think renting a scooter is even better than a car. With a scooter, you can basically pull over and shoot just about anywhere along the road. With a car, you'll have to find a parking space and then hike to your shooting locations. The benefit of a car, though, is that if the weather isn't great you'll be able to hide out. Also, you won't have to have all your photography gear on your back.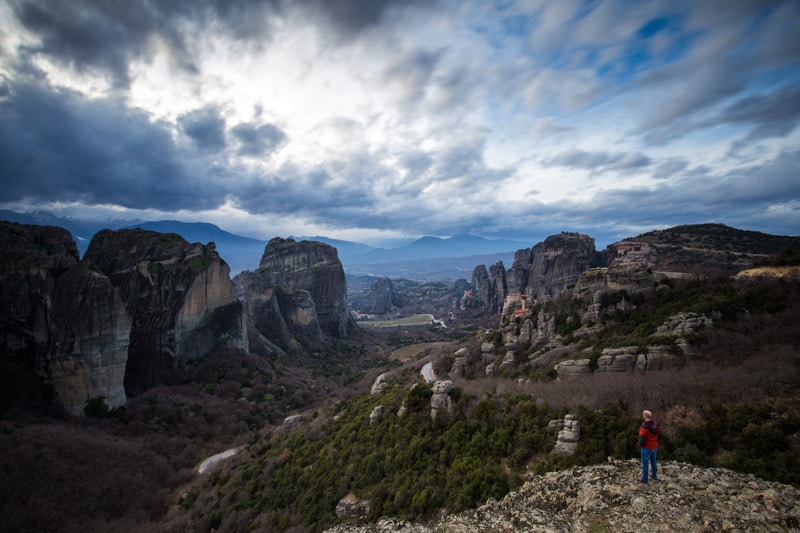 Visiting the Monasteries
Personally, I thought the monasteries were much more impressive from the outside than the inside, and I think most photographers will agree. It's the dramatic location of the monasteries on the cliffs that make this place so interesting to photograph. That said, if you want to go inside the monasteries, there are a few of them that are open to the public at a fee. In general, they are open from 10am to 4pm, but those hours change depending on the season.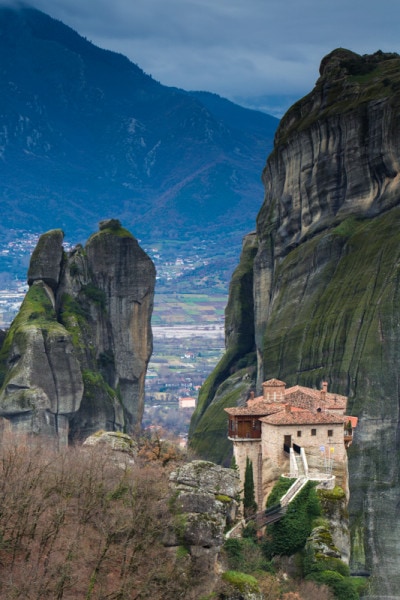 A Photography Guide to Photographing Meteora
If you want the exact locations I shot, go and pick up the guide from Fripito. Trust me that it's very handy to have. It also includes all the information of what gear I shot the images with, right down to whether I used a grad ND filter or not.
I do, however, want to give you some information regarding shooting photography here on the blog as well.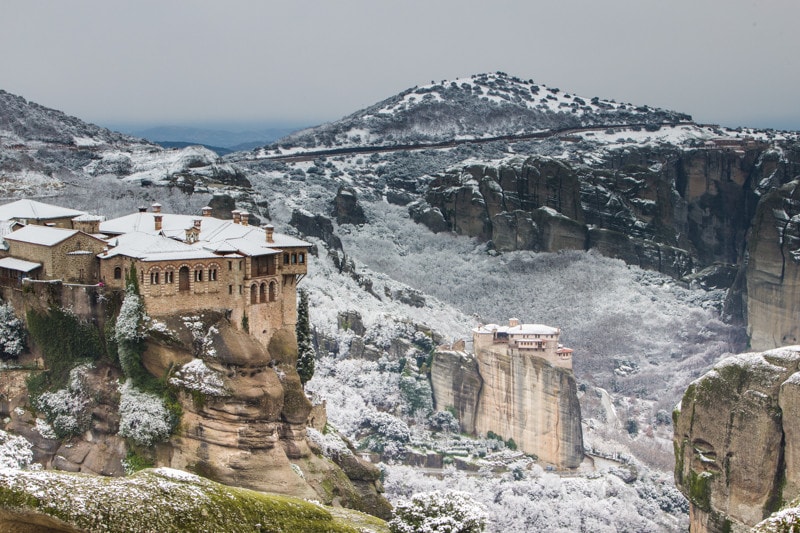 Best time for photography?
Year round, the best time for photography here will be at sunrise. You'll have fewer people to contest with and the light is stunning at dawn. Shooting the monasteries works really well in the blue hour as well, so don't dismiss shooting at that time of day.
In regards to which season you should visit Meteora, I'd say any time in the shoulder or off-season. The weather can be a bit wonky in the winter (I got everything from blue skies to snow within 4 days), but you'll have the area all to yourself. The shoulder season of the fall and spring would also be nice. I think that in the summer months, Meteora is overrun and you'll enjoy it a lot more if it's quieter.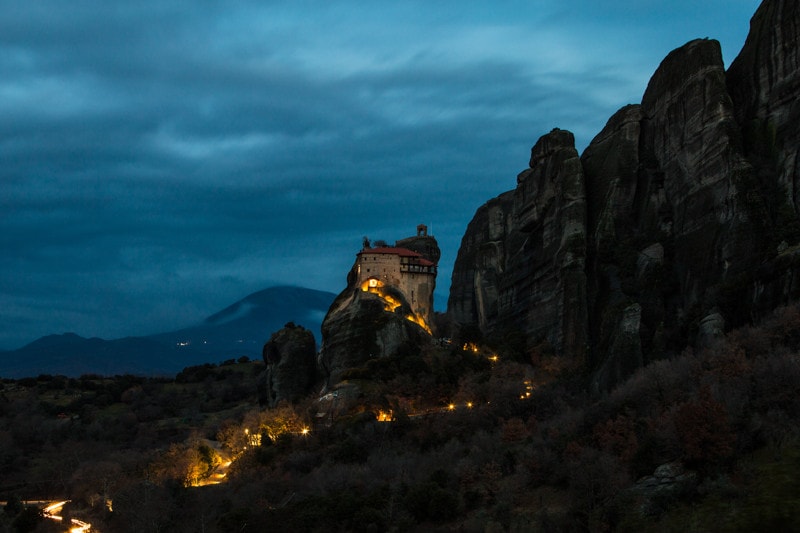 What photography gear will I use?
I found myself sat in the range of 24-140mm most of the time. So, I think you could get away with just shooting a 24-105mm lens. Personally, I had my 16-35mm and 70-200mm lens and I found myself using both fairly equally.
For filters, you're definitely going to want a grad ND filter of some sort to help even out the light on the landscapes. I used a 6 and 10-stop ND as well to create dramatic movement in the clouds. Of course, a steady tripod is also a must.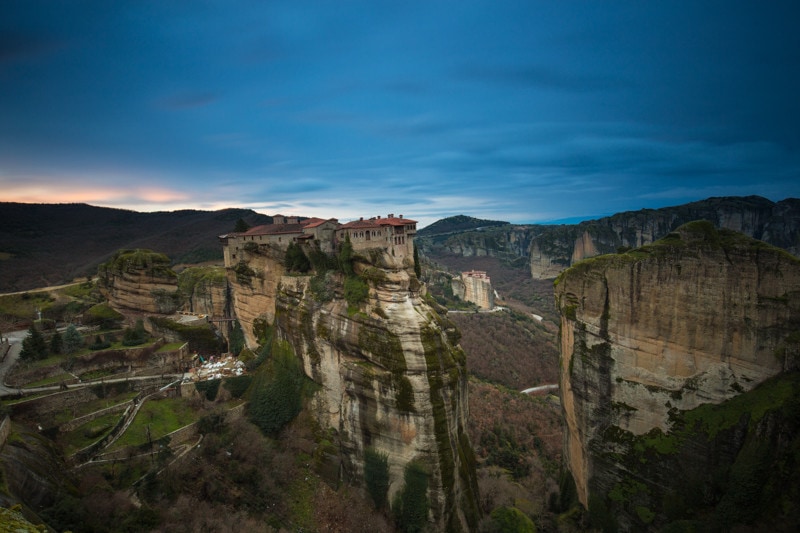 Locations
Here's the truth about Meteora that no one told me before going – it's not a huge area. Yeah, there's a lot of monasteries, but you can drive from one end of the road to the other in a matter of 15 minutes. So, you don't have to stress about getting to the right place for photography right away. There are great locations all over the road. For me, the best two locations were both where there were parking lots and cliffs that you could walk way out into. If you download the guide, you'll see that most of my shots are taken in just two or three locations. One of the real beauties of shooting photography here is that you can get a wide variety of imagery well not moving around all too much.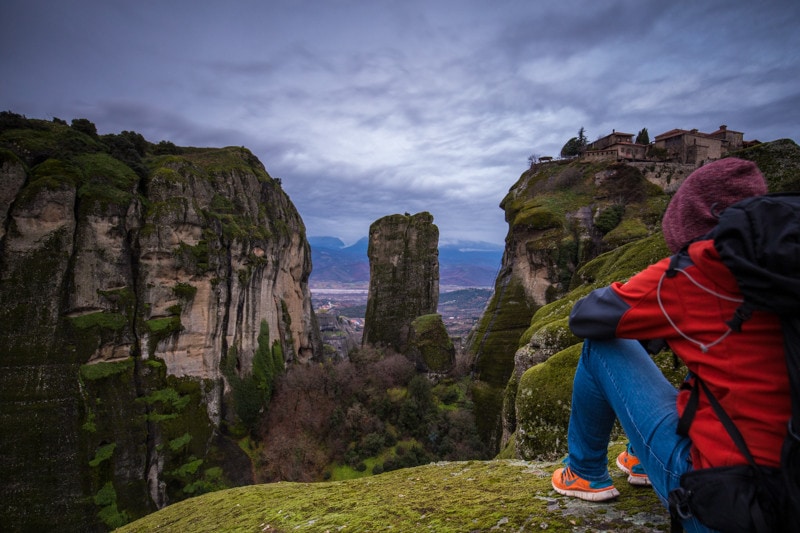 How Much Time do You Need in Meteora
I was here for 4 full days. However, I only shot on 2 ½ of those days because a blizzard blew through. I'd recommend to have 2 days. I think it would be possible, if you were in a bit of a hurry, to arrive on the train day 1, rent a scooter/car and shoot the afternoon. Then, on day 2 shoot sunrise and morning, return your car, and head back to Athens that day. Ideally, you'd have another day there in case of bad weather, though.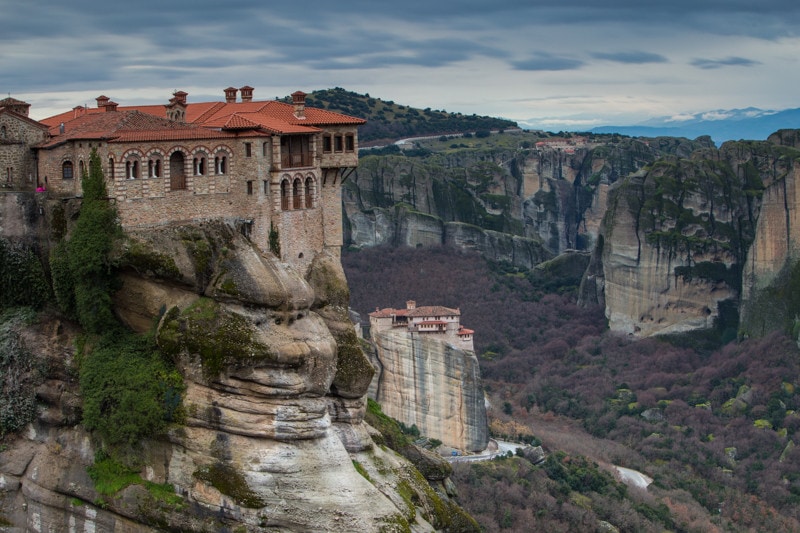 Photography Workshop in Meteora?
I'd say that within about 3 hours of leaving Meteora I was already being asked if it would be included in a future travel photography workshop.  The short answer is yes.  In fact, I was in Meteora for the reason of image scouting for a future photography tour that will be in both Greece and Italy.  There will be information on that photography workshop in about 3 months.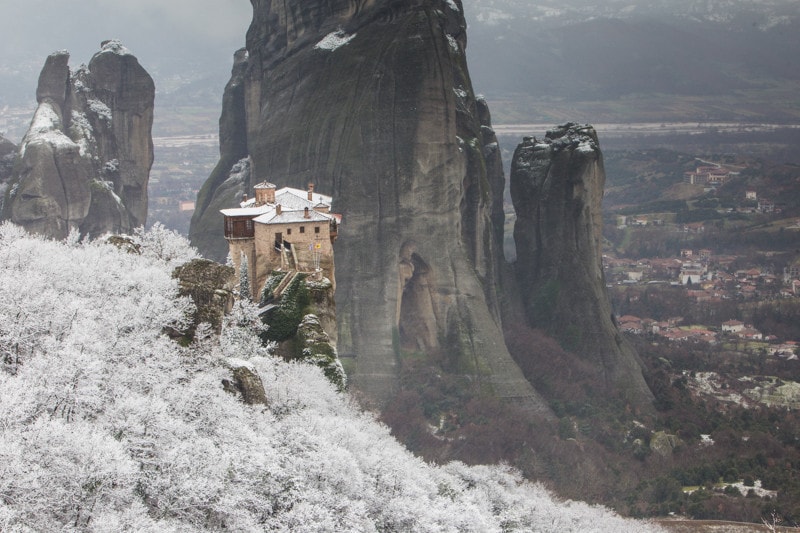 What's Next on the Travel Photography Blog?
After Meteora, I headed over to Italy. I'll have articles from Florence and Cinque Terre (and likely a photography guide for them as well). Then, I'll have a video from my latest travel photography workshop which took place in Morocco. Stay tuned, lots of fun stuff still to come.