One of the favourite parts of my growing readership here and viewership on my YouTube channel is that I get a lot of great ideas for articles and videos from that audience.  After my short visit to Helsinki a couple months ago, a reader asked me how I can possibly photograph an entire destination in just a couple days; especially a place I'd never visited prior.  I thought that was a great question, and I thought that during my trip to Florence, a city I'd never been before, was a great place to show you how I do it.  Thus, the video below is long.  It's a complete walk-through of how I go about researching, planning, and executing my travel photography in a locations I'm visiting for the first time.
Moreover, this is also a guide to photography in Florence, Italy.  The city was absolutely stunning and a real treat to photograph.  I'll walk you through some of the locations I shot below, and in a week or so I'll have a guide on Fripito for photography in Florence and Cinque Terre.  For now, here's what I got up to in Florence.


Building a Photography Blue Print
Photographing a city like Florence, or any destination for that matter, doesn't just involve rocking up to the city, pulling out the camera, and shooting it.  Like a good article, you first have to create an outline for your photography in a certain destination.  But, instead of having an intro, body, and conclusion, when planning a photography assignment you have research, plan, and then execute.
Researching
In researching a destination you're going to photograph, the most important thing is to find a way to see image locations from a city and then decide what your photography goals are for your trip.  When researching where to photograph in Florence, I noticed that the main two things that kept popping up where the Cathedral and the famous bridge.  Thus, I knew that those were the two most iconic things to see in the city.  From there, I can then start to asses how much time I need to shoot everything in the city, and the locations to best photograph them.
For researching images, I use tools like Google Images, and 500px.com.  Then, for researching the locations I use google maps, an app called the photographer's ephemeris, and a good old fashioned google search.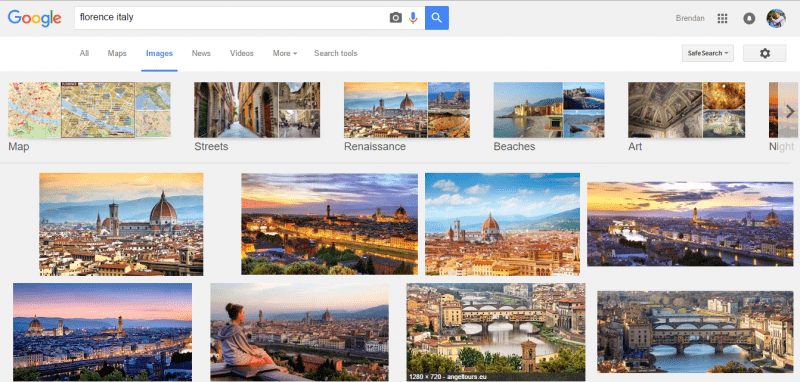 Planning
Once I've found the potential locations, I then try to plan out when I want to shoot each spot.  The most important thing in this regard is the direction of the light.  I look at sunset vs. sunrise, and golden hour vs. blue hour, and try to make an educated guess on when it will photograph best.  Once I've done all that, I can create a bit of a shoot plan.
For planning, I tend to use the photographer's ephemeris more than anything as it gives me my time of sunset/sunrise, blue hours, and the actual direction of the sun and moon.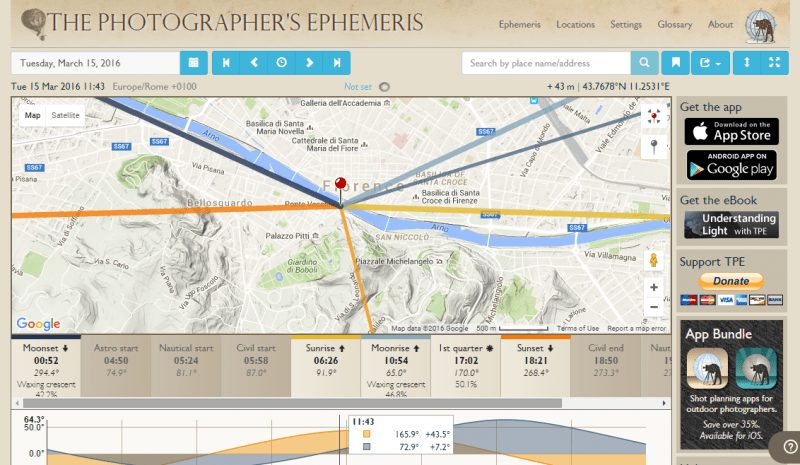 Executing
In the end, actually taking the photos might be the easiest part.  If you've planned and researched well, all you have to do is go to the locations and make your photographs.  One of the important parts of execution in photography is getting to your location ahead of time so you have a chance to scout around for the absolute best angles.
Being Flexible
Of course, things don't always go as planned.  The weather might become horrible, the location you wanted to shoot could be under construction, or the light during the time you wanted to photography something might be flat and boring.  So, you really have to be flexible.  You have to make decisions to chance your shoot plan based on how things are going.  For example, I had plans to photograph one morning from Abbazia di San Miniato al Monte, but when I arrived the gates were closed.  So, I had to find somewhere else to shoot.  Also, I had only planned on shooting Ponte Vecchio once.  But, I wasn't a big fan of the images I got on my first morning, so I made an effort to get back there on a second day as well.  You have to be flexible and creative in your shoot plan.
A Photography Guide for Florence, Italy
Florence is one of the most beautiful cities I've been.  It just has so much to offer from a photography standpoint.  That said, I did find myself getting a bit caught up in photographing the iconic locations in the city rather than finding hidden gems.  But, that happens some times.
These are some of my favourite places to photograph in Florence.
Ponte Vecchio
In Florence, the Ponte Vecchio might be the most interesting and difficult subject to shoot.  There aren't a lot of good angles to photograph it from.  Straight on from Ponte Santa Trinita looks nice, but it's likely a dusk photo and I was there at dawn.  From the other side of the bridge along Lungarno Generale Diaz it looks nice at sunrise, and if you have a telephoto lens it can also look cool from Ponte alle Grazie.  You can also go up to Piazzale Michalangelo with a telephoto lens to get it from above.
Beyond the most popular bridge itself, there are also other bridges that make nice photographs.  And, of course, the houses along the riverfront can look beautiful with a nice reflection in the water.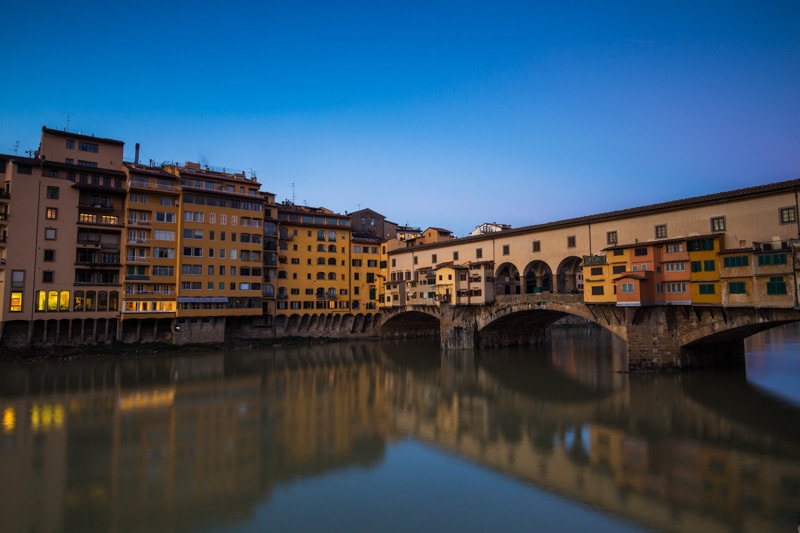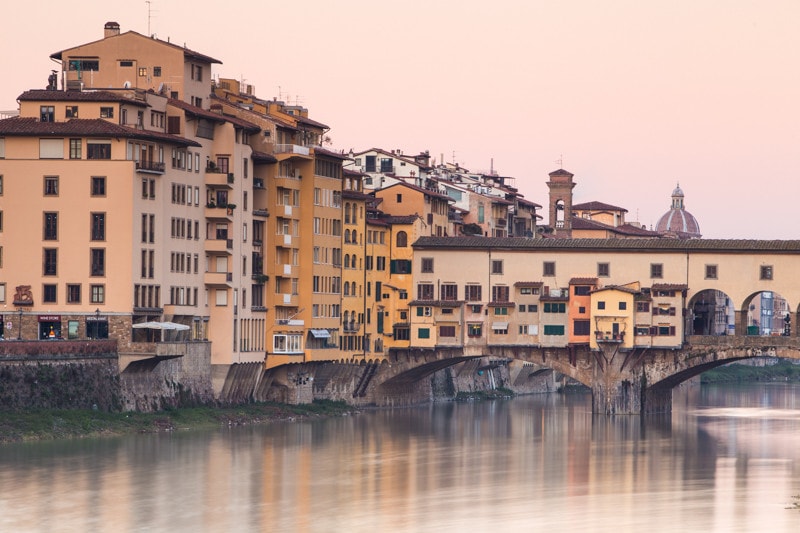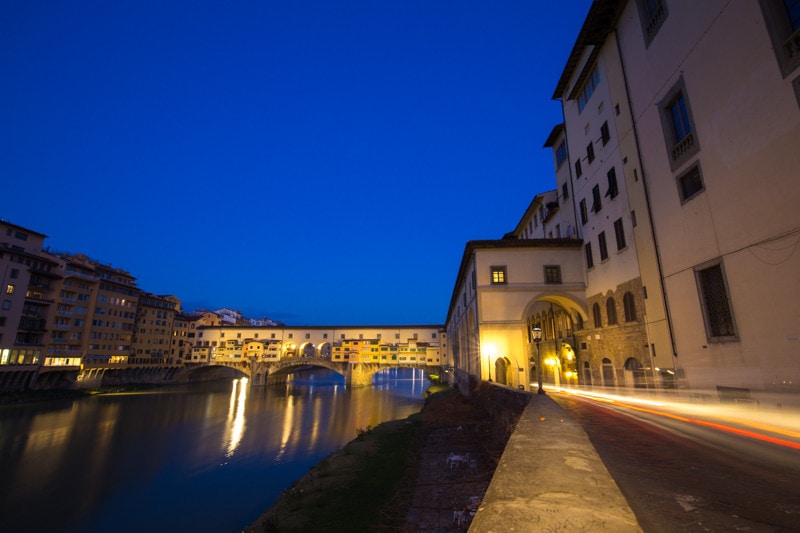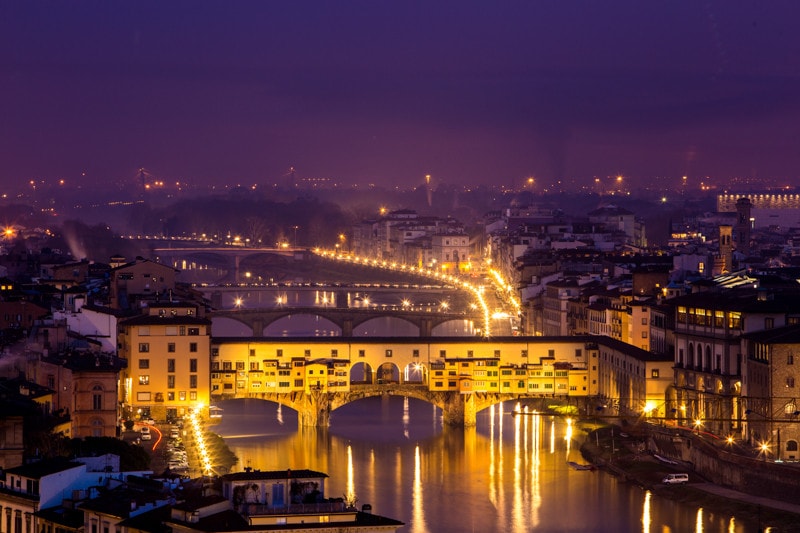 Piazzale Michelangelo
This is the most popular spot in the city to photograph the skyline of Florence.  This is also where you'll find that classic angle of the river with Ponte Vecchio as the highlight of the photo.  From here, you'll also have the famous Duomo II Cathedral (Cathedral of Santa Maria del Fiore) in your sights.  This is a good place to shoot either sunrise or sunset.  However, if you're coming up here for sunset, come early as there are a lot of tourists that come up here to watch the sunset as well.  I imagine in the summer months you might be fighting a bit for a spot if you come late.
Opposite the classic view of Florence, you have a view the other way down the Arno River at a scene that is very "classic Tuscany".  I didn't get great light here, but it's a cool view and may be worth photographing.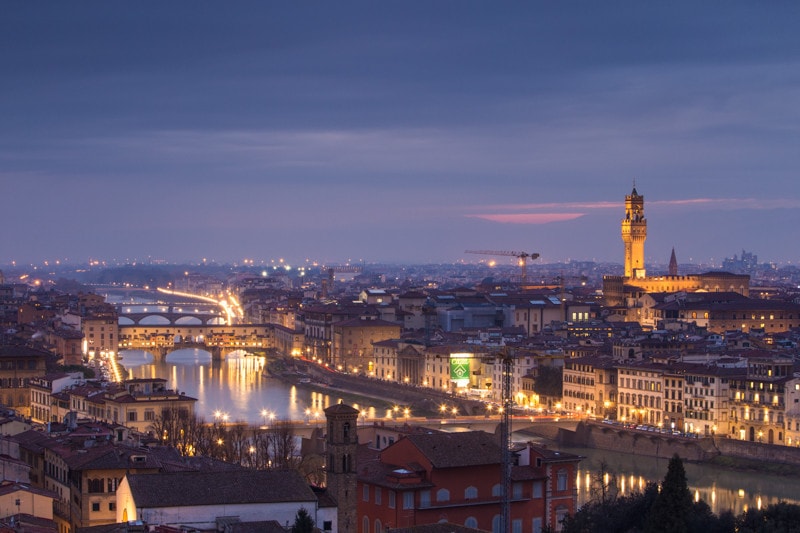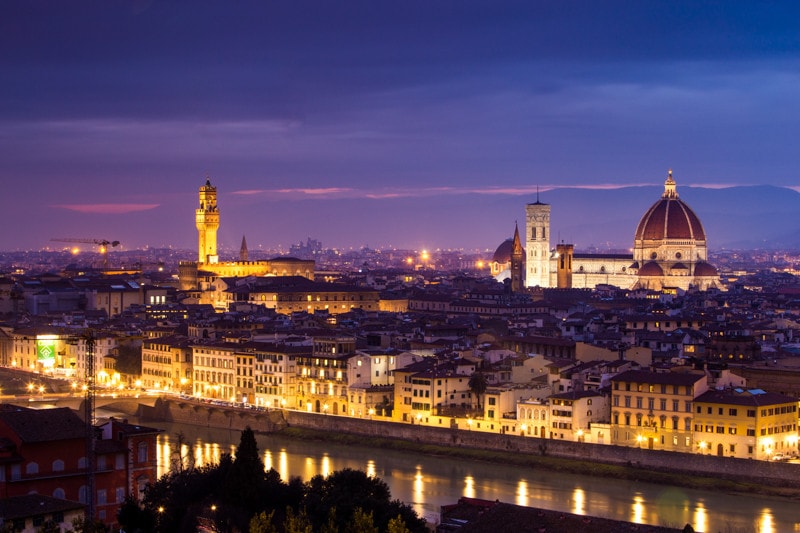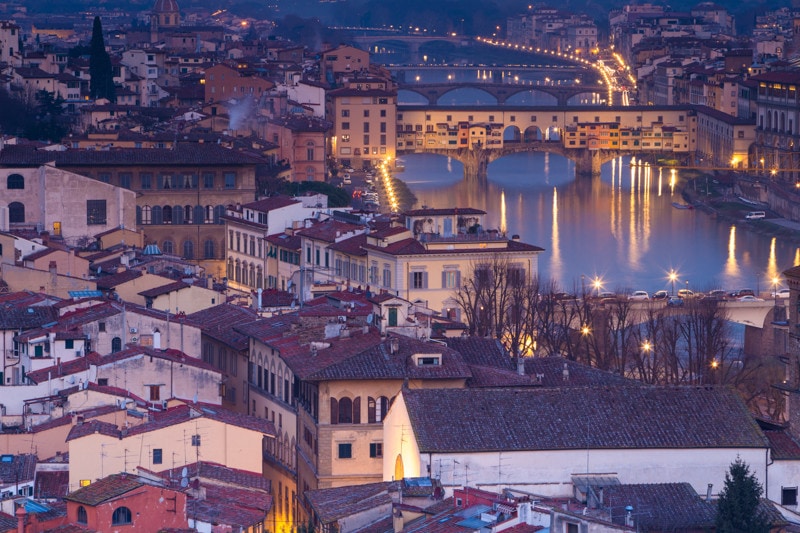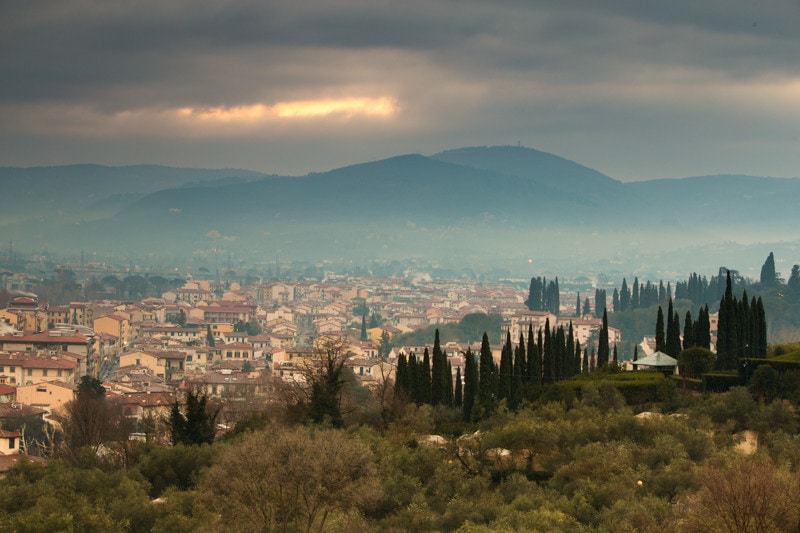 Abbazia di San Miniato al Monte
I tried to get up here for sunrise, but it's closed in the mornings.  So, you'll have to come up here in the evening.  The good news is that it's a great spot for sunset.  You don't have the same classic angle of the Cathedral as at Piazzale Michelangelo, but you actually get a better frame of the Cathedral alone against the hilly backdrop, and there aren't many people up here either.  You also have the opportunity to frame the city with the old cemetery in the foreground.
The cathedral Abbazia di San Miniato al Monte up here itself is quite pretty, but doesn't exactly lend well to photographers.  Do, however, head inside and get a couple snaps of the beautiful interior.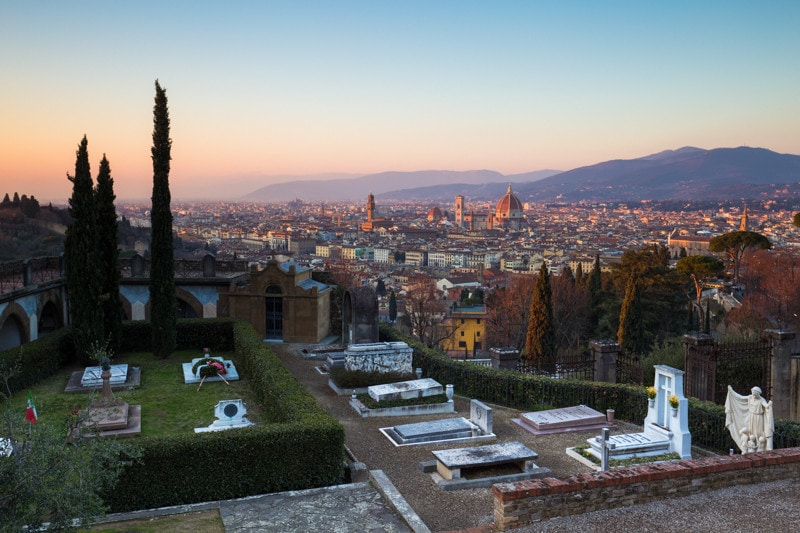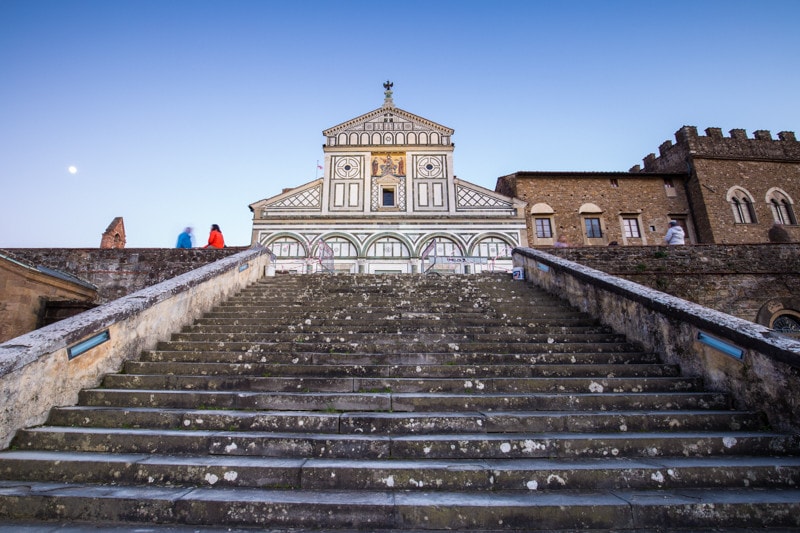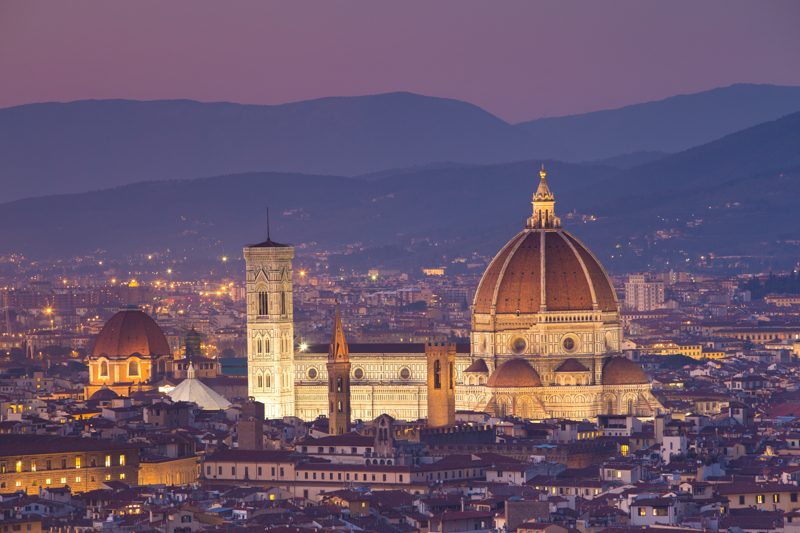 Cathedral of Santa Maria del Fiore
It's well worth the price of the ticket for the views from Duomo.  Up here, you get a beautiful overview of the old city of Florence.  There are a never ending amount of views to be shot from up here.  I found some interesting lines using the dome of the cathedral itself, got some wide-angle images, and also pulled out my telephoto lens and picked out some details of the city below.
The cathedral closes before sunset, so you can't really be up here for the best light.  But, I was up about an hour and a half before sunset, and the light was interesting enough that it worked.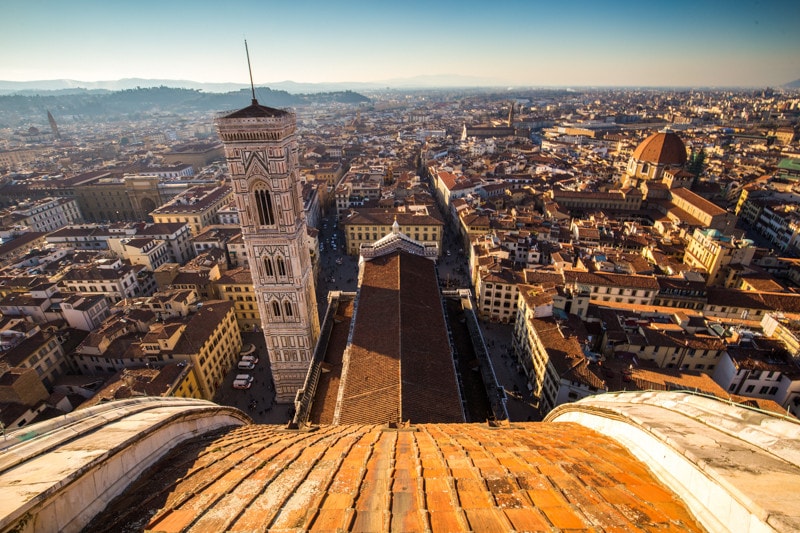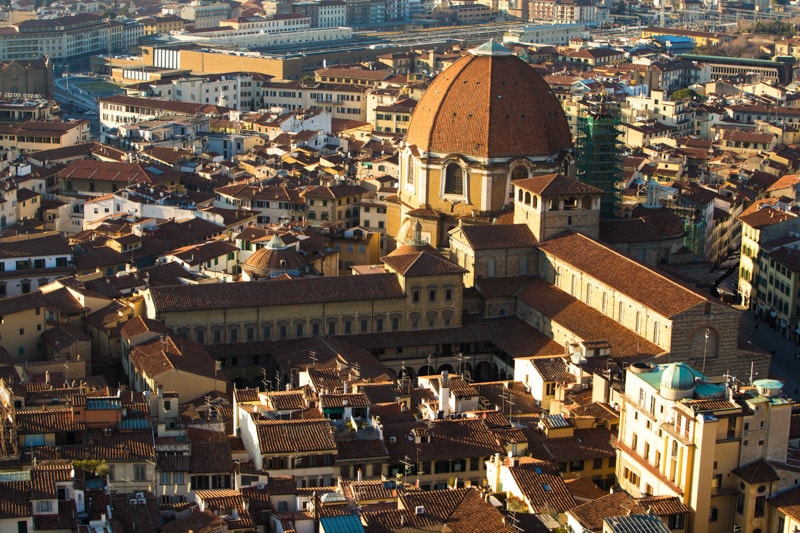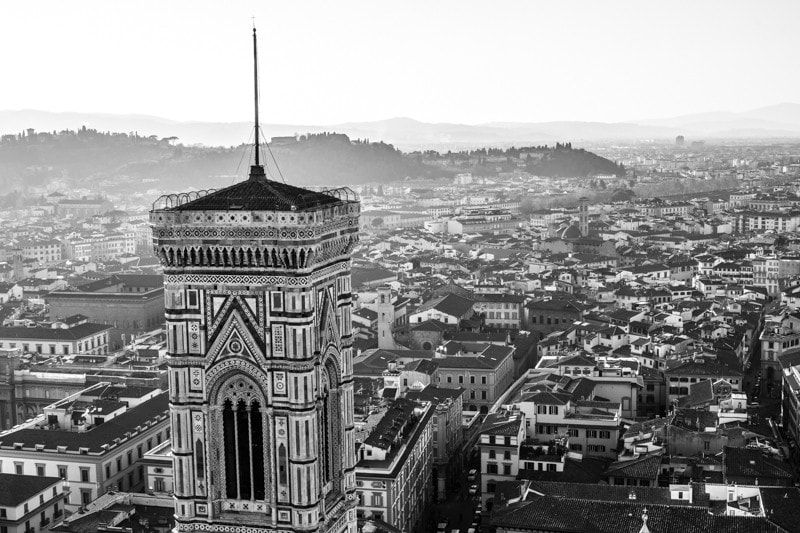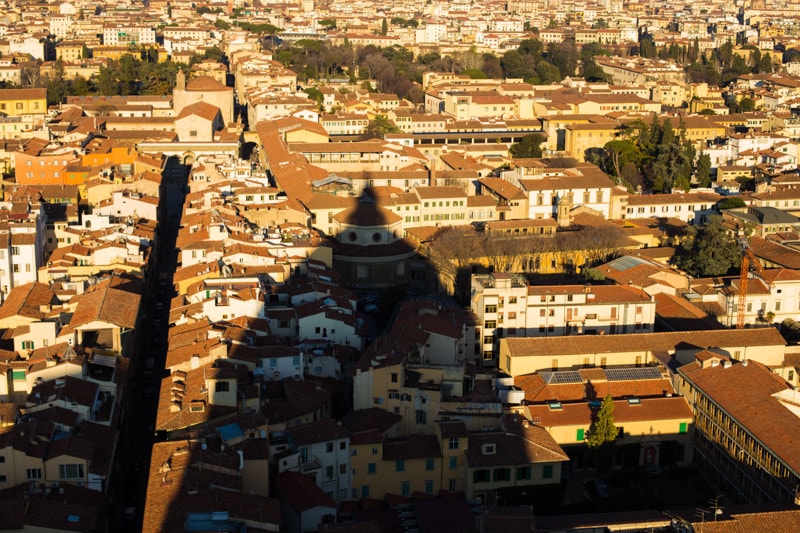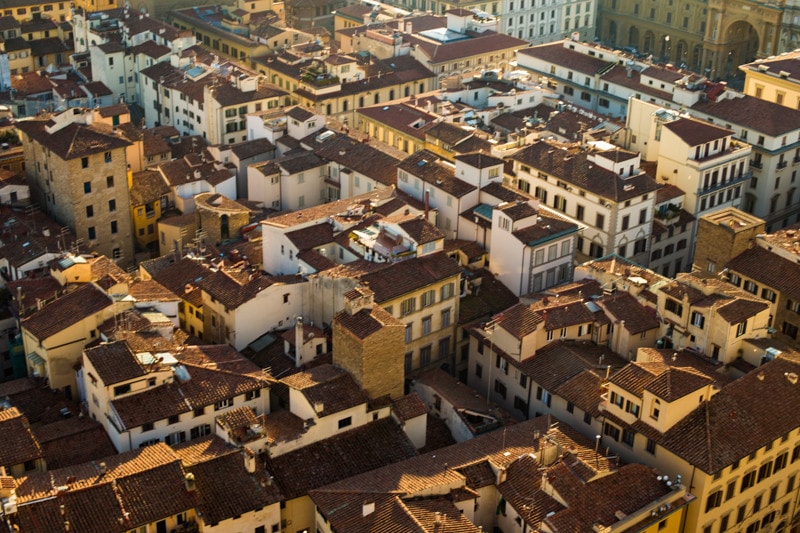 Piazza della Signoria
I passed Piazza della Signoria on my first morning when walking to the bridge. And well the plaza itself is a bit dull, there are some cool statues worth shooting.  You also have the long, and narrow Piazzale degli Uffizi that shoots off one end which makes for some cool symmetrical architecture photos.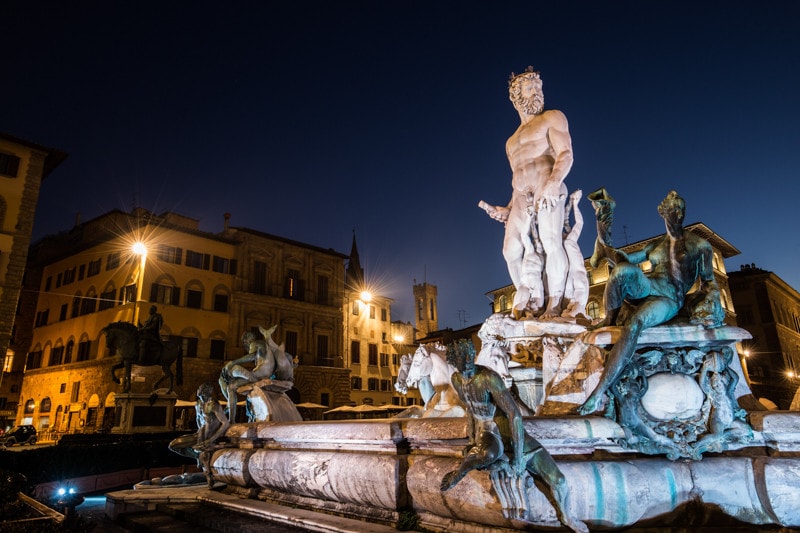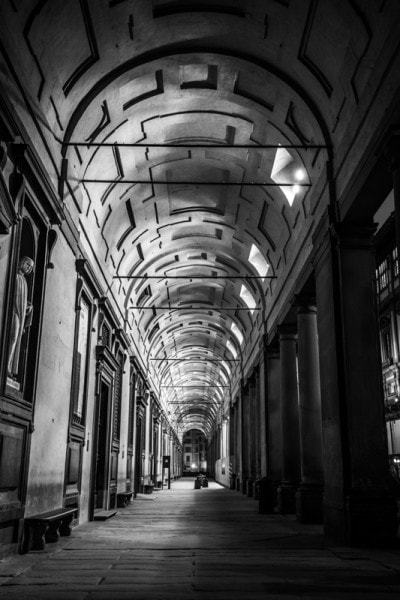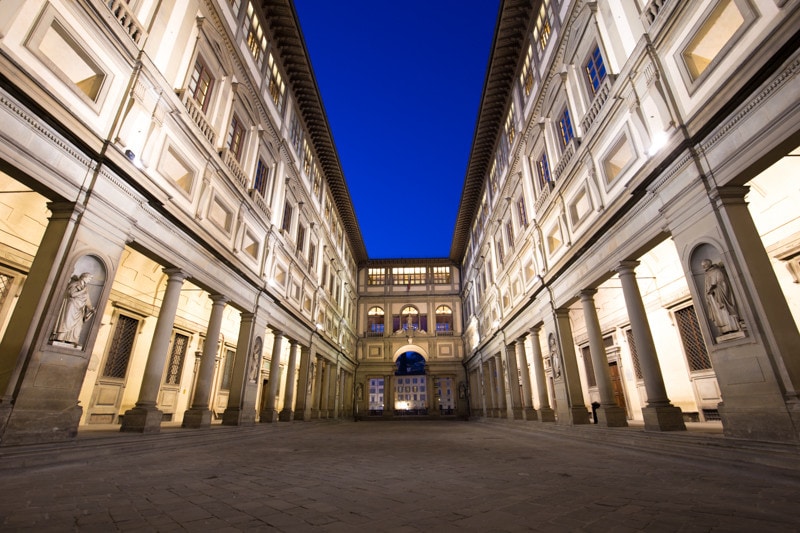 Piazza della Repubblica
In the day time, the Piazza della Repubblica is a busy place.  Thus, it's a pretty good place to do some people watching and street photography.  In the morning, it's worthy of a photo with no crowds around.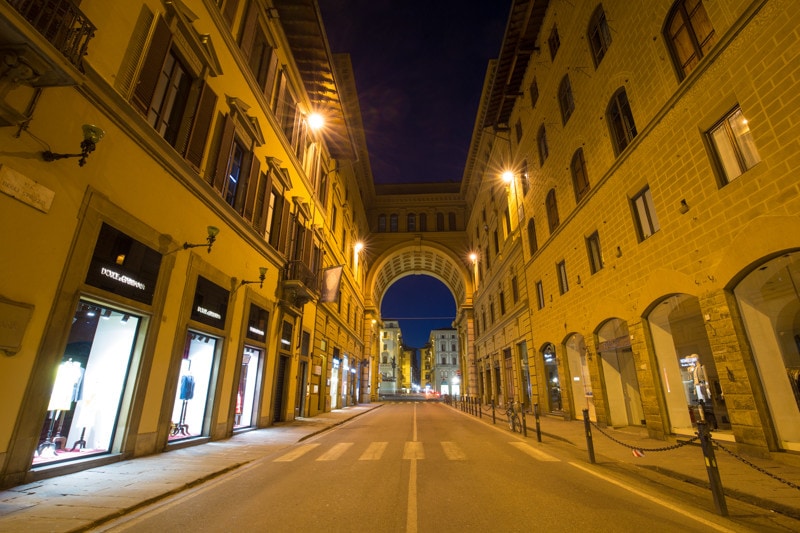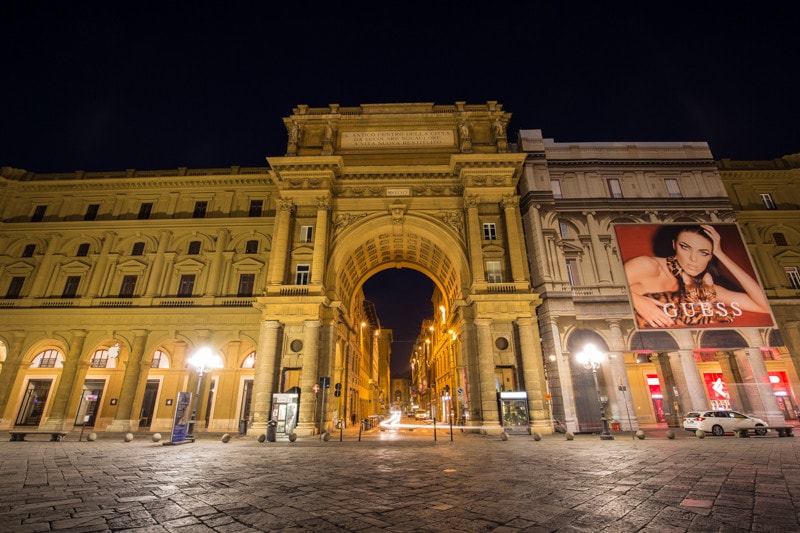 Some Random Street Photography
Beyond location specific images, Florence is also great for street photography.  Anytime I was on my way to or from a location I was shooting, I had a lens out trying to capture the street life.  These are some snaps.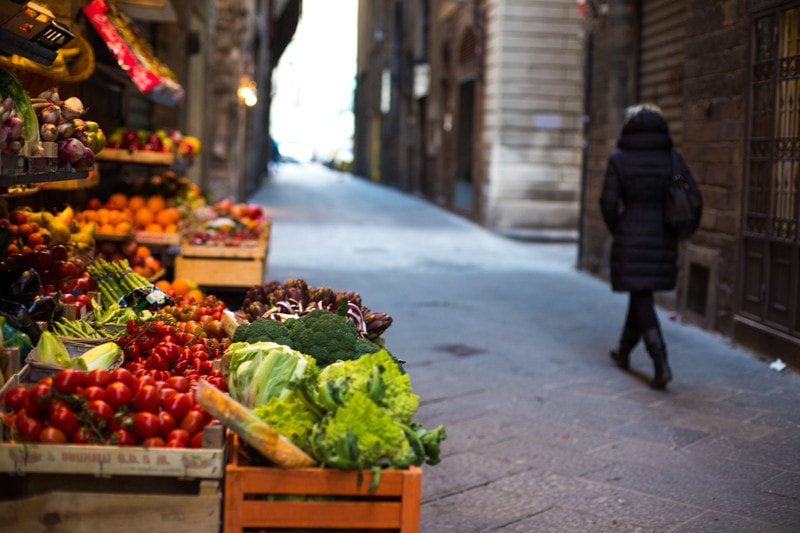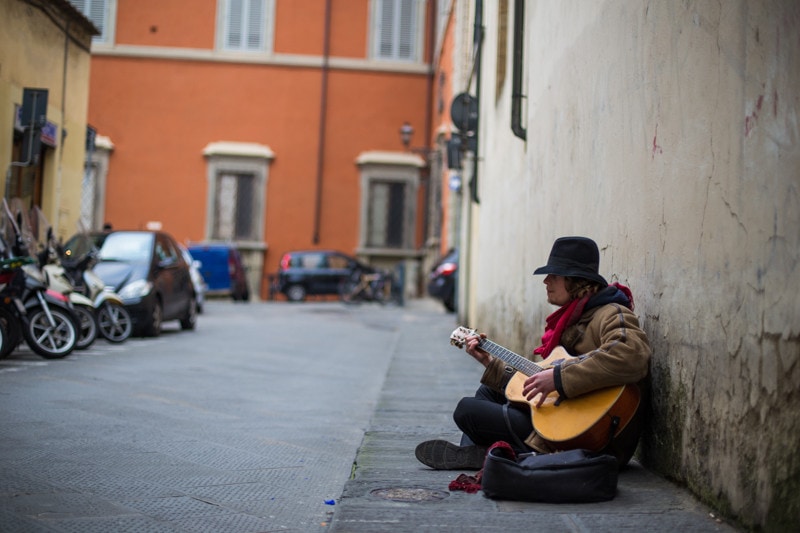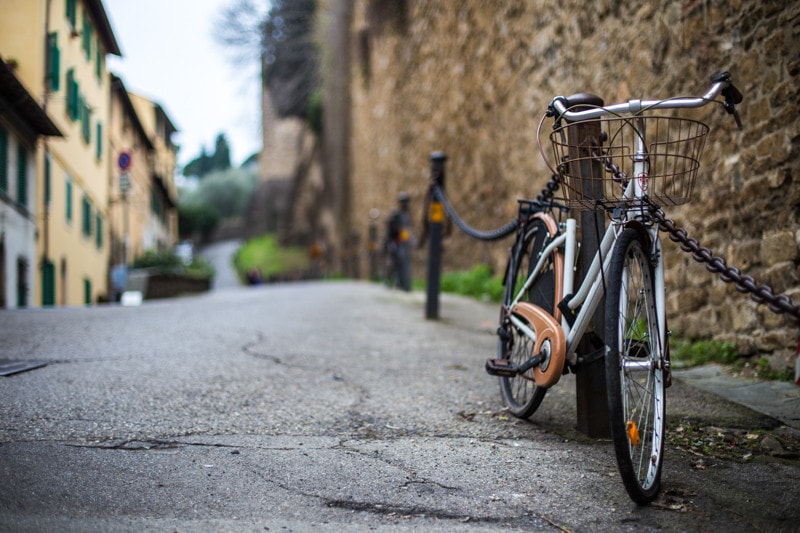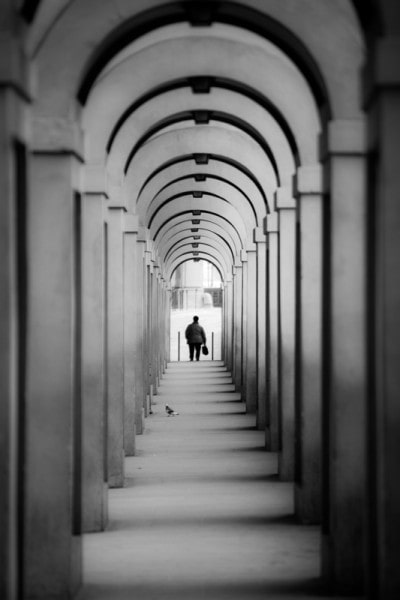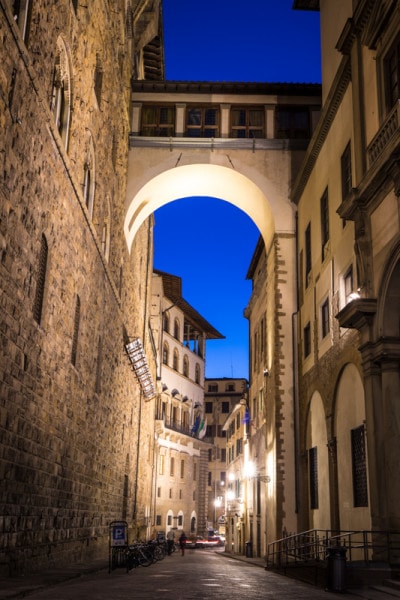 Where to Stay in Florence
In Florence, I found the Plus Hostel to be an awesome place to stay.  It's about a 10 minute walk to the riverfront, and not too far from the main train station.  The hostel has a variety of rooms including the classic dorms, but also really nice hotel-style private rooms.  For me, the highlight of the Plus Hostel in Florence is the breakfast which is an absolute feast.  The hostel also has a brilliant terrace area with phenomenal views of the Cathedral and the city below.  Even if you're not staying at the hostel, it's worth stopping by for a drink and a view at the terrace.
Will There be a Photography Workshop in Florence?
We're in the process of developing a couple more travel photography workshops, and it's likely that Italy and Greece will be included in a tour we'll be offering in the next year or so.  There are so many cool locations to photograph in Italy and Greece, though, it's hard to imagine how we can pack it all into a 2 week trip.
What's Next on the Travel Photography Blog
I've got a bunch of fun still coming on the travel photography blog.  From Florence, I headed to Cinque Terre for 5 days.  I'll eventually have a photography guide that includes both Florence and Cinque Terre that you can download.  But, before then, I have an article or two from a trip I made to Hong Kong, as well as a trip to Vienna.  Stay tuned, there's still lots of fun coming on the blog.