I'm trying to create a series of articles of the best photo locations in places I visit fairly regularly. In fact, I'm thinking that since I've been bad a posting to this blog, I might just include lists of photography spots each time I go to a new country or region. Most recently, I've been in Japan. So, I thought I'd put together all my favourite locations from the trip.
Of course, this list isn't exhaustive. There are millions of photo locations in Japan. So, at the bottom of this post, there's an embedded list from Trover where I used my community to crowd source some other spots. It's a really good list, and you're welcome to submit your locations as well. Moreover, this page will grow. I'm planning on spending more time in Japan, so each time I return, I'll update with new locations.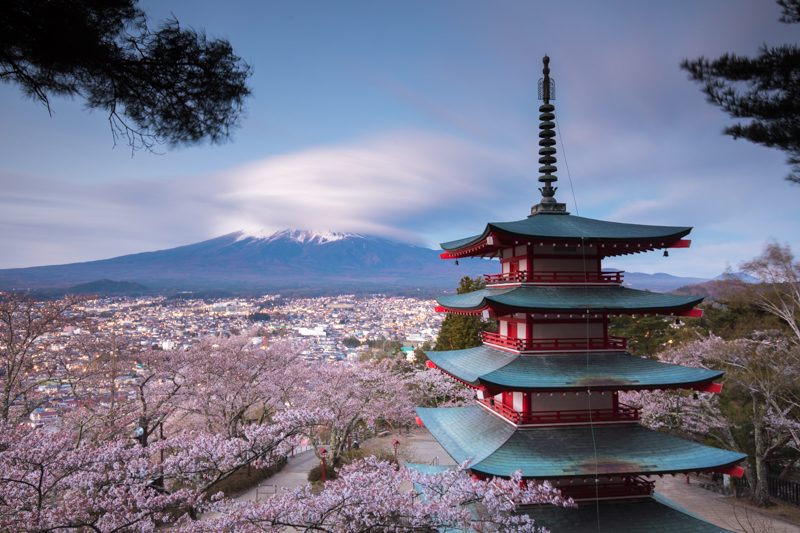 The Best Photo Locations in Japan
I'm going to organize this post into sub-categories to try to make things easier to follow – cities, regions, etc. At some point, if I spend a lot of time in one region or city, I may put together a more extensive post with all the cool locations in a certain place. But, for now, there all here.
Best Photo Spots in Tokyo
Tokyo is one of those cities where you literally could shoot photos on any street. Visually, there's just so much going on. And, whether you're into architectural or street photography, there are so many spots you could grab really cool images. These are my favourite spots.
Onari Bridge
Someone in my Facebook group recommended this spot. I think it must have been a train junkie, as the best part of this location is that there are a lot of train lines crisscrossing here. Honestly, the location itself isn't anything epic. But, it is fun to try to get all 4 trains that pass by here in one frame.
I came at sunrise in the spring. However, it was a bit too early as the trains weren't running often enough when the light was good. If you're going to shoot this location, try to time the golden or blue hour with rush hour traffic in Tokyo at sunrise. That'll give you the best opportunity to get all the trains in the best light.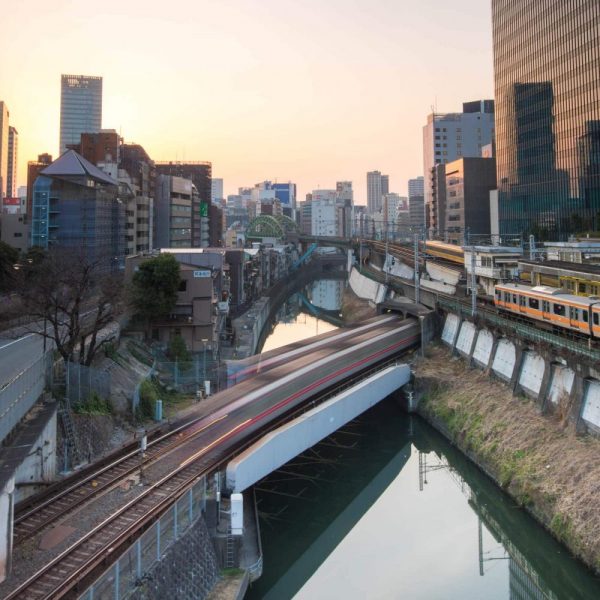 Shibuya Crossing
If there's one photo of Tokyo that everyone chases it's the one from Shibuya Crossing. And, it's a fun spot.
However, it is a challenge. There are lots of people. I mean, it is the busiest crossing in the world. So, finding a place for you to set up your tripod without causing congestion (or angry people) is tricky. There are a couple higher vantage points that you can apparently shoot from, but most of the classic images come from right down on the street.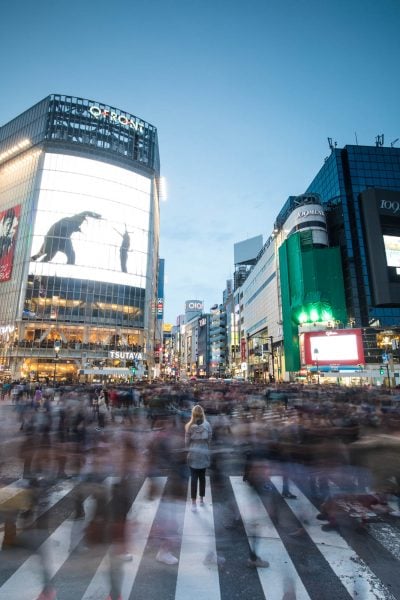 Halfway across the crossing on the south there's a median which is the location I shot the above image. From here, you can get a pretty uninhibited view and set your tripod up without any issue. Just make sure to come a bit early as lots of people want this spot and there's really only enough room for one or two tripods.
Harajuku
If you're into street photography, there's no better place in Japan for it than here in Harajuku. See the video below for some insight into what it's all about.
This neighbourhood is definitely counter-culture here in Japan, which is otherwise very conservative. This is the heart of Anime culture, and you get people dressed in some extremely interesting attire. If you want the best characters out, come here any evening. The weekends are good, but there are bigger crowds of "normal" looking people, as everyone comes to visit. On a weekday, the ratio of "interesting" people is definitely much higher.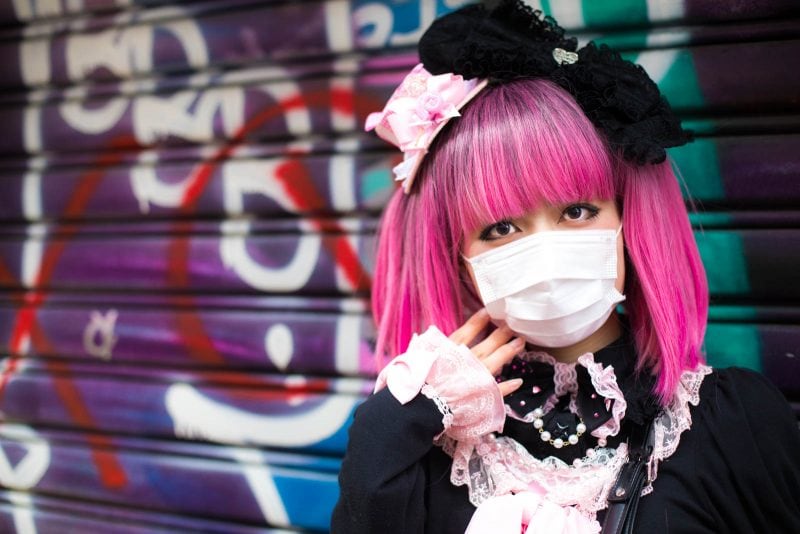 Where to Stay in Tokyo for Photographers
Obviously, there are a lot of different places in Tokyo where you could stay. However, you should note that the train system actually doesn't run all night. So, sometimes it can be a bit of a challenge to get to photo locations in Tokyo. Personally, I'd recommend staying in Shibuya (or Shinjuku) It's fairly central and you'll be within a short walk of some of the best photo spots in all of Japan.
Below is a map of the area I'd stay.
Best Photo Spots Kyoto
I know, I could list 100 spots in Kyoto. And, I also know that the 4 days I spent in the city was about 40 too few. There are so many photography locations in Kyoto that it probably deserves a post in itself (and will probably get one in the future). But, for now, this is the list.
Arashiyama Bamboo Forest
If you're on Instagram (I'm @brendanvanson), chances are you've seen this location. It's a classic. And, honestly, it is unreal. However, what becomes quite obvious to you as soon as you get to the spot, is why there is such a small variety of images from here. And that's because it's just not a massive site. There really is just one stretch of bamboo perfection. And that's why all the shots are pretty similar.
That said, it is a really beautiful strip of bamboo.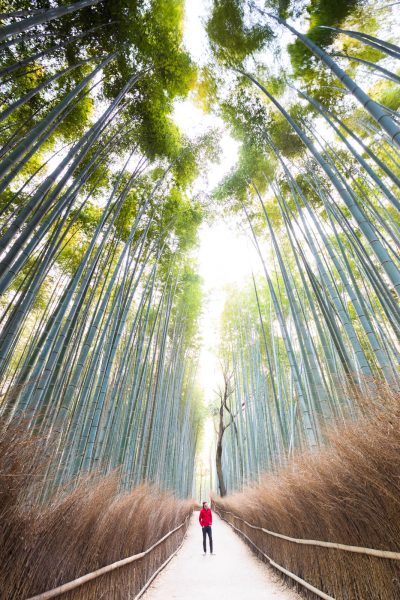 You'll definitely want your wide angle lens to get all the goodness in your frame here.
Now, before you go and decide not to come here because there's only 1 image to take (as I almost did), think again. Not only is the whole area beautiful (there are lots of other parks around), but there are more compositions than just the classic. You'll just need to get creative, and pick out the details.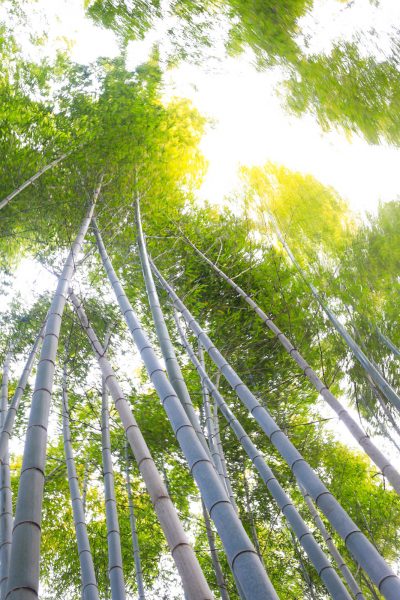 To-ji Temple
This spot was awesome. And, we kind of got lucky. No… we got all sorts of lucky. Basically, To-Ji Temple is generally closed as soon as sunset happens. But, we thought that if we got there just before sunset we'd be able to snap off an image or two before security kicked us out.
However, we found out that during the cherry blossom season in Japan, the park is open just after sunset for a night viewing.
We got lucky, as the above video shows, because we had no idea. And, even luckier, since we arrived an hour before the gates opened, we were first in line. And, it was lucky that we were. There was a mob of photographers behind us racing to this specific location as soon as the gates opened. P.S. totally worth waiting in the line for this place.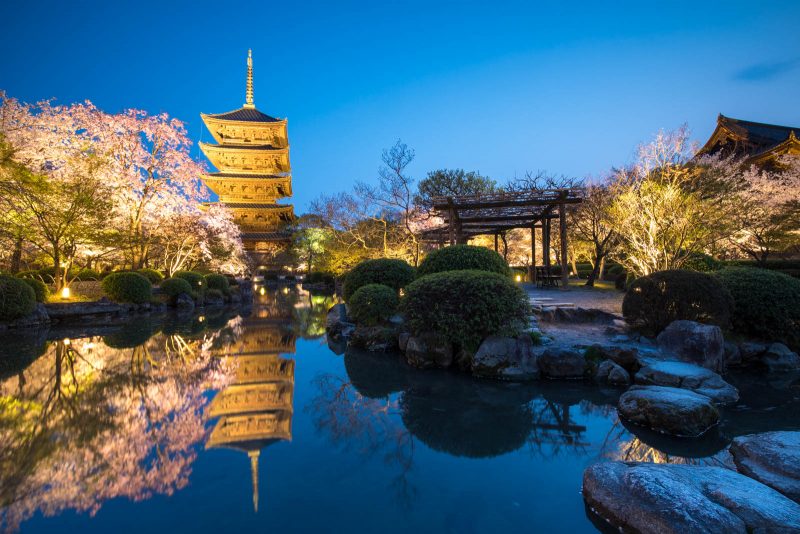 Hokanji
I think this is my favourite part of Kyoto not only for photography, but also to just wander around. There are always interesting characters buzzing about to keep the street photographer in me interested. And, there are heaps of beautiful buildings around as well. I mean, I could probably shoot here for weeks and not get bored.
The classic shot of Hokanji is of the temple from above, down one of the roads. From here, you get a beautiful leading line right at the building. Personally, I think sunrise is a must here. Sunset is beautiful, but this is such a popular spot that there are a tonne of tourists, many of whom seem to take pride in standing in front of tripods as they take 3 dozen selfies.
Note that this is also the area of Kyoto where you might get lucky enough to photograph a geisha.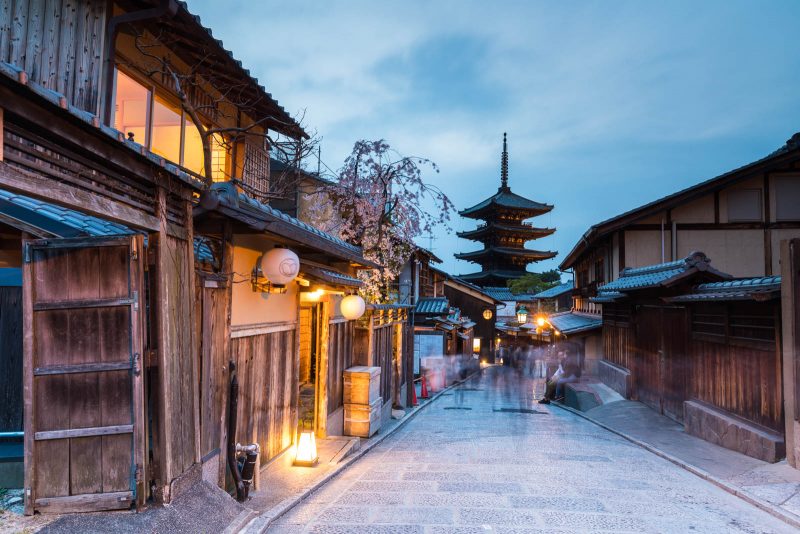 Fushimi Inari
I made a mistake when I visited this Kyoto photography location. I got to the first set of gates I found and set up and started shooting. Then, all morning I dealt with tourists, instagrammers, and other photographers. It's not to say they aren't welcome, they are. It's just that we were all in the same spot.
And, it was silly.
It turns out. If we were all to just walk deeper into the shrines we would have found that Fushimi Inari actually goes on for kilometers. We all could have spread out, and had sections of gates all to ourselves. But, we're not that smart. But, I know for next time.
Personally, I thought that the most impressive gates were about a 10 minute walk into the shrine area. If you get there at sunrise, you should have about 30 minutes before the crowds really start to swarm.
This is one of the most popular photography locations in all of Japan for a reason. And, believe me when I tell you that you'll not be alone here. Everyone with a camera or smartphone will find their way here.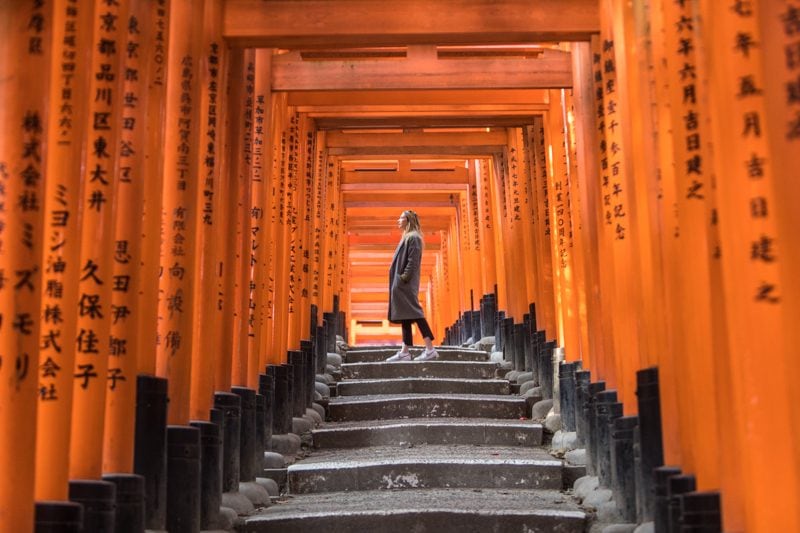 Maruyama Park
There are lots of great places to shoot in this park. In fact, I think you could probably shoot this park every day for a week and not photograph the same spot. This was our first destination Kyoto. And, actually, I had almost forgot we shot here. We came for the cherry blossoms, but there was so much else to shoot too. I particularly loved this temple.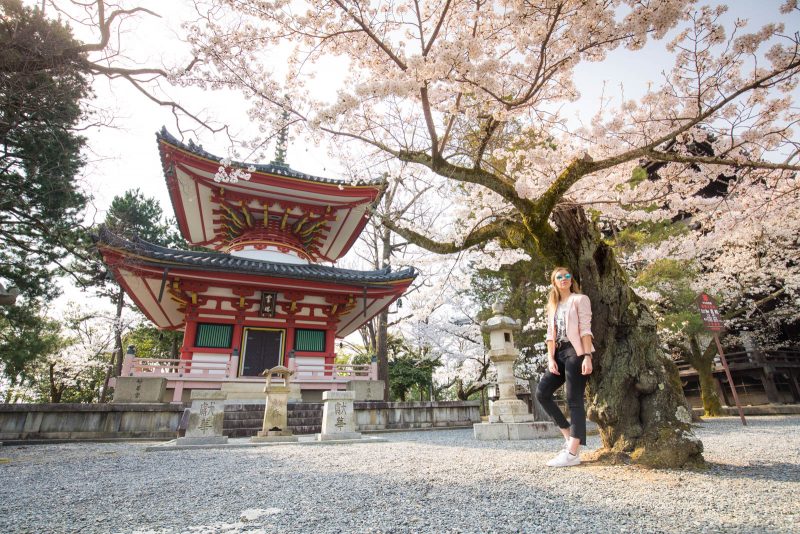 Other Potential Spots
Obviously, in 4 days I couldn't get everywhere. There are a bunch of places I'd like to get to. Of course, I'd love an image of one of the Geisha. However, during cherry blossom season, they are basically swarmed like rock stars everywhere they go. The Golden Pavilion also looks amazing (and I remember it being amazing from when I was there at age 13), but it's also really busy. I think the park also closes for golden hour (ironically). There's also a cool location of train tracks where the cherry blossoms pop right over top. I'd like to shoot there next time.
As always, your recommendations are welcome in below and on the Trover list at the bottom of the article.
Where to Stay in Kyoto for Photographers?
Kyoto isn't really all that easy for photographers in that you need to be at nearly all the locations at sunrise. However, the trains don't usually operate until after sunrise. So, you either need to walk or hire a taxi.
We did, however, find that a couple of the photo locations were close enough to train stations that you could make it work if you were on the first possible train.
In fact, we decided to stay in Osaka and take a lesser known local train that got to the eastern part of Kyoto where most of the locations are. It kind of worked. But, just take that into account when booking your accommodation.
In my opinion, stay close to Maruyama park. There are plenty of photo locations around there that you can walk to for sunrise.
A map of hotels in that area is below.
Best Photography Locations in Hokkaido
Cape Tachimachi & Hakodate
Hakodate was such a pleasant surprise. In fact, we were just going to whip passed in on our way back to Kyoto. But, luckily, I ended up meeting an old friend there so we spent the night.
As it turns out, it's a pretty cool place to photograph.
There are actually two great spots to shoot in Hakodate. The first is from the video below which was taken at Cape Tachimachi. This is a fantastic place for landscape photography. I recommend coming at sunrise as the light (if good) hits the cliff faces really nicely. This is a cool place for seascape photography.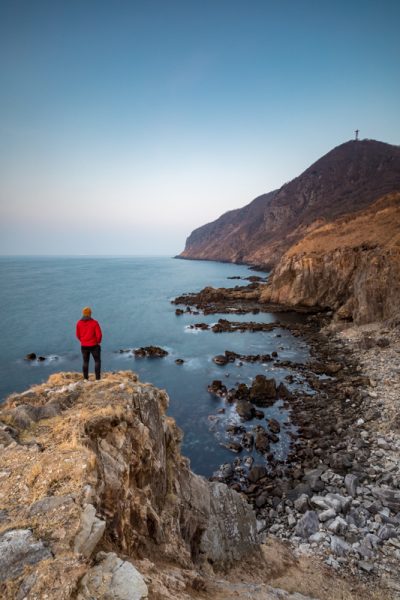 The other spot in Hakodate is down on the bay. There are all these awesome warehouses that make for cool images. There's also the water and usually a bunch of fishing boats on the water. So, there are a number of things to take pictures of here.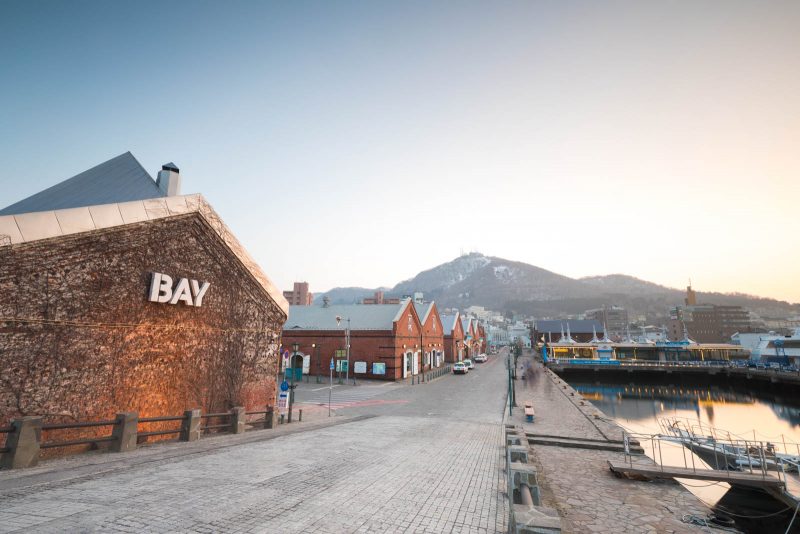 Noboribetsu
This is likely the most popular destination in all of Hokkaido Island. However, landscape photographers have mostly still not made it this way.
A spot called "Hell Valley" is the best spot to get images and is open 24 hours (as far as I could tell). We came at sunset, and though it was busy it wasn't that bad. We still managed to get a couple cool photos.
It might not be the most famous photography location in Japan, but it is a really beautiful place and definitely worth the visit.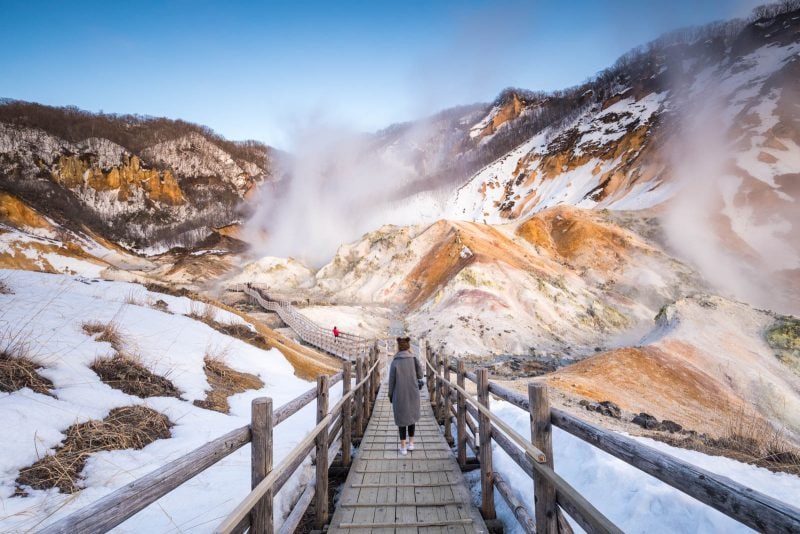 Nara
The town of Nara is known for the fact that deer come up to people, completely tame, and eat from their hands. As you can see in the video below.
However, Nara is so much more than just the deer. Such, you could photograph the incredibly tame animals. Or, you can check out some of the temples, the bronze buddha, and the park. I don't think I ended up taking a single picture of the deer. However, I got some cool stuff in the parks, and really enjoyed the temples as well.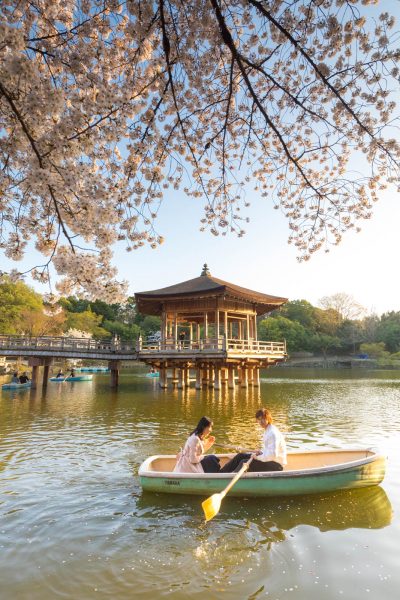 Hijemi
This actually might have been my favourite photography location in Japan. Especially during the cherry blossom season, there is just so much to shoot in a relatively small area. The castle is the obvious shot, and it is beautiful and totally worthy of your photos.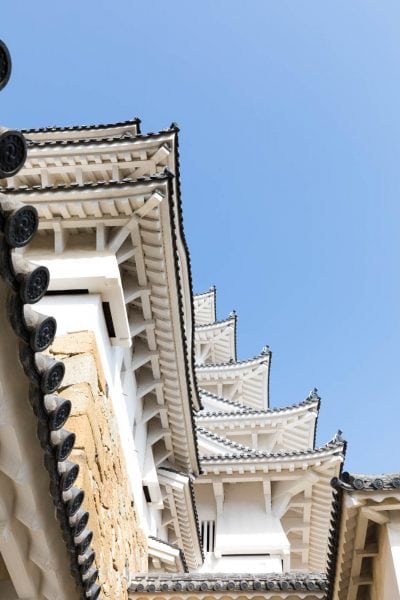 My favourite photo of the castle came from outside the gates and around behind the zoo where you get this beautiful red bridge in the frame below the castle.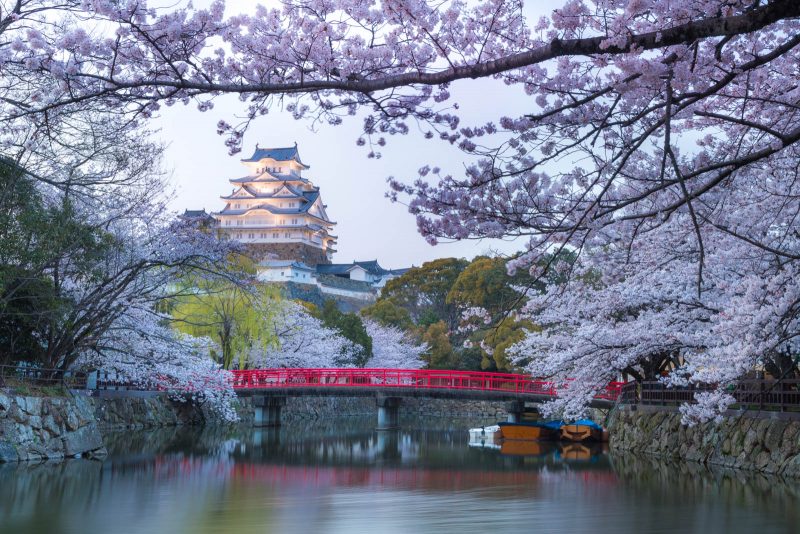 Kanazawa
The ancient town of Kanazawa deserves more love than it gets. Not only is it known for geisha, ninjas, and samurai – which should warrant a visit in itself – it is also extremely photogenic. Sure, it's not Kyoto, but there are plenty of spots worth shooting.
For me, the most beautiful photos came from just on the edge of the castle walls. The castle itself is somewhat underwhelming, but the cherry blossoms and castle gates made for great photos.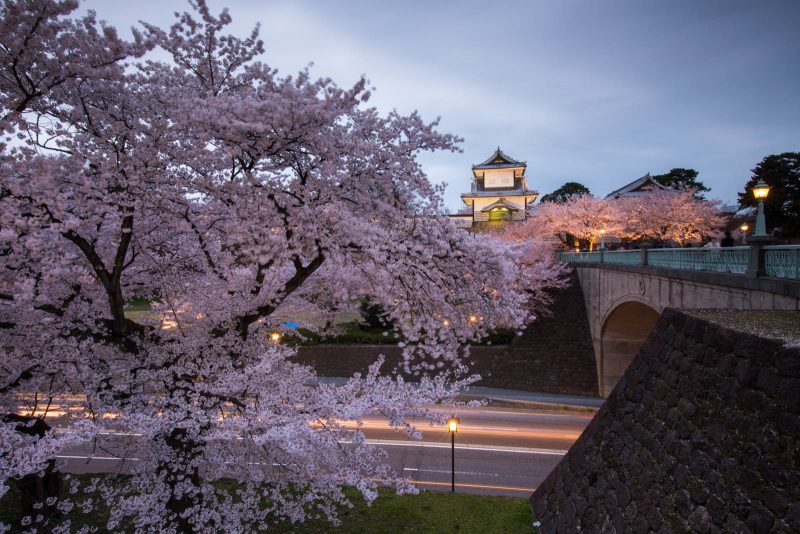 There's also a UNESCO listed village nearby Kanazawa. But, we didn't give ourselves enough time to see it. I've been told it's more than worth some photos.
The Snow Monkeys
There are a couple places you can see the "snow monkeys" in Japan. Both spots are, apparently, really easy to get to. I went to Jigokudani Snow Monkey Park which is just outside of Shibu Onsen – the village is also actually really cool.
What we learned in visiting the snow monkeys is that 1) they are extremely accessible, and 2) it's actually not that big an area. Most of the monkeys hang out around one single hot spring. Moreover, if you're looking for the winter experience, look up the weather forecast. We were there in April and there wasn't snow. And, when it's not cold, the monkeys rarely go into the water.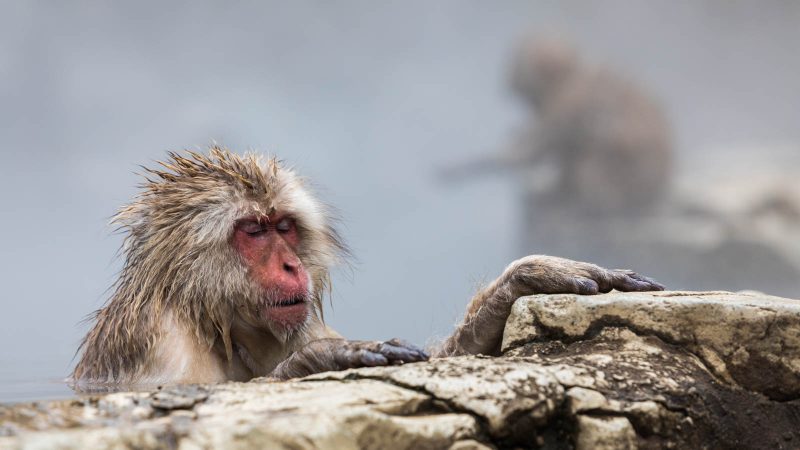 Hitachi Seaside Park
Maybe the most underrated photography destination in the country. If you're into flowers and macro photography, this is a great spot. The park has an incredible hill that changes colours depending on the season, and is the highlight for photographers.
It's not far from Tokyo, and can be reached by catching the train and a quick bus. It's worth a visit as a day trip from Tokyo for sure. There's not much else going on in the town, however.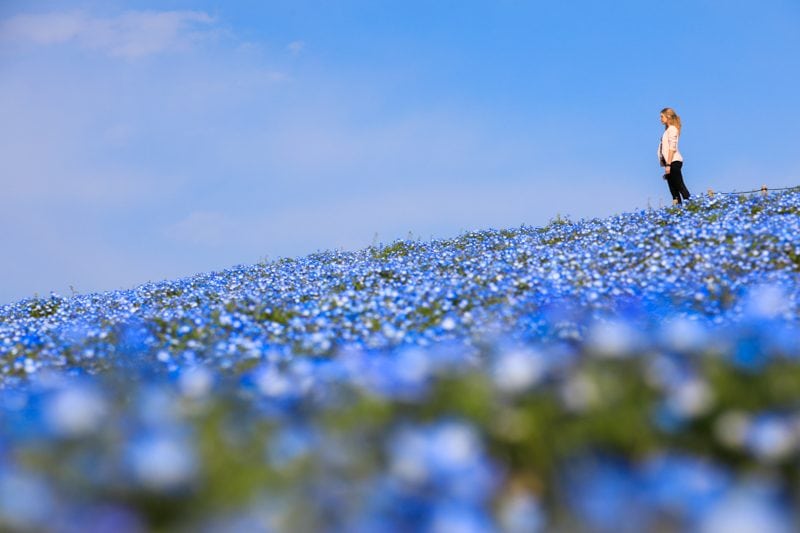 Mount Fuji
I found 2 great places to photograph Mount Fuji. But, obviously, there's about a thousand other places. In fact, the volcano is so massive that I think there must be views of it from all over the country.
The first location I shot was Chureito Pagoda. This is by far the most popular location for foreign tourists. Yes, you'll find some Japanese people up there too. But, since the Pagoda is fairly new construction, and not really ancient Japan, it's not nearly as popular with locals. However, foreign photographers flock here for the perfect composition of the pagoda and Mount Fuji.
Warning, there are 2 issues that you're going to run into photographing Chureito Pagoda. 1) There's a no tripod rule. And, it's sometimes enforced by security. Luckily I had my Gorillapod which I was allowed to use. And 2) there are a ton of people that come up here to shoot. I arrived an hour before sunrise and I was still relegated to the back row of photographers. To be honest though, I liked the perspective better from the back row.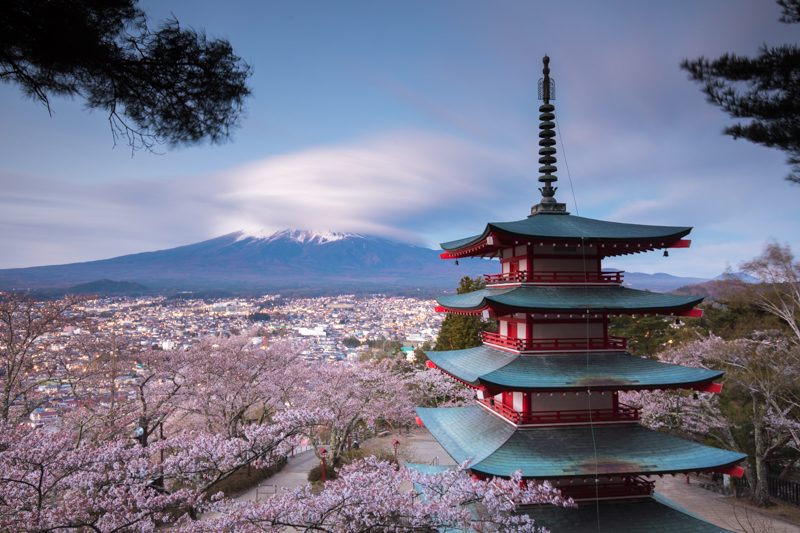 The other location I shot Mount Fuji from was along Lake Kawaguchi. There are obviously endless places to shoot along the lake and you get great reflections from any of them. However, finding a foreground was a mission.
I shot 3 times along the lake.
Once at sunset where I found these boats to use as a foreground.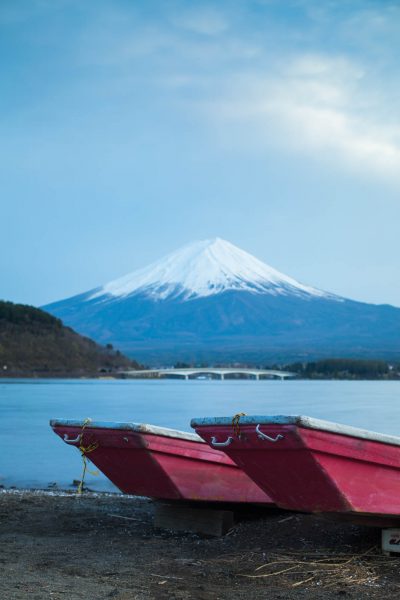 Once at that same spot under the stars.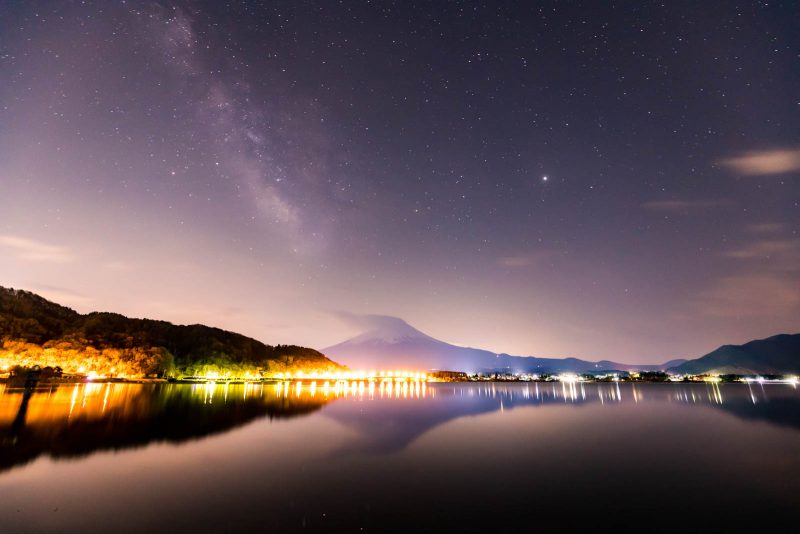 And a little bit up the lake for sunrise.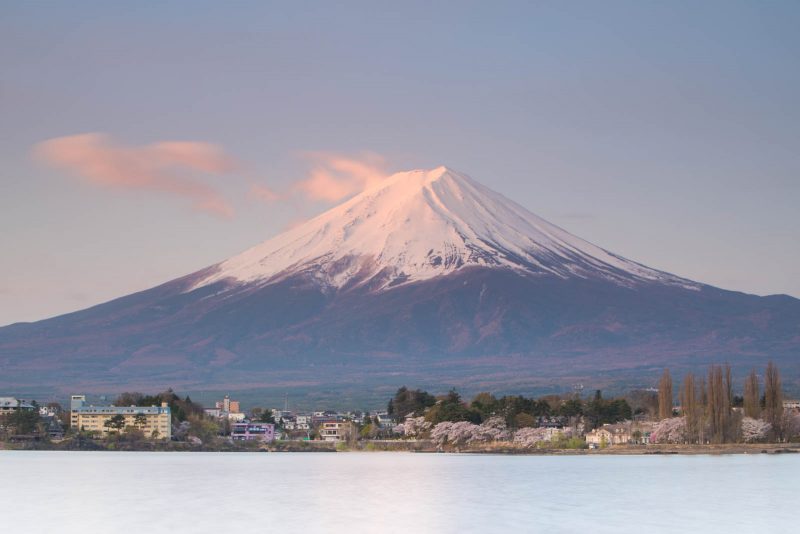 Other Photography Locations in Japan
I asked on my facebook group for some of people's favourite photo locations in Japan. And, as such, I've compiled their best shots over on a list on Trover. I've embedded the list below.
Japan Photo Locations #BvSJapan – a photo list by Brendan van Son
If you'd like to contribute your locations upload there and tag your images #BvSJapan.
Photography Workshops?
There are no photography workshops planned in Japan. However, check the travel photography workshops page for info on what is available.