If you know my photography, especially my landscape work, you know that I'm a huge user of filters. It's just something that's become the most essential part of my camera gear kit. But, I never really used heavy ND filters. It's not that they don't have their purpose, but I've always felt like 6-stops get me to the exposures I generally want. I do travel with a 10-stop ND as well, though I don't use it that often.
So, when NiSi asked me if I wanted to try out their 15-stop ND I thought my review would end up being that it was just too many stops. I didn't think I'd use it. Then, I tried it, and I've changed my opinion. It's now a permanent part of my kit.
The NiSi 15-Stop ND Filter
I think part of the reason that I didn't really think I'd use a 15-stop ND filter is because I tend to photograph around low-light times of day. But, not everyone has that option. Some people can only go out taking pictures in the middle of the day. So, having a 15-stop ND allows you to expand your creativity.
Essentially, the simple goal of ND filters in general is to create a darker exposure to allow either a lower aperture or a slower shutter speed.
As I write this, it's 2pm in Phoenix and as I point my EOS R out the window my camera reads f/11, 1/400 seconds at ISO100. So, if you want to go crazy with shutter speeds, a 15-stop speed will get you there. If you were shooting a seascape, for example, a 15-stop ND filter will get you down to a nearly 90 second exposure. Whereas a 10 stop gets you only to 2.5seconds, and a 6-stop gets to just 1/6th.
P.S. If you're looking for an ND / Shutter Speed Calculator NiSi has a great one for your phone here.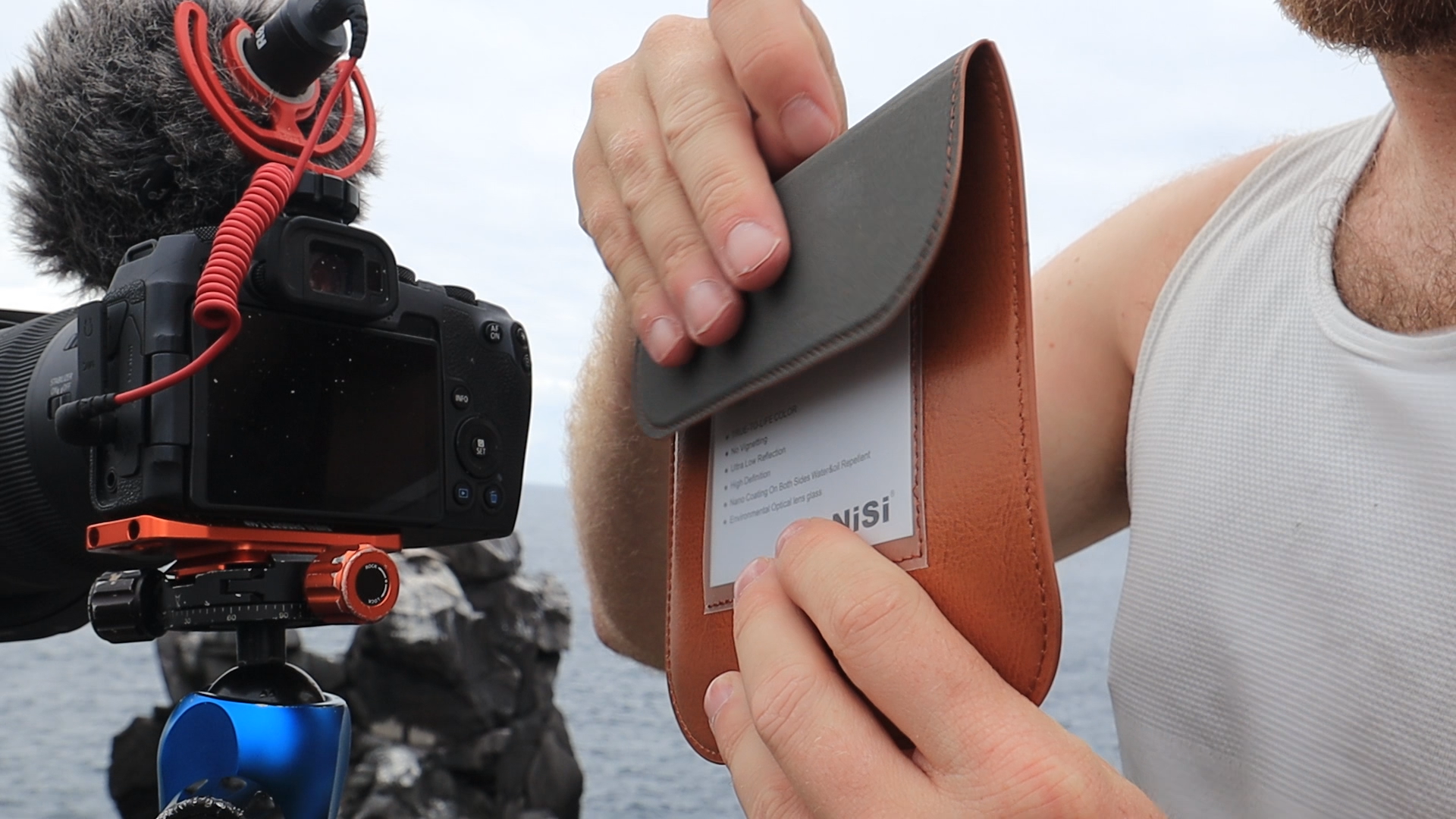 Testing the 15-Stop NiSi Filter in Ecuador
One of the things that happens when I'm leading photography tours is that I sometimes have to be creative with the moments I photograph. For example, in Ecuador we were doing wildlife photography. So, I wasn't in photo locations for landscapes at sunset. Instead, I kind of just made it work in the moments between, midday. I managed to test 4 different spots on our Ecuador trip, and the results were different each place. And, in each location we had different reasons for using the 15-stop ND.
Location 1: Cloud Movement
Obviously, the reason for using a 15-stop ND is to slow the shutter speed. But, slowing down the shutter speed is pointless unless you have a reason. The reason for using the 15-stop ND filter in this situation is to create some drama in the sky.
If you use a quick shutter speed on a scene like this, the clouds freeze and the image comes out pretty "snap shotty".
I wanted to lengthen the shutter speed to put the clouds in motion. Unfortunately, the clouds really weren't moving much. So, the results aren't that dramatically different.
Before
After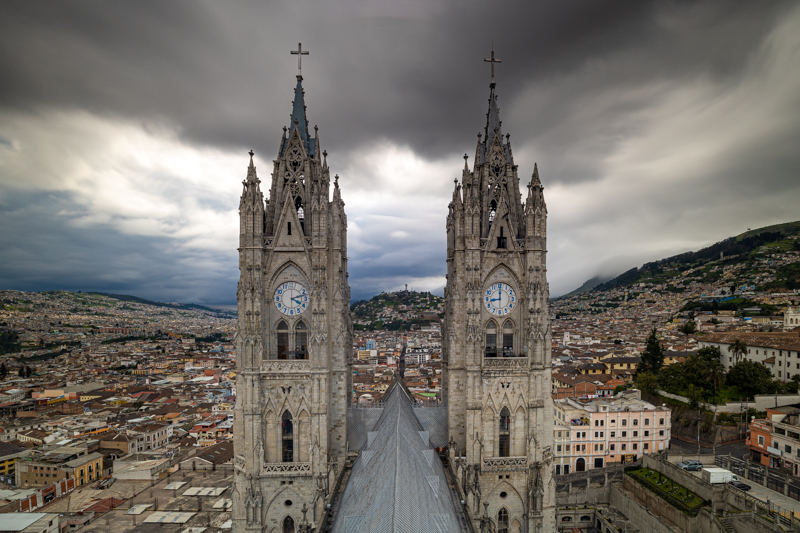 Location 2: Long Exposure Fine Art
One of the reasons people use long exposures is to create a fine art look to their photography. By using a really long exposure it can give your images a minimalist look.
On one of the islands in The Galapagos Islands, I was surrounded by animals but saw this little island with one single tree on it. So, I took out my 100-400mm lens to capture it.
Without the 15-stop ND filter on it, the exposure was f/11, 1/200sec. With the filter, the exposure dropped to a full minute at f/8. The result is the difference between a simple photo and a fine art landscape image
Before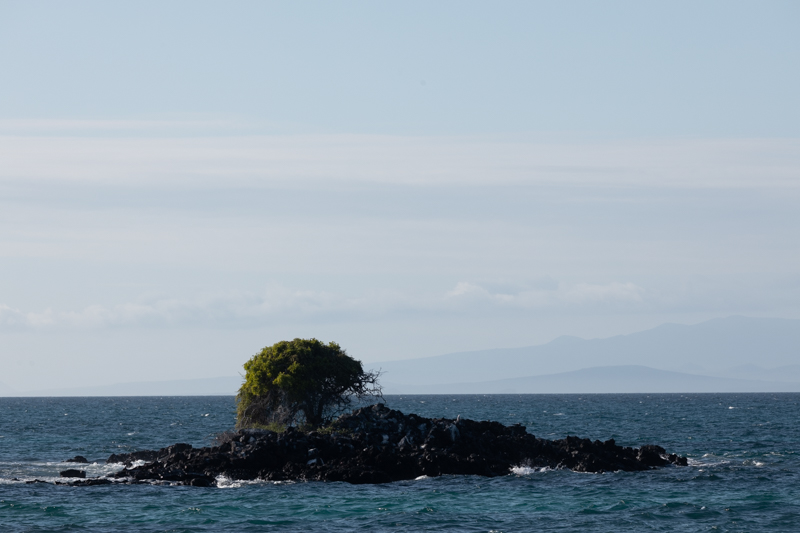 After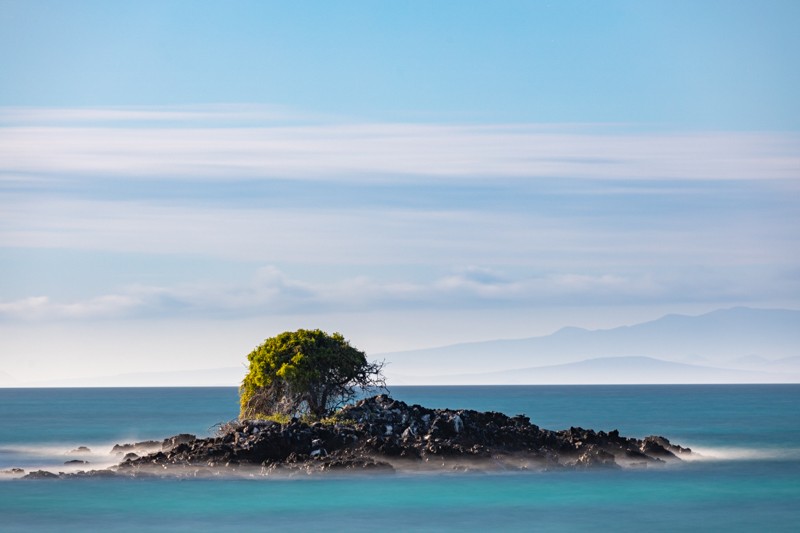 Location 3: Dramatic Seascapes
Depending on the cloud cover, a 15-stop exposure can either make a seascape look like paradise or really dramatic. When the weather is a bit overcast, the clouds can get a really ominous look to them when you slow down the shutter speed. The danger, however, with long exposures is that it flattens the sea. A short exposure shows the crash of the waves. A long exposure smooths the sea out completely. You have to make an artistic decision when choosing what you want to do.
In this situation, we were on Espanola Island and the light was pretty phenomenal for wildlife photography, but rather dull for landscapes. So, I wanted to test out the 15-stop ND to see if it could help create a dramatic image. It did.
Without the filter I was at f/11, 1/50sec., iso100. With the 15-stop, I had to get to f/5.6, 4 minutes.
Before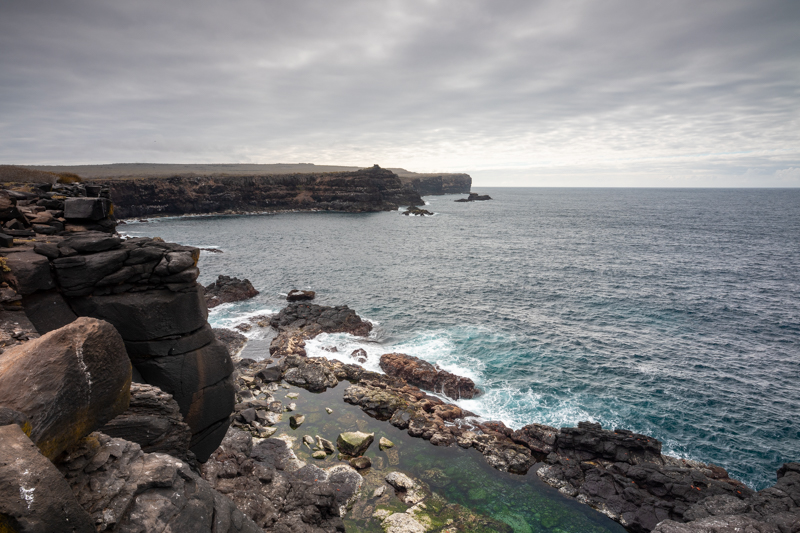 After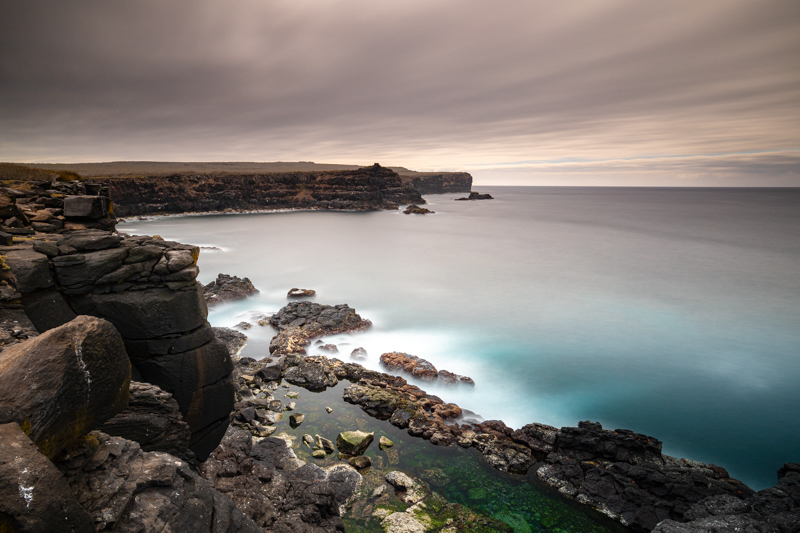 Location 4: Ethereal Landscape Photography
I actually wasn't going to use the 15-stop ND filter at this last location. As I mentioned last, adding a really long exposure sometimes kills the drama of a photo. I was worried that would happen here.
In the end, though, even after playing around with my 6-stop ND, I preferred the images with the 15-stop to all the other ones.
The really long exposure gives an ethereal look to the landscape. It's just a look you can't get any other way. In this case, it takes a very beautiful – but hard to photography – beach on Espanola Island and makes it special.
Without a filter I was f/8, 1/125 seconds. With the 15-stop ND I got down to f/8, 90 seconds. Again, the results are dramatic.
Before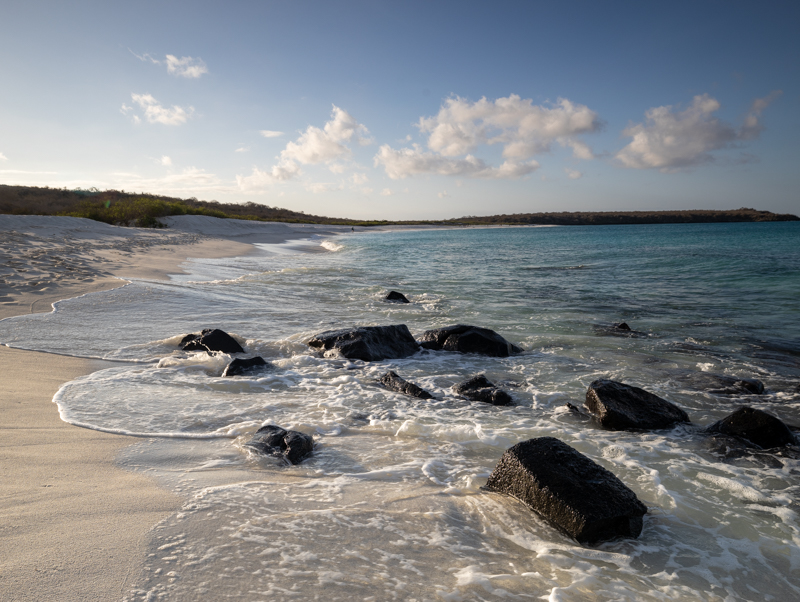 After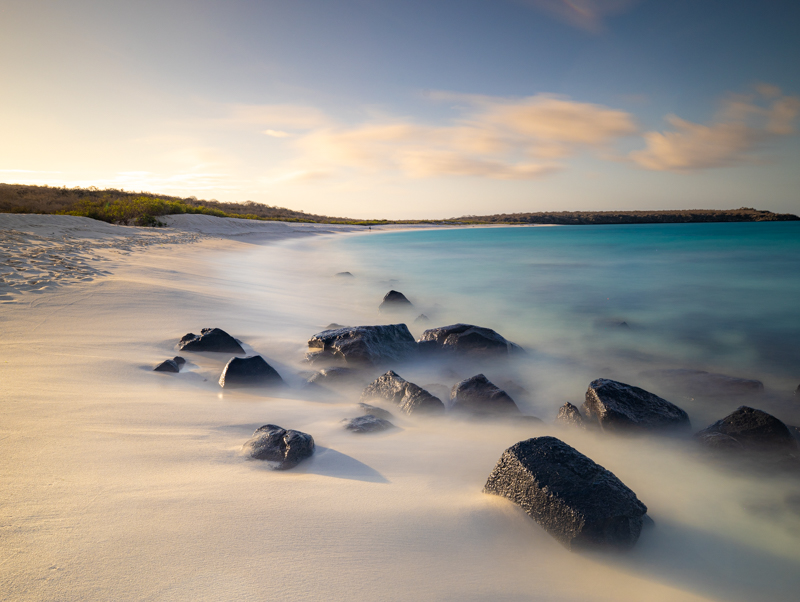 Thoughts and Product Review
The one thing that impresses me most about the NiSi filters I've used since becoming a brand ambassador a couple months ago is the quality. They don't seem to scratch nearly as easily as some of the other brands I've used. And that's probably because they're glass rather than resin.
I also think that the amounts of tint you get from the filters is extremely minimal. A lot of other brands leave a purple, green, or blue tint on the images – especially the heavier ND filters like the 10-stops. But, I didn't have to do any adjustment to the images with the 15-stop ND from NiSi.
So, I'll say this as a quick review. I've never ever had a worry about quality with the NiSi filters. I always know that I'm going to get top-quality products. This 15-stop ND is no different.
Is 15-Stops a Camera Bag Essential?
I want to end this post with a quick thought about the product, and an important question: do you need a 15-stop ND filter?
The answer? Well, no.
But, that doesn't mean that you don't want one. I think there are 3 types of photographers that will really benefit from having something like this in their camera bag.
Photographers who don't get to photograph around sunrise or sunset.
Architecture photographers looking for some drama.
Photographers who feel like they're in a slump and looking to expand their creativity.
I don't think I fall into the 3rd category. But, I wouldn't have made any of the photos in this post if I didn't have this filter. Having the 15-stop ND in my bag pushed me to try to make photos I normally wouldn't have. And, I think that 2 of them are some of my favourite images from Ecuador. Without knowing I needed a push, this filter pushed my creativity.
So do you need this filter? Maybe not. But, it can help push your work to a new level.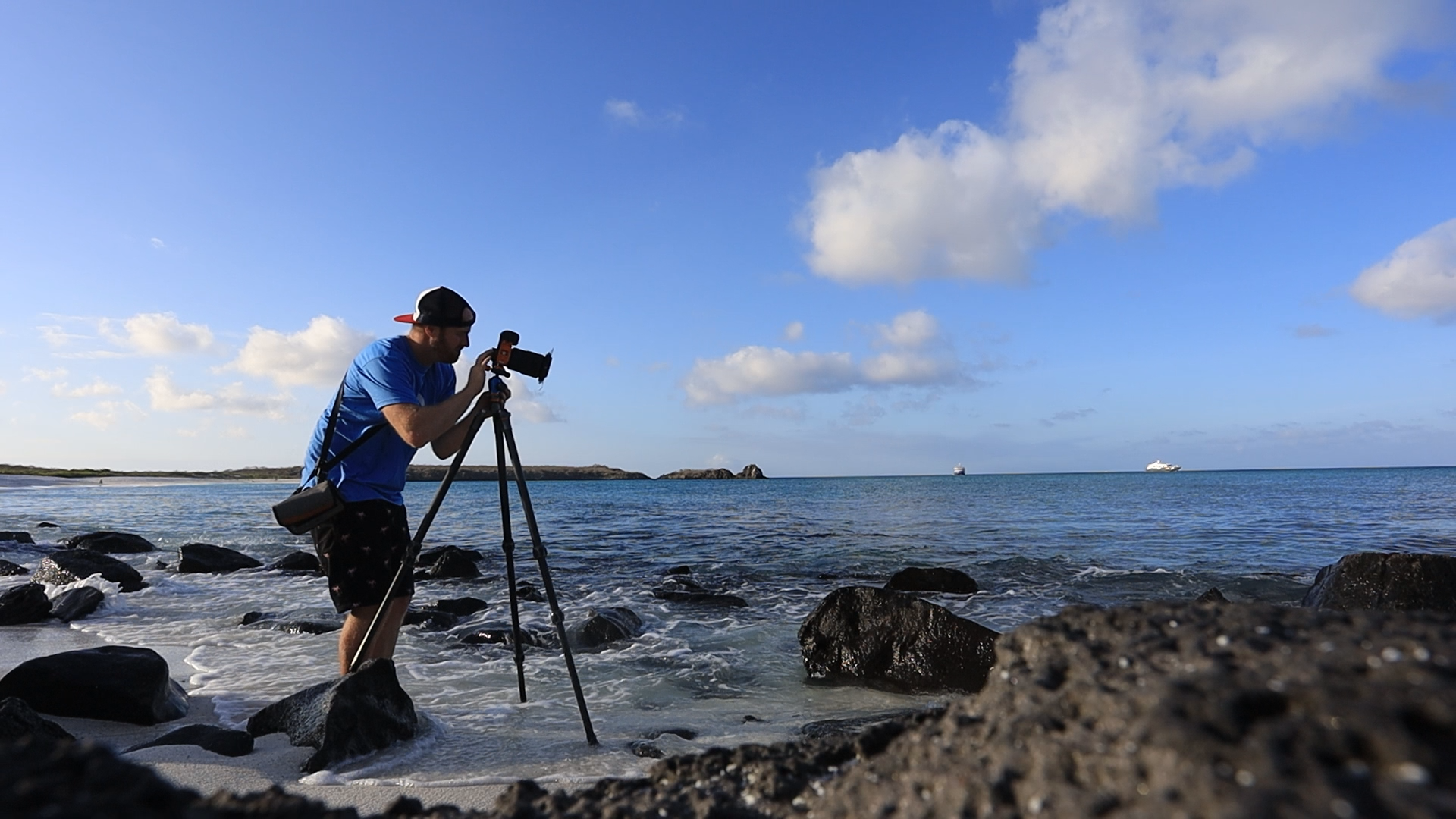 Another Ecuador Tour?
I've already been asked if there's going to be another Ecuador photography tour. The answer is a resounding yes! This Ecuador trip was amazing. We had such a good time, and I already can't wait for the next one.
That said, this won't happen again until 2022. My schedule is just too busy.
If you want information about the next Ecuador trip, or any of the other travel photography workshops I offer around the world, be sure to sign up for the newsletter below.
What's Next?
As much as I'd love this photography blog to stay chronological, I'm just too far behind to be able to make that happen. So, expect a bit of randomness to come to this page over the next couple months. I still have posts coming from Nepal as well as Ecuador. I'm also about to start a trip here in the Southwest of the US. There should be some amazing things happening here. As for trips, the next one available is Morocco in March. Hopefully you can join us there.