I had the chance to get to one of the places on my list of new photo spots here in Arizona that I wanted to try out. I have a batch of photography locations that I haven't yet had the chance to photograph in the state, and I'm excited to be out here running around again. The one place that I had as a major priority on my list was Canyon de Chelly. So, naturally, it was my first stop.
I kind of wanted to turn this into a guide on photographing Canyon de Chelly. But, honestly, I only photographed on location along the canyon. That said, I think it was the best one. So, here's what I learned.

The Locations in Canyon de Chelly for Photography
The skinny on this location is pretty simple: there's a lot to photograph. The reality is, though, that most photographers – myself included – head straight for Spider Rock Overlook. This is the most impressive of the viewpoints I saw. And, despite the fact that I only photographed this spot, I did location scout out the other places in the canyon. At least those overlooking the canyon. I didn't go in.
That said, if this is your first time to the canyon. Or you have limited time in Arizona, Spider Rock Overlook is where you should head.
Photos of Canyon de Chelly
In a recent video I talked about how I star my photos in Lightroom. I use 1 star for images I want to look at. I give a 2 star rating to images I want to edit. 3 star images are photos I think are worthy of sharing. And, finally, 4 and 5 stars are reserved for portfolio worth images.
Normally, I'd hope for at least one 3-star image from an over-night trip like this. I wouldn't expect a 4-star. I walked away with 5 3-star images. It was definitely a successful trip.
The Details
One of the big reasons I headed up to Northern Arizona is because I was testing out the Canon RF 70-200mm f/2.8 lens. On our sunset shoot up at the canyon, I stuck mostly to the telephoto lens for the review. It led to some images that were slightly different than I normally take.
This image below, for example, is a shot I never would have imagined taking. But, I'm pretty happy with the result. It's a detailed image, but is sort of abstract as well. I think it tells a story, even if it's a simple image.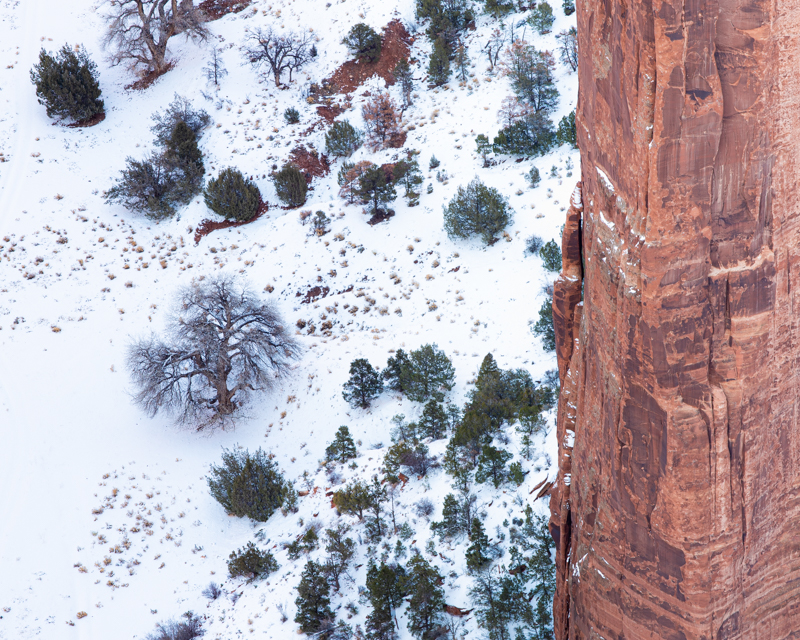 A Tree and Some Light
I felt like I was hunting for photos a bit. And that might seem like I was struggling. But, generally speaking, when I'm "hunting" for images, it's a good thing. It means I'm working. It means I'm pushing my creativity. And it means I'm not settling for the easy photo.
In the end, I think it led to my favourite photo from the trip.
It was almost silly. I was stood at this epic canyon looking out at the view searching for images and what I ended up finding was a tree within the overlook catching some beautiful back light. With the 70-200mm I had a bit too much lens, but it meant that I captured a nice detailed image – totally different to the usual photos of Canyon de Chelly.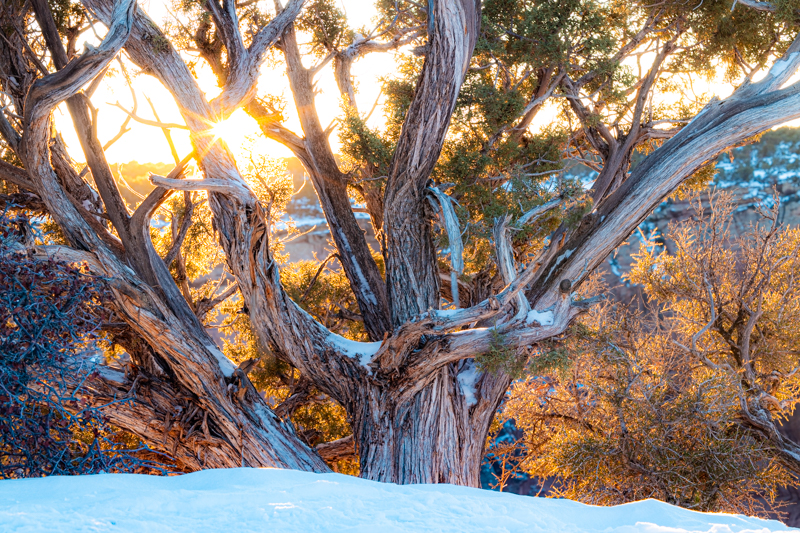 The Hero Shot
I was trying to only use the 70-200mm for the sunset shoot. But, when the light happens, you kind of just get swept away. And sometimes these Arizona skies can sweep you away. I switch on my Canon 15-35mm lens as the sky started to catch some pinks and purples. But, I didn't really get the hero shot I was looking for. I kind of just lazily walked up to the canyon edge and took an image.
Luckily, the light was so good it saved it.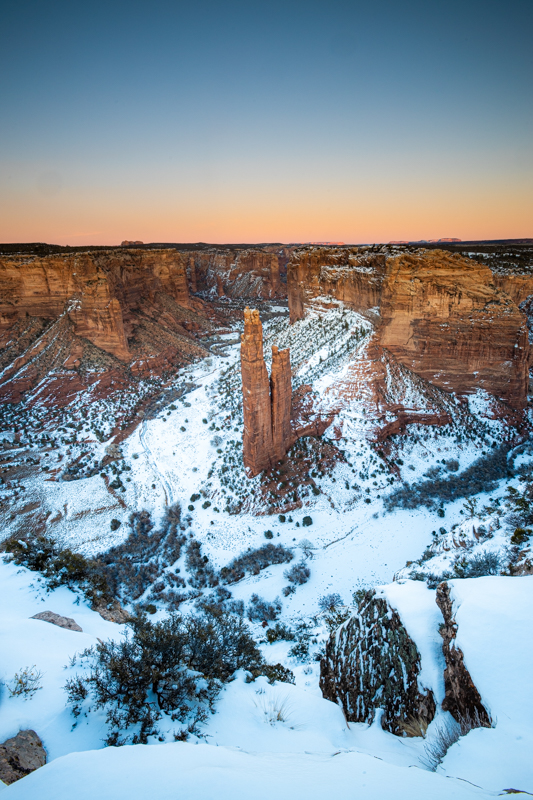 Astro
One of the things about Arizona is that even when you don't get light at sunset, there's almost always an astro photo to be made. The stars are almost always out here, and even though the milky way doesn't show its core this time of year, you can still make some pretty night sky images.
I tried to get clever for this photo. We had about a half moon. So, I wanted to wait about 2 hours before the moon set to capture a star photo of Canyon de Chelly. I needed the moon to light up the landscape. Unfortunately, I think I waited about an hour too late and there was a big shadow cast right on the spire of Spider Rock.
Still, it's not horrible.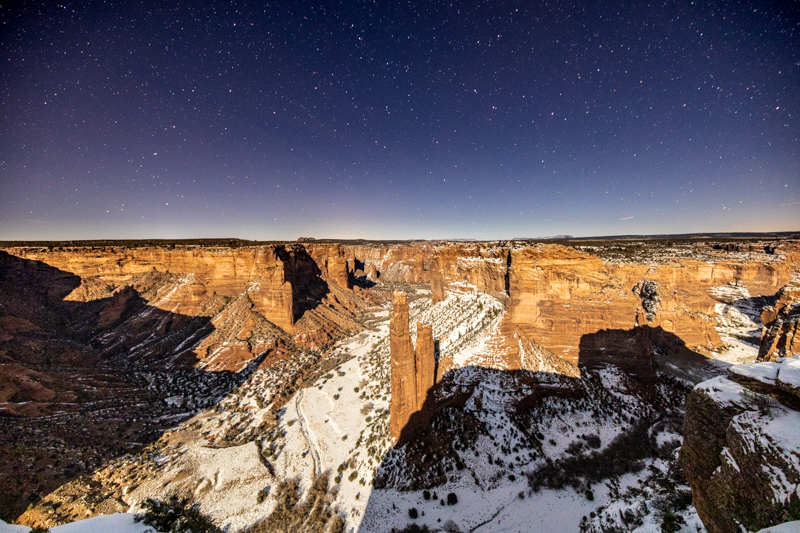 A Nice Composition
After car camping in the -10 degree weather, we got up for sunrise. I wanted a better hero image than I managed to find the night before. Luckily, as we walked towards the canyon lookout I stumbled across the perfect spot.
So many times with landscape photography the composition is all about the foreground. I was pretty happy to find this one. There was a break in the canyon wall that formed a bit of a V and framed Spider Rock. I'm extremely happy with the composition, and the light was great as well.
I'm not so sure about the colour, though. The sky went so pink that the reflective light looks a bit over-the-top.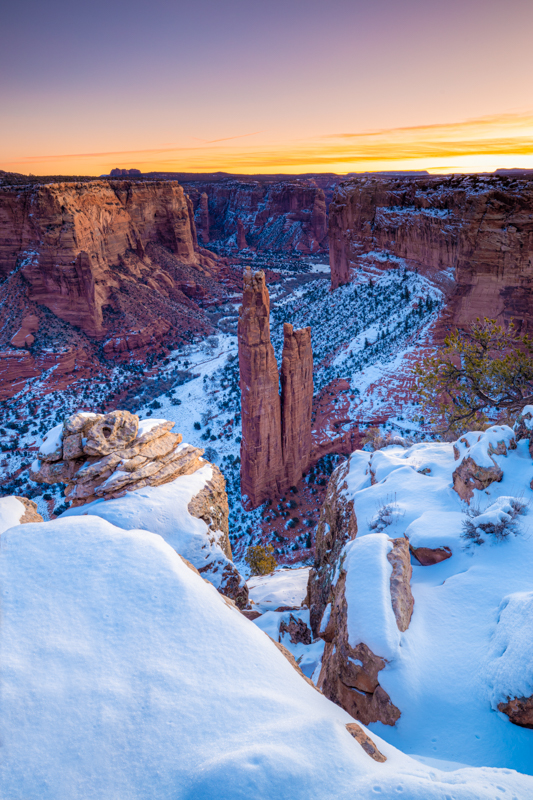 A Failure.
Not all photos work out.
We had this thought that if the sun came directly through the canyon it might create a bit of a sundial affect with Spider Rock. Sadly, the sun just doesn't get up fast enough this time of year and it just didn't work. We waited in the snow and cold for nearly an hour before giving up.
That's how it goes sometimes.
Time of Year to Photograph Canyon de Chelly
Let me swing into guide mode here. Canyon de Chelly is likely amazing any time of year. However, I'd say there are 2 times of year in particular you should consider coming this way: monsoon season, and winter.
Monsoon season in Arizona runs from June through September with August being the most intense month. When the monsoon is on, it can be a bit of a challenge to photograph things, but if you fight through it you can also get some special images. Capturing a thundershower or epic sunset light here at the canyon would be incredible.
In the winter, if you can time a snow storm, it's beautiful here. Come the day after the weather clears and you'll be left with a beautiful dusting of white all over the canyon. The white snow looks stunning against the red rocks. Prime snow season here is December through February. But, even during the winter, the snow doesn't stick around for long.
How to Get to Canyon de Chelly
If you're unfamiliar with doing landscape photography in Arizona, know that you'll need a car. There's no other way to get to places like this. The distances from nearby big cities is serious. And, even from the nearby town of Chinle you're going to have a hard time photographing Canyon de Chelly without your own wheels.
From Phoenix, the canyon is about 5 hours away. It's also about the same distance from Albuquerque. Canyon de Chelly is about a 7 hour drive from Las Vegas, and 9 hours from both Salt Lake City and Denver.
P.S. if you're looking for a rental car to get around in Arizona this site has the best deals, easy.
What Camera Gear do you Need?
I have a hard time recommending camera gear because I think everyone has totally different needs and goals. So instead I'll let you know what I used on my trip up to the canyon. And, if you're curious what else is in my camera bag, visit this page.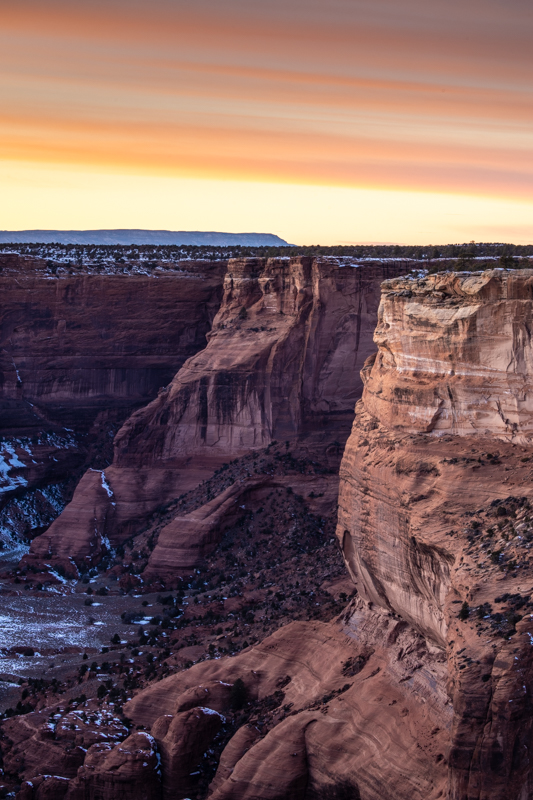 Canon R Body.
Canon 70-200mm f/2.8: For details.
Canon 15-35mm f/2.8: For hero shots and astro photography.
NiSi 4-stop medium grad ND filter.
NiSi 3-stop reverse grad ND filter.
3 Legged Thing Albert Tripod.
Shimoda Action X Camera Backpack.
Where to Stay in Canyon de Chelly
The town of Chinle is just 30 minutes from Spider Rock Overlook (16 miles) and there is good accommodation there.
I'd recommend this hotel.
Close to the overlook, you'll also find Spider Rock Campground which is about 5 miles up the road.
More from Arizona
I'm excited to be back here in Arizona. There are just so many photography locations here. I'm off on a workshop around the state and there will be a bunch of new locations coming up. I'll be heading to Alstrom Point, White Pocket, and back to Sedona. It should be a lot of fun.
Let's Stay in Touch
If you're interested in joining me on a photography tour or workshop out in the world at some point, be sure to sign up below to my newsletter. I'm basically booked up all of 2020, but there are still some spaces left for trips to Iceland and Georgia.
The 2021 trips are going to be announced fairly soon. Sign up below for the quickest info.