Ok, Ok, I get it. Georgia is epic.
How are there not more photographers here?  We're barely scratching the surface of this country and already finding endless photos.  Seriously, I don't understand why the photography world isn't flocking here like they do Patagonia, the Alps, and the Rockies!? It's just a never-ending feast for the camera's lens.
And, yes, I am definitely going to be leading a photography adventure trip here at some point – likely 2020.  But, I'll talk about that in a couple months once it all kind of sinks in.
For now, I kind of want to talk about this second big road trip we've now completed in Georgia.  It was – you guessed it – epic.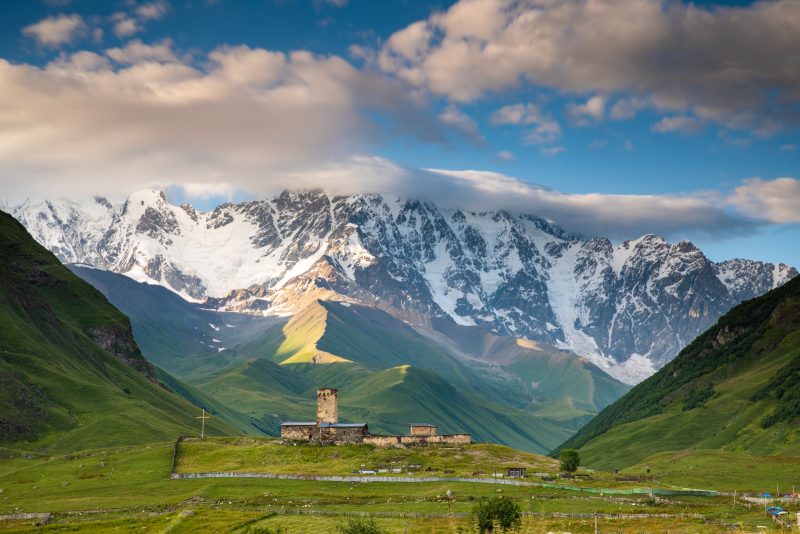 Day 1 – Kutaisi
Honestly, Kutaisi was meant to be just a town to sleep in and break up the journey from Tbilisi to Ushguli.  But, we arrived at about 6pm and decided to have a look around and see what it was all about.  The fact that a bunch of Georgian viewers of my photography vlog mentioned that it was worth seeing made me curious.  And in the end? Absolutely. Kutaisi is cool!  I think there's a lot of opportunity for street photography in the city. However, we kind of focused on trying to capture a cityscape and some of the architecture.
Check out the vlog below to see what we got up to.

And, this is probably my favourite image from the excursion.

Day 2 – Heading to Ushguli
Greg and I woke up totally unnecessarily before dawn to go photograph the church that sits above Kutaisi.  With a long drive ahead, it was probably a silly thing to do.  But, I have a hard time trying to resist a photo opportunity, so we headed up the hill for dawn.
And while the church was beautiful, the light didn't really work in our favour.
Behind the church, as you can see in the video below. The light was pretty bland.

But, I still managed to grab a couple images of the building that I'm happy with.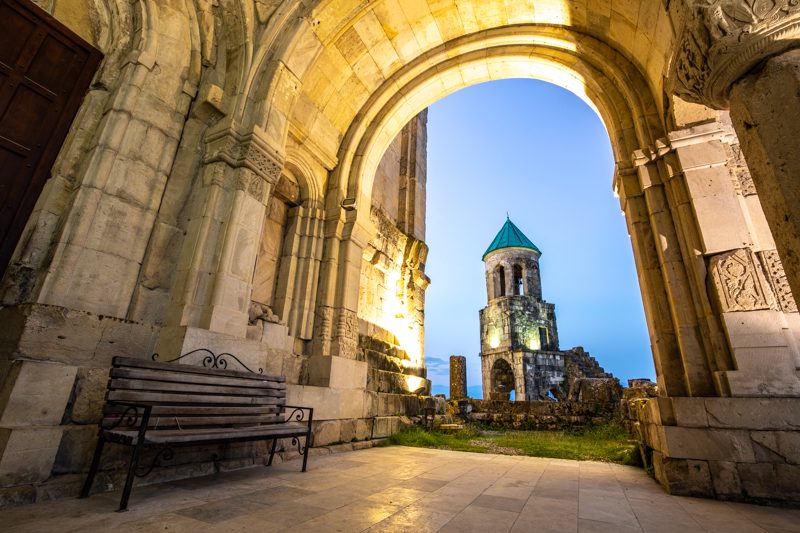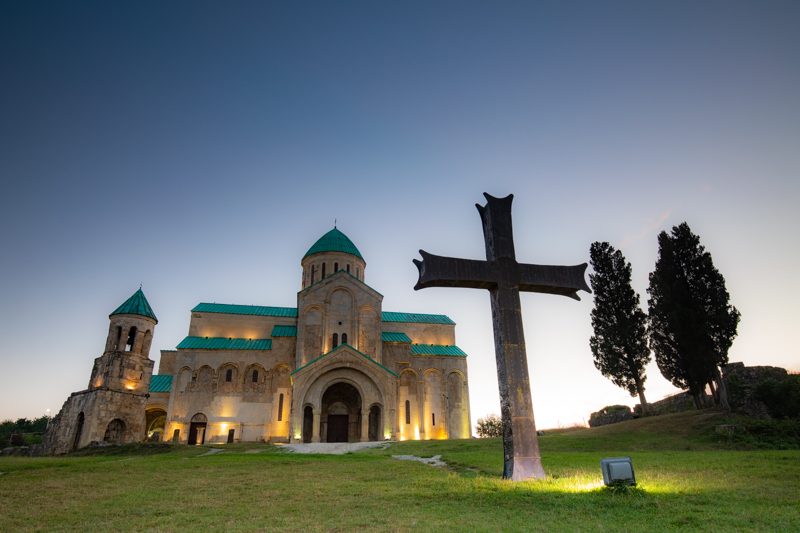 After shooting the church, I noticed that the sky over the river was exploding. So, I raced over to the walls that surround the church to try to get a vantage point.  In the end, I think I managed to come away with a couple interesting images.  So, the early wake up call really wasn't all that bad in the end.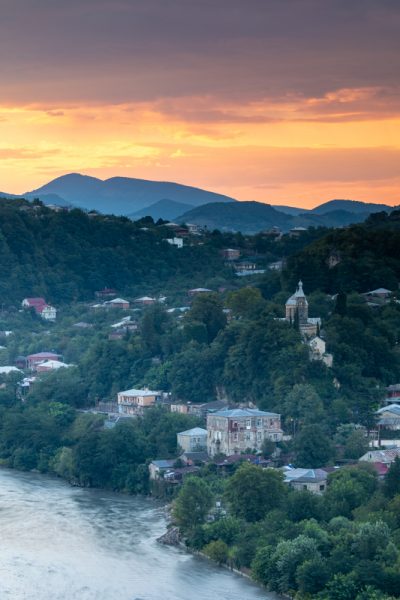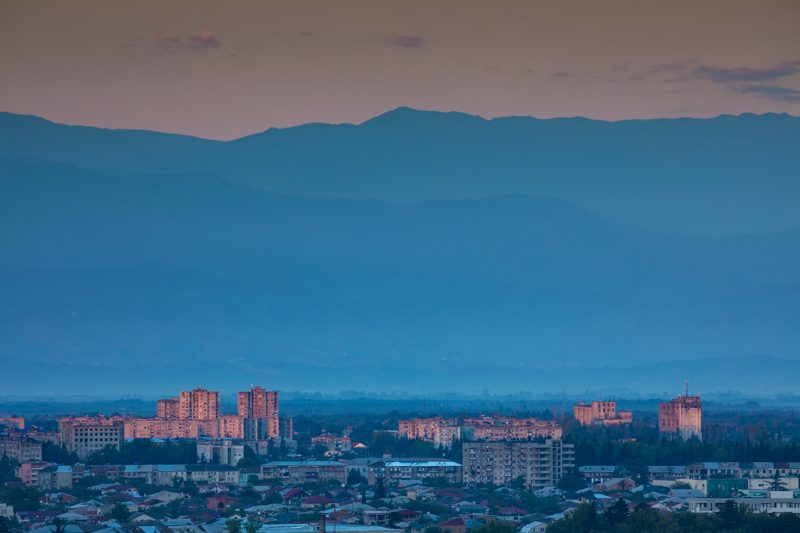 Leaving Kutaisi was interesting. The roads were busy for a bit. Then, slowly they thinned out to nearly nothing.  It really felt like we were driving to the end of the earth.  It was a decent, albeit narrow, highway that brought us to the town of Mestia.  From there, it was the famous road to Ushguli.
It was funny.  The first 10 miles or so the road was good, and it looked like a lot of construction was being done.  Then, Nellie (Greg's girlfriend) made the mistake of saying "this road's not so bad!".  Then, almost instantly, the road crumbled to a path.  We bumped through it for a while, and right when we thought the worst of it was done, we hit a gorge where the road was so narrow that two vehicles often couldn't fit at once.  There were a couple times our tires were mere inches from the edge of a 100m deep canyon. It was sketchy, a little unnerving, exciting, and beautiful all at once.
We made it.
And, when we did, we were on a high.
However, when we got to our guesthouse, they told us that they didn't have a room for us.  But, we did book it on booking.com a week earlier, so we were confused.  She tried to explain that their friends had another guesthouse, and that she'd take us there. But, we weren't having any of it, and eventually found out that she gave our rooms away to a group that had arrived earlier without a reservation.  After a bit of a friendly argument about it, she moved some people around, and we eventually had beds with a killer view of Ushguli.

In town, there was one particular view I couldn't stop seeing. And, I wanted to photograph it so badly.  Out to the east are these massive peaks that actually form the Russia-Georgian border.  They are unreal.  And, stood in front of them is this incredible ancient church.
We kind of just enjoyed the view, the moment, and snapped off occasional photos when the mood felt right.  But, it was just this incredible place that was all kinds of special.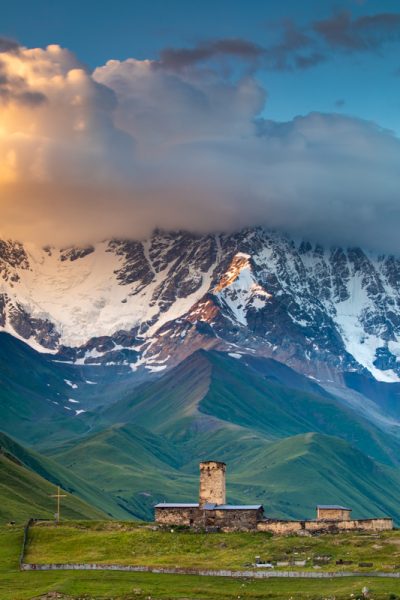 Day 3 – To The Coast
I don't think any of us slept.
A thunderstorm just hammered Ushguli that night.  And the tin roofs of the houses really pick up the sound of the crashing rain.  Thunder smashed through almost all night, the occasional lightning bolt lit up the room, and as much as I love a good storm it was almost demoralizing since we had this big sunrise photo shoot planned in the morning.
I got a text from Greg at about 4:45am saying "Are you hearing this weather? I guess no shoot?"
To which I replied, basically, "of course we're going out, man! This is what we do!".
And, I'm so glad we did.
The rain had stopped and though it was really cloudy, there was this amazing mood to the morning. It felt dramatic and dark. It felt intense.  And, I wanted to try to capture that intensity in my images.  I wanted to focus on grabbing some dark, punchy, and moody images of this incredible place.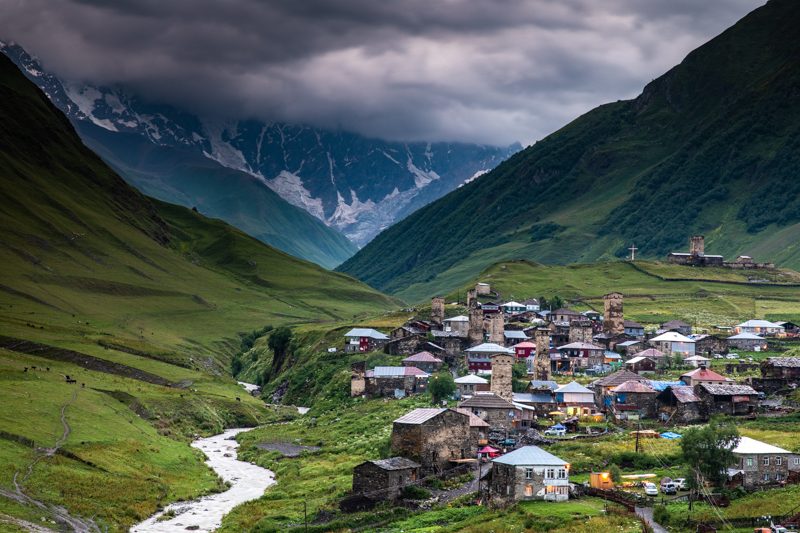 It actually worked out.  We kind of got happy light at sunset the night before, and then angry light in the morning.  I mean, there's not really much more a photographer could ask for.  It was like shooting a totally different location in the morning.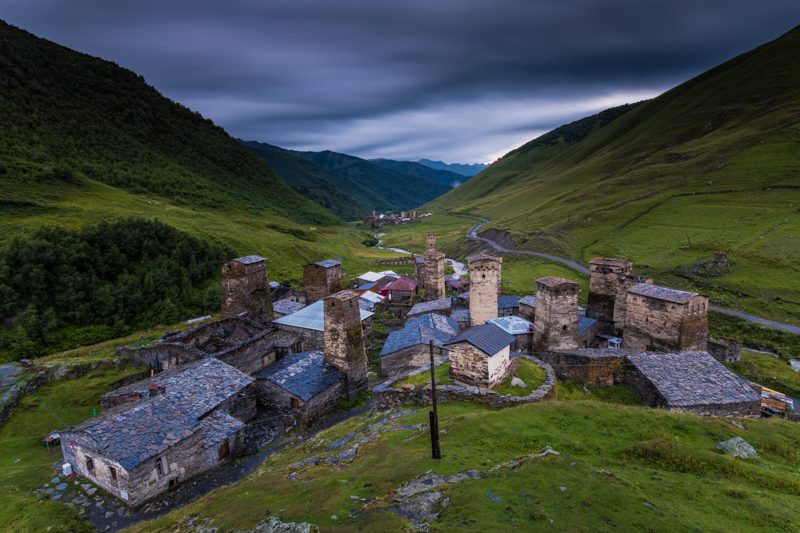 After grabbing some images, we fueled up with some breakfast, picked up the girls at the guesthouse, and hit that scary road back to Mestia.
From there, we had no plan.  We knew that we should probably push on towards Tbilisi, but the way to get from Ushguli to Tbilisi is so roundabout.  You basically have to loop the whole country.  And, so we decided that to kind of close the loop on our Georgia travel experience, we should see the Black Sea.  So, we headed to a little beach town just outside of Poti.
It was kind of the perfect way to end the trip, really.
We sat up on the balcony with some Georgian vodka. Had a couple drinks, shot some time lapse, and just enjoyed the view; and my first time at the Black Sea.

Will There be A Georgia Photo Trip?
Yes.
Well, at this point I'll say yes, but things do change.  I have just seen endless photo opportunities on this trip that I haven't even really hit on here that a trip almost seems necessary.  That said, the politics in this region do change quite quickly.  So, I'll say yes unless the political situation changes.
Right now, it's penciled in my schedule for July of 2020.   Likely, an announcement will come early 2019.
If you want advanced notice on the photography trips, be sure to sign up below.
What's Next?
Of course, you can head over to my photography vlog to see the latest.  But, the things coming up are quite exciting.  We'll be back in Tbilisi for a couple days and then heading to Crete, Greece!  I'm so excited for the Greek Islands, I can't even put it into words.
I'll be running a photography clinic in Crete in September (that there's still some spots open for) and all-in-all it's going to be a lot of fun.
Have you been to The Greek Islands?  I'd love to hear your photography location recommendations below!