I keep promising that I'm going to get caught up, but then I never do. So, I'm going to stop promising, and just roll out these posts as they come.  I'm trying to get back to the much more stress-free version of myself I was a couple years ago.  I don't know when I became such a work-addict unable to step away from it.  But, I've been doing my best to do so more often lately.
I really have started to feel like work has gotten in the way of my personal life. I also feel like the focus on "me" in these blogs has made me way too self-indulgent.  I don't like that. So, it's time to start working on me again, for real.  Travel used to be such a great tool for personal growth. But, since I left Africa I don't think I've done much growth, and may have even regressed a bit. Hopefully, the realization of these things will start to put me back on the right path. But, it's going to take time to regain the humble, positive, and thoughtless person I believe still sits within my skin somewhere.
Anyways, 200 word intros are too long. Let's get into the travel.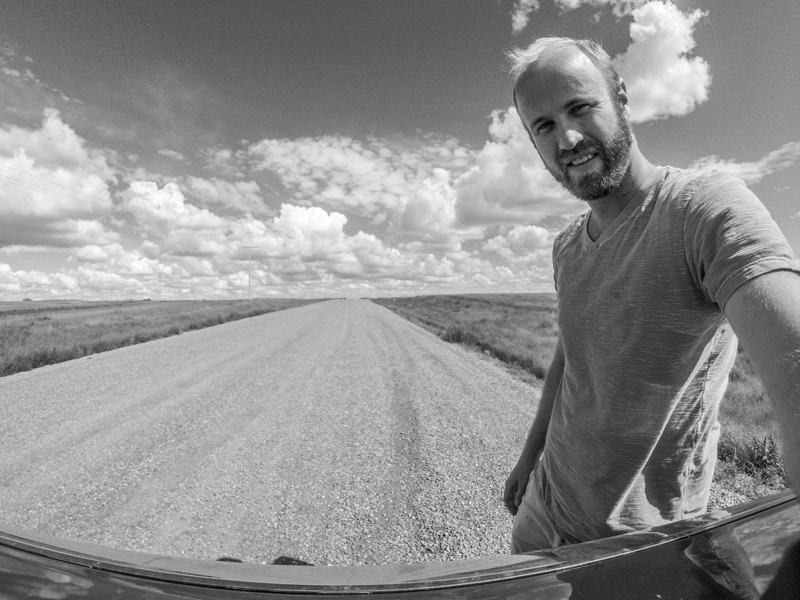 Coming Home
After our pretty incredible RV trip across Canada with GoRVing Canada, I got to show Erin (from The World Wanderer) a little bit of my home province.  I was so excited to be back. Being home has a way of grounding me.  I'm not sure if it's the mountains, the open spaces, or the presence of friends and families, but it always seems to bring me back to earth.  I don't think I'll even come back to Alberta to live, my lifestyle would make it too hard to be based there, but my heart will always be there.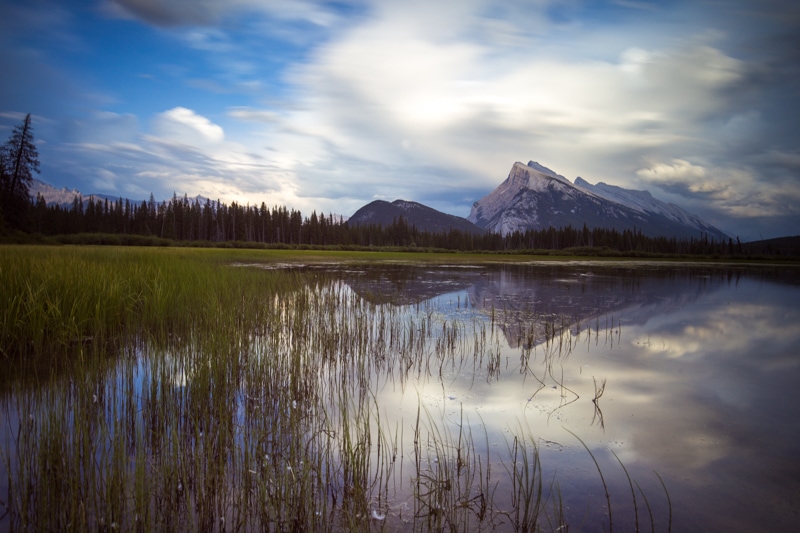 My Favourite Places on the Planet
Everyone is proud of where they're from, I think.  I meet people in some of the most below average places on the planet, and they all rave about their home as if it's the best place in the world.  So, I might be a bit biased to say it, but The Canadian Rockies really are home to my favourite places on the planet.
We only had a short amount of time to explore them, so I really had to pick and choose the highlights to show Erin.  Obviously, I would have loved to get her off the beaten path and to some of the true gems in the mountains that so few people get to, but with only a week we stuck to the more classic locations.  One day, we headed to Johnston Canyon, explored Banff, and shot some photos at Rundle Mountain. The following day, we headed to Emerald Lake, Lake Louise, Takkakaw Falls, and my favourite spot of all: Moraine Lake.
Here's some imagery from those days: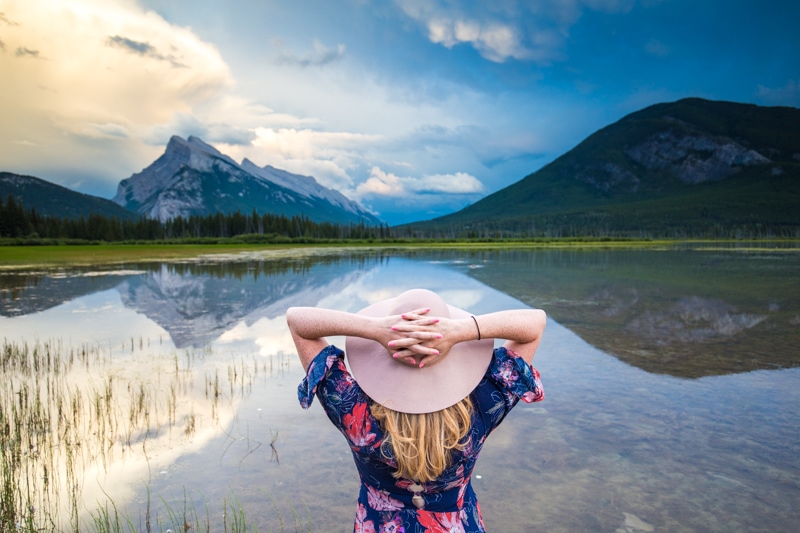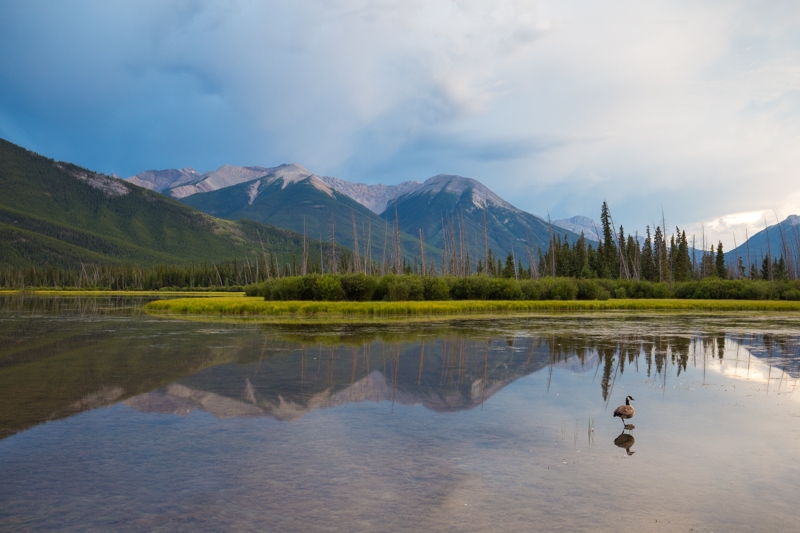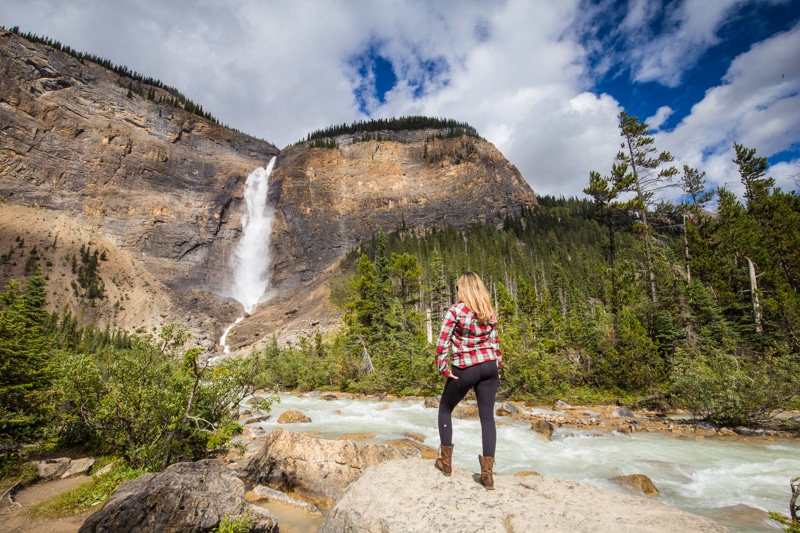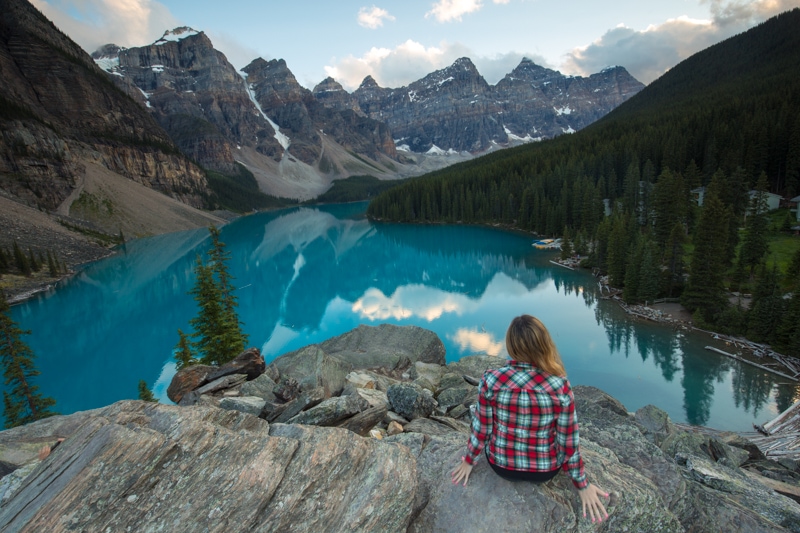 Up to Jasper
When I was in university, my summer job was driving a tour bus for a company called Brewster.  The highlight of that job was getting to drive the Icefields Parkway between Banff and Jasper a couple dozen times a summer.  The parkway really is one of the most beautiful drives in the world.  And, no matter how many times I've driven it before, it still leaves me awed.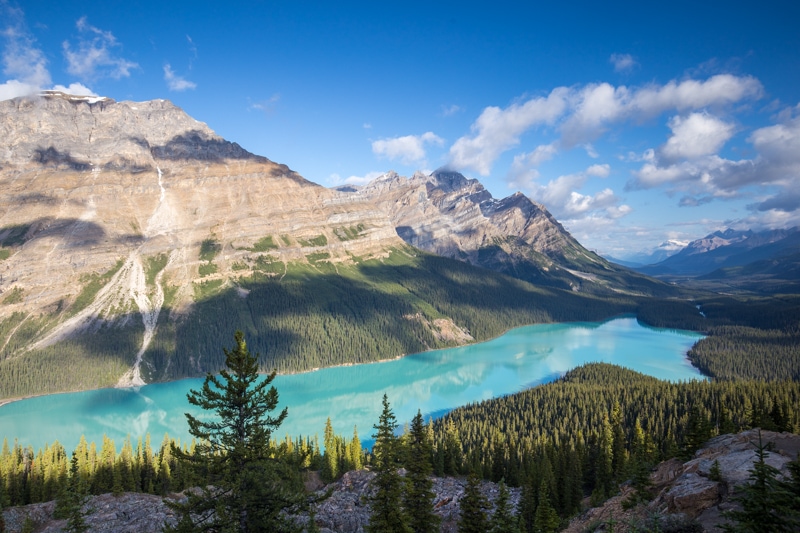 One of the perks of my old job, is that they still hook me up with some of the tours they offer in the parks.  One of those excursions is a trip on the snow coaches out onto Athabasca Glacier. I've done the trip a couple times before, but since Erin hadn't it made sense to do it again.  It was entertaining seeing Erin experience the trip. At one point, the snow coach drops down an extremely steep road – one of the steepest in the world, I believe – and her reactions were priceless.  Once we got on the ice itself, her nerves cooled a bit, and it was actually a lot of fun.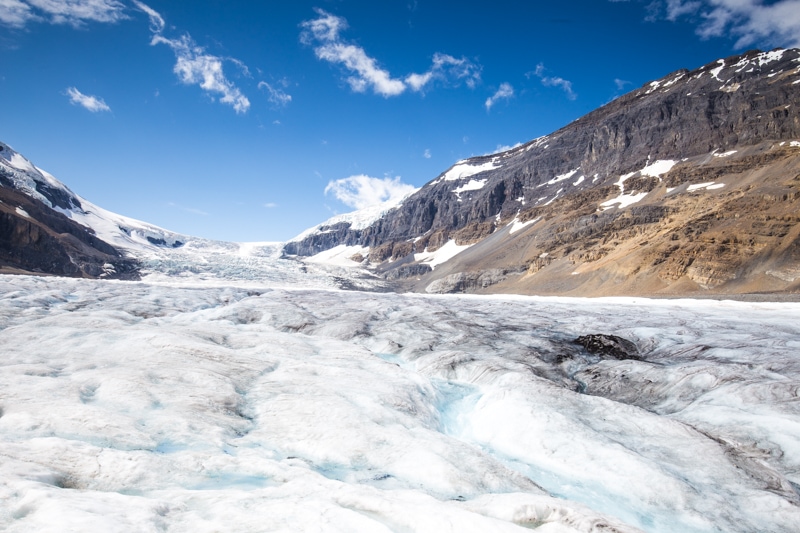 Near Athabasca Glacier, Brewster has another attraction that's fairly newly opened. It's so new that it wasn't open when I was working there, and hasn't been open any of the previous years I came back.  The Glacier Skywalk in Jasper is actually really cool.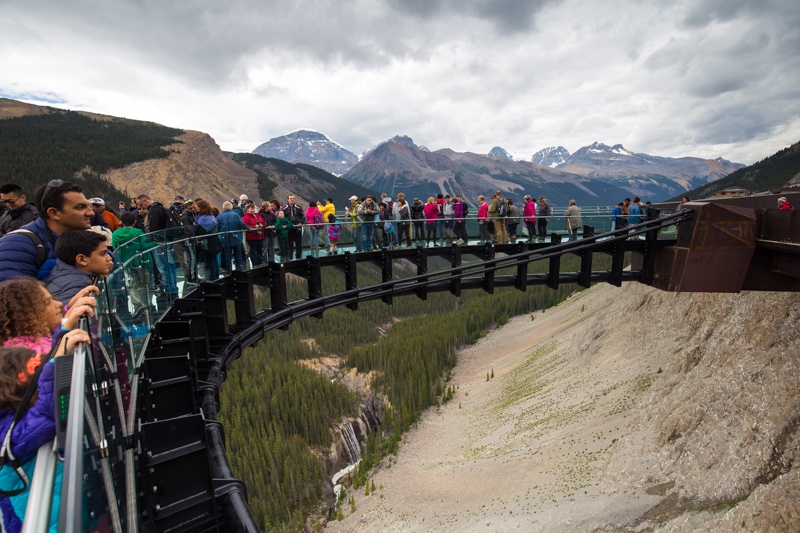 If I'm being honest, I was really skeptical about the Glacier Skywalk. I didn't think tourists would pay to go on it, for one, and I didn't expect to really enjoy it, either.  But, I was surprised by both.  The Skywalk was packed with tourists.  And, it was actually so much fun.  It offered perspectives of the valley that you wouldn't be able to see otherwise. And, it's kind of crazy looking down at the glass floor and seeing 900+ feet below you.
Erin was a trooper with this. She's not really scared of heights, I don't think, but doesn't really trust structures that are man-made and out of her control.  But, she rocked it.  She was actually probably much braver on it than I was.  She had a couple nervous steps at first, then was racing around getting photos, and striking yoga poses like she wasn't standing on a thin sheet of plexi-glass 900 feet from the valley floor.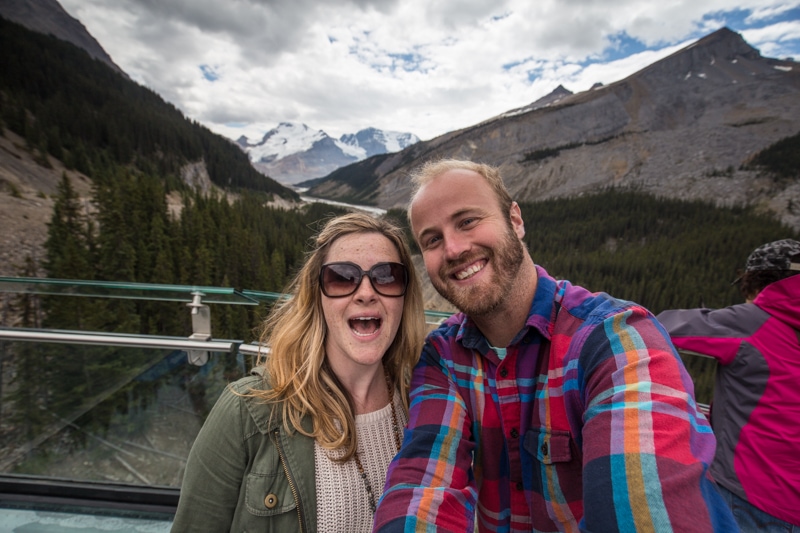 A Couple Nights in Jasper
Jasper is pretty busy in the Summer! Especially with tourism up so much this year. So, we were lucky to find a B&B on stayinjasper.com in town had space.  That day, we also went and checked out places like Maligne Canyon, Medicine Lake, and Sunwapta Falls.  
I know Banff might have more iconic highlights. But I think I'll always prefer Jasper a bit as it's a bit more real.
These are some of my favourite photos from the day.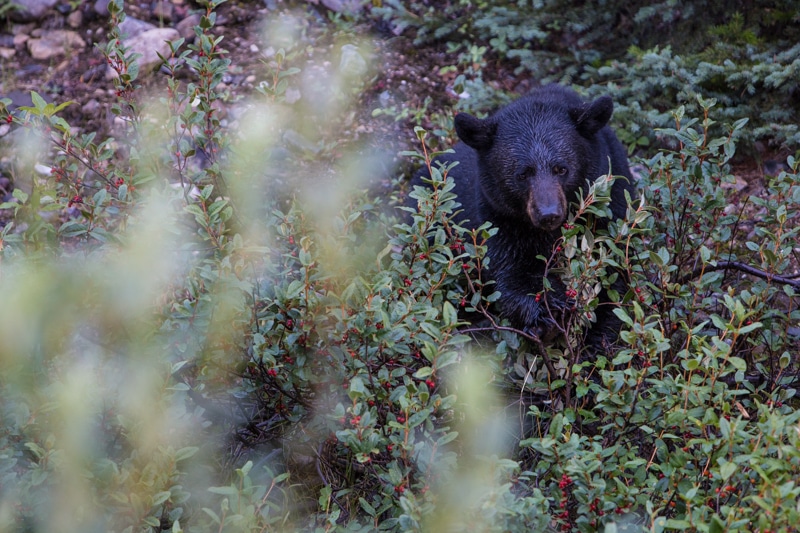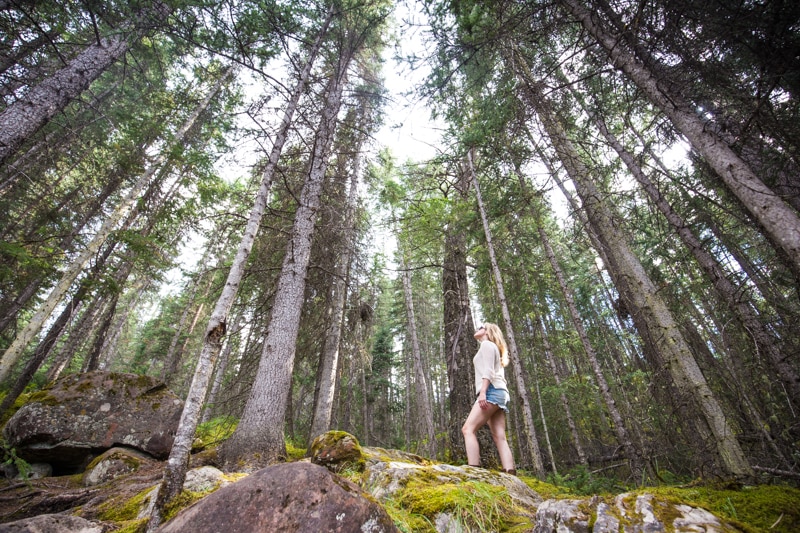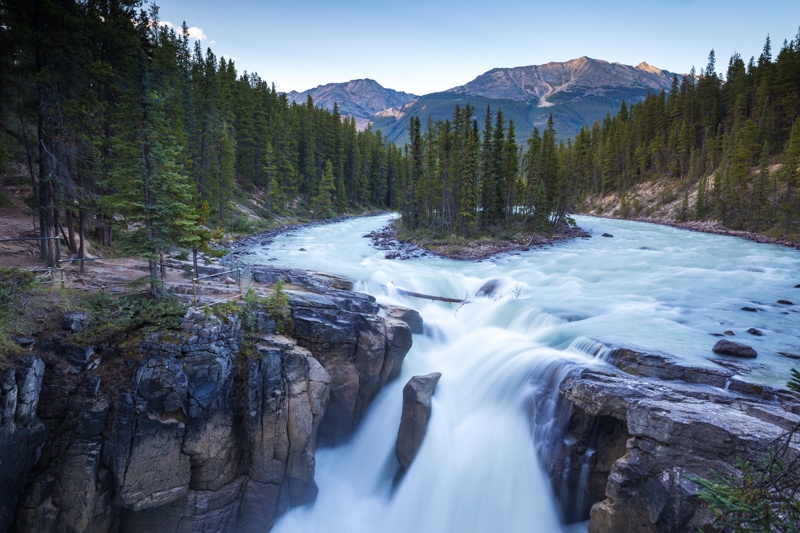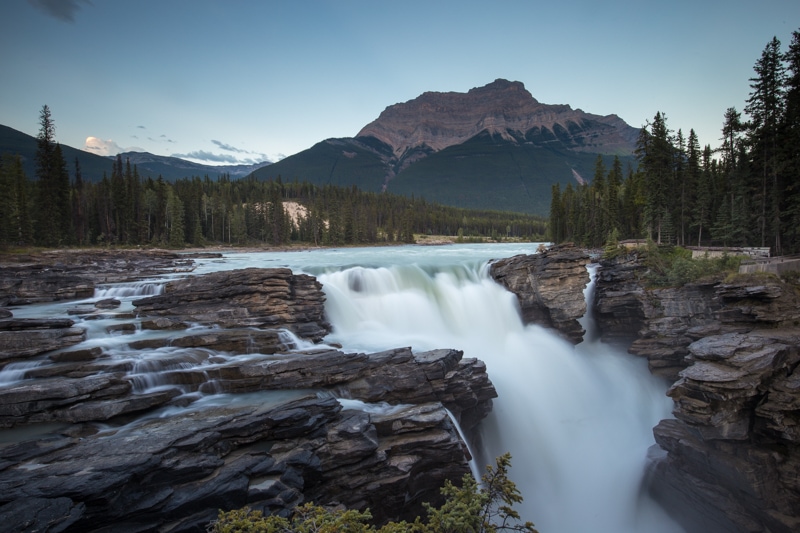 Goodbye, Erin
And, just like that, it was time for Erin to hit the road again herself.
We spent a couple days visiting my family, and then Erin caught a flight south to California to visit a friend before heading back east.
Be sure to follow along with Erin on social media to keep up with all the things she's up to.  You can find her on the following: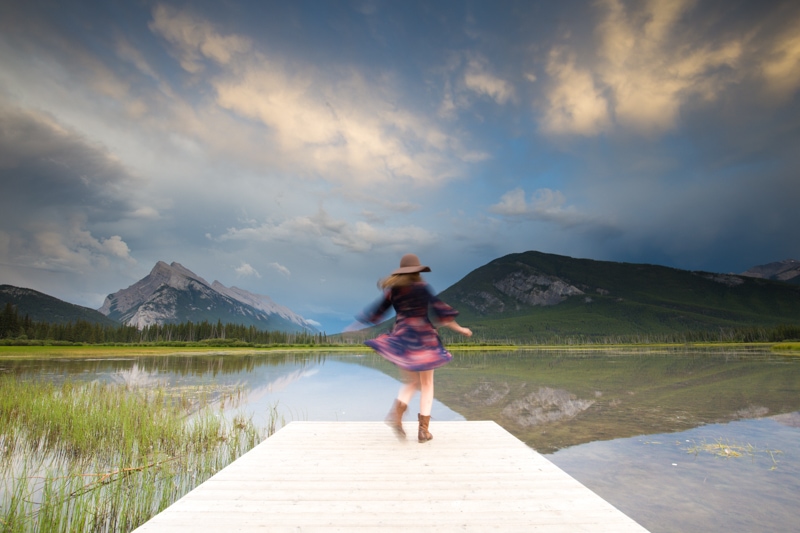 What's Next for Me?
If you've been following along on social media or my YouTube Channel, you'll know that I've been busy.  I'm going to get articles about all the stuff I've been up to online soon, too, I swear.  I was in Saskatchewan for a week on a photography project, and then I mashed out about a 3-week project with Travel Alberta and Google.  It's been wild, it's been challenging, and it's been extremely rewarding as well.
I think I've taken for granted a bit how amazing my life is recently. And, these past couple weeks have really brought me back to the appreciation I have for the luxury of living this lifestyle.  Right now, I'm not sure where life will lead me, but I'm grateful that it always seems to be this beautifully unpredictable adventure.