Alberta is home to some of the best photo locations in all of Canada. Actually, it might have some of the best photo locations on the entire planet.
That being said, most people think that all the best photo spots in Alberta are in the Rocky Mountains. However, there are plenty of really photogenic places in other parts of the province as well.
So, while this guide to the best photo locations in Alberta will definitely have its fill of classic landscape photography spots, there will be some new spots for those of you who want to get off the beaten path as well.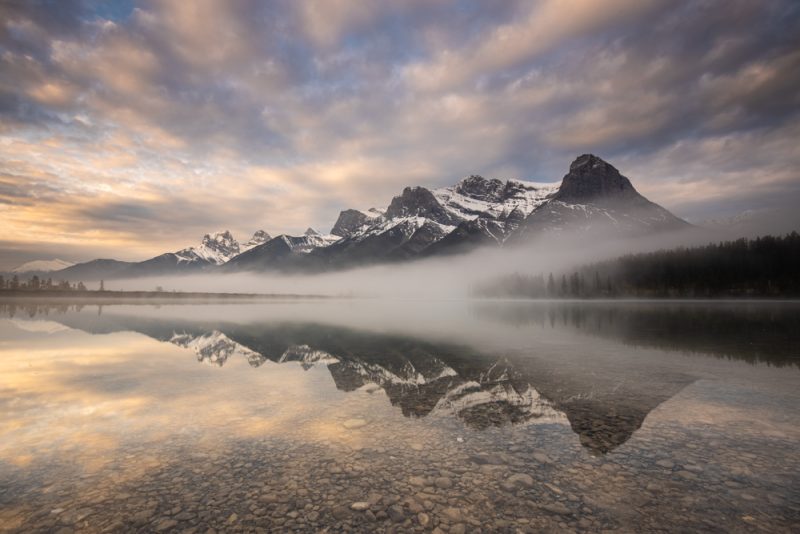 Banff
When I talk about Banff as a photo location, I'm talking about the area surrounding town and within it. Obviously Banff National Park is a massive place, and to call it one location would be ridiculous. In fact, many of the below locations on this list are from the national park that shares the name with the town of Banff.
In Banff itself there are about 3 really great photo locations. Over on the other side of the river there's an awesome view of the Banff Springs Hotel. To find this spot, look for Surprise Corner on Google maps.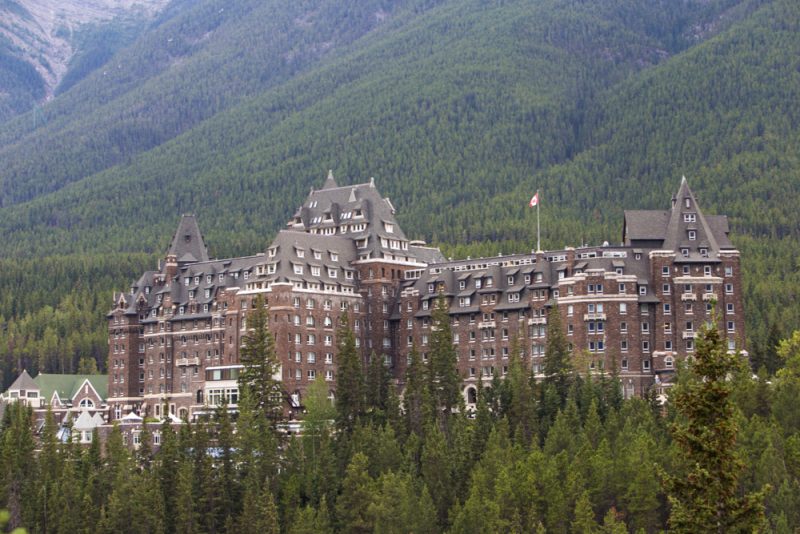 You also have Bow Falls right in town. It's not the most impressive waterfall in the world, but the views along the Bow River there are pretty special.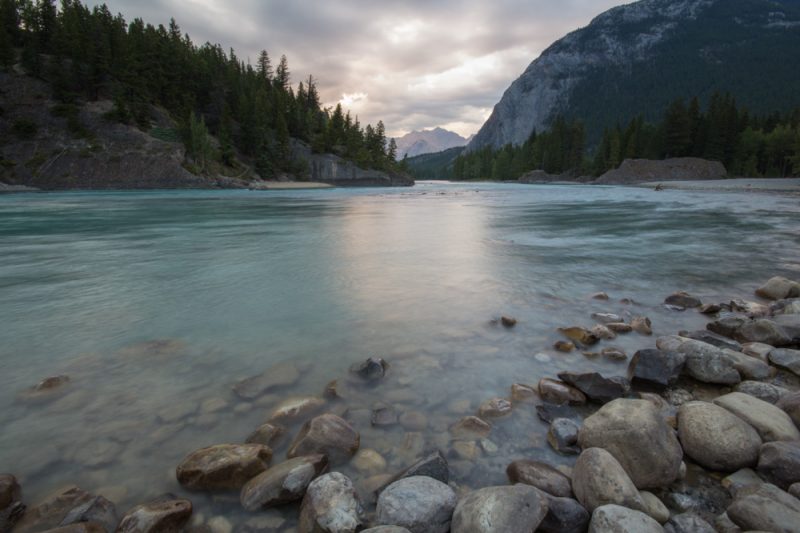 There's also a classic image of Cascade Mountain straight down Banff Avenue. This image is best done at sunset with light trails from cars.
Just outside of town you also have a place called Vermillion Lakes. This is an awesome place to photograph Mount Rundle. It's a really good sunset location as you often get evening alpenglow on the peaks.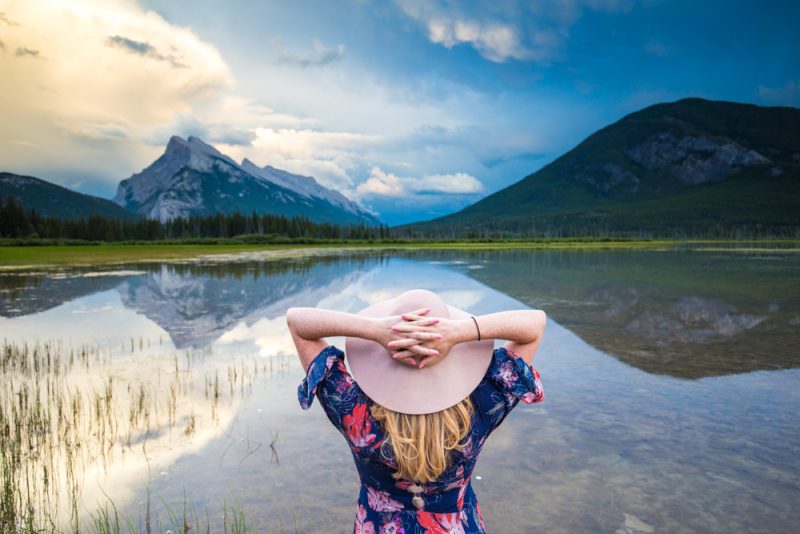 Lake Louise and Moraine Lake
I've put Lake Louise and Moraine Lake together because they are very close to each other.
Lake Louise itself is an awesome spot, and a bit of a Canadian classic. It works especially well at sunrise as the peaks and glacier often catch beautiful light.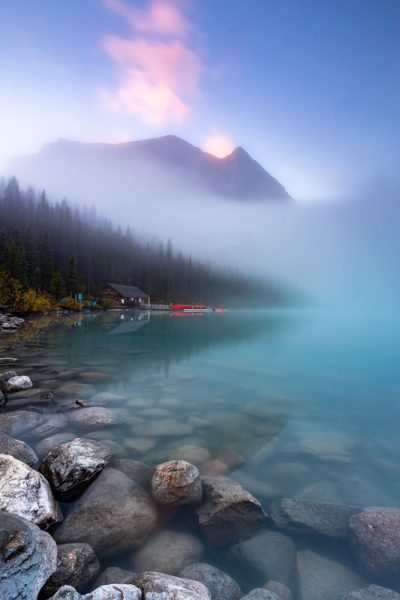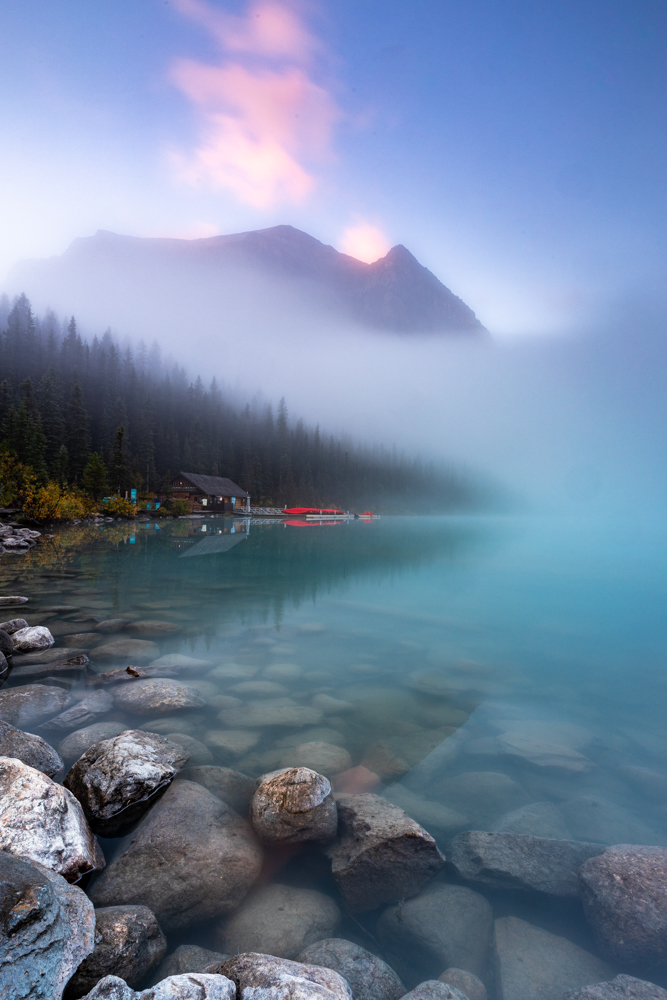 Moraine Lake is now closed to personal vehicles, but if you hire out a vehicle to take you in, you'll find one of the most spectacular places in all of Canada. Again, it's best at sunrise as the light tends to bathe the peaks.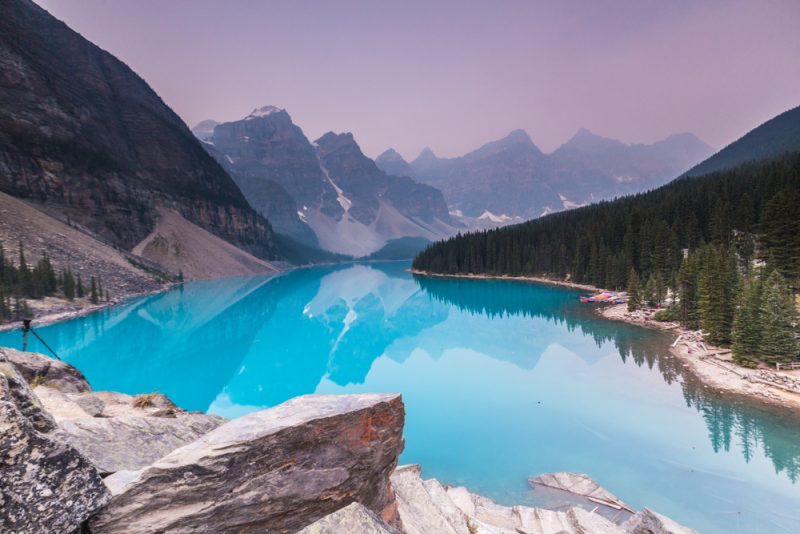 Morant's Curve is one of these places along the old highway near Lake Louise that so many people miss.
You'll be able to find this spot by searching for it on google maps. It's called Morant's Curve because there was a Canadian railways photographer who used to capture the trains passing around this bend. If you want to do the same, there's a train about every 30-40 minutes.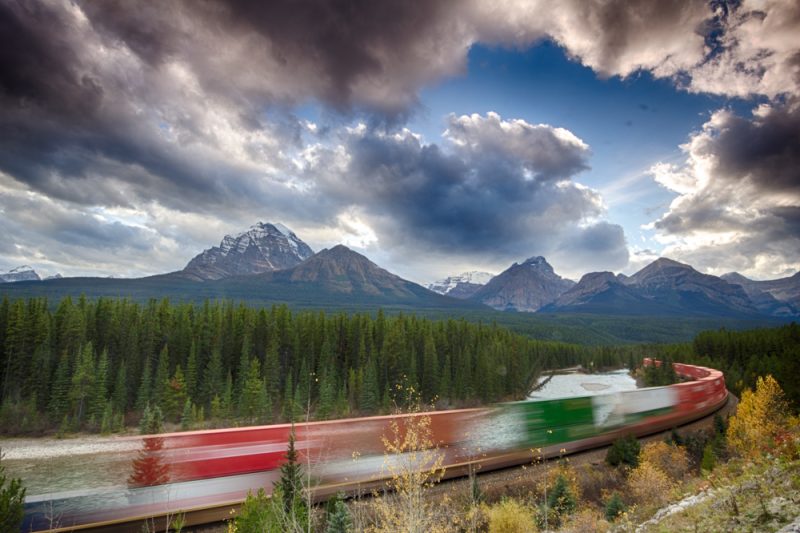 Canmore
I'm not going to get to into the photography locations around Canmore because I've done a full post about them which you can see here.
Briefly though, some of the locations around Canmore are among the best in Alberta.
Look for the reservoir, the Three Sisters Viewpoint, and Grassi Lakes.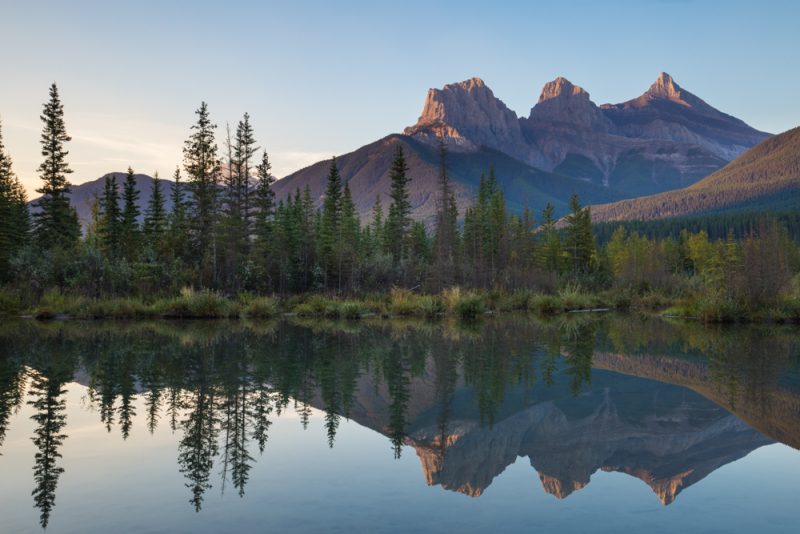 Waterton Lakes National Park
Waterton is one of my favourite national parks in Canada. It's a bit of an Alberta secret. Most Albertans spend time exploring Waterton, but they're also happy to keep the secret from foreign tourists.
The truth about Waterton is that it's a little bit far from international airports so it is just less noticeable – despite essentially being across the border of the US from the famous Glacier National Park.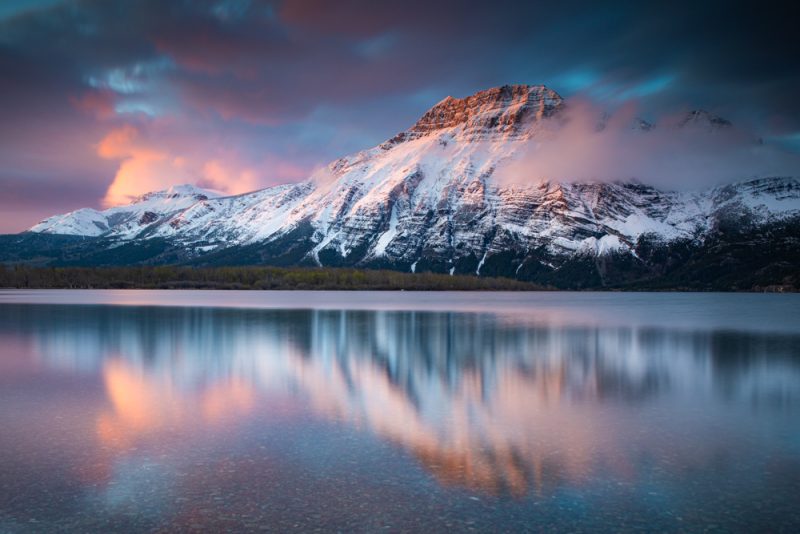 Not only does Waterton have some incredible landscape photography options down on the lake, but there is lots of wildlife here. In fact, I believe it's the highest concentration of bears in Alberta.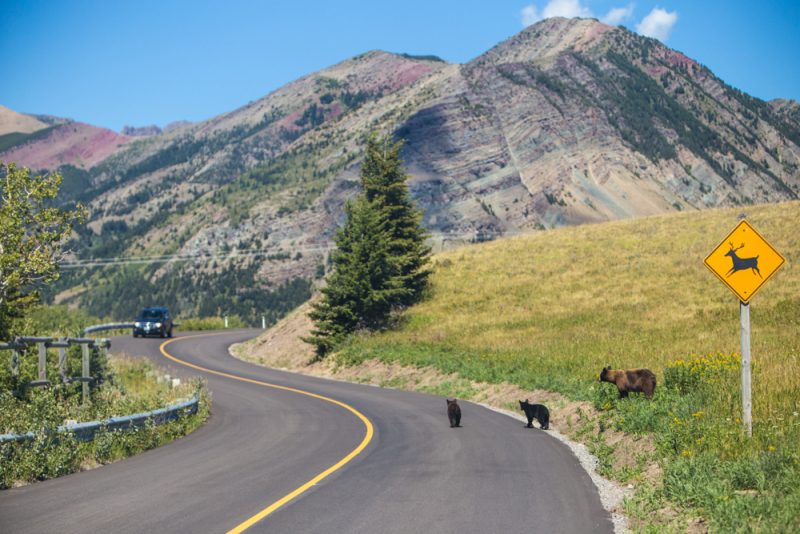 The Icefields Parkway
While places like Lake Louise and Moraine Lake have gotten wildly popular over the past 10 years or so, The Icefields Parkway is still relatively calm.
Photographers, however, have definitely found its various locations – and there's lots of them. But, even with the popularity of these photo locations on the Icefields Parkway, I rarely find other photographers when I'm out in this area.
One of the best locations along the parkway is Bow Lake. There are some cool images both of the lake and the historical lodge that sits on the edge of the lake.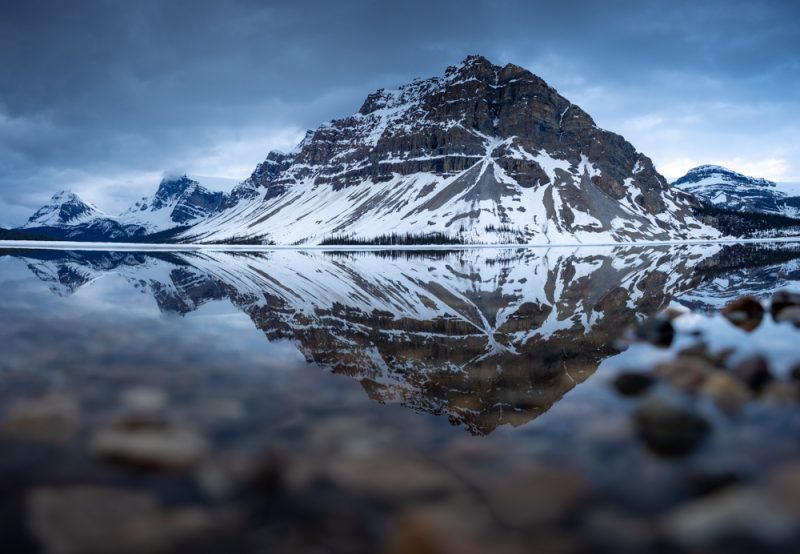 Just a little bit farther up the parkway you'll find Peyto Lake. This is one of the most popular photo locations in all of Alberta. You'll find the parking lot down below and then it's about a 10 minute walk up the hill to get to the view point. It works at both sunrise and sunset.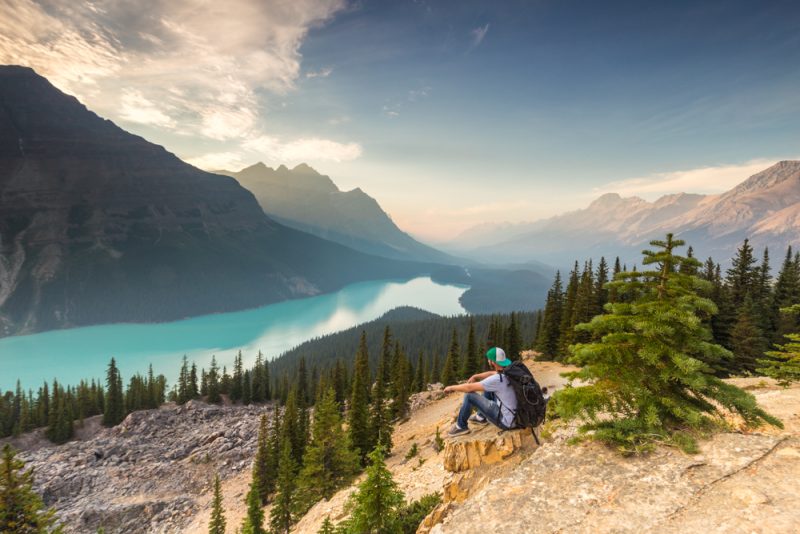 Once you get passed the Columbia Icefield, you'll find a waterfall on the side of the road called Tangle Falls. It might not look like much at first sight, but it makes for a really good photo.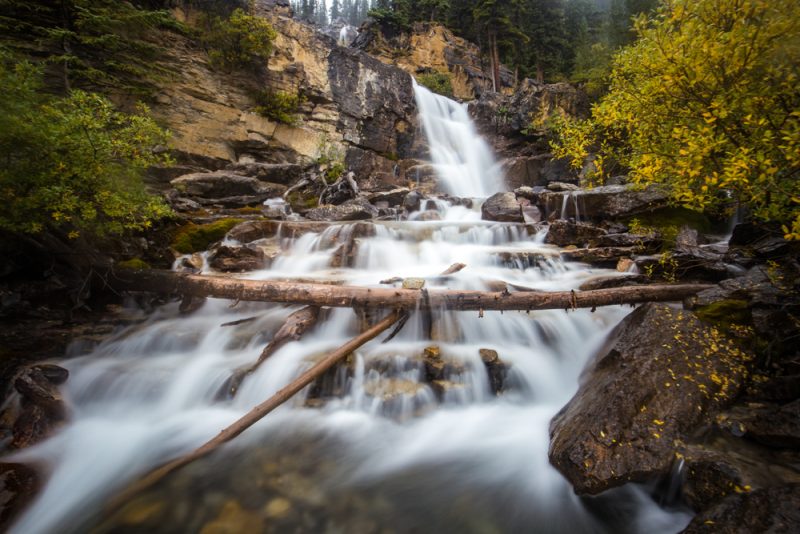 Dinosaur Provincial Park
I want to swerve away from some of the classic Alberta photography classics and show you Dinosaur Provincial Park.
For whatever reason, this is a relatively unknown tourist spot – even for Albertans.
I guess I shouldn't be so surprised. The nearest town to Dinosaur Provincial Park is Brooks, which isn't exactly a thriving metropolis either.
Inside the park, there are dinosaur fossil displays, and some really beautiful views of the badlands. It's a hidden gem.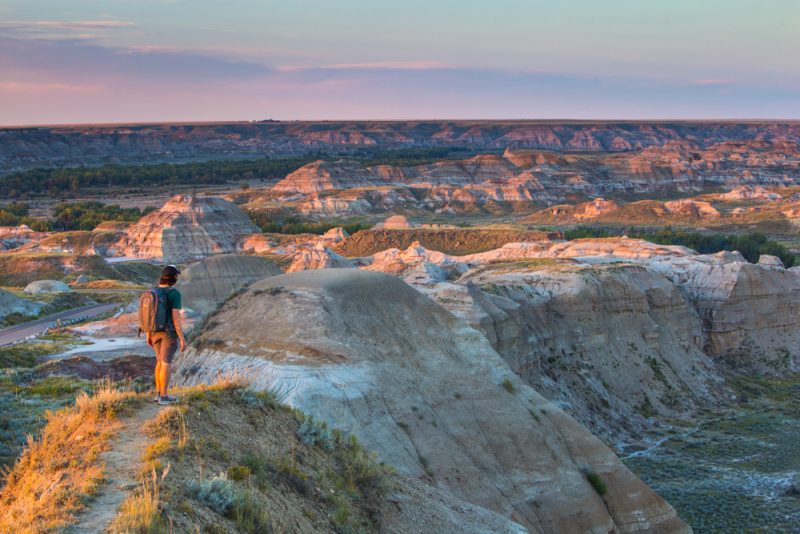 Jasper
While Jasper has definitely gotten busier over the years, it hasn't swollen like Banff has. It's still a very quiet destination, and it's also full of wildlife opportunities. There are elk, bighorn sheep, and bears all over this part of Alberta.
Near town, you have a lot of photo opportunities. Personally, I really love going up to Pyramid Lake. There's a little island and a boardwalk and it makes for a good photo.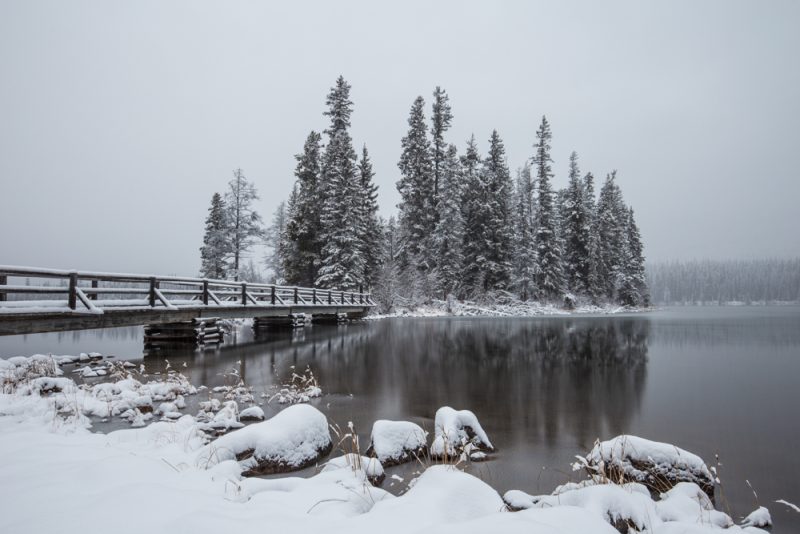 Just outside of town – about a 20 minute drive – you also have a place called Sunwapta Falls which is an absolute classic.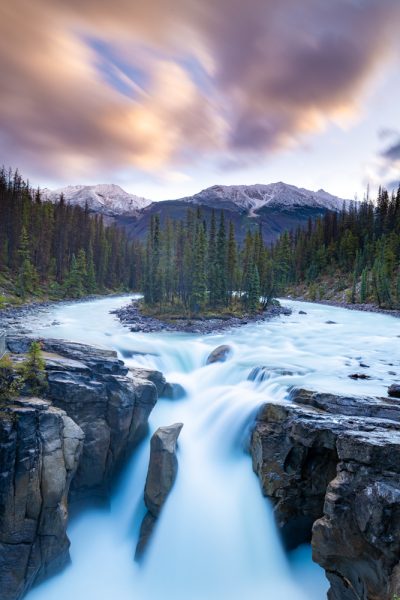 David Thompson Country
I'm very partial to David Thompson Country because this is where I grew up. There are so many really cool photo locations in this area, and very few photographers that come here.
Well, that is outside the swarms of people that head to Abraham Lake in the late winter to capture photos of the methane ice bubbles in the ice.
Personally, my favourite two locations in the area aren't Abraham Lake, but they are close by.
I love a place called Crescent Falls. It's a multi-tiered waterfall tucked down in a narrow valley. It's extremely photogenic any time of year.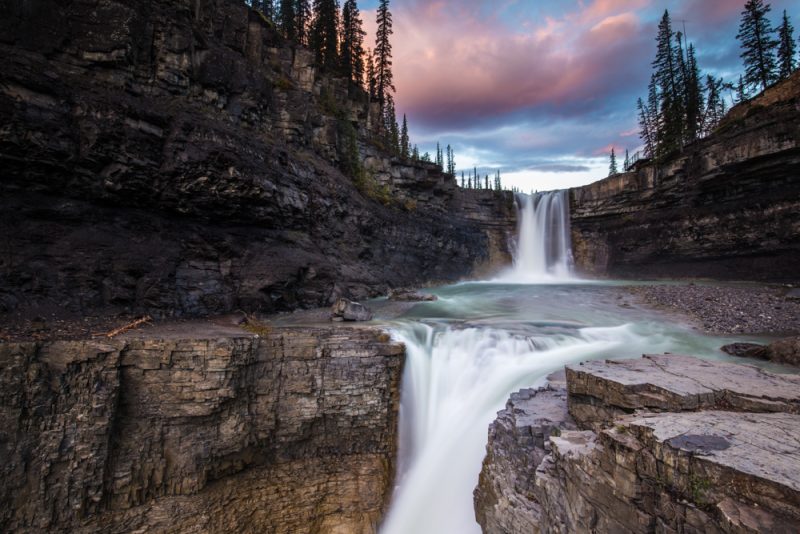 Another waterfall in the David Thompson area is Ram Falls. It's a much bigger waterfall, and it's epic. It can make for a really great photo as well.
Writing on Stone Provincial Park
If you're in the area of Dinosaur Provincial Park or Waterton, it's probably worth it to swing by Writing on Stone Provincial Park.
This area has a definite wild west feel to it – complete with the opportunity of seeing rattlesnakes. But, what makes it so special is the ability to explore through the hoodoos that are all over here. There's also a cool photo down the Milk River.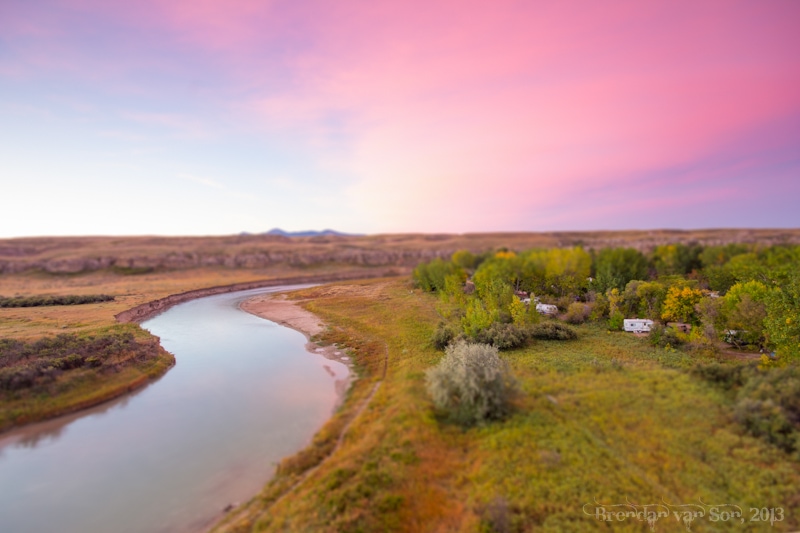 Cypress Hills Provincial Park
I was born and raised in Alberta. Yet, I didn't know Cypress Hills Provincial Park existed until I was hired to do a travel photography assignment there.
Over on the Saskatchewan border, it's actually a really beautiful place.
There are lots of lakes, walking trails, and a very high concentration of moose. If you're over in this part of the province, it's definitely worth a visit.
Crowsnest Pass
One of the most wonderful parts of Alberta and neighbouring BC is the south. Due to the lack of a major highway, this part of both provinces is greatly underappreciated.
On the Alberta side you have an area called Crowsnest Pass. In this area you have a couple really cool photo locations.
The first of those locations is Lundbreck Falls. These waterfalls are kind of hidden just off the highway and there are photos to be made both from up top and down below.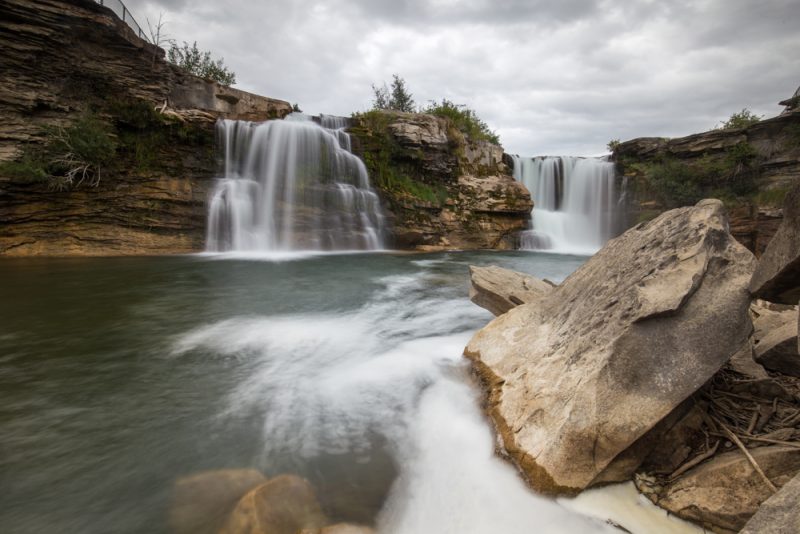 Closer to the border with British Columbia and near the town of Blairmore, you'll find more photos. Crowsnest Mountain itself makes for a pretty epic photo in the right conditions. You also have Island Lake which is easy to access and a good photography location too.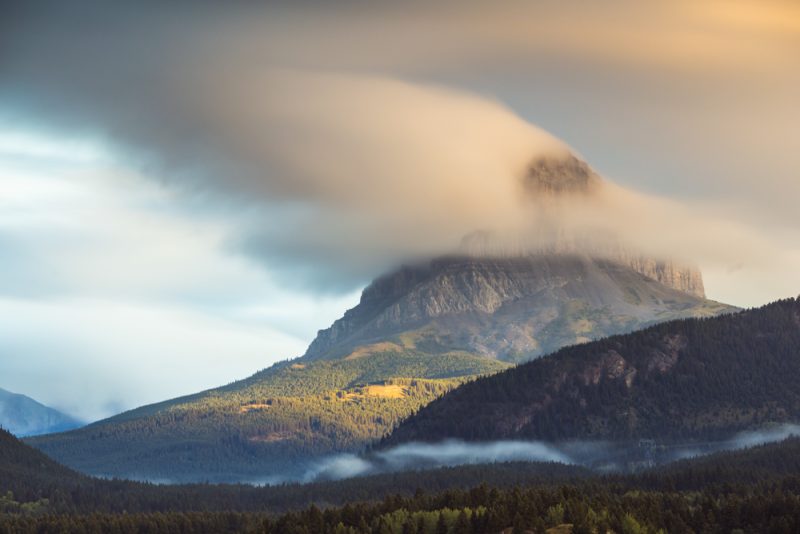 Kananaskis Country
Kananaskis, or K-Country as the locals call it, used to be a bit of a secret. However, over the years it has quickly turned into a hiking mecca in Alberta. And rightfully so. This part of Alberta is absolutely beautiful.
Lower Kananaskis Lake is the spot that most photographers flock to.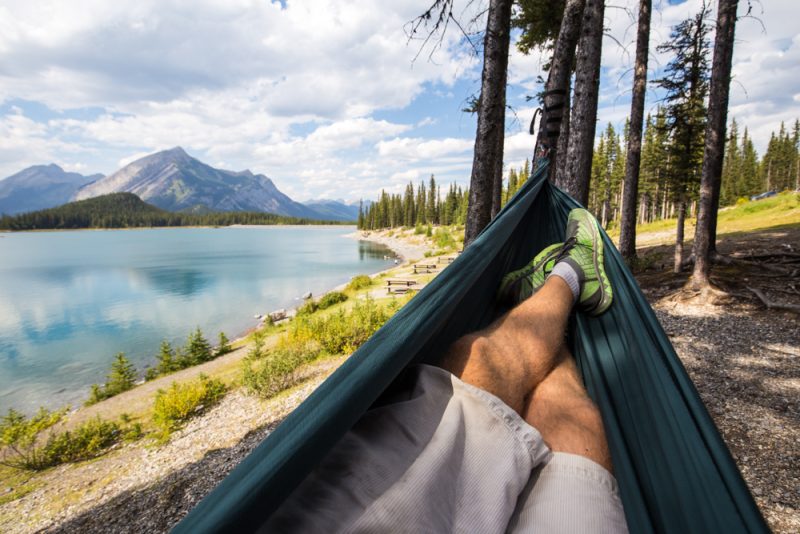 Closer to the lodge, you also have a small set of waterfalls that are just off the side of the highway. They make for some decent photographs.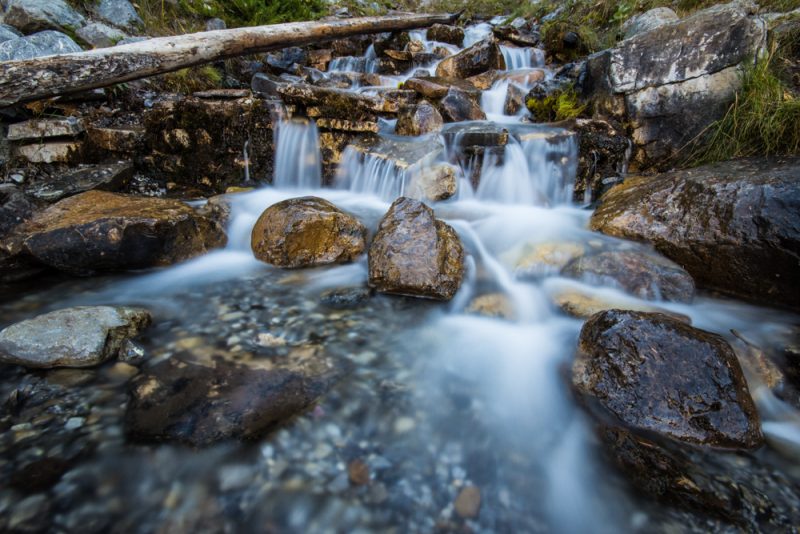 If you're looking for wildlife, K-Country is also a really good place to find moose and black bears. If you want to find moose – in particular – drive the highway 742.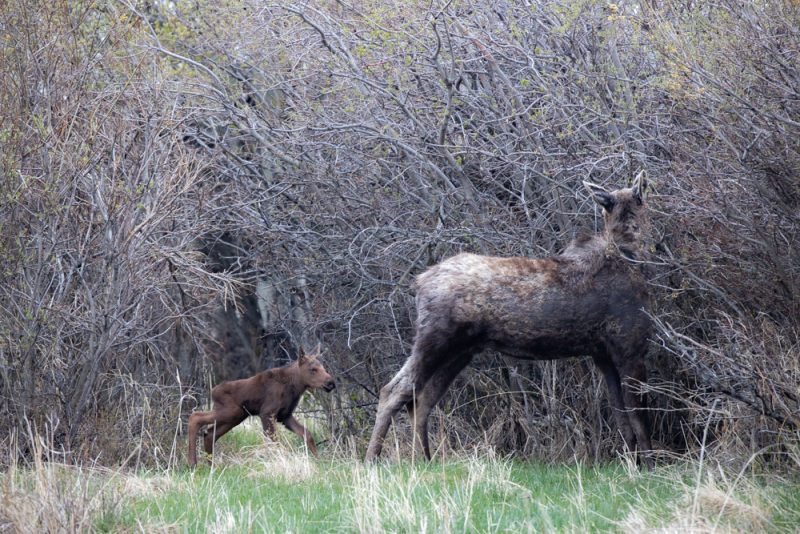 Elk Island National Park
This is definitely Alberta's least famous national park.
However, this is actually Canada's oldest wildlife preserve. And though it's relatively small, Elk Island packs a relatively large punch for photographers – especially if you're into wildlife.
As far as I know, Elk Island National Park is home to the largest wild ungulate (hooved) animal population in Canada. Here in the park you have elk, moose, and bison. I'm told there are also bears from time to time. There are also over 250 species of birds that come through here.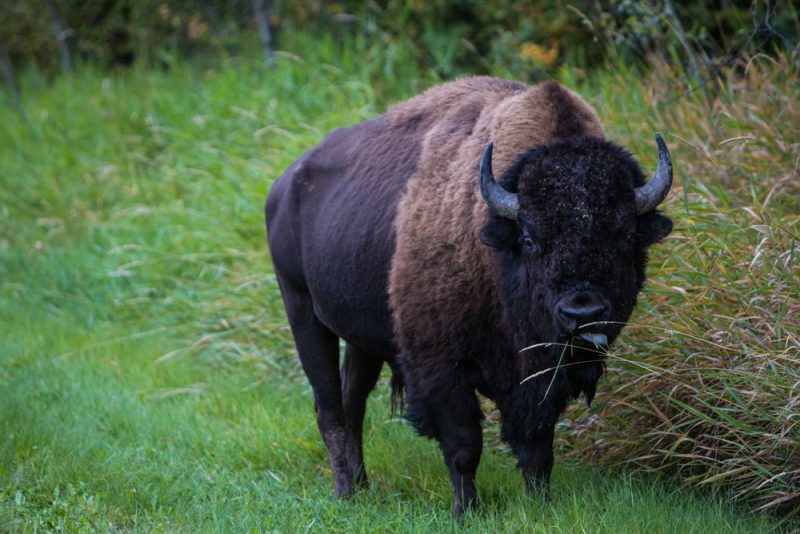 Planning a Photography Trip to Alberta?
Those are my favourite locations, I'm sure that others have so many more.
Now, I kind of want to guide you through some of the logistics involved in a photography trip to Alberta.
Camera Equipment
I think you probably know what camera gear you use. I won't get into this too much. What I will say is that I think in Alberta you find yourself going either really wide or long with your lenses. I tend to be using either a 15-35mm or a 100-400mm. Rarely am I using something in between.
If you have bad luck with camera gear, you can find really good camera shops in both Calgary and Edmonton. Banff has a camera store as well although the prices are definitely inflated.
Time Needed
Obviously, there's no right answer to the question of how much time you need for a photography trip to Alberta.
Personally, I think you can see most of the highlights in a week. But, if you want to cover a good chunk of everything on the list above, you'll want 2 weeks. You also need to account for potential bad weather which might rob you of a day or two of photography.
Best time of Year
The cliche is that there is no bad time for a photography trip to Alberta. But, the truth is, there are ideal times of year.
Personally I really like mid to late September. You have the start of fall colours, it can be dark enough for astrophotography, and many of the summer tourists are also gone.
The spring is also really good. Most of the higher altitude lakes tend to break open about the last week of May. So, personally I wouldn't plan anything until the middle of May. Unless, of course, you want frozen lakes.
During the winter it can be beautiful. However, the lake will all be frozen by about the first week of December, so aim for November if you want to do winter photography in the Rockies in particular.
Where to Stay
Inside the national parks, it can be pretty expensive staying at hotels. AirBnbs aren't available in most places – for good reason. So unless you have the funds for the hotels, camping is a great option. There are lots of good camping areas, and oftentimes they are much closer to the photo locations than the hotels.