**Note** We are running a photography tour to Georgia in July 2020 – click for more info**
After spending nearly a month in the Republic of Georgia, I learned 2 things: there are a lot of incredible photo locations in Georgia, and I hardly scratched the surface.
We were based in Tbilisi for the vast majority of our time in Georgia, but we did make a couple big photography road trips as well.  So, while we obviously didn't cover the entire country, we did get a nice cross-section of the different photography opportunities available here.
This guide is incomplete.  I think that is a necessary statement.
Over future visits to Georgia, I'll be adding more images, more locations, and making this as comprehensive a guide as possible.  In the meantime, these are the places I photographed on the trip.  However, at the bottom of the guide, I'll also have a list of locations I didn't shoot but would like to. And, I have a list from Trover.com that I compiled with some great photo locations from community members there.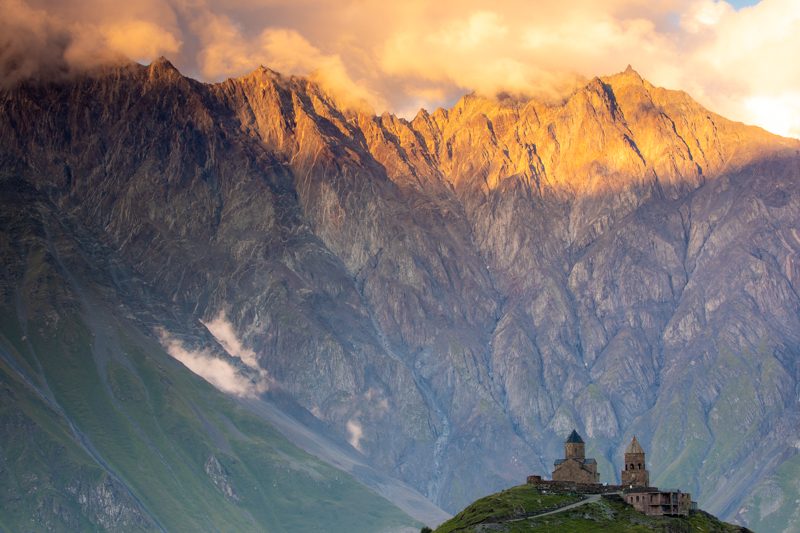 Tbiilisi
I did a google image search of Tbilisi before the trip started, so I had a small idea about what to expect in the city.  However, I was surprised to find how much more is going on from a photography standpoint.  If you were to look at the images online, you'd think the only thing photo-worthy in the city is The Peace Bridge and The Sulfur Baths. But, there's so much more going on.
The Bridge of Peace
Ok, let's get this one out of the way.  It is the most photographed location in Tbilisi. And for good reason.  The bridge is stunning and very easy to photograph.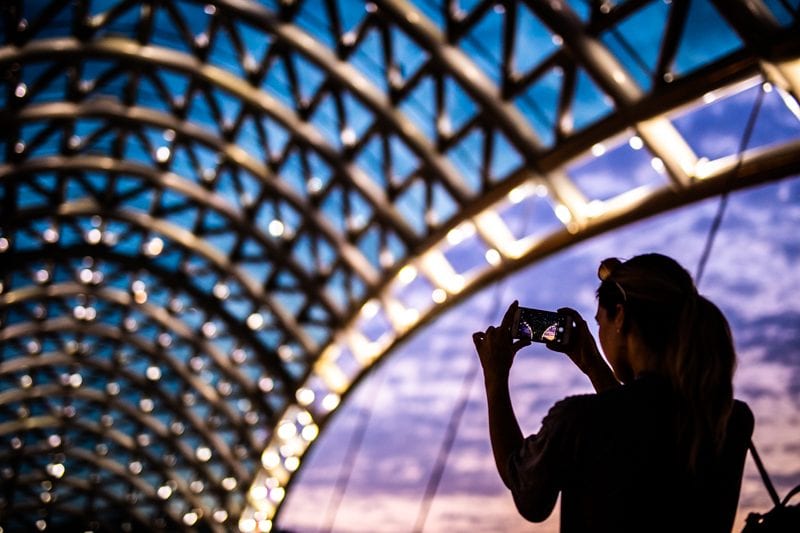 I'd recommend coming at sunrise if you're hoping to avoid crowds. The bridge gets really busy at sunset.  That said, if you're hoping to do some street photography, that might be a great time to do so.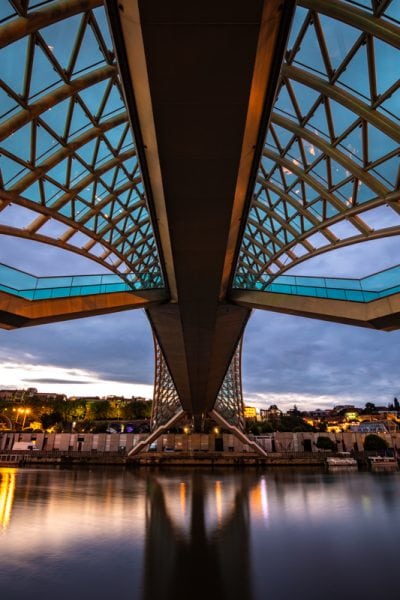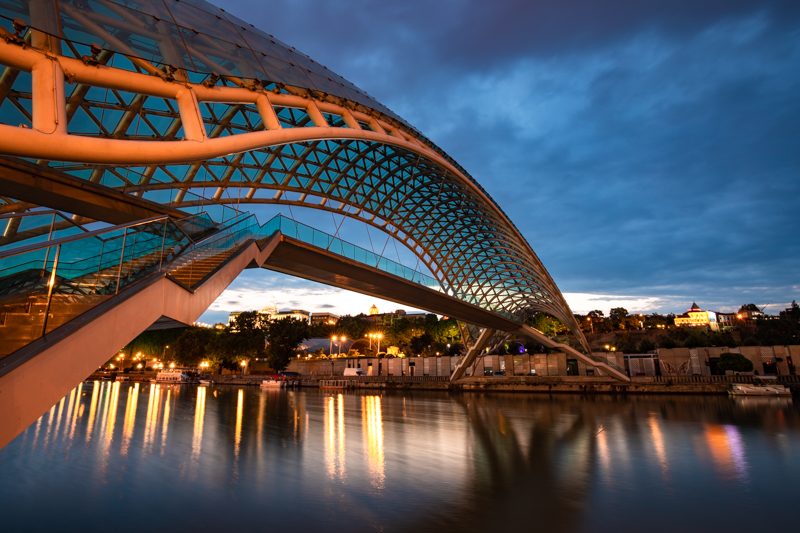 Sulfur Baths
The sulfur baths are something special, even if you don't go in them.  The area around them is full of stunning architecture and a mixture of religious buildings.  There are also lots of park space here, so it's a fun spot for street photography.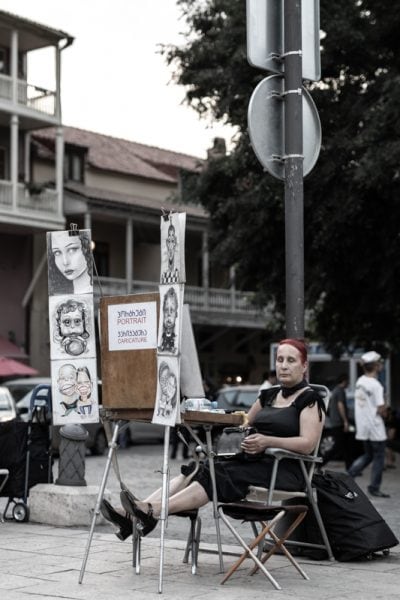 But, after 2 attempts, I kind of found the sulfur baths to be a bit of a challenge to photography.  They're busy, and there are so many cars parked around that it makes it a bit of a mission to get clean shots.
So I did some research for a viewpoint that would overlook the baths, and didn't really have any luck.  But, on google maps I spotted an open space on the satellite imagery that looked like it might work.  Greg and I headed to the coordinates on the map, thought we were running into some bad luck, and then this happened:
And while the light didn't really cooperate that particular evening, we headed back for a sunrise a couple days later and managed to get a couple really nice images over the city.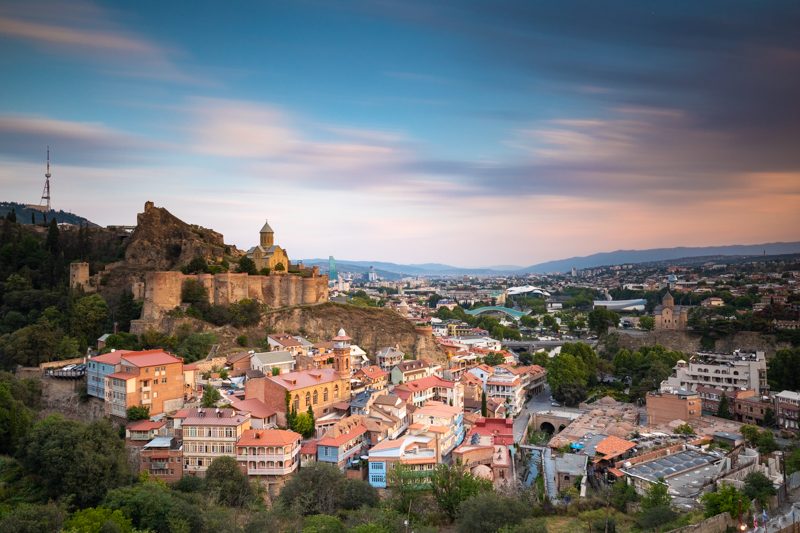 The big benefit of this location is that you basically get every single iconic building in Tbilisi in the photo.
Narikala Fortress
At sunset, this spot gets really busy with locals and tourists climbing all over the walls (some overly bravely).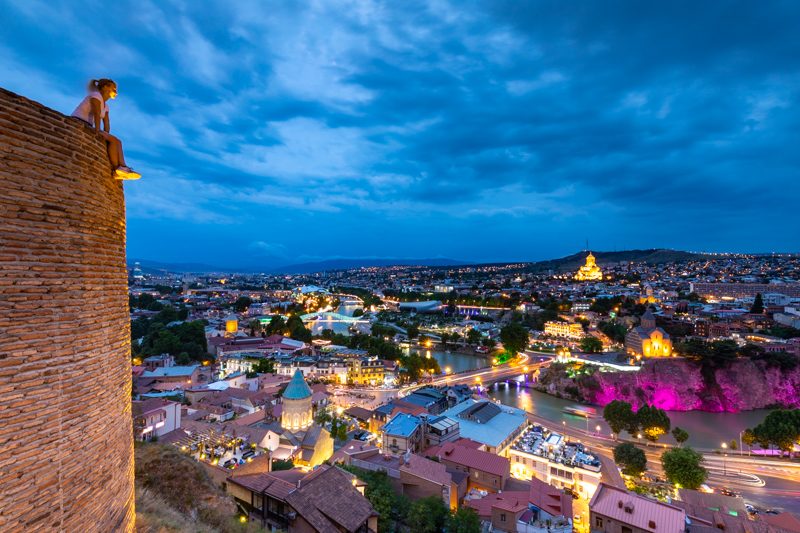 From a photography standpoint, it's a really good spot to get an overview of the city.  And, if you search around a little bit you can get the walls involved in your compositions.
Note, though, that the fortress is closed at sunrise, so your only option will be sunset into dusk.
Dry Bridge Flea Market
One of the best parts of having a YouTube community is getting local input on potential photo spots.  A local Georgian pointed me in the direction of the Dry Bridge Flea Market which happens on weekends.
This is the best place in the city for street photography. Hands down.
There's an interesting mix of people and antiques.  There's lots of art, and just endless photo opportunities.
The market starts to wind down around 5-6pm, so be sure to come a little bit earlier.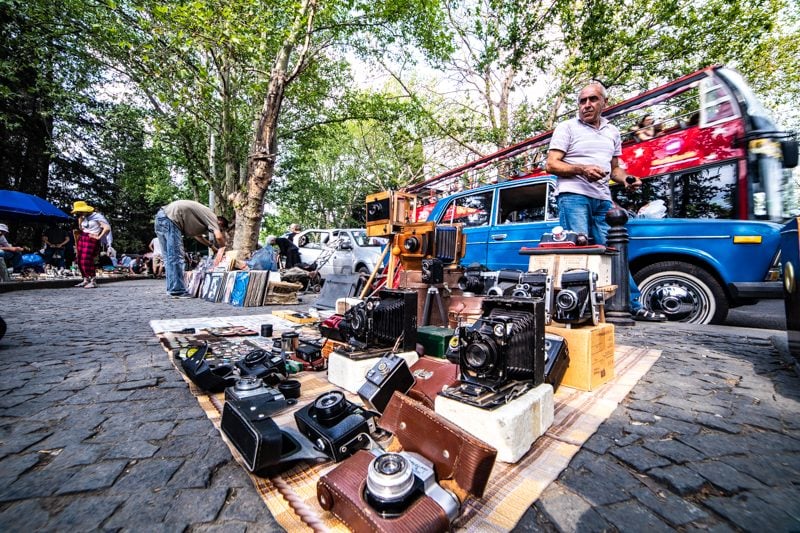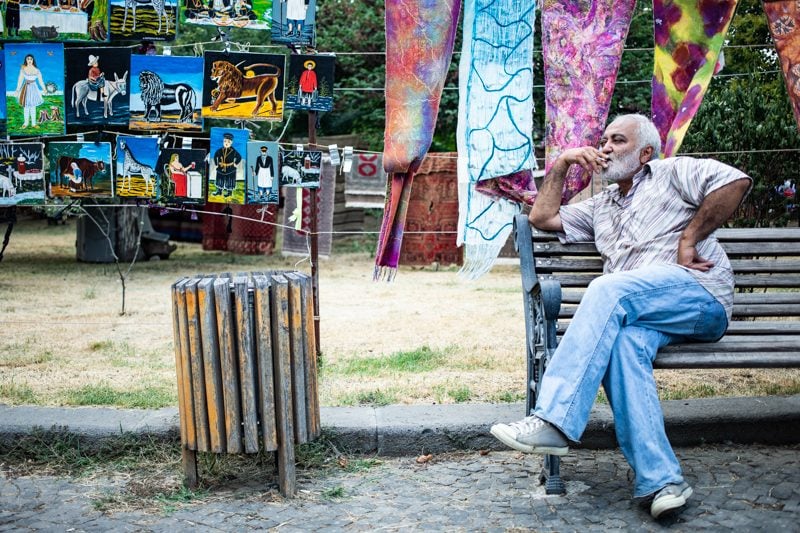 Ananuri Fortress
On the way to Kazbegi we stopped at a fortress alongside the highway called Ananuri.  It's beautiful, and I was actually surprised it wasn't busier. It seemed like most of the local tourists were more interested in the lake behind the fortress.  But, I suppose if you're Georgian you're used to having fortresses like this near you.
The challenge of the fortress is that the classic image is taken from a tiny little window in the top of the tower and it doesn't align properly with the church tower.
So, if you go, be prepared to climb a bit or have a friend boost you on their shoulders.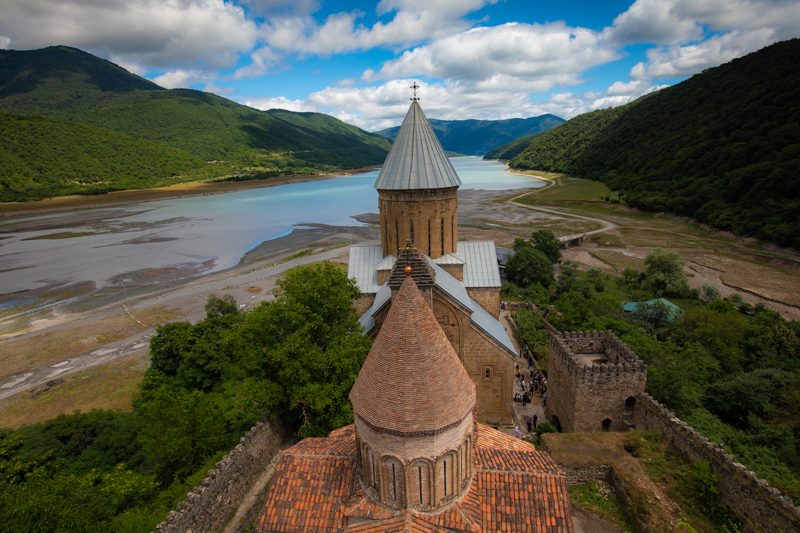 Kazbegi Region
This part of Georgia is absolute gold.  The locals call the highway "The Military Highway" and it is gorgeous.  Up around the town of Kazbegi, there are a number of massive mountains, lots of villages, and a couple valleys one could spend years in photographing.  These were my 3 favourite locations in the area.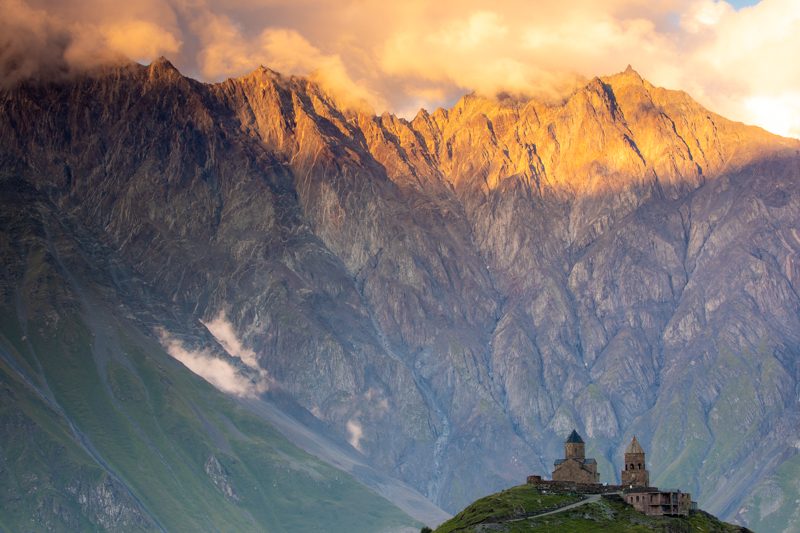 Juta Valley
We headed here on a whim. We had no idea what was down the road, only that it might lead us somewhere cool.  The farther we got into the valley, the more we worried we were headed towards nothing in particular.
Then, out of nowhere, a massive peak showed itself along the highway.
So, we parked and raced up the hill to where we thought we might have a cool photo opportunity.  And, we did.  But, before we could get the camera gear set up, the clouds rolled in and blocked the peak.  It was heartbreaking.

I did get one photo, though, although not fully showing the mountain.  This is definitely a place I need to get back to.  I'm likely going to be running a photography trip here in 2020 (info at the bottom) and I'd like to spend a couple days up here.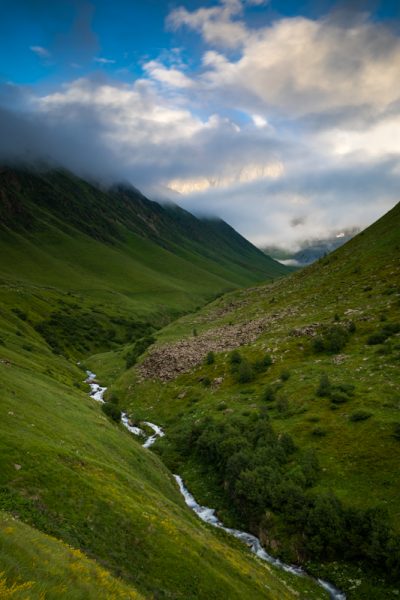 Gergeti Trinity Church
If there's one photography location in Georgia that's set to blow up on Instagram it's Gergeti Trinity Church.  I feel like this could turn into the type of iconic destination that drives tourists and photographers to a country – much like Machu Picchu and Christ the Redeemer (on a bigger scale) do for their countries.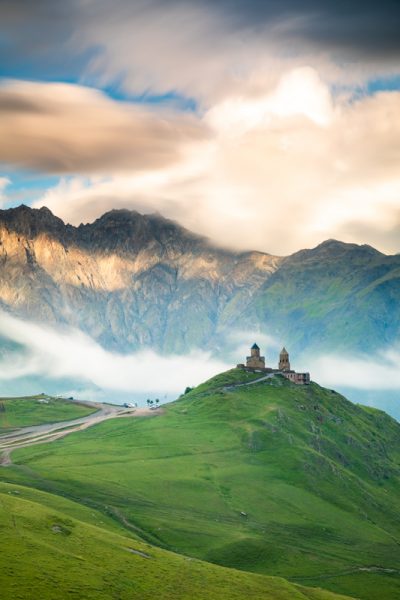 For now, it's a bit of a journey to get up to the church.  You can either hire a 4×4 in town which costs about 5-8 Euros each way, or you can hike up which takes about 60-90 minutes.  It does look like they're constructing a new road up there, though. And that could mean that the location could change and become busier.  It could also mean that it's easier to get to.
This location works best at sunset as the light hits the mountains in the background. But, it can also work at sunrise.  Personally, I think it's the type of photography location that works for both.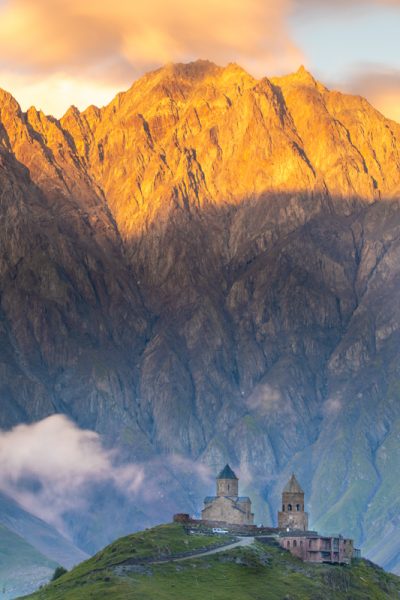 Mount Kazbek
On the video below, you'll see our journey up to Gergeti Trinity Church.
We were a bit heartbroken that we arrived late for sunrise.  But, the blessing in disguise was that if we hadn't arrived late we probably wouldn't have noticed how epic Mount Kazbek was shining in the sunrise light.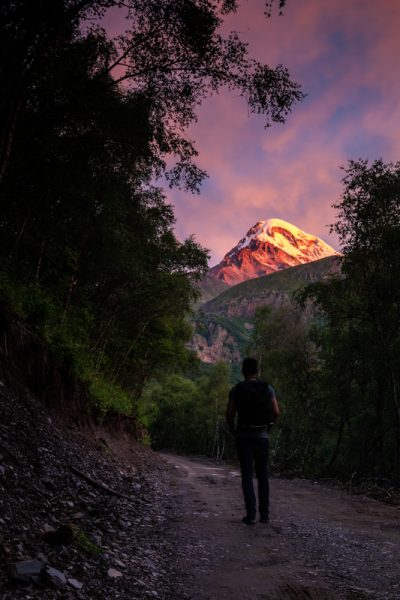 It is a massive peak, standing at over 5000m, and in the morning it is just jaw-dropping.
We didn't scout the best locations for Mount Kazbek on this trip, but the hikes all start up at Gergeti Trinity Church, and you get great views from up there.  In 2020, if we go back, we'll do some hiking in that area and should get some better photos.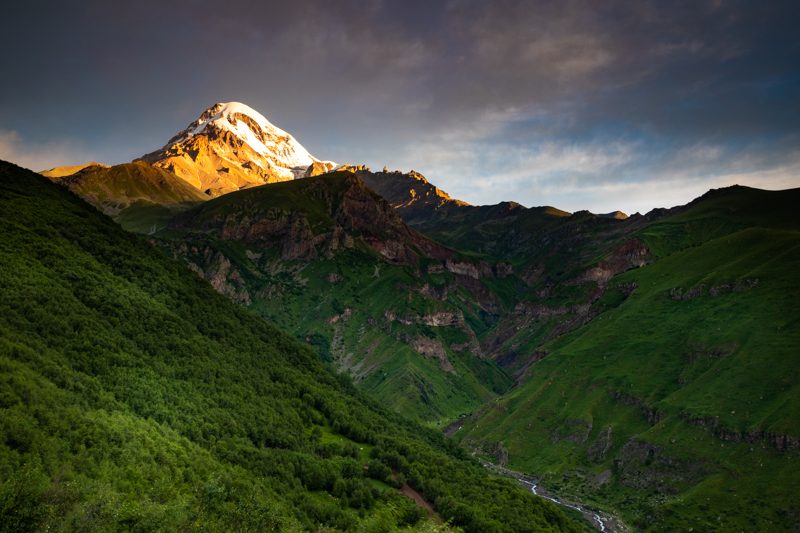 Ushguli Region
I think this region is set to become one of the most popular tourism regions in the world.  It reminds me a lot of Peru before it got busy.  It's full of backpackers, hikers, and adventures.  The locals are extremely friendly, and though they're looking to benefit from tourism, they're not over-bearing. It's a great vibe.
For photographers, this place is incredible. I think one could spend months here in the Ushguli/Mestia area looking for photo spots.  We only spent one night here.  So, bear with me as there's not a lot of content here.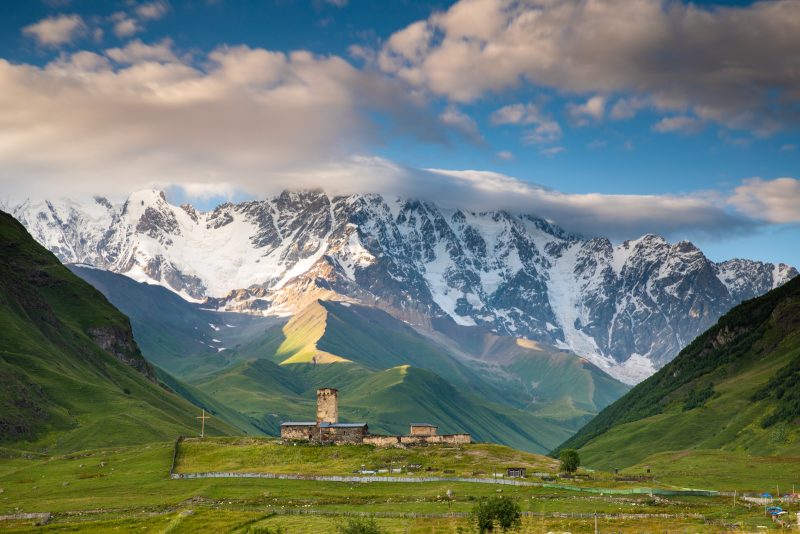 Ushguli
In Ushguli town there are really 2 fantastic places for photography.  The first is found just by walking up the road out of town away from the road to Mestia.
Up there, you'll find a direct line at the old church and tower on the hill with the big mountains as the backdrop.  To get this shot, you'll want a long lens. Likely a 70-200mm.  I shot most of my images here at about 100mm.  It's just a stunning spot to shoot.  This location in particular seems best at sunset.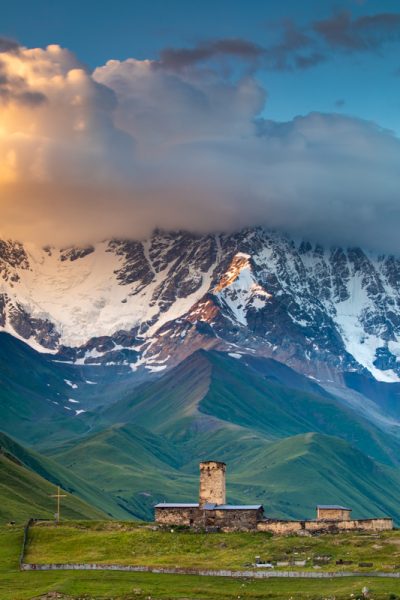 The second location is to climb up to the tower that overlooks the two villages in Usghuli.  From there, you'll actually have views of both towns that look totally different.
The first image looks back towards the big mountains on the Russian boarder and has the river leading past Ushguli as the leading line.  We got some pretty mood weather when we climbed up here (only a 5-10 minute walk from our guesthouse), but it made for some interesting photography.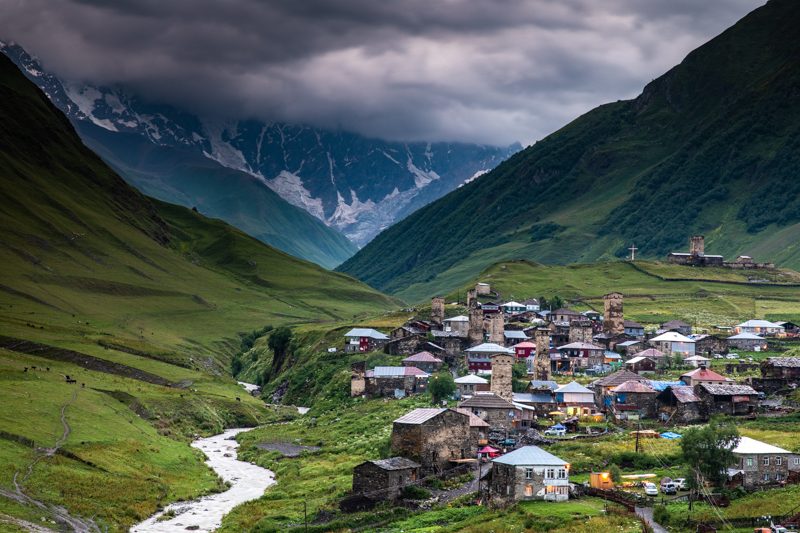 The second image is down the opposite valley.  And, it seems like sunrise it the best time to be up here at this view.  You'll have the spot all to yourselves and watching the world wake up here is just special.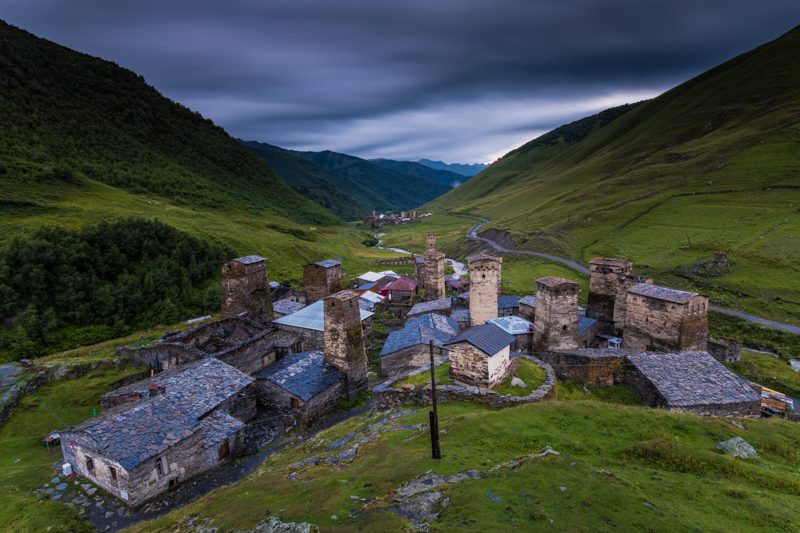 Mestia
Feel free to watch the video below to see what Mestia looks like a bit.  But, honestly, we just stopped here for lunch and coffee.  However, all of us really liked Mestia.  It's the type of place that I think I could spend a couple days exploring, taking pictures, and just chilling out.
Apparently people come here to ski in the winter too, which is cool!

Kutaisi
We had no expectations for Kutaisi.
In fact, we just stopped in Kutaisi as a way to break up our drive to Ushguli.  However, we found ourselves really enjoying town.  And there are actually a lot of photography locations – more than we found time to shoot.
The first location we tried was the top of the Best Western in town.  There's a cafe up there, and it was a good place to catch the sunset.  The angle on the city and the church on the hill wasn't great though.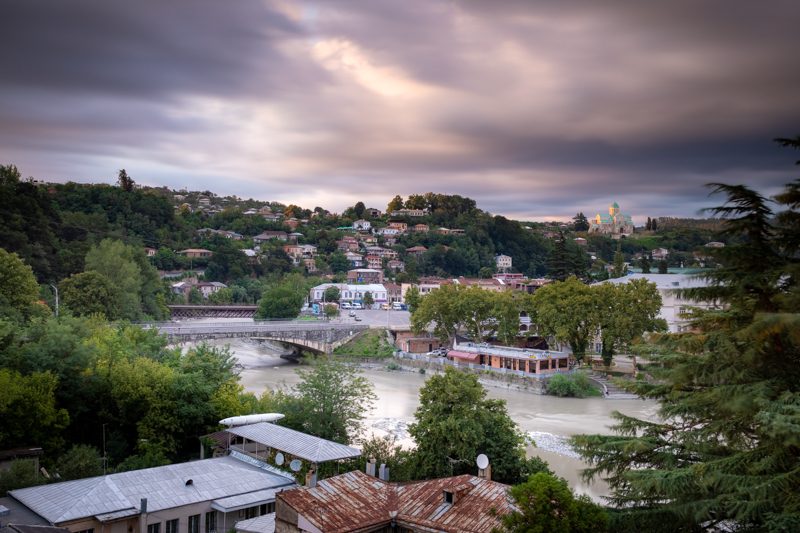 The second location was the main roundabout in the center of town.  There's a fountain there that is just incredible.  The architecture around everything is really beautiful too.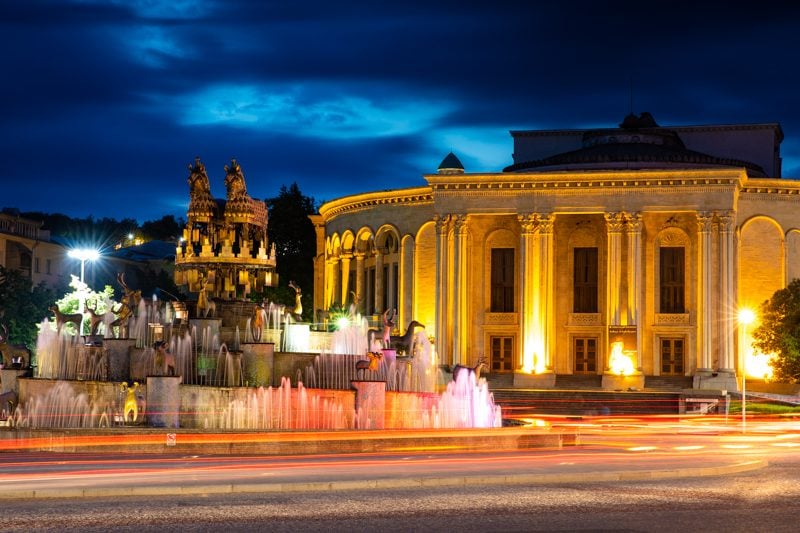 For sunrise, we drove up to Bagrati Cathedral.  The church itself makes for a couple cool photos.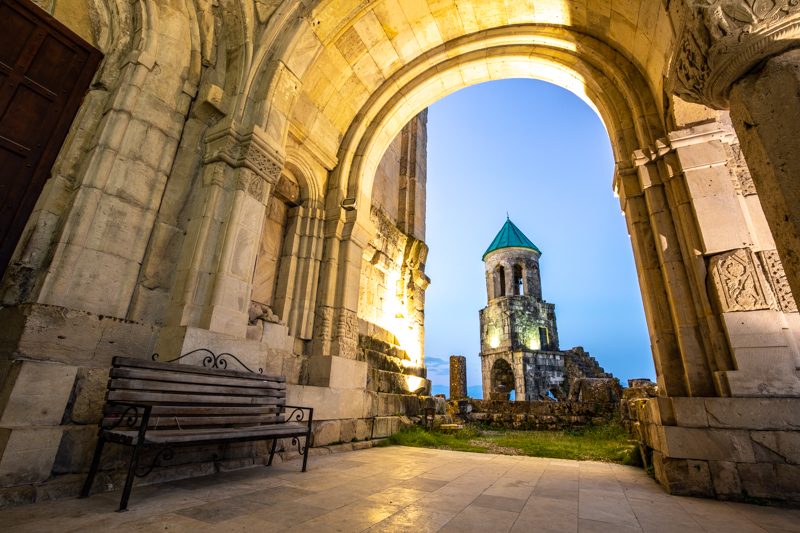 But, there are also some amazing views down the valley.  I recommend coming up here for sunrise as I think it gets a little bit busy in the afternoon and at sunset.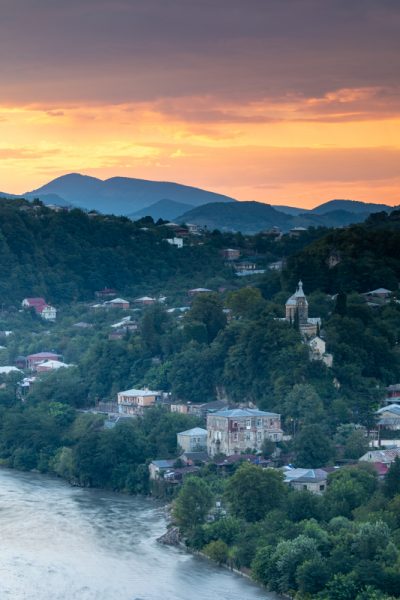 Finally, there's a location that I didn't shoot. But, I think with a long lens at sunset head to the GPS coordinates of (42°15'16.0″N 42°42'11.6″E) and you'll get a shot down the river with a bridge in the foreground and the church in the background – potentially the mountains as well.
Where I Didn't Go
In our short time, we obviously didn't have a time to get everywhere.  So, this is a list of a couple other beautiful places in Georgia that I would have loved to go and photograph, but didn't have the time.
Vardzia –  A cave monastery, that looks amazing!
Lagodekhi Nature Reserve – National Park with some cool waterfalls.
Katskhi Pillar – A monastery that almost looks like Meteora, Greece.
Mtskheta – The "spiritual hub" of Georgia.
Martvili Canyon – A tropical looking canyon full of waterfalls.
Tusheti National Park – Wildlife, mountains, and villages.
Community Posts
Below is the list that I put together on Trover with the best photo locations in Georgia.  It's a mix of my images from my trip and some images from community members.  If you want some of your images included in the list, post them on trover and leave a comment below with your link to the image.
Georgia (Country) Best Photo Spots – a photo list by Brendan van Son
Georgia Photography Tour?
YES, this will happen.
But, it probably won't happen until July 2020.  And, if it does happen it wont be announced until early/mid-2019.   The trip will likely be a mix of hiking, photography, and camping.  It will definitely be a part of my adventure series of photography trips.
If you want information about that trip, be sure to fill out the form below and you'll get email notifications about upcoming trips.  And, people on the list get advanced notifications regarding the trips.
What's Next?
As you likely know if you're following me on social media, I'm now in Crete, Greece.
Jodie and I are here for the next 6 weeks as a base. We're going to be exploring the islands around Crete, Crete itself, and just living life.
It should also be noted that there are a couple spots still available on my Crete Photography Clinic at the end of September.