This trip to Georgia (the country) has been incredible. I'm just in shock that there aren't more people – especially photographers – here.  And, yes, I do get that it's hard to get here. The flight connections aren't ideal, and it's not exactly an easy drive from Europe.  But, the hiking and photography opportunities here have just been boggling my mind.
We have been based in Tbilisi for a week, and I have gone out and shot some photos there.  But, I kind of wanted this blog post to be about the photographic misadventures that we had on a 3 day road trip to Kazbegi.
Mount Kazbegi is one of the highest mountains in Europe.  It's over 5,000m; about 1km higher than Mount Robson which is the highest peak in the Canadian Rockies.  It's epic.  And, it's totally accessible.  It took us 3 hours to drive from Tbilisi to get to the town of Kazbegi.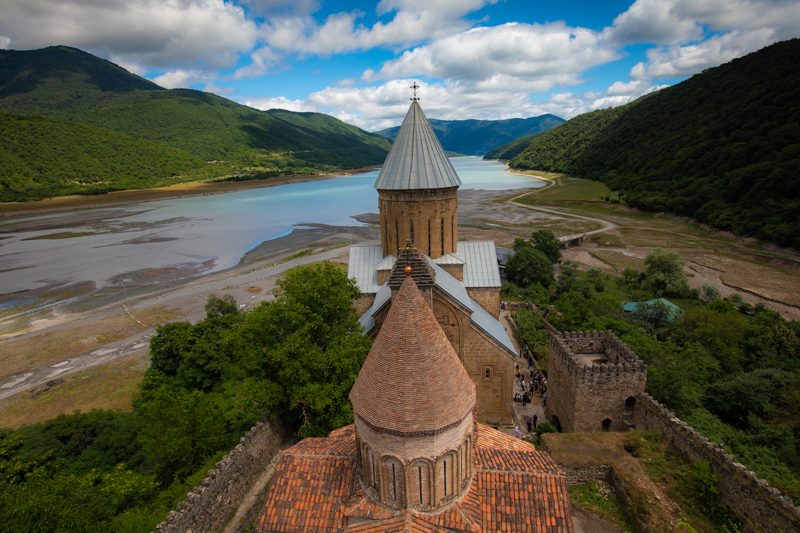 From there, we set up shop, and decided to randomly drive off into a valley we'd later discover to be called "The Juta Valley".  We honestly had no idea what was down the road.  We only knew that at the end of the road, well it ended.  We assumed it ended because of wild landscapes.  And, as we drove through the valley we realized that it was not only for that reason but also because it's extremely remote.
But, beautiful. Wow was it beautiful.
We pushed down the valley until the road ended. And, we say a peak off the road that looked like it might make a good photo.  So, we parked and kept hiking.  We climbed a steep incline and the peak revealed itself. There was low hanging cloud around it, and it looked like it was primed for some just epic imagery.  Sadly, as soon as we got to our spot and set up tripods, the mountain just vanished behind a wall of clouds.
It was heartbreaking.

Honestly, it was tough. It seemed as if everything was going our way and then out of nowhere it got snatched away from us.
The clouds parted for a split second allowing me to grab the image below.  But, it never did materialize to the photo or view it had to potential of being.  Yeah, I was shattered.  But, in a country like Georgia, there's always another location and another photo.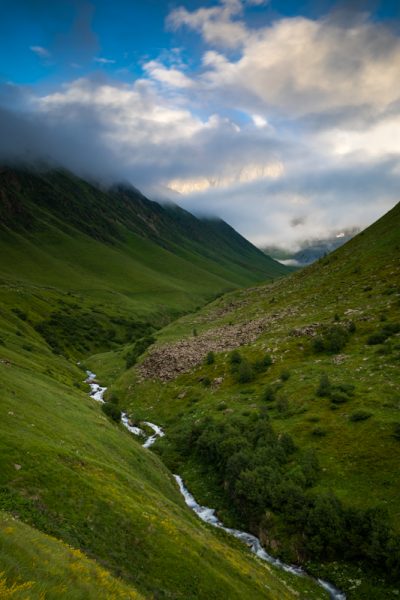 On day 2 of the trip up to Kazbegi, Georgia I woke Greg up at 4am to go try to photograph Gergeti Trinity Church which is one of the most iconic locations in all of Georgia.  I've seen some cool photos of this monastery, but I felt like it was a place I could almost lay down my own unique style on.  So, I was eager to get up there and shoot it.
Unfortunately, misadventure #2 hit.
As we drove towards the church, we realized that the road just ended.  At that point we made a decision to keep going on foot.  Google maps told us it would be about a 45 minute hike, and we were 30 minutes until sunrise.  But, what Google maps didn't know was that it was a massive vertical incline, and the trail to climb to the church wasn't climbable with camera gear.  It also didn't know that I totally forgot to unpack my camera gear for the trek and was hiking with a kit of about 14kg.  Normally, I only take 2 lenses and a body. My sunrise hiking kit usually only weighs about 7kg.
So, we missed sunrise.
And, it was an epic one.
The sky exploded in purples, pinks, and blues.  It was just the perfect lighting situation for the style of photography I was hoping to shoot at Gergeti Trinity Church.  But, we made due.  We stopped briefly on the trail and shot a couple images of the light hitting Mount Kazbegi.  They turned out alright.
By the time we got to the peak, the light was already mostly done.  I did, however, grab a couple more photos of Kazbegi and a shot of the church just in case the light was bad later.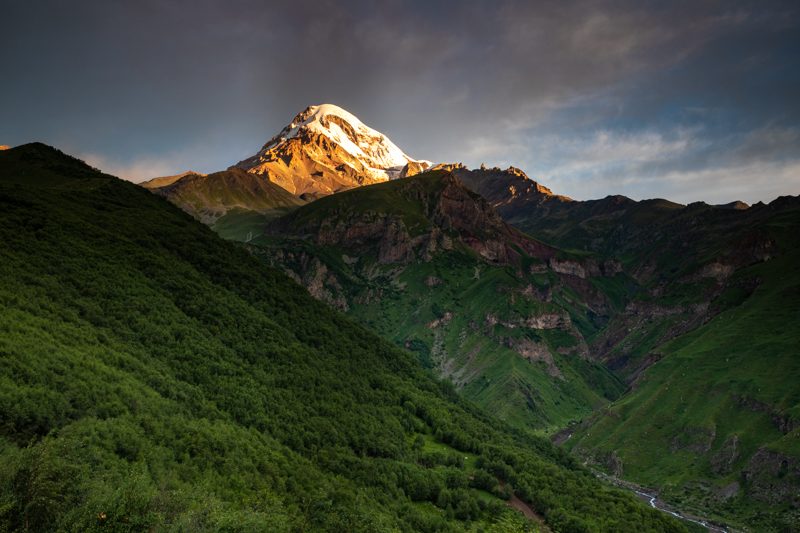 The good news of the trek was the realization at the top that there were 4×4 taxis took people up and down from Gergeti Trinity Church.  So, we hiked down, headed back to our hotel in Sno, relaxed for a bit, grabbed our girlfriends, and headed back up the hill in a 4×4.
This time, we made the light.
And, to top it all off, the light couldn't have been better.  We got this beautiful alpenglow just smashing into the peaks behind Gergeti Trinity Church.  It was unbelievable.  Check out my photography vlog of the day below.
I left the location with 4 photos I liked.  They are all similar. But, they all have a different technique and flair.
Photo 1
The first image I shot was about an hour before sunset.  This photo on the 24-70mm Canon f/2.8.  The image data is f/16, 10 seconds, and iso 100 at 60mm.  I used a 6-stop ND, and a 4-stop medium grad ND.  I wanted the image to give a bit of a soft look to the clouds, but an edgy look to the mountains.  I think it was pretty successful, and I love the clouds in the background.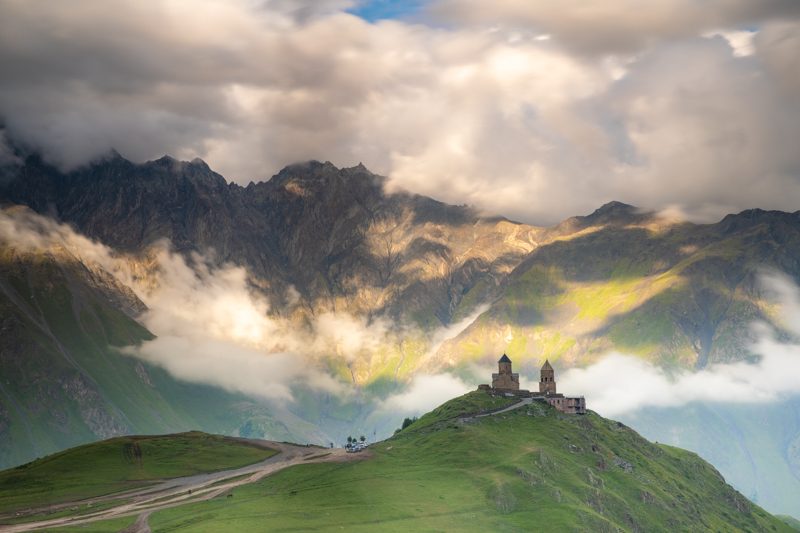 Photo 2
The only major differences between image 1 and 2 is that this second image I flipped vertical, and I swapped out my 6 stop ND for a 10 stop ND.  I wanted to make the scene look really soft and dreamy.  And to do that I needed a longer shutter speed.  So, I went f/11, 90 seconds, iso 100 at 50mm to get this image.  In post-processing I really punched the contrast and softened the clarity. The combination of shot technique and editing gives it this dreamy look that I love.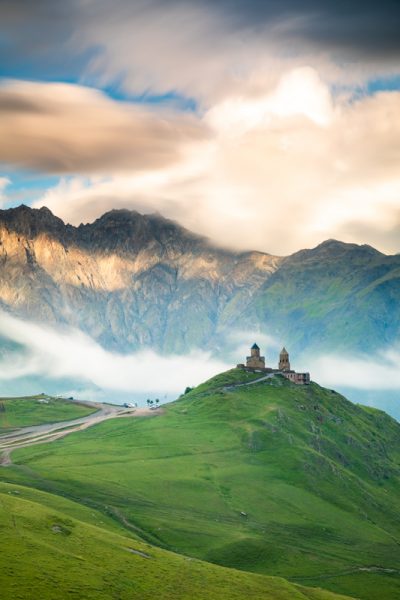 Photo 3
I moved.  I actually move a lot in my photography.  I know most landscape photographers really like to stick to one spot and composition per shoot. But, I move a lot.  I think that if you get a cool photo, there's no point in continuing to shoot the same image over and over.  So, I moved.  I went farther back and down the valley a little bit to find a better angle.  I wanted Gergeti Trinity Church to be set right in front of the big peaks that were catching the light.
And, I wanted 2 images. The first one I wanted was a wide image.  So, again, I stuck with the 24-70mm.  There's nothing special techinically to this image. I put the 6 stop ND back in, kept the 4-stop medium grad ND in, and hit it at f/11, 15 seconds, iso 100, at 35mm.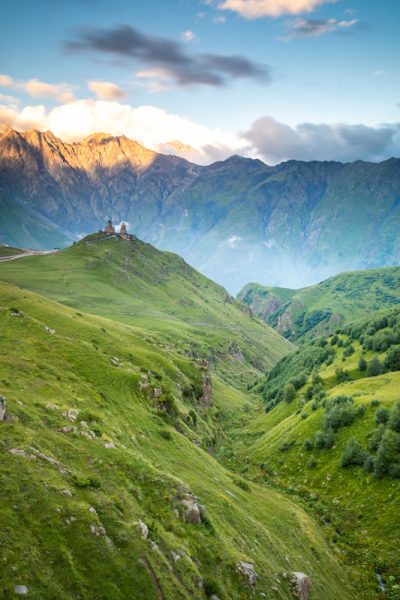 Photo 4
Finally, this is the shot I've had in mind since the first time I head of Gergeti Trinity Church.  But, I still didn't hit it the exact way I had hoped. I wanted to be farther over on the valley.  So, I may head back and try again at some point soon.  But, it did come out cool.
I used the 100-400mm lens to get that compression in the image and show off how massive the mountains behind the monastery are.  The filter set up is the same as the last image, and the exposure is f/11, 25 seconds, iso 100, at 150mm.
I shot a landscape version of this too, but the portrait version was my favourite.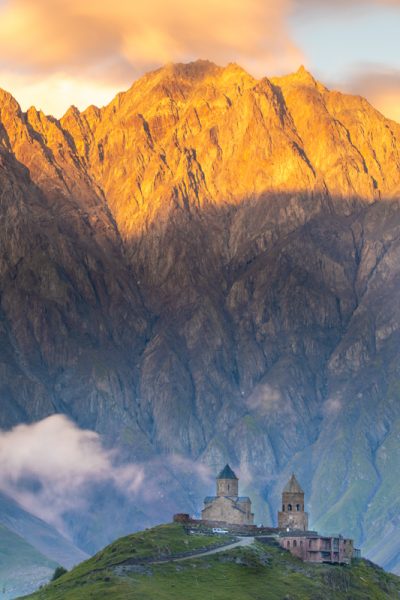 Georgia Photography Trip?
This trip to the country of Georgia was just meant to be a personal trip.  I didn't intent on it being a scouting trip for a future photography workshop or anything like that. I just wanted to explore and see what was there with no expectations.
But, after exploring this part of Georgia, I think there's an awesome opportunity to do one of the adventure-series photography trips here.  It's amazing.  I think we could do a combination of hiking, camping, and photography that would just be the most special trip.  Of course, I have no idea if there's any interest.  So, if that's something that might interest you, let me know in the comments.