I've been kind of bouncing around the globe of late. I was in Mongolia for a workshop, then Bali for another, Australia for a quick holiday and then back in Europe for a travel photography assignment before heading to Nepal. It's been a bit of time zone chaos, and I haven't felt jet-lagged – more just permanently confused. But, it has been fun. And, one of the best times I've had was in London where I was on a travel photography assignment with Monograms.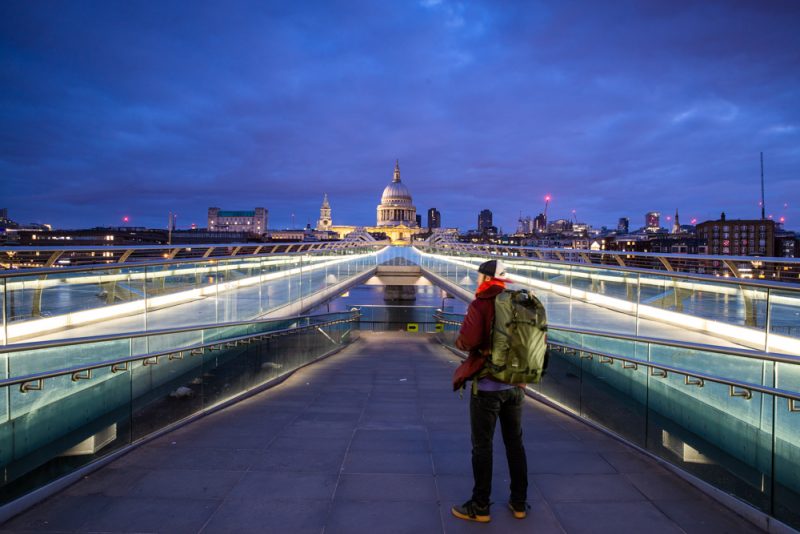 Day 1 – London City Tour and Windsor Castle
I'm going to break this travel photography in London down into the 2 days, just to keep things organized a little bit. Day 1 was actually day 2. But, since I really only arrived in London on day 1, it doesn't really make sense to include it. I will say, though, that if you're flying from Australia to London: expect to be destroyed by jet-lag. It absolutely crushed me. Give yourself at least 1 recovery day to start your trip.
A New Lens!
I started things off right in London with a new lens. I picked up the Canon 15-35mm f/2.8 is RF lens which really just launched. So, I was beyond excited to get it out and put it through the paces.
You can see the whole video from my initial test of the lens below.
Travel Photography Mid-Day
So, let me explain the assignment a little bit.
Monograms is a part of the Globus Travel family. They're kind of a mix between traditional group travel and self-guided travel. Essentially, when you arrive to a destination there's a local guide there on site. But, you have a whole lot of freedom to do whatever you want. There's generally one included city tour mixed in, but then there's also a bunch of optionals. Essentially, you can do as much or as little with a group and guide as you want.
My assignment/goal was to capture what life could be like on a trip, from a travel photographer's perspective.
On day 1, there was an included city tour of London. So, I tagged along to see what it was all about. And, I have to say, I really enjoyed it.
I've spent so much time in London that I kind of took for granted the idea that I could learn things or see new things. But, the guide was awesome, and we had a really good time.
Best yet, I actually got a handful of images that I really like. Most people think that I avoid doing my travel photos in the middle of the day. However, I do actually get out and make images mid-day. I just don't always publish them because the sunset and sunrise images are a bit more dramatic.
But, I did manage a couple photos: both on the streets and inside St. Paul's Cathedral.
You'll Never be This Cool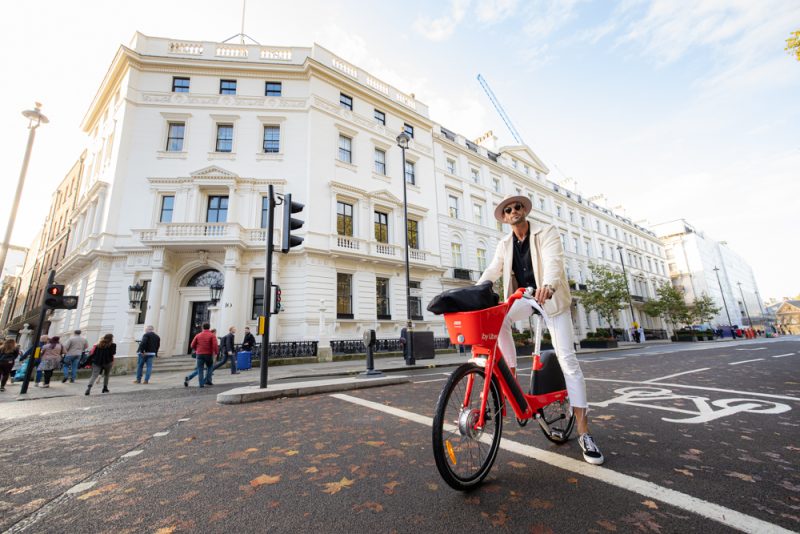 Ever think, "I'm going to put on a white suit and just go drive a red bike around London"? This dude did. And you'll never be as cool as him. Sorry.
This image really puts that Canon 15-35mm to the test. And it does marvelously.
A Frame of St. Paul's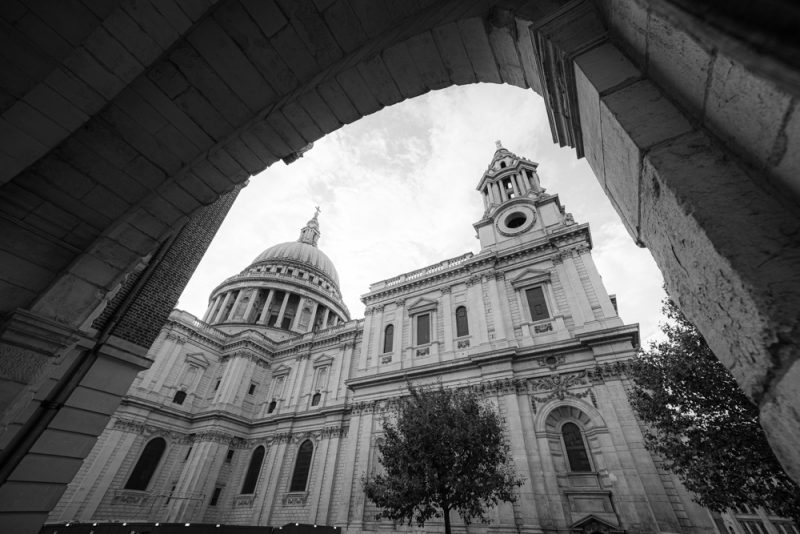 I've photographed some classic locations of St. Paul's, but I'd never been inside, or even gotten close for some images. So, it was good to get some new angles photographed.
Getting Wide!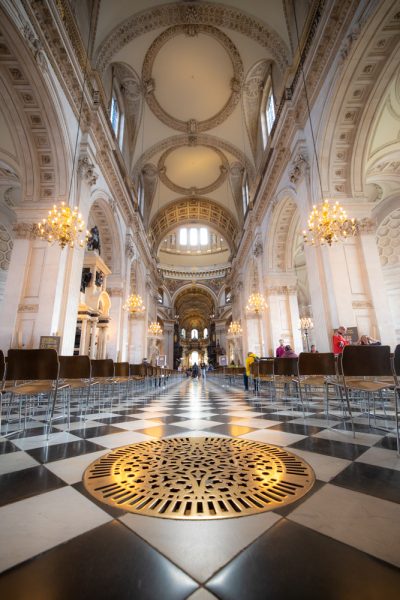 I loved putting the 15-35mm lens to the test in St. Paul's. I tried as often as I could to shoot f/2.8 and ultra-wide at 15mm. The results were awesome. I'm so glad this lens is now a part of my camera gear.
So Much Detail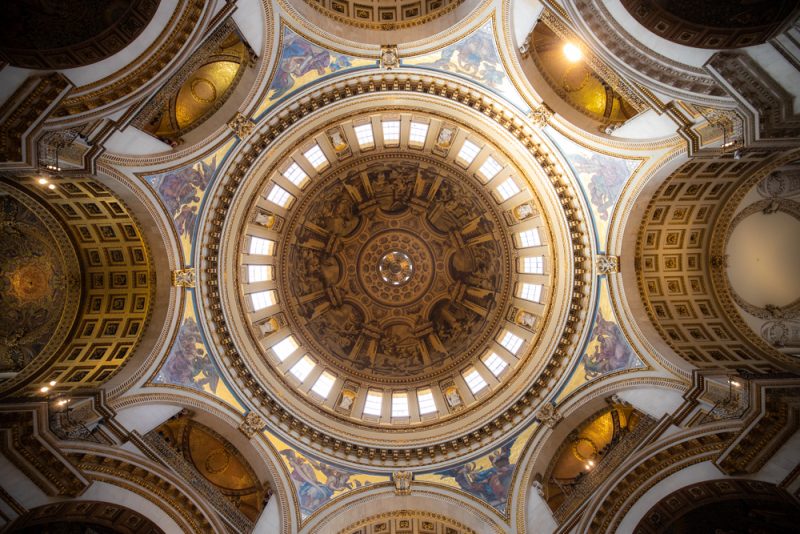 As a human being, I'm actually not a massive fan of cathedrals. They often showcase a lot that's wrong with religion in my opinion. A grandiose amount of spending (and gold). Think of all the good that money could do spent on helping people directly.
But, from a photography perspective, I do love the beautiful art and detail of cathedrals. I mean, the roof of St. Paul's is impressive.
An Afternoon at Windsor Castle
I think when you feel like a local you skip some tourist attractions that make for pretty good photos. So, when there was a chance to go to Windsor Castle as an optional excursion with Monograms, I jumped at it. I've never been. And, honestly, I never really thought about going. It was just one of those places that I knew was there.
But, I really liked going. It meant that I got some pretty classic travel images.
Since it was the middle of the day, I had to get a little bit creative with the imagery. But, the light was nice and moody and made for some cool images.
Playing with Depth of Field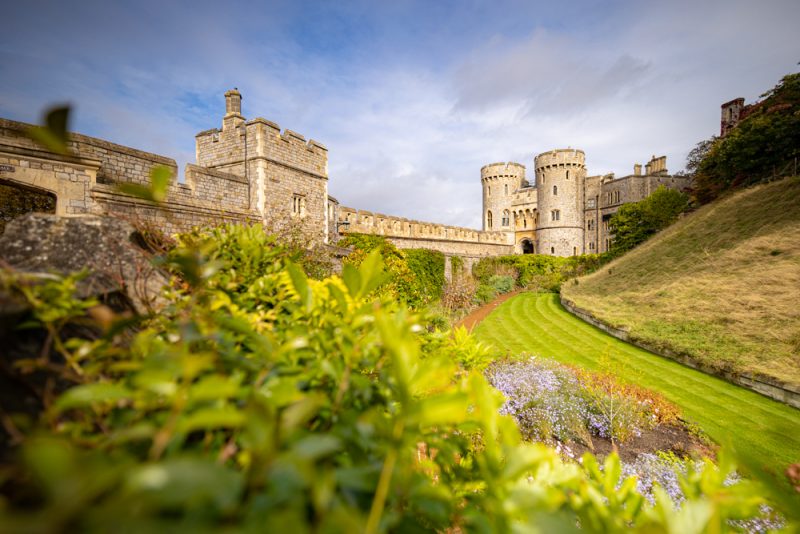 One of the things I try to do in when taking images in the day time, is playing with depth of feel. I feel (pun intended) that it helps make an image draw your eye to whatever is most important. In this case, the towers of Windsor Castle.
Queen's Guard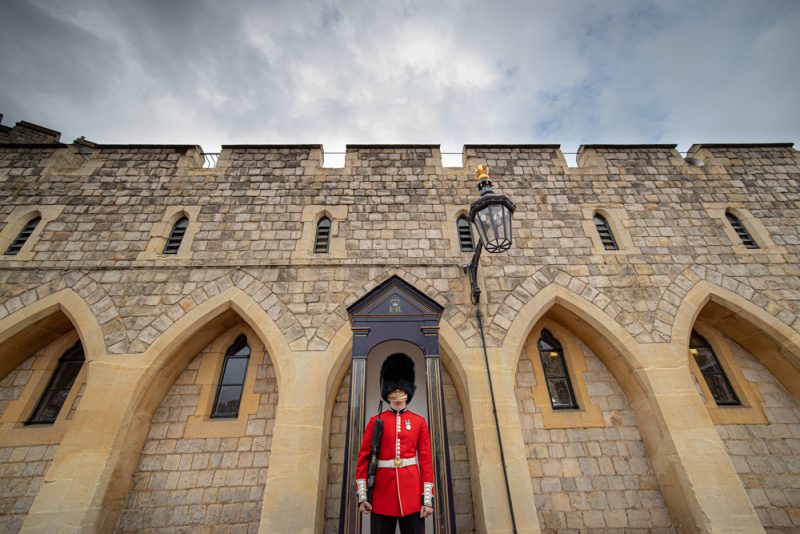 It wouldn't be a series of London travel photos without a photo of a Queen's Guard. But, since I have the new wide angle lens, I wanted to do something a little bit different than a typical portrait.
So, I got low and went wide, like really wide.
Day 2 – A Day as a Travel Photographer on Assignment in London
Normally, I try to spend one day on a travel photography assignment in which I act like a regular tourist. Or at least, a regular tourist who gets up at sunrise for photography. In that day, I try to photography every aspect of life through the eyes of a tourist. I try to imagine myself as a tourist in London for my first time, and then photograph everything that they might – but in a professional way.
I try to photograph the hotel, the food, the attractions they might visit, and even some of the quirks of a destination. On day 2 in London, I tried to do this. But, kind of failed a bit.
Morning Photo Walk
I wanted to photography something I hadn't before, so I set out to Blackfriar's Bridge. I spotted a shot I liked from the bus the day before. But, when I got there I realized that the angle was better from the elevated bus.
Still, I liked how the image came out. And, maybe I actually need to come back to this shot during different light. I think it does work well with the dark night scene, though. It has a bit of a Gotham City vibe to it.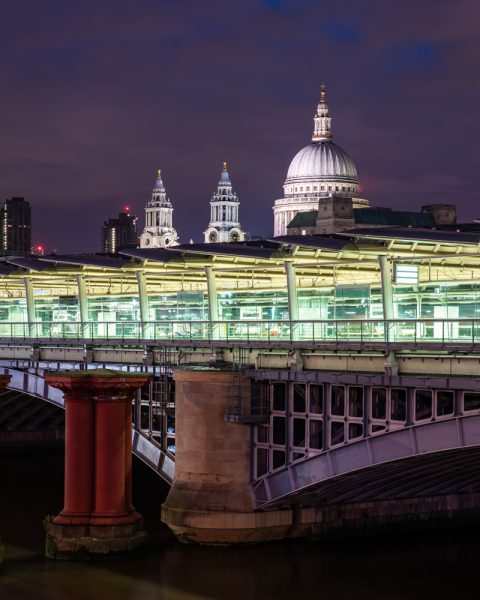 After the bridge, I had to make moves if I wanted to get a couple other morning photos. So, I ran over to a pretty classic travel photography location in London: Millennium Bridge.
And, yes, it's a classic image that's been done before. But, I still like it. It's a classic for a reason.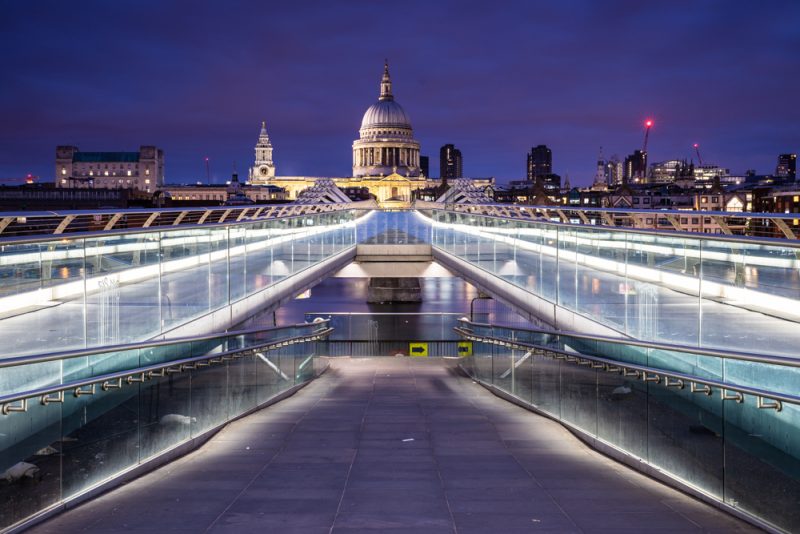 Finally, I wanted to see if I could get to Tower Bridge for sunrise. But, as so often happens in London, the light went from beautiful and blue to flat and grey in a second. I did, however, find a really nice angle of one of the towers. And while I'm sure other photographers have found this before, I haven't seen it elsewhere. So, I came away really happy with an image I didn't expect to take, and haven't seen before. That's always a win.
I also wanted to try out my new Canon 15-35mm f/2.8 RF on a scene at city hall. It works. I do need to come back when the light is better, though.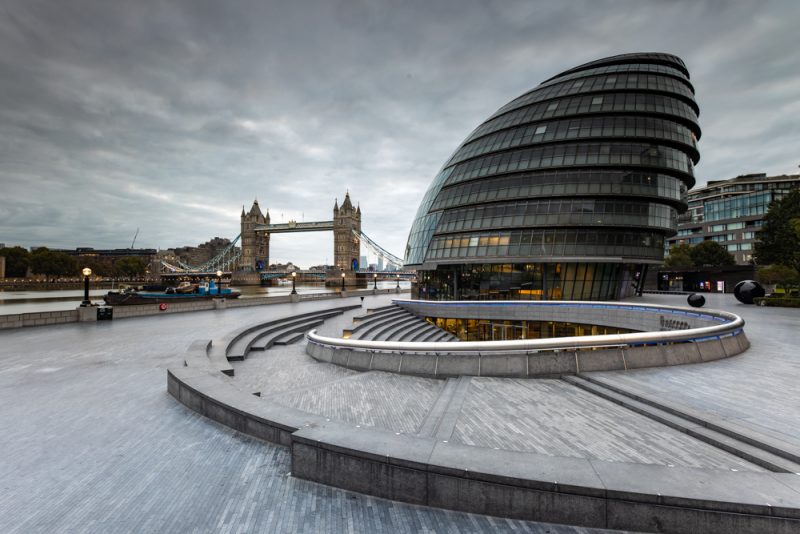 A Day in London
As I mentioned, I was trying to share what life on a travel photography assignment in London is like. But, it didn't always go to plans. You can see the video of the day below to see what I mean.
But, in the afternoon I did get to go on another Monograms optional to a place in London I haven't been before: The Tower of London.
It's funny. I've been passed the Tower of London a hundred times and never thought to go in. But, I'm glad I did. Much like Windsor Castle, it was the middle of the day and I had to get a bit creative with my compositions, but I think I walked away with some good ones.
Below are some of my favourites.
Fish & Chips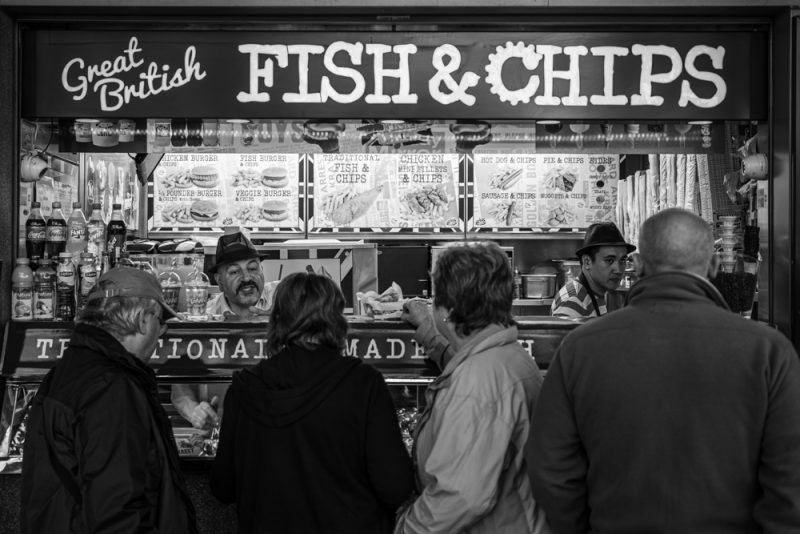 Earlier in the day I tried to photograph a popular fish and chips spot. But, I didn't have cash, so I failed. So, at the Tower of London I photographed a much more touristy spot. But, I think the image works.
Toy Houses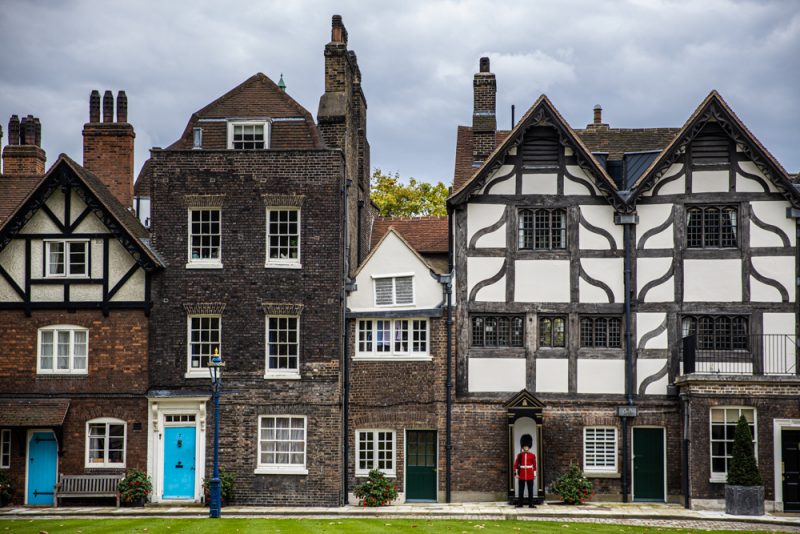 This scene didn't even look real. Like, no one lives in these houses, do they? It's such a classic looking London frame, and it does make the city look like a bunch of toy houses.
Tourist Trap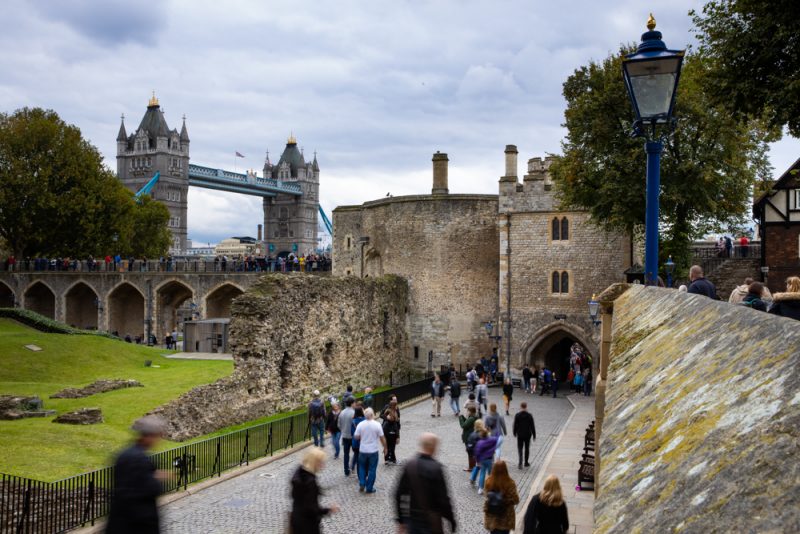 I always wondered where this photo was taken from. I actually wandered around London for a whole afternoon looking for it. Turns out, you just need to pay the entrance to the Tower of London to get it.
I didn't have my tripod, so I just balanced my camera on a ledge to get this slightly long exposure image.
Another Queen's Guard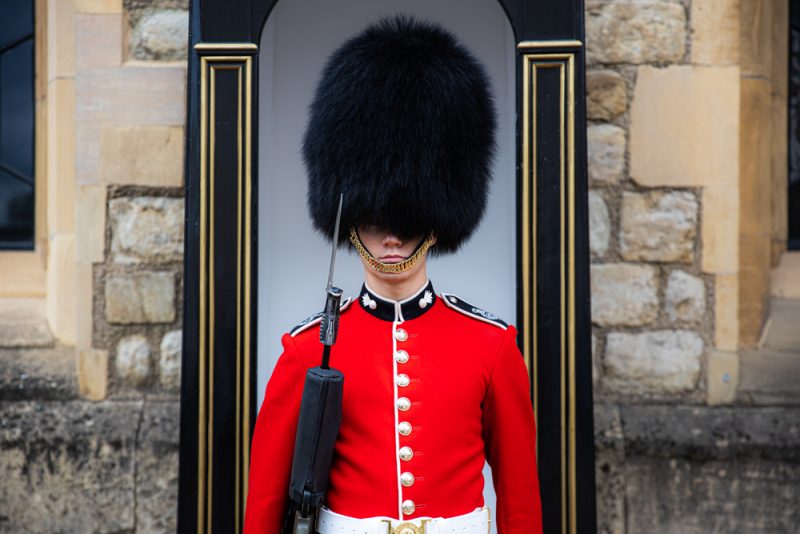 I opted for a bit of a classic portrait of this Queen's Guard because I liked how much of his face was covered by his hat. I honestly don't know how he sees.
Who is Monograms?
As I mentioned above, Monograms is a tour company that operates semi-self guided trips. The trip that I've been hired to cover is London, Vienna, and Prague.
If you want to scope a little bit more about Monograms, please check out their page here.
Also (disclaimer), I was paid to be on assignment for Monograms. But, the words I write about them are under no way shape or form influenced by them. This blog is always my opinion; positive and negative.
What's Next?
Ok, so if you're following me on various platforms it looks like I'm all over the place. If you're following the blog, I'm still on this Monograms assignment in Europe. If you're following my YouTube Channel, I'm in Nepal. And, if you're following me on Twitter you know that I'm already back in the UK after the Nepal trip.
In real time, I'm about to leave for Barcelona and board the Nomad Cruise to Brazil. Then, I'll be up in Ecuador with Jodie and my buddy Morten Hilmer for the Galapagos and Amazon. It should be an amazing couple months!