The second stop on my travel photography assignment in Europe with Monograms was Vienna.
I caught an early morning flight with British Airways (which was delayed) to the classic city. And, I have to admit, it has taken me time to warm to Vienna. The first time I visited I felt like it was a little bit dull. Things kind of operated too smoothly, things were a bit too manicured, and I found it a little bit boring. But, the more I visit, the more I can dig a little bit deeper and find the gems of the city.
And from a photography perspective, there are so many great locations that all seem to photograph well regardless of the conditions.
If the First 3 Times You Fail…
Because of my delayed flight into Vienna, I was a little bit too late to find a new location to photograph at sunset. In fact, I didn't even have time to scout a new composition on an old location. So instead, I headed to a location I've tried, unsuccessfully, to photograph on 3 occasions. Each time the light or conditions just weren't with me.
So, I headed to an old spot above the Opera House.
I was pretty keen to pull my new 15-35mm RF lens out of my camera gear for this shot. But unfortunately, once again I was thwarted by the conditions. The light was fine, but it turned out to be a Sunday. As a result, there just wasn't enough traffic to get the light trails I wanted for this image. That said, it's an OK image.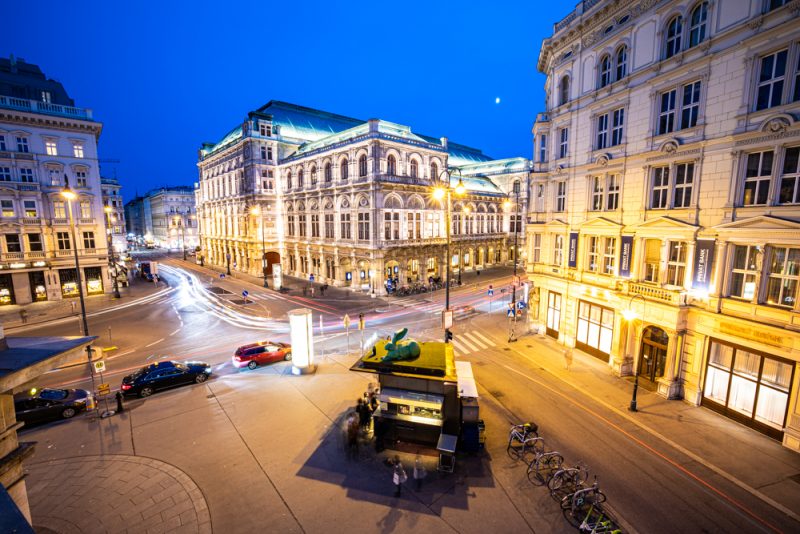 A New Photo Location in Vienna
I really wanted to try some new photo locations in Vienna. Since I've never gotten great conditions in the city, I kind of always seem to photograph the same spots over and again.
This time, I made sure to hit up Karlskirche.
Karlskirche is not only a new location for me, but according to a local I met on location, it's kind of new for a lot of locals too. In the past, this was a hang out for people taking part in nefarious nighttime activities, so most photographers avoided it.
Now, it's an awesome spot.
There are 2 really cool photos here.
The first is a wide angle shot of the edge of the reflecting pond leading to the church. It makes for an almost-too-easy composition. Although I was wishing I had a tilt-shift lens to help deal with the distortions.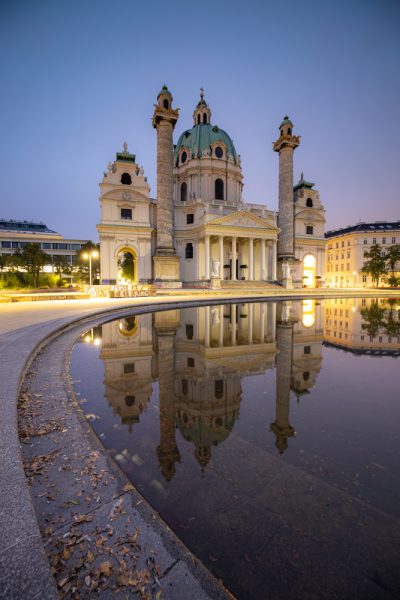 The second image is the most obvious one, just a perfect reflection.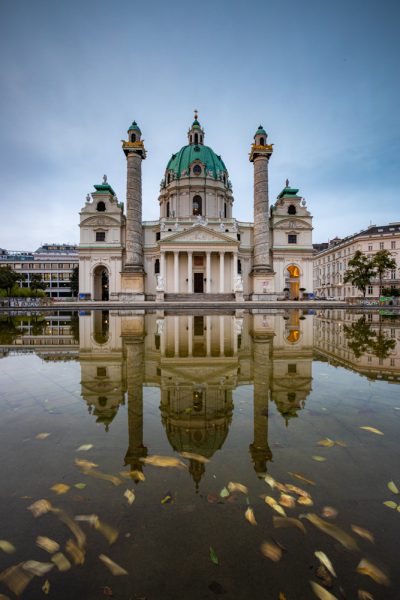 And a Bonus Photo
One of the things I always try to do when I'm out taking images is "go long". Basically, I take wide angle photos first, and then when I'm done I'll switch on my telephoto lens and grab some details. This morning in Vienna, I found some cool symmetry and waited for the right person to wander through my frame.
The result was a lady in a bright pink jacket. I'm very happy with it.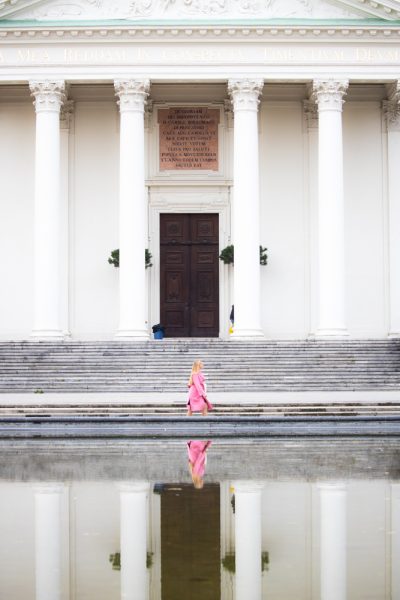 An Old Photo Location
One of my favourite things about returning to places I've been is trying to improve on images I've taken in the past. As a travel photographer and YouTuber, so often I'll be editing my photos or videos and see photos I missed. It can be painful sometimes. When you're a local, you can always go back an re-shoot it. But, in travel it sometimes takes years between times.
I first photographed Belvedere Palace in Vienna years ago, and have never really gotten a photo I love. There were a couple images I had in mind, though, and I set out on a pretty moody afternoon to try to capture them.
The Fountain
I started the photo shoot fairly lucky. Every time I've come to Vienna in the past it has been Winter. So, this fountain in Belvedere Palace has never had water in it. But, being in Vienna in early October this time meant that I got water. Unfortunately, it started to rain just as I got set up. Still, the photo kind of works.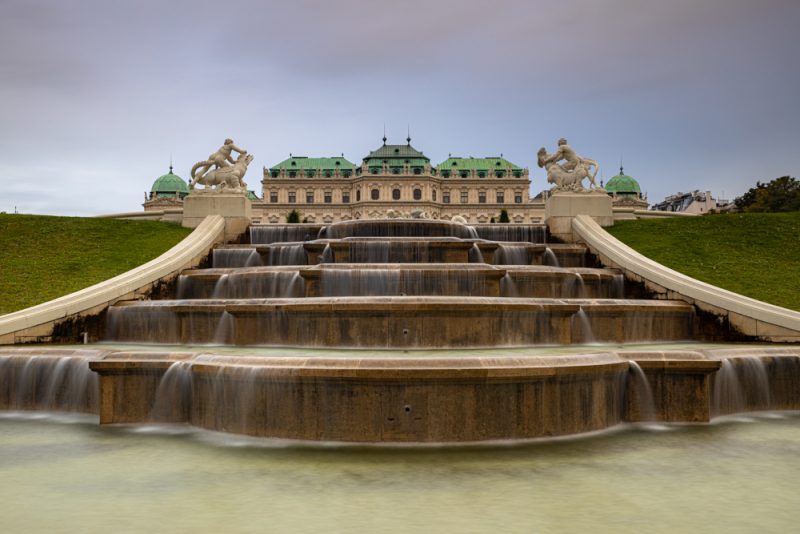 The Palace
My string of bad luck continued as I got up to the front of the Palace. There must have been some sort of event going on as there was a string of catering trucks outside the building. It kind of ruined the photo. So, I looked for something else.
Something Else
I think the catering trucks in front of the palace ended up being a bit of a blessing in disguise as it made me look around for something less obvious. As a result, I spotted an image across the gardens of some beautiful old houses and the pool in front.
It made for a good image, and one that I didn't expect to take. It definitely adds something different to my photo library of Vienna which is always good.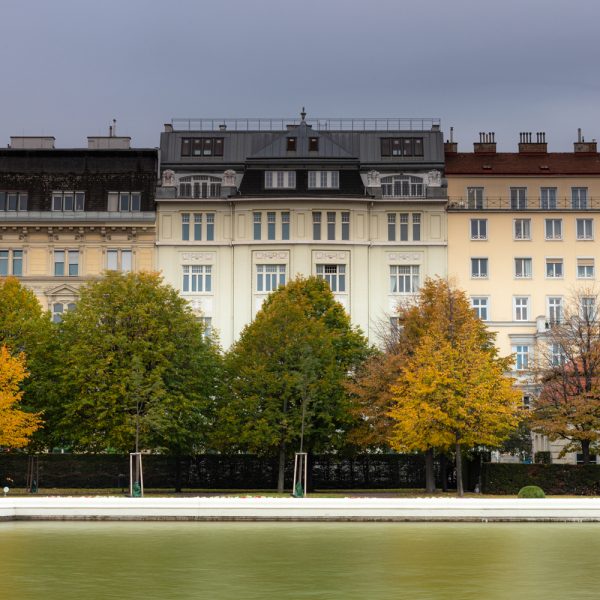 And Then, The Palace
Just as I was about to walk away from the palace and end my photo shoot of Vienna the catering trucks all sped off leaving me the photo I went up to capture.
I went for a crop of an image that's a bit more "pano" than I'd normally do. But, unlike the images I've taken here in the past, I'm pretty happy with how this set came out; despite the moody weather.
In travel photography, you'd definitely prefer nice weather. People want to see images of their destination of choice that look welcoming, not moody. But, when the conditions aren't great, you kind of just have to make it work. I think these images work.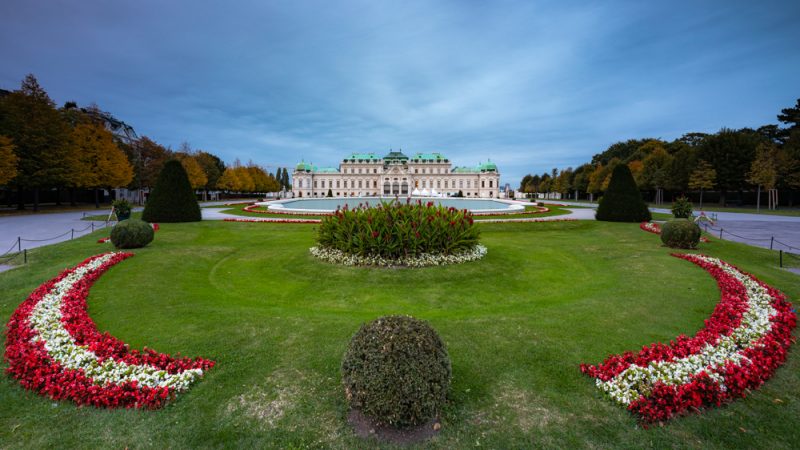 What is Monograms?
I explained my Monograms assignment in some depth over in my last post from London. So, head over there if you want to find out a bit more.
But, in short, Monograms is a tour company that blends traditional group travel with the freedom of self-guided travel. They're a great option for photographers who are looking for a bit more freedom on their holiday, but also want to take away some of their travel stresses.
And, full disclaimer as usual, though I was paid my Monograms for this assignment, they have no influence over the words I write, or the videos I produce on my YouTube channel.
What's Next?
My travel photography assignment with Monograms takes me next to Prague. I have at least one blog post from there. Then, I'm hoping to publish a couple blog posts from my journey on the Annapurna Circuit.
In real time, I'm somewhere over the Atlantic on my way to Brazil via Gibralter, Tenerife, and Cape Verde – 3 places I've never been before.
See you on the next adventure.