This might be the biggest announcement I've ever had to keep under wraps. I've teamed up with my good buddy, and legendary photographer, Thomas Heaton to start a new company called Photo Voyager. The goal? Run epic photography conferences on expedition ships! To start things off with a splash (pun intended), we'd like to formally invite you on board (pun also intended) our floating photography conference to Antarctica!
Oh, and did I mention that Tom and I are also bringing 8 other world's more renowned photographers? Yeah, this is going to be epic.
Dates: November 29-December 10, 2020
Price: Starting at $7,995
Activity Level: Minimal. Optional short walks.

Join Us + Early Bird Discount
If you'd like to join us, we're offering an early bird discount on some of the different berths of up to 10%. That discount only applies if you book before October 31st.
EARLY BIRD PRICES:
Triple Suite = $7,995
Porthole Suite = $9,595
Window Suite = $9,995 (Regular $10,995)
Promenade Suite = $10,245 (Regular $11,495)
Deluxe Suite = $10,545 (Regular $11,795)
Veranda Suite = $11,495 (Regular $12,995)
Penthouse Suite = $12,345 (Regular $13,595)
Owner's Suite = $13,095 (Regular $14,595)
To view the various room options, click here.
And, to book your space please send an email to with photovoyager@polar-latitudes.com. We will respond within 48 hours.
The Antarctica Expedition Ship
To make this trip happen, we needed a partner that was brave enough to give us the run of one of their Antarctic expedition ships. So, we find ourselves so lucky to have partnered with the very experienced team of Polar Latitudes. We'll be aboard the beautiful Hebridean Sky and joined by the brilliant expedition team from Polar.
Check out some of the pictures of their ship below.
The Antarctica Photographers
When Tom and I were planning this trip we had a "dream team" of photographers in mind. In our brainstorming sessions, we imagined we'd manage to convince a couple of them. Magically, we got the entire dang squad!
What we didn't want was a group of photographers that all did the same sort of thing. Instead, we wanted a blend of styles and skills. We wanted to create a situation where participants can learn something new from each person they bump shoulders with.
Below is the dream team. Honestly, I feel beyond blessed that this amazing group of photographers has joined the expedition.
Thomas Heaton
I don't think Tom needs an introduction. Landscape photographer extraordinaire, and a fantastic YouTuber.
https://thomasheaton.co.uk/
Morten Hilmer
Legit one of the best wildlife photographers in the world. And, as good as he is a photographer, he's an even better person.
https://mortenhilmer.com/en/
Erin Babnik
An absolute legendary landscape photographer from the US. Erin's composition skills are out of this world.
https://erinbabnik.com/
Donal Boyd
I first came across Donal while in Namibia and immediately felt a connection to his wildlife photography. He's a conversationalist and his love for nature shows in his imagery.
http://www.donalboyd.com/
Rachel Talibart
A true artist with the camera, Rachel's imagery of the sea is just phenomenal. I can't wait to see what she does with Antarctica.
https://www.rachaeltalibart.com/
Julia Trotti
We wanted to bring a variety of photographers and personalities, and I think we hit the jackpot with Julia. She's a fantastic portrait photographer and has an enthusiasm for photography that's so infectious.
https://www.juliatrotti.com/
Sean Tucker
Sean's a street, portrait and travel photographer from the UK. His photographic process is an art form that we all can learn from.
http://www.seantucker.photography/
Sarah Hatton
This Australian landscape photographer is one of the most up-and-coming photo-makers in the world. Her work from places like Patagonia just begs to be put up on a wall.
https://www.iso100.com.au/
Mike Mezeul II
Mike's imagery focuses on the wildest forms of nature. Whether it's an exploding volcano in Hawaii, or a tornado in Texas, Mike's imagery always seems to put him in the center of the action.
https://www.mikemezphotography.com/
Ready to Book?
If you've seen enough about this Antarctica trip to book, be sure to email photovoyager@polar-latitudes.com and let us know you'd like more information.
Remember, there is an early bird discount for those who book before October 31st. And there are only 102 spaces available. So, be quick.
The Itinerary?
Essentially, this trip is going to sort of look like a traditional Antarctica photography tour on steroids. We're going to be taking everything to the next level.
November 29 & 30th – We'll be staying at the beautiful Arakur Hotel in Ushuaia, Argentina. Here, you'll have the opportunity to go on optional activities, meet some of the photographers, go to photo sessions, or just relax at the beautiful setting of this world-class hotel.
December 1st – We board our expedition ship and set sail through the Beagle Channel. The channel is absolutely stunning.
December 2 & 3rd – The Drake Passage is famously wild. But, we won't let that stop us from learning. We'll have talks from the photographers and expedition staff. Everything from wildlife photography to photography business to marine biology and geography will be covered. Or, if you feel like relaxing, you can simply hang out and enjoy the views and seabird life that will definitely follow us.
December 4-8th – Over these days we'll bear witness to some of the fantastic beauty of both the South Shetland Islands and the Antarctic Peninsula. Being so early in the season, we'll be witness to the pristine beauty of the breaking summer. Icebergs will be aplenty, and the views will blow you away. Of course, the plethora of wildlife will constantly have your lens on a swivel.
December 9th – Once again, we make our way across the Drake Passage. If our journey down was about learning, our return will be more of a festival. We'll do photo sharing, have more talks, and just have an amazing time together.
December 10th – Around 8am we'll arrive back in Ushuaia and disembark from our incredible adventure.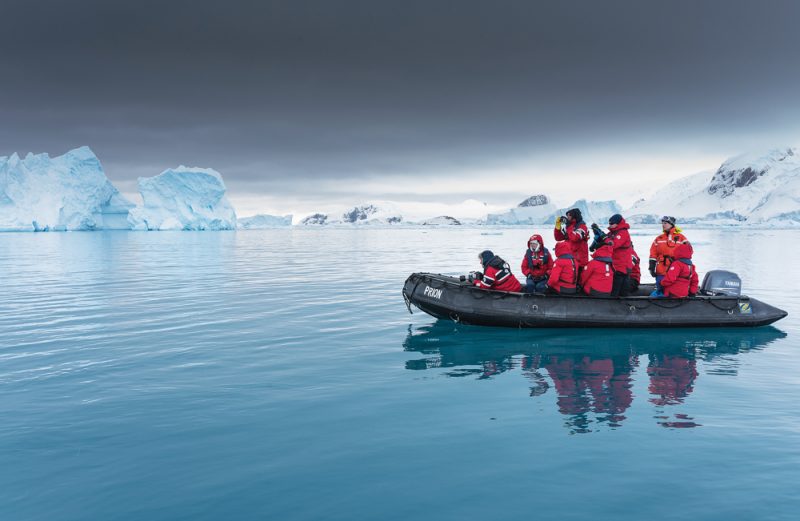 Daily Itinerary?
With 10 professional photography instructors on board, I think it's probably pretty important to explain the role of the photographers. And, I think the best way to do that is by explaining the daily itinerary. But, I should note that there is no set schedule for the trip as plans changed depending on conditions.
Sunrise – Ok, with only 3 hours of night this time of year, sunrise happens in the middle of the night. So, obviously it'll be done on board the ship and is totally optional. However, there will always be at least one of thee photographers on duty at sunrise to help you along if you're out at this time.
Breakfast – Pretty self-explanatory.
Excursion #1 – Excursions are either land or water. And generally, you'll do a bit of both. On the land excursions, groups of 8-12 people will be matched with a photographer and sometimes an expedition leader. On water excursions, groups of 5-8 people will be matched with a photographer and expedition leader in a Zodiac where you'll go searching for icebergs and wildlife.
The photographer will essentially be a group leader. But, the teaching approach will be casual. You're in Antarctica. You want to be taking pictures. So, the leader will be on hand to answer questions, or maybe just talk you through some of the things they're looking for from a photography perspective. Essentially, it can be as hand's on or off as you want.
The plan is for you to spend each excursion with a different photographer so you learn from a lot of different instructors.
Sometimes these excursions will be entirely land based. At times they'll be only water based. Sometimes they'll be both.
Lunch and Re-Positioning – You'll be back on the ship for lunch. The ship will also re-position to another location. During that time you'll have the option of down time, speaking session, or perhaps to join a photographer for a one-on-one session.
Excursion #2 – Each day we'll try to go on at least 2 different excursion. This will be operated the same way as excursion #1.
Dinner – We'll be back on board for dinner.
Evening Event – In the evening, there will generally be a speaking session, or maybe just a bit of fun in the common area of the ship. We'll also be displaying a carousel of images made by participants that day (if they want to submit them).
Midnight Sunset – Like sunrise, we'll have at least one photographer on board and awake to help you through any midnight sun photography from the ship deck.
Ready to Book Now?
Ok, so now you're ready to join us in Antarctica, right? I mean, this is legitimately unique adventure with some of the world's most renowned photographers. How many time does that happen?
If you want to join us, or are looking for some more information on the trip, drop an email to photovoyager@polar-latitudes.com. We'll get back to you within 48 hours. All bookings will be processed on a first-come, first-serve basis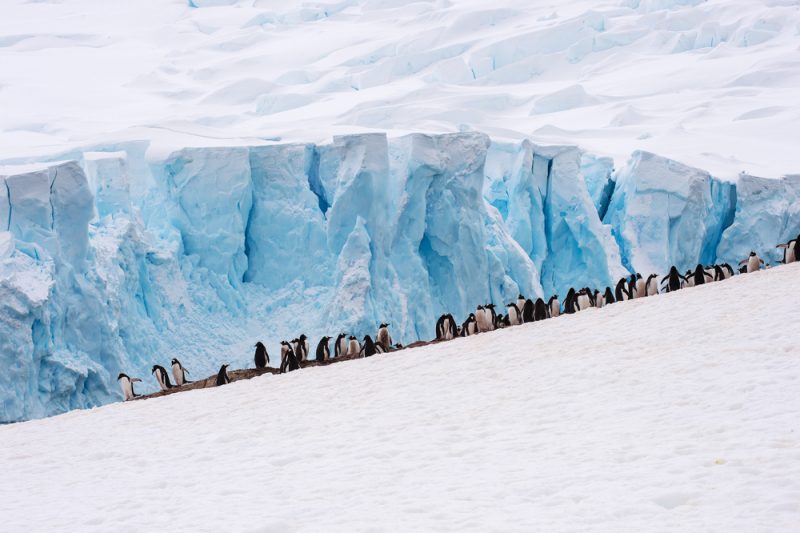 FAQs
I just wanted to list some frequently asked questions since this trip is unique. So, if you have a question, hopefully it's answered here. If it's not, feel free to email me to brendanvanson at gmail dot com.
What if I'm travelling solo?
We more than welcome solo travellers. If you're travelling solo, you'll be matched with a roommate of the same gender in a twin room. Of course, you can also choose a single supplement.
What's a single supplement?
As mentioned above, if you book the trip as a solo traveller you'll be matched with someone else as a roommate. But, if you do want a single private room you can do so. To make that happen, you'll need to pay the single supplement.
What about sea sickness?
The reality of the Drake Passage is there will be people that get seasickness. That said, it can be tempered with sea sickness pills.
Are the photographers guaranteed?
All our photographers are under contract. But, obviously, there are situations that can arise in which means that certain photographers have to cancel. It's unlikely, but we can't guarantee anything. That being said, we have a solid group of photographers and they'd only cancel under an emergency. If they do, they'll be replaced with another professional.
What skill level is needed?
There's no minimum skill requirement. Everyone is welcome.
My partner isn't a photographer, can they come?
Absolutely, non-photographers are just as welcome. And, there will be plenty for non-photographers to enjoy as well as we'll have talks on biology, geography, and history as well.
Are kids welcome?
Yes. But, you'll have to refer to Polar Latitudes for details.
What Equipment is Provided?
You'll need your own camera gear, obviously. But, each participants will be given an Antarctica expedition jacket to keep. They'll be provided with waterproof boots as well – though not to keep.
Ok, NOW You're Ready to Book, Right?
The pitch is done. This is the trip of the decade, and we'd be honoured for you to be a part of it.
To book, again, please drop an email to photovoyager@polar-latitudes.com or give them a call at (1) 802-698-8479.
And, if you can't book this one but want information on upcoming trips, please fill out the form below.