This project in Alberta was full-on. The plan was to work 19 days, with a 3 day break in the middle of it. However, my best friend got married on those 3 days between. Well, only one of those days, but you know how weddings are: day 1 = rehersal, day 2 = wedding, and day 3 = trying to recover. Moreover, I was dealing with a lot of personal issues over that weekend. It wasn't as relaxing as I had hoped it would be. So, by the time we got back to work on the Google Trekker project, I didn't have much of a rest.
The second half of the project was meant to be a nice mix of locations, though. We were spending some time in the mountains, and some time in the north of Alberta; both locations I was looking forward to.
K-Country
Kananaskis Country used to be the biggest hidden gem in Alberta. So many tourists jet straight out to the National Parks, leaving K-Country largely to locals and people in the know. Things have changed a bit, and the region is certainly more crowded. However, it's still mostly quiet. And it's still incredibly beautiful.
We did some trekking in the area. Jeff did an epic 18km hike over 2 mountain passes with a vertical gain of over 800m. I did some shorter moves, including a beautiful 12km hike with a 500m gain to a place called Prairie View Lookout. From that peak, there were 360 views of the mountains, Barrier Lake, and the prairies.
Of course, we did some shooting both in Canmore and in Kananaskis Country.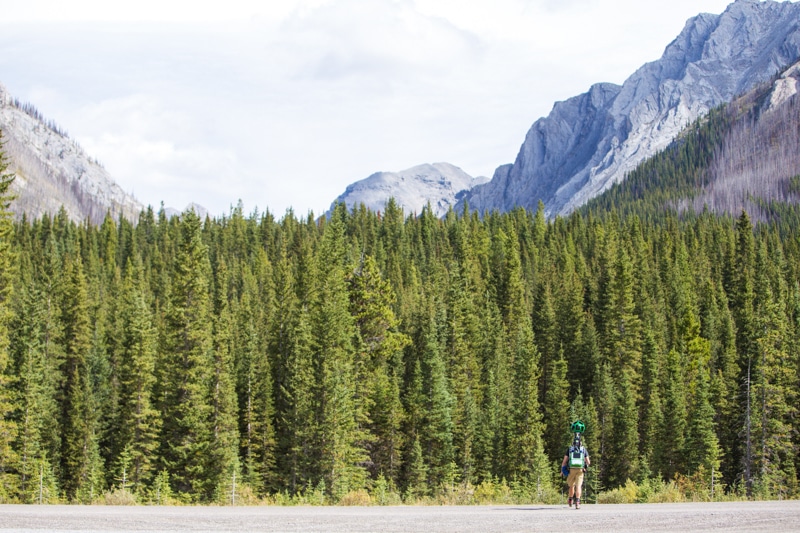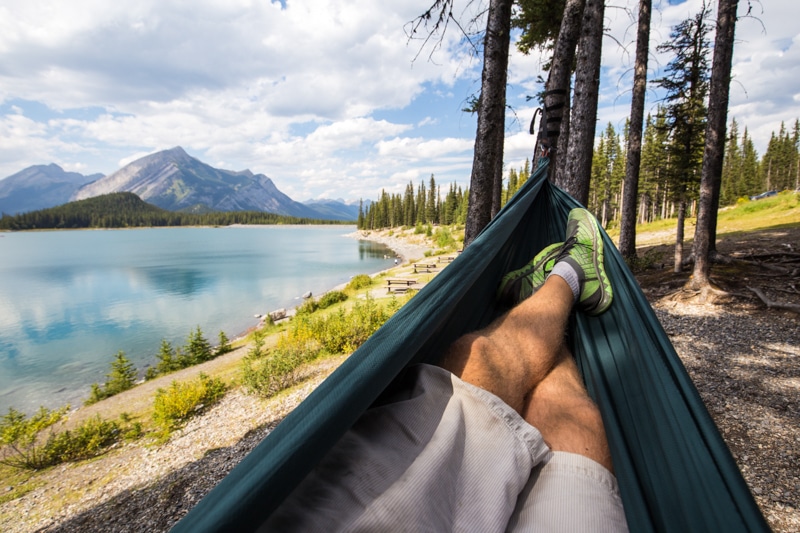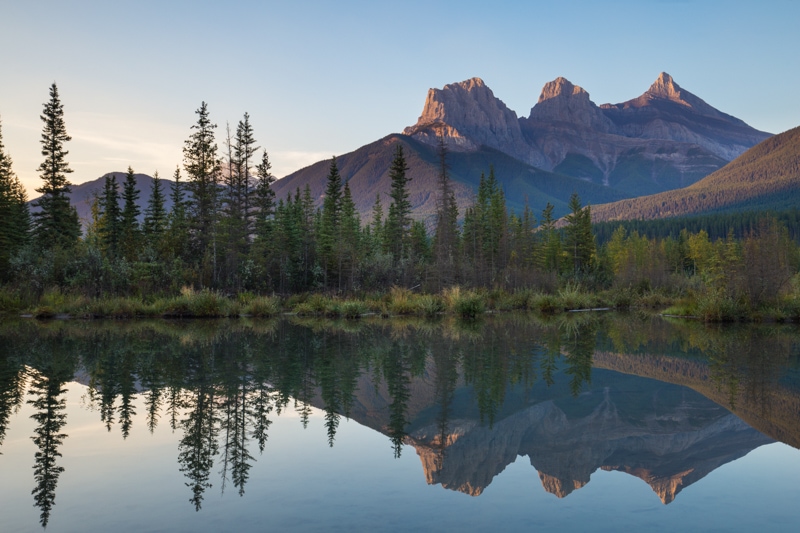 Rain, and Northern Lights
In a bit of a tease, Jeff and I pressed down the Icefields Parkway without stopping. It was strange for me to drive that road without pulling off to do some shooting in some of the locations along the way. That road never gets old.
We were pushing north, however. We made our way all the way north to Grande Prairie, which is about as far north in Alberta as I've ever been. It rained a lot. But, we still managed to get some trekking done. And, we managed to catch an extremely beautiful sunset on the prairies and a wicked display of the Northern Lights.
From Grande Prairie, we pushed on to Slave Lake. Again, we were met with a bit of rain. But, wow, Slave Lake is beautiful. I was really impressed with that area, and had no idea interesting it is visually. I would have loved to get some better weather up there to do some photography. We did, of course, find some fairly safe weather to do google trekking.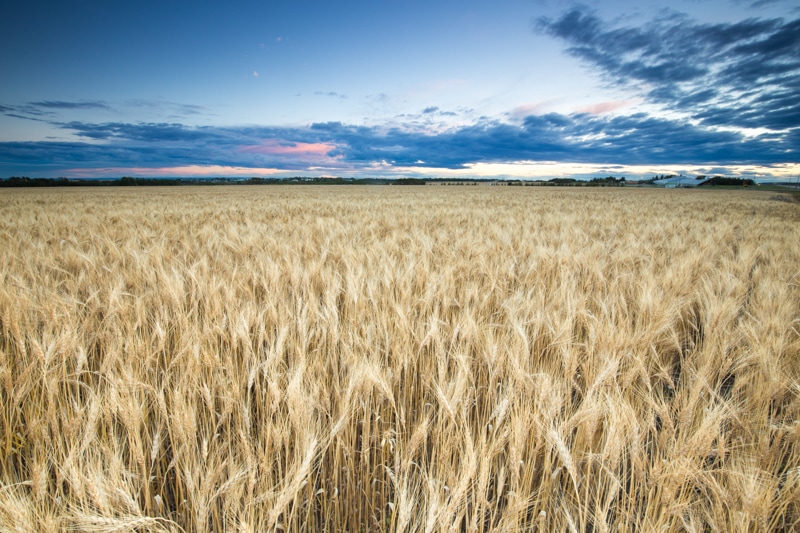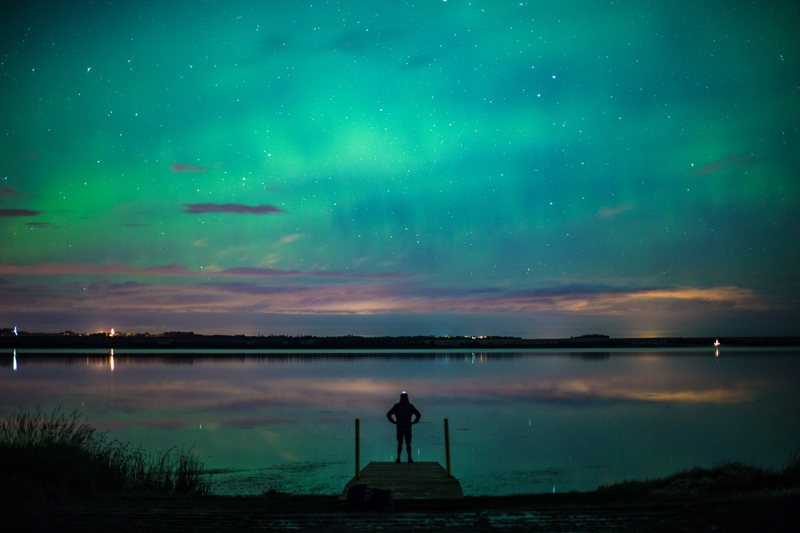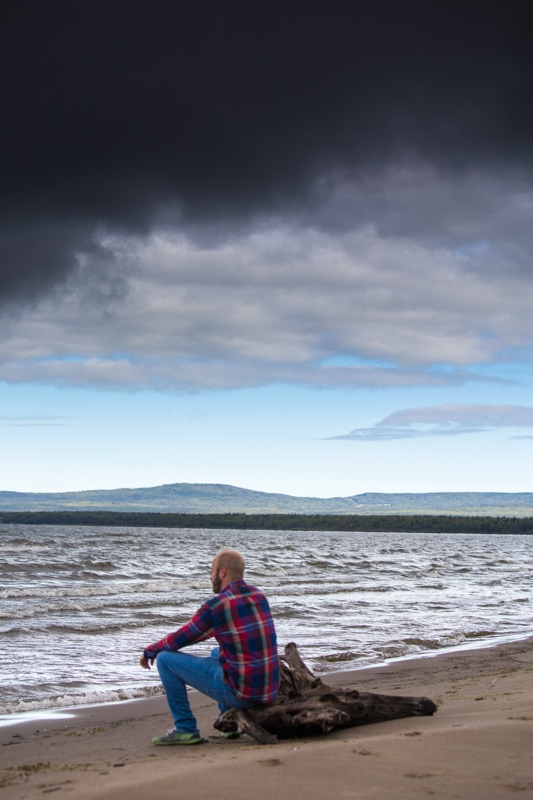 On TV
We headed south from Slave Lake to Edmonton. We spent a day trekking in Elk Island National Park – a new national park for me. If you ever want to see bison up close, this is the place to go. The roads through the park are littered with Bison.
When we were done in the park, we headed back to Edmonton where we were asked to make a quick TV appearance on Global Edmonton. We were asked to talk about our experience with the Google trekker.
Where'd my Waist Go?
After 3 weeks of working, and being on a military-strict diet, Jeff and I lost a lot of weight. In fact, by the time the trip reached Elk Island National Park, I had lost over 10 pounds, and about 2 inches off my waist. It's actually incredible how quickly it happened. It was like one day I just realized that none of my clothes fit anymore.  My initial goal is to stick to an extreme-health movement for 3 months.  If the results keep flowing like this, I'll be really happy with myself by the end of it.  And, regardless of the weight loss, I have to say I feel better physically than I have in about 7 years.

My Mountains
Our final stop in the mountains was a place that's really special to me: David Thompson Country. I grew up in this area. In fact, I could see these mountains from the deck of the house I grew up in. These are kind of like my mountains.
We were blessed with some pretty beautiful light for our last couple days of the project. We explored a lot of the waterfalls in the area including Ram Falls and Crescent Falls. We also did the trek to Siffleur Falls. Which was actually our last hike with the trekker.
I have to be honest. I wasn't sad to see the trekker go. It was real work. Honestly, it might have felt like the first "real" work I've done in about 6 years.
But, it was also so rewarding. The trekking gave me so much time to think about my life, my person, and the path I wanted to take in life. I think I grew a lot as a person over the days with the trekker. Sure, there was a rock-bottom point somewhere in there. But, when a rock hits the bottom, it can only bounce up.
And, of course, there was the weight loss. It was almost comical watching the fat shed from our bodies as Jeff and I did the work.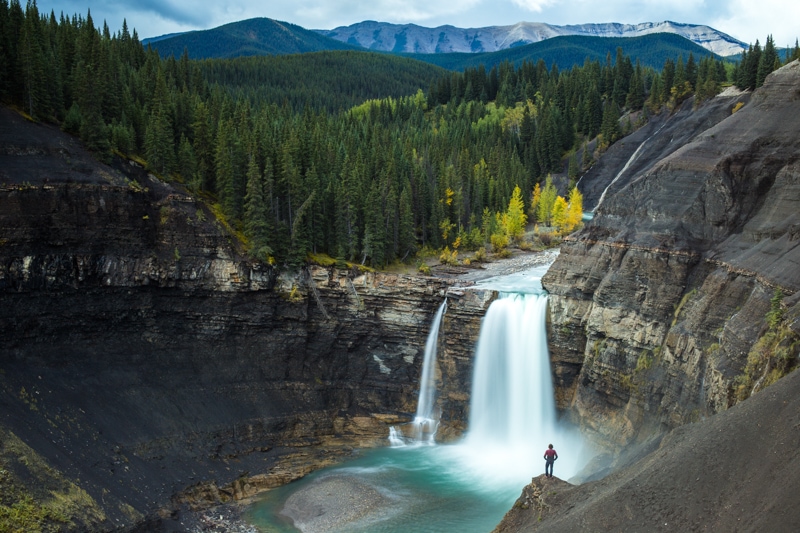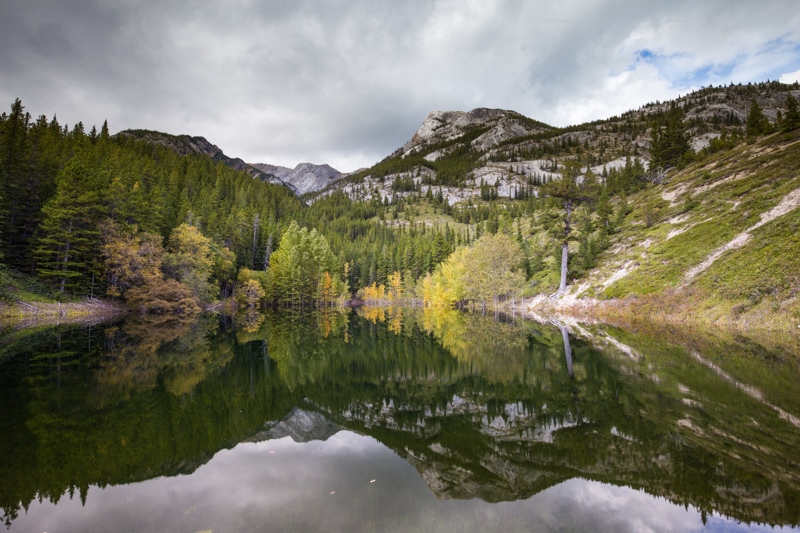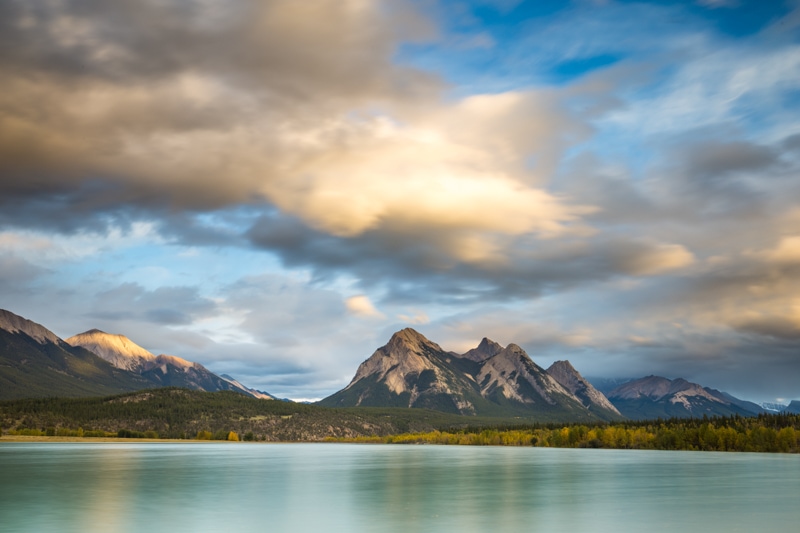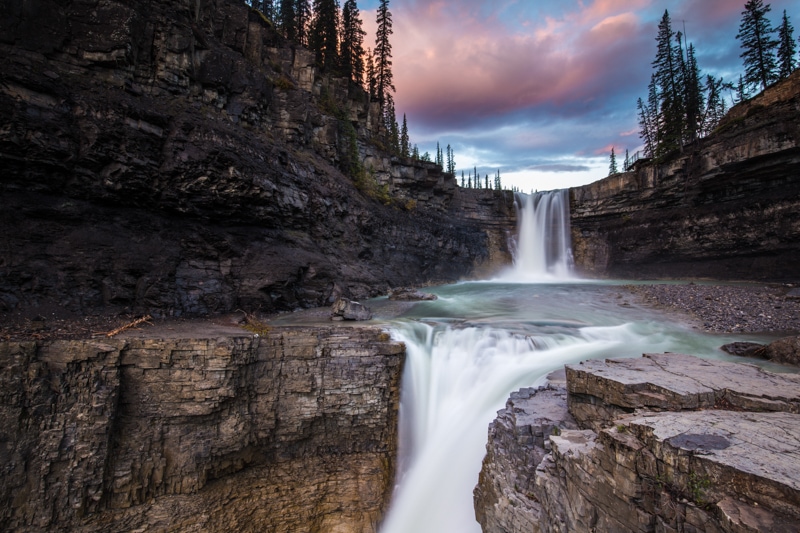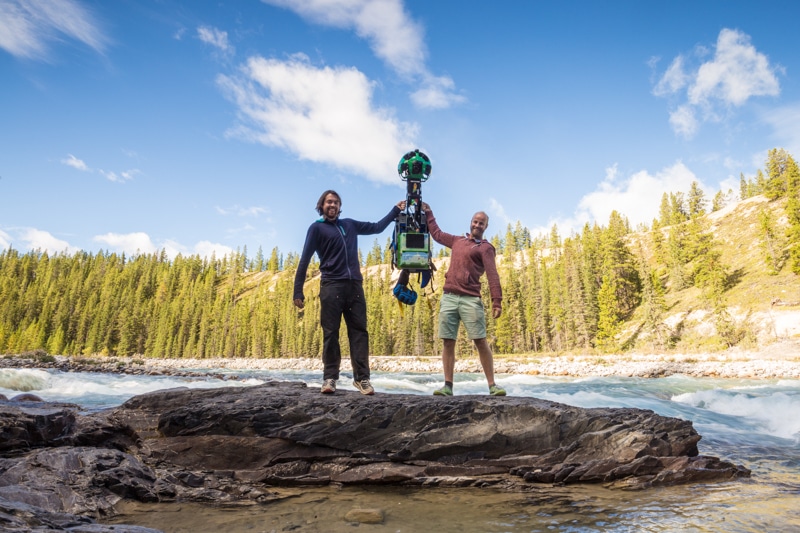 Thanks to Jeff and Travel Alberta
I need to give a big thanks to my buddy Jeff. I talk a lot about how living this travel life is so wonderful. But, I rarely talk about the challenges. One of the biggest challenges is not having a support system around you that can keep you grounded. I think I became unhinged a bit as a human being over the past year. I definitely pulled away from being the person I was. Jeff hit me in the face with a smack of humbleberry pie when I needed it. He was also there to support me and lift me up when I needed it. He was a great friend to me, and I needed that.
Also, a big thanks to Travel Alberta for the opportunity. This really was an experience. It was the type of project I'll be talking about for a while. It was the type of project that pushed me as a person, and as a photographer.
What's Next?
Honestly, I have no idea. I had plans blow up in my face recently due to some changes in my personal life. So, I don't have plans for a bit. I was going to use those days for work. But, when I got to my destination – New England – I realized that most of the problems in my life revolve around my over-entrenchment in my work. My obsession with capturing and recording my life and sharing it with the world.
So, I'm in New England now as I write this. But, I'm not really working. I'm kind of just floating around trying to get myself grounded again. Trying to re-establish my purpose.
There will be articles on that in the future, I think. But, for now, I kind of just need to flush this obsession of work from my system a bit. In fact, as I write this, I've just come back from being completely offline for over 3 days. It was necessary.
But, don't fret, there is travel and adventure coming up. Over the next couple months I have projects in Spain, Italy, India, and Cuba.