Norway was so beautiful that it needed two posts.  If you didn't see my first article with photos of Norway, check it out.  Normally, the goal here is to kind of summarize my travel adventures on a country-by-country basis.  But, Norway was just so unreal that I needed to post two articles. I made sense to split them up into North and South.
My trip through Northern Norway was done as a part of a project with TopDeck Travel.  I was there shooting an epic video, and completing a couple tasks on their "#Ultimate49 Bucket List".  I had an amazing time on the trip, and while I loved adventures in the south like Trolltunga, I think the North of Norway is one of the most beautiful places I've ever been. I had such a great time that I'm already planning a return to shoot more locations.
This is the breakdown of my time in Northern Norway.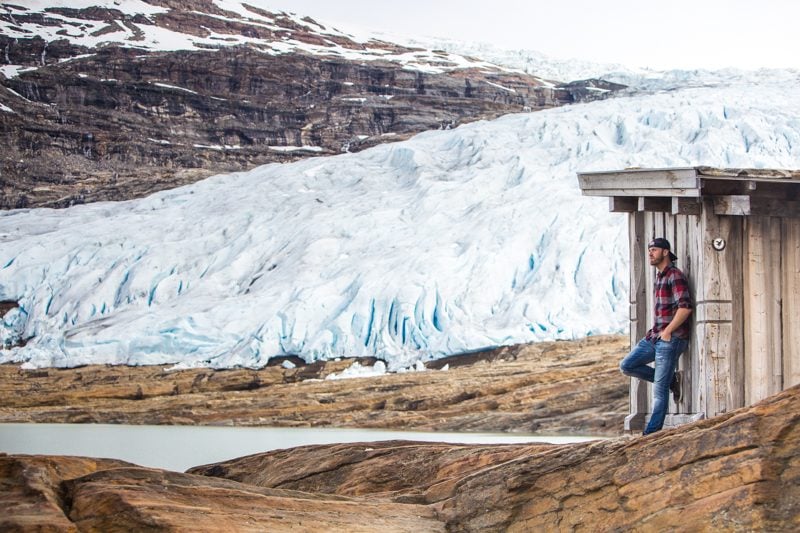 Svartisen Glacier
Leaving Steinkjer, I kind of worried that the most beautiful landscapes in Norway were behind me. I mean, how could it possibly get better, right?
We pushed north and did a day trip in to see Svartisen Glacier.  And, as a Canadian, and having grown up near the Icefields Parkway, I kind of thought that there's no way I'd be really impressed with a glacier.  I was wrong.

We arrived at the park, and hopped on a boat which cruised us across to the start of a hike. Immediately upon arrival I started seeing amazing potential locations to shoot images.  There was this crazy series of waterfalls tumbling down through the landscape into the lake and so I kind of ditched my group to get a couple shots there.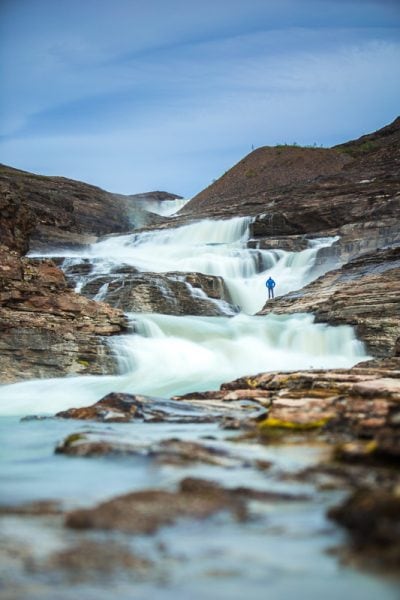 Then, I pushed on towards the glacier.
The glacier too, was amazing. I was also amazed at how accessible it was. Sure, there are places in Canada like this, but they are fairly hard to get to or totally controlled.  I got some shots at the glacier, and then we pushed on.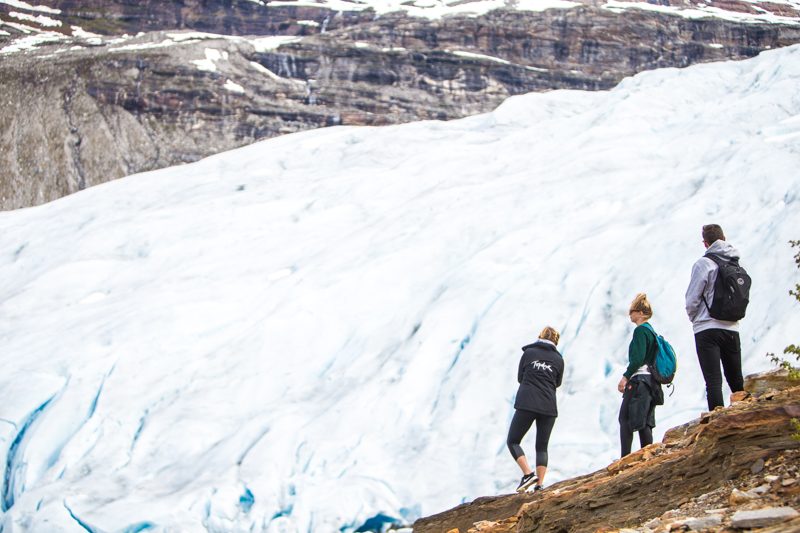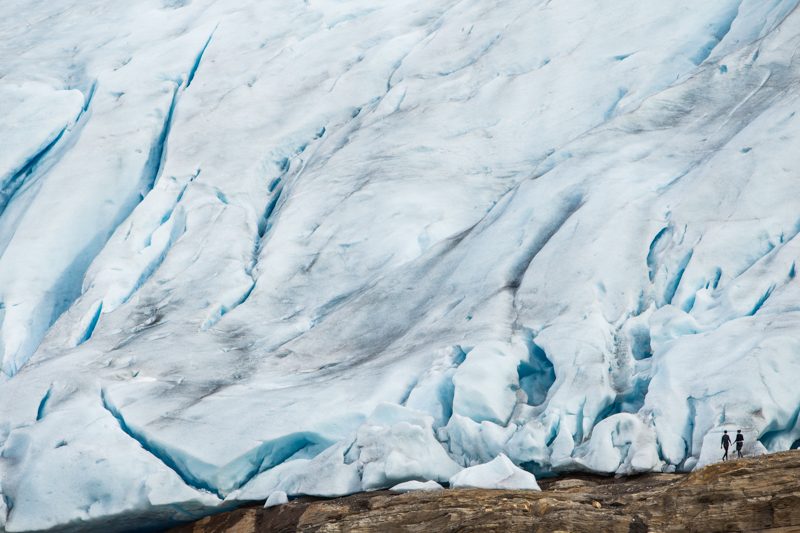 Crossing the Arctic Circle & The Polar Plunge
That same day, we pushed across the Arctic Circle.
It was my first time across the Arctic Circle, and I've now been across both the Arctic and Antarctic Circles.  The drive north was just stunning.  I have no idea how some of the passengers could sleep through some of these beautiful Northern Norway landscapes.  My biggest problem was trying not to over-film as we drove north.
That afternoon we arrived in Skibotn at our campsite.
There, we had the task of ticking off one of the TopDeck #Ultimate49 bucket list items: a polar plunge.
Since the weather was pretty good, everyone seemed totally up to the task.  It was almost as soon as the bus had stopped everyone was already in their swim gear and headed towards this bridge over a glacial-fed river to do the plunge.  Honestly, since I had done a polar plunge in Antarctica – literally as icebergs floated around us – I was expecting this to be easy.  But, it wasn't. I mean, jumping in was easy.  As soon as I hit the water, though, all the oxygen was smashed from my lungs and just swimming to shore seemed like a "fight or flight" moment.

The problem with the polar plunge was that the light was terrible.  I was on the trip on assignment. So, I needed cool footage and shots. I needed to photograph this scene at sunset. But, of course, there really isn't sunset this far north in June and July.  However, the light did improve at about 2am. And, I managed to convince a couple people to do the jump again.  I captured this series of photos of it.
Thanks to Donna and Jonno for being troopers.
The Midnight Sun
One of the other bucket list items on the #Ultimate49 was to head to the northernmost point in Europe – Nordkapp – and shoot the midnight sun.  So, our TopDeck squad jumped on a coach in the evening and headed north.
I almost seemed foolish thinking that the landscapes wouldn't be amazing in the north.  These northern landscapes are so beautiful that on the drive to Nordkapp I decided I need to do a month trip up there just to shoot imagery.
Once we got to Nordkapp, I was actually really surprised how busy it was. It's funny, it seems like we haven't seen tourists at all on this trip. Then, as we arrive to the place farthest away from any major city they area everywhere. The parking lot looked like an RV dealership. It was insane. But, luckily, most people seemed to congregate around the monument and so they were easy to get away from.

Along with a couple TopDeck passengers, I went off on a little bit of a photo shoot up along the cliffs overlooking the sea. The light was amazing, and I walked away with some images I really love. Again, I need to get back up here and spend more time. There are just way too many incredible photo spots up here not to spend more time shooting.
I think, if I have some free time next spring I'll rent a car and explore this part of Norway much like I did southern Norway on the couple free days I had down there.
Down to Estonia
In Nordkapp, our north-bound journey ended. Over the next couple days we pushed back south cutting down a rainy Finland eventually settling in Tallinn. Over that trip, I had my birthday. It was kind of a special evening leading into it.

What's Next
As I mentioned recently, I'm kind of jumping all over the place these days on the blog because I feel like I write better when I'm writing about what I want to write, rather than just following the same time frame as my travel vlog channel. So, over the next week or so, look for blog articles from Kyrgyzstan, London, and Scotland.
And, if you haven't seen it, this is actually a part two to my Norway photography blogs. The first one can be found here.