Over my 8 years or so of travel, I've gone hiking on 6 different continents.  Generally, my biggest struggle in trekking is finding places where I can still find solitude among epic mountain peaks and perfect nature.  It seems these days that the best places in the world for hiking are all saturated with hiking pole handling trekkers in gear far more expensive than they need.  The bests trails Alps, the Rockies, even the Andes are lined with hikers.  But, in Kyrgyzstan, I still found that freedom to roam. That freedom to explore. That peace.
This is my experience on a 3-day trek in the Karakol region of Kyrgyzstan.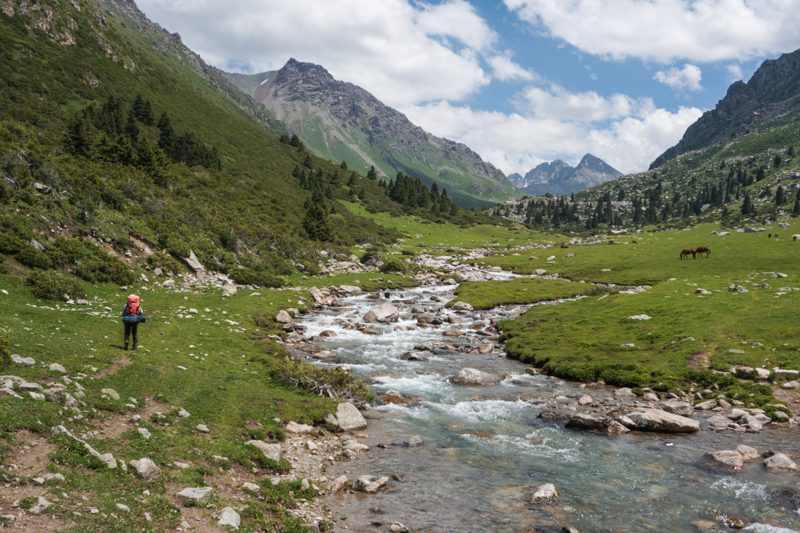 Jerghez
My trek started just outside of Karakol and took me into a valley called Jerghez.  Leaving the village, along with my guide, porter, and a cook (obviously a little bit overkill for what I'm used to), we headed towards a series of snow-capped peaks.
Within a couple kilometers there were no signs of human settlement.  By afternoon, we were off trails completely and sort of just stomping our own way through the valley.
I asked my guide, on the first day, how many times he's done this particular trek.  He hadn't. It was his first time too.  In fact, this particular trek is extremely undeveloped.  The Kyrgyzstan tourism board, in association with USAID BGI is looking to develop it for tourism. And, the trail is actually a part of a longer trek that people could hike 7 days.  Of course, with the trail still unbeaten, guides are almost essential. And, we followed along with a topographic map to make sure we were headed the right way.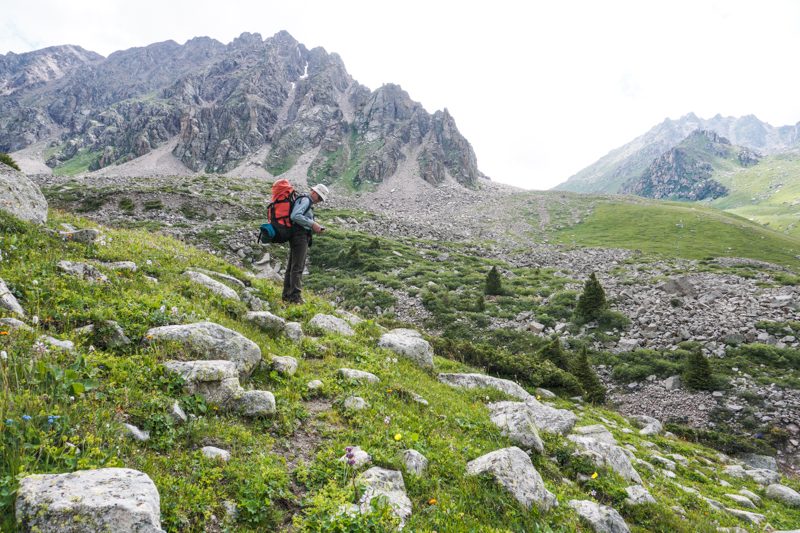 Eventually, before reaching our first pass, we made camp at what might be the coolest place I've ever camped.

Even by the end of day 1, the trek into the Kyrgyz mountains was so worth it.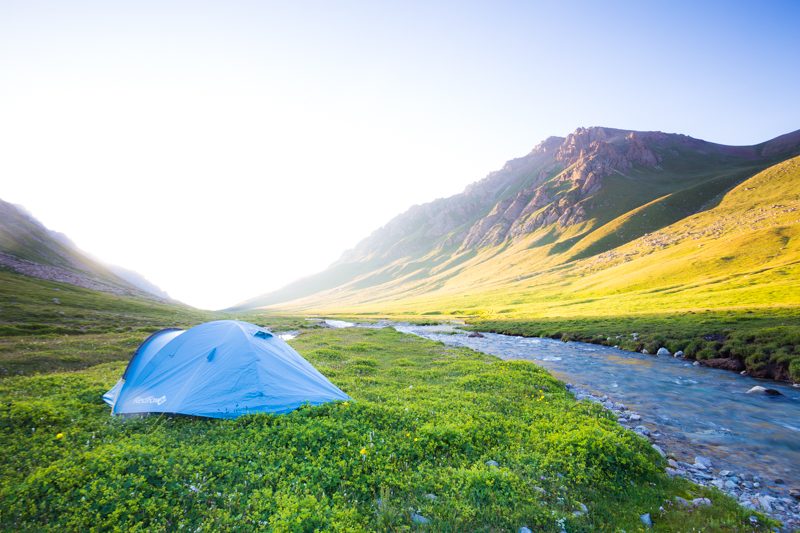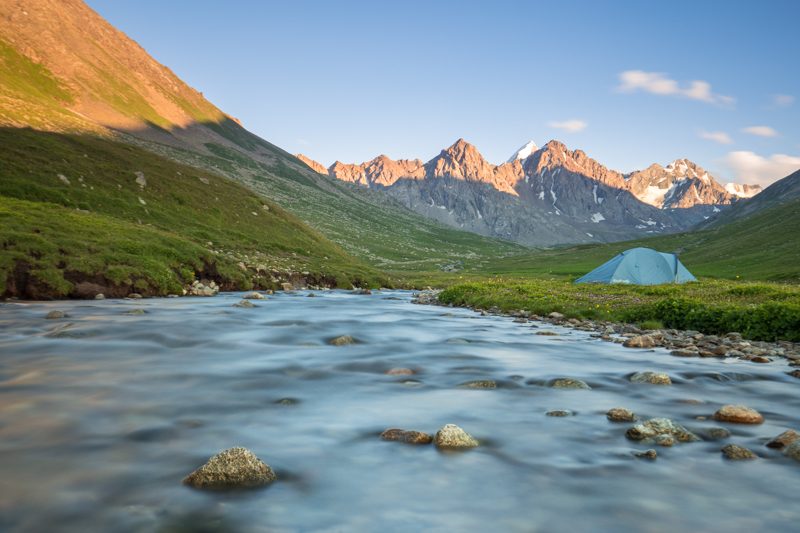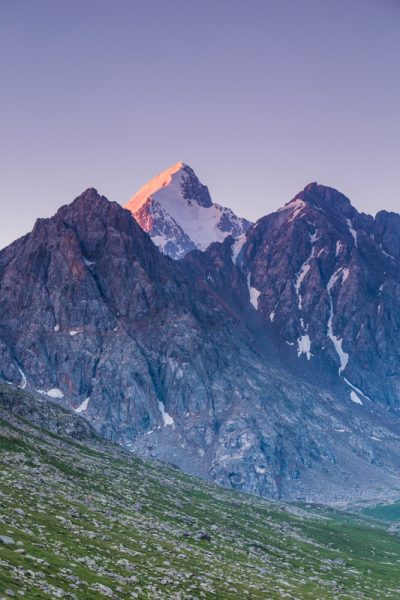 Ak-Suu
The following morning, we pushed up our first mountain pass.  The pass itself was fairly easy; steep, but not overly intense. We hit an altitude of 3700m well before lunch and enjoyed the views from the top of the pass.  They were just unreal.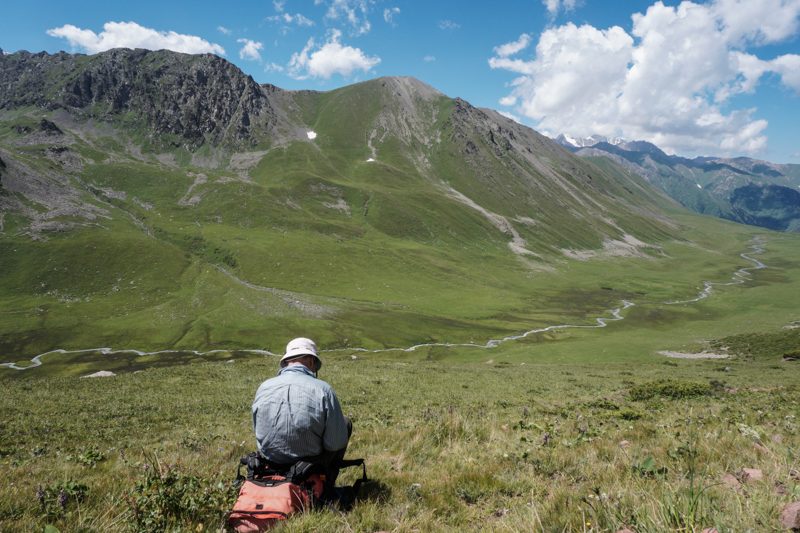 From the pass, we made an 800m decent into Ak-Suu Valley.  Ak-Suu, in Kyrgyz, means "White Water".  And, one look at the river carving through it is ample evidence why.  It almost looks like a rolling stream of milk from a distance.  The water is so thickly saturated with glacial rock flour coming off the nearby glaciers that it's almost pure white.  Up the valley too are some of the most impressive peaks in Kyrgyzstan.  And, honestly, if I had been there on my own I probably would have spent an extra day in this valley photographing it.  But, with a pretty strict itinerary, we pushed on.

In the early evening, I was a little bit worried that I wouldn't be able to photograph the scene.  A heavy thundershower ripped through our camp.  But, just before sunset the clouds broke and left me with some stunning light to photograph.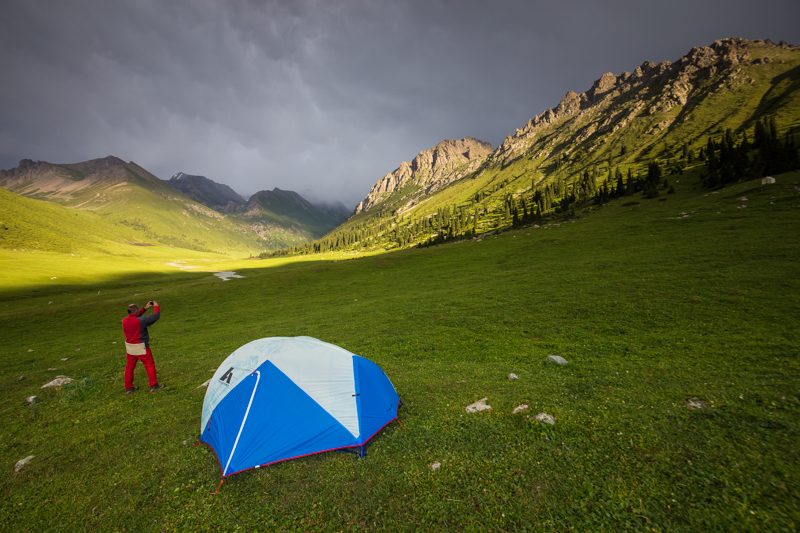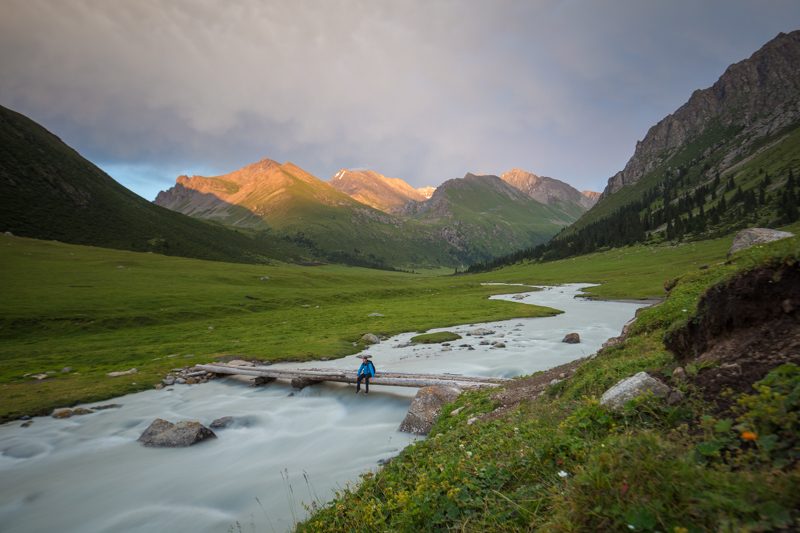 That night, we slept along Ak-Suu River.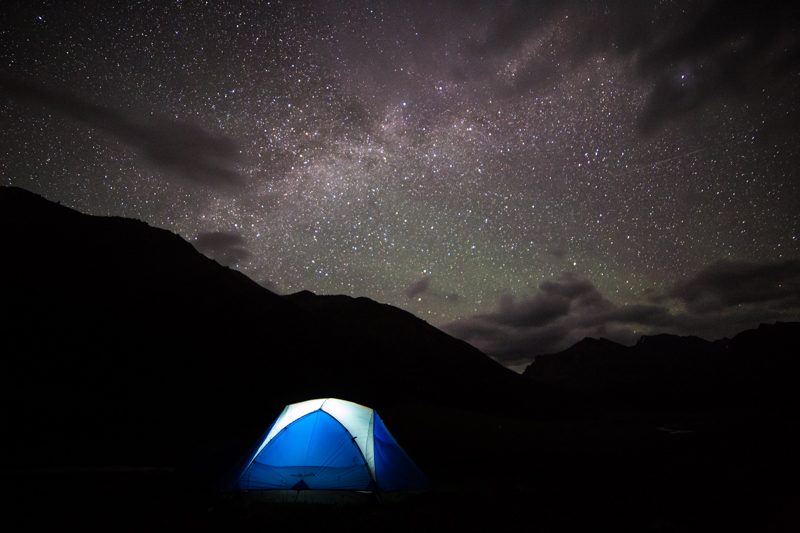 Arashan
It was almost like deja-vu as we had another 3700m pass to climb on our 3rd morning.  But, this one was a little bit steeper and more aggressive than the last.  We also had more elevation to gain as the pass from Ak-Suu into Arashan was 800m rather than a tame 500m like the previous day.
Eventually, though, we made the summit of the pass. And, again, we were left with just unreal vistas.
But, with some weather chasing us, we pushed downward into Arashan Valley.

The entire trek, the entire 3 days, we didn't see another hiker on the trails.  But, as soon as we got into the heart of Arashan Gorge, there were a couple groups of tourists and some independent backpackers.  Obviously, they've kind of concentrated in spots in Kyrgyzstan because so much of the country's hiking trails are still undeveloped.  So, I don't want people to think that there is nowhere to hike in Kyrgyzstan where there are developed trail systems. there are plenty.  But, I'd totally recommend getting a bit off the beaten path (literally).
Secret Hot Springs in Arashan
When we arrived in Arashan we were about an hour ahead of our transport back to Karakol.  So, my guide asked me if I wanted to go for a soak in the tourist hot springs, or if I wanted to hike another couple kilometers to some secret hot springs.  Obviously, I chose the secret hot sprints.  They were incredible, hidden right along a narrow section of the gorge carved into the cliff.  The perfect way to end a trek.
Hiking in Kyrgyzstan?
If you're interested in hiking in Kyrgyzstan, get a hold of the Karakol Tourism office, Destination Karakol, they are a non-profit tourism board and can point you in the right direction for hiking and other tourism activities in the region.
Coming up
If you've been following the vlog, you'll know I'm already back from Kyrgyzstan. But, I've got 3 more posts from the adventure coming up.
Also, if you haven't yet, check out my post on the sport of Kok-Boru (aka: dead goat polo).
*************************************
This trip was made possible by the support of the American people through the United States Agency for International Development (USAID). The contents are the sole responsibility of the author and do not necessarily reflect the views of USAID or the United States Government.