When planning my winter trip around Europe, I had really circled a couple destinations on my list of cities that I really wanted to photograph.  Tallinn, Estonia was high on that list, and one of the places I actually considered set up as a base city – spoiler, I'm now based in Europe, and will be for the foreseeable future.  All the photos I had seen of the city, as well as the stories I'd heard from other travellers were that Tallinn is a wonderful place to be; and it definitely is.
As usual, check out what I got up to in Tallinn in the video and article below.


Best Places to Photograph in Tallinn
Tallinn is a fantastic city for photography.  The old town is enourmous and there are countless alleys and streets that make for great images.  If you're looking for big dramatic iconic photos of the city though, there are 3 really great locations for photography in Tallinn.  There are a couple other decent spots worth checking out that are also listed below.
Kohtuotsa Vaateplatvorm (Viewing Platform)
This angle gives you a great over view of the churches in the center of Tallinn.  It also gives some interesting angles into the streets of the old town.  The location isn't perfect, but it's good.  There are some trees in the way, and the background to the images are the tall hotels and modern part of the city, and that kind of spoils certain shots.  Still, this is a must location.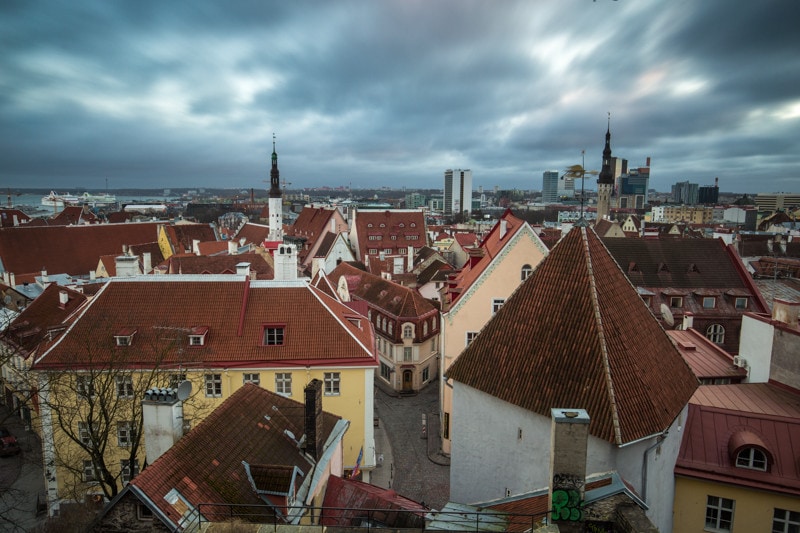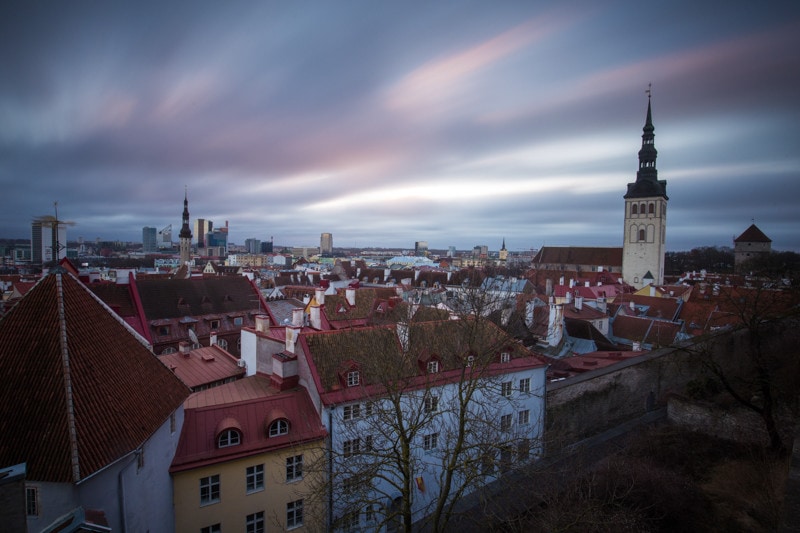 Patkuli Viewing Platform
Personally, I like this angle of the city better than the Kohtuotsa viewing platform, although it's different.  From here, your photos will also show those iconic city wall towers as well as the churches.  The background too is much more clean to photos of Tallinn taken from here.  It's only a 2 minute walk between these two viewing platforms, so you definitely can photograph both locations during the same sunrise or sunset.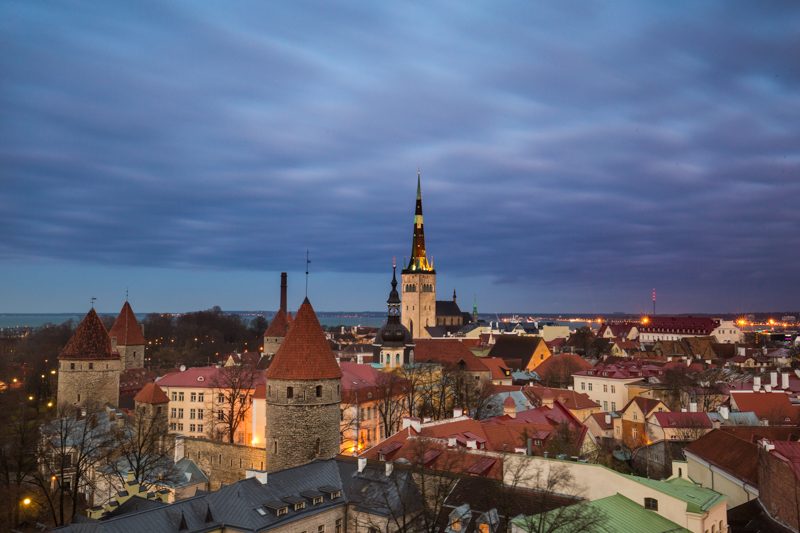 The Radisson Blu Rooftop Terrace
The bartender at the Monk's Bunk Hostel told me about this one, and it didn't disappoint.  You can head up to the rooftop terrace at the Radisson Blue for incredible views of the old town of Tallinn as well as the sea and the rest of the city.  I went up the elevator and onto the deck of the bar without anyone asking – or caring – if I was a guest.  I didn't have to buy a drink to be up there.  The one bit of advice I would give if you go up here is to have a tall tripod.  I forgot the extension for my 3 Legged Thing tripod and had to rig a way to get up above the glass barrier.  Another bit of advice from here is to carry a long lens.  I shot most of my photos of the Tallinn Skyline from up here on my 70-200mm lens.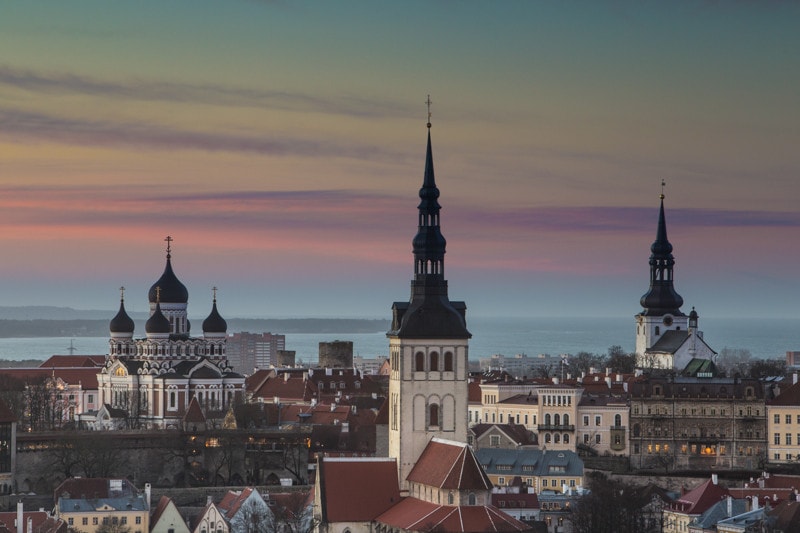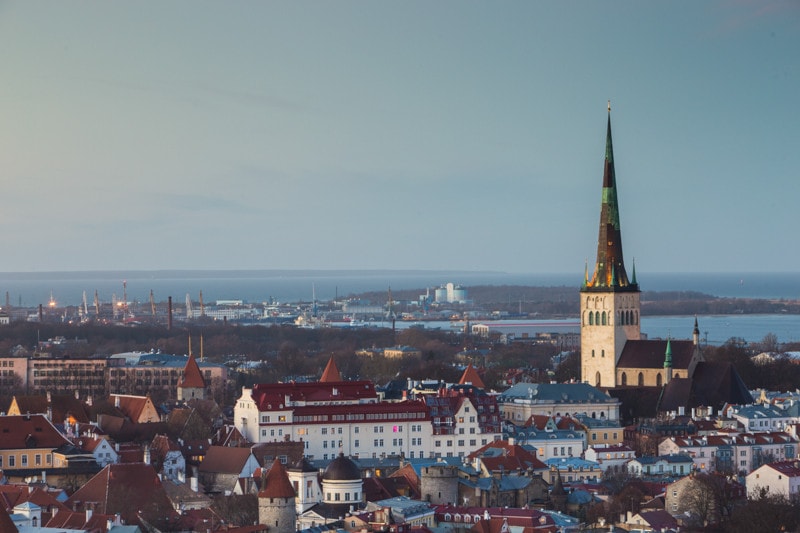 Raekoja Plats – Old Town Square
The old town square in Tallinn is lovely.  For photography, though, it can be a bit of a challenge as there are lots of crowds.  If you're going to photograph it, I'd recommend coming here in the morning before the crowds start to roll in.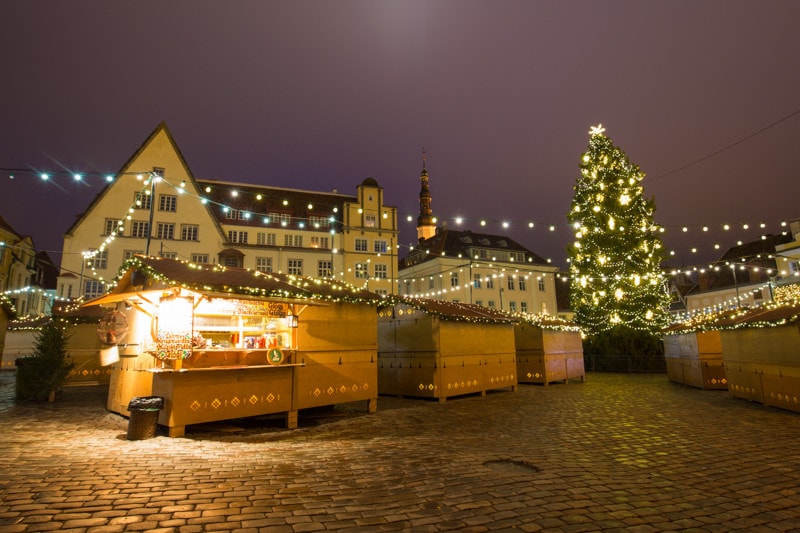 Alexander Nevsky Cathedral
One location I didn't really photography was Alexander Nevsky Cathedral.  It's a bit of a challenge to shoot, I think, but it is stunning.  Again, beat the crowds and come to shoot this building at sunrise.
Quick Thoughts on Tallinn
I'm running a bit long on words to this article already, so I thought I'd just leave some of my quick thoughts about the city.
Weekend Party Town: Tallinn is a massive party town on weekends. I think the biggest contributing factor is that it's just a couple hours by ferry from Helsinki, and drinks are about 1/5th the price they are in Finland. Also, cheap airlines make Tallinn an easy place to get to if you're looking for a big weekend outside of your city in Europe.  Most of the hostels in town are geared towards the weekend party crowd.
Beautiful People: Of all the cities I've been to in Europe, Tallinn had some of the most beautiful people walking the streets.  They are trendy, fashionable, and they are really good-looking human beings.  What's in the water in Estonia?
Place to Live?: As I mentioned in the intro, I considered making Tallinn a base for my European travels.  And I think it would make for a great place in the summer.  However, in the winter the days are really short and I actually felt pretty down because of the super short days.  I need more warmth. That said, with such a good vibe, I'd love to spend a couple months here in the spring or fall when the weather is better, there's more light, and there isn't a mass of tourists like there might be in the summer months.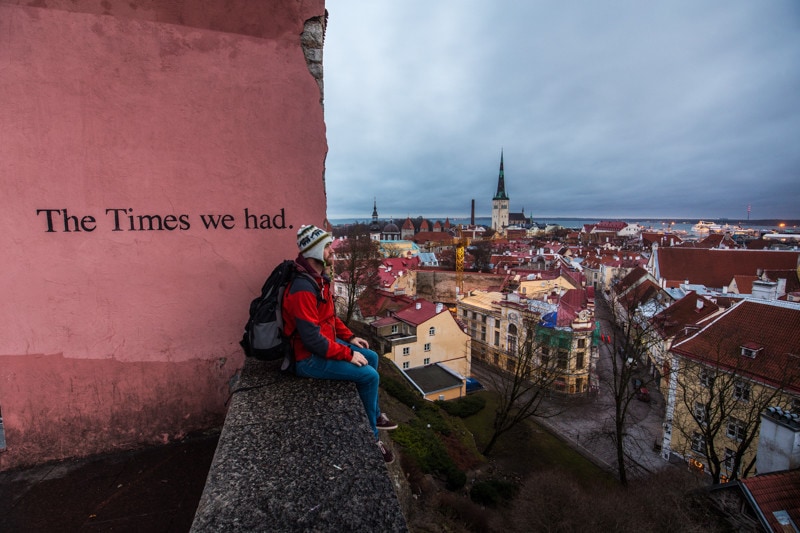 Where I Stayed in Tallinn
During my time in Tallinn I stayed at the Monk's Bunk Hostel. I was really in the mood for a big night out when I got to Tallinn, as I hadn't had a proper party in a while.  And well I avoided the party on Friday on purpose, Saturday when I planned on having a big night, I came down with a nasty cold.  Sunday, all the party people left town, but I still managed to get far too much drink in me with the crew from the hostel.  Monday morning when I had to hike 30 minutes to the bus station to leave for Riga, I was still beyond drunk.  Beware, the Monk's Bunk Hostel will get you drunk.  You can't hide from it. No matter how early your bus is.  That said, it is a fantastic hostel even if you're not looking for a wild party. Good people, great location, and a pretty cozy spot.
What's Next on the Travel Photography Blog
Hungover, I made my way to Riga, Latvia after Tallinn.  That's where my next article is coming from.  Then, I have bits and pieces from Vilnius, Gdansk, Krakow, and much more of Eastern Europe.