Let me start out by saying that I kind of under-estimated this Route 66 road trip. I love a good road trip. But, most of the time I based my road trips around certain photo destinations. And while there's lots to photograph on "the mother road", it's not really a "photography destination".
Early in the trip, I was struggling to find things to photograph that didn't feel cliché or simple. I found myself fighting a rut.
But, as the road trip wore on, I started to understand it. I started to feel the vibe, and the energy of the mother road. I started to learn a lot about my own photography as I moved along. I learned something really important: though they might not be classic photo locations, the most rewarding images are ones that you've made and that are unique. And I think that along this Route 66 road trip, I made more unique images than I did in Patagonia – even if they might not have seemed epic.
I felt like a photographer on this trip. In Patagonia, I almost felt like a technician. I really thankful to this trip for bringing me back on the art side of things.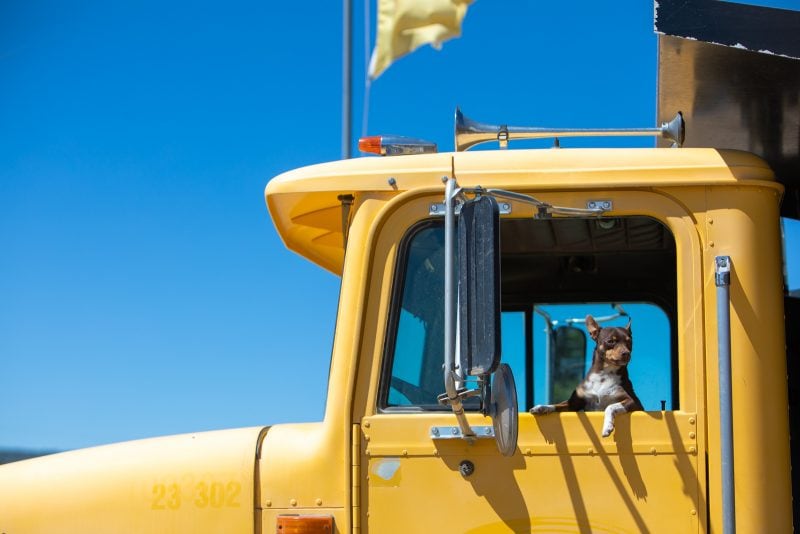 Also, it needs mentioning that this was a sponsored trip. We partnered up with Marriott International for the project. We stayed at Marriott brands the entire trip. In fact, we took it as a bit of a challenge to stay at a different Marriott brand each night – staying everywhere from Ritz Carlton to Courtyard. So, a big thanks to them for helping make this trip happen.
Anyways, let's get into the images.
Route 66 in Illinois
The Route 66 section that goes through Illinois is fantastically done. There are lots of signs directing you on your journey, and there's lots to see visually. However, it's probably not the most photogenic of the sections. That said, there are things and places to shoot.
Officially, the road starts in Chicago.  If you're driving the road from start to finish like we did it's obvious that from a photography standpoint we start there too.  I only had one sunrise to get a photo of Chicago. But, obviously, there are hundreds of locations for photos in the city.  So, plan to spend more time here than we did.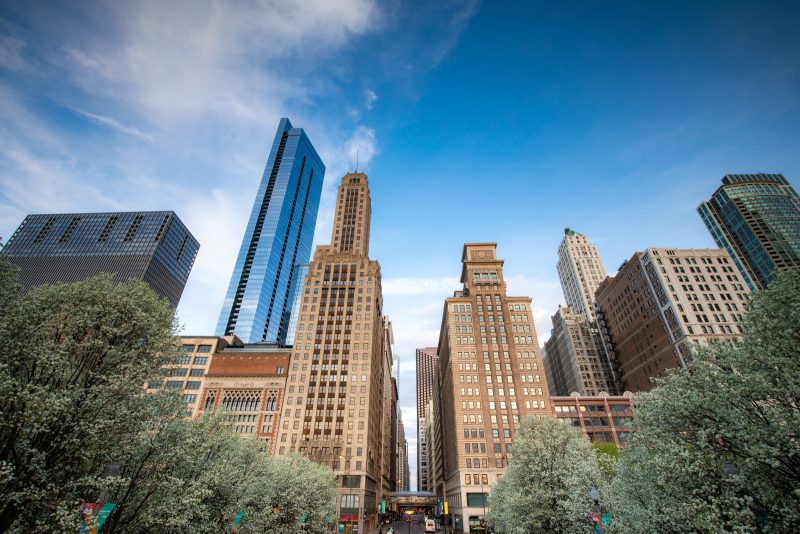 After Chicago, the route cruises quickly into rural Illinois.  We drove through some interesting places, but as our journey wasn't exactly photo-based, we just didn't have enough time to make the pictures I would have liked to.  We did, however, spend a night in Springfield (which is the capital of the state).  I'm a bit Capitol building obsessed, so I headed down to photograph it.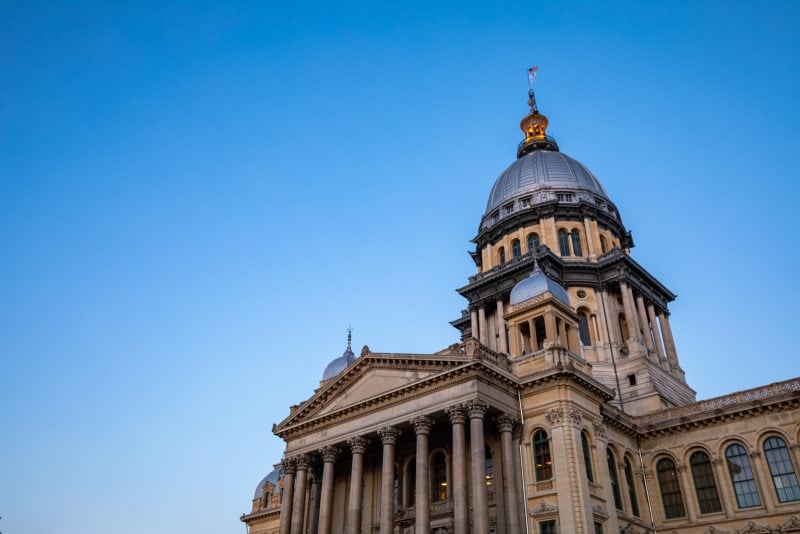 Missouri
The next section of Route 66 took us into Missouri.  We landed in St. Louis, and I immediately headed out to photograph "The Gateway to The West" arch.  It's such a great place to shoot.  I found this location and was really happy with what came of it.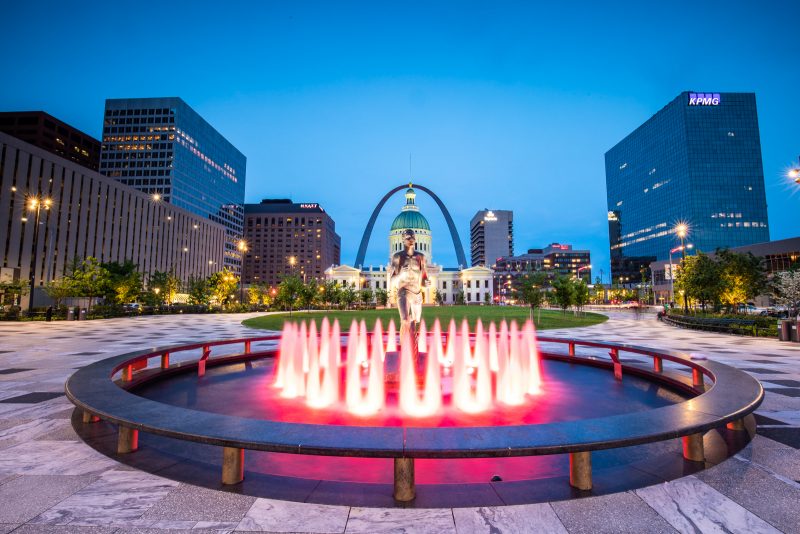 Beyond St. Louis, I found the Missouri section of Route 66 to be the most fascinating. It really was entertaining, and so different all other parts of the trip. It felt more rural, it felt more "middle-America", and it had its strange side for sure.
From a photography standpoint, however, there wasn't much beyond the typical memorabilia and nostalgia shots. However, we did stop at the old Gay Parita Sinclair station which was phenomenal.  George, was kind enough to pose for a photo for me.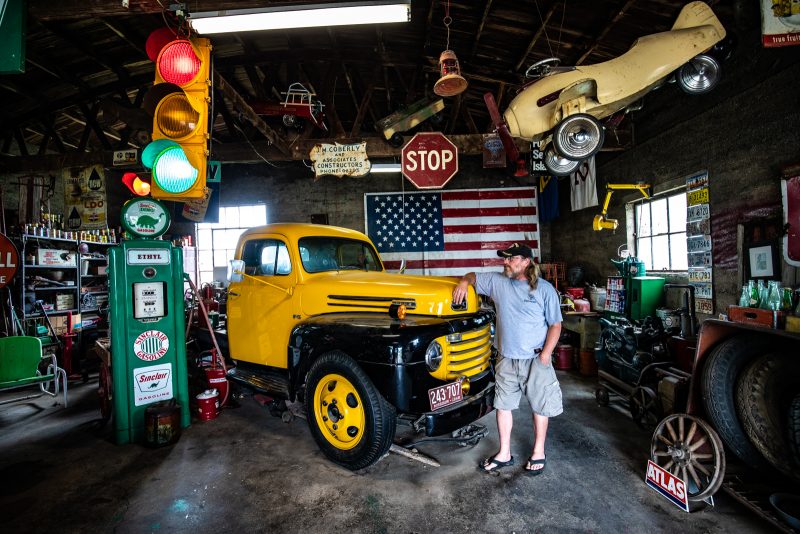 Then, just before arriving to the Kansas section of Route 66 – between Rescue and Plew –  I found this beautiful scene of a tree out in the prairie fields. It's a shot I was really hoping to get on this trip, and I'm very happy with how it came out.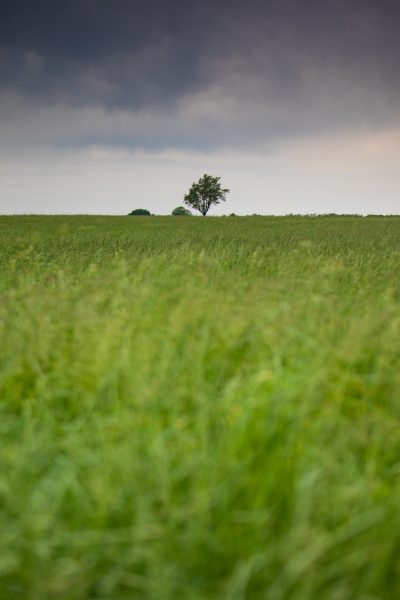 Kansas
Though Route 66 only travels through Kansas for a very short time, it was interesting.  There was a bit of a shrine to the movie Cars in one town, a beautiful old bridge, and more forest than I expected from Kansas.
From a photography standpoint, this little section of road adjacent to Route 66 was beautiful.  The exact location is just after the old bridge just after Riverton.  Note that this isn't actually Route 66, the photo was taken from the intersection of the route and SE Beasley Road; so the photo itself is of SE Beasley Road.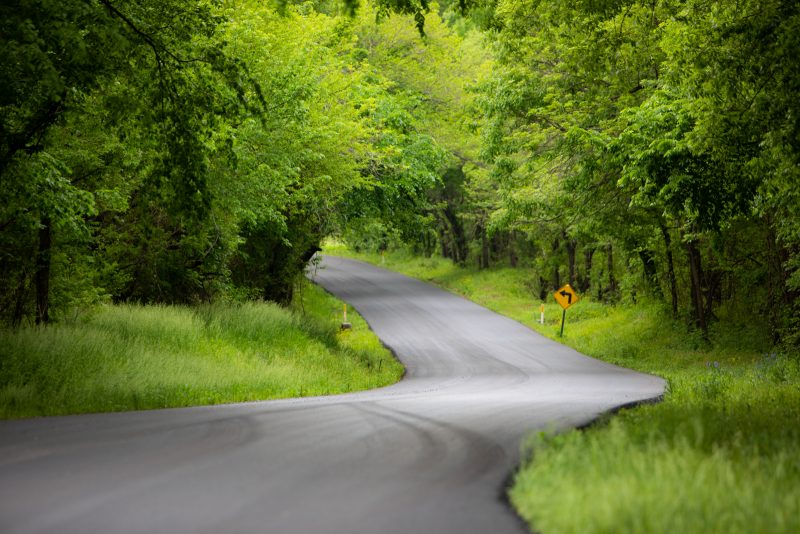 Oklahoma
Let me start by saying that the people of Oklahoma are extremely proud of their section of route 66.  In fact, I got absolutely roasted by a Facebook group for saying "there wasn't much to see on the Oklahoma section" in one of my vlogs.
Of course, those words can't really explain what I meant, and I feel were taken a bit out of context.
What I meant was that there's a lot of open space in Oklahoma.  So, aside from Route 66 attractions like the whale, and the museums, there's a lot of empty space and open road in Oklahoma.  That's not a bad thing, it's beautiful, and the drive is stunning.  It's just a lot of open roads.
That said, the absolute best Route 66 museum on the whole of the road was in Clinton, Oklahoma.  We kind of whipped in and out of most of the museums, but the one in Clinton is so good. We spent a couple hours there. It was a great meld of information and entertainment. Extremely well done.
From a photography standpoint, there are lots of photo locations across the prairies.  However, as we were short on time for this sections, we really had to push to Oklahoma City.
Oklahoma City surprised me. It's really photogenic.  And – what was a bit of a theme on this road trip – we found ourselves short on time and I really had to pick just one photo locations.  So, I went to the capitol building.  There's a great composition in front of the flags of the native nation flags, and I'm really happy with the shot I got there.
Mark OKC on my list of cities I have to go back to. And, while I'm at it, Tulsa looked cool.  It's a shame we had to whip through it to keep our schedule.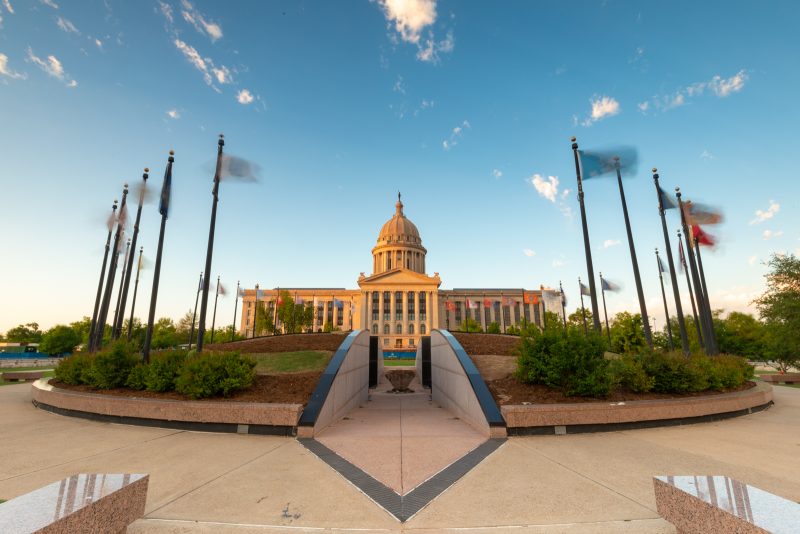 Texas
Like Oklahoma, the Texas section was a lot of open roads and long distances between attractions.  Again, we found ourselves covering way too much ground in one day to get to Amarillo.
On the way, there are some beautiful images of the windmills and the open skies.  In fact, when we were going past there was a massive grass fire before Groom which made for some dramatic imagery.


After spending a night in Amarillo, I actually headed back to near Groom to photograph a tree out in a wheat field.  I didn't get the light I'd hoped for, but this is a cool locations if the conditions are better.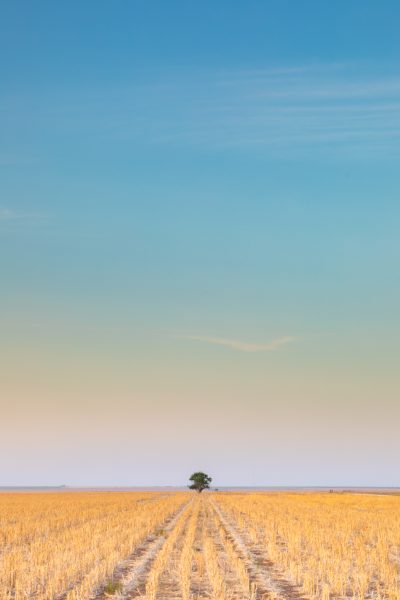 From there, we left Texas for New Mexico.
We only had 12 days to drive Route 66, and I know that's too little. I think that if I was to do it again, I'd probably try to spend a bit more time crossing Oklahoma and Texas, as we were a bit too rushed to find great photo locations.
New Mexico
New Mexico is where the "southwest" feel really starts.  In fact, New Mexico often feels like a world of its own.  A stop in Tucumcari was fantastic.  And, the BBQ we hit up for lunch – called Watson's – was amazing.
We took the "Santa Fe loop," because Santa Fe is way too cool to skip.  The adobe city has so many things to photograph.  But, I kind of found myself still struggling to make photos I was happy with.  I actually went around shooting in Santa Fe for over an hour and only took 1 picture.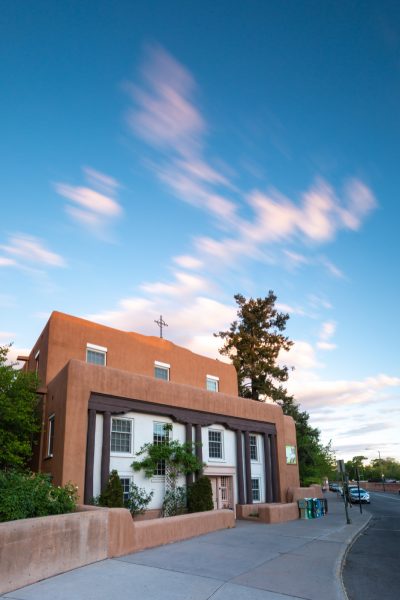 Now, I know Taos isn't on Route 66. However, if you give yourself a couple days in Santa Fe, be sure to do a side trip out that way.  It really is a cool town and there's lots to see.  In fact, from a photography standpoint I think it's much more photogenic than Santa Fe is.  Though we were there in the day, I got a bunch of photos I liked.  They're in the video from my photography channel below.
From Santa Fe, we headed to Albuquerque.  I didn't expect much from Albuquerque, but I actually think the city has a lot of potential from a photography standpoint.  And, the mountains outside of the city are incredible.
I headed up to the top of Sandia Crest at sunset, and I think this was the moment I got my photography mojo back.  The light was killer, the views were amazing, and everything kind of just came together.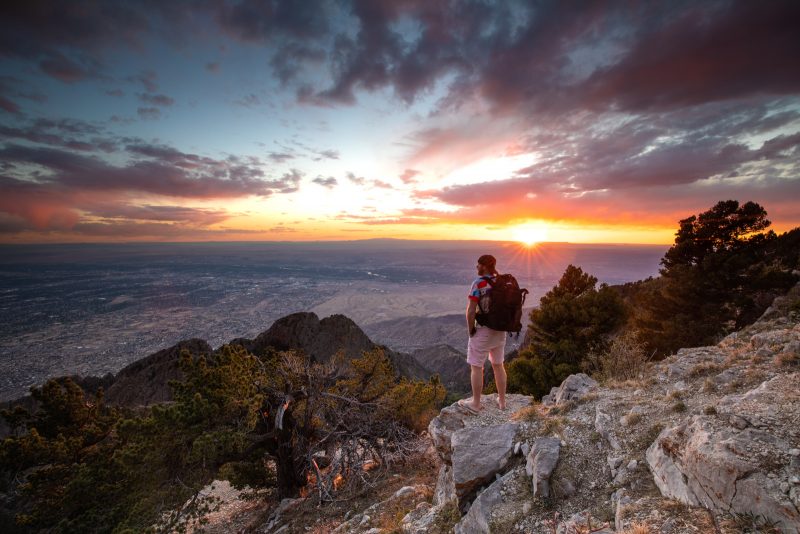 Route 66 in Arizona
I think most non-Americans associate a Route 66 road trip with Arizona.  These are the classic locations on the route.  And, they are also the most visited.  It was actually quite strange having locations all to ourselves for over a week and then arrive in places like Seligman to tour buses full of French tourists.
It was hard not to be a little bit snobby; but, I did my best.
The truth is, the Arizona section of Route 66 isn't that much more entertaining than it was in any of the previous states.  I think it's just much more accessible and gets far more press.  Its proximity to The Grand Canyon, Sedona, and Las Vegas certainly help with that.
That said, it was a really fun section of the route.
I really enjoyed the Painted Desert in Petrified Forest National Park (the only national park directly on Route 66). And places like Seligman, and Kingman are great.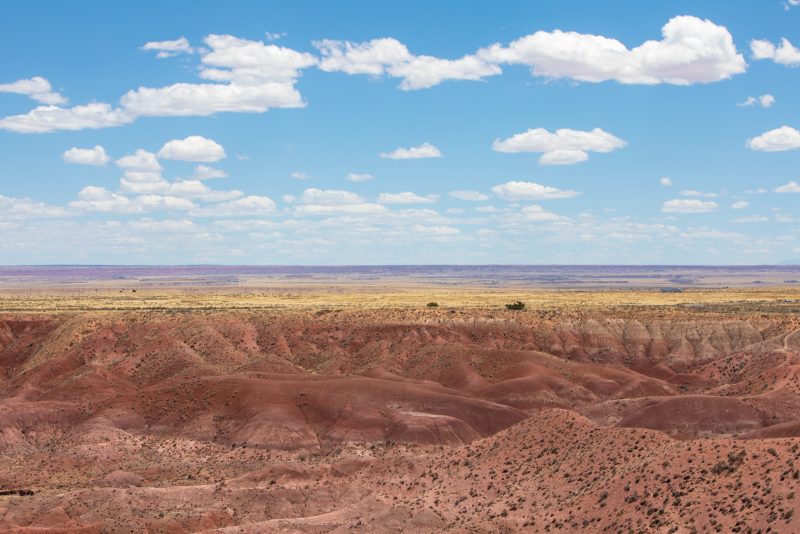 From a photography standpoint, I found a really cool location for star photography next to Two Gun ghost town.  It was a little bit creepy to shoot, as you'll see from the video below. But it was a fantastic place to shoot.
We also did a massive day trip out of Flagstaff so I could show Matt from Landlopers.com the Grand Canyon and Sedona – places I've seen and shot a number of times.
California
Route 66 in California is really two tales. On one hand, it's beautiful. There are stretches that just feel so desolate and world's away from anything else. It can feel a bit desolate, but in such a beautiful way.  Then, on the other hand, the California stretch is painful when you hit the suburbs of LA.  We stuck as closely to the original route the entire way, and that included through LA.  It took us almost 5 hours from San Bernadino to Santa Monica Pier.
Halfway through California we veered off of Route 66 to head down Joshua Tree National Park.  Which was totally fine by me.  Joshua Tree is one of my favourite places in California for photography.  We headed in for a quick sunset.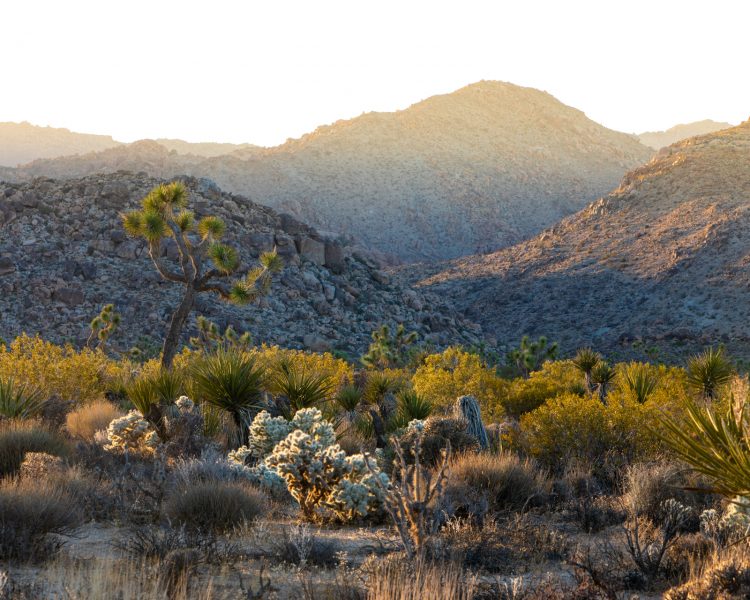 And, that same night I went back into the park to shoot some star photography.  The skies were clear and the milky way was out in full force. So, it was incredible.  I could not have asked for better conditions to shoot.  Is there a better place in America for dark skies?
And, finally, we made it to the end of Route 66 at Santa Monica Pier.  After 90s music on repeat for over 2000 miles, lots of laughs, and lots of great moments, it was over.
For me, it was a much more intense road trip than I expected.  I think I became a bit of an "epic travel" snob.  I mean, I have driven a scooter all the way down Africa. And, I once drove from NYC to LA in 80 hours while also doing 10 photo shoots and meet ups.  So, it was easy for me to dismiss this trip as easy. But, it wasn't.
We didn't use google maps at all. We navigated the whole way using guidebooks and paper maps. And, it was a lot of driving, a lot of shooting, and then on top of it all at the end of every day there was photo and video editing.  Obviously, this wasn't your ordinary Route 66 road trip.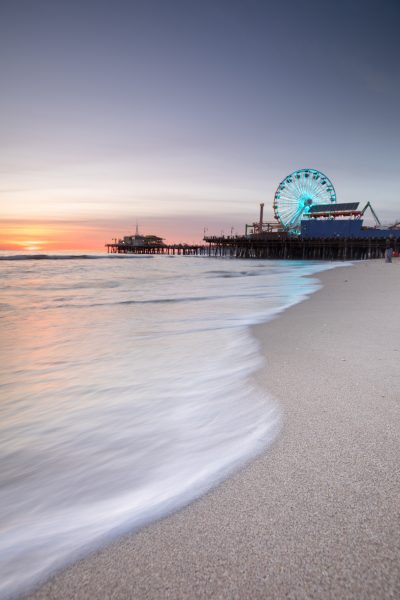 More Route 66 Photo Locations
I asked my Facebook community to help put together a list of great Route 66 photo locations. Or, at least locations that are close enough form the route that could be shot on a side trip.  So, below is that embedded list over on Trover.
Route 66 Photo Spots #BvSRoute66 – a photo list by Brendan van Son
What's Next?
Now that Route 66 is over, I'm headed back to Europe.  I've got personal trips planned in Portugal and Ireland.  Then, I have a photography workshop in The Faroe Islands.  So, more fun and lots of photography locations coming up.