When I started my photography career, nearly everyone I asked said that the best laptop for photographers was the Macbook Pro. Nearly anywhere I went in the world, if I went into a cafe of digital creators almost everyone had a Macbook. But, I was a travel photographer. I was young in my career. I couldn't imagine paying that price for a laptop. And, even if I could afford one, it didn't make sense to me.
10 years later and most of my photographer friends have abandoned MacBooks. So, what laptops are most people using now?

Laptop Specs for Photographers
Before I get into the options for photographers, I think you should understand the various specs and things you should be looking for when buying a laptop. The needs of a digital content creator differs from one person to the next. So, let me explain a little bit.
RAM: How much RAM you need on your laptop depends greatly one what you're doing on that laptop. For example, if you're just editing photos, you can probably get away with a laptop that has 8gb of RAM. If you're doing video, but not processing a lot of 4k, you will probably want 16gb of RAM. If you're like me and want to process 4k video footage while also having Lightroom open, you might want 32gb. The amount of RAM you have will greatly affect the speed of your laptop.
Processor: The standard in CPU processing are the Intel. And, it's pointless to have a bunch of RAM if you cheap out on processors. If you have 16gb of RAM you should get an i7. If you want 32gb of RAM you might want an i9.
Graphics Card: Again, this comes down to what you're up to. If you're just editing photos you can probably get away with a graphics card with a 2gb video memory. But, if you're editing a lot of video look for at least 4gb video memory – or 6gb if you can find it.
Hard Drive Space?: This is a feature of laptops that's been debated for ages. Lots of people want a bunch of hard drive space on their laptop. Others – like me – think it's irrelevant because they keep their photos and videos on external hard drives. I will say, though, that if you want a faster laptop – no matter how much space you get – get a laptop with a solid state drive (SSD).
Size/Weight: Personally, I think that most photographers and video editors are going to want a 15.6 inch laptop screen. Some could get by on 14 inches though. It's just important to remember that the bigger the screen, the heavier the laptop.
What's the Best Laptop for Photographers?
Ok, taking into account the need of photographers, I've narrowed it down to 5 different laptops. I've selected 3 high-end laptops, 1 mid-range, and one budget option that packs a lot of bang for the buck. It should also be noted that most of these laptops can be built with upgraded (or downgraded) specs. I should also note that basically all of these laptops are great, and I can't imagine someone getting upset at one of these as a gift for a photographer.
Asus ZenBook Pro Duo
This is my current laptop. It has a lot of pros and a few cons. The pros are obvious as soon as you look at the laptop: it has a huge beautiful screen, and a secondary screen. The second screen is placed on the bottom section of the laptop and is great for video producers and people working a lot from their laptops. The laptop is also extremely high powered. It packs 32gb of RAM, 6gb video memory, and an i9 processor. The OLED screen is stunning, and having a second screen is a game-changer for me.
The cons are also fairly obvious. First of all, this laptop is very heavy. It's also pretty bulky, as is the power cable which is massive. I suppose it needs to be to support all the power it packs. That size might be a deterrent to some photographers who are just looking for something of a mobile editing suite. Videographers might not worry as much.
The other con is the price. It's expensive. You can get similar specs in the Dell XPS15 for less. So, essentially, the selling point of this laptop is the second screen.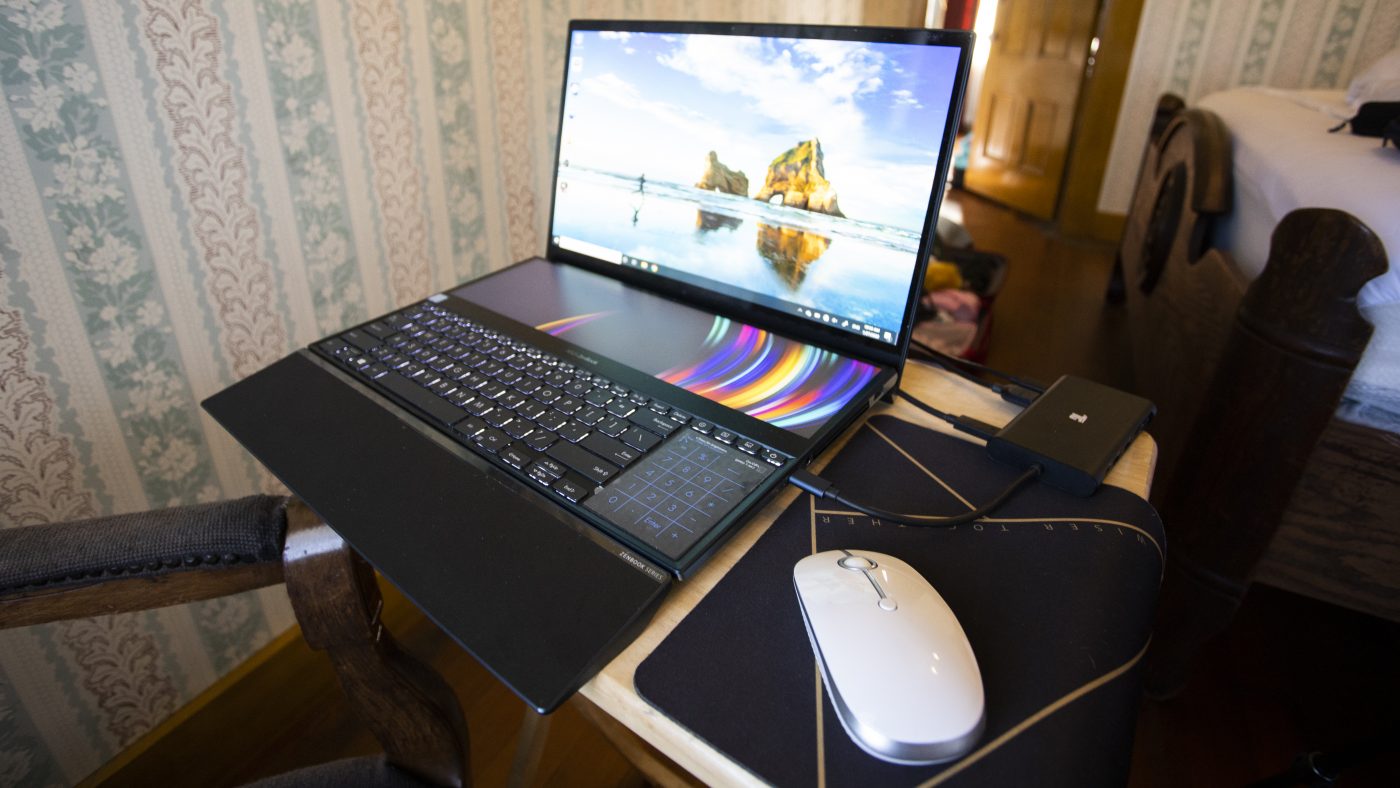 Dell XPS15
I also have a Dell XPS15. I've used 2 different Dell XPS15s. In fact, I had been using these laptops for 7 years. I love them. I was fully planning on upgrading to a new one this year as well until I saw the ZenBook Duo with the extra screen.
The Dell XPS15 might be the perfect laptop for photographers. In fact, I can't really think of many cons.
The beauty of the Dell products is the ability to customize the laptop to suit your needs. So, if you want a bunch of RAM you can add it. If you want more hard drive space, you can add that too. The price is good too. Moreover, on the latest edition of the Dell XPS15 they've made them lighter, thinner, and moved the webcam position to a much more flattering location.
This is the favourite for most travel photographers I know.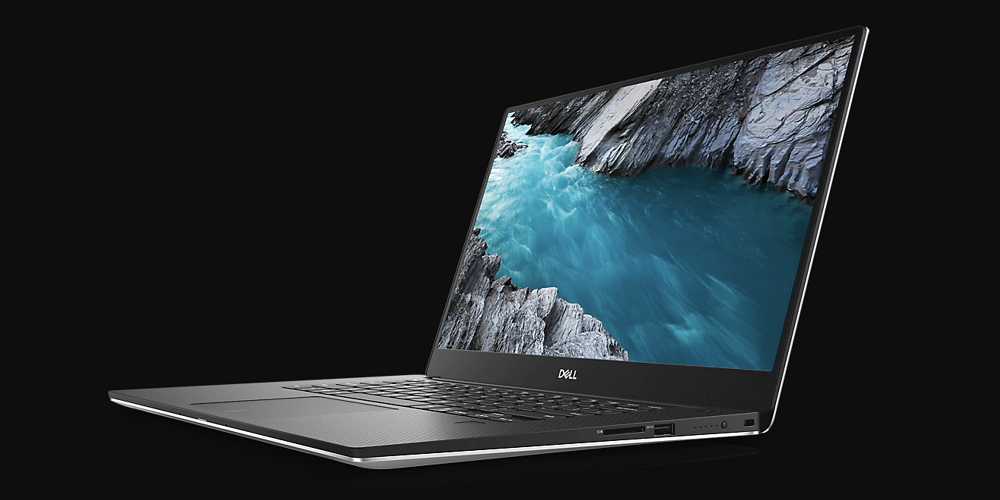 MacBook Pro
Admittedly, I'm fairly anti-Apple. I think they're over-priced and under-spec'd. But, the price of the MacBooks has come down a bit over the years in comparison to the competitors. And, the Apple products always come without issues, and with unparalleled customer service. So, if you're the type that prefers the Mac operating system to Windows, I get it.
The new version of the MacBook Pro is pretty beautiful. But, like most of the Apple laptops it does lack some of the higher end specs. For example, a 16″ Macbook pro with 16gb of Ram is $2,700 to the same Dell XPS 15 at just $1,649. Comparably, you can get a 64gb Dell XPS15 for only $400 more than the high-end 16gb MacBook Pro.
Sure, you can expand the RAM of the Macbook Pro to 32gb ($3,199) or 64gb ($3,599), and you can add a 8gb memory ($3,699) to get to the same specs as the highend Dell, but you're paying $700 more. Personally, I've never thought it was worth it.
All that might sound like a negative review. It isn't. MacBooks are popular for a reason. They are likely the most reliable laptops on the market. And for people on the road, that might be the most important aspect of a laptop.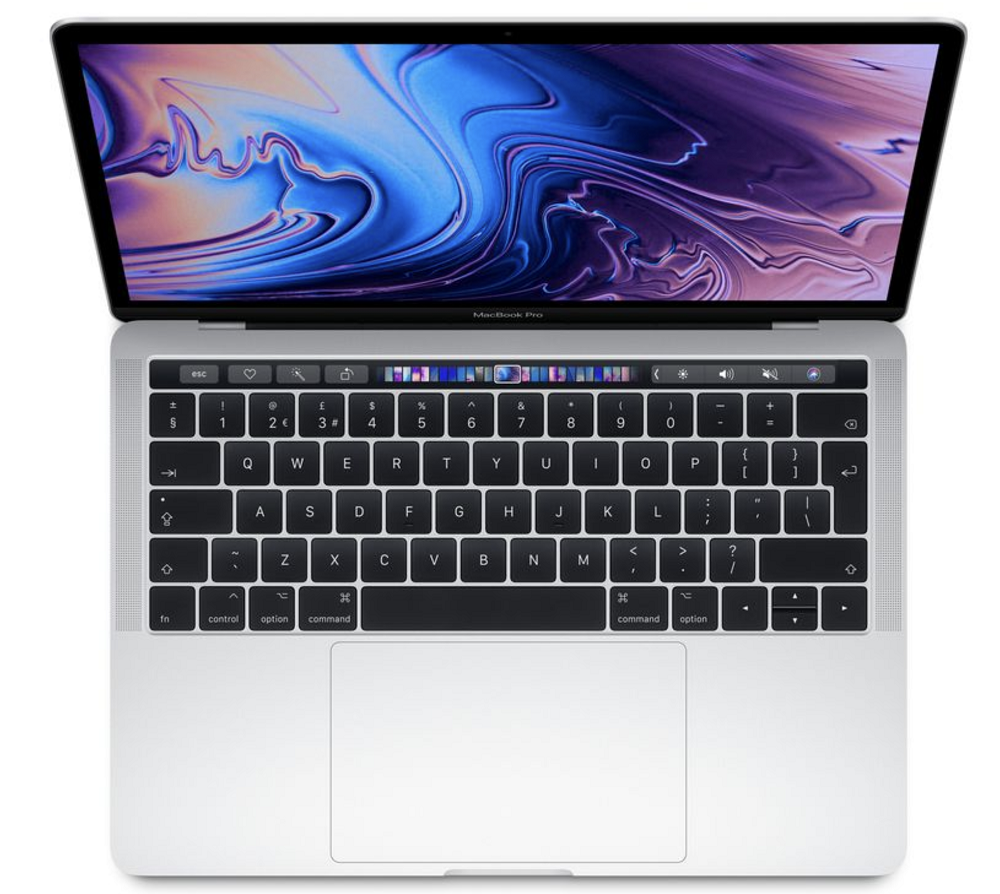 HP Spectre x360
If there's an underrated laptop on the market for photographers it's the HP Spectre x360. I have lots of experience with this laptop as Jodie has been using it for the past 2 years. It's a beast. And it's great value too.
The biggest pros to this laptop are the fact that it spins into a tablet, but also it's great value. For the same specs as I compared between the MacBook and the XPS15, the HP Spectre x360 version is $1,479 and comes with a touch screen. Essentially, that's over $800 cheaper than the MacBook and almost $200 cheaper than the XPS15.
I was impressed with the Spectre. It was super reliable, and I don't remember it ever catching anything glitchy. In fact, I might say that it even felt more reliable than my XPS15.
If you're looking for downsides to the HP Spectre x360 it's that the specs max out pretty quickly. There's no 32gb option, and you can't get more than 4gb of video RAM. That said, I think this the best value laptop for photographers and digital creators.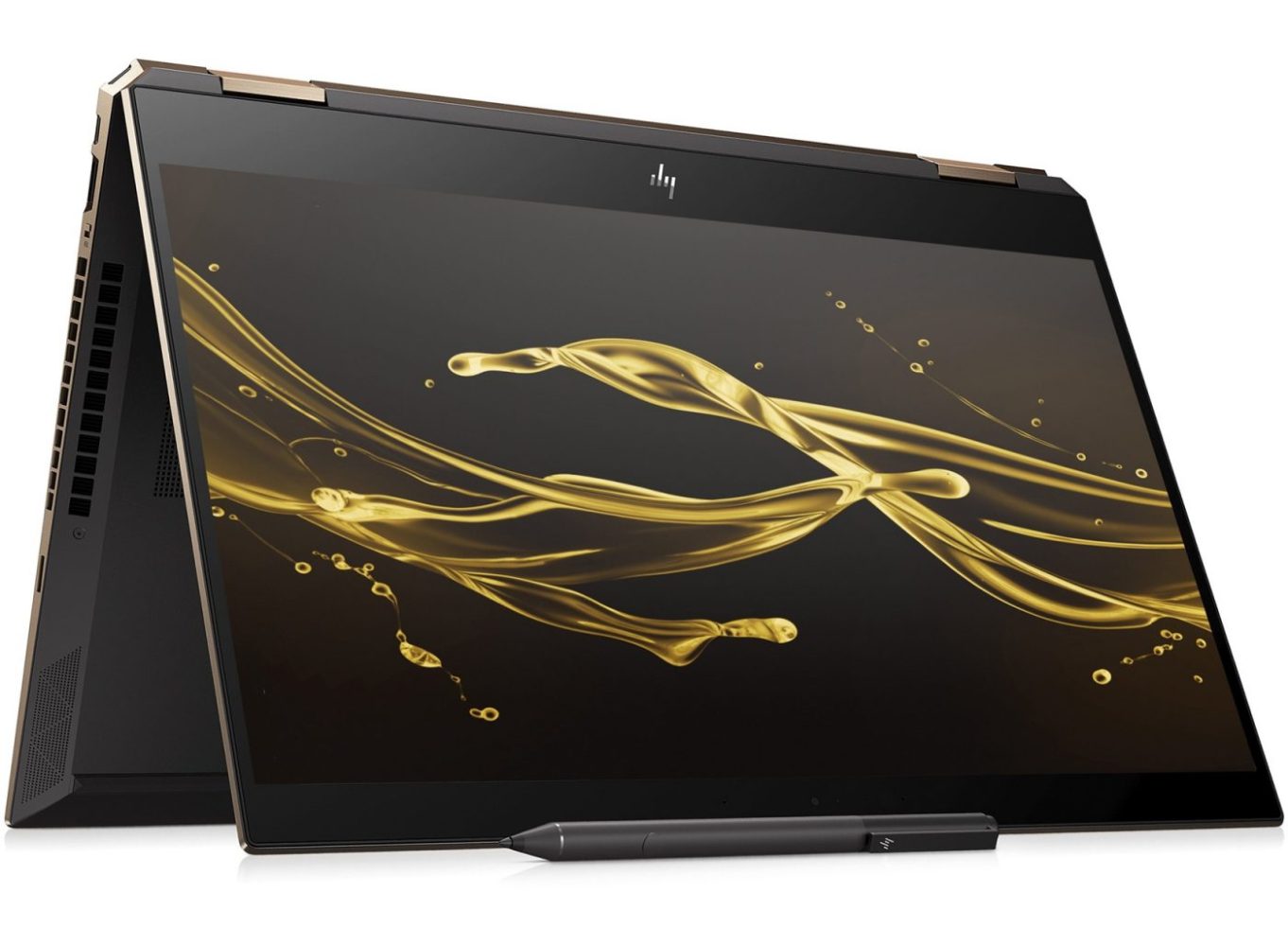 Microsoft Surface 3
Some photographers aren't looking for spec'd out machines capable of doing their entire workflow. Instead, they might just be looking for something that they can edit on and do emails between getting home to their big processing computer. If that's you, then you probably don't need a big $3,000 laptop. Instead, look at picking up something like the Microsoft Surface 3.
The Surface 3 actually packs a pretty heavy punch and both weighs and costs a fraction of the other laptops on this list.
Right now, you can get a Surface 3 that has 8gb of RAM, and i5 processor, and 128gb SSD for $795. That's enough spec to get you through editing photos and anything you need to do online.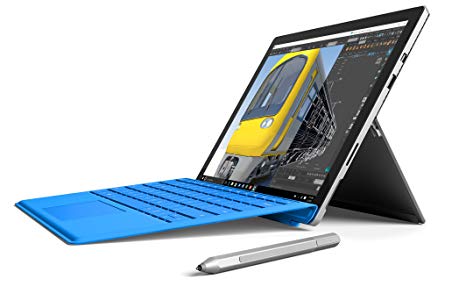 My Laptop Choice
I don't think I made the right laptop choice for most travel photographers. But, I'm not most travel photographers. I have a full business to operate on the road as well as a YouTube channel. I need a mobile office that's as high-powered as something that I'd have at home. Moreover, I really wanted the second screen. It just makes every task on my laptop easier. I can do my accounting quicker, I edit videos and photos faster, and it makes research and digital location scouting easier.
I have no regrets buying the Asus ZenBook Duo Pro. I love it. But, I have to love it to deal with packing it around the world on my back. I think if I lived somewhere permanently, I would have bought another DellXPS 15 and got a desktop computer for the house.
So, I think the point to this final bit of discussion is that everyone has different needs. Don't buy what everyone else says is the best, buy the best laptop for you personally.
Other Laptop Products for Photographers
I want to end this post with some other products that I use with my laptop while traveling the world. I've found a bunch of products that I really like and are a part of my mobile office.
**Note** This post does contain affiliate links. I am not, however, in any way affiliated with any of the products discussed in this article.