Another season in Patagonia is done. This one was just as amazing as last year as we had absolutely brilliant conditions on our tour. Honestly, I had a few concerns that things were going to start to get stale. This was now our 2nd and 3rd photo workshops in Patagonia, and the 5th time in total I've photographed the region. But, the beauty of this part of the world is that it's always changing, there's always different weather, and it seems like the more you visit, the deeper the images and the compositions become. So, yes, this was the best Patagonia photography workshop we've run yet. Everything sort of just came together.
Let me try to sum it all up in photos.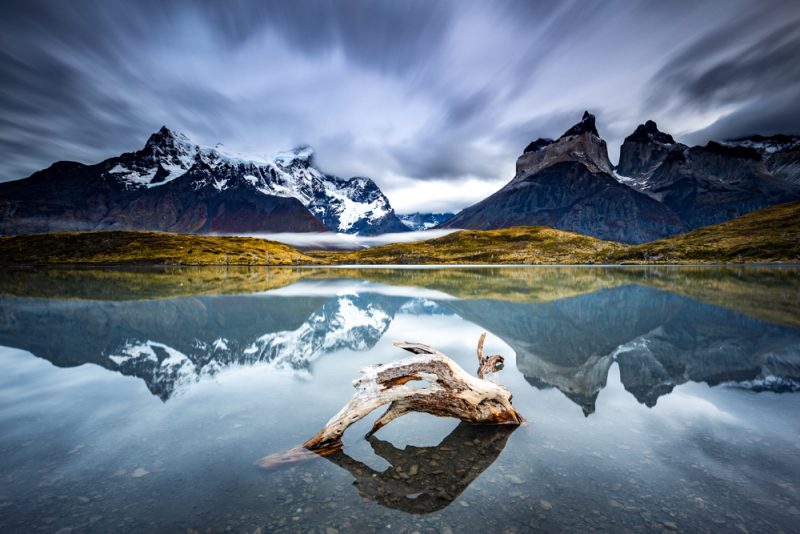 Before I get into the photos, let me remind you that if you want to join us in Patagonia, or on one of my other photo tours around the world, be sure to sign up to the form below to get info on upcoming trips.
Punta Arenas, Chile
Let me start by saying that there were actually two workshops this year, running back to back, so there's obviously more images than years past. However, since I've now been to Patagonia for 4 different seasons, I didn't take nearly as many images. In fact, over a month, I only kept 174 photos.
I'll start the image sharing with Punta Arenas.
There's this beautiful old pier in Punta Arenas that we've photographed a couple years in a row. And, on the first trip, I tried to photograph it again. But, the light just wasn't good. So I didn't get anything great. However, a couple of our participants headed down to an even more dilapidated pier which photographed beautifully.
So on our second tour, I made it a point to try to capture some images there. This is what I came out.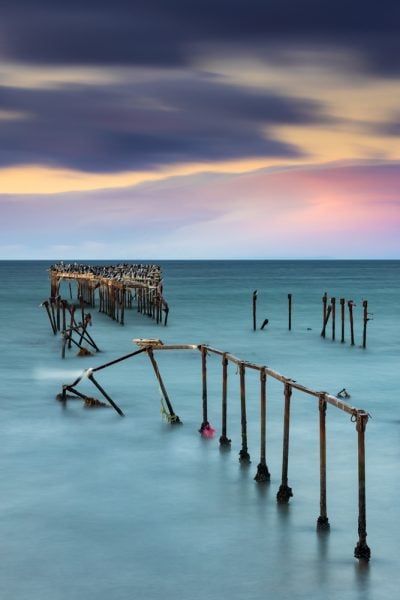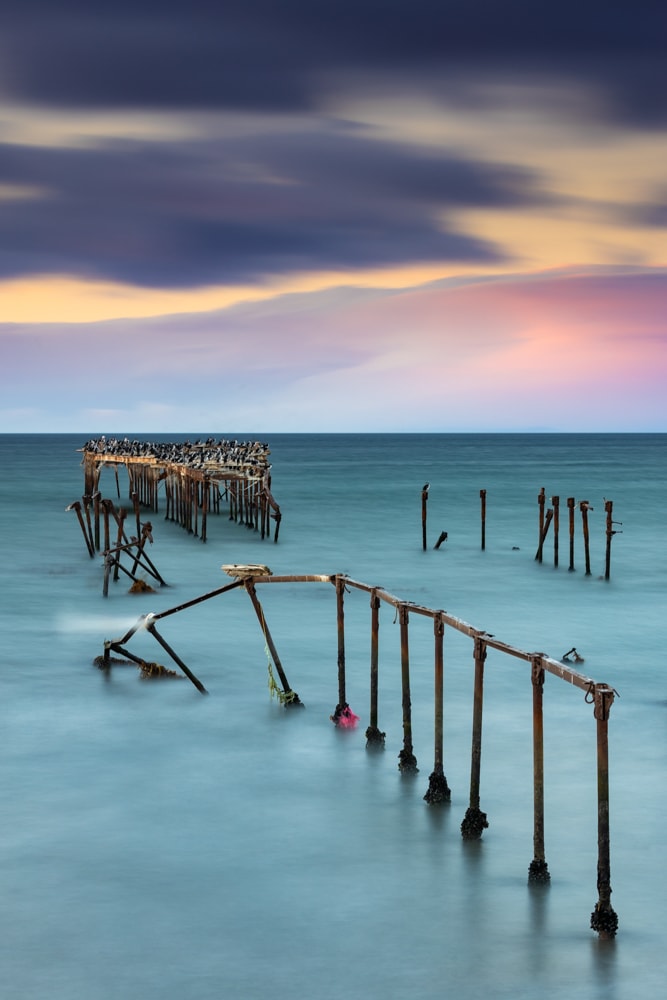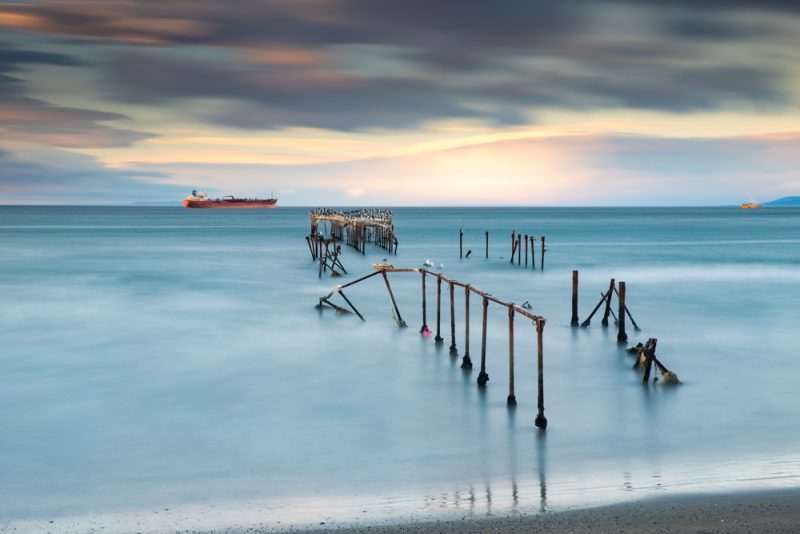 Puerto Natales, Chile
It's incredible how much Puerto Natales has grown since my first visit 8 years ago. In many ways, it's the tourism capital of Chilean Patagonia. There's lots of good food, new accommodation seems to be sprouting up each day, and it's on the footstep of Torres del Paine National Park.
However, Puerto Natales is often overlooked as a photography destination. There are definitely some photos to be had here.
On our first trip, we decided to take our workshop group on a bit of a scouting mission to see if we could find a new location or two. We ended up at a little community called Puerto Prat. It's a windy little location. But, there are definitely some images to be made here.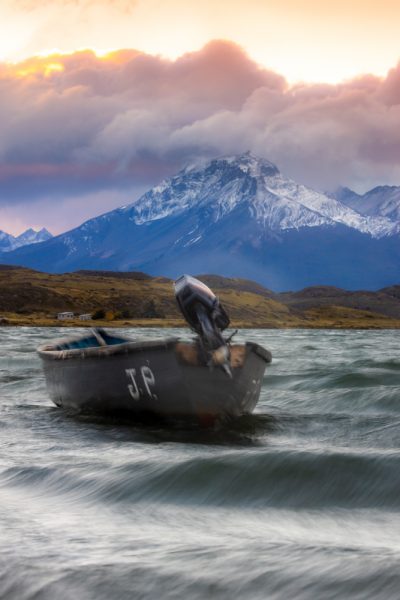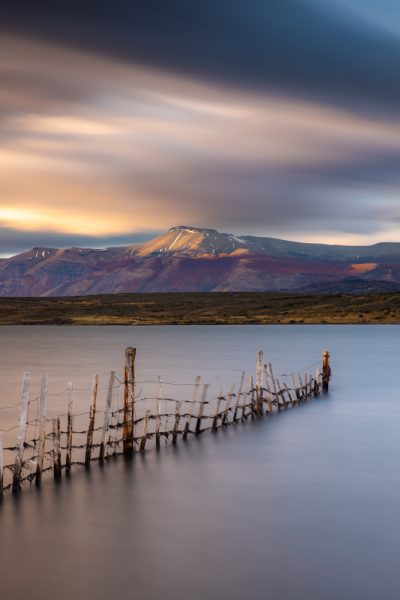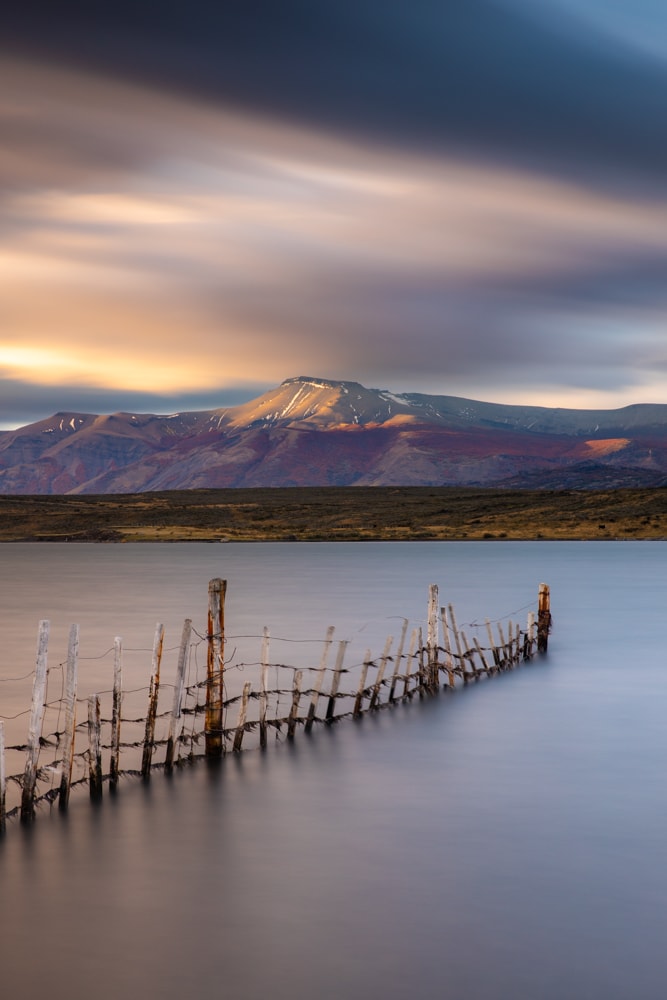 El Calafate, Argentina
Let me start out by saying that there is no bigger tourist trap in Patagonia than El Calafate and it's getting worse each year. Each year, the bank fees at the ATMs jump, and the prices at the restaurants soar. But, it's still worth it. Nearby Perito Moreno Glacier is one of the most impressive, and accessible glaciers in the world.
And, obviously, Perito Moreno was the main focus of our trip to El Calafate. But, on another one of our location scouting missions we ended up at Lago Roca where we photographed a back-lit sunset and found a fox.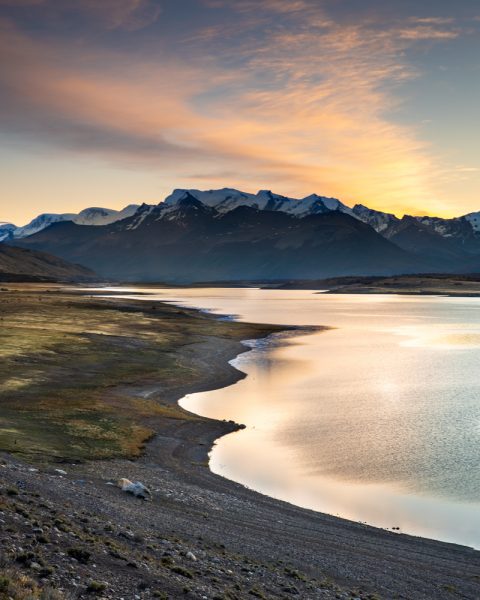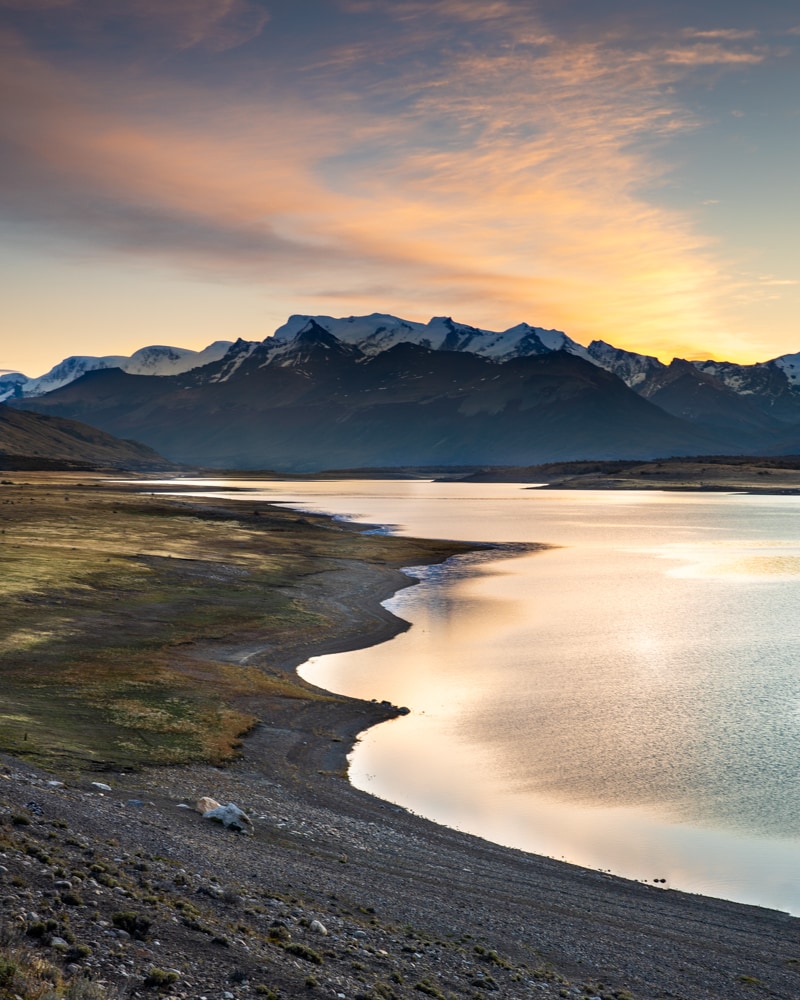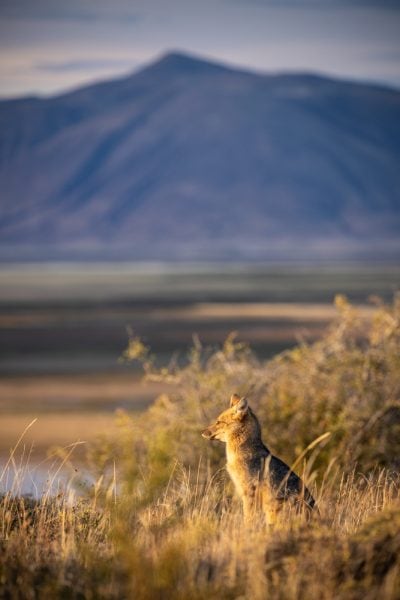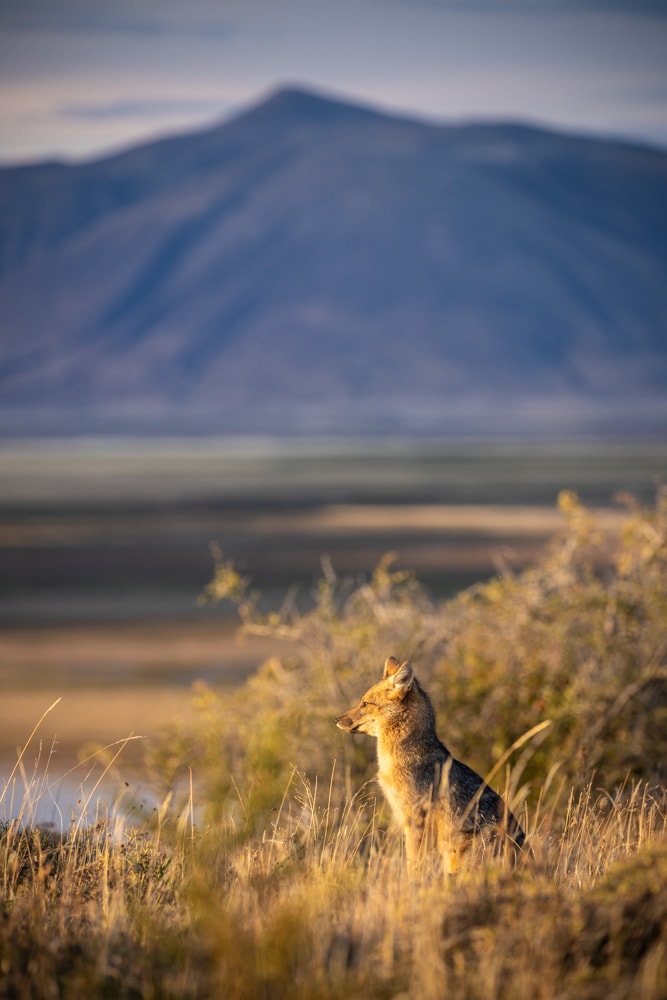 Perito Moreno Glacier, Argentina
We didn't have the best of luck at Perito Moreno Glacier. Well, let me rephrase that: I didn't have the best of luck at the glacier.
On our first workshop, we had miserable weather and I really didn't even take a photo – although I did wait to see if I could catch a calving.
On the second workshop, we had amazing light and weather. However, I decided to do a photography challenge and pulled "Black and White Landscape Photography" from the hat. You can see that video below.

El Chalten, Argentina
For years, El Chalten was just a sleepy town of backpackers, climbers and nature lovers. However, in recent years it has absolutely exploded in popularity – especially with photographers.
There are tonnes of locations here, so I'll list a bunch below. However, I should note that some of these spots have gotten busy and you might be better off exploring some new places rather than dealing with the rows of photographers in peak fall colours (April 1st-15th).
The Road
We call this location "the road", but there's so much more to it than the road itself. Anywhere that you can legally pull over on the road into El Chalten is an opportunity for photography. We tend to stop about 20-25km out of town where there's lots to work with.
Of course, you have the road that leads to Fitz Roy mountain, which is a bit of a classic image. But, you've also got a lot of other options – some less obvious that the others.
The first is the fence. The fence actually makes a beautiful lead towards the mountain.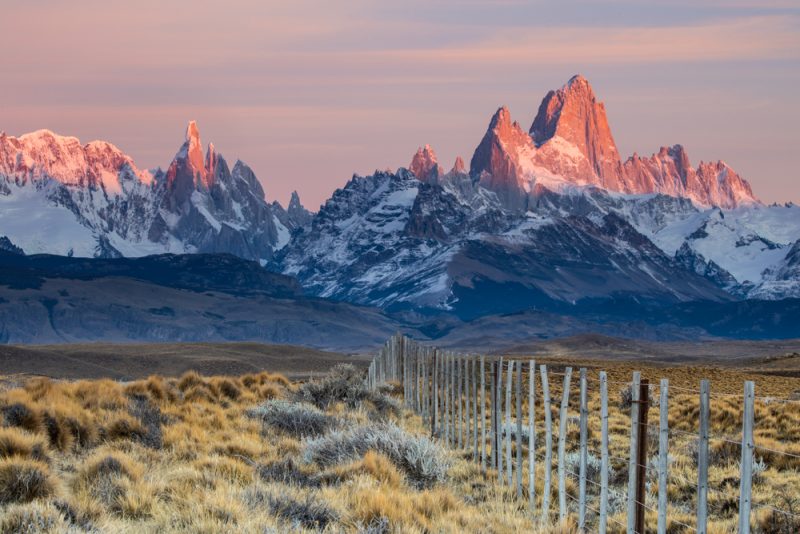 This is also a great spot to photograph really long lens images of the peaks if they're catching the right light.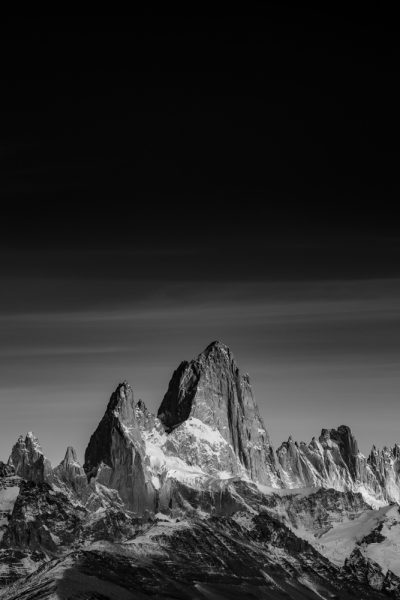 Just out of El Chalten, you can stop at a place called "Mirador Fitzroy" where you get pretty special views of the mountain. At night, it can work for star photography. However, the glow of light from town can kind of blow out the image a bit.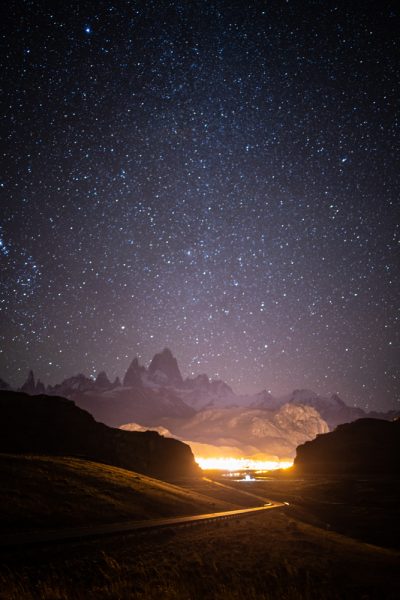 I know that Fitz Roy can dominate the view, but there are lots of other beautiful mountains in the area. If the weather is cooperating, don't forget to also look off to the sides of the road.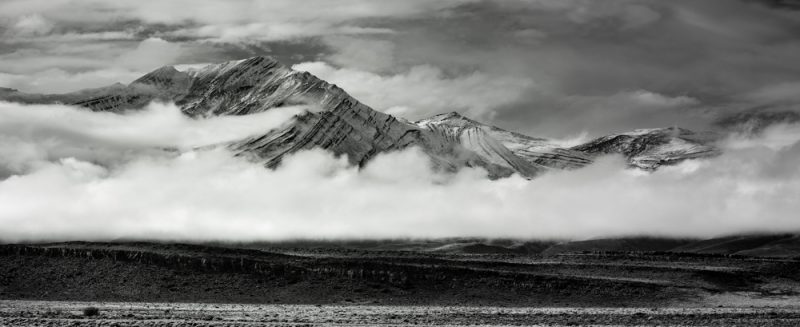 Chorrillo del Salto
In the fall, this is one of the best places for photography in Patagonia. It just bursts with colour. And, yes, the waterfall itself makes for some pretty beautiful images, but the forest around the falls is equally photogenic.
In fact, one of the things that made this one of the best photography workshops in Patagonia was that my group was so willing to go off and explore. They all really put a lot of effort into trying to be unique, and not just capturing the obvious and iconic.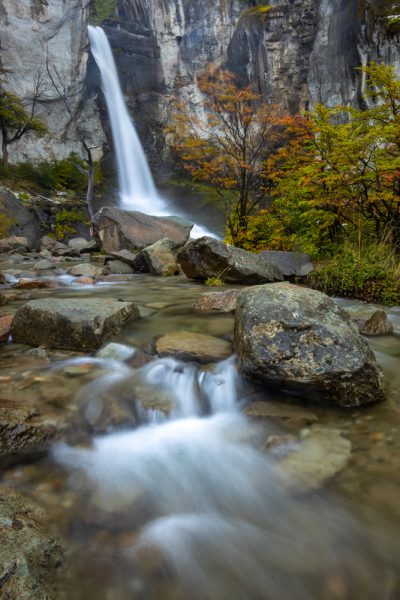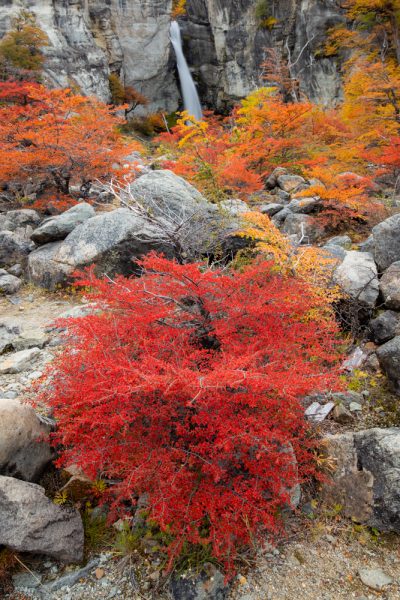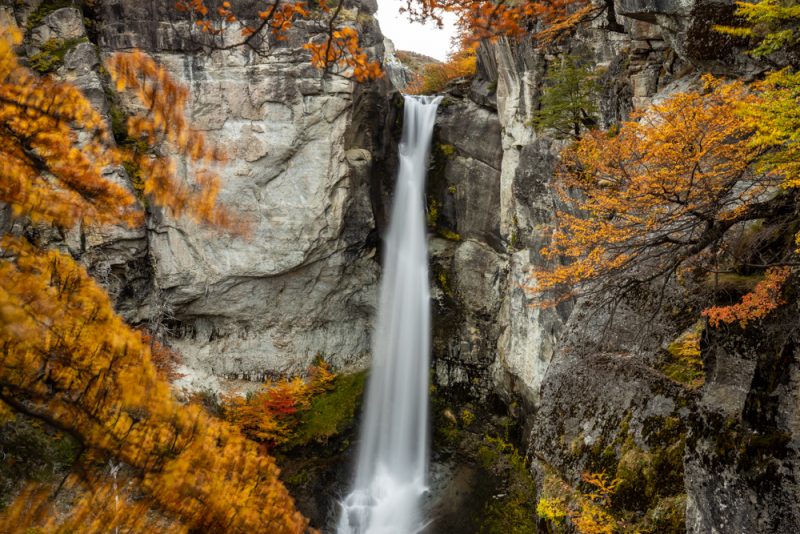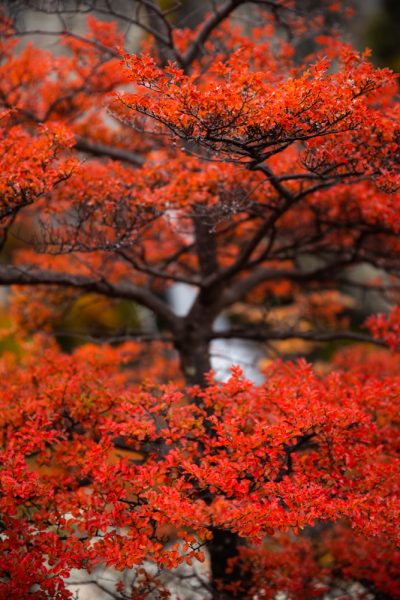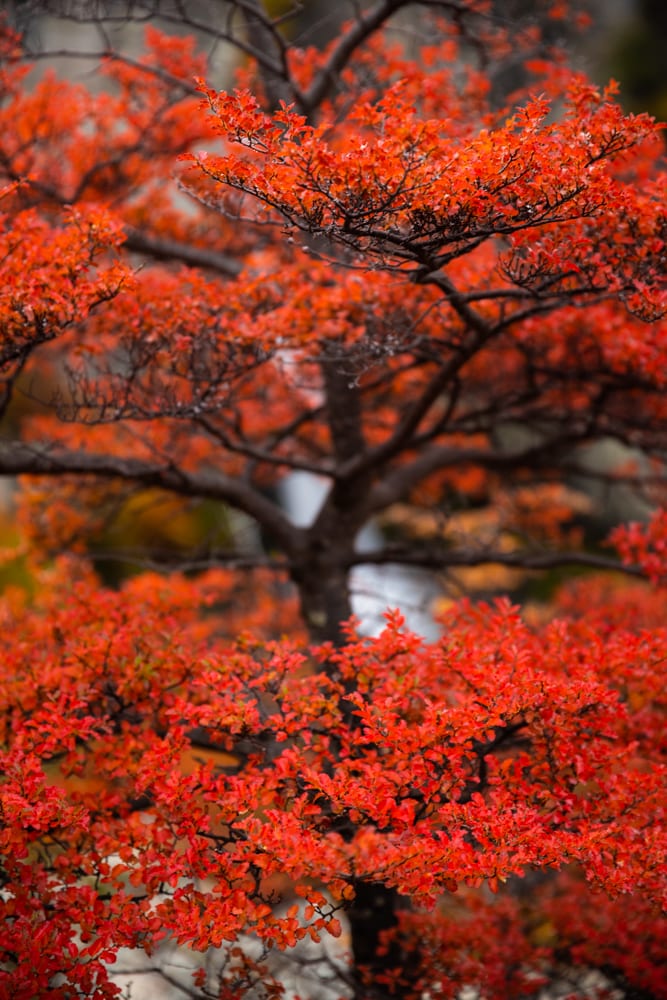 The "Secret" Waterfall
If there's one place in Patagonia that is way over-photographed it's the "secret waterfall". In fact, we used to call it the secret waterfall because we hoped to keep it a bit off the grid. But, over the past year, someone geo-tagged the location and now it's swamped. When I was there 2 years ago, I had it to myself. Last year, it was just our group – although Elia Locardi and the guys from F-stoppers showed up. On our first trip this year, there must have been 60 people there, and about 40 others turned away because of the crowds.
It is a beautiful shot.
But, to be honest, once you've photographed it once there's not a lot you can do from a creativity standpoint to improve upon it.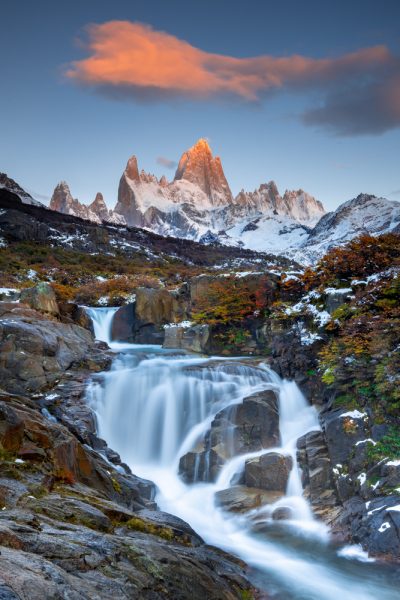 In my opinion, you might be better off exploring up along Rio de las Cascadas to see if you can find something a little more unique.
Laguna Capri
If you're looking for a reflection of Fitz Roy, the best place is Laguna Capri. It's pretty sheltered up here, and on a calm day you can get some beautiful images. However, the morning we came up here there was just a gentle enough breeze to stop the reflections. Luckily, there was a beautiful piece of deadwood in the waters that made a great foreground of a photo.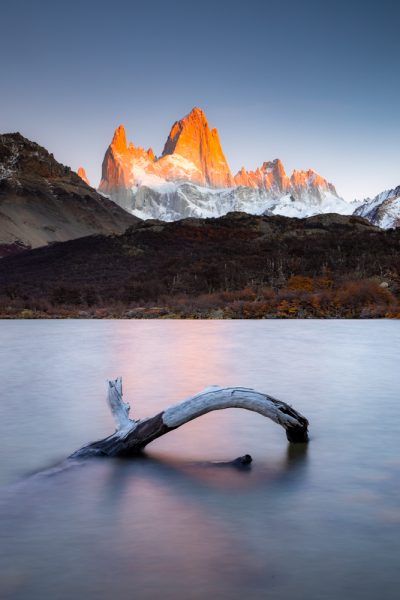 If you're looking for a bit more of a "hero image" there are a couple look out points up above the lake with some trees you can use for foreground. I didn't make any photographs up there, but there's lots of potential.
Cerro Torre
This is one of my favourite hikes in Patagonia. It's far enough (at about 9km each way) that it deters enough people to hike out for sunrise (about a 5am departure). But, it's also easy enough – the vertical gain is pretty minimal aside from the first 10 minutes – that you don't arrive destroyed.
It's also just a phenomenal photography location. There's often a lot of icebergs in the water, and if Cerro Torre shows up, and catches some alpenglow, it can be phenomenal.
We made the hike to Cerro Torre twice.
The first time we hiked up and photographed sunset, camped, and then photographed sunrise. Unfortunately, we didn't get great light.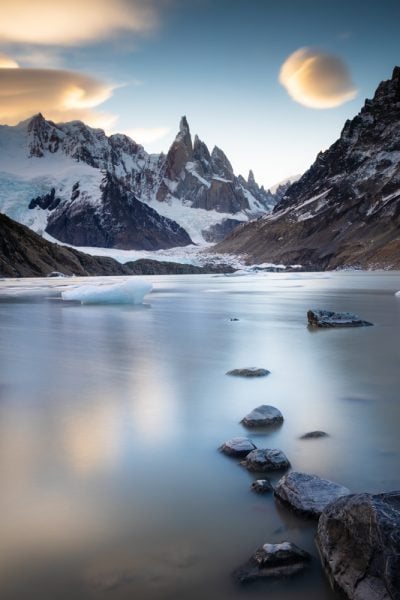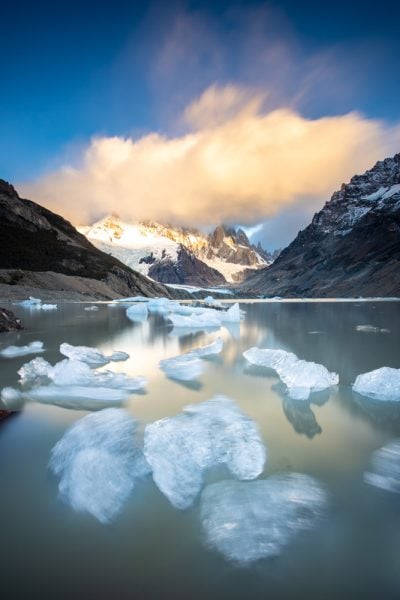 The second time we made the hike up, we decided to just go for sunrise. We hit the jackpot with weather. It was totally still. So after taking some photos of the stars, we waited for the alpenglow. And while the alpenglow absolutely lit up for about 2 minutes, some cloud eventually blocked it. We hiked all that way for a minute or two of photos, but it was so worth it.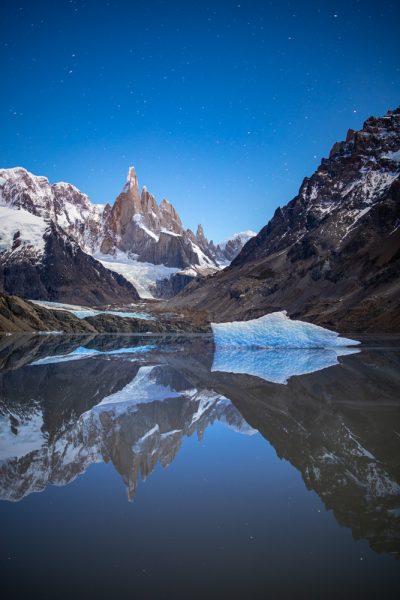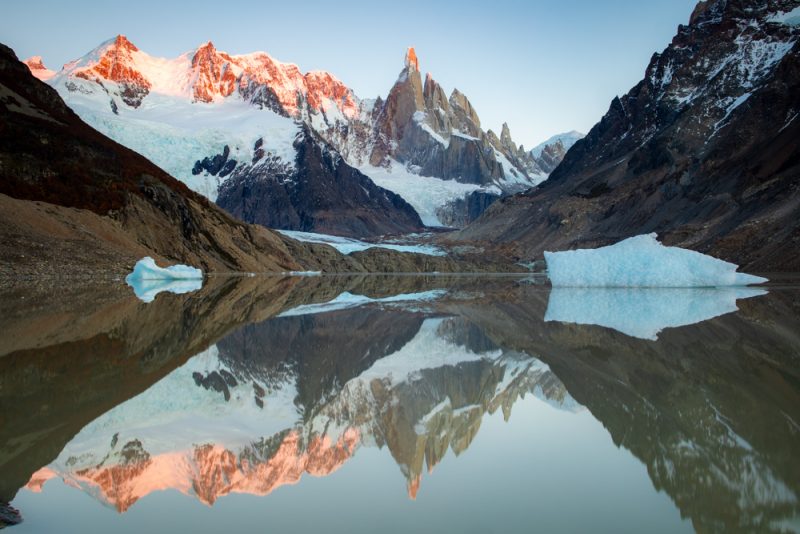 To make the hike worth it, I decided to make some snapshot photographs using the 35mm f/1.8 lens. I got some really beautiful images on the walk back. Normally I pack the camera gear away for the walk. I'm glad I didn't.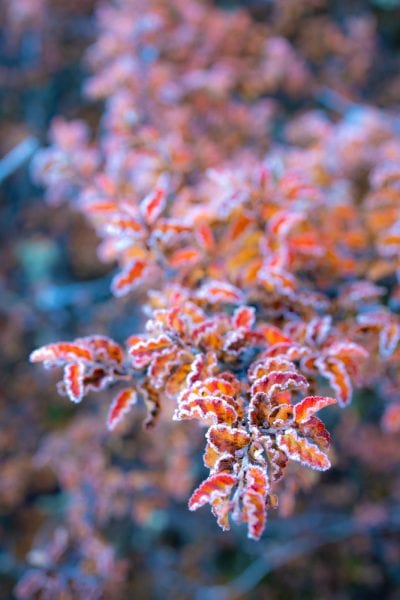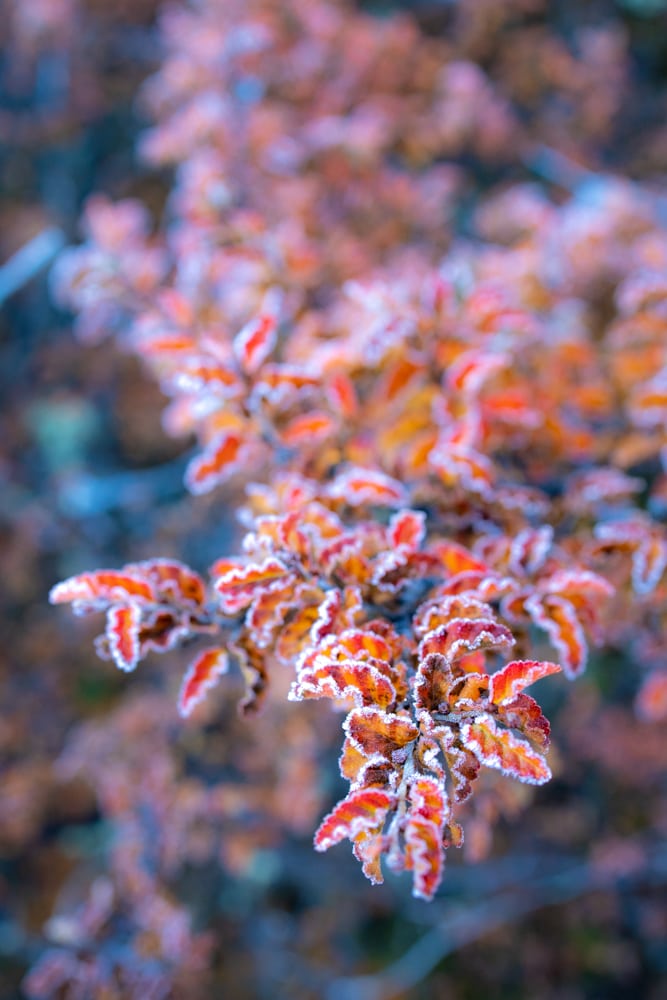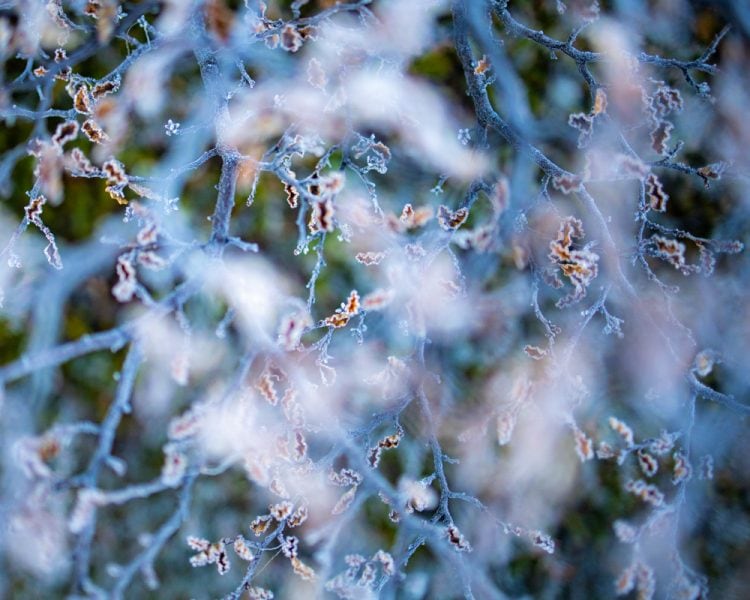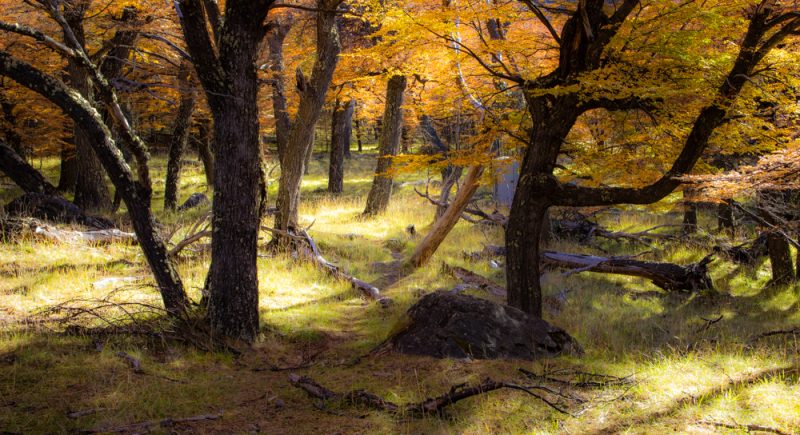 Torres del Paine, Chile
Torres del Paine might be my favourite place for photography in the world. It's an absolutely incredible part of Patagonia, and might be the most photogenic park in Chile – a country full of photogenic places.
That being said, within Torres del Paine there are fewer photo locations than El Chalten. Below are some of my favourites.
Mirador Cuernos
If you find Salto Grande on the map, you'll find a trail that leads from there to mirador cuernos. And while the mirador (viewpoint) is beautiful, for me, the best place to take images is down at the little lake you pass just before reaching the viewpoint.
I made 2 images here this year that I really loved.
The first image happened kind of by chance as the light came out of nowhere. The video about this photo is below.
The second image happened on the last day of our Patagonia workshop.
It was such a typical morning in Torres del Paine. It was windy, and there was no light. Then, it snowed. Then, it cleared for a minute to get some incredible light. Then, the wind picked up and it snowed again. This kind of happened on repeat for an hour.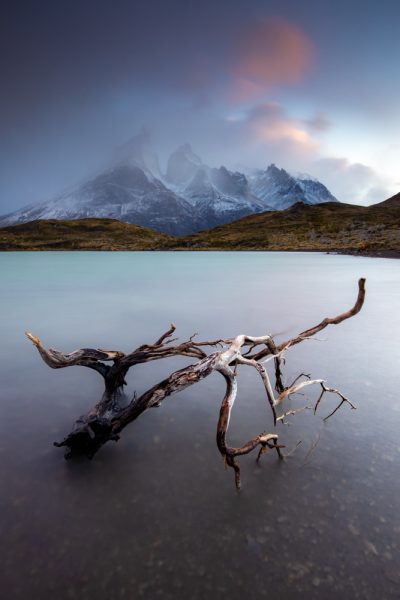 And though the light didn't pop on our other morning at the lake I managed to get a reflection shot that I really like. Again, I needed to play with long exposures a bit.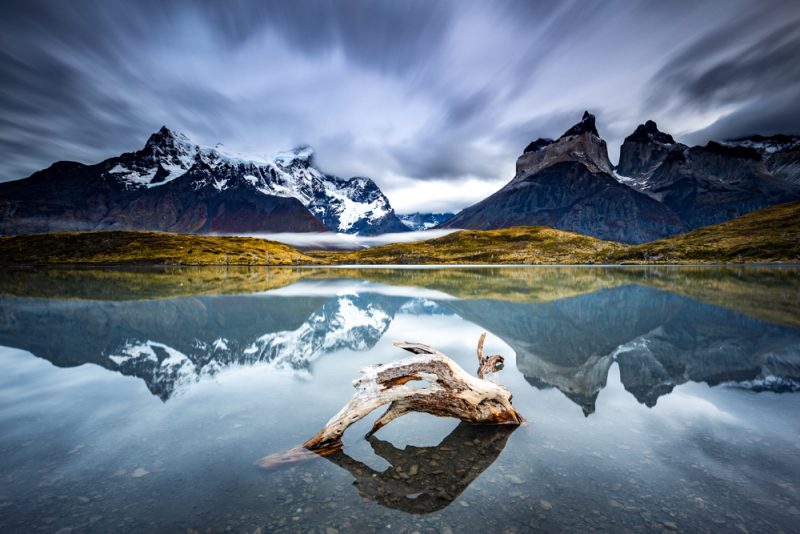 The "Explora" Hotel Viewpoint
This location has a lot of potential. However, we didn't get good light or weather.
To get here, you park at the Explora Hotel parking lot. And then hike along the boardwalk about 100 meters. It's an easy walk, and on a still day it can be beautiful. You can get reflections if it's calm.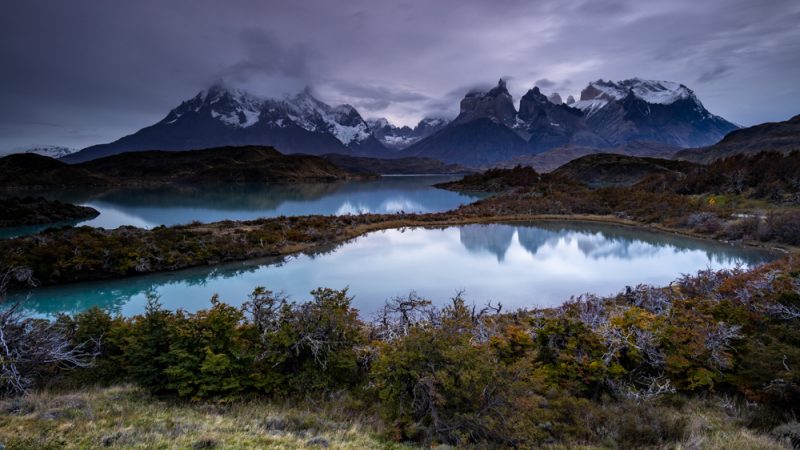 Hidden Spots in Torres del Paine
I've called this section "hidden spots". But, none of them are actually hidden. They're just places we normally don't photograph. But, the weather on our second trip was less than ideal. So as a result I ended up with a couple photos that are a bit different and from different places.
Honestly, most of them I don't know the exact location. I'm not trying to hide location, I legit just don't know them and don't have GPS on my camera.
But, these are some of the "b-sides".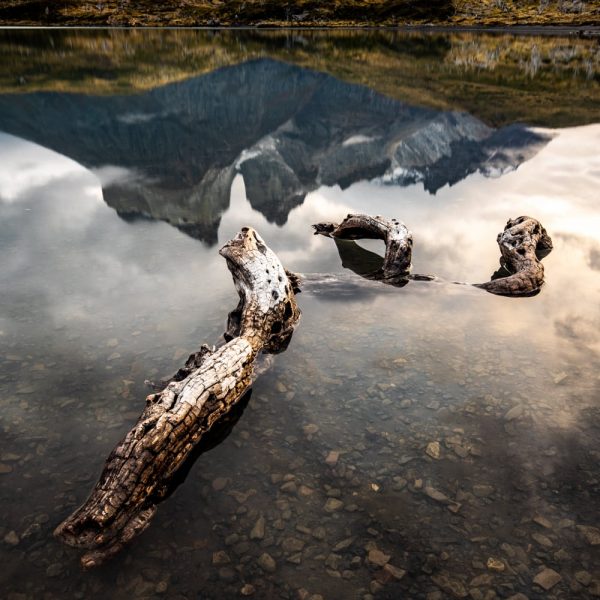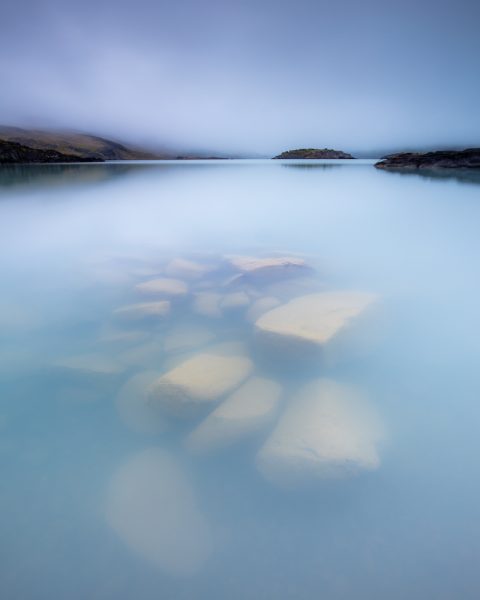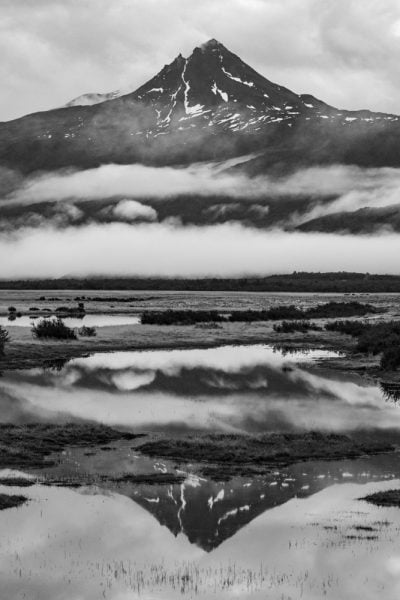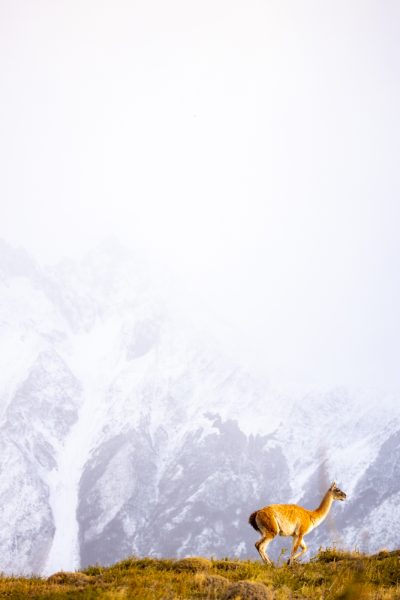 One Last Patagonia Workshop
Thomas Heaton and I are going to run one last Patagonia workshop in the fall of 2020. The trip is already sold out, but there is a chance for future trips somewhere in the area. So, be sure to head over to the tours page to see what sort of things I'm up to over the next year.
As for the YouTube channel, you'll start seeing some content from a destination that's a little bit warmer soon. Oh, and I'll be back in Canada pretty soon!