With many of us in isolation, we're spending more time streaming our webcams. We're actually finding that we can be highly functional via web meetings in places like Zoom. The only problem is: the webcam quality is terrible for streaming. Thankfully, Canon announced this week that you can now turn nearly any Canon interchangeable lens camera into a really high quality webcam.
It's going to be a game changer. Not only will your Zoom meetings look extremely professional, but if you're a gamer and streaming your action, it'll make for higher quality footage done much easier.
Let's get into it.

How to Turn a Canon Camera Into a Webcam
It's actually extremely easy.
The first step is to head to the Canon USA website. And, yes, it looks like for now you'll have to go to the Canon USA website specifically. I haven't seen the utility available in other countries yet. Not that it matters, you don't need to be American to download it.
Then:
Select "support"
Type in your camera model
Click "drivers and downloads"
Scroll down until you find "EOS Webcam Utility Beta 0.9.0 for Windows"

Click "select" and then download.
I should note that the utility is the same for all the cameras that work. So, you can just click here and download it from the Canon EOS RP page.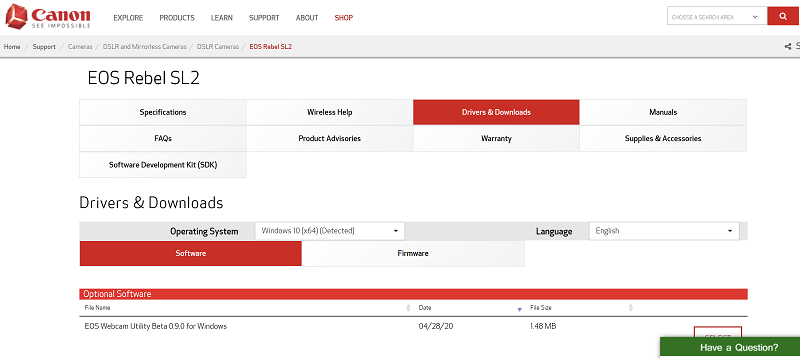 Install
Once you've downloaded it, you'll need to extract the files on your computer. Then, install the utility.
The program will ask you to restart your computer. Once you do so, it'll automatically show up as an option for webcam in your streaming programs such as Zoom, Skype, and Facebook Messenger. You'll just need to set up your Canon camera and link it to your computer via a USB cable.
As soon as you turn on your camera, you'll get beautiful quality streaming video.
Setting up the Zoom Video
Now, if you're curious about how you get the high quality webcam to show up on Zoom, it's super easy.
Again, you need to have your Canon camera linked to your computer via USB cable.
Then, over in Zoom on the top right corner you'll see a settings button. Click it and then head to video. You'll be able to scroll the the webcam options and the Canon Webcam Utility will be there. As soon as you select it, you'll have epic video quality on your zoom video.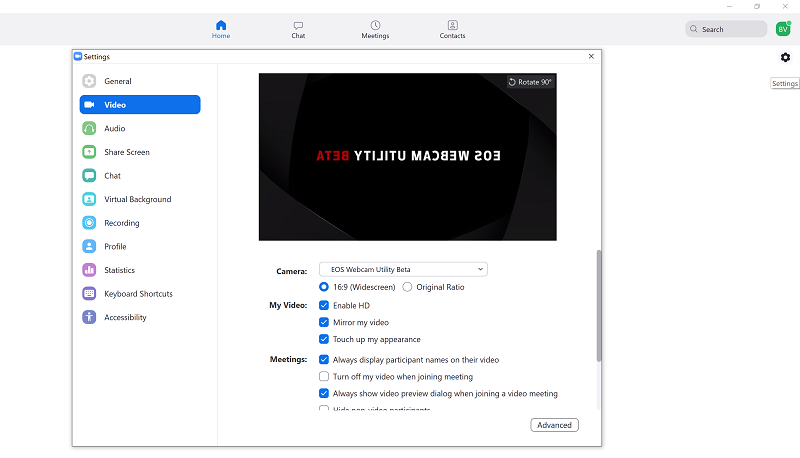 Camera Set Up
Just a quick note about the camera. You can obviously set up your Canon camera in auto and just let it figure things out. But, I found that setting up the video in manual mode made for the best video quality. I put on a f/2.8 lens so that I could blur out my background as well. That can come in handy if you have a messy home office, or people dancing around in the background.
I also found it important to set the white balance up the way that looks best rather than leaving it in auto. On longer meetings, the colour of the video can change, otherwise. Or, it can just look wrong to begin with.
My Home Office Set Up
Since we're currently house-crashing with my fiances family, we don't have an office. We're literally set up each day on the dinner table. But, I'll walk you through the gear I use for my home office web streaming regardless.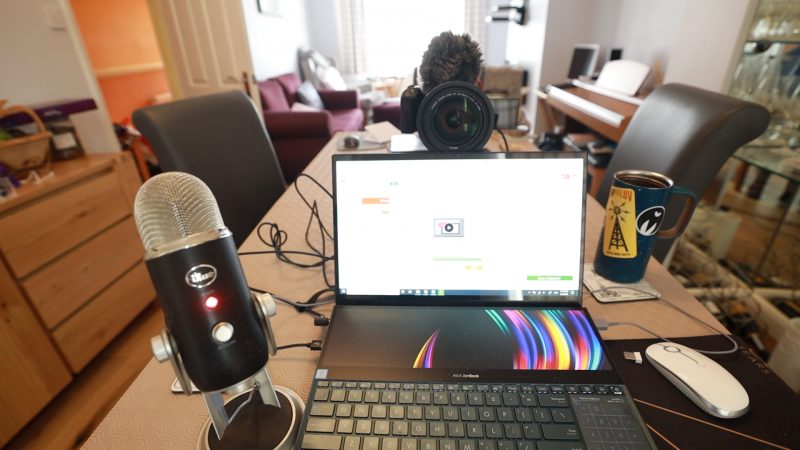 My Camera
I'm using the Canon EOS RP for my streaming, right now.
However, in my box of stuff packed away for when we move to Portugal, I have a Canon 200d. In my home office, I'm going to set that up as my permanent webcam for things like tutorial, streaming, and conference calls.
My Mics
On my camera I use a Canon Rode Video Micro. That's usually good enough. It's directional, so it mostly only picks up the audio of the person in front of the computer. It's actually the mic that I use for my vlogging as well. It's only about $60, and in my opinion the best quality vlogging mic there is. All my camera gear is here, if you're curious.
At my desk, I also have a Blue Yeti mic that I use some times. It's a great mic, and I use it mostly for podcasting rather than for my laptop meetings.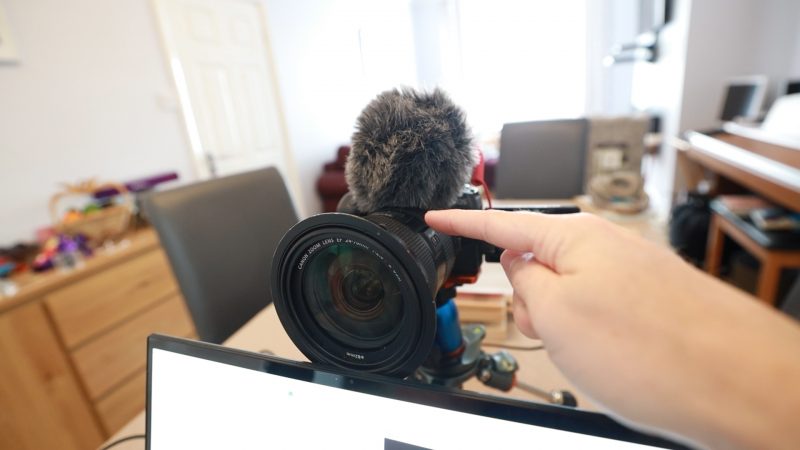 Laptop
I made a post a while back discussing the best laptop for photographers and creators. In that post, I mentioned that I use the Asus ZenBook Pro Duo as my office laptop. That's my home set up. I'm hoping to pick up the new Dell XPS13 when it comes out to be my travel laptop.
The Mini Tripod
You may have noticed the mini tripod behind my laptop on the video. That's the 3 Legged Thing Jay. I've just unscrewed the legs and added smaller pegs to turn it into a tabletop tripod. It's probably over-kill for most home offices, but if you need a tripod anyways, there's nothing like versatility.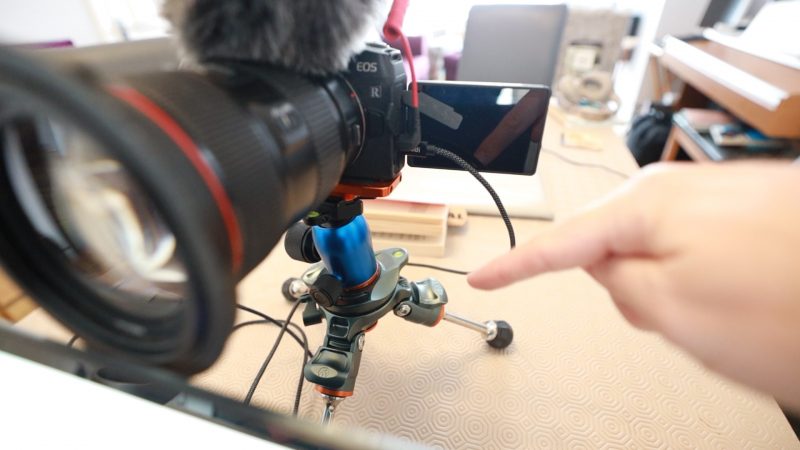 Who Will the Canon Webcam Set Up Best Serve?
The beauty of having a really high quality webcam is that it makes your life easier as a streamer, or if you're creating tutorials. Normally, you'd need to record both your laptop and another camera to get the audio video quality you're hoping for. Now, you can just do it all at once.
If you use a program like Camtasia, it actually creates a file for video, and one for your screen, so you can do it all in one. Really easy.
Zoom Meetings
Obviously, this is really going to help a lot of people who are at home teleconferencing on zoom meetings. It's not that you can't do it with a regular laptop webcam, it's just that this camera looks far more professional. If you're calling into a meeting with a client, you can really wow them with a high quality feed.
Gamers
There are a lot of gamers streaming on various networks – primarily twitch. Having the ability to throw on a Canon camera as a webcam makes it way easier to stream a really high quality feed. And, if you're doing gaming walk-through videos, it simplifies it.
Tutorials
When I did tutorials, like the one I did on Lightroom the other week, I use to have to record 2 different videos and splice them together – syncing the audio on the process. It's not impossible, just a bit of a pain. It also means massive file sizes.
Now, I can throw on my Canon camera, Camtasia to screen record it, and it's done. My life has just gotten a whole lot simpler.
What's Next?
Honestly, as much as tutorials are helpful, you know that my real love is getting out and exploring. So, this coming week I'm going to do that. I'm going to get out and make a good old fashioned vlog.
See you there.