Everyone wants great Golden Gate Bridge pictures when they visit San Francisco. I was the same on my first visit. So, I went out and shot so much photography of the bridge that I thought I had captured every angle. But, I wasn't even close. There are so many photo spots, and places to take pictures of the Golden Gate Bridge, that you could spend a lifetime photographing it and still not capture every side of it. The options are endless.
After a second trip to San Francisco in 2018, I feel like this list of the best places to photograph the Golden Gate Bridge is a bit more complete. Still, there are just endless places to take pictures here. Moreover, there are places that are better for photography different types of year. For example, the fog in San Francisco rolls through the bay in the summer months. So, if that's the shot you want, don't bother coming in the winter. That said, there are endless locations for Golden Gate Bridge pictures; no matter the time of year or date.

Best Places to Photograph the Golden Gate Bridge
These locations were spread out over 2 different visits to San Francisco over 4 years. So, the experiences were different. These are all the locations I shot; and some others I know of that I didn't shoot.
Hawk Hill
Over in Marin Headlands, this is a local favourite location to take Golden Gate Bridge pictures. You get high enough that if there's fog you might get the bridge poking through the top. It can be epic.
Myself, I got stuck and had to shoot my pictures before getting to Hawk Hill. The road to the view point was closed because of the government shutdown, and I had to walk. I settled for a location about 500m before the hilltop. And, to be honest, I kind of got there a little late for the blue light. But, I still got this image.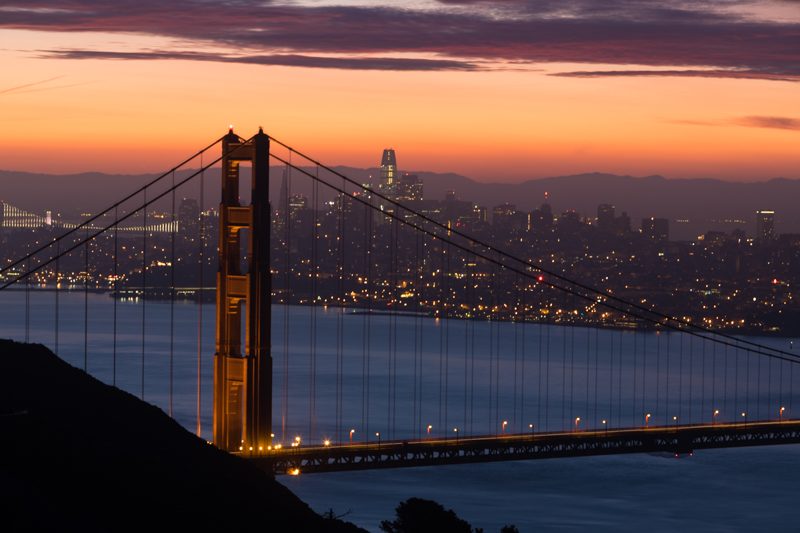 It turned out to be a blessing in disguise that I didn't get all the way to Hawk Point as the vantage point had the sunrise right over bridge. And, the light was amazing.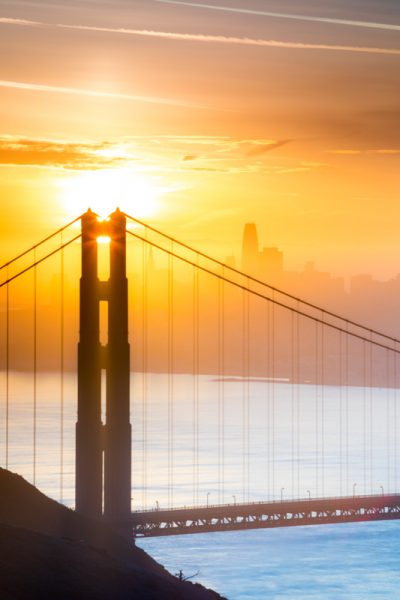 Baker Beach
This is a pretty traditional spot for photography of the Golden Gate Bridge. But, the location is actually better as an epic beach hang out than it is a photo spot.
There really are only one or two compositions to be made from this area. But, if you can, get closer up onto some of the rocks towards Marshall's Beach for some better compositions.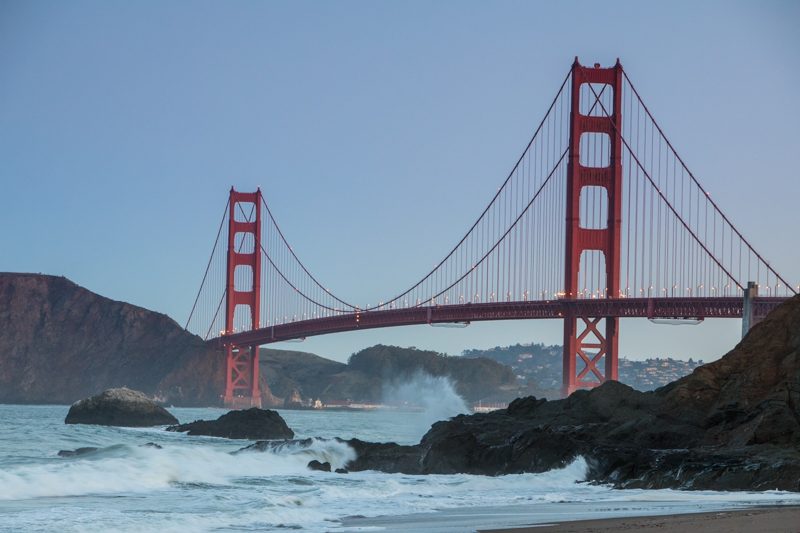 Golden Gate Bridge Pictures from Fort Baker
This location was surprisingly good. Across the bay from San Francisco, this park has lots of parking – which is one of the challenges of some of the other locations. And there is a pretty clean view of the bridge which makes it nice for some portraits. I got some cool shots of @Alajode there.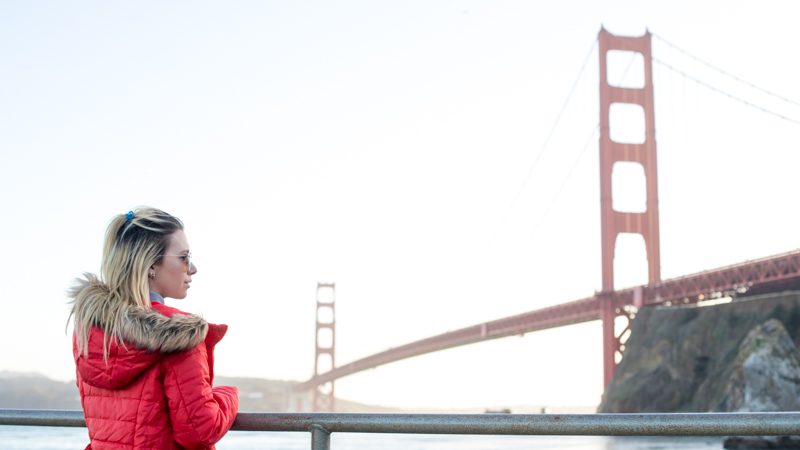 But, the real gold of this location is the low vantage point if you walk towards The Golden Gate Bridge. There was some beautiful green algae on the rocks and the bright green really contrasted the red of the bridge nicely. There were really only one or two compositions to be had down here, but it was pretty stellar. It was also a challenge to get my tripod down without getting hammered by waves, but it was worth it. I imagine, had I gotten better light, this place could be an epic place for sunset.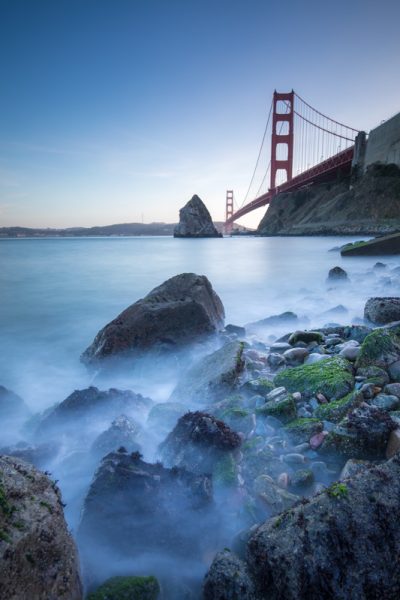 Battery Spencer
This is likely the most typical postcard photo of the Golden Gate Bridge. The location atop an old military battery offers nice clean views of the bridge. It also gives you the opportunity to put the San Francisco skyline in the back of your Golden Gate Bridge pictures. From what I saw, this was the favourite spot for tourists to come and get that classic image of the bridge and city. There is only a very minimal amount of parking available up near the battery, so you might need to be patient when coming here. There actually weren't a lot of photographers up shooting with us, but there was a constant stream of tourists.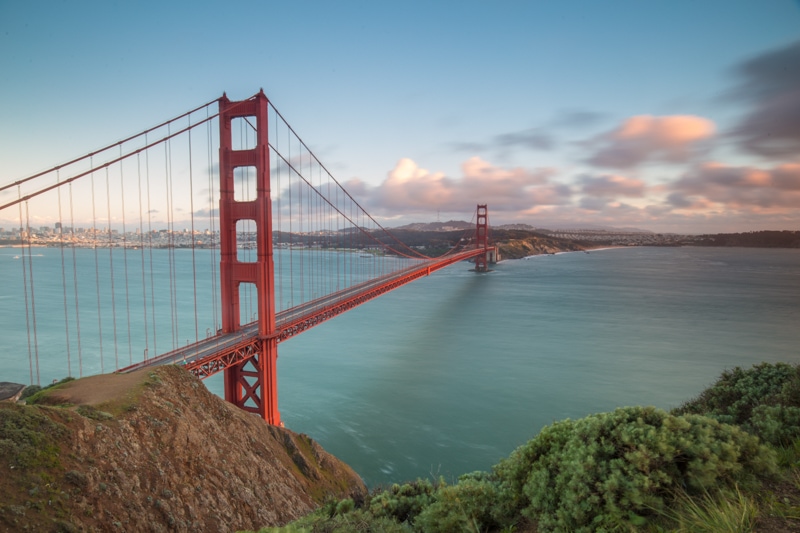 Presidio Park
Presidio Park is essentially on the opposite side of the bay from Battery Spencer. The views are fairly similar except for the fact that you have a nice green backdrop to the images of the Golden Gate Bridge from here rather than the city light as is the case from the other side. I actually preferred photographing this side to Battery Spencer because there were far more compositions available for photos here. There were nice rocks down on the beaches below, you could shoot straight onto the bridge, and I even found a couple giant Cedar trees that I used to frame the bridge within. I think it's a unique image, and that's hard to do in San Francisco. So, I'm proud of it.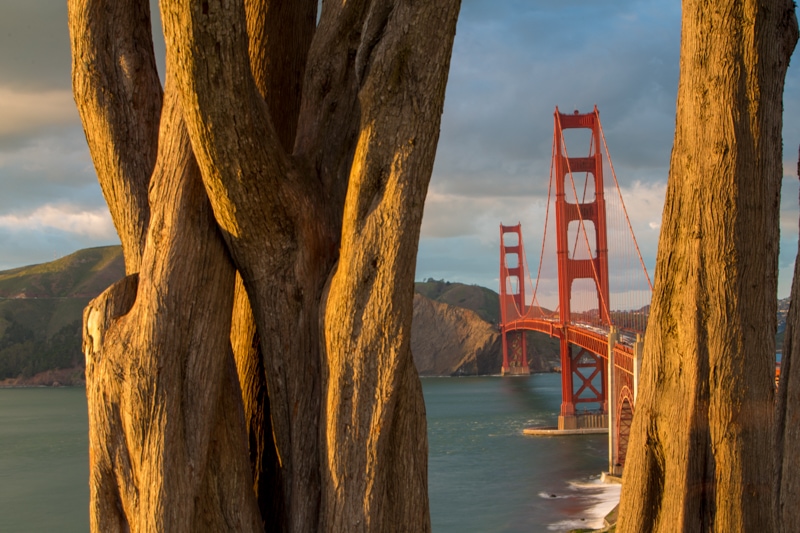 Marshall's Beach
On my first visit to San Francisco, this was my favourite location. But, I didn't get good light. It was bland in the sky, and there was this nasty haze on everything too. But, the rocky foreground and wild seas here can make for some perfect long exposure photography. In fact, even if I've never gotten great photos of it, this might be my favourite place to photograph the Golden Gate Bridge.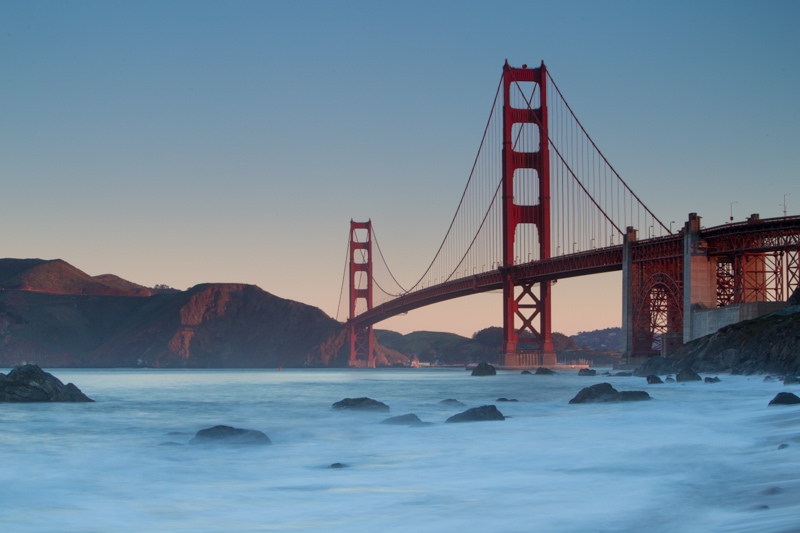 This recent trip, I wanted to get to Marshall's Beach again. But, unfortunately, my luck and time just didn't match up. That said, I did pop over to have another look at it after shooting at Baker Beach, and it's still stunning. In fact, after the light was gone I used this location to make a bit of hero photo. I think it works. But, I'd love to get back with the light is better.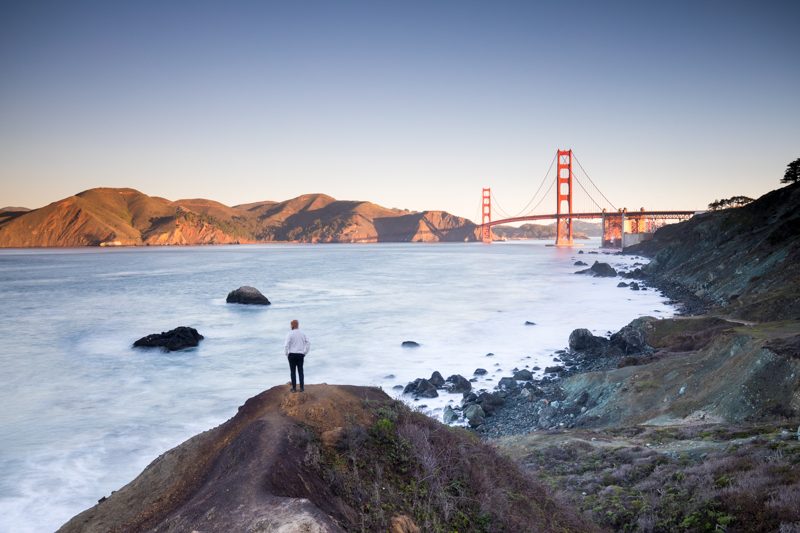 Crissy Beach
I actually tied to get Golden Gate Bridge pictures from a place called "The Wave Organ". But, the location was just way too far away from the bridge. So, I shot some landscape photography before walking back to the car.
But, just before getting back to the car, I realized there were some really nice long lens shots of the bridge from the east side of the park. I grabbed this still of the bridge in the very last light of the day.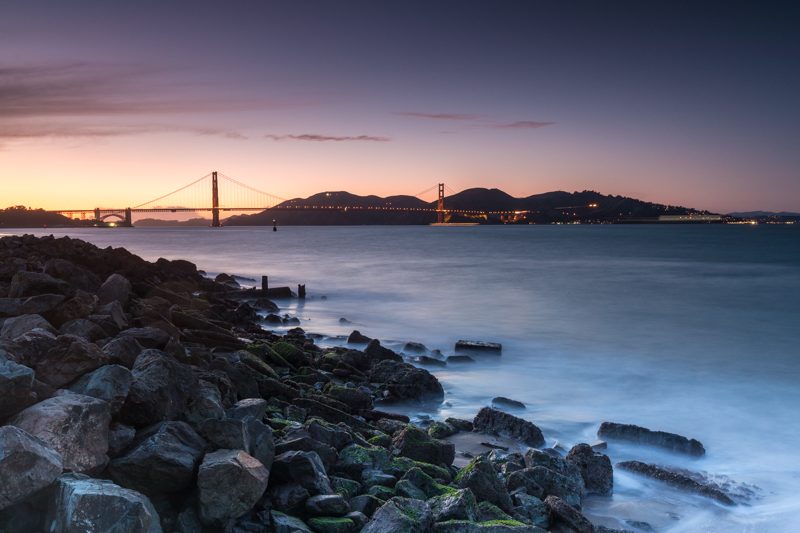 However, it looked like if you got to the west side of the park there would be even better compositions. However, it did also look crowded up that way. I guess, add this to my list of locations I need to get back and shoot again in the future.
Other places to Photograph the Bridge
There are so many places for photography of The Golden Gate Bridge. This list is simply my experience. I've listed a couple other locations that people have mentioned below. However, if you have other cool photo spots of the bridge, please mention them in the comments and I'll add them. Better yet, drop a photo example with it!
Fisherman's Wharf
Down at the wharf, there are a couple places that might be interesting to get Golden Gate Bridge pictures. I've seen a couple images that are really cool from here. Sure, it's a bit off in the distance, but using things like the piers and sea breakers might make for some interesting images.
The Bridge Itself
Of course, you can go onto the bridge itself. From there, you're going to have to contend with traffic, but there are certainly some opportunities to create interesting images there as well. In fact, I think when I get back to San Francisco I'll head here to attempt some more Golden Gate Bridge pictures. I think this location has a lot of potential, and I'm not sure why I haven't tried more here.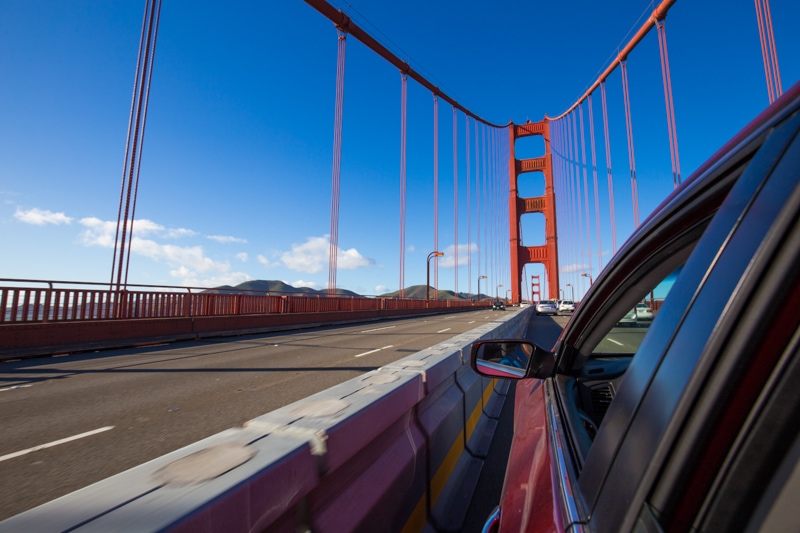 Where to Stay in San Francisco
I'm not going to beat around the bush, there really aren't that many good budget options in San Francisco. Especially not if you're there in the summer when the prices jump.
However, we found what we thought was a pretty good bargain here right near the marina. The best part is that parking was included, which is a life saver. And yes – warning – some of the hotels in San Francisco charge absurd parking fees akin to the cost of some hotel rooms.
If you're looking for a hostel, the most sought after beds are at The Green Tortoise, due to it's phenomenal location. There are also a couple HI-affiliate hostels. In general, a dorm bed goes for between $35-80 a night depending on the season and time of week.
If money is no option, or you're looking to treat yourselves, I can highly recommend The Argonaut Hotel which has incredible views over Fisherman's Wharf, and only a short walk for locations where you could photograph the Golden Gate Bridge.
What's Next on the Travel Photography Blog
How do you like these style posts? I'm going to try to put together more of these "best places for photography" blog posts. I think the next of this series will be "The Best Places for Photography in Arizona". As for real time, I'm continuing a California road trip right now. You can follow along with the series on my photography YouTube Channel.
Afterwards, I'm leaving the US for Wales. It should be fun!