Things to Do in Sao Paulo, Brazil
———————————-
It seems like one of the favourite pastimes of tourist in Brazil is skipping Sao Paulo. Why would anyone want to visit Sao Paulo anyway? It is really just a big city with nothing to do. It is filled with smog, traffic, pollution and crime. Also, did I mention that there's nothing to do? Well, all of that simply isn't true. Yes Sao Paulo lacks the natural beauty of Rio de Janeiro and the other coastal destinations, but there is plenty of things to do in Sao Paulo, and it may actually be the most cosmopolitan city in all of South America.
For those of you who don't think that there's anything to do here, I've included a list of things to do in Sao Paulo. Getting from one place to another is very easy as well, as Sao Paulo has one of the most efficient and modern subways systems in South America. Buy a day pass for the Metro and move around the city to your heart's content.
If you´ve been to Sao Paulo or live in Sao Paulo and would like to add to this brief list, I would love to hear from you in the comment box and may add it to the list.
Here is my list of things to do in Sao Paulo
1)   Visit Parque Ibirapuera
Parque Ibirapuera is a huge park in the city's south west. Throughout the day it is filled with people of all ages jogging, walking their dogs, playing soccer, or simply enjoying some fresh air and a break on a bench beside one of the ponds. To have such a large green area in the middle of the city is a blessing. There is nothing like being able to just wander through this park free of the horns honking or people pushing their way through the streets.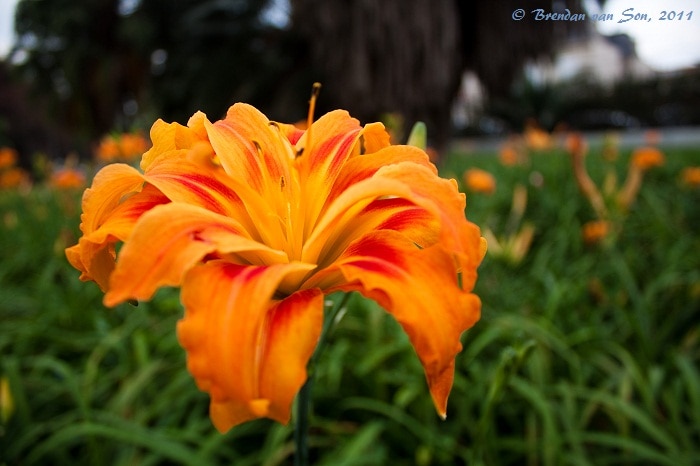 2) Go to the Afro-Brazilian Museum
The Afro-Brazilian Museum, located in Parque Ibirapuera is an absolute must visit. In my opinion, if you could only choose one thing to do in your time in Sao Paulo, a visit here would be the one to do. This massive museum is stuffed full of cultural artefacts depicting not only the African influence on Brazil, but the world as a whole. There are displays portraying everything from the roots of African Brazilians to Afro-Brazilian art. This museum will leave you very emotional and blown away by the beautiful cultures described.
3) Walk and Shop on Oscar Freire
This is the Rodeo Drive of South America. The most famous designers are all represented on Oscar Freire and even just walking along this street seems to require good fashion sense. A quick glance at the people walking along would lead most to wonder if they had accidentally walked onto the runway of a leading fashion show. Whether you intend to shop, or just like people watching, spending a couple of hours wandering along this street is well worth your time.
4) Go to the top of the Banco Santander
There is no true thrill like seeing a city from the top. Getting a bird's eye view of a city adds perspective to the absolute size of a location, and when that location happens to be one of the biggest cities in the world the perspective is even more impressive. Head downtown to the Banco Santander building and take the elevator to the top (admission free) and enjoy. Try to do this right around the time the sun is setting for some incredible light.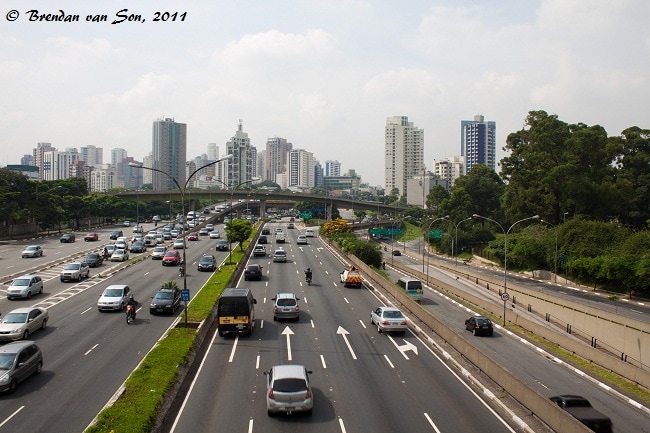 5) Go to the Football museum
Football and Brazil are nearly synonymous words; as such a visit to this country would not be complete without revelling in this sport's deeply seeded culture. Found within the Estadio Municipal Paulo Machado de Carvalho this museum is situated in the hollows of the stadium below the bleachers. Even if you're not a sport's aficionado it's hard not to get into the emotion of this place. The loud speakers play out the play-by-play announcements and on large projection screens the historical moments are played out in video. The interactive section lets visitors play videos of their choice and even shoot a soccer ball to time their velocity.
I think that it goes without saying, that when it´s football season you should go and watch a match as well.

6) Suck in the nightlife
Rio de Janeiro is famous for its nightlife.  The area of Lapa fills on the weekends and creates a scene that is absolutely impressive.  The nightlife in Sao Paulo is different but equally intriguing.  Much like any large metropolitan city, like New York or Paris, the nightlife in Sao Paulo sings of style and class.  People dress in their finest clothes and head out to the various bars and nightclubs which form a truly electric vibe.  Although you won't be allowed entry into any club wearing havaiana sandals, like you are in Rio, you are guaranteed an interesting night out.