If you've been following along with my adventures here in The Philippines so far you'll know that I didn't really plan the trip out. On the way to the airport in Madrid I opened a Lonely Planet and quickly sketched a trip based on a couple cool sights I wanted to photograph.  One of those places was a waterfall on Siquijor Island.  Like all the other places I have visited on the trip so far, I knew nothing about Siquijor aside from the presence of this waterfall.
I'd soon find out, however, that Siquijor Island is an absolute gem. And the almost perfect combination of chill and adventure.

Siquijor Island Cliff Jumping
I heard of a little place on the island called Salagdoong Beach where there's an old waterpark built onto an island. And while they aren't using the waterpark anymore, they've turned a couple of the platforms into places to do cliff jumping.  And, if you know me, there's nothing I like more than a little bit of adventure.  So, I headed out to this Siquijor cliff jumping spot.
The places is set on this nice little cove of calm water.  There's a little beach, and a bridge going out to the island with the cliff jumping spots.  There was a group of Chinese tourists standing on the spot, most way too scared to jump.  But, a couple did, and I managed to fly the drone as people jumped a bit.
Still cut up from my motorcycle crash on Bohol, I probably shouldn't have been cliff jumping. But, I couldn't resist. So, I took a couple jumps myself.  The cliff jumps on Siquijor Island are 8m and 10m high. So, they're not crazy. Just a good enough height to get some adrenaline flowing, but also a fairly safe height. I was also surprised that there was a lifeguard on duty. Well done Salagdoong Beach.

Cambugahay Falls
The other top spot on Siquijor Island is a set of waterfalls called Cambugahay Falls.  They are just this brilliant bit of bright blue water tumbling through the jungle near the town of Lazi.
The falls are a popular spot, so they're quite busy. But, they are spread out enough that you can still get away a little bit.  There's a little bit of adventure to be had at the waterfalls too.  There's a place to go cliff jumping (it's about 5m high) right off one of the waterfalls.  There's also a rope swing into the falls.
When I was at Cambugahay Falls there was a crew shooting a travel show, so it was a little bit busy, but luckily everyone kind of cleared out at about 5 o'clock, so I had the area to myself to shoot photography for about 30 minutes until security told me the falls were closed and I had to leave. I was later today that the reason they close the falls at sunset is because of dangers from dark magic, and that the pools turn into a Nymphs Pool and locals are scared to be there after dark. Amazing. I love the stories of black magic on Siquijor.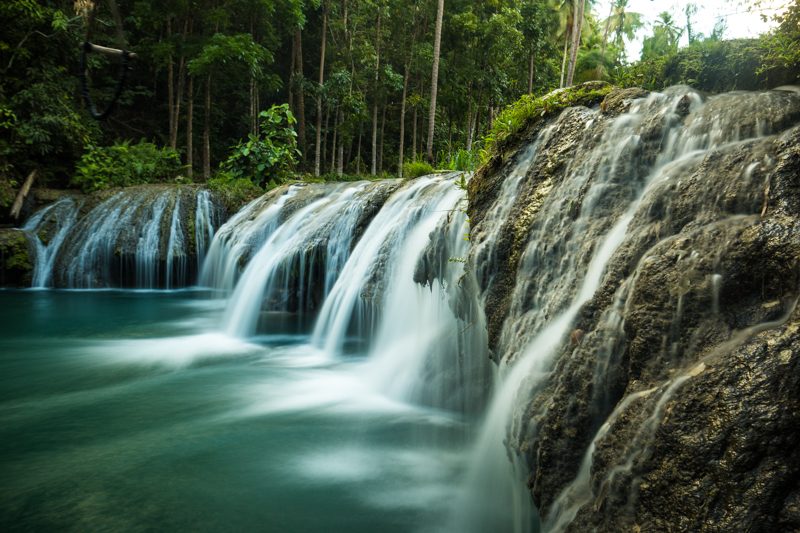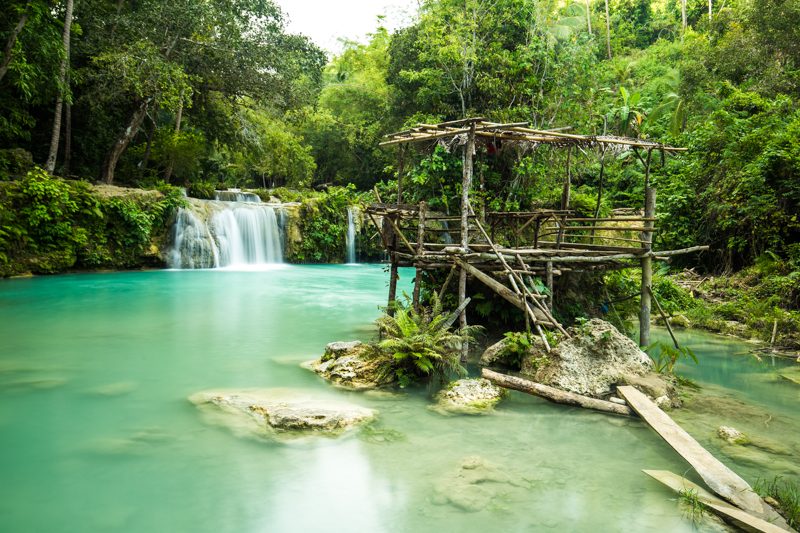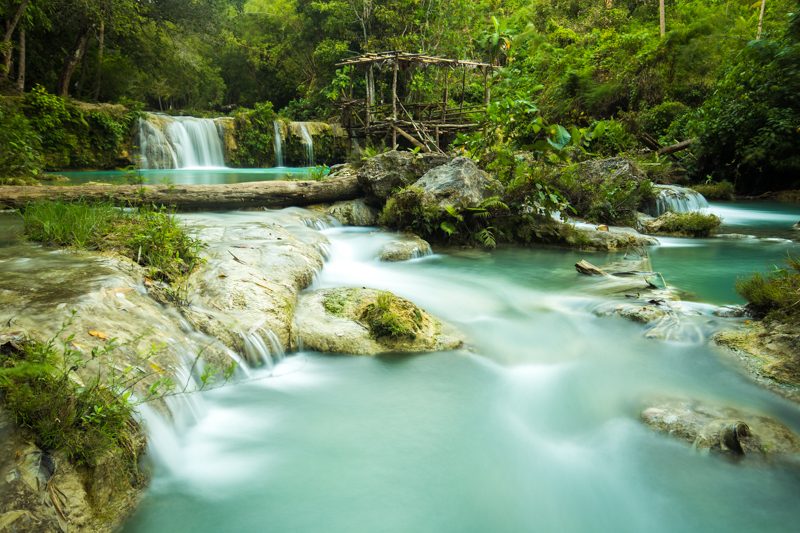 A Rainy Day Drive on Siquijor
I was planning on going to a mountain top for sunrise on Siquijor. But, it was pouring rain the morning when I woke up.  So, I went back to bed.
Late morning, it was still kind of pouring rain, so I decided to head into Siquijor Town and take care of some chores.
Early in the afternoon, as it still rained a bit, I decided that I had to get out and do some exploring. So, I drove the ring road that loops Siquijor. My goal was to check out some of the beaches and coastline near the town of Larena in the north of the island.  I got to some beaches, did some drone flying with some locals, and then made the push towards a mountain top to shoot sunset.

Unfortunately, the rains came back in and it would have been pointless to go the to mountain top.  So, instead, I continued driving the ring road looking for a spot to shoot some images of the coast around sunset.
This is the place I ended up shooting: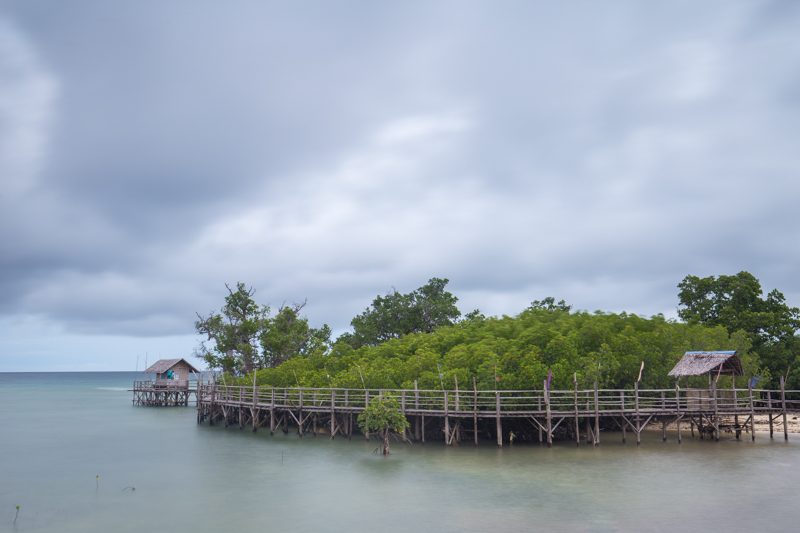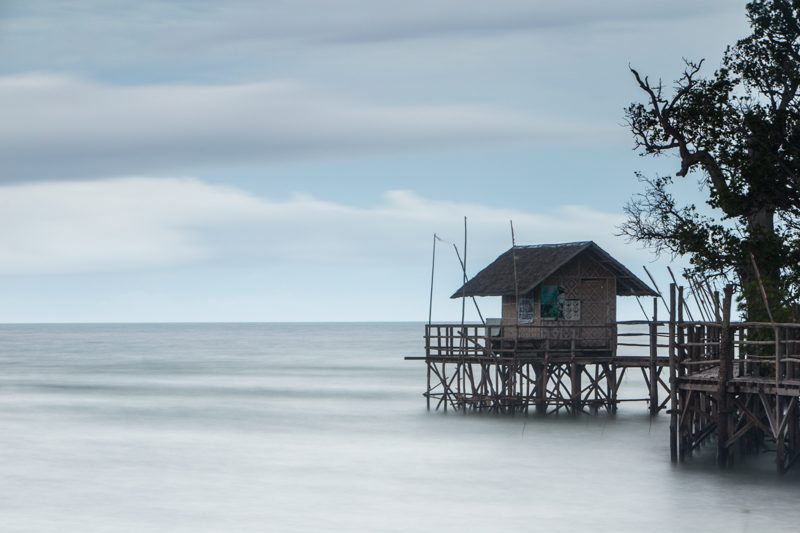 What's Next?
From Siquijor Island, my trip here in the Philippines takes me to Palawan Island which is actually the place I was most looking forward to on this trip.  And, if I'm being honest, it's probably the only place aside from The Chocolate Hills in the Philippines that I'd heard of before coming here.
After my visit to Palawan, I'm leaving the Philippines for a conference in Berlin. Afterwards, I'll be off to Argentina.