After a visit to Spain that felt shorter than it actually was, I was off again. This time, I was heading to The Philippines – a new country for me.
Not only is The Philippines a new country for me, but one of which I had absolutely no expectations. Honestly, I knew very little about The Philippines. My knowledge of Filipino people, too, is limited to those I've met. Those I met, I knew to be very friendly, and love photography and basketball. So, I assumed we'd get along. So far, I'm right.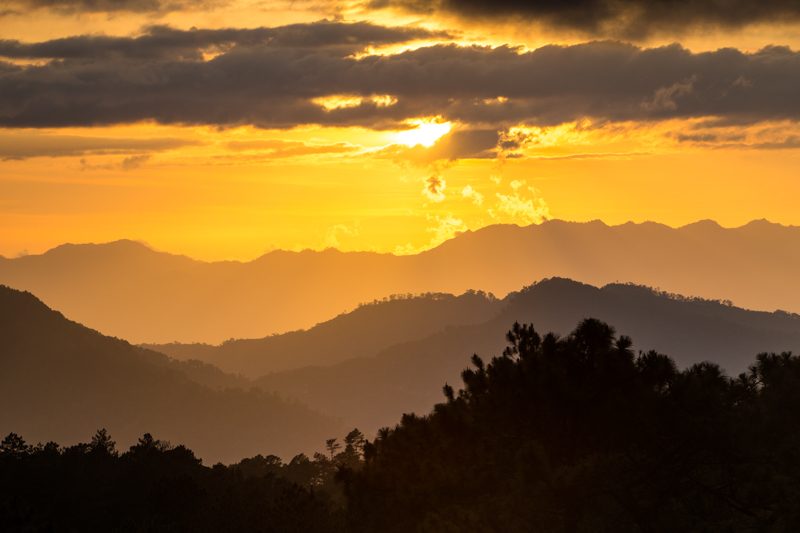 Manila
I landed in Manila really late, and really didn't have any time planned there. To be honest, I have little to no interest in Manila. I want to see the nature, countryside, and landscapes of the country. So, the next day, I was already off again.
However, on the couple hours I had free in Manila, I did get out and explore a little bit. In doing so, I came up with some of my first impressions, and observations of The Philippines:
People are extremely friendly and welcoming.
Jeepneys are awesome – local transport. I want one.
The people do seem to love basketball – there's always a game on somewhere.
There's a lot of foreign guys living there and dating local girls – not prostitution, but dating.
There is no way I wont stand out – I'm a foot taller than the average person. I'm like a giant Q-Tip wandering around the streets.
That night, I caught the bus north on the same island as Manila. It was a 12 hour journey to the town of Sagada.

Jet Lagged in Sagada
When I arrived in Sagada I was on a bit of a high. And, looking back, there's a good chance it was more of an adrenaline rush keeping me going. The drive into Sagada as the sun rose was stunning, and I couldn't wait to get out and explore.
However, as I got settled into my hotel in Sagada, it became apparent to me that jet lag was finally catching up with me. I took what was meant to be an hour's nap before exploring. It ended up being a 3 hour sleep and I nearly missed sunset because of it.
With no idea where to go and shoot photos, I made the mistake of asking the hotel receptionists. She recommended a place called Lake Banum. But, after hiking an hour to get there, I realized it wasn't much of a lake, but more of a swamp. And, the reason I was pointed in this direction wasn't because the landscape is beautiful, but because you can literally see the sun set.

One thing I've learned in my travels throughout Southeast Asia, is that people here love watching the sun go down, or come up. And, the landscape in front of the sun is fairly irrelevant.
Luckily for me, the sky was incredible, and I was able to make lemonade out of the situation with some simple shots of the sky and hills in the distance.
Hanging Coffins, Waterfalls, and Fog
On my second day in Sagada, I finally got out and explored properly. The main attraction in town are the "hanging coffins," so, that was my first destination.
Honestly, the hanging coffins are a little bit underwhelming. Yeah, they're interesting. And, the sheer state of them is quite strange. But, I was sort of expecting a wall of hundreds of them, or something. Instead, there are a couple dozen dropped down. Now, that's not to say I didn't enjoy seeing them. I guess maybe my expectations were quite high, especially after seeing some impressive sights in China that were fairly similar. And, it should also be mentioned that there are actually hanging coffins all over the Echo Valley, and that tourists really only get to see a small section of them.

I also think that the hanging coffins actually would make a really great photo in the right light. However, the site is only open until 3pm, and you're required to go in with a guide even during the opening hours. So, it's impossible to get a shot like the one I had envisioned.
From the coffins, I hiked my way to Bokong Falls.
The walk to get to the falls leads you through some minor sets of rice terraces and a bit of the countryside. It's really quite beautiful in this part of The Philippines, and I realized a little too late that to properly experience this side of things I probably need my own wheels.
The falls themselves are quite small, although it's not like they're billed as Iguazu Falls.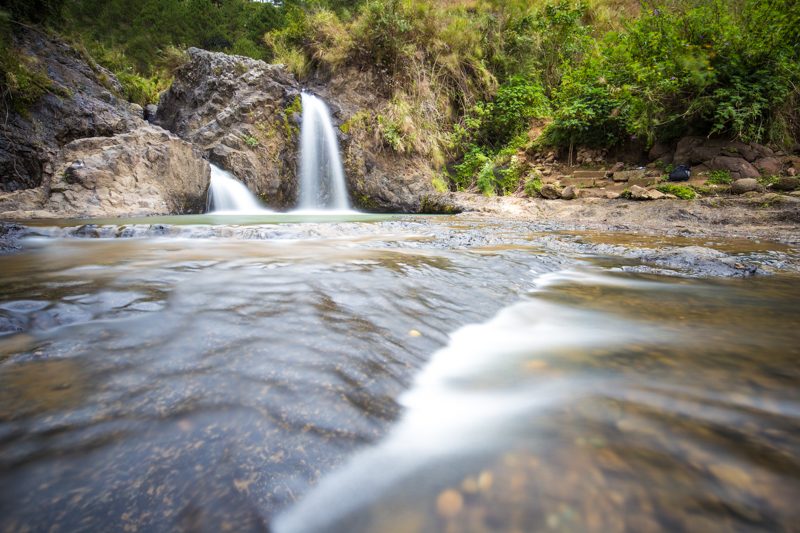 It's funny though, over on my YouTube vlog a couple people commented that they were pretty lame. And, actually, I kind of liked them. They are small, but the setting is cool and the swimming hole at the bottom is cool. I could totally see myself having a swim and hang out there with a bunch of buddies on a hot day – and I'm sure the locals to just that.
In the afternoon, I hiked up to Kiltsepan peak. However, some weather rolled in and by the time I got to the top, the whole area was socked in by fog. I could hardly see my hand in front of my face, let alone the view of the rice terraces that are meant to be below. Little did I know it, but the nice weather I had gotten on my first couple days here isn't exactly the norm. As you'll see in my next post, fog, clouds and rain are going to become a bit of a theme as I battle the weather gods of The Philippines.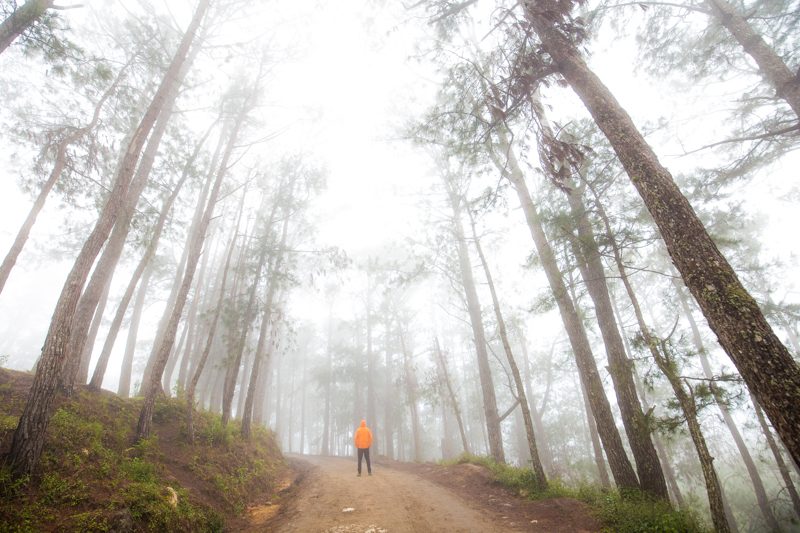 Before leaving Sagada, I made one last attempt at Kiltsepan peak for sunrise. Again, I walked the hour uphill from town to the viewpoint. On the way, it became pretty evident to me that I wouldn't be alone up there. Jeep after jeep packed with local Filipino travellers drove past me. And, by the peak I was surround by people. And, it's not like any of us saw the view. Again, the fog covered us completely.
But, if you ever need a lesson in making the most of a tough situation, go hang out in the fog with a bunch of Filipinos. None of them seemed to care that there was no view. They were all singing, laughing, and, of course, taking selfies. So, while I didn't take any photos away from the morning, I took away the lesson that weather doesn't matter, what matters is how you handle it when it's bad.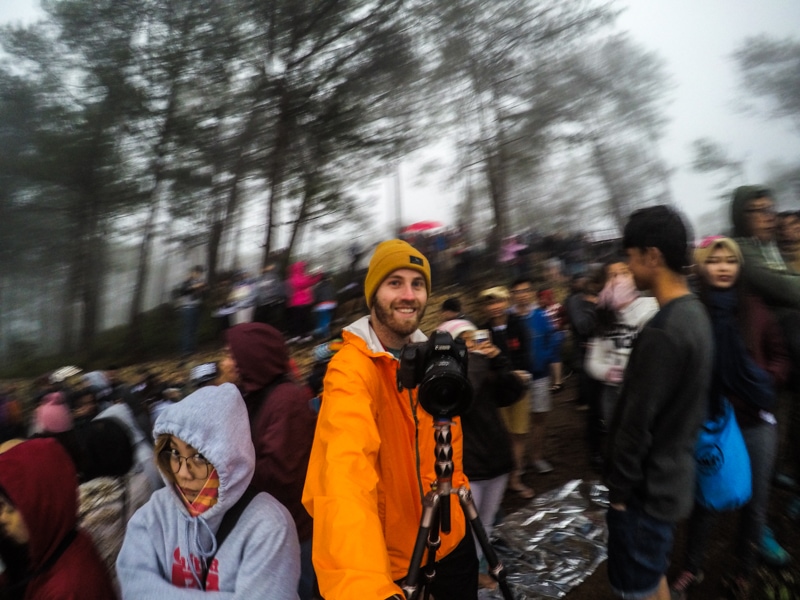 What's Next?
From Sagada I am pushing on to Banaue. This region is famous for its rice terraces. However, I continue to find myself fighting the weather. And, though I can't tell you how much I'm enjoying my time here, from a professional standpoint, I'm starting to stress a little bit. I need to start getting some photos.