I'll be honest with you, I had some preconceived ideas about what Santorini was going to be like before I got there.  Sure, I thought that Santorini would be great for photographers.  I also thought that it would be busy.  And, I thought that there's be hundreds of compositions. I was wrong on basically all accounts. Some things for the better, others for the worse.
These categories were my assumptions about Santorini before visiting it. And, my thoughts after spending a weekend there.
Santorini is Too Busy for Photographers
The biggest mistake I made was assuming that the crowds would be too much to take good photos. I was wrong.
I've heard that the crowds are a mess in July and August, but during our visit at the start of September, the crowds were much more calm than I expected.  Sure, we visited in the afternoon when all the cruise and day trip traffic calmed down, but it really wasn't that bad.
Of course, the 2 or 3 classic Instagram spots in Santorini were busy – there were line-ups at them for people wanting to take pictures. But, honestly, I was surprised by the lack of really intense crowds.  Again, that could be due to the fact we were there in September.  But it was a weekend.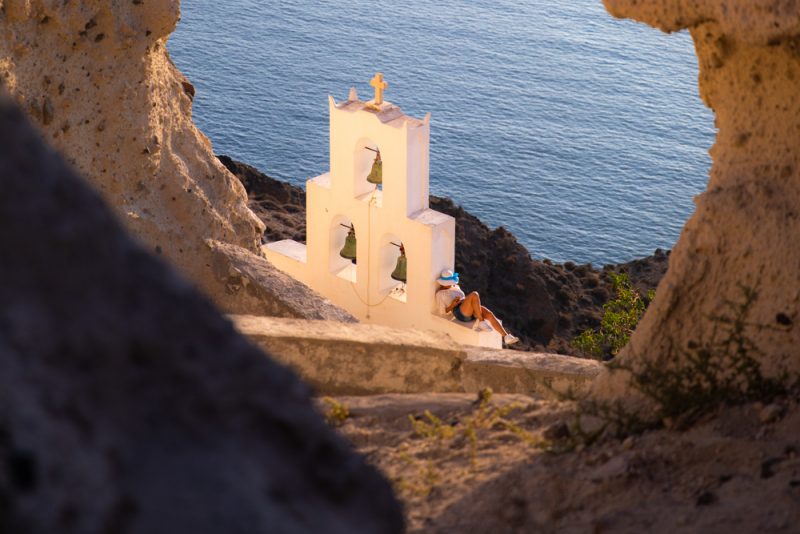 Santorini is Great for Photographers
I don't think this is true.  I think that Santorini is actually quite hard for photographers.  There is so much restricted space in Santorini that getting to the places that you need to make the great photos is hard.  Everything is roped off, all the buildings are villas, hotels, guesthouses, etc. Access is almost impossible unless you have the money to splash out to stay at one of the places.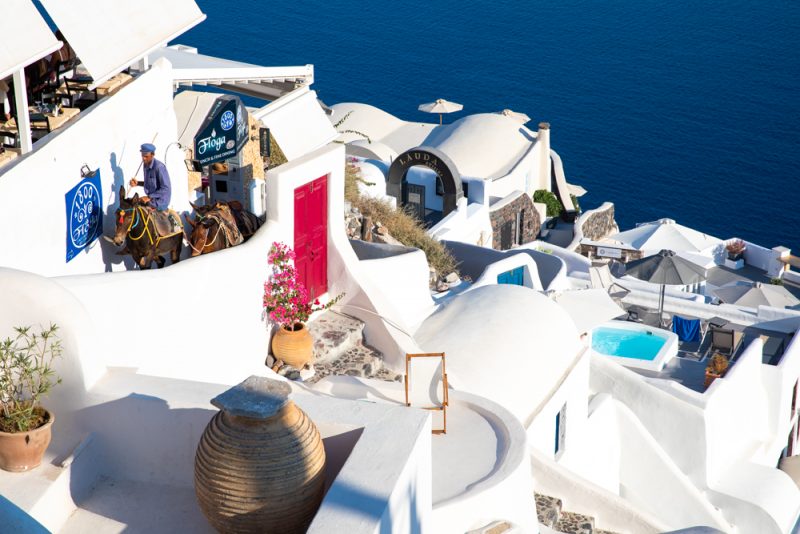 Photographers, and tourists in general, are restricted to the one or two paths that cross the top of the towns of Oia and Thira, and the paths down to the ports.  Sure, there are lots of great views. But a great view doesn't always mean great photos.
Outside of Oia and Thira, Santorini really isn't all that photogenic.  Much of the backside of the island is dirty, dry, and a little rough looking.  There are some spots like the Red Beach worthy of photos. But, compared to places like Naxos I actually found it quite a challenge.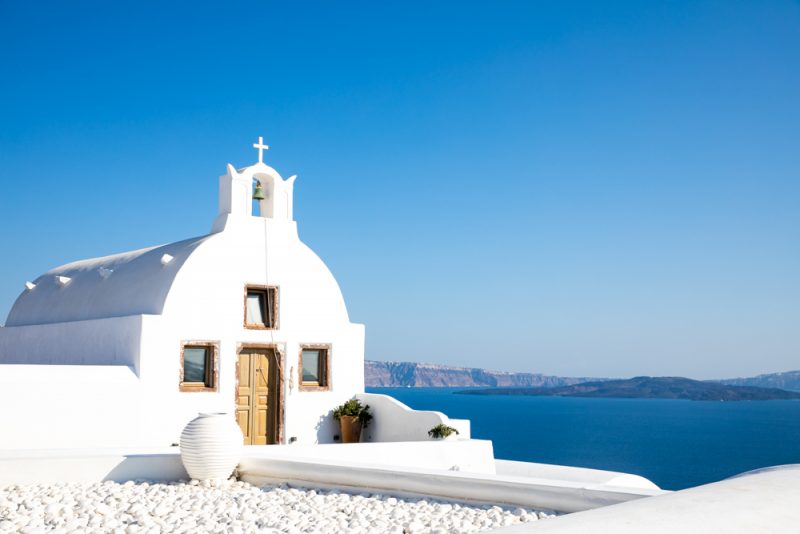 There are Hundreds of Photography Compositions to be Made
Of course, any time you see photos of a place like Santorini you assume there are going to be hundreds of compositions.  You think you're going to burn through memory cards and end up with a hot shutter from snapping so much.  And the reality is that there are lots of details to photograph – lots of doors, patterns, and textures.
But, there really aren't all that many hero images.
In fact, there are likely only 2 or 3 hero images to make.  The classic view of Oia, the 3 bells church in Thira, and a couple other spots in between.  Beyond that, it is a photography challenge – especially to those of us without great "eyes" who really on shooting the big images.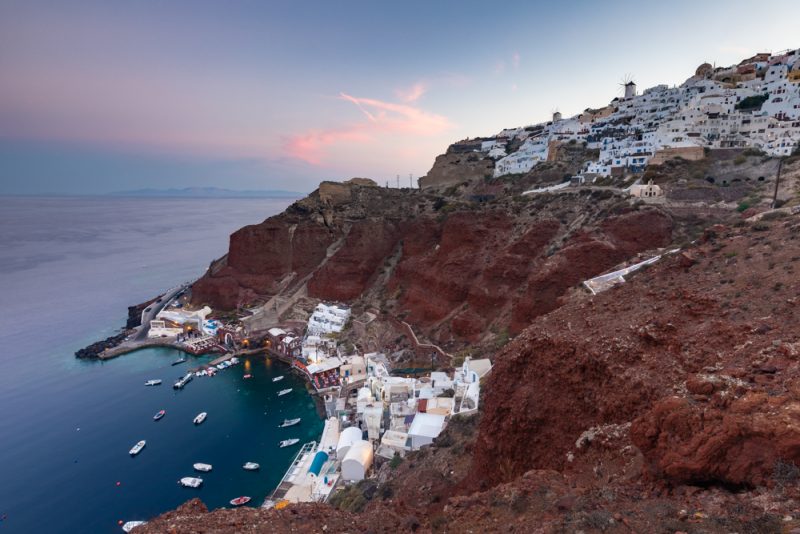 Santorini is Overrated
I think any destination that gets as much hype as Santorini is overrated.  That's not to say it's not beautiful.  Here's a list of a half-dozen other places I think are overrated: Paris, Milan, London, The Grand Canyon, Niagara Falls, and Cancun.  Saying a place is overrated doesn't mean it doesn't suck. It doesn't mean that visiting those places can't be amazing. It just means that the hype about them is way too high.
Santorini is no different. There is so much hype about it. So many people tell you it's the best place they've ever visited. So, obviously you rock up with high expectations.  When your expectations are so high, they likely won't be met.  My expectations of Santorini weren't met.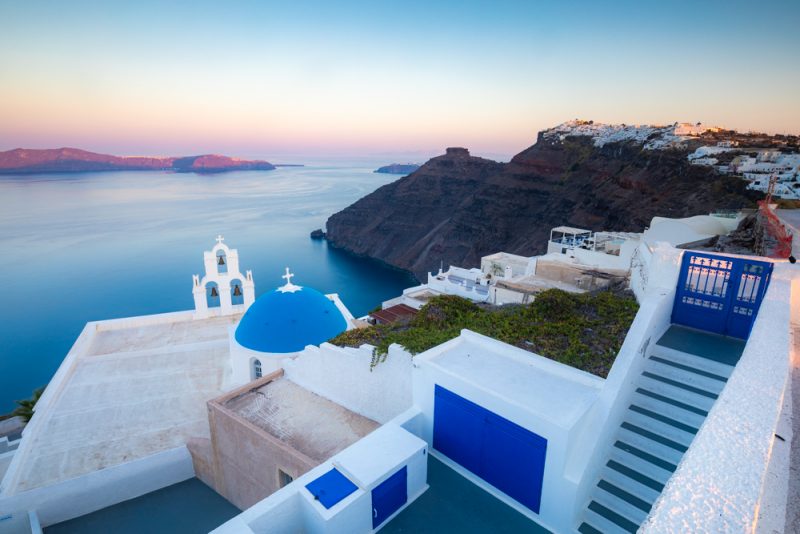 The Mistakes I Made in Photographing Santorini
I made the mistake of trying to photograph "something different".  There's a reason the classic views of Oia and Thira are classics: they are incredible.  I shouldn't have wasted a day and a half running around trying to find something else.  I did end up with a cool photo down at Agios Nikolas Church, so I don't regret it. But, it was still a bit of a mistake.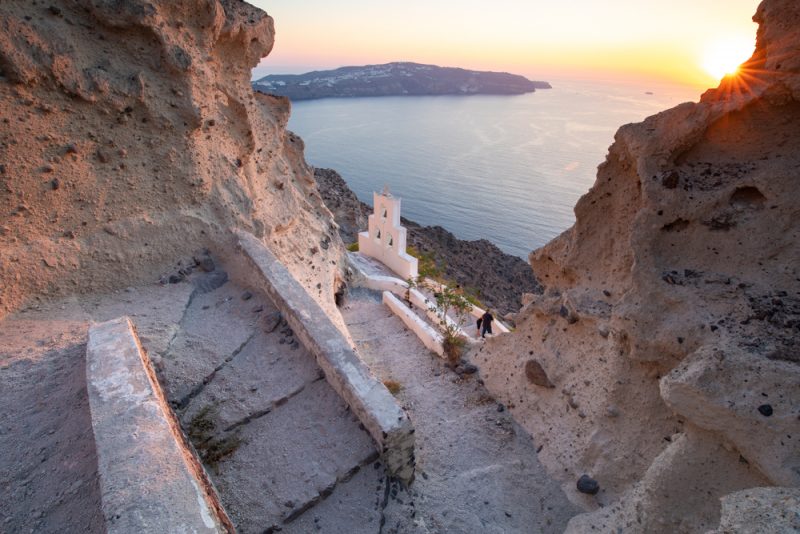 I made the mistake of not shooting sunset in Santorini.  There's a good reason that Santorini is famous for its sunsets. They are some of the best in the world.  But, I was scared off by the crowds at the destinations for sunset.  But, I should have brought myself out to take pictures in some of those spots at sunset.  I'm sure that I would have gotten better pictures.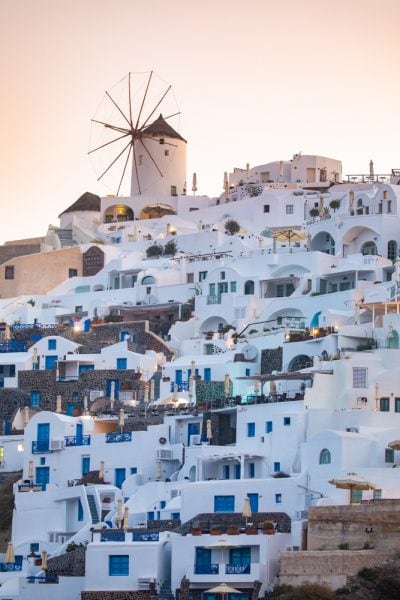 I should have focused on the details.  I kept looking for hero images.  My favourite image from the trip was a photo of a cat framed by a church in the background.  I think there are lots of really cool detail photos to be made on the island in the cities.  I should have brought out the 50mm Sigma lens and looked for some of them.
I didn't take enough pictures.  I think I got a little bit negative about the lack of hero images and just kept the camera holstered more than I should have.  I forgot that photography is all about finding a way to describe a destination.  I should have created some sort of photo story to describe how I felt there.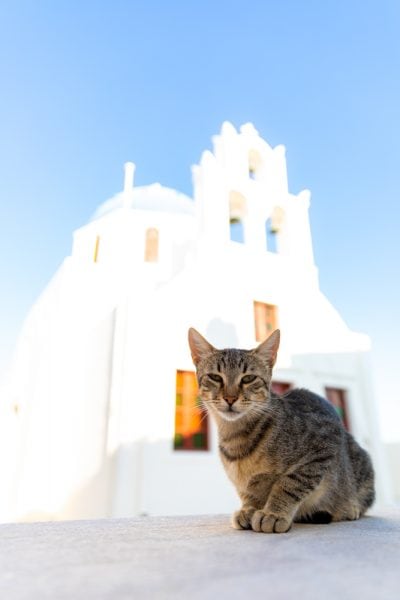 What's Next on The Photography Blog?
I have a couple more Greece blog posts coming.  I'm putting together a massive round up on the best photography locations in Greece. And, I have post featuring some famous street photographers as well.
In real life, we're back in Crete for 2 weeks. Then, it's off to Belfast for a couple days, and finally down to our next destination: South Africa.