With my travel photography tour happening Namibia, I thought it would be fun to drive from our base in Cape Town all the way up to start the tour.  I thought a road trip to Namibia would be a great idea. I thought we'd be able to see some new locations and maybe make some photos along the way.
What we didn't have in mind was a bunch of fails and misadventures that would dot our journey.
Day 1 – Car Failure
We traded our rental car for a big van.  We needed it for the tour, and it was way cheaper to rent a car in Cape Town than in Namibia.  So, we decided to take advantage and go on a road trip with the van before the tour started.  
Our goal was to make it to Lambert's Bay, and to make stops at Laangebaan and West Coast National Park on the way up.
But, as we left Cape Town I noticed a terrible lack of power on the van.  It could hardly climb even the slightest hills. So, I thought I'd call Avis when we got to Lambert's Bay and see if they could send a mechanic or a replacement.  However, as we turned the corner into West Coast National Park, a hose blew and the whole cabin filled with steam. I slammed on the brakes, Jodie bailed for the hills thinking it was smoke. And we were stuck.
Thankfully, Avis sent us a replacement car and we only needed to sit roadside for 2 hours. Eventually, we made it to Lambert's Bay – though after dark and without making any of our planned stops.
Day 2 – Tent Failure
Day 2 of the road trip to Namibia started really well. I got up at sunrise to photograph a seascape that has a lot of significance for me.  It was there where I stopped 2 days before arriving in Cape Town, completing my epic African scooter journey.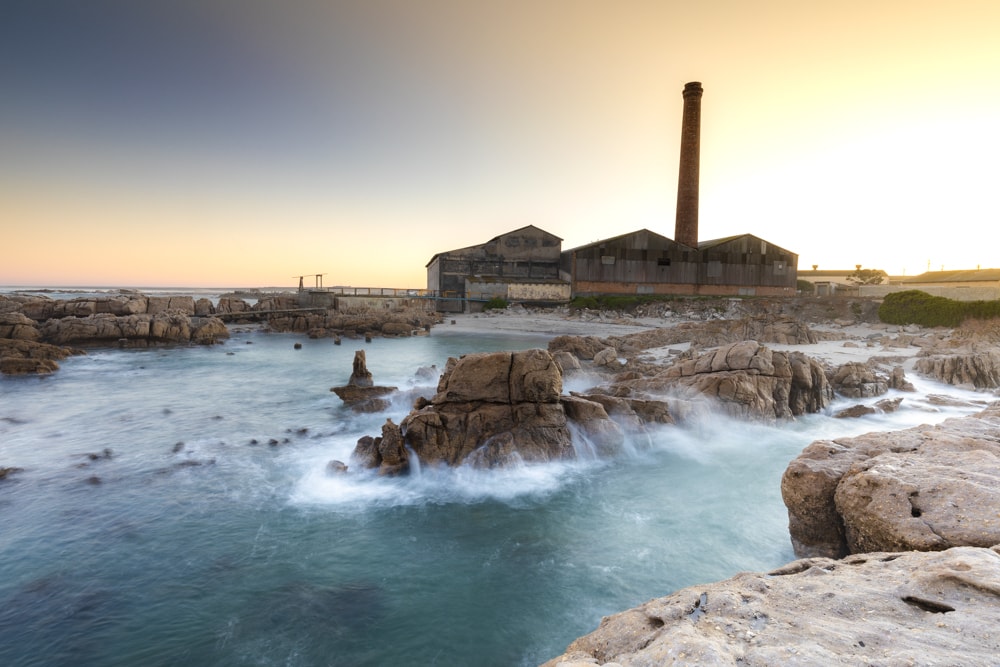 Then, Jodie and I headed to Bird Island Sanctuary in Lambert's Bay.  It was a cool stop. We shot some photos, video clips, and just enjoyed having some wildlife around.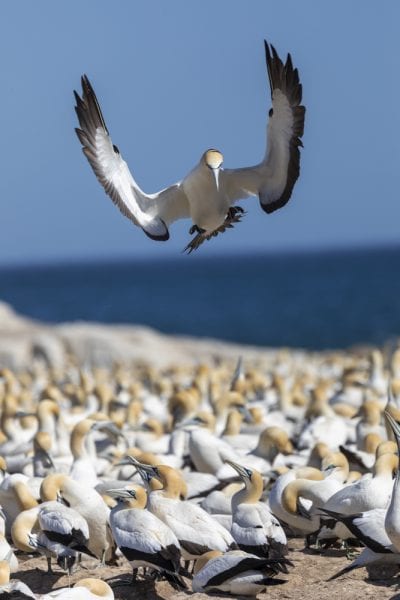 Afterwards, we jumped in our van and headed north, watching the beautiful South African landscape change as we drove.
We decided to make camp for our first time near Springbok in a park called Goegap Nature Reserve.  But, as we started to open our brand new tent a screw snapped and he whole tent wouldn't set up at all as a result.  With the park gates closed, we thought we'd have to spend the night in the van.  But, a park warden saved us and let us spend the night at a bush hut.
So, we survived in style.
Day 3 – Flat Tire
They say that bad things happen in 3s. And, while I don't believe in fates this is something I've come across so much: threes.
I know, it sounds stupid. And, I believe that if you worry about it too much it becomes  self-fulfilling prophecy.  But, bad things happen in 3s so often to me that I just assumed that one more thing would go wrong on the way up to Namibia.
Sure enough, as I did the morning walk around of the van, I noticed that one of the tires had a flat.
And, honestly, I wasn't worried. I've changed many a tire in my travels.  In fact, the last time I was in Namibia I had to change tires on the car I rented 4 times.
But, the tire was seized to the car and despite hammering it and twisting it around, I couldn't get the tire off.  To make matters worse, it was Sunday so all the repair shops in nearby Springbok were closed. And, of course, just to make it even more difficult, we were out of cell range.
Luckily, we ran into an overlander who help me smash at the tire until it eventually unseized and I could change it.
We planned on leaving at 8am.  We didn't get out of Springbok until nearly noon.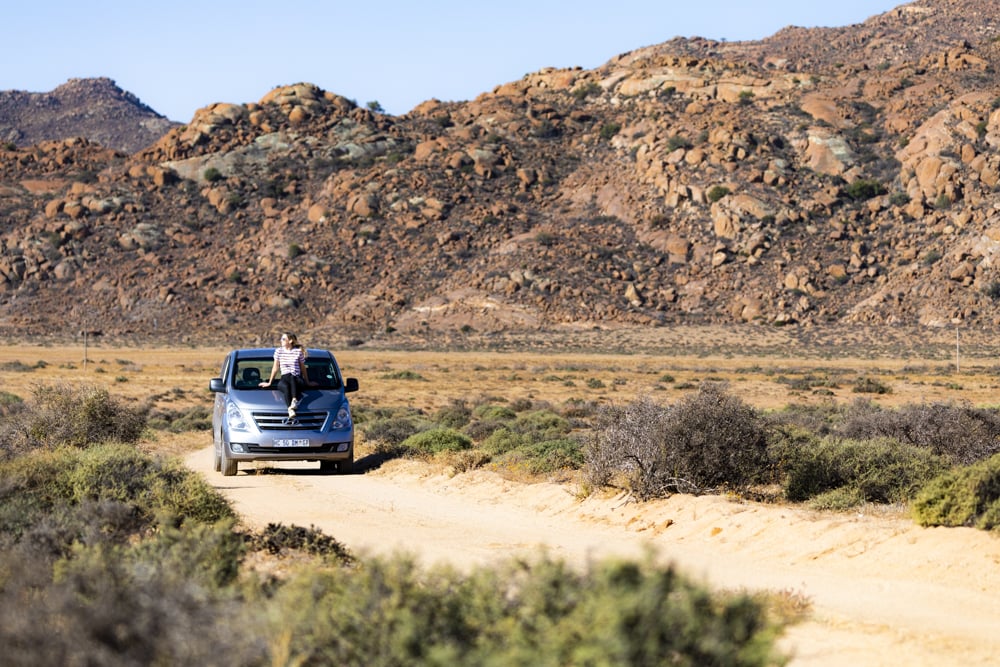 Quiver Tree Rest Camp
Finally, we pushed on to Namibia.  It's only an hour's drive from Spingbok to the Namibian border, and the drive is stunning.  It almost made the misadventures of the road trip to date worth it.
We stopped for the night up at a place called Quiver Tree Rest Camp.  It was such a beautiful place to set up the tent for the first time – yeah, we found a replacement pin in Springbok.
And, I got out to do a little bit of star photography.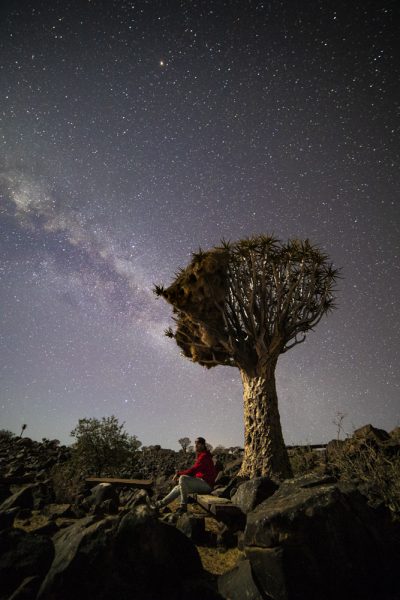 Eventually, we made it to Windhoek.  But, obviously, it wasn't the smooth sail north that I'd hoped for.  But, we made it safe and sound. And now, it's time to share the incredible wonder of Namibia with you all.  I'm so excited for this.
What's Next?
My travel photography workshop to Namibia went great.  We had some hiccups, of course, but overall we just made some incredible images.  I'm looking forward to sharing those with you all.  I'm going to be putting together a massive blog post of all my favourite photography locations in Namibia soon.  So, keep your eyes out for that.
And, if you want to be a part of the next Namibia tour, be sure to sign up to the newsletter below.