Jordan is a beautiful country full of opportunities for photographers and travellers alike. The people are incredibly warm and kind, and it's just a great country to travel. I travelled quite a bit of the country on my one trip. However, like many of my photo locations guides, I'm very much aware that I do need to go back and explore more.
Moreover, if you do have any of your own photo location recommendations in Jordan, the comment section is open.
This is my guide to photography in Jordan.
The Best Photo Spots
In Jordan, there's a tourist loop that they like to call the Golden Triangle. It's a section of the country that covers Petra, The Dead Sea and Wadi Rum. Most tourists stick to this area. And, honestly speaking, most of the photo spots are in this part of the country.
Petra
Building a country's tourism industry is a whole lot easier when you have a world wonder. Petra is one of the coolest historical places on the planet. And for photographers it's one of the most beautiful.
The most obvious photo location right at Petra is The Treasury. This stone carved cliff wall is so iconic. It photographs well from basically any angle. Personally, I like the angle from down the slot canyon. It adds some intrigue to the image. But, of course, it photographs well from any angle. Even with a camel in your face.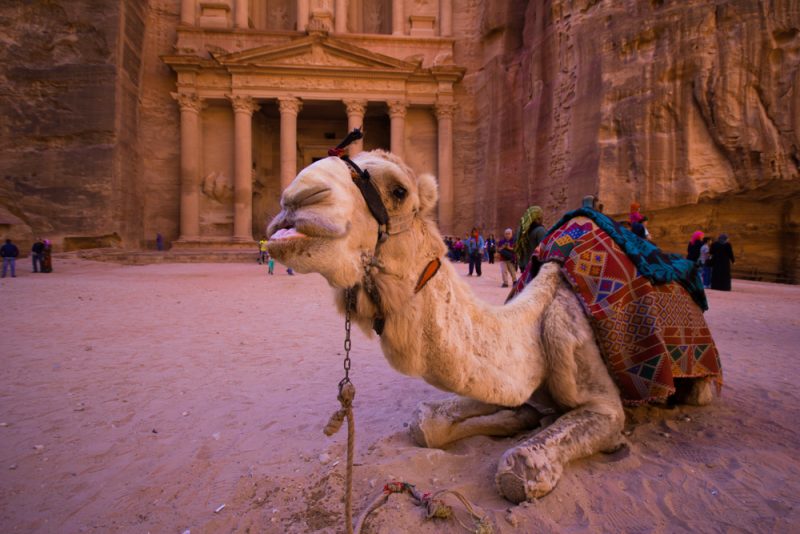 The slot canyons themselves also make for really good photos. Especially if you can manage to get a horse and buggy running through one.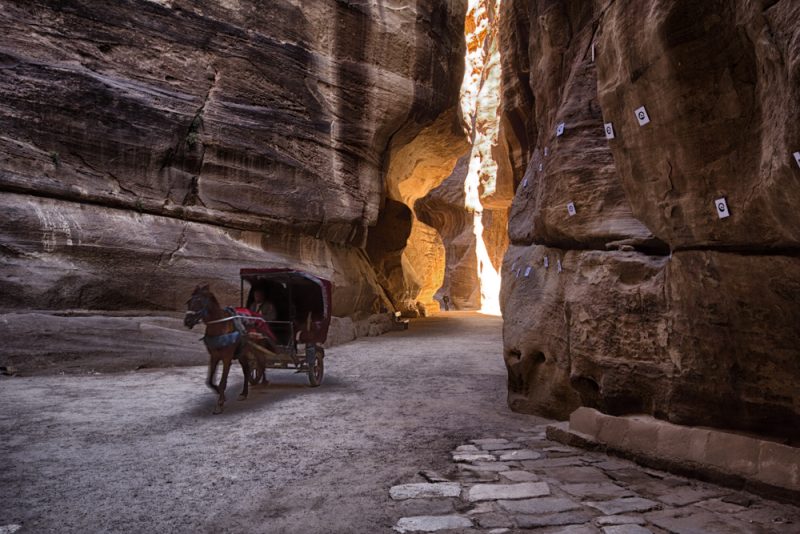 As a photographer, you should also 100% sign up to do the "Petra at Night" tour. It's the only way to get yourself into the grounds of Petra for astrophotography. The images at night are absolutely epic.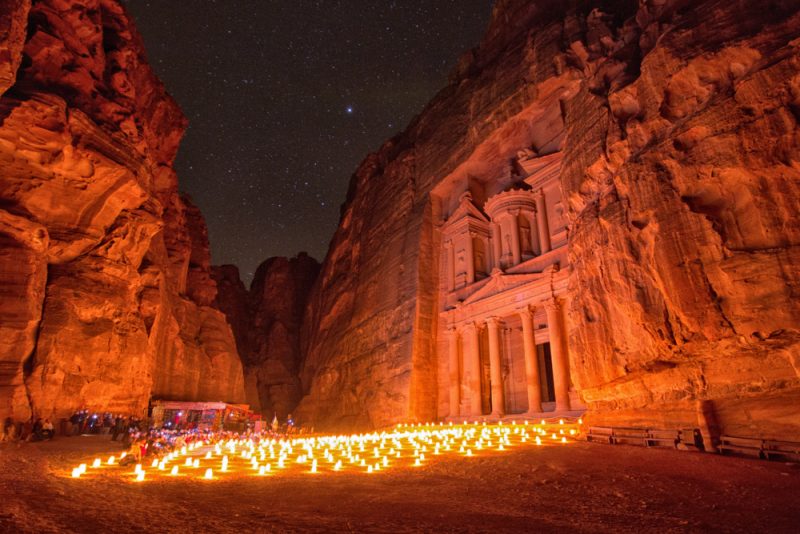 Haroun's Tomb
Not far from Petra you have a place called Haroun's (Aaron's) Tomb. It's a slog of a hike to get up to it, but the views are absolutely incredible.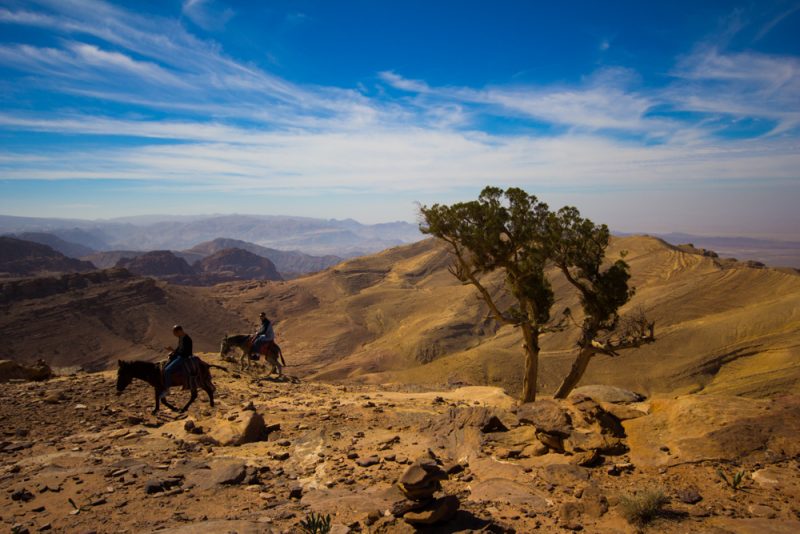 The photo opportunities up there are mostly of the views. The building the tomb lies in is nice, but it's not the most photogenic place in Jordan by any stretch of the imagination. If you find yourself with an extra day in the Petra area I would definitely recommend making the journey up here.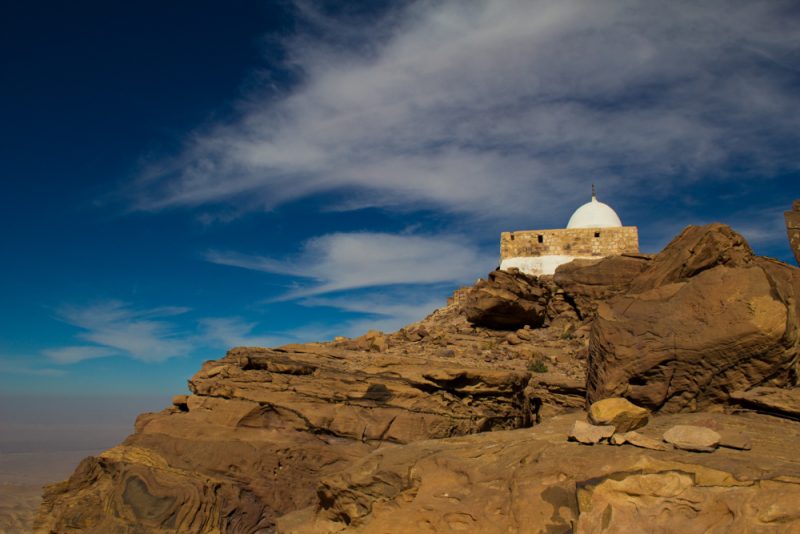 The Dead Sea
I struggled a bit to photograph the Dead Sea.
The Dead Sea is one of the many places on the planet that is absolutely beautiful, but also surprisingly difficult to photograph. I think park of it is the fact that the sea is just so wide open. There's also not a whole lot of foreground interest around the edges.
In hindsight, I should have gotten closer to the edge of the Dead Sea shores and used some of the crystallized minerals on the shoreline as a foreground or leading line for my images.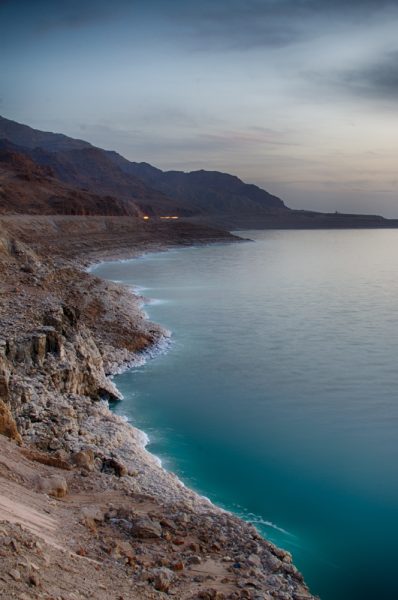 Wadi Rum
Although Petra was the photo location I was most looking forward to in Jordan, I think Wadi Rum was the place I had the most fun with the camera.
This place is just so magical.
Wadi Rum is a walk back in time. You spend the night in bedouin camps that are kind of like a style of glamping. At night, you're under the stars with the locals roasting coffee and playing music.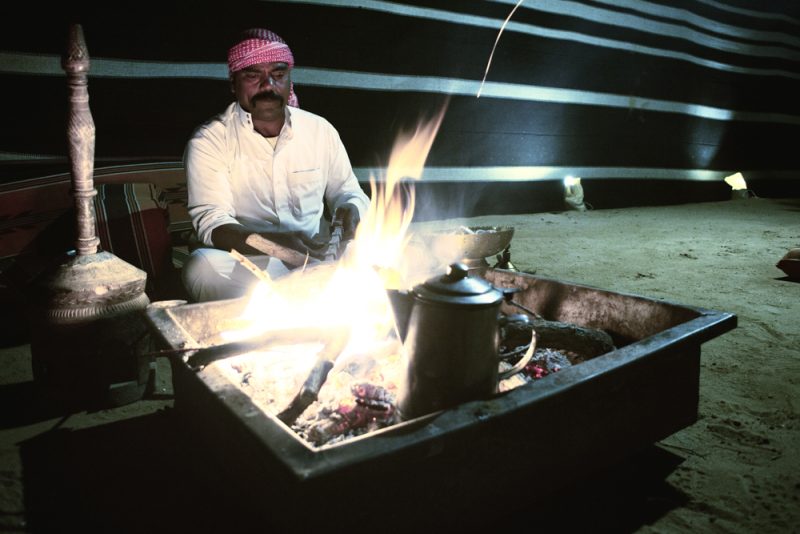 In the mornings, there is plenty to explore in the nearby hills. When we were there a fog sat over the area. At sunrise, the misty air lifted and I actually got some pretty decent cloud cover and beautiful light for photography.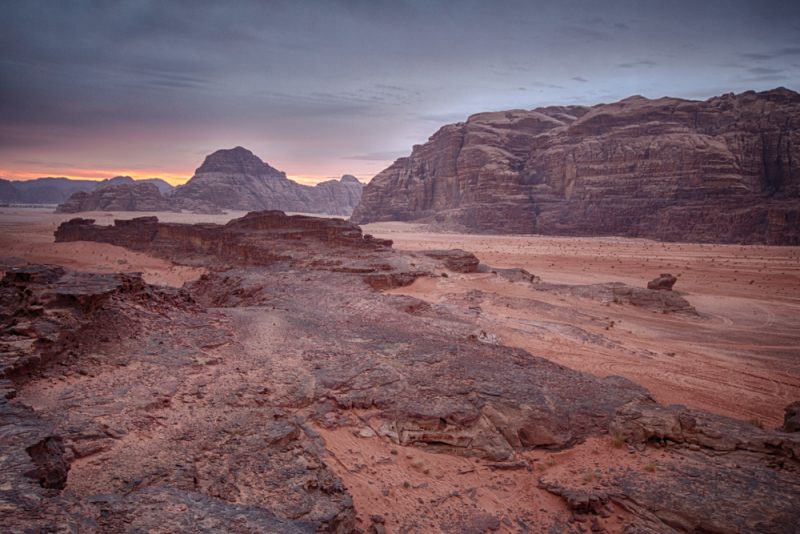 Then, of course, during the day, you're out exploring the sand dunes in 4x4s.
Wadi Rum is awesome.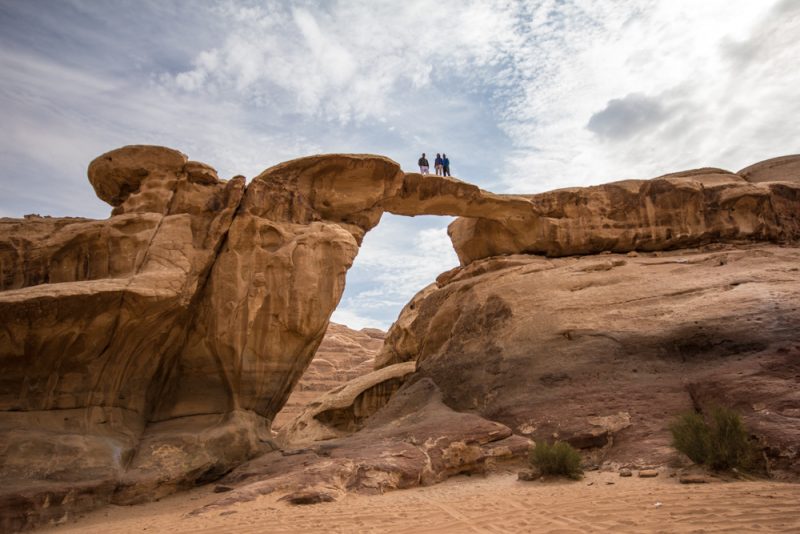 Shaumari Wildlife Reserve
I love animals, and wildlife photography is always a thing I've really enjoyed. And while Jordan is much more known for its history and landscapes than it is its wildlife, there are animals here.
One of the best places to see that wildlife is Shaumari Wildlife Reserve. Here we saw some beautiful Oryx along with their babies. It was a pretty special thing.
The landscapes in the reserve are also pretty awesome.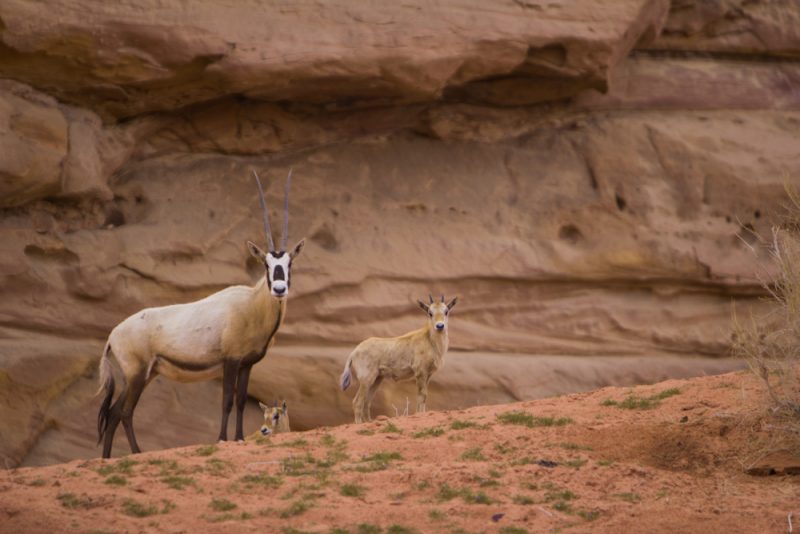 Aqaba
When I was in Jordan, I was on a travel photography assignment for Turkish Airlines. At the time, they were launching flights direct from Istanbul to Aqaba – Jordan's beach holiday destination.
If I'm being honest, I didn't think I would like Aqaba. I'm not really a beach person. I get bored in holiday towns.
However, I found Aqaba to be really nice. There were markets that made for some decent photos, and the people in the markets were super friendly and open to being photographed.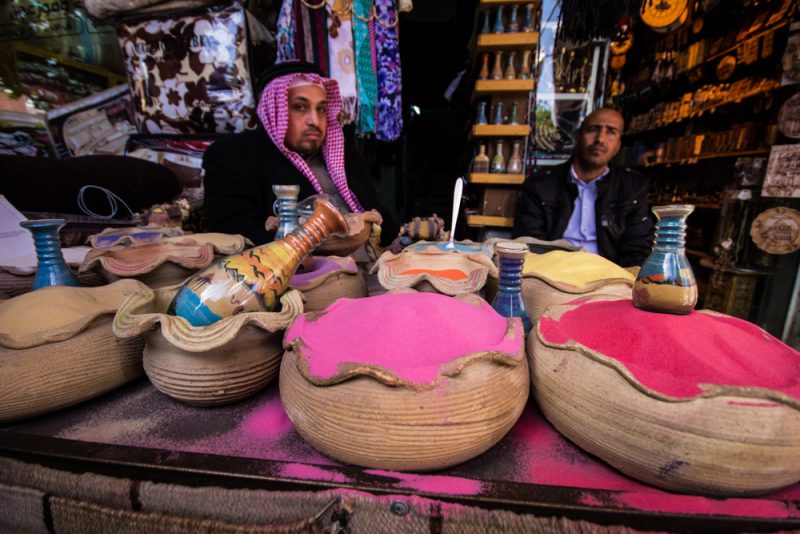 If you get away from the resorts and towards the "real" city, you'll find some really cool photographs with the big hills in the background. One of my favourite spots was down at the local harbour.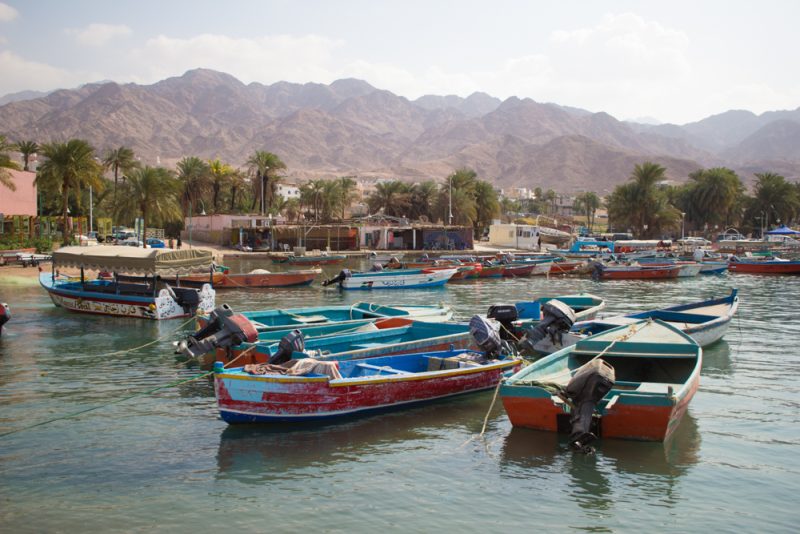 Travel Photography Advice for Jordan
Camera Equipment for Jordan
The one lens you'll definitely need in Jordan is a really wide angle one. I was using an old Sigma 10-22mm lens on the crop sensor camera I had at the time and it was ok. But even with that (16-35mm equivalent) I was feeling like I could be wider.
I would personally bring 3 lenses to Jordan. An ultra-wide like Canon's new RF 14-35mm, a standard zoom like a 24-70mm, and a longer lens like a 70-200mm. If you have space, it's probably worth it to bring a lens that's specifically for astrophotography.
I don't think you'll need to bring filters to Jordan, aside from maybe a 6-stop ND to slow down the shutter on some seascapes.
How Much Time do You Need in Jordan?
This is the question I get asked the most about photography in Jordan. Personally, I think 10 days is the right amount of time. You can visit all the above locations in that time period and add on a couple days in Amman if you'd like. It would also give you a couple days to explore new photo locations that aren't listed.
Best Time to Visit Jordan for Photographers
Honestly, any time of year is good for a photo trip to Jordan.
I would, though, recommend the winter as the best time. It's a bit cold, but you won't be dealing with the summer crowds or heat. The shoulder seasons of spring and fall are also very good. It's still warm, but you also don't have the heavy crowds.
Where to Stay
Most photographers stay in hotels in Jordan. But you'll also find yourselves in resorts down on the Dead Sea, glamping camps in Wadi Rum, and maybe even a guesthouse in Petra. The accommodation situation in Jordan is pretty good and decent value.
Unless you have a camper van, I don't think it's worth camping in Jordan. There just isn't a need for it.
Travel Photography Tour to Jordan
At the moment, I'm not offering any of my travel photography trips to Jordan. However, that may change, so be sure to sign up for my newsletter for information on if that happens.
I can potentially offer a private or custom photography tour of Jordan. If you're interested in that, please contact me.