Namibia Photography Tour!
I'm ecstatic to announce that I'll be running a photography tour in Namibia October 2018.  And, even more exciting, this will be my first "exclusive" trip.  What does that mean? It means that there will only be 4 participants brought along.  More hands-on learning, more time shooting, and more time living the life of a travel photographer in one of the most beautiful places on the planet.
If you're interested in joining the trip to Namibia. All the information is here.
And, if you were wondering if Namibia is a worthy photography destination, I've got all the photo evidence right here.
I've been to Namibia twice now, and both trips were far too short.  But, that didn't stop me from filling memory cards like crazy.  It is one of the most photogenic countries on the planet.  And, here's the photographic proof – in case you needed it.
The Dunes
Sossusvlei is home to the most photogenic sand dunes in the world. And, I think I can say that having been to big deserts on nearly all the continents.  Moreover, the dunes in Namibia are fairly accessible, especially as a photographer.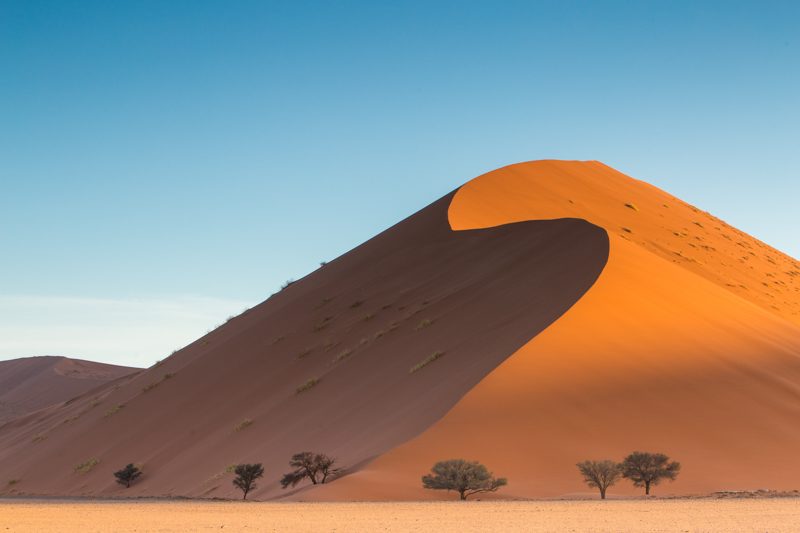 Ever See a Cheetah?
There are actually quite a few cheetahs in Namibia. It's one of the best places in the world to see them. The big open landscapes are perfect for their speed. Incredible animals.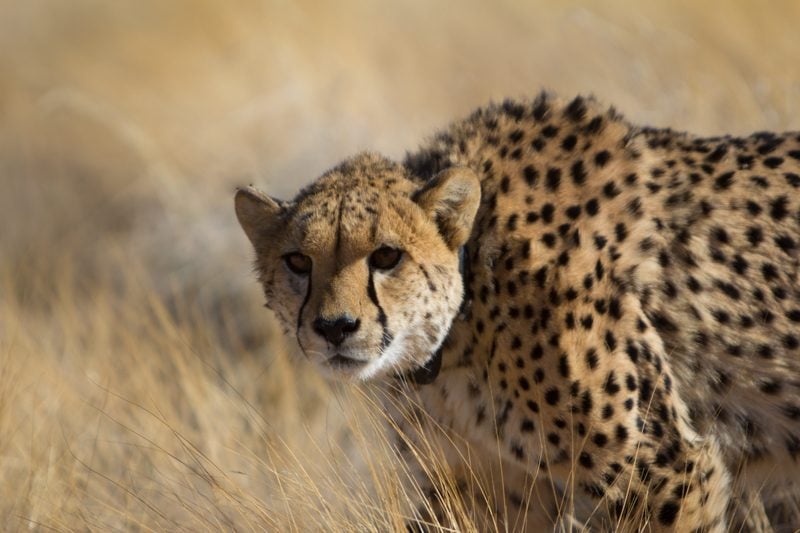 Ever Watch a Pack of Hyenas on the Prowl?
Prior to Namibia, I had never seen a hyena. But, over in the eastern part of Etosha National Park I followed a pack of hyenas for a couple kilometers. It was an incredible experience to watch them on the move.
Deadvlei
Maybe the most photogenic place in all of Africa is a dried up salt flat in Sossusvlei known as Deadvlei. It is just unreal. I've been here 3 times, and I feel like the compositions have changed each time. It's almost like this old trees have moved.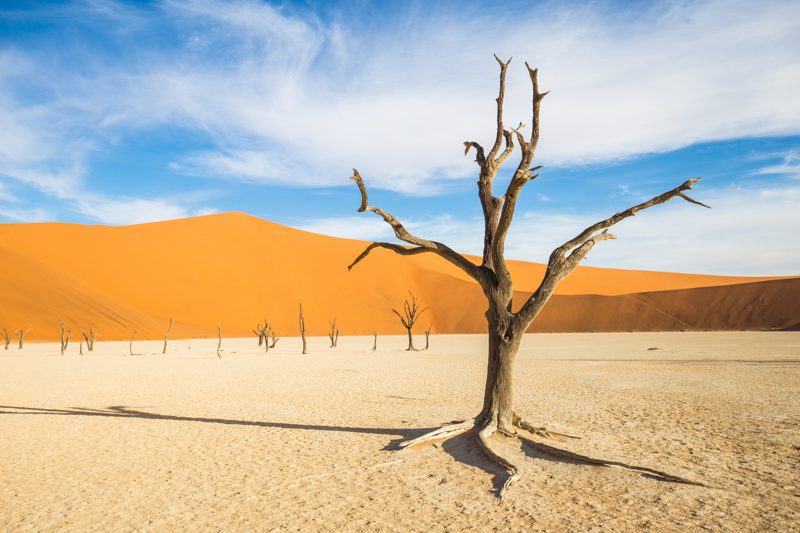 Ever Watched a Rhino from 100 meters away?
It's not easy finding Rhinos in some of the parks of Southern Africa. However, each of the 2 times I've been to Etosha National Park I've seen rhinos at this same watering hole. On our trip, we'll be staying at this lodge and can go down to watch the wildlife at the watering hole at night under the black light.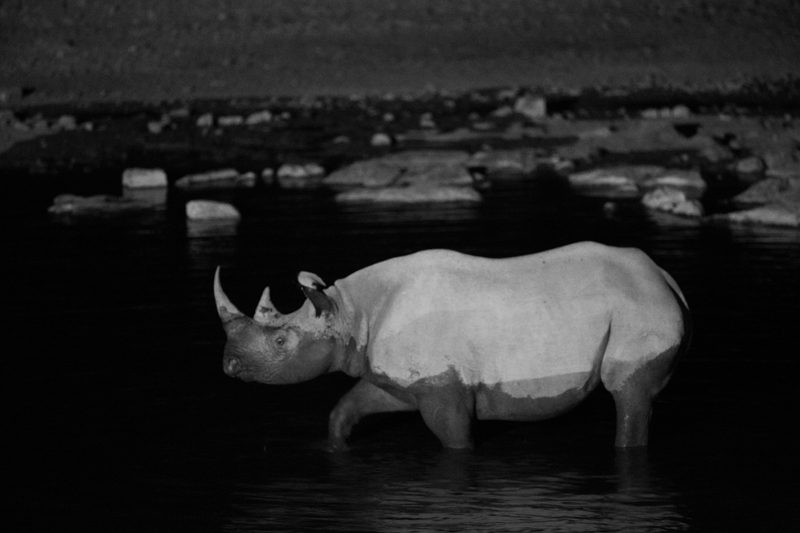 The Best Roads in the World
Honestly, Namibia has some of the best roads in the world. And, I don't mean that in terms of quality infrastructure but rather in how open they are. Sometimes, it feels like you have this country, and the roads, all to yourself.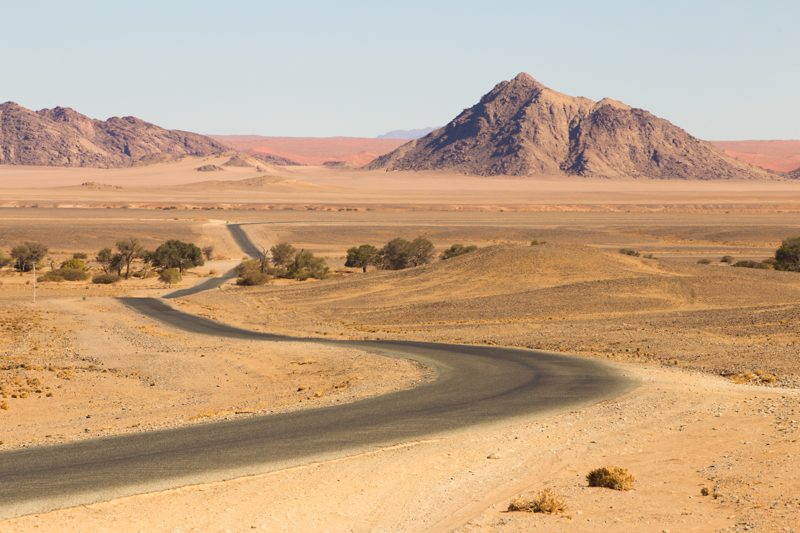 Want to Spot a Leopard?
Of all the animals in Namibia, the leopard might be the hardest to stop. However, on a one day stop over in Etosha last year I managed to see this beautiful animal next to the road. Just beautiful!

Best Night Sky in the World
Due to the dry desert nature of Namibia, you get some of the most impressive skies in the world. And, you don't really need to be a pro to shoot them. I shot this image of the Milky Way over our lodge in Sossusvlei years ago before I really knew how to shoot night sky imagery.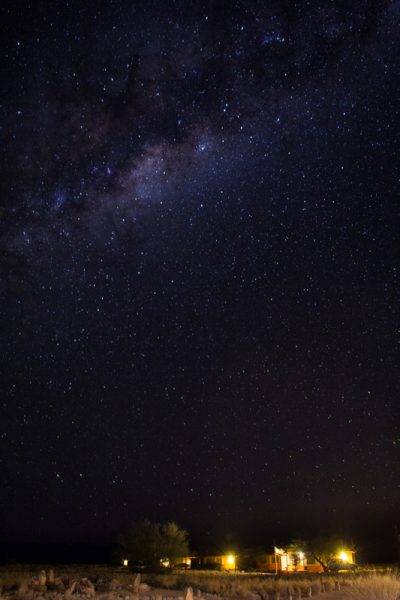 Wan't to Watch a Lion Hunt?"
One of the harshest things I ever saw was at the waterhole in Halali, Namibia at night. A group of lions had just taken down a giraffe, and decided that wasn't enough. They set off to attack a rhino. Some of us looking on were nervous for the rhino, others mumbled "no, no, no!". It's hard to see the hunt, but it's nature. Luckily, for the rhino and our hearts, the rhino managed to escape.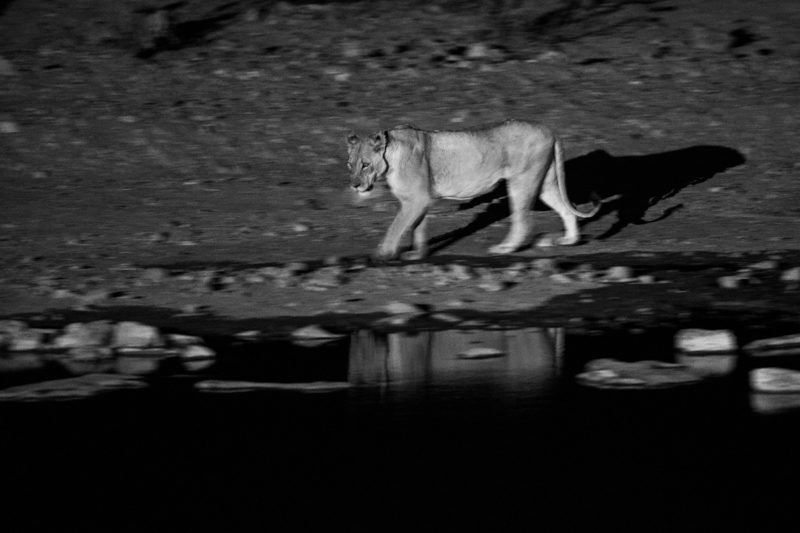 Namibian Light
There's something about the light in Namibia. It's as if it's always special. There's a harshness to it during the day, but in the morning it's just brilliant and soft. And, it seems to touch everything.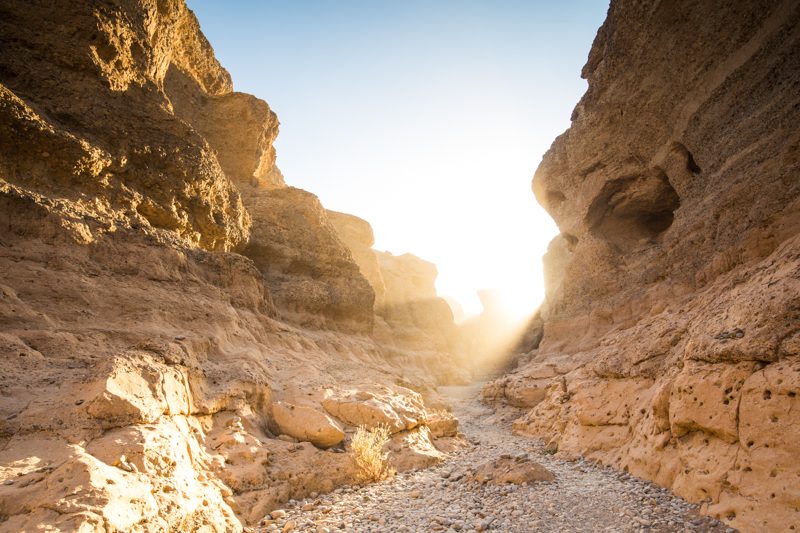 Baby Elephants!
Etosha National Park is one of the best places in Africa to see elephants. They are all over the place, and with little foliage they are wide open and right there. Moreover, it seems like every time I'm in Namibia, there are as many baby elephants as adults. And, oh my, are they cute!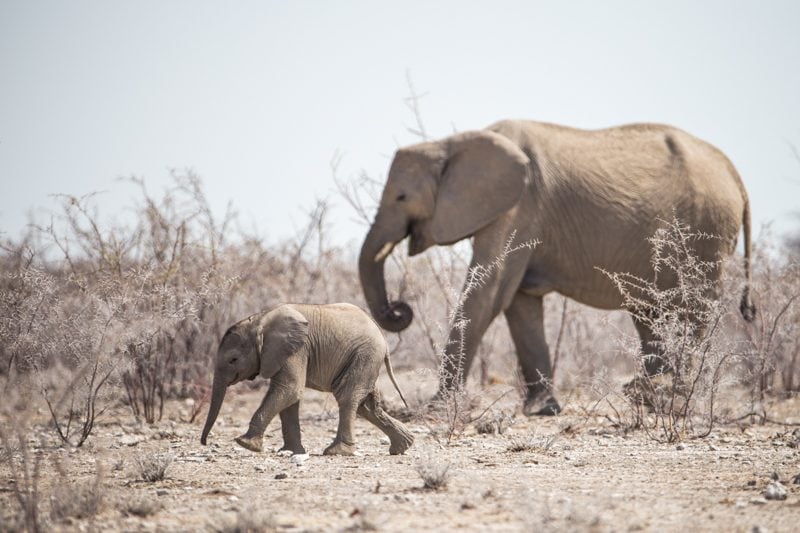 Did I Mention the Stars?
I camped the last time I was in Namibia – because the lodged in the parks are extremely expensive. However, on this trip we'll be in all the beautiful lodges. The plus to camping, though, is sleeping under skies like this. Fortunately for our group, the same stars hang right above the lodges too.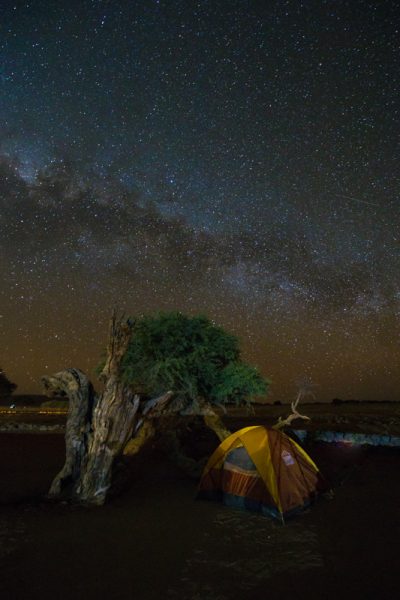 Hidden Gems
While the dunes at Sossusvlei get all the buzz, Sesriem Canyon just a couple kilometers away is also very cool. It's a slot canyon carved by an ancient river. At sunrise, you have it all to yourself.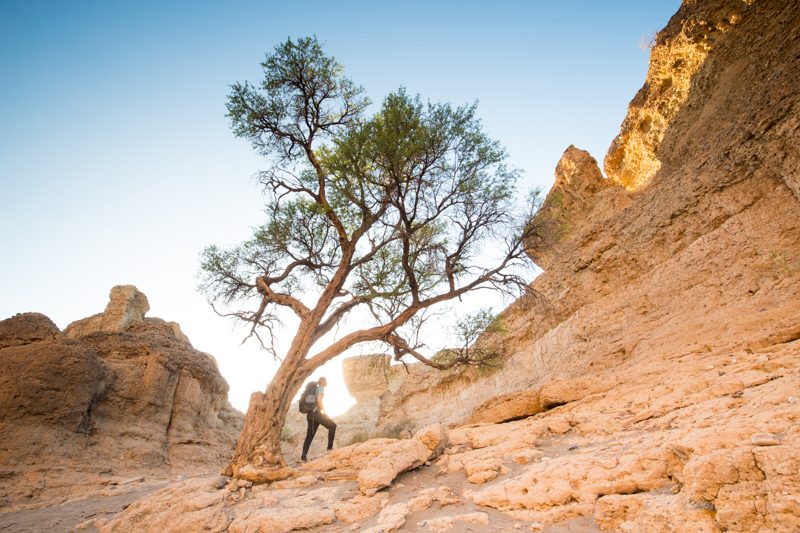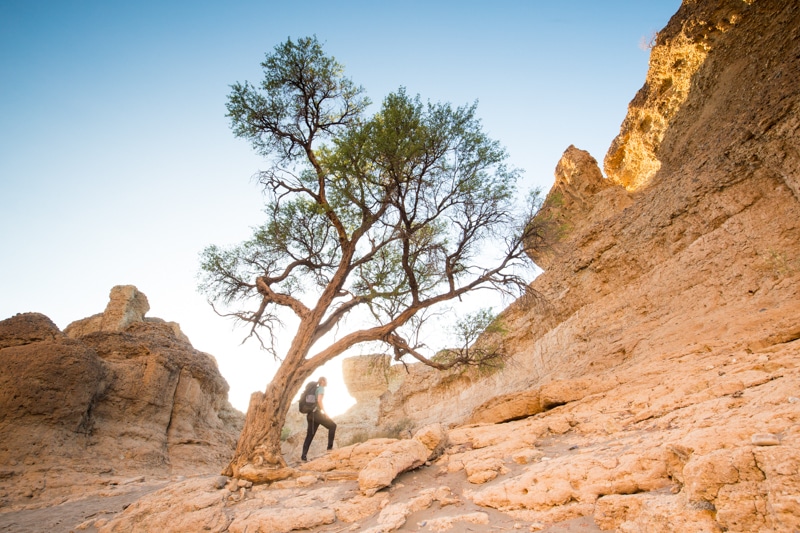 Did I Mention the Dunes?
Yeah, the dunes are amazing. I don't think I need to say more. You will likely fill a dozen memory cards with dune photos alone.

Namibia Desert Sunsets
Regardless of where I go, the desert seems to have the best sunsets. Namibia is no different. The sky just seems to explode in a dozen different colours every evening. And, maybe the best part is that sunset signals the cool evening air and a reprieve from the heat of daytime in the desert.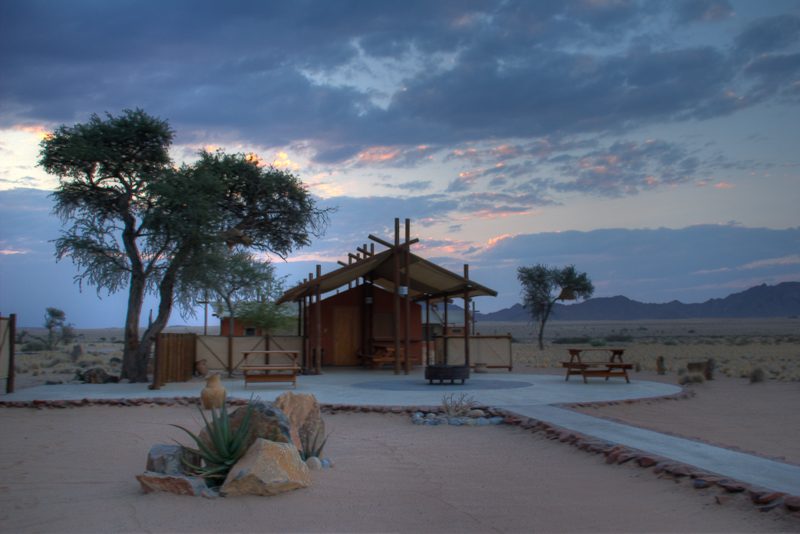 Want to Join?
If you want to join this trip to Namibia. Be sure to head over to the info page. There is limited space on this one, and I'm expecting to sell it out very quickly. So, hop on over here.
Can't Go To Namibia?
If you can't join me in Namibia in October 2018 but want to join another trip (here or somewhere else)? Sign up below for emails announcing the trip. Note that newsletter subscribers get the trip info and the opportunity to book before anyone else.