I'm too lazy to check, but I'm fairly sure this 2 week departure has been the longest I've gone on my blog between posts.  Not bad for 5+ years right?  The truth is, this US road trip has been so demanding. It's been physically, emotionally, and financially draining.  At the end of each day, it's been so hard to find energy or time to edit photos/video, write, and publish articles.  I know, I know, I'm not allowed to whine about having the best job in the world.  And, despite the challenges locations like Monument Valley have made this road trip absolutely worth every bit of struggle.
We booked 2 nights at Goulding's Lodge in Monument Valley.  Part of me expected the place to be packed.  I mean, it is a national icon and obviously made famous by the one and only Forrest Gump.  But, we really had the place all to ourselves.  I'm not sure if we got lucky, or if it's just the depth of the off-season, but I figure we only saw another 15 tourists the entire time at Monument Valley.  It was such a great experience. And so nice to photograph a place so brilliant without the distraction of a hundred screaming, selfie taking-tourists.
As usual, check out the video to see what we got up to, and there's more information on Monument Valley below.


Best Places to Photograph in Monument Valley
We gave ourselves lots of time to scout the area around Monument Valley area only to find out that most of the best scenes are really easy to get to.  These were some of the favourites.
The Visitor's Center
This is where you're going to get that classic Monument Valley photo.  It's best shot at sunset as you get the sunlight glowing on the rocks from behind you.  I also shot it under the stars, which came out really well.  If you shoot it at sunrise, you're likely only going to be able to capture silhouettes.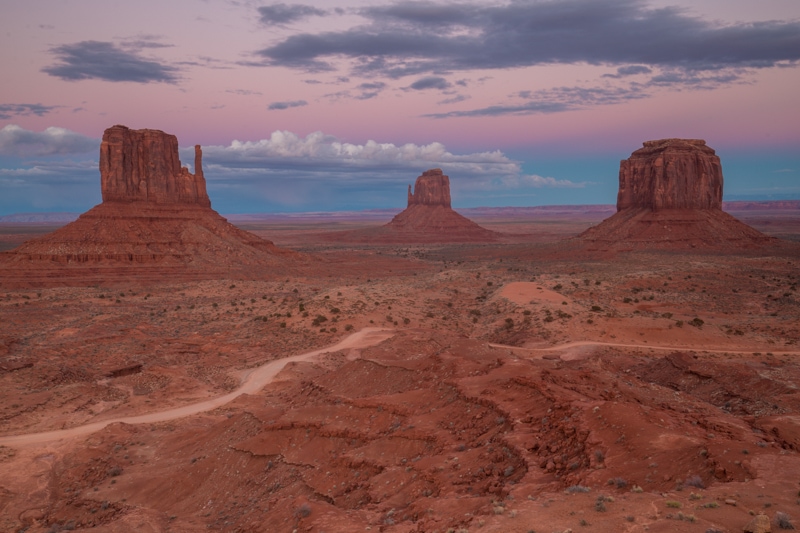 Forrest Gump's Road
On the north side of Monument Valley, this is that classic spot as made famous by Forrest Gump.  It's a really cool place to see, but harder to photograph.  We made the mistake of thinking it would look cool shot into the sunset.  Instead, if you want to properly photography this place it's likely best done at sunrise.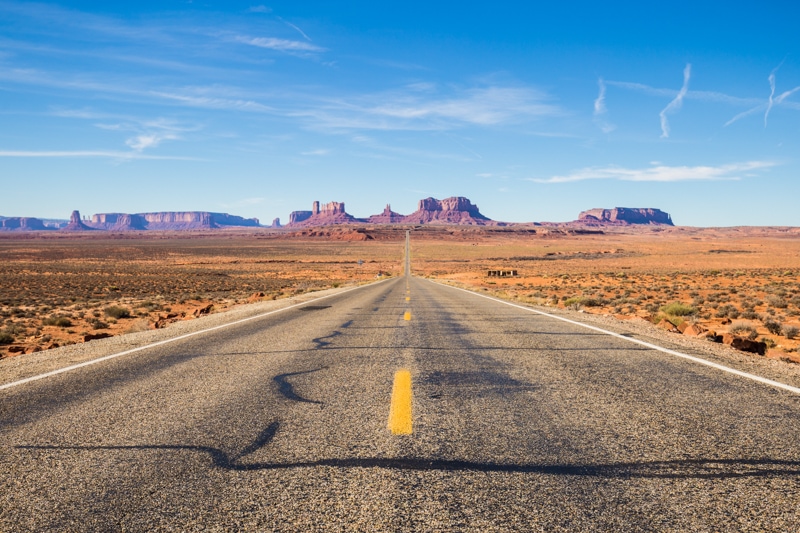 The Monument Valley Road
You can only get into the Monument Valley Road during the day, but it's worth it even in midday light.  This is where you get the opportunity to photograph the monuments from up close.  There is also some really cool cactus life around.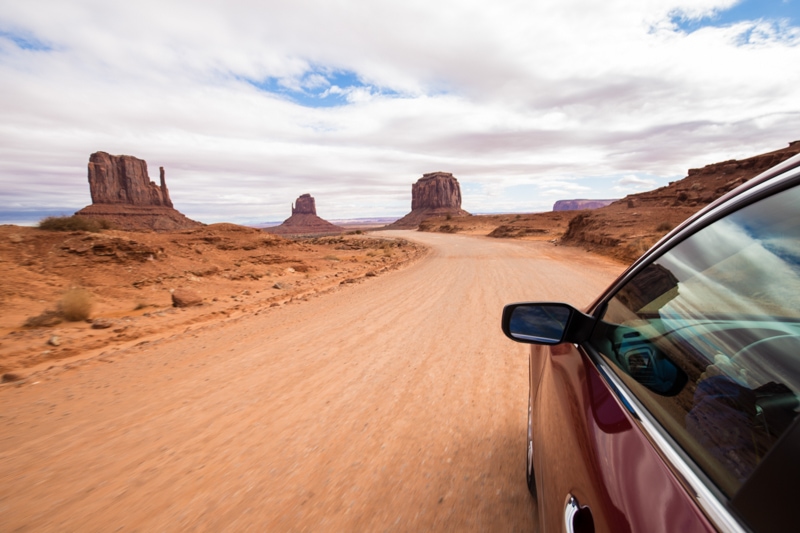 Where we Stayed and Ate in Monument Valley
We stayed two nights in Goulding's Lodge and got a really good price on rooms – probably because it was the low season.  You get views of the monuments from the rooms there, and that's where I shot a couple of the time lapse clips in the video.  There is a lodge right at the visitor's center with the classic views of the monuments right out of your bedroom window, but the prices are higher.
Right next to Goulding's lodge, there is a grocery store and gas station.  There is also a really good restaurant at the lodge.  At the visitor's center there is both a cafe and a restaurant.
More Photos from Monument Valley
We were really blessed with good light in Monument Valley.  It's often so hit or miss with travel photography.  Sometimes you go to fabulous places and get terrible light or weather.  So, it's always awesome to be granted such spectacular skies like we were.
What's Next on the Travel Photography Blog?
We continue into the "canyonlands" of the United States.  Our next stop is Arches National Park in Moab, then we're off to Page, Arizona where we'll be going through Antelope Canyon and I'm going to do some star photography at Horseshoe Bend.  Stay tuned.