Today I'm excited to announce that I'll be heading back to Morocco for my 3rd time. This time, I'll be leading one of my travel photography workshops (info on the trip here) in this beautiful country.
Best of all, I'm bringing along the extremely talented street photographer Joe Allam. And, of course, a group of participants. We'll be sharing some of my favourite photography locations in Morocco on that trip. But, I thought I'd also share some of them down here as well.
Marrakesh
Ok, I'm going to dispel something right off the bat. Overall, Marrakesh isn't one of the best photography locations in Morocco. It's actually a little bit of a battle to photograph. The idea that it's just a fantasy photography spot is probably perpetuated by all the Instagram stars who all take photos in the same riad over and over again.
But, that's not to say that there aren't photo locations here; there are. And within the medina alone there are hundreds of photos to be made.
Obviously, the medina is vast. But just be wary that a lot of people here don't like being photographed. So be sure to ask permission first. And, don't be surprised if they say no.
In Arabic, the term to ask permission for a photo is (and mind my spelling): "mumkin asawark". Although simply tilting your camera up should signal that you're asking permission.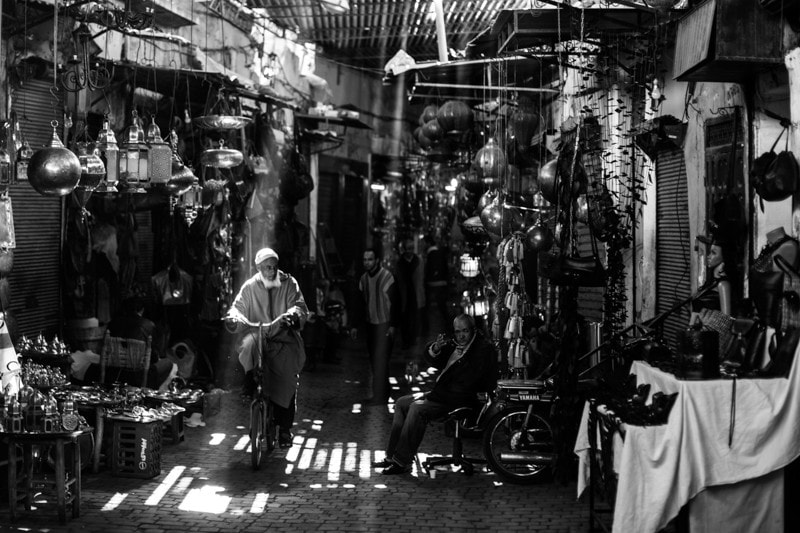 Djemaa el Fna Square is a great place for street photography. And also a pretty cool place to sit up at a cafe and photograph from above.
Koutoubia can also make for some good photos. There are some columns around it that make for a decent foreground if you get good light.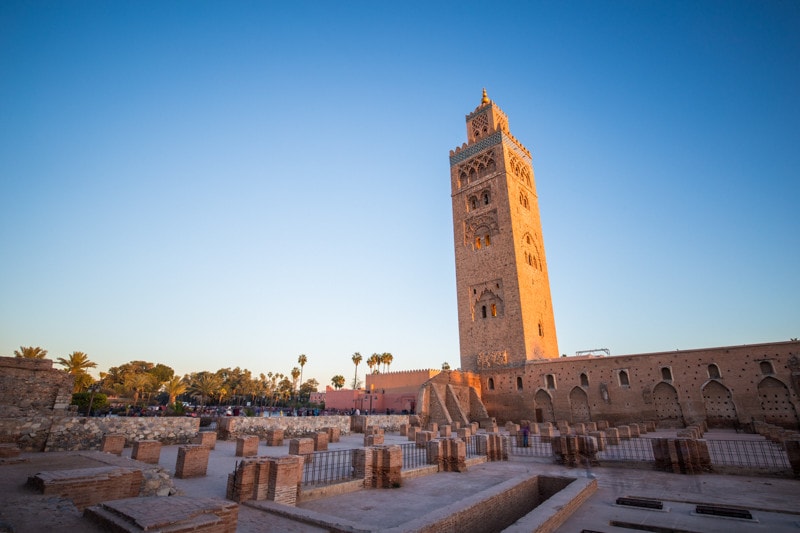 And, if you're an architecture-lover you can probably ignore me when I say that Marrakesh isn't the best place for photography. The Marrakesh museum, Bahia Palace, and basically every riad is photogenic.
There's also Jardin Majorelle which is worth a visit.
Chefchaouen
When we're talking about the best places in Morocco for photography, Chefchaoeun shows up atop most people's lists.
This "blue" town is settled up in the Rif Mountains and is just a dream for photographers.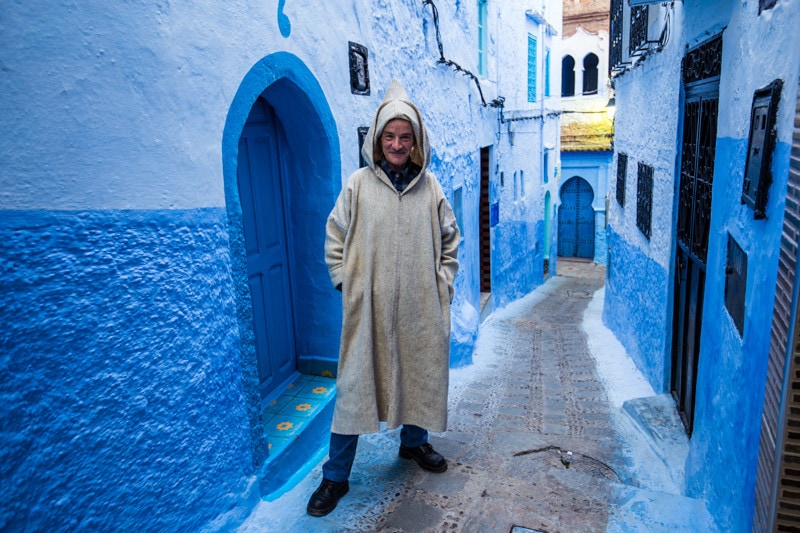 As for locations. Well, honestly, you can pretty much just wander the blue streets searching for compositions. This is street photography heaven. So, it's not as much about the locations as it is about what happens on the streets.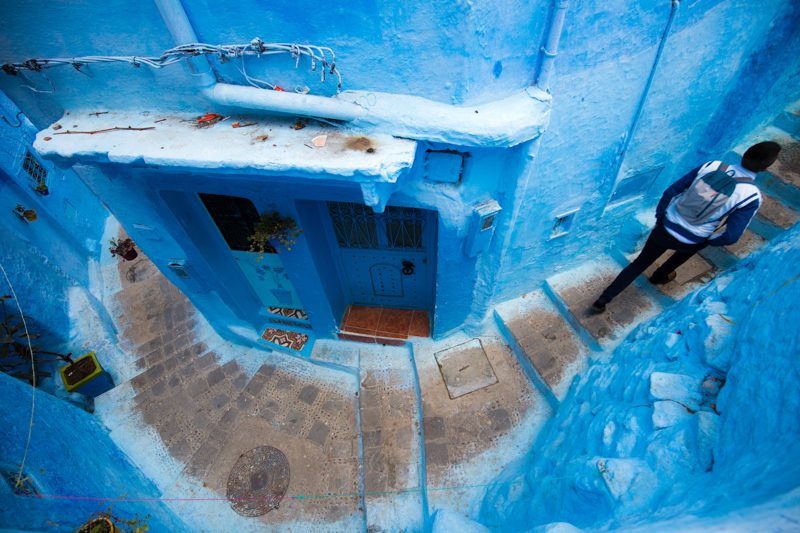 However, if you're looking for a bit of an overview photo hike up the hill above town to Mosquée Bouzâafar. This is a phenomenal place for sunset.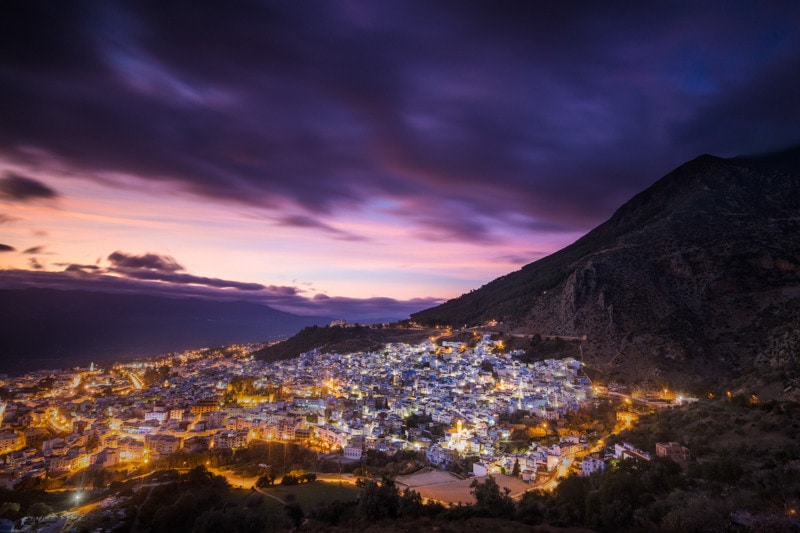 And, if you get clear skies it's also a pretty cool place to give some astro-photography a shot.
Ait Ben Haddou
There's a reason that so many movies are filmed at Ait Ben Haddou. This is one of the last places in Morocco which feels like the Morocco you see in old movies. It's cliff-side houses. It's high-altitude mountains. And, it's just beautiful.
From a photography perspective, the classic photo of Ait Ben Haddou is taken from up on the road leading into town.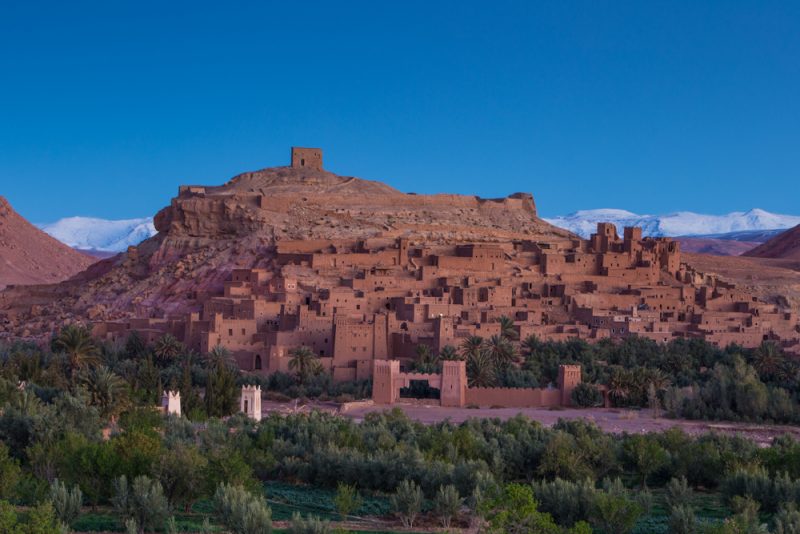 However, don't discount the idea of simply heading into the town and wandering around photographing the street scenes and the ancient architecture.
You can actually climb all the way to the top of Ait Ben Haddou, but just know that when you're on top of the city you can't really see it. Hence why it's a much better photo location down on the road.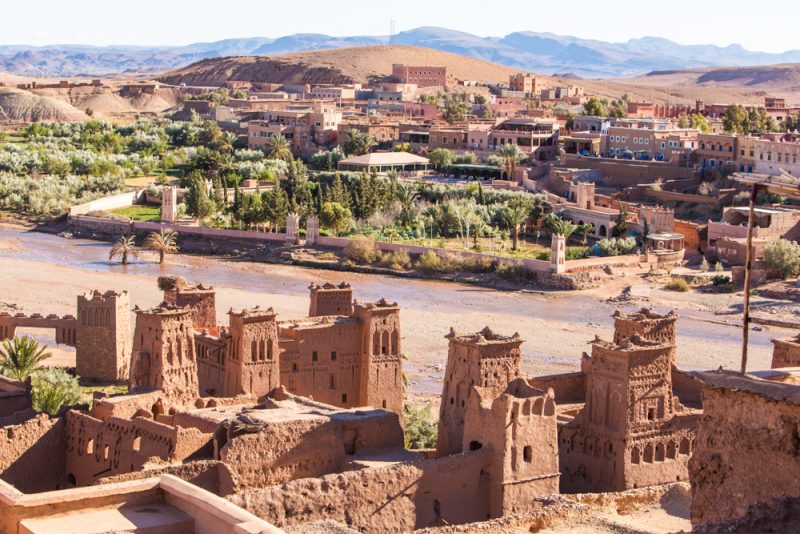 The Sahara
It's hard to think about photography in Morocco without thinking of The Sahara Desert. It's such an iconic place to take pictures.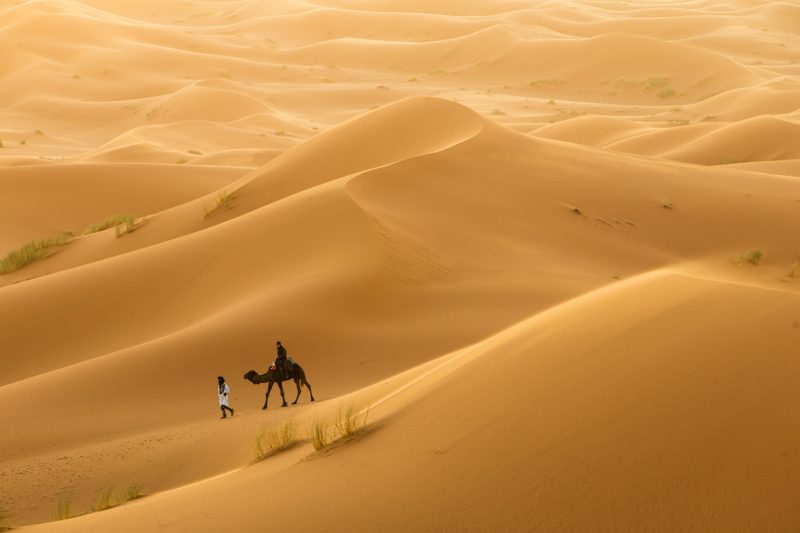 And while most tourists head to Erfoud in order to see the Sahara, the reality is that to get great photos of really clean sand dunes you'll need to catch a camel – or hike – a significant amount of time into the desert. Personally, I recommend spending a night in a desert camp in the middle of the dunes. Not only is it a brilliant experience, but it can lead to some amazing photos.
All that said, you can still photograph the dunes over at Erfoud. You just might have to walk a little ways away from your hotel to find sand that hasn't been trampled.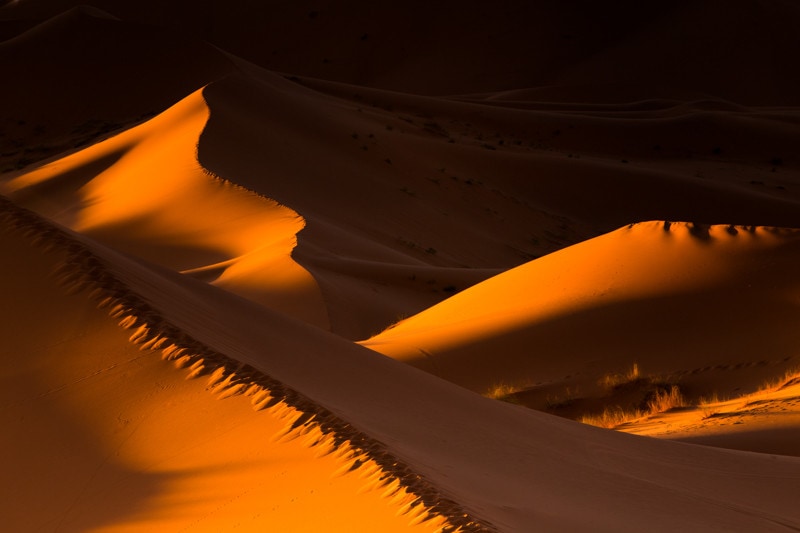 Don't forget about the locals as well. Sometimes they take a little bit of convincing to be photographed, but they do make for some striking photos.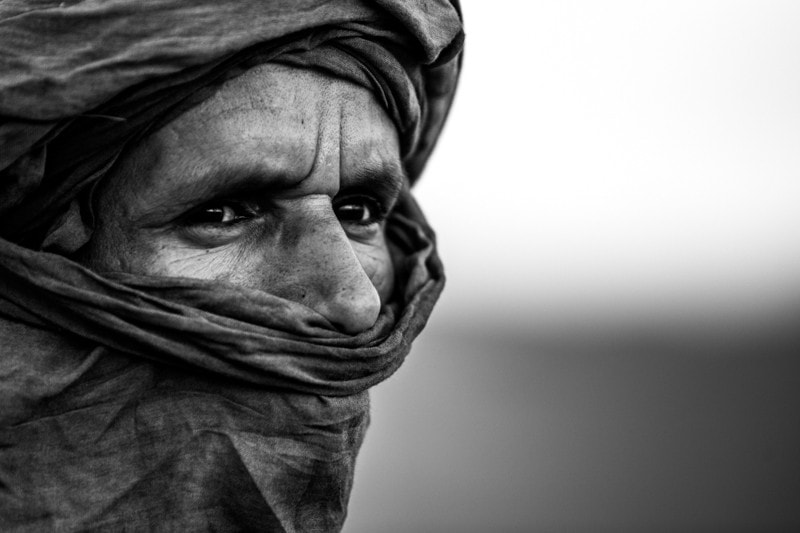 Dades Gorge
There's an extremely classic photo location entering into Dades Gorge. It's that iconic image of the road winding down the gorge. Unfortunately for me, I've never gotten that photo because of bad weather. However, check out this google image search to see what I'm talking about. That location is found at 31.527556, -5.924495.
The good news is that even though we didn't get that classic photo, we had some incredible weather. That bad weather I referred to was a February blizzard. Magically, it passed through overnight and we were left with some beautiful – and unique – Moroccan images of Dades Gorge in the snow.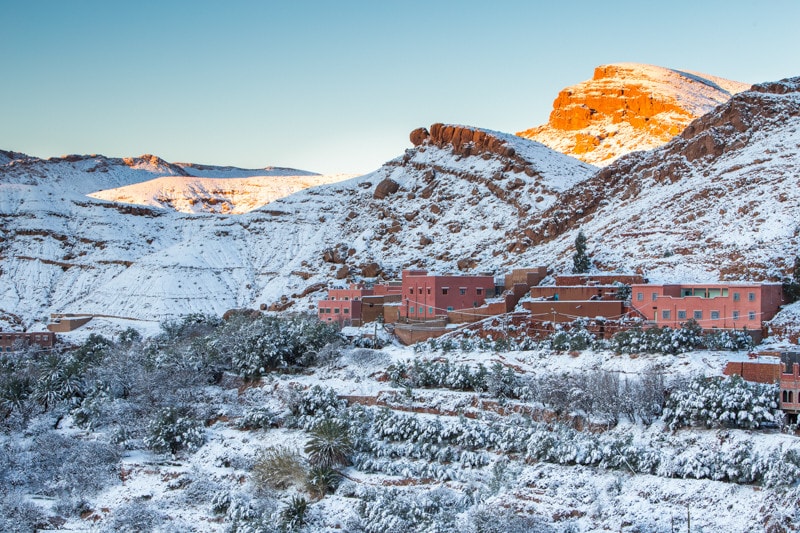 Todra Gorge
There are actually so many gorges in Morocco. I decided to only put two on my list of the best photography locations in Morocco. However, the options really are endless.
Todra Gorge is up in the High Atlas Mountains and is extremely impressive.
This narrow gorge leads to some – mind the pun – gorgeous long exposure images down on the water.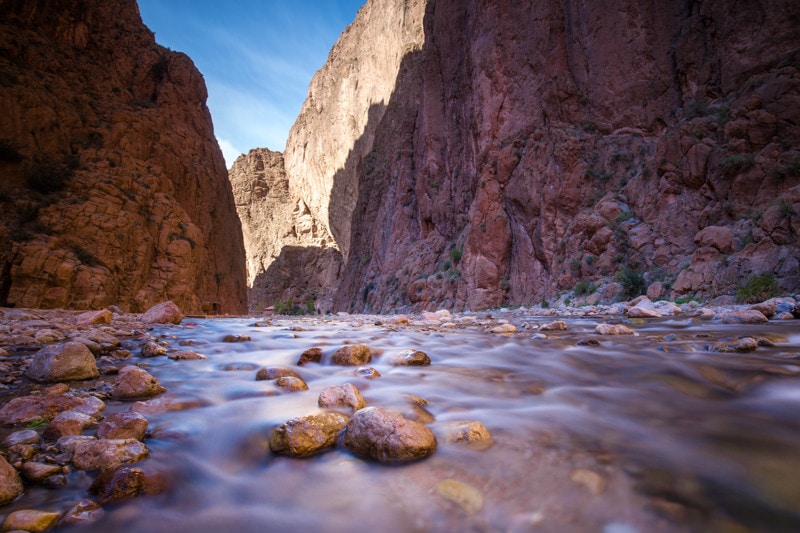 Fes
Many a time, I've found myself frustrated in the medina of Fes. It's beyond fascinating. The narrow alleys, interesting characters, and the architecture are all so impressive. But never have I been somewhere with so many scams being run. It feels like you can't walk more than a block or two without being approached by another scammer. So, it definitely be frustrating here.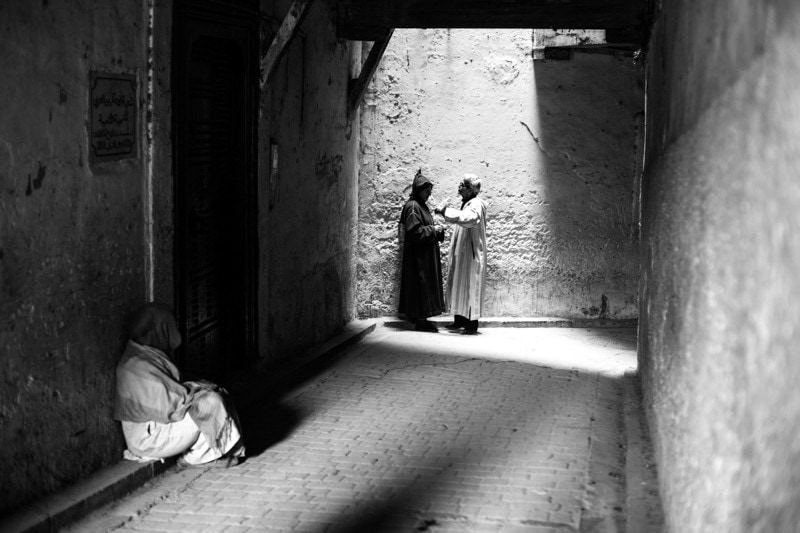 However, if you can get through it the medina is such a rewarding photography experience.
Like so much of Morocco, there aren't exactly specific photo locations we can lead you to. Rather, in Morocco you can only bee lead to the right situations to capture fleeting moments among beautiful backdrops. So, below are a couple of those backdrops:
The Blue Gate: basically all the gates into the Medina are photogenic. For me, though, the Blue Gate is the most impressive and a great place to set up a couple images.
Place R'cif: Another great backdrop for your photos in the medina.
Bab Guissa: If you want a good overview of the medina, head to Bab Guissa and check out the area around the northern wall. There are plenty of good places to get a shot from up here.
The Tanneries: A couple years ago, the tanneries in Fes got a bit of a face lift. As a result, they're not quite as rugged as they once were. However, they still make for a couple good photos. Head up to the balcony of a local to get a good overview photo. But, warning, be sure to negotiate the price before you go up.
Zaouia de Moulay Idriss: Just a stunningly beautiful piece of architecture.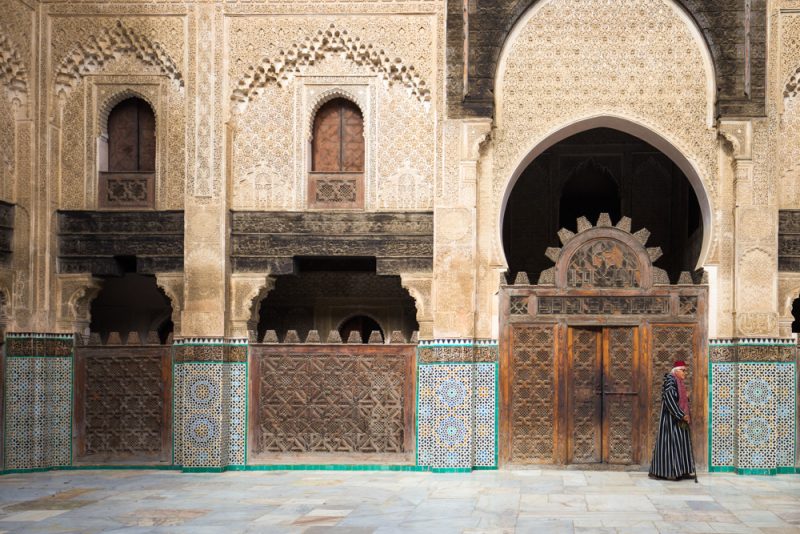 Casablanca
Full disclaimer, I haven't spent more than a short time in Casablanca.
Despite the heavy historical and "Hollywood" references to Casablanca, this city isn't exactly a photographer's playground.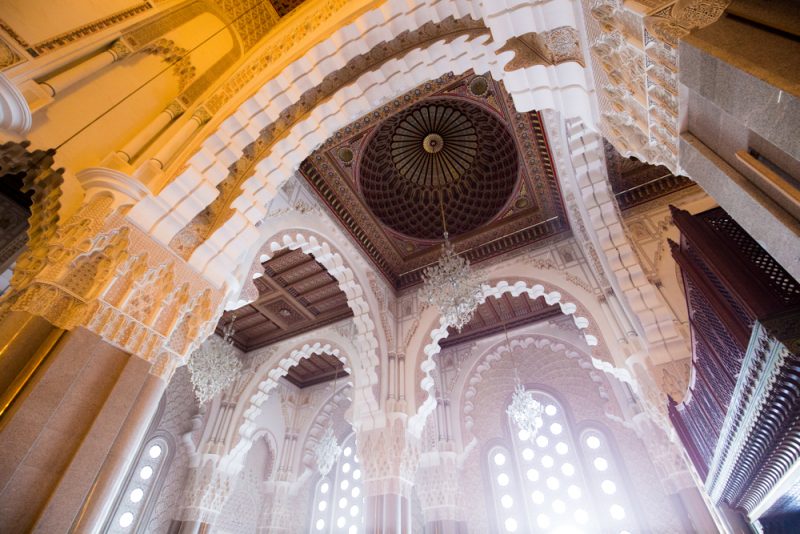 That being said, there is one location you should definitely photograph: Hassan II mosque. This mosque is stunningly beautiful from the outside and the inside. And, outside of prayer times, the mosque is very much open to photographers. The interior is powerfully beautiful. The sheer size of it is overwhelming.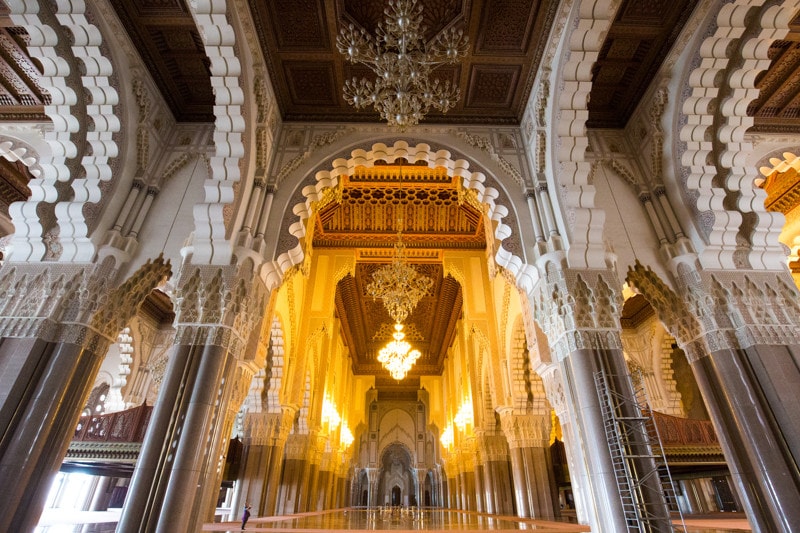 The exterior of the mosque is very photogenic as well. Though I visited in the day time I still made the most of the scene with some long exposure imagery. I think if you were here at sunrise or sunset you could get some brilliant images.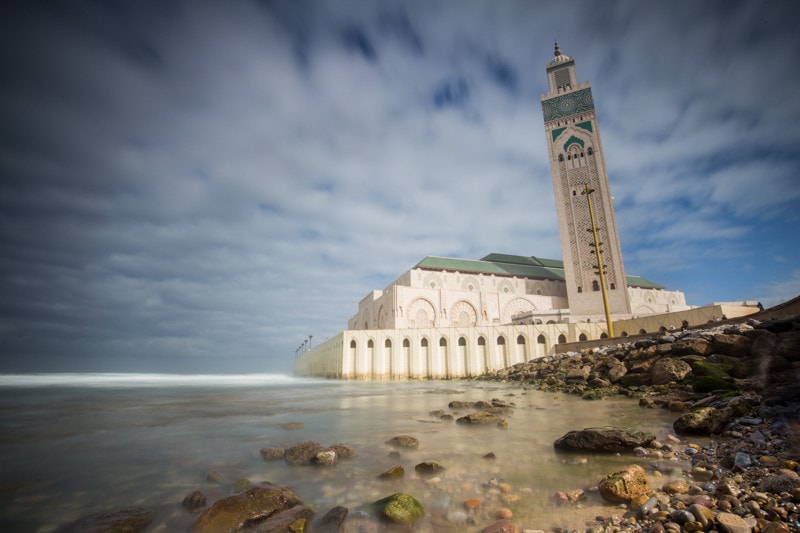 Meknes
I think Meknes is actually pretty underrated. The medina is fairly small when compared to Marrakesh or Fes. But, it's a little more real, and a little less stressful.
I don't think you need to spend a night in Meknes, but if you're a photographer you might want to allocate an afternoon to capture the wild street scenes of this city.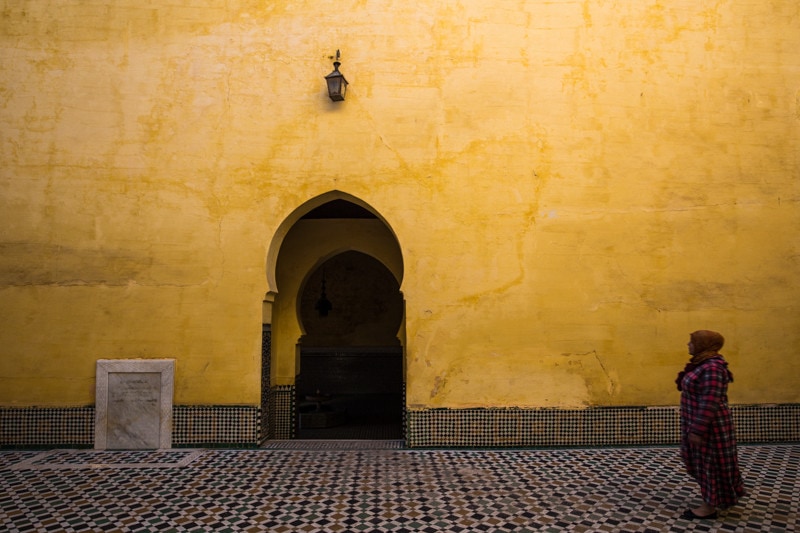 Other Locations?
Obviously, there are a number of other photography locations in Morroco. However, I still haven't had the chance to visit them all. As I discover more places in the country I'll be updating them to this list.
And of course, if you have any suggestions for other photo spots in Morocco please drop a comment below.
Join Us in Morocco?
As I mentioned at the start of this post, we're running another photography tour in Morocco. If you'd like to join us, head over to the information page for details.
If you can't join us, but would like to take part in one of our trips to Morocco or elsewhere in the world, please sign up to the form below. You'll then be notified when new trips are announced.