You've seen the photos before, I'm sure. If you're keen on travel or photography, I'm sure that the images of Halong Bay are nearly crystal clear to you, aren't they. You probably imagine seeing those brilliant orange and yellow junk boats floating by the dozen through the blissfully still waters amidst a stunning collection of statuesque pillars of land that pierce through the sea like wild canine teeth. And well much of that is possible, I have to tell you, you should probably temper your expectations.
This isn't so much a counter-argument to visiting Halong Bay, I would never dissuade you from visiting. Moreover, I thought Halong Bay was absolutely fascinating. From a geographical standpoint, it really is one of the marvels of our world. I could have spent a week just floating through the seas exploring the caves, hills, and beaches. But, it's not that easy. It's not the idealize world you might imagine. These are some of the things you can expect, and how to avoid falling into the traps.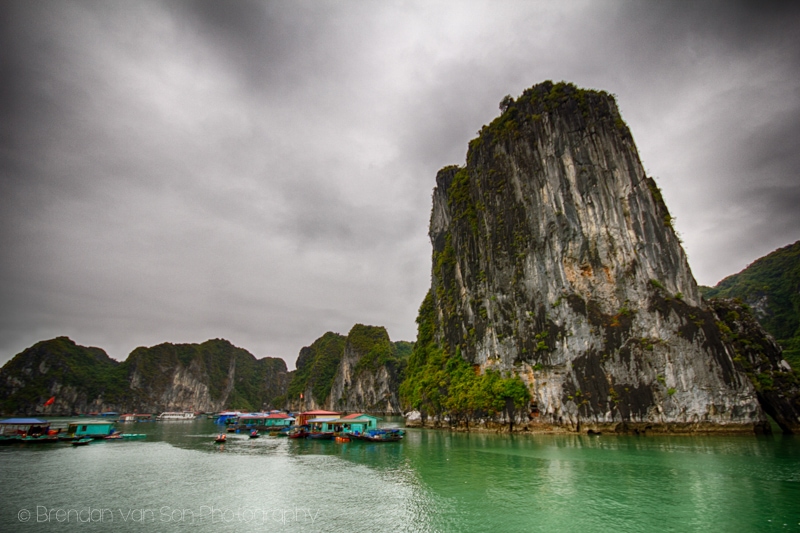 Junk Boats are Rare
If you think you're going to see a number of these things you're wrong.  If you think you'll be riding around on one, you couldn't be further from reality – unless you have big bucks.  
The truth is that most people don't see any junk boats on their trip through Halong Bay.  The boats you'll be cruising through are nice, though.  You'll likely have a dinning and indoor seating area, a big open roof with seating, and obviously the rooms if you're on an overnight boat.  It's not necessarily a bad thing, in fact I quite liked the boats we travelled with, it just might not be what you expect.
And, it would have been nice to get a photo of a couple.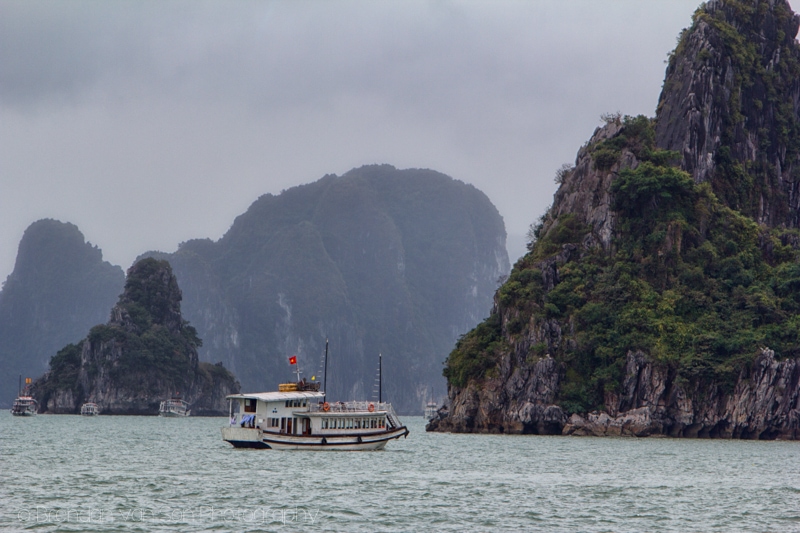 On a day-trip, you'll only scratch the surface
The day trips, or 1-day trips from Hanoi as they call them, are really only going to get you into see a couple small islands.  You'll likely be taken right to a floating village where you'll have the opportunity to kayak for about 10 minutes, or out to a cave.  Then, you'll be taken to another cave, and if you're lucky a beach or a hike up to a viewpoint.  You'll also likely spend quite a bit of time waiting around.
If you want a really thorough trip through Halong Bay, you're really going to need to book at least two days. Better yet, when you're done the boat cruises, go to hang out a while on Cat Ba Island which is a fantastic island, especially in the off-season.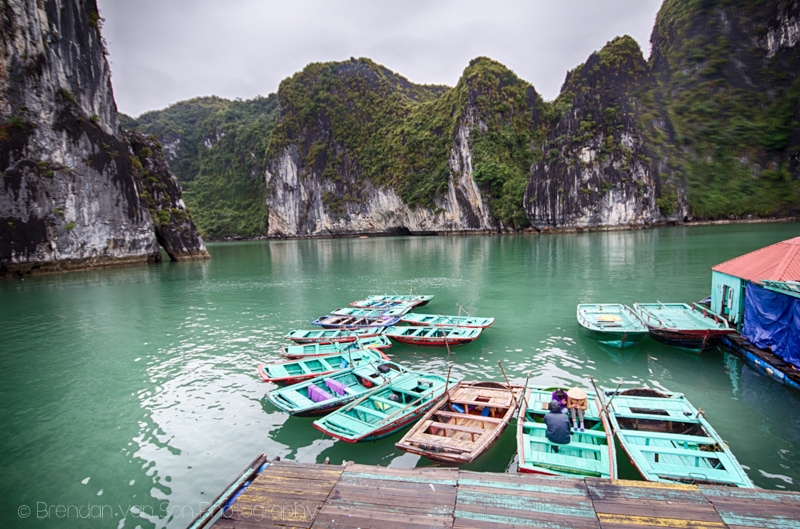 On a tour, you'll not have the freedom you'll want
As I mentioned a bit in the previous statement, you'll have a bit of a tough time "free-styling" on a tour. You'll spend quite a bit of time waiting for other people to do their thing, and for the guides to try to make some commission off of people. Since you're on a boat, you really are on the whims of someone else to take you to the usual spots; and as you know, the usual spots are usually crowded and can often be tacky.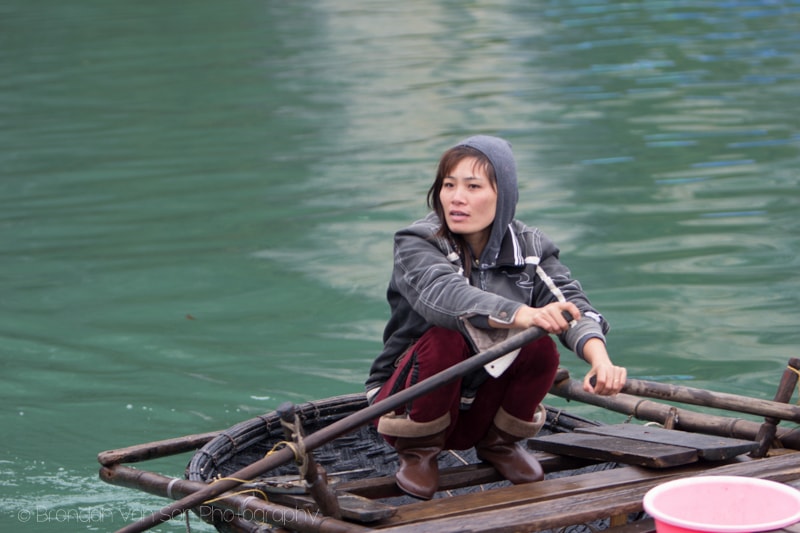 When you pay for a tour, you're only paying a fraction
For others that have spent time travelling Southeast Asia extensively, you'll know that there are always strings attached.  Although a $9 tour sounds amazing, all it will really include is the transport.  If you want to see a cave, go in a kayak, even get a boat onto the mainland to climb up the hill, you'll have to pay extra.  It might only cost about $4-5 each time, but it can add up.  Keep that in mind when budgeting.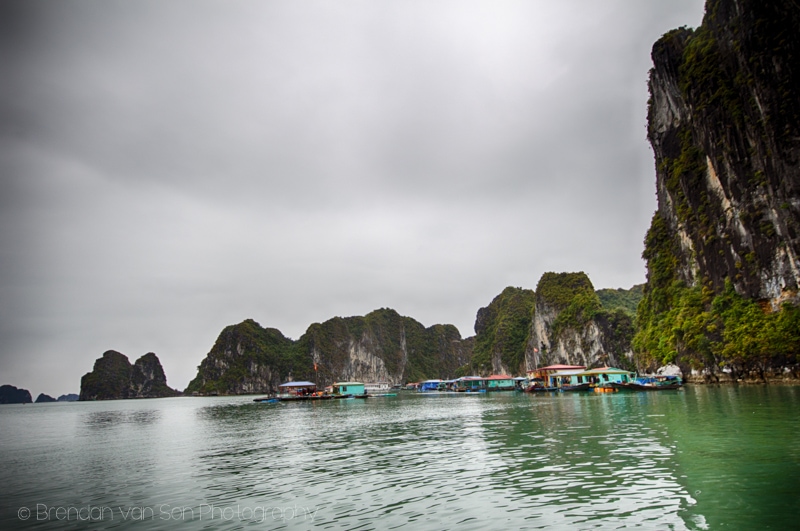 It's hard to do on your own, but not impossible
Lots of people seem completely convinced that it's only possible to visit Halong Bay on a tour, that's not the case. Sure, it'll end up costing you a bit more to do it on your own, but you'll have far more liberties. If you can get a small group together, you can hire a boat for yourselves for a day. Honestly, I found this to be easiest done over on Cat Ba Island rather than in the swarm of tourists and salespeople in Halong Bay City.
Bring a Lot of Digital Memory for Halong Bay
And well this article might sound like a negative one about Halong Bay, it's not meant to be. This coastal area in the north of Vietnam is one of the most visually stunning on the planet. Be sure to pack lots of digital memory because if you're like me, or most every other tourist that visits, your camera will be flickering constantly while you're there.