For people in the late teens and twenties, Vietnam might easily be seen as simply the most raw of the various Southeast Asian destinations along the world's most well trot backpacker trail.
It features some of the worlds best food, loads of beautiful sights, and some exciting adventures. However, anyone much older likely remembers the numerous wars fought in the country, either against Pol Pot's Khmer Rouge, or the civil war that engulfed the country spilling it north and south.
Today, most of the signs of war are long gone, but a division remains. The north, still feels much more militaristic, less developed, and certainly more raw. The south is growing and become more and more metropolitan each year. But there is peace, and Vietnam is definitely and undeniable one united country. On my trip through the east side of Southeast Asia, I took the famous train from north to south known as the reunification express.
The reunification express isn't exactly cheap, but it has serious value. It's a chance to see the country evolve from the north to south. It's a chance to watch the brilliantly green countryside slowly float away as you travel. This is a bit of a guide to travelling the reunification express.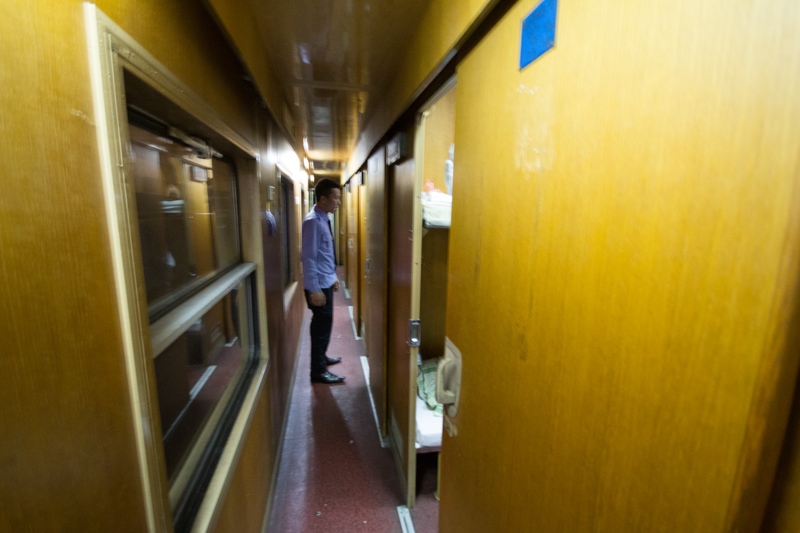 What to Bring
You honestly don't need to bring much, either than some entertainment. The newer trains have electrical plugins in the sleeper cars, but the older ones do not, so you may or may not be able to run your laptop or charge your cell phone. You'll likely want to buy some snacks to eat on the train as you go. They do serve typical Vietnamese Soup, some rice and meat dishes, and all sorts of beverages on the train though. If you're a vegetarian, I recommend you pack your food though, as it's not easy getting meat-free foods on the train.
Different Classes of Trains
There are three types of cars that are attached heading up or down the reunification express. The soft-sleepers are the most expensive and offer 4-bed cabins with soft-ish beds to sleep on. They also have linens. The hard sleepers have 6 beds, 3 bunks stacked high, and the beds aren't as comfortable. The last option is the seats, which is the cheapest, but I can't imagine you wanting to travel that way for too long.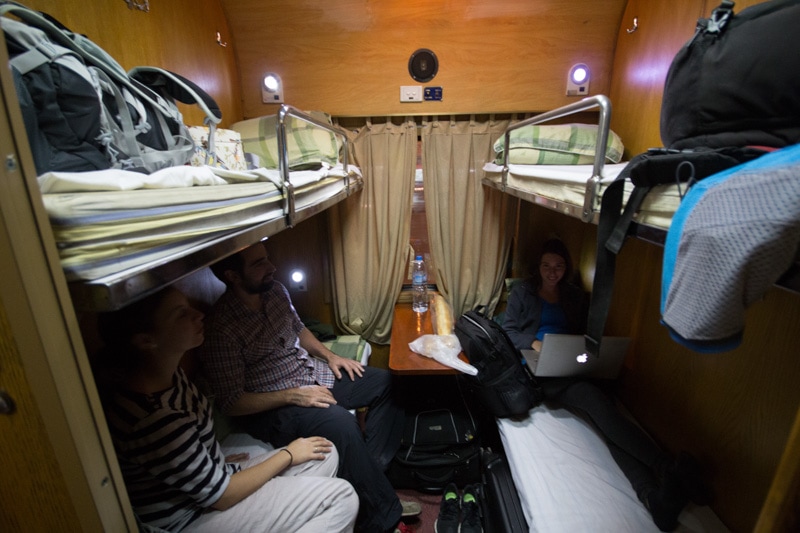 How Much is the train in Vietnam
Obviously it depends on the distance, class, and time of year. It's best to book a week or so in advance too as prices go up as the train fills. During the high season, it can book up completely quite early as well.
These are some of the sample fares and times:
Hanoi –> Hue: 13 hours (800,000 dong for soft-sleeper, 500,000 for a soft seat)
Hue –> Nha Trang: 14 hours (650,000 dong for soft-sleeper, 400,000 for a soft seat)
Hanoi –> Saigon: 28 hours (1.7 million dong for soft-sleeper, 1.2 million for a soft seat)
How do you Book trains in Vietnam?
You can't actually book online. You'll really have two options. The first option is to go to a train station and book yourself. Be warned, it can take quite a bit of waiting to buy if you're at a big station like the one in Saigon or Hanoi. The second option is to have your hotel book for you. In this case, they'll likely charge you a booking fee, so the price may be slightly elevated. It's usually only a couple dollars, and is worth the hassle it saves you.
Where to Stop off
If you're looking for some recommendations of places to stop while riding the reunification express, here are a couple.
Hue: The ancient city is busy and a bit touristy, but there are some amazing temples. Rent a scooter and explore some of them.
Hoian: It's not on the train itself, but you can get of in Da Nang and catch a taxi. The old capital is quite charming, and one of the most popular tourism destinations in all of Vietnam.
Nha Trang: Vietnam's most popular beach town, if it's sun your searching for, you'll find it here.