For many people, getting a new camera body is just that. For me, finally getting to put a Canon 6D into my camera bag is so rewarding. It's a reminder of how far I've come, how hard I've worked, and how much I struggled to get to where I am. It's also a reminder that I have a long way to go. You see, most travel photographers aren't rich. In fact, I think most photo enthusiasts have better gear than many of us pros do. We spend all our money on travel, and make due with the equipment we can afford; or at least I do. Well people working regular jobs might think that the $2000 to spend on a new camera body is just a couple paychecks, for me, it's been about 3 years of struggle and saving.
Check out my reaction to finally unboxing my new camera body – a Canon 6D.


My Camera Gear Timeline
As you know, I've been shooting travel photography professionally for 5 years.  I think people might find my photography gear timeline interesting so here it is:
August 2010 – After shooting on a prosumer, and publishing a book on how to take great travel photos on a point and shoot camera, I bought my first DSLR camera: a Canon T2i. When I bought it, I literally spent all my money on it. I only had $20 left over to buy a tripod. So, I bought a $15 tripod and made due with it until I could afford something more sturdy. The T2i came with an 18-55mm lens.
December 2010 – My first major gear update was the inclusion of a 70-200mm f/4 IS which I bought with money earned working as a tour leader in South America for a year.  I bought it just days before leaving on an assignment to Antarctica; my first major assignment.
March 2010 – Well working freelance in the Pantanal of Paraguay I somehow burnt out some of the capabilities of my T2I.  It was no longer working in any of the manual modes and I had to shoot it in auto for an assignment shooting images at Brazilian Carnival.  Of course, just a day after carnival ended, my hard drive crashed and all the images on it disappeared.  I lost my paycheck for the job and was so broke that I spent a couple nights sleeping on a beach in Salvador as I couldn't afford a room.
May 2011 – After struggling through the Guyanas, and Venezuela, I made it to Colombia and hit some good luck as my website started drawing advertisers.  I decided to stay in Medellin and work on some freelance writing to try to earn enough to pay for a new camera body.
August 2011 – Working in Colombia paid off, as did taking a Tour Leading assignment in Central America as I was finally able to upgrade my body. I got a 60D and 50mm f/1.8 lens.
November 2011 – My next big assignment was a shoot in the Galapagos Islands for 10 days.  The assignment went brilliantly.  However, upon my return the mainland I was robbed in a bus leaving Quito.  I lost my new 60D, my T2I, my 70-200mm f/4, and my 18-55mm lens.  All I was left with was a 50mm lens and a spare battery.  Luckily, I didn't lose a single image.
December 2011 – Still shattered from losing my gear, and my livelihood, my family, friends, and some anonymous readers blew me away by fundraising enough money that I could buy a new 60D and an 18-135mm kit lens. To this day, there's nothing that can explain my gratitude for that.  I returned to North America for Christmas.
January 2012 – Using my sister's own gear, I photographed her wedding in the Dominican Republic before heading to Haiti.  I earned enough money to buy a 20mm f/2.8 lens in New York prior to heading to Europe and Northern Africa.
August 2012 – After spending a couple months in Northern Africa, I scored a big assignment back in Canada that allowed me to buy a second hand 70-200mm f/2.8 IS and replace my 18-135mm lens with a Sigma 18-50mm lens that was a bit faster. I returned to Africa where I would eventually embark on my scooter adventure that would last until July 2013.
August 2013 – Making a triumphant return to North America, I had saved enough to buy a Sigma 10-20mm lens, and essentially fill my travel photography kit. I would use this exact kit for the next year.
November 2014 – My 60D body has taken photos on 5 different continents and in about 50 different countries. Obviously, it's time for it to take a bit of a break. I'm proud to introduce my new body, a full frame (finally) 6D!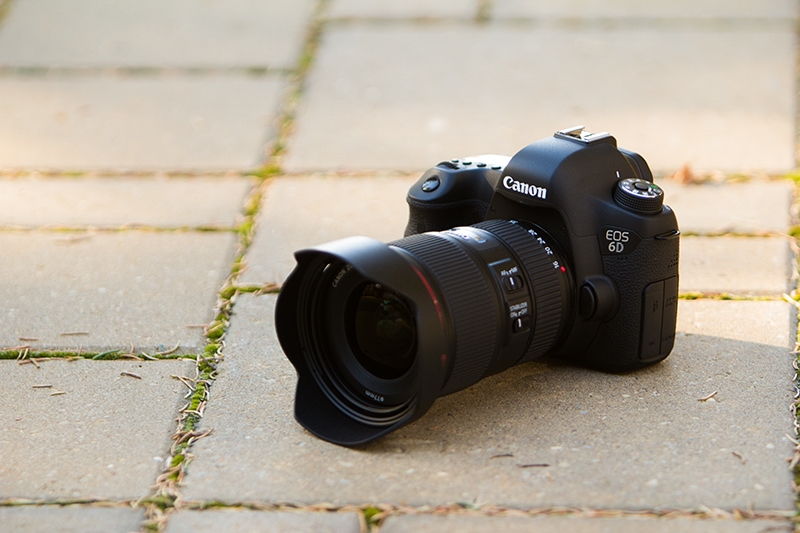 First Impressions of the 6D
I had a bit of a battle trying to decide on which body to go with. I wanted to go full frame, and that's all I knew. The 5D mark iii would have been ideal, but when it came down to it, I still couldn't afford it. Well, I could have, but there wouldn't be anything left in the bank if I did buy it. I went with the 6D for the reason that I wanted something that shot really well in low light landscape situations, like star photography, for example. And well the 6D has been slagged off a bit because of it's few auto-focus points (and only one cross-type) it's ability to focus in the dark is second to none.
Moreover, as a travel photographer who focuses a lot on stationary items, the 6D makes a lot of sense. You don't need all those auto-focus points. Also, the 6D is so light that it doesn't add too much gear to my already heavy bag.
From a construction standpoint, it looks sturdy and feels really good in my hands. It's funny, even though it's larger than my 60D, when it's in my hands it feels smaller. I think the construction is really smart. The one thing that's a bit sad, for me, is that I don't have a flipping and rotating screen anymore. When I shoot landscapes, I'm in live view a lot and I like to look down at the image with the screen flipped out. I can't do that with this body. It would also be handy for video shooting. On the plus side, regarding video, I do like the quick switch to video mode. On my 60D you need to spin the entire dial into movie mode which takes time, and sometimes when you're switching to video you want to be quick
Of course, additions of things like GPS and WiFi in the camera are welcomed by a social photographer like myself.
Lenses??
Well, I do have a new lens coming; actually it's here already and you can see it in the image above. There will be an unboxing and review of that in a couple days. Of course, the 6D will also work with the full frame lenses that I already have like the 70-200mm f/2.8 and the 50mm f/1.8. However, look for me to replace that 50mm with a f/1.4 in the coming months as well as that old lens is getting old and worn down.
6D Samples Images? Review?
This is always popular. People always want to see the test images. Well, the truth is that I really just got this camera the other day and haven't been out shooting enough to get you some test images. However, in the next couple weeks I'm going to go out and do some shooting with it. I'll shoot some test images and let you guys have a look and even download some of the files.
As for a review, I think it's pretty trivial. This camera body has been out for a year now and there are countless reviews on the internet already. I'll include my thoughts in an article when I post the sample images, but that's about as far as it'll go.
What's Next on the Travel Photography Blog?
As I mentioned, I've got the 16-35mm to play with to go with the 6D.  So look for an unboxing and review of that lens in the next couple days.  I've also got a couple locations to shoot in the next little while.  So, as usual, stay tuned!