The first time I went to London, I felt a little bit underwhelmed. However, the more I explored, the more I found how many incredible photo locations there are in London. In fact, though I'm still not sure I love London, I do think it's one of the best cities in Europe for photography. I've explored quite a bit of the city and feel like I've still only barely scratched the surface.
As is always the case with my photography posts, this guide to the best photo locations in London will be updated as I discover new locations and photos.
The below are – as of now – my favourite places to take photos in London.
Big Ben and The Parliament Buildings
If we're talking about London photography icons, this is one of those areas that you have to photograph.
I should, however, warn you that the last I checked there was some construction ongoing on Big Ben. Apparently there is some restoration work going on that will last until about 2030. So, there might be some scaffolding on the tower.
There are obviously countless locations to take photos of big ben and parliament beside it. However, I do have 2 favourite spots.
The first spot is across the bridge opposite the buildings. It gives you a clean angle at the buildings and the water makes a decent foreground.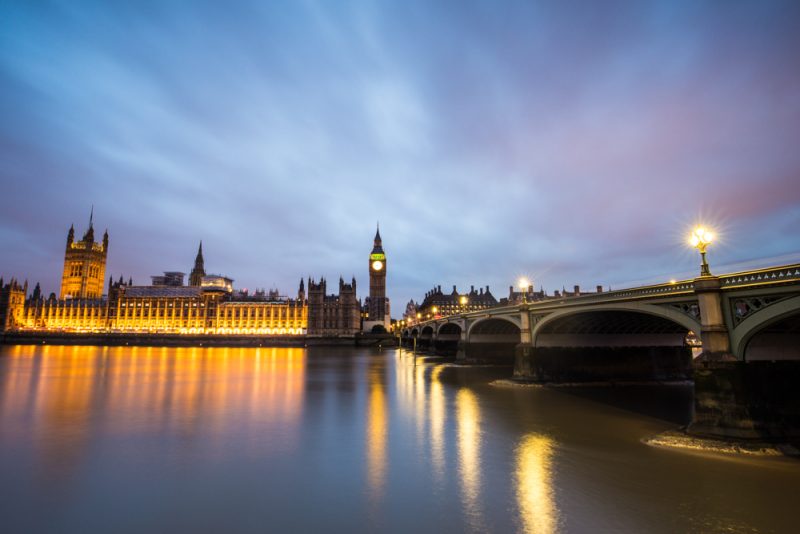 It's also a really cool place to do portrait sessions. If you come at dusk or during the blue hour of photography, there are some awesome options for images like the one below.
The second location I really like to photograph Big Ben is from directly on top of the bridge. Doing so allows you to play with the light trails of the traffic crossing the bridge. In particular, you can get play with some long exposure on the classic double decker buses.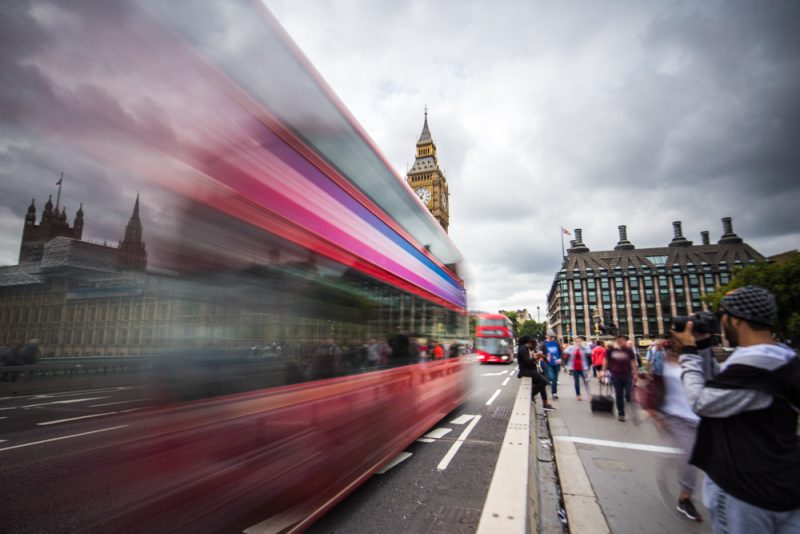 Tower Bridge and City Hall
Another icon, Tower Bridge is a great subject for photographs in London. In fact, it could be argued that there are a dozen or so different angles where you can get great photos of the bridge.
One of those photo locations, however, comes with a bit of a caveat: you're not supposed to take pictures there.
The first location is from in front of City Hall. But, a bit of a warning that if you're using a tripod, there's a good chance that a security guard will come by and tell you that you're not allowed to use a tripod. Apparently, this area is private land. However, in my opinion, that shouldn't stop you from setting up the tripod and getting at least one photo from here.
This is what the image looks like of City Hall with Tower Bridge in the background.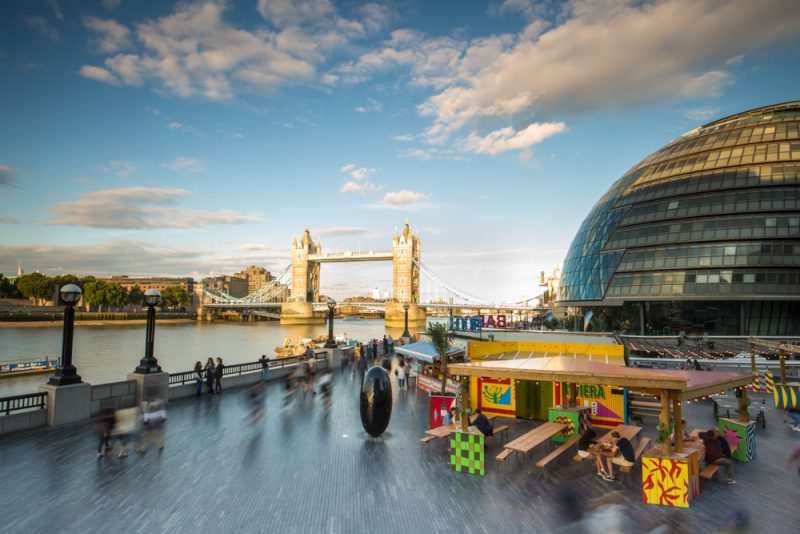 Another good angle of Tower Bridge is from on top of London Bridge. From this angle you get a clean photo down the Thames River at the bridge. Lots of photographers come to this location for special moments like a full moon rising or setting between the towers.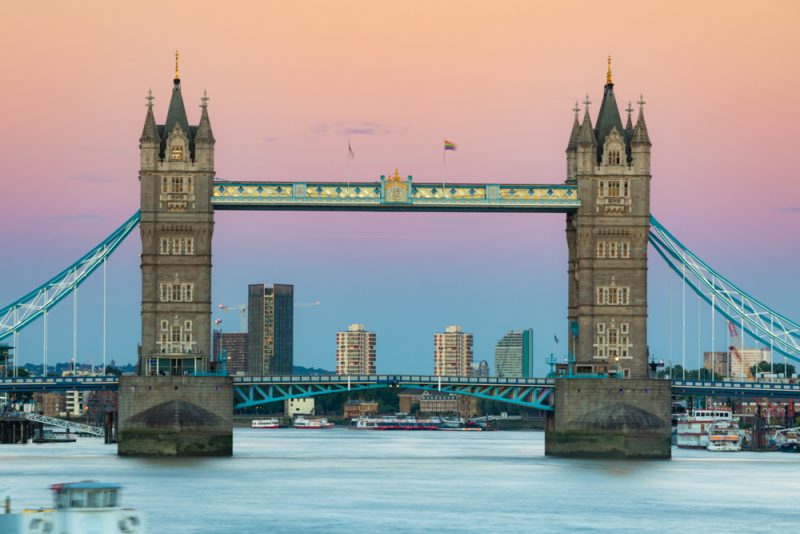 Finally, there's an awesome photo to be had from basically right on top of Tower Bridge. You kind of need to get into the road. But, there is a little pedestrian triangle that you can safely stand and set up your tripod.
With the right light and motion, it can make for an awesome photo of London.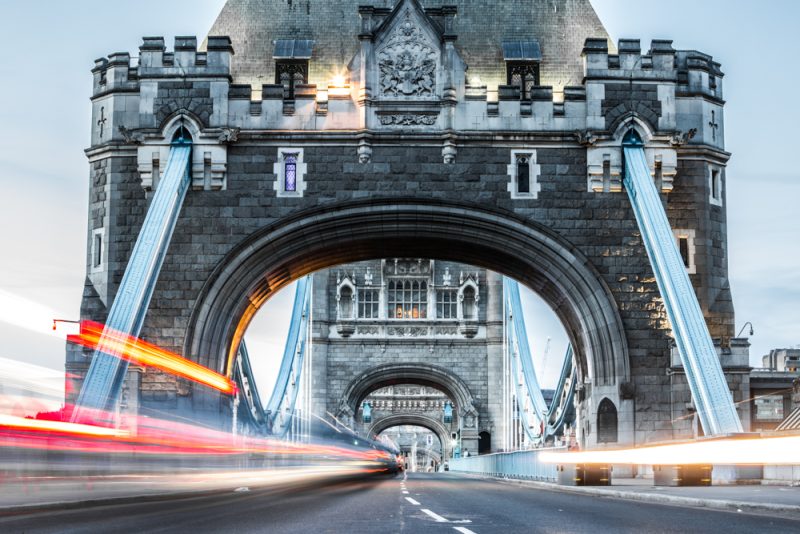 Millenium Bridge
A set of London photos isn't complete without some images of Millenium Bridge.
This pedestrian bridge was definitely built with photography aesthetics in mind. The sharp turns of the path make for an awesome foreground, and St. Paul's Cathedral in the distance makes for a perfect backdrop.
Personally, I'd recommend coming here at dawn. In the afternoon, the bridge is usually way too busy for a good photo.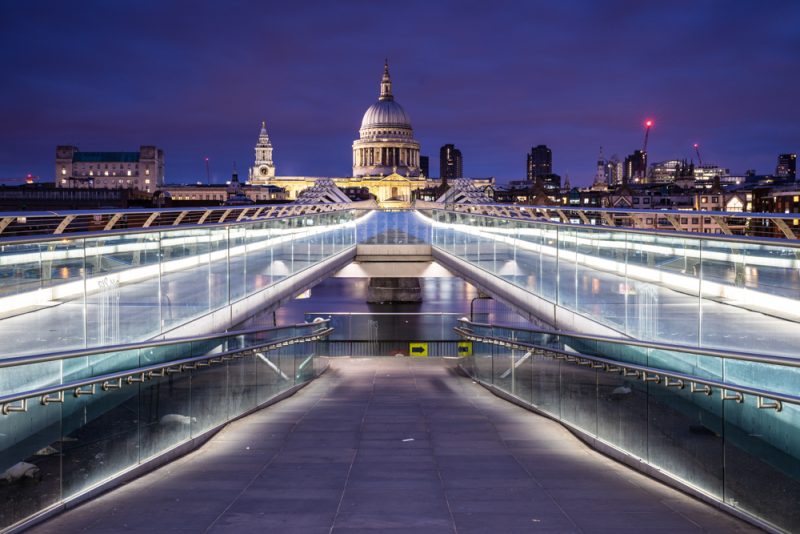 Also, while the images isn't exactly of Millenium Bridge itself, you can actually go down onto the rocks of the Thames next to the bridge. During low tide, it can provide a pretty unique perspective of the city.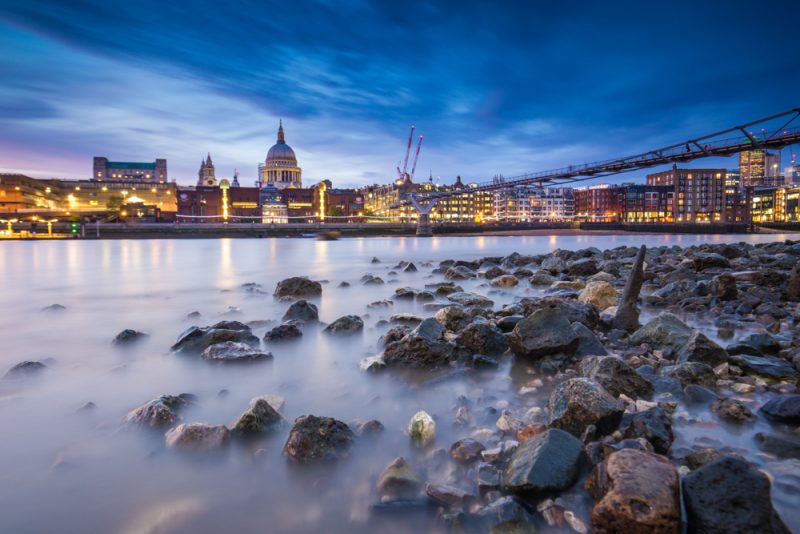 St. Paul's Cathedral
St. Paul's might be the most underrated photo locations in London.
The cathedral is almost an afterthought in many guides. But, the domes of the building are seen in so many London photos.
There are a lot of places around the heart of London where you can get the domes in your photos. However, I also highly recommend going into the cathedral itself. You won't be allowed to use a tripod, but the interiors are stunning and make for awesome images. Just be sure to bring a wide angle lens.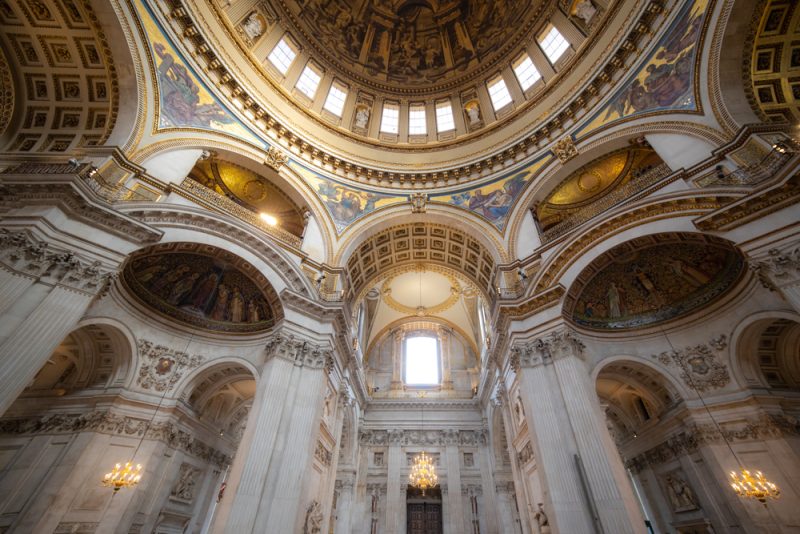 Windsor Castle
Though I could really care less about the pom of royalty, there's no doubt that there are some photos surrounding the royal life. The best place, in my opinion for that, is just outside of London at Windsor Castle.
There, you'll find some truly classic images. There are a number of iconic situations you'll find yourself in if you come here.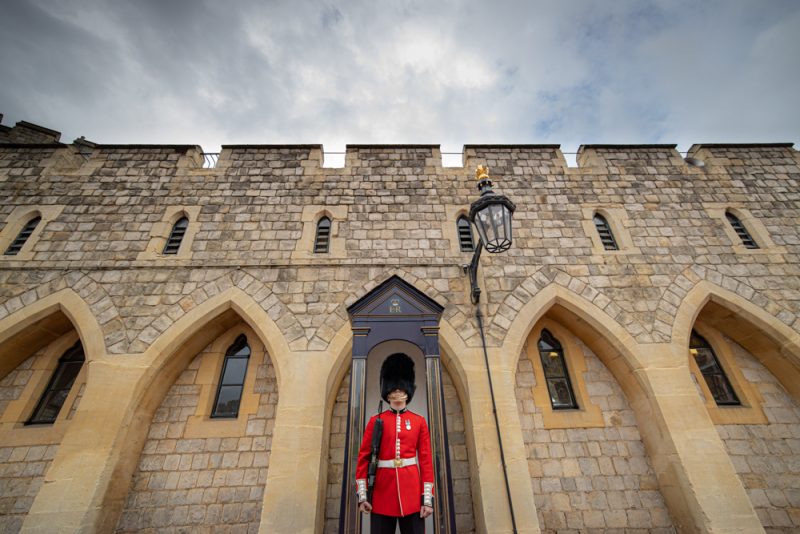 King's Cross for Street Photography
If you're looking for some street photography locations in London, King's Cross is absolutely awesome. The area is not only full of characters that make for great subjects, but the background architecture is great.
I'm a big believer that no collection of photos from a city like London is complete without including some images of the people.
Below are a couple of my favourite street photos from the King's Cross area.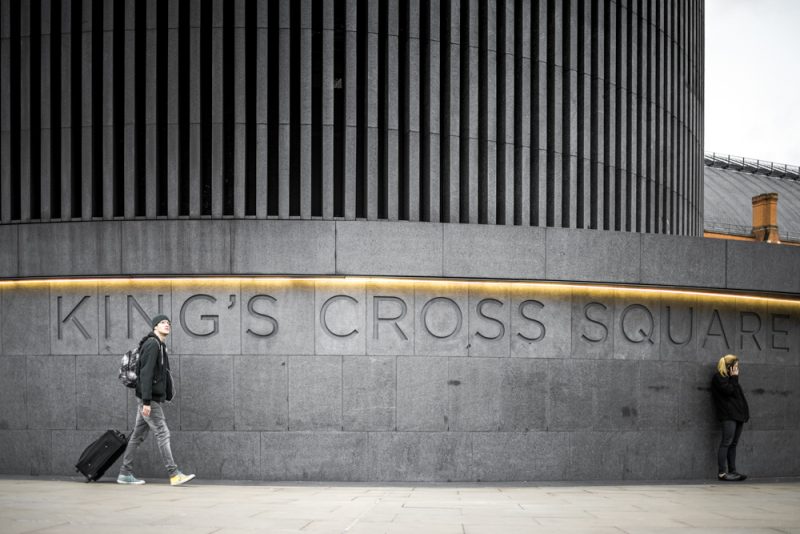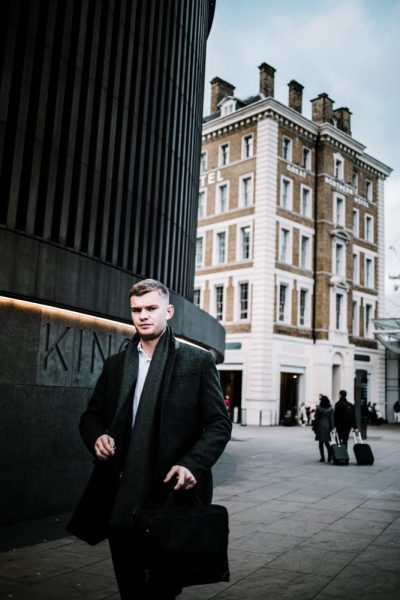 Natural History Museum
In my opinion, a highly underrated place to take pictures in London is the Natural History Museum. Not only is it a great museum, but it's beautiful. They won't let you use a tripod, however, there are plenty of ledges to set your camera and take longer exposure photos.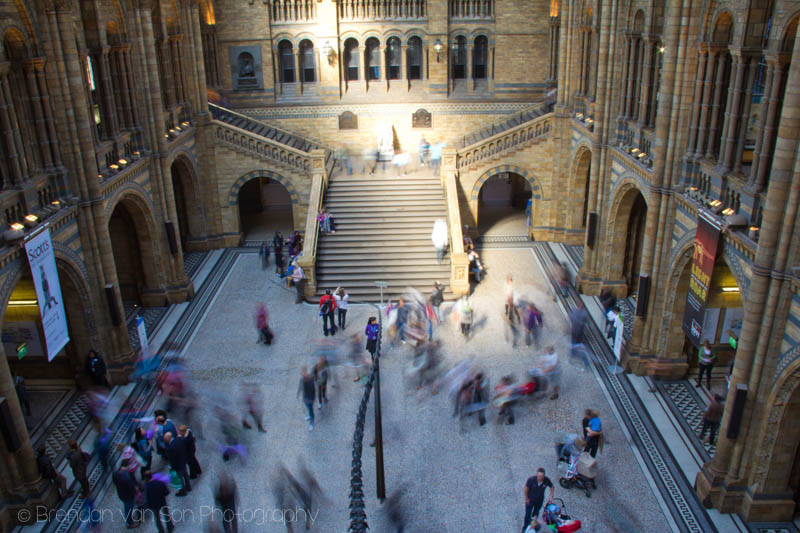 Any Street with London Icons
One of the cool things about taking photos in London is there are images to be made on basically any street. Literally any place where you can find one of the iconic items of London like a double decker bus or a red phone booth, there's an image.
Sure, you should maybe try to avoid making images that feel like cliches. However, as a travel photographer, one of the most important things is trying to capture images that make it fairly recognizable where that photo was taken.
Where to Stay in London on a Photography Trip?
London is a big city. It's also well connected by the city's underground system. So, getting around the city isn't all that difficult.
However, there are limitations to the public transit. And, it's sometimes nice to just be able to walk out of your hotel and find a photo location right away.
Personally, I like to stay in the area around the Tower of London. I feel like being in the area gives me the best access to photo spots and also public transit. That being said, it can be a little bit more expensive to stay in this area. If you're looking for a good option, there the CitizenM Hotel is very nice. There are also some cheaper options like a travelodge.