I'll be honest in telling you that I had been feeling a little bit uninspired on the road lately, something that happens quite often, more often than many of us world nomads are honest about. I was beginning to feel like a travel snob. Each destination I traveled to I starting thinking, "I've seen bigger mountains," "I've seen nice coastlines," etc. Sometimes you just need some time to recharge, and other times you just need to see something that makes you say "wow!"
I gained special media access into Los Glacieres National Park and Perito Moreno Glacier, Argentina last week, and was into the site an hour before anyone else was allowed to be, so I rented a car from El Calafate and drove off towards the site before first light. I'd seen pictures of the Glacier online and from other travelers, so I had expectations, big ones. However, when I walked (ran) into the site and saw multiple rainbows glimmering over the bright blue ice, I could help but giggle like a 13 year old boy looking at his first playboy. This is one of the very few sites in the world that will honestly blow you away. Of the hundreds of places I've been to there would are very few places that compare to Moreno Glacier (yeah I said it Machu Picchu, Egyptian Pyramids, etc. etc.). Yes, I know that's pretty high praise from someone who has travelled over much of the world and seen quite a few natural and man-made wonders.
Anyways, enough talk, time to let the pictures work their magic, enjoy.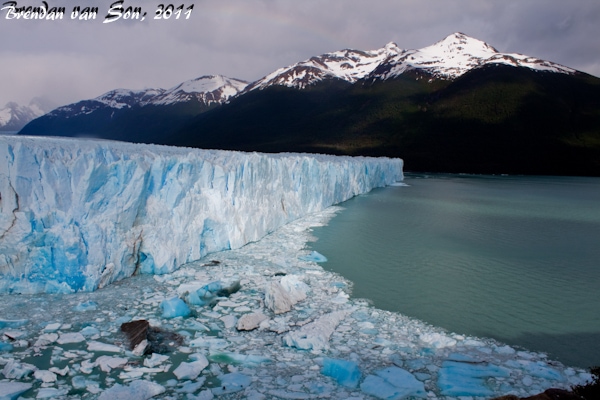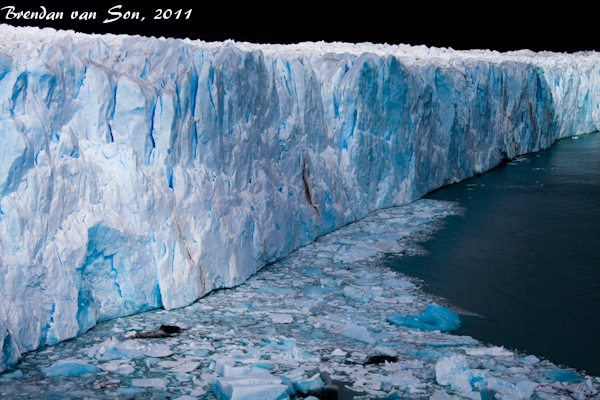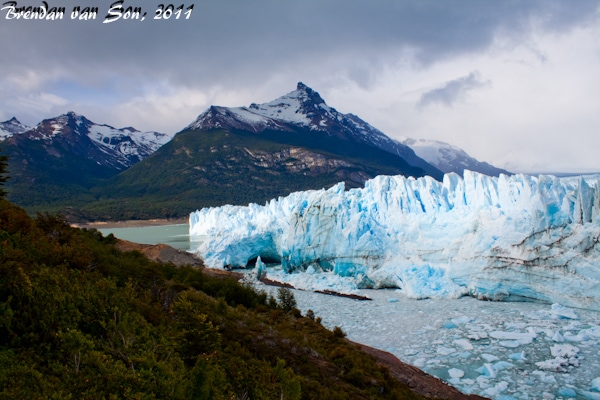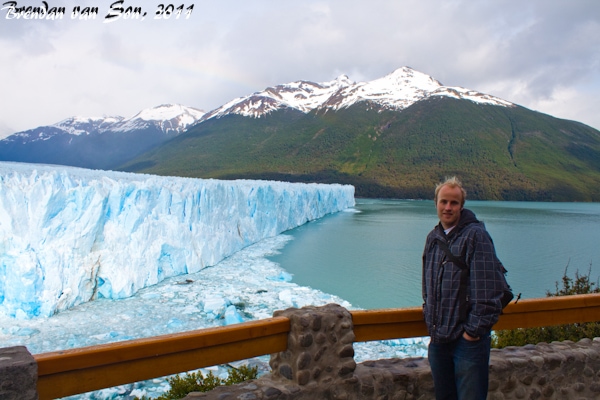 Getting to Perito Moreno Glacier
You'll likely need to base in the town of El Calafate, Argentina to get here.
From town, it's about a 45 minute drive to the entrance of Los Glacieres National Park. Then, it's another 45 minutes on a slow twisting – but paved – road through the national park to the glacier.
At the glacier, there are beautiful walkways that weave you through the forest offering awesome views of the glacier.
If you don't have your own car, there are plenty of tours that leave every day from El Calafate. There are also some shuttles to/from the glacier.
Where to Stay?
Most people stay right in town in El Calafate. There are some lodges closer to the glacier, but town is a little bit more "happening".
There's lots of hotel choice in El Calafate. I've stayed at The Hotel Michelangelo which is nice and good value. There are also a lot of hostels in town.