One of the things I started to notice on my latest trip around the world was that I am getting lazier with age. Before, I'd have no issue packing all my camera gear wherever I went, and using my big backpack to transport it. However, I noticed myself getting fairly lazy this time around. I found myself wishing I had a smaller bag to toss over my shoulder rather than my brick of a camera backpack. On top of that, I recently upped the size of my camera bag by using a 50L Naneu Camera Bag. Thus, the need for a secondary bag that I could use more casually became even more important. Enter the Epiphanie Camera Bag.


About the Epiphanie Bag
Though the bag (mine is the London edition) is obviously made for fashion as much as anything, it's also extremely versatile and functional. The size of the camera bag is perfect, too, as there's basically enough room for all my major gear. I can pack my camera body with a standard zoom, a 70-200mm, and another lens, along with all my other camera accessories such as filters, memory cards, and batteries. It does all that without looking like a complete brick on my back.
Another reason I went with the Epiphanie camera bag over the other option on the market it because it doesn't really look like a camera bag. I hated how packing around my gear in the streets made me an obvious tourist, whether I was in New York or London, people could pick me out as a tourist just based on my backpack. This bag should help me fit in a bit better in those metropolitan places a little more. Essentially, the bag looks more like a messenger bag, or a shoulder briefcase.
Downsides to the Epiphanie Bag
My grievances with the bag are really minor. The review is fairly glowing. My only minor issues are that the zipper separating the camera gear from the outside world doesn't completely seal meaning water and dust/dirt could essentially get into the bag. When it's folded over and closed, however, I doubt it would be an issue. And, of course, it's not exactly the type of bag your be taking out in a rain storm or rafting anyways. My other minor grievance is that the outside pockets just have a fairly flimsy clip meaning that I couldn't really put anything in there and feel too secure about it. They are nice to have to drop a lens cap in quickly, but other than that, I wouldn't feel too safe sticking a lens, wallet, or even a flash in there for too long of a time.
Finally, I think a nice option for the bag would have been to set it up so that you could actually pull the entire camera insert out of the bag and use it as a messenger bag. Of course, you can do so by simply pulling out all the little foam dividers.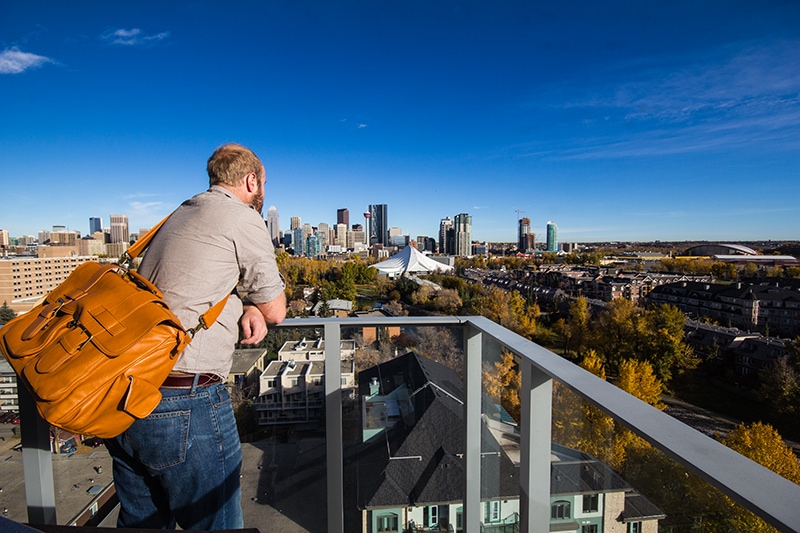 Overall Review of the Epiphanie Camera Bag
For me, the bag is absolutely perfect for my purposes. I love that it doesn't look like a camera bag, I love that it's fashionable, and most of all I love that it's completely functional as a camera bag. Since I started using this bag a couple weeks ago, I haven't had to use my big bag yet. There's enough space for all my gear, it comfortable to wear for an extended period of time, and I really haven't felt the need for more space since using it.
What's Next…?
I'm leaving on a two week road trip around Alberta, Canada tomorrow meaning there will be a tonne of fun travel photography videos and articles to come from this channel.  I've also got some more gear reviews coming up, and we're going to talk a bit about photo storage space for travel photographers in there as well.